Well, hello you. Like that neighbour you invited in for a drink once who now seems to think it's ok to pop round whenever they feel like it, I am getting my feet right under the table here at Gandermonium. After my last blog entry and the literally 1's of comments, the clamour for a return performance was obviously too much for the powers that be at HQ to ignore; I believe it was Wolfie who coined the phrase "power to the people". So here I am with another bit of literacy genius. 
If some want to bring so-called "facts" into the discussion, well the fact is, no one else but me offered, which means no one disagreed; therefore, everyone agrees, ok? I watched "How to be a Dictator" on Netflix – I do proper research, you know! (Facts? Research? On here? You're fired! – Taz)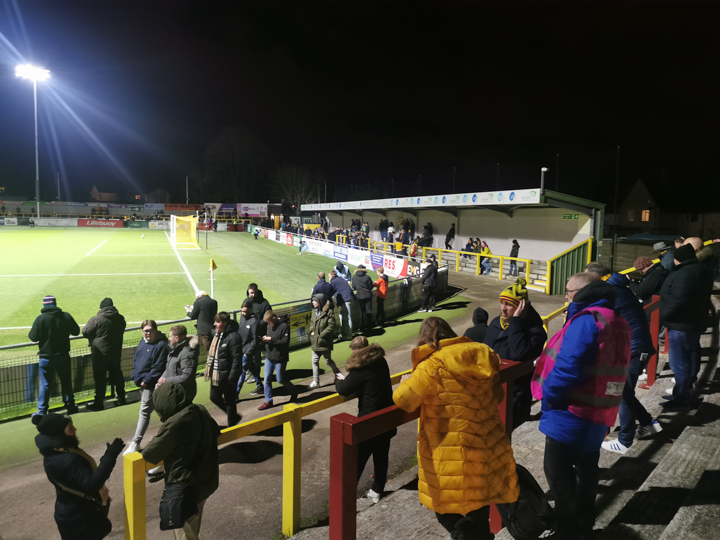 Anyway, back to the matter at hand, having fully jumped on board on this Pizza Cup bandwagon, I duly bought my ticket with such haste that I was one of the lucky 50 who scored an extra freebie. So I dragged over a less than enthusiastic work colleague to attend who I last managed to persuade to visit GGL when we beat Ebbsfleet in the Conference South Title run in. Viva Las Vegas Baby! Not only did I point out as a Sutton resident, he was well overdue for a return visit, I may or may not have laboured the point that Papa Johns sponsored the competition, thus giving the impression there would be free pizza – never actually said it, but may have given that impression. It's called 'marketing', look it up.
Whilst braving the arctic conditions at the weekend, I confidently told NTG that today's game would be played in a ridiculous 11-degree heatwave. Tonight when I checked to find out it was indeed precisely this temperature, his look of awe & silent approval at my meteorological knowledge was indeed something to behold! Well, it was that or pity. I'm not certain.
I honestly tried to find a couple of interesting facts about Stevenage to help pad this out as Taz said you all love a bit of that sort of thing, but could not get past the fact that in 2012 a book was written and published about the best Stevenage Jokes ever. I get no commission, but if you were interested, it's available HERE. Let me know if it's any good because even though I was interested enough to Google it, I'm not interested enough to spend actual money on it. Stevenage means strong oak or something equally as shit by the way. There you go, facts. Or fact at least.
Nuclear pre-game tea bought and left to cool; I once again settled in on the "Curva" to enjoy the spectacle of Sutton putting "struggling" Stevenage to the sword. Not sure if I like their nickname personally, but that's what they've been calling them on Quest, so I guess it is only fitting I follow suit. Mainly as it makes me sound like I know what I'm talking about. Online the lineup is confirmed…..
Brad in goal, Ben & Jon at fullbacks, Ben & Louis as CB. Craig & Kenny in the middle, Ricky & Will out wide with Donovan & Richie upfront.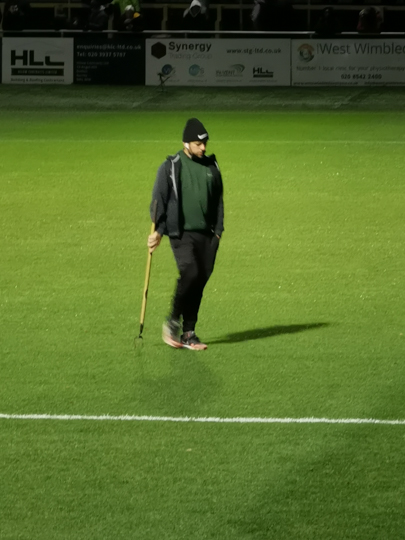 House, Wyatt, Barden, Goodliffe, John, Eastmond, Davis, Korboa, Randall, Wilson, Bennett. SUBS: Bouzanis, Olaofe, Milsom, Boldewijn, Bugiel, Dundas, Ajiboye
The first real point to note is that it is a very sparse crowd this evening, a bit of a throwback to when we weren't all a big-time glamour club in, ooh, 2012 or so? It seems the lads from Hertfordshire aren't quite the same sort of draw as Palace's kids or Wimbledon's reserves with the Sutton public. Secondly, the scoreboard was working properly today; it is odd how much this pleased me since when it was installed, I was very much in the "not that bothered" camp.
Also, Stevenage have brought about 40 fans along – unless some were in the 'quality' away toilets (see below!) when I counted. Yep, that is how exciting the game was; I tried to count the away fans.
Both sides had a few half chances here and there, but nothing that I remember as significant. It doesn't mean it didn't happen; just I don't recall it. Our set-pieces were especially poor. Even with the two added minutes, we went in 0-0.
Early in the second half, there was a clash of heads, physios rushed on very quickly, which is always a concern; But after a few minutes, Ben Wyatt managed to walk off under his own steam and made way for Rob Milsom. This somehow spurred them on for a short spell with a couple of shots that Brad dealt with easily, then in a rare moment of quality, their fella weaved through, beat 3 or 4 of ours but ended with an effort so horribly wide it was difficult to work out how he got it so wrong at the end after that build up.
On about 70 mins, Brad seemed to take a knock and was replaced between the posts by Dean, with Omar also swapping for Richie. Not long after Louis limped off and Enzio replaced him, Issac came on for Donovan too. Yes, listing all the subs is required as there wasn't a great deal else worth mentioning.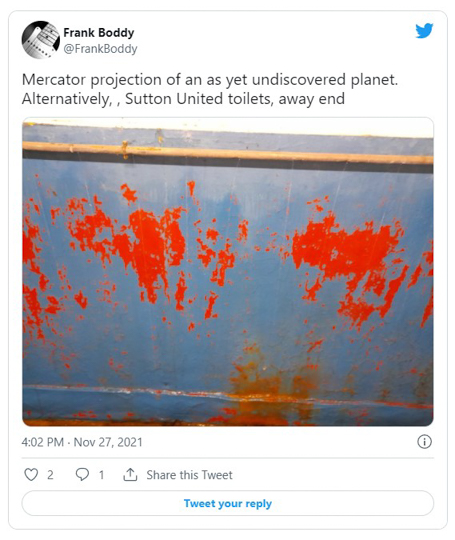 I hope Louis is ok as it gives a problem for the weekend otherwise with Coby also out currently. Tonight we stuck Craig at CB, Jon moved in to CM, and Enzio dropped into RB.
With just 5 mins left and from nowhere really, Deano is forced into a great save. On the 90, Tants almost got through but sadly forgot the ball, which pretty much summed up our night if I'm honest. In the six added at the end, Stevenage had a free header in the box, but it was tamely headed wide, which in turn pretty much summed up their night as well.
The last few minutes of the match saw lots of the 770 attending crowd collect behind the home goal area, no doubt awaiting pens and a quick exit after. Before the match ended, an "incident" off the ball caused a bit of a stir amongst the players, and Easty got a yellow card for his troubles. Finally, the FT whistle was blown, and thankfully there was no extra time to suffer as it was straight into a penalty shoot-out. Of course, a little bit of an evil giggle escaped when the pens were decided to be taken from the other end, which caused loads of people to start running back round to get a decent vantage point towards that end.
I'm sure the shoot-out will be covered elsewhere, but as Magnum said, the first six pens were good ones, they all went high, and we went low. Next up was Ricky, who decided to change things; unfortunately, his kick was so high & wide Chris Waddle would have cringed & covered his eyes. Thankfully Deano saved to keep it at 3-3. Tants then had a weak one saved, but Deano to the rescue and saved again. Ben Goodliffe stepped up in the sudden death phase and scored, thumping it top corner and then Deano saved his third in a row, and just like that, we stumbled through to the last sixteen, just the three stops from a day out at Wembley. How many will profess to love this competition then? Of course, I was there in the group stages, you know….etc etc.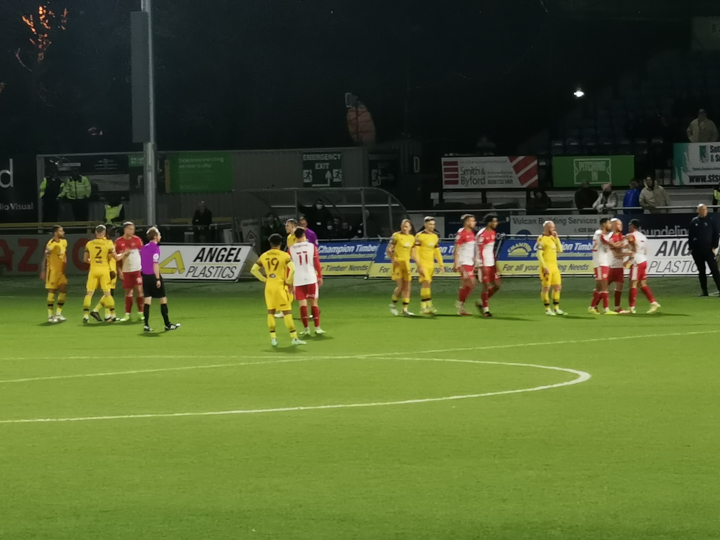 Anyway, the work colleague surprisingly said he quite enjoyed it and would be sure to come back before a further six years is allowed to pass. Once home, I found the wife has basically asked for a divorce or, as she worded it, "No, I didn't buy you one, you are almost 48 and diabetic, you don't need a chocolate advent calendar, you ridiculous man child!"
Anyone know a good lawyer?
Mike