It's been a funny old season. Back in early November, we'd just lost to bloody HandY at home (again, one nil, only shot on goal) and found ourselves sitting 12th in the table, some 14 points behind the leaders Ebbsfleet. At that point, it looked like a serious effort would be needed just to make the play-off spots. We weren't playing badly, just lacking consistency. Title challengers? Er, no. Since then? Well, we've improved a bit to be honest.
Thanks to the small matter of not having tasted defeat in the 23 games (a Conference South record no less) since then, we find ourselves suddenly going into the clash with Ebbsfleet with them now parked in second place, whilst we're top of the pile. Us. Top. I know, mental innit?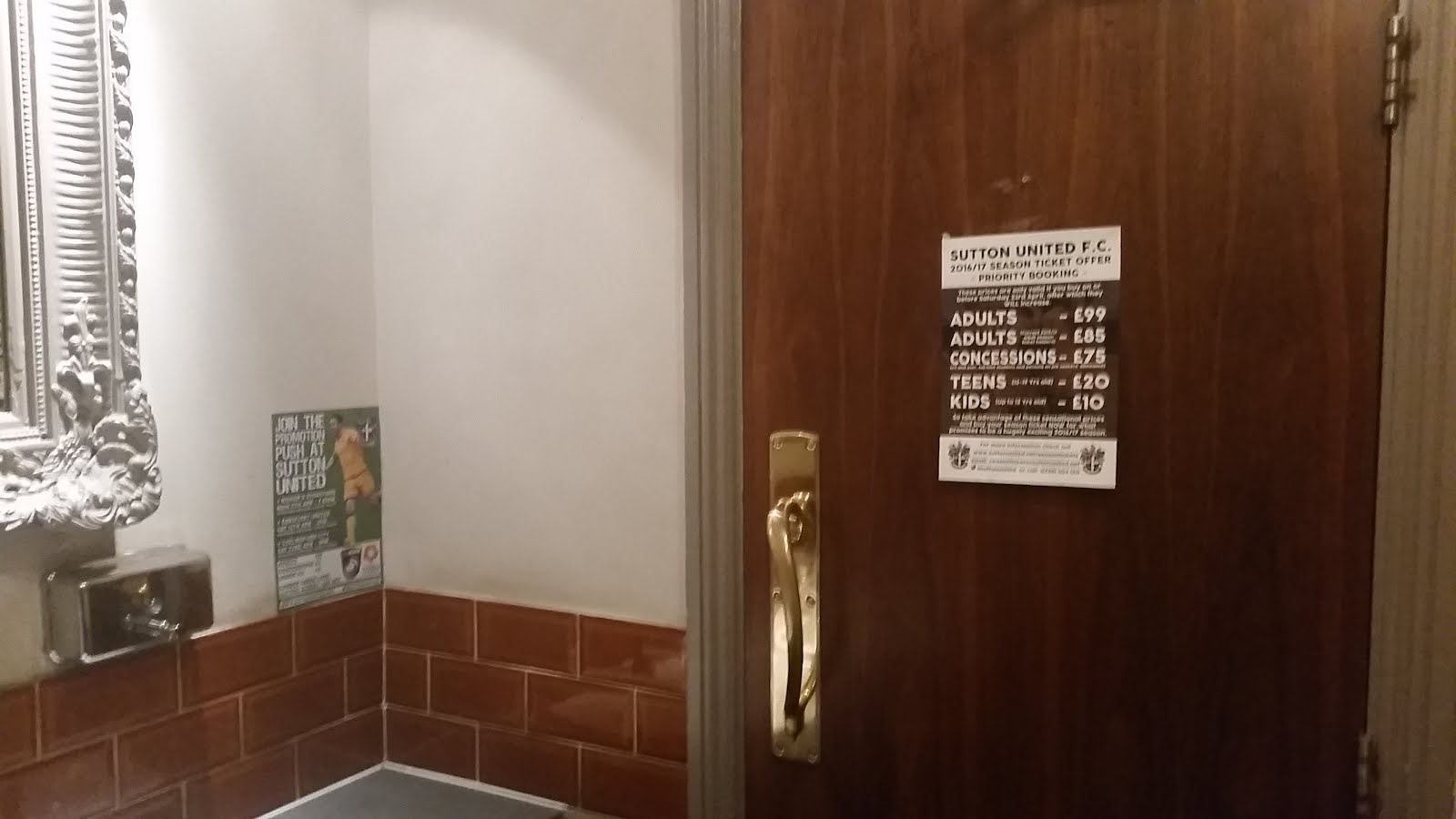 Local marketing in action!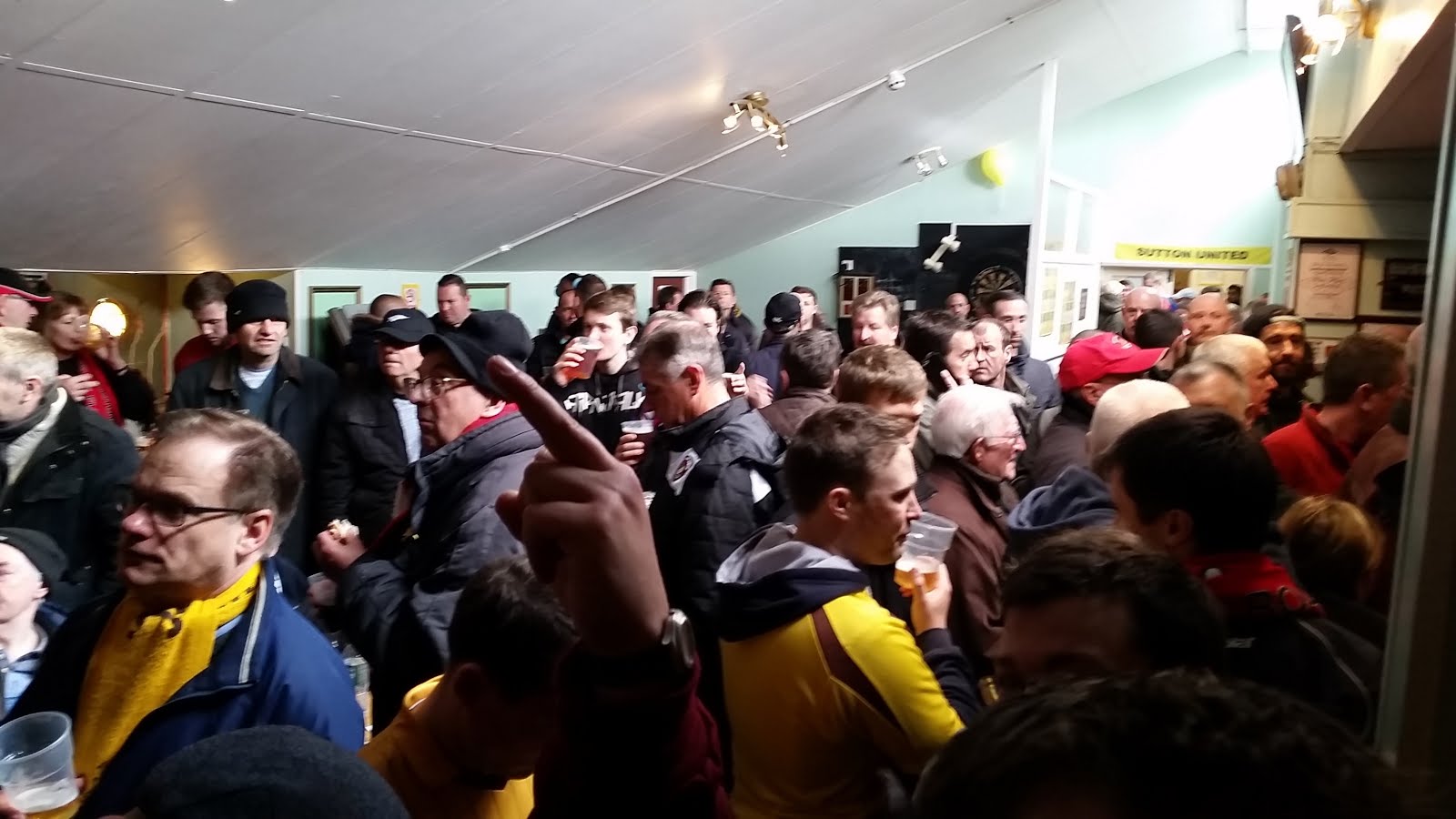 It's rarely like this
The side have been pretty relentless in that spell, rocking out the results even when we've had a bit of an injury wobble after the Trophy exit at Bognor & suspensions due to the worst disciplinary record in the league. They've just kept going. And it seems the reason for this is we've finally found the right mix. A bunch of lads who can not only play a fair bit but seem to get on well, know their job and can just get it done, even against the odds. This team spirit was on show Monday after seeing off Stortford to finally take that top spot on goal difference. All the lads could be found propping up the bar enjoying a well earned pint, all smiles, all perfectly relaxed. Which is just how we like our teams. Sure, we'd seen them in there before, but this was every single one of them. Even the guys like Stearny and Amankwaah who live miles away. Having a beer, enjoying the moment and ripping the piss out of each other like all good teams should.
Having now edged into pole position, of course all eyes turned to today. And with good reason to be honest. What was always viewed as a decent crowd puller towards the end of the season, possibly featuring the Champions in waiting, has now become about the most crucial fixture in the whole Conference South season. Or Super Duper Amazeo-massive clash number 2 as we're going to call it. However, the bit we never saw coming was that the Champions in waiting could be us!
With this in mind, Dukey & I made sure we prepared fully for this one, taking advantage of unemployment and time off in lieu, we hit the Harvester Thursday morning for an all you can eat breakfast before running the rule over the lads final training session down at GGL where we find everything to our satisfaction. Naturally, everyone was overjoyed to see us leaning against the perimeter fence, sweating & belching bacon fumes whilst we tried to work out what the fuck was going on out on the pitch. Dos in particular showed great concern what our appearance meant for local publicans profits and the residents of Kingston's recycling needs, but we assured him all was in hand and not to worry.
A true humanitarian is the gaffer and no mistake.
Having taken in training, we then took in the League winning Yoofs last home game of the season at GGL on Friday night where Dukey, no doubt still feeling the effects of that huge Harvester the previous day, managed to clear the Collingwood Rec side with a fart so awful, even the lino on our side of the ground noticed. With there due to be a damn sight more people there the following day, we could only hope he got himself sorted out in time or there could be a major disaster.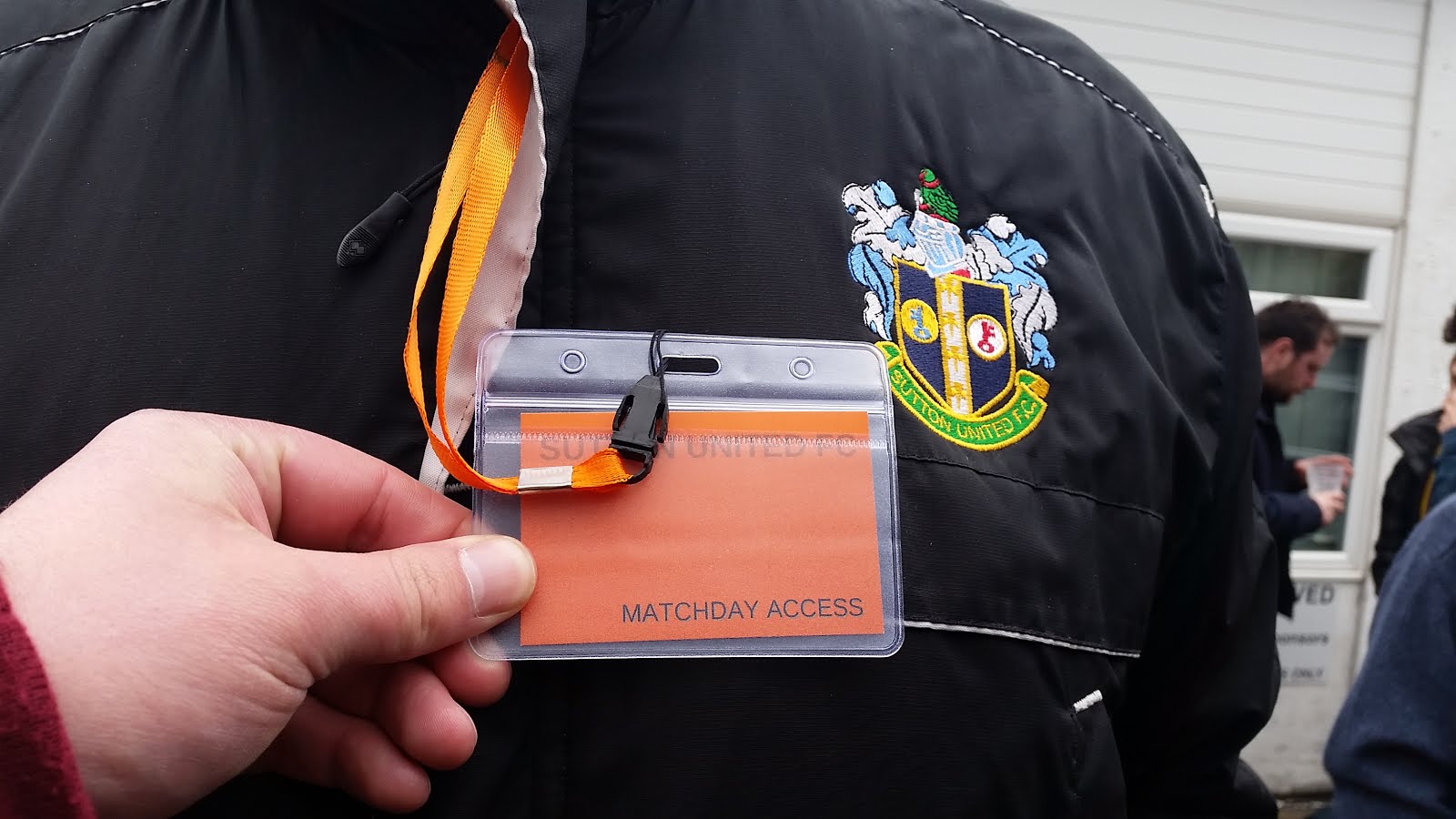 VIP BABY!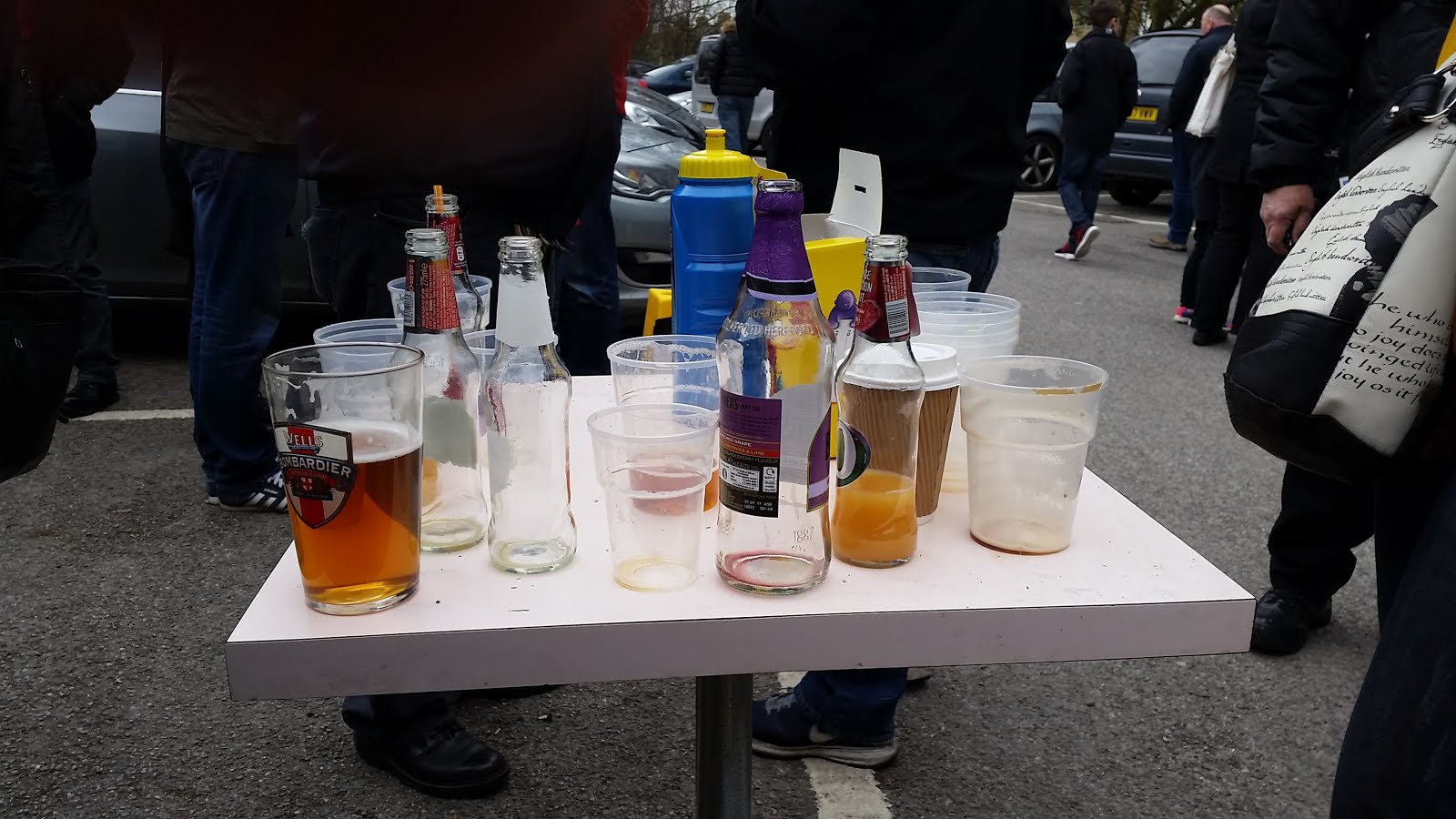 Not all ours. Honest.
Thanks to the large crowd such a tie is likely to attract, we think that it's probably better to meet up in town for a few before we head to the ground. So at 20 past 10, I find myself wandering into O'Niells for some breakfast. I'm so early, even Wardy isn't in yet! 4 Days isn't far behind, then Duke followed by Steve, the Burgers and then Mr X. Eventually even Greek appears, wearing a very 'special' Mr Happy t-shirt. His weak defence of "It's Yellow" and "It seemed funny when I ordered it!" do little to prevent him having the piss thoroughly ripped out of him for it. Fed & watered, we move up to the Old Bank for another so we're closer to the station for the train to West Sutton. Here we further admire some more clothing in Steve's yellow LaCoste polo shirt that apparently set him back a bullseye. Such an outlay of course gets Dukey's eyes watering and even Steve's protests that "And that was with 25% off" don't help. La Coste. Definitely not French for 'reasonably priced'.
We head onto the platform and find Loffers hanging about with her bottle of water. As we wait for the Thameslink, a Southern train pulls in at tips off some red clad persons. Our first sighting of the away support today. There'll no doubt be a few more in at GGL as they've apparently got 8 coaches coming over! There's a few on our train round to the Republic as well and as we exit the station, I have to direct them to the Gander. Clearly they're up for some sightseeing of our great nation's major landmarks whilst they're here!
We hit the bar and it's not yet completely packed so we get the beers in and start catching up with various people we see and who have crawled out of the woodwork for the big day. Even Juan's showed up! The pints come thick & fast and before long, the place really starts to fill out and we take the opportunity to go stand outside with the smokers and escape the crowds inside. It also puts us closer to the temporary khazis out in the car park, making the now more frequently required piss stops that bit less time consuming!
Worner, Amankwaah, Spence, Beckwith, Eastmond, Collins, Bolawinra, Gomis, Bailey, Fitchett, Stearn. SUBS: McAllister, Dundas, Slabber, John, Gerrar
With a good 10 mins to kick off, we head in absurdly early for us to try & get our spots for the game. As with our trip to Maidstone, it seems the Gravesend Ebbsfleet fans have decided to claim an end for the match and stick to it. Whilst this means there's no messing about changing ends before and at half time so you actually see all the match, it means we have to surrender the Rec end we normally shoot towards in the first half. This also means a slightly odd setup of having to park up on the Shoebox for the first 45 mins for a change.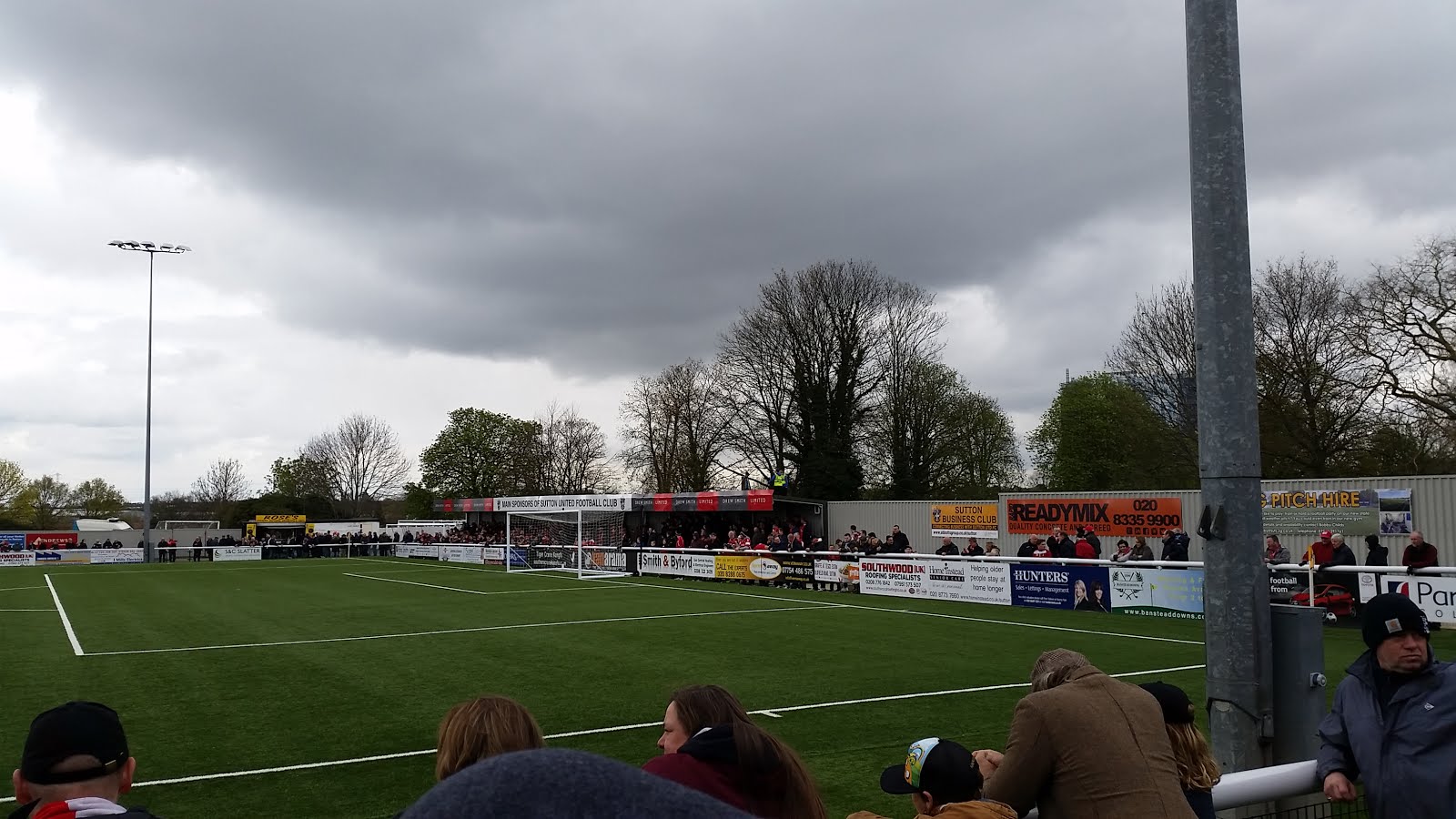 Is that all you take away?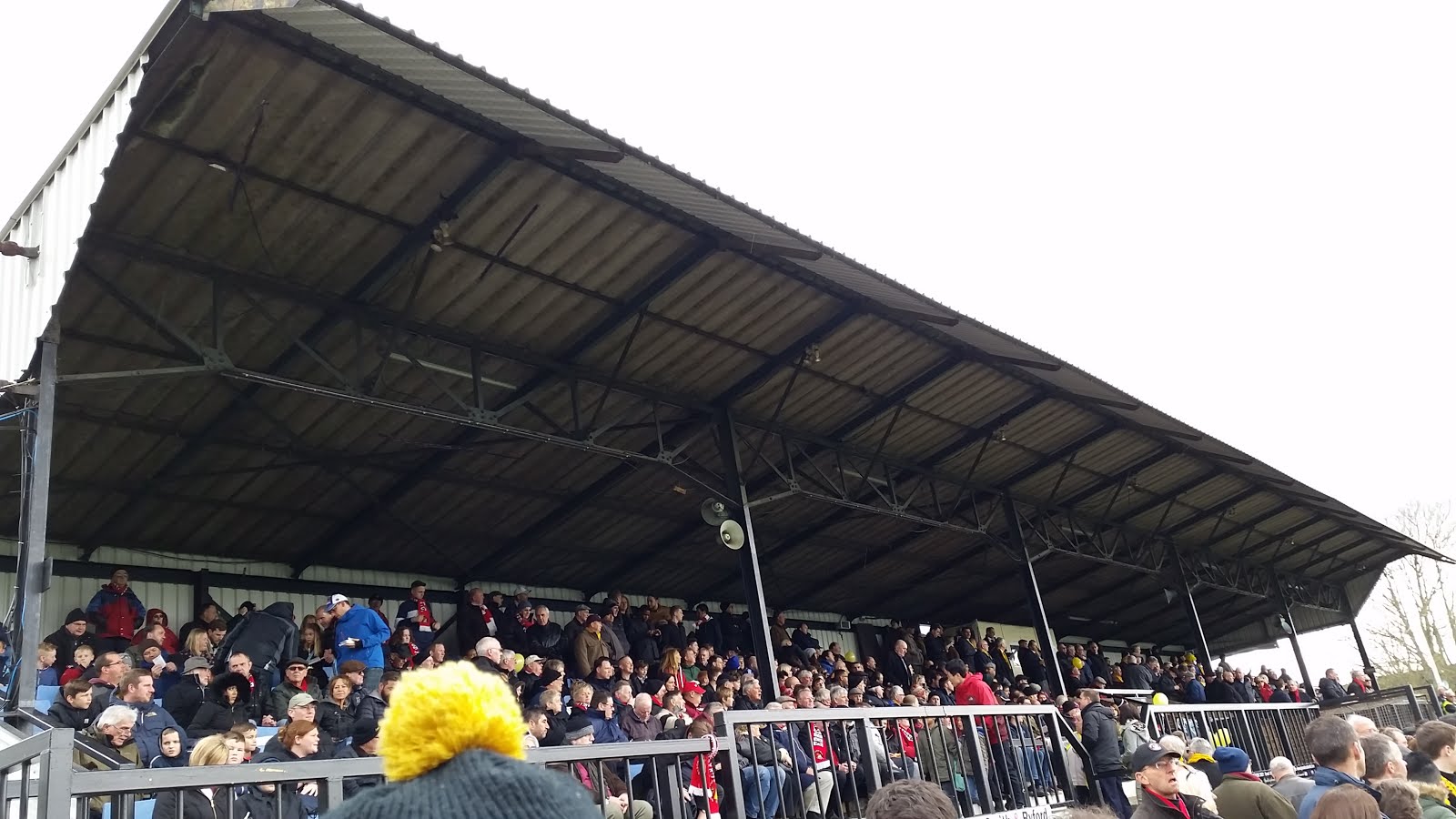 Rammed.
Being faced with simply having to get the win today, the visitors come out looking to get an early breakthrough and unlike at Maidstone, we seem a little nervy. Although a good run from Tombo wins us an early corner, we're mostly on the back foot dealing with Ebbsfleet raids. Their 11 gives them an early sighter, played in wide behind Spence his low shot is beaten away confidently by Worns. It seems that Spence is seen as a possible weak link as a lot of the early pressure comes down his side, but he does ok. Another decent little bit of play ends with a low ball inside into the box and the 10 turns and scuffs a shot straight at Worner. This first 15 minute spell is to be expected, but both I, Totts and Dukey all express feelings on the Shoebox that whilst they are indeed having a go, it's not quite the full bore, hell for leather start we'd expected. As such, we're able to find our feet and get into the game, whereas a breathless pummelling might not have allowed that.
We manage to keep the scores blank without too much worry and then Bedsy has a poke from range at the other end, forcing the keeper into a decent, firm, one handed stop and this seems to give us a little more belief. The away fans are shouting for a pen not long after when their 7 darts into the box and takes a tumble despite Collins not really offering a challenge, however it's a shite dive and the ref firmly waves away the appeals. Then just before the half hour and from our first really penetrating attack, we go and take the lead.
Bailey slips a ball down the channel for Tombo, he gets past his man and drills a low ball to the near post where Dan Fitchett darts in just ahead of the keeper. On the Shoebox, we see the net ripple, but from our angle we're not quite sure if it's actually in or has gone wide and hit the net that way. But then Fitch wheels away in celebration and we go mental. 1-0!!
The goal really settles us nicely and the midfield finally starts to get a decent hold on things. It also takes the wind out of the away fans sails. Dan Fitchett is now really starting to work the line up top with some darting runs and some very good hold up play. One belting crossfield ball from Tombo to Stearn is brought down first time and another low, hard cross put towards the front stick. Again Fitch is there, but the defender does just enough this time to ease him off the ball.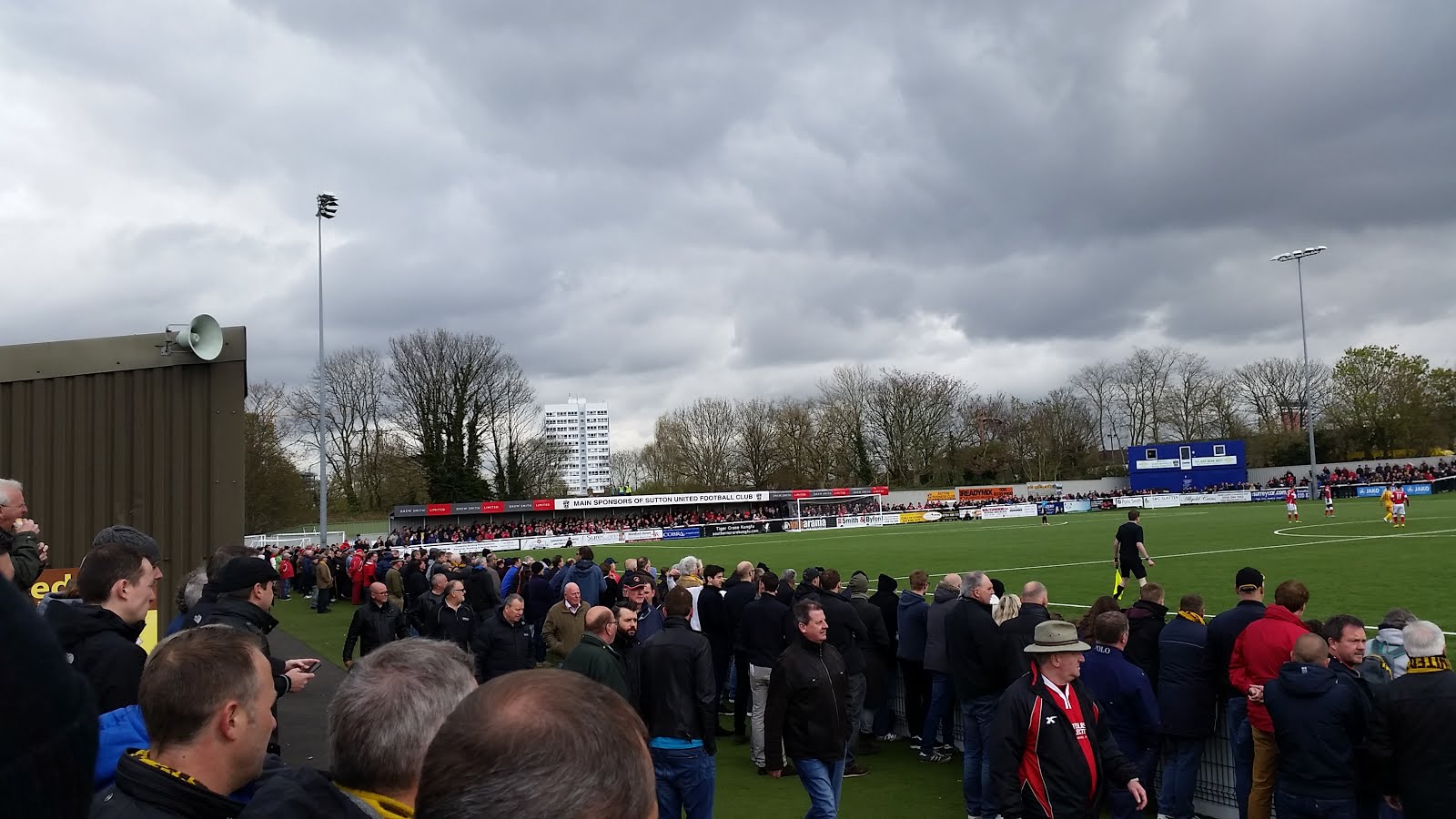 Busy busy busy.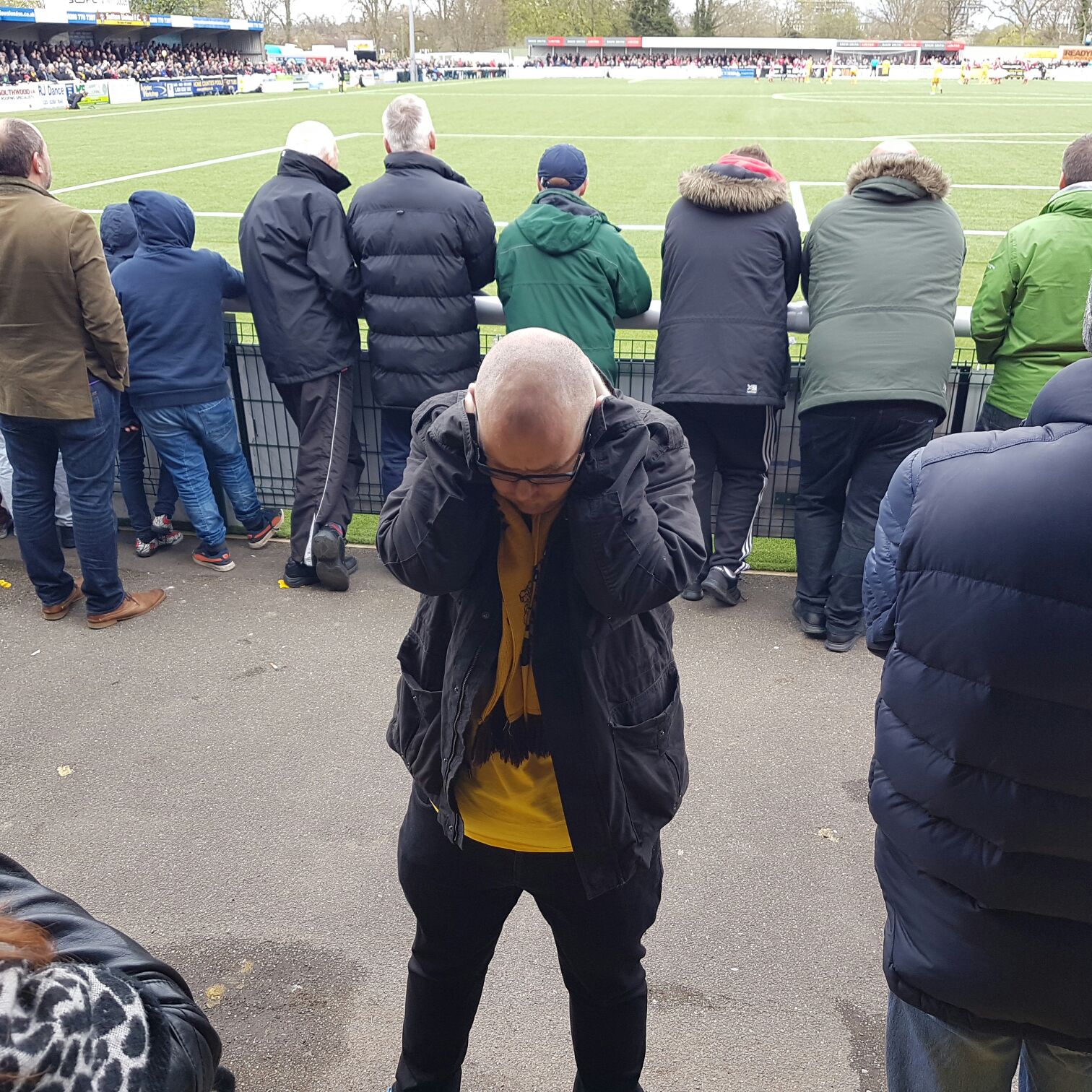 The penalty was too much for some!
With the break approaching, we're feeling good about things and with that lead, we're reasonably happy with the performance. Then it gets a little better. Ebbs just clear one attack, but Bailey mops up on halfway and feeds Stearn who bursts forward. He lays off to Bedsy on the edge and continues his run into the box for the return pass. Bedsy spots it, slips the ball in and the defender just uses his arm in Stearn's back to make sure he doesn't make contact. The ref spots this and blows up. Penalty!! Those in red shirts aren't happy, but then again neither are we as surely that's a goalscoring oppo? It's a bloody yellow at least! No cards are given though and Gomis steps up to send Ashmore the wrong way and double our lead! 2-0!
I check the time? Chirst, that's bang on half time. Perfect!
The ref does indeed blow up for half time very soon after and the lads trot off down the tunnel 2 goals to the good. Meanwhile I can't help thinking how interesting it's going to be to see the visitors response to this as apart from that first 15 min spell, they've not really looked like world beaters at all. Sure, you can certainly see they've got quality players, but you just don't get the impression they're particularly up for this. I certainly fucking hope not!
Obviously with it being a touch busier than normal, a pop to Roses for a cuppa is somewhat out of the question as I'd have had to start queueing when I came into the ground to get one for half time, so instead I head for the GGL terrace. Now normally when shooting this way, the Shoebox is my home, but having taken advantage of it's lofty perch to be able to see the 1st half action at the far end better and it being a bit quieter than my disposition requires at this moment, I figure watching from under cover and shouting my tits off for 45 minutes would be more enjoyable and also a bit better for my blood pressure.
Having seen out the early first half efforts of the visitors, I'm half expecting them to come out and have another go this half to try & get back in the game. And an early ball from wide seems to indicate this, as it's met with a firm downward header from Kedwell, but straight at Worner. Stearn then responds putting a ball in that forces Ashmore to juggle about before he can gain full control under close attention from Bedsy. Ebbs have another sight of goal when a ball in the box isn't cleared and rebounds to an umarked attacker, but he snatches at the shot and again it's straight at the ever reliable U's stopper.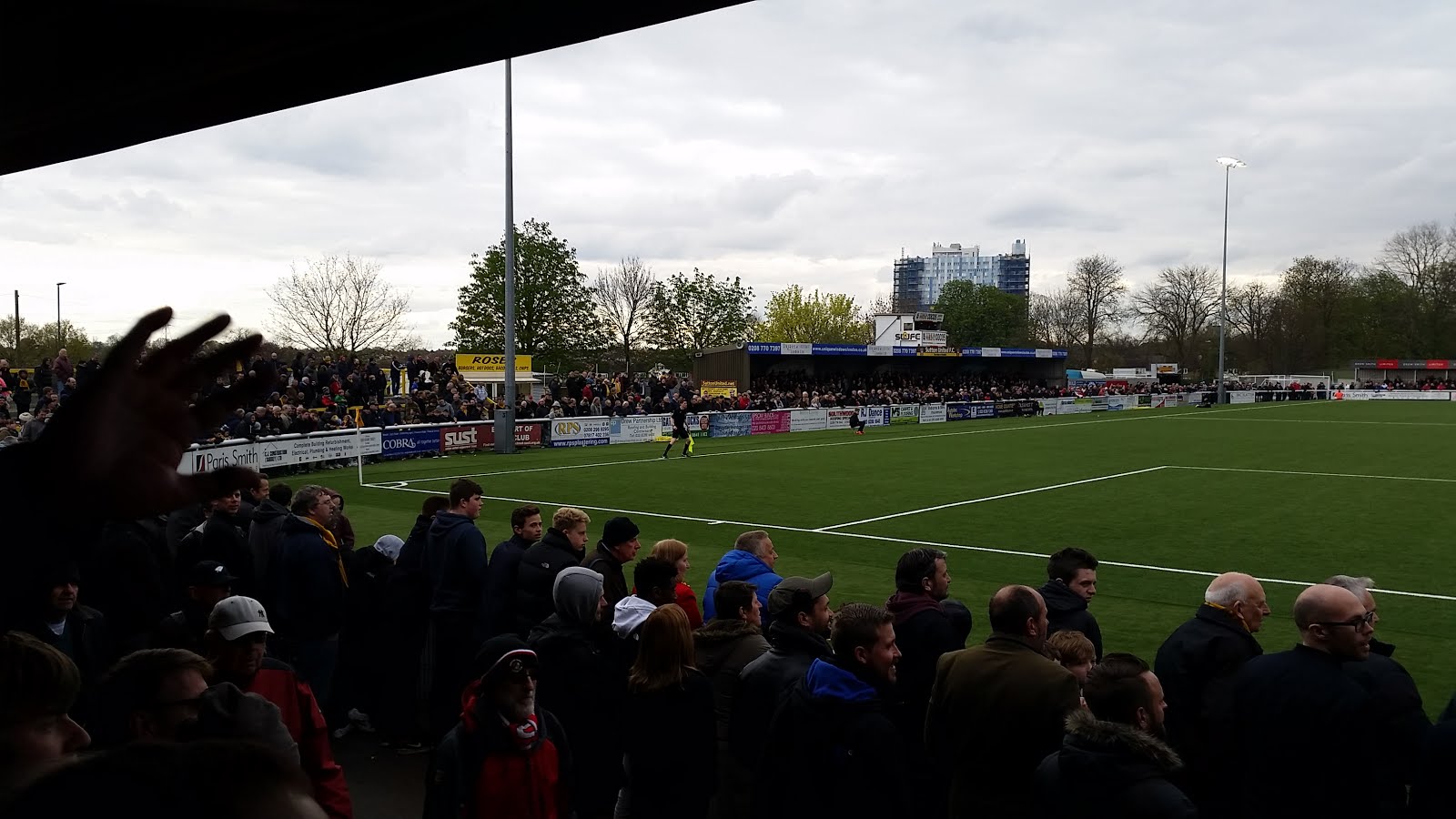 Bit packed!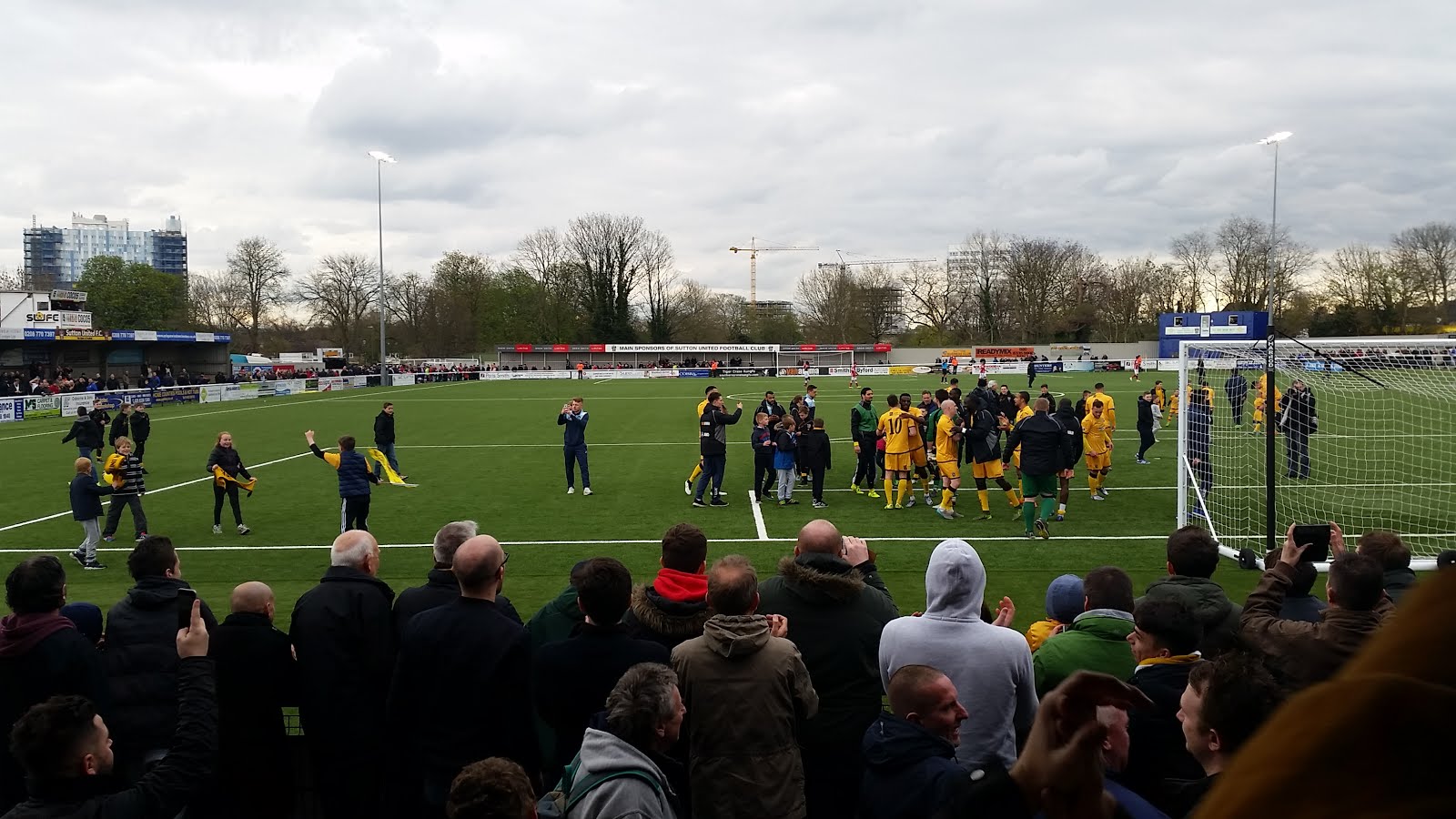 WE ARE GOING UP!
And that's about it from them as an attacking force. They push up a few yards to try & put us under more pressure, but also without totally committing to all out attack. So this means we can play our own game whilst it still leaves us room to push in behind their backline to cause problems. From here on in, the most likely team to score from here is the U's. Another burst from Stearn wide and a ball into the box misses everyone. Eastmond arrives late and cuts it back across. The pass is just smothered before Fitch can make it count and Tombo is swiftly forced out. The resulting throw in finds Bailey and his wicked cross into the back post is somehow headed over by Fitchett a couple of yards out, although the lino's flag is up anyway. We keep pressing for a third whilst all Ebbs best efforts come from set pieces, all of which are comfortably taken by Worner whilst under zero pressure from anyone in a red shirt.
One late run from Bolawinra is ended illegally on the edge of the box but the ref allows an advantage as Fitch is in. But Ashmore makes the block and then there's a free-kick given for Ebbs as Fitch is apparently offside, with the chop on Tombo having suddenly been forgotten and the ref once more failing to give a card for a blantant foul. Both sides then make changes, the oppo bringing on attacking talent to try and prise us open, we withdraw the tireless Fitchett with Dundo and Macca coming on to shore things up. The subs for the visitors have little or no effect however and the rest of the half is played out relatively trouble free as the noise from our end goes up a notch as we realise we could actually do this. At the other end, the bank of red is distinctly thinner than it was and in the end, the ref blows for time with Tombo, as always, on the attack and trying to worm his way in down the byeline.
The whistle is greeted with delight and one of those agricultural group hugs behind the goal. Let the celebrations begin!
The lads come over to accept their well earned plaudits. Whilst not their most fluent performance of the season, they've also not exactly been pushed all the way by an oppo that probably could have given a fair bit more. Then again, who fucking cares if they turned up, offered blow jobs and cups of tea? WE ARE GOIN' UP! With the jumpy around celebrations done with, it's time to head into the bar and start the drinky celebrations. First though, I need a breather. So I volunteer to help Dukey & 4 Days with their post match net lifting duties and go grab a couple of corner flags before heading into the bar. Where no one's got me a pint. Twats! Still, I get served quickly enough despite the crowds and start to sup up my beer and the atmosphere.
AB and Dos take care of the Strikers are Key draw, the second of which is frustratingly 1 number out from my syndicate's. Which means we miss out on a shot at £950. Although, that's no bad thing given the situation we currently find ourselves in. That of having won a massive 6 pointer and the evening is only going to go one way. That's pissed. And with almost £200 in cash on my hip, that would only provide great issues, mostly of a liver failure type issues.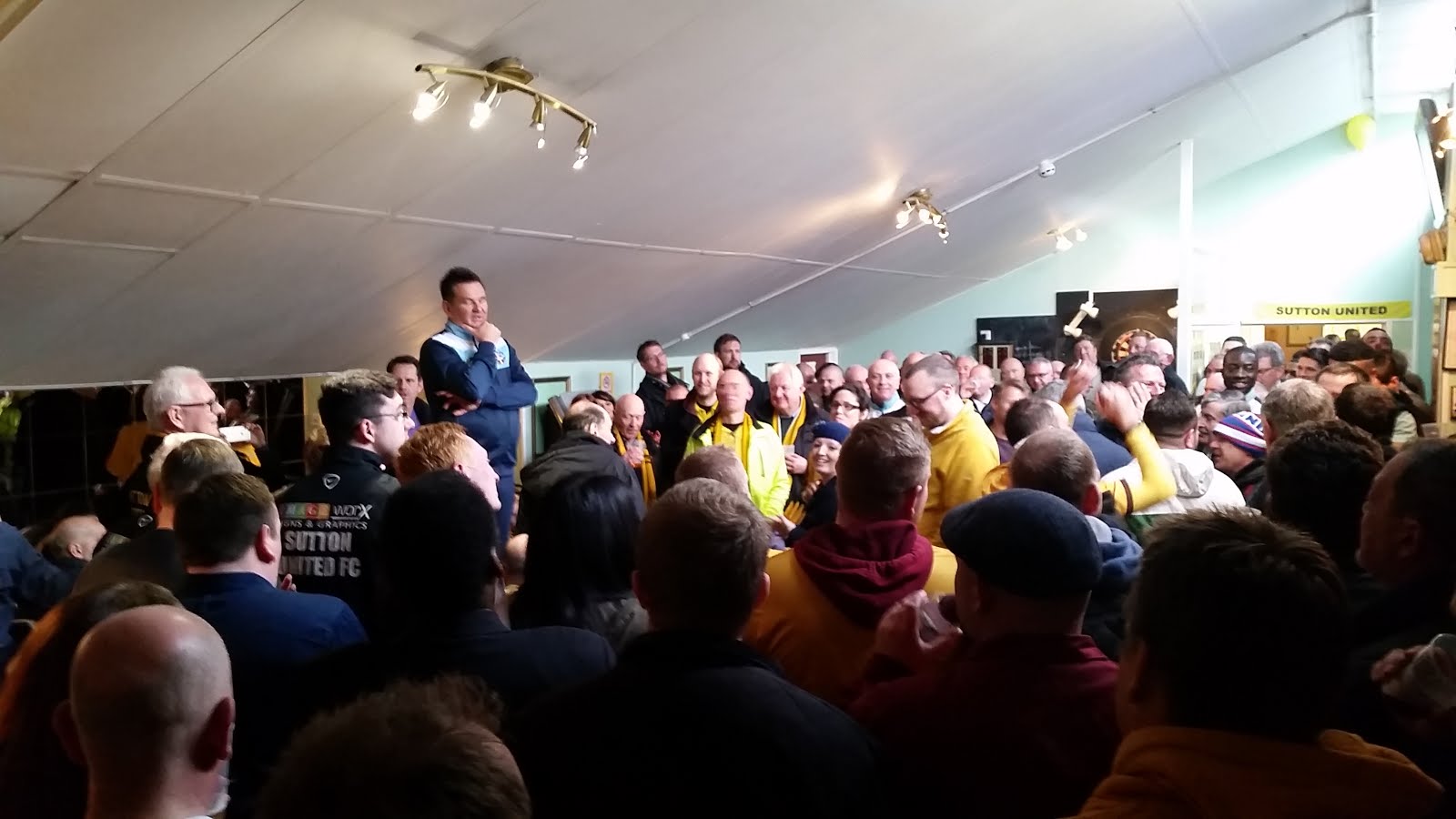 Holding court.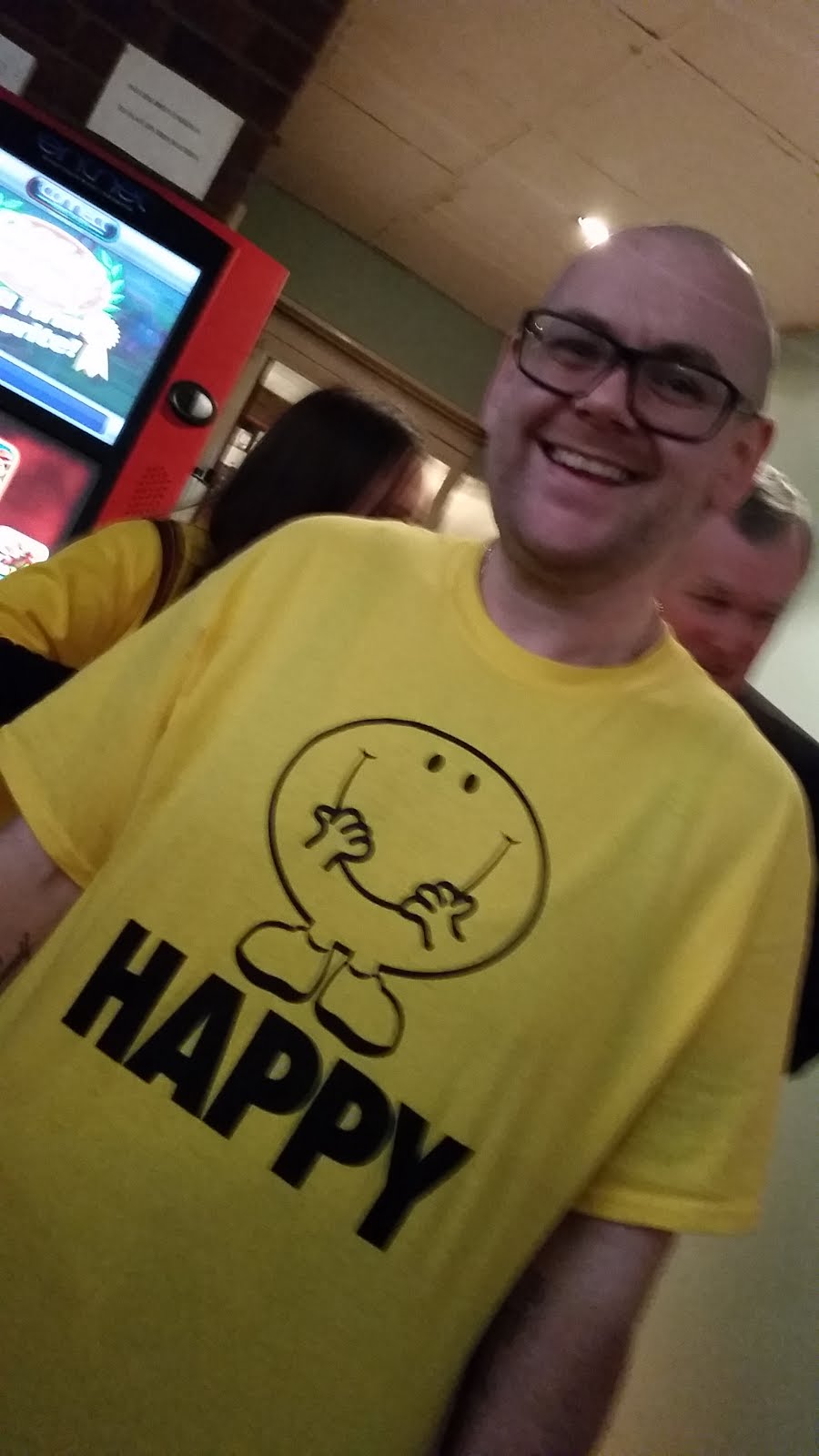 Miserable bastard.
As the bar empties a little, it's the usual faces left and we start dissecting the game a little. Everyone is of the same opinion regarding Ebbsfleet. "Was that it?". Everyone it seems expected more, thankfully we were disappointed! Beers keep flowing and then before long we decamp to the Times Square next door to join in John Parson's birthday celebrations. We'd all been invited, albeit as Mr X's 'plus 1' (his invitation genuinely said 'and Gandermonium'!), so we resolve to carry on boozing albeit with a DJ we can persuade to play a certain Elvis track to commemorate Ebbsfleet's soon to be banjaxed holiday booking for early May. Wonder what the cancellation fee is on a group booking like that?
Eventually, the lack of beer at the club (today's crowd have knocked out 11 barrels!) means it's time to move. So we order some Ubers and head for Sutton and O'Niells. Our cab has a nice chap driving who's impressed when I correctly guess his home country of Somalia based purely on his name, he also encourages our drunkend singing in his cab. Good lad. 5 stars! We stumble into O'Niells after a brief chat with the doorman, mainly us asking he get the landlord John when he won't let us in. Regardless, John seems pleased to see us when he hit the bar. "Are you's fuckin' eejits still goin'?". Yes, yes we are Mr Irish Pub man. MORE BOOZE PLEASE!
The drinks continute to flow and before long we're joined by Mr & Mrs Greek, fresh from their #fitfam birthday party in Cheam. There's loads of singing along badly to the band, dancing, bouncing about and just generally being tits. But every party must end sometime and approaching the usual 2am 'Go home you pissheads' deadline, we stumble out into the night and head for home. Dukey & I split from 4 Days at the top of Throwley Way and head for Melvilles. We've barely gone a few yards before hearing "VIVA LAAAAAS VEGAS!" bellowed behind us. We look back & discover the cause of this disturbance is the beardy one. And he's done it with a police patrol motor sat at the lights right in front of him.
We look at each other and silently decide now seems perfect time to obey the Gandermonium motto to the letter. "Leave no man behind, unless mutually inconvenient to the rest of the group". So heads down, we carry on like we've seen or heard nothing at all and head for the cabs leaving the Welsh wonder to sort out his own Drunk & Disorderly issues with the local constabulary. All whilst humming a bit of Elvis.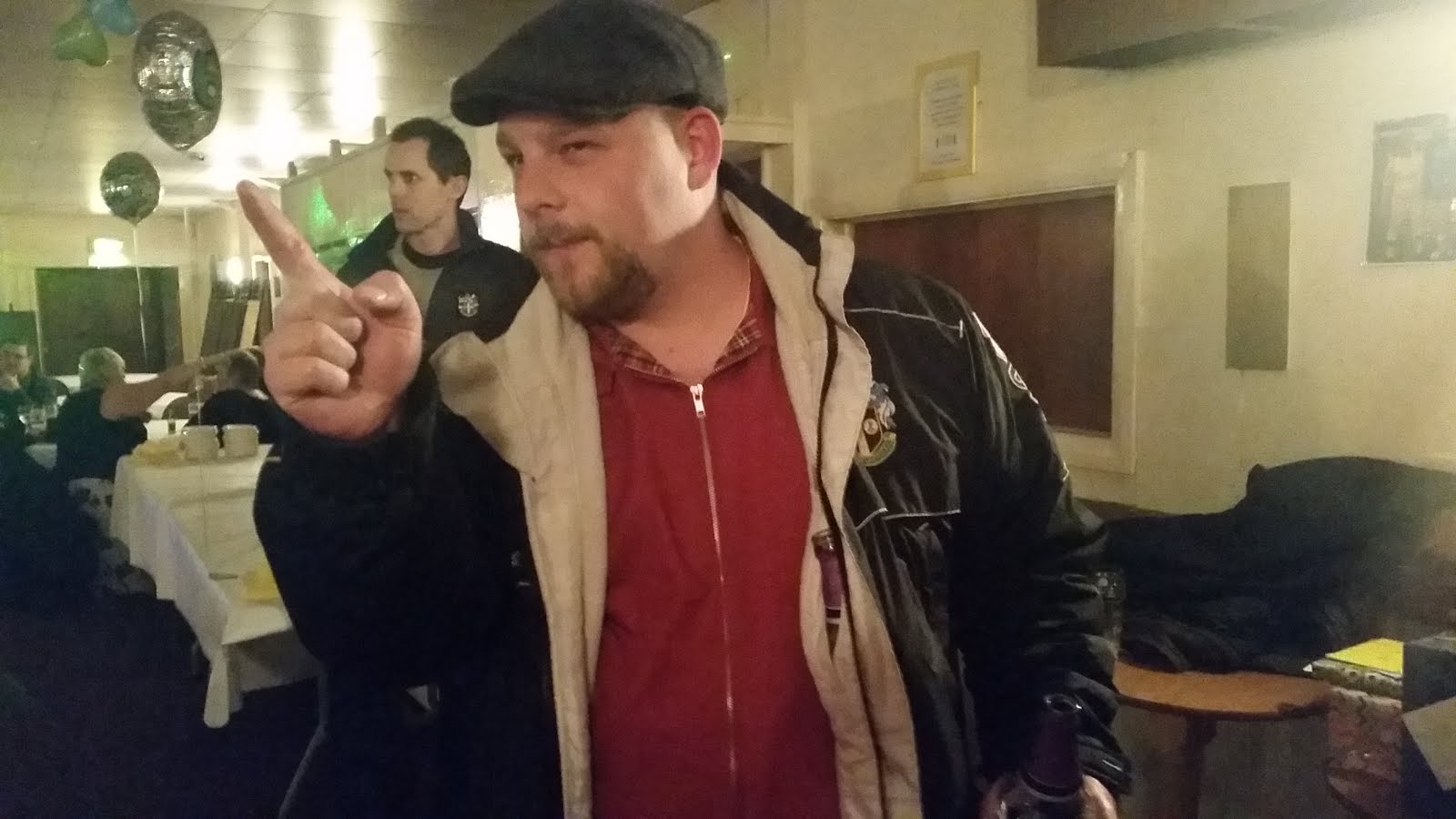 Dukey shows us how he plays FM16
3 more points required. 2 games to get 'em. Boo Ya.
TAXI!
Taz