With the big showdown at GGL last week decided in favour of the good guys, we knew that one more win would all but give us the title going into the last weekend as our goal difference is far better than Gravesend Ebbsfleet's. But there was still that elephant in the room. Albeit, a rather quiet one. The points deduction from the St Albans game. We still had no news on how that would go.
Like the team, since the news broke in the aftermath of the Maidstone game, we've largely just got our heads down and simply concentrated on looking forward and getting results. Then on the Friday afternoon, we finally heard. The judgement was in. No deduction! None. Nada. Zero. Nul. Bugger all. Gratis.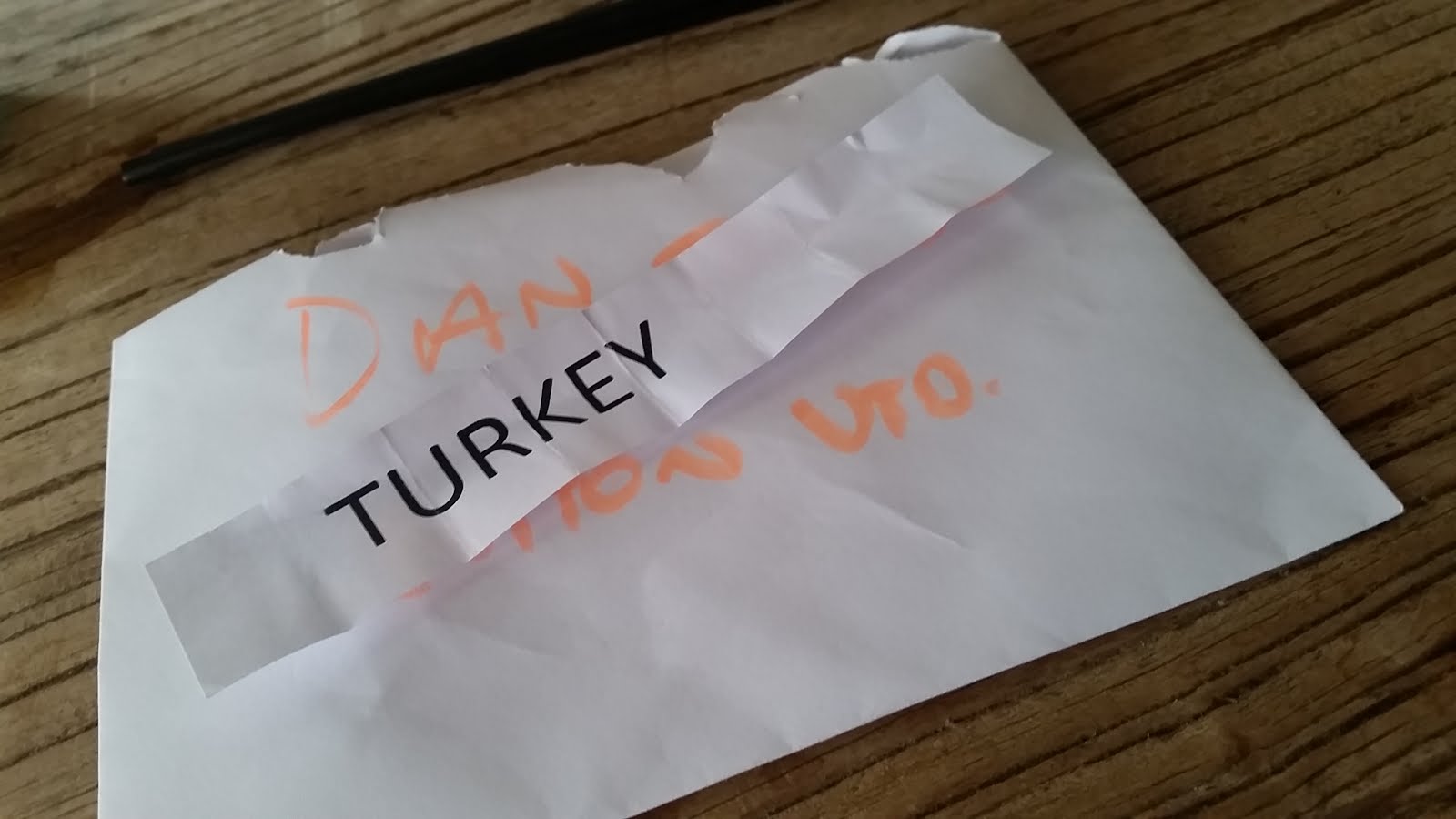 Banned. Blocked. Denied. Verboten!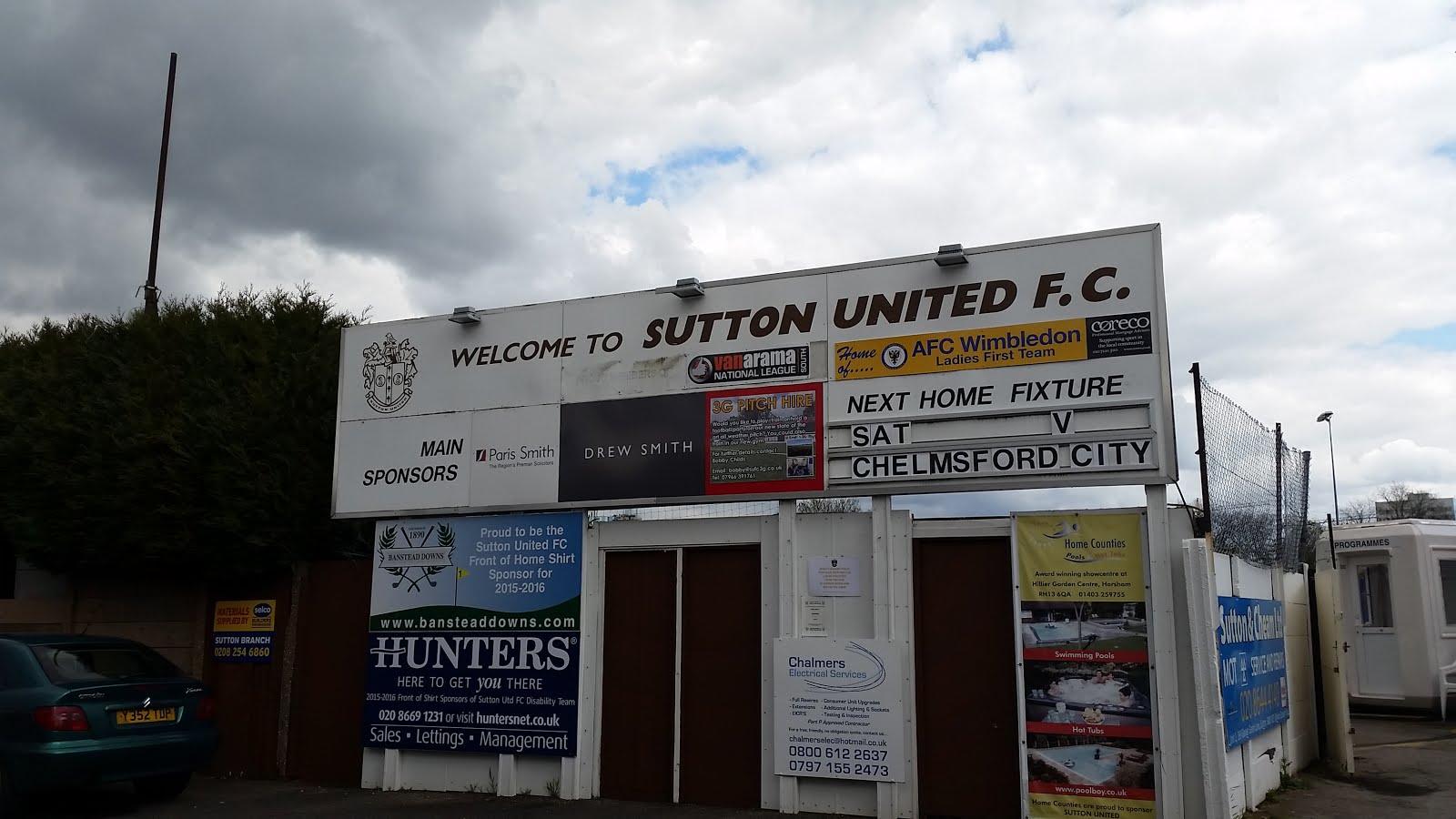 Bring it Chelmsford!
Peering inside….
The only damage was a £500 quid fine from the league and a stern finger wagging from the FA. We can only speculate at what made them decide not to deduct the 3 points, but rumours that we'd promised to put on a particularly spectacular biscuit selection in hospitality for the England C game we're hosting at GGL in June remain both scurrilous and unconfirmed. Regardless, this changed the landscape a bit for Saturday's clash with Chelmo. Now we only really needed a point to clinch the title as Ebbs have no game today. The news was enough to get Totts singing on Twitter. We hear the Monkees are his favourite band too.
Bosh. Wallop. Sorted. As the Duke might say.
With the chance of a definitive outcome at the weekend, the usual pre-match plans were binned and we decided to once more go the O'Niells for breakfast routine so as to adequately line the stomachs. Mainly as not only could we win the pot today, we'd also have the end of season party tonight after the game. And you know us. We aren't the sorts to have a couple of sweet sherries and retire home for an early night. As with last week, I wander in just before half 10, although this time Wardy is already propping up the bar. The usual faces wander in before too long, including Greek in his special t-shirt, although he opts for some form of breakfast other than a double Jamesons this time. He also brings along some weird little tin of Minion sweeties for Dukey. Nope, no idea what that's all about.
Last week, landlord Johnno had persuaded us to enter the boozer's Euro 2016 draw, so we divvied up some cash and were told we could open our envelopes once all the others had been sold. They now have and Johnno hands me mine as I'm ordering my grub. Upon opening it, I find I've been lumbered with fucking Turkey. Great. Still, it's a touch amusing when you consider we got the news just a couple of days before that this fine upstanding online publication is apparently blocked in said country. Clearly no taste some people. Sod 'em, regardless of any financial gain this might get me, Mr Recep Tayyip Erdoğan and his mob can do one as far as we're concerned!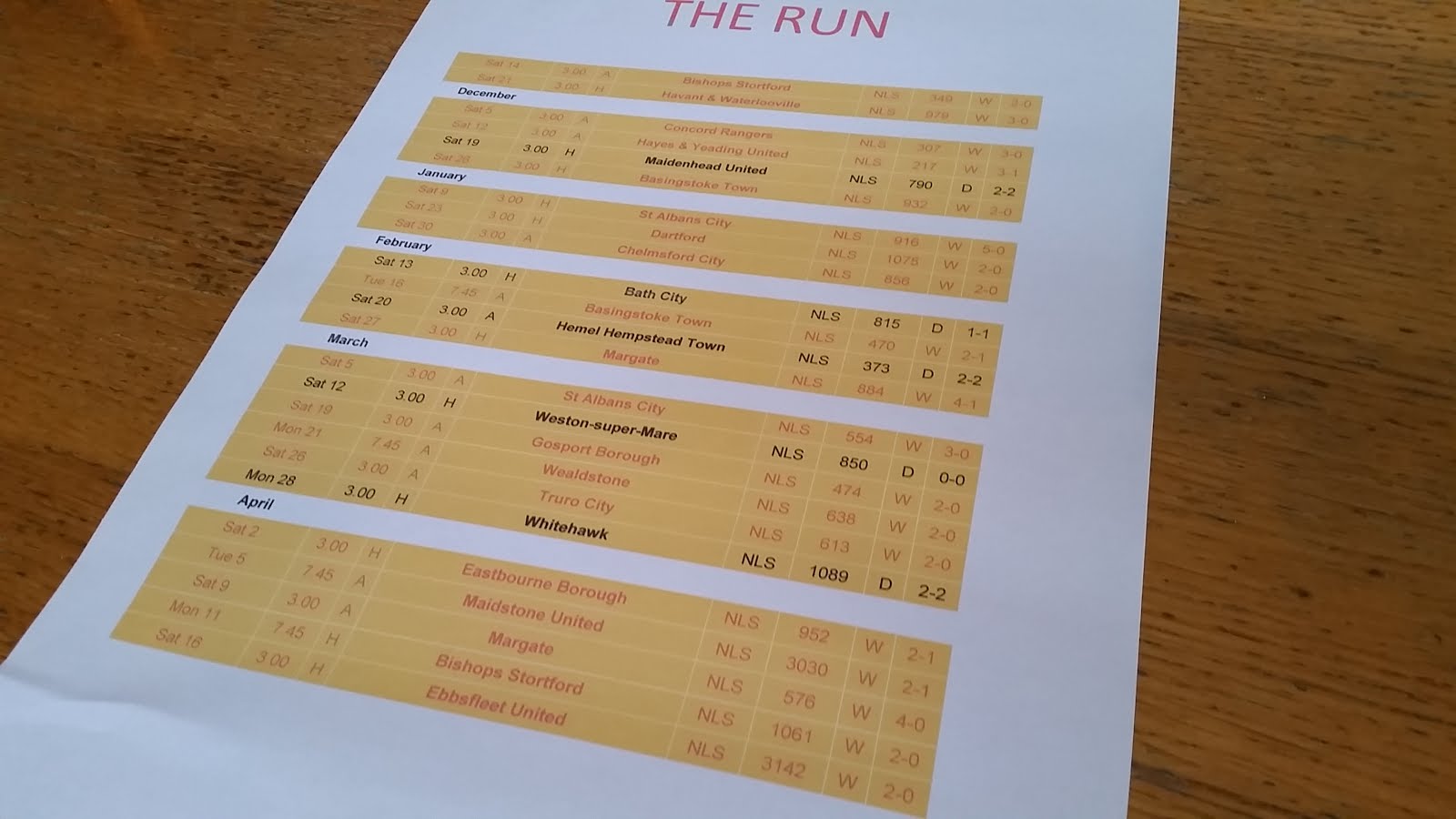 THE RUN!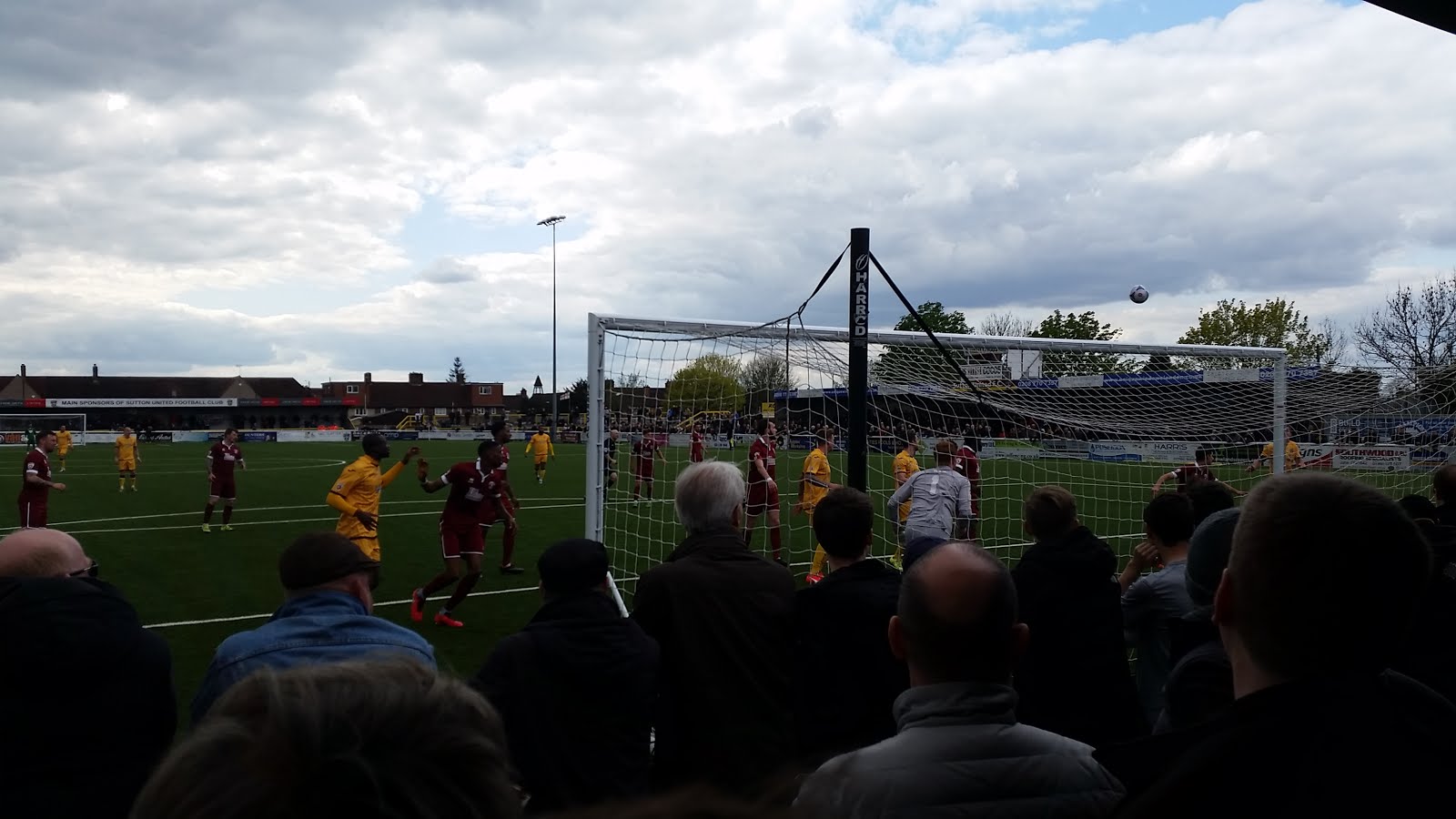 Attack attack attack!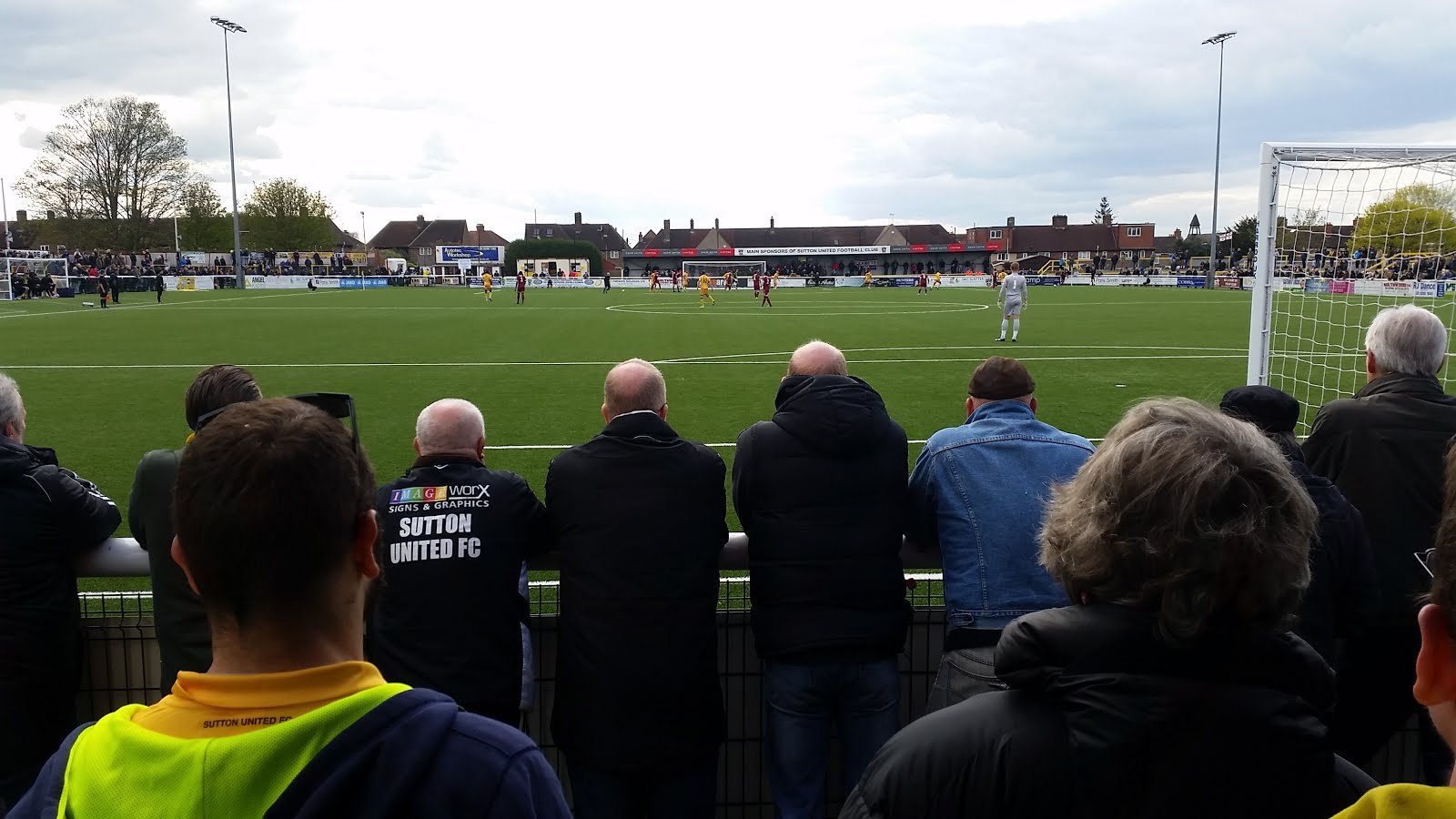 Winning.
We next make the dart up to the Old Bank for a quick pint before the short train trip round to the glorious People's Republic. On the train we get chatting to a chap in a Palace hat and his two friends. It seems he's a local, but the other 2 are over from Norway for the FA Cup semi at Wembley tomorrow. They pop their heads in the Plough to see if there's any Sky on, but they're not far behind joining us in the U's bar for a pre-match pint. With another big crowd expected, the plastic glasses are soon in circulation, but the pro's amongst us drinkers know it's coming and guard our pots jealously, Greek ensuring his own glass remains uncollected by keeping it in his coat pocket!
The bar is busy but not impossibly rammed, so the ale is able to flow freely and at a less searing pace than last week, which is no bad thing considering this could be something of a busy day. I take a quick break from the chatter and other bollocks to go and visit the club office. Firstly, I want to stash the flags somewhere out of the way for later when they'll be used to decorate the TSL for the end of season do, also I need to collect my season ticket for next year. It seems I'm number 259, so just the 258 after Robbo's.
Having sunk a few pints, it's eventually time to take the usual mandated 90 minute break from refreshing ourselves on a Saturday and head out for the game. Wish is back today but we're missing Amankwaah who would have been suspended today had he not got leg knack late on in the Ebbsfleet match last week. Still, we're at as full strength as we can be, so let's get the fucking job done.
Worner, Spence, Wishart, Beckwith, Eastmond, Collins, Bolarinwa, Gomis, Bailey, Fitchett, Stearn SUBS: Slabber, Dundas, Cooper, John, Downer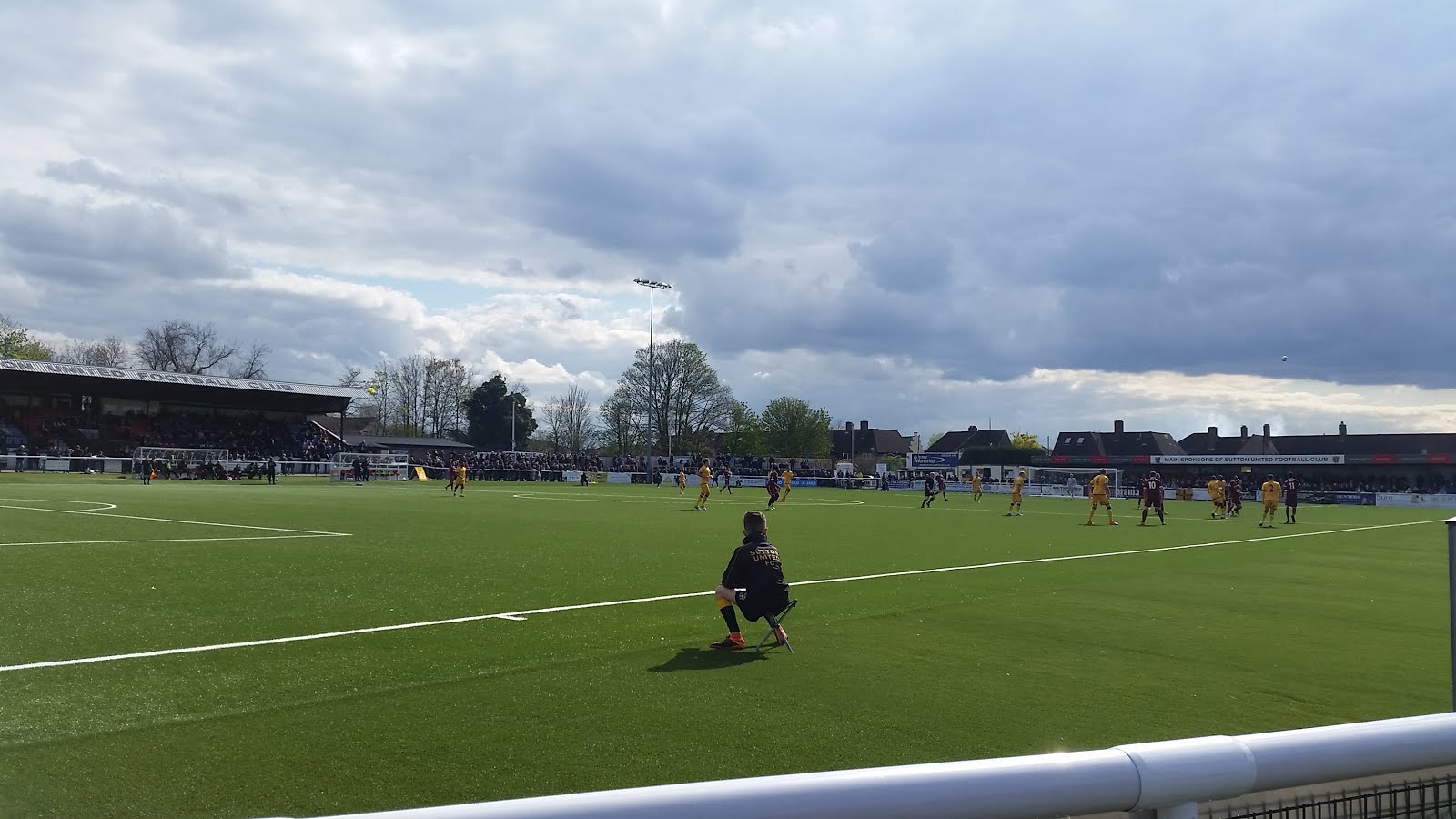 Went for a pee…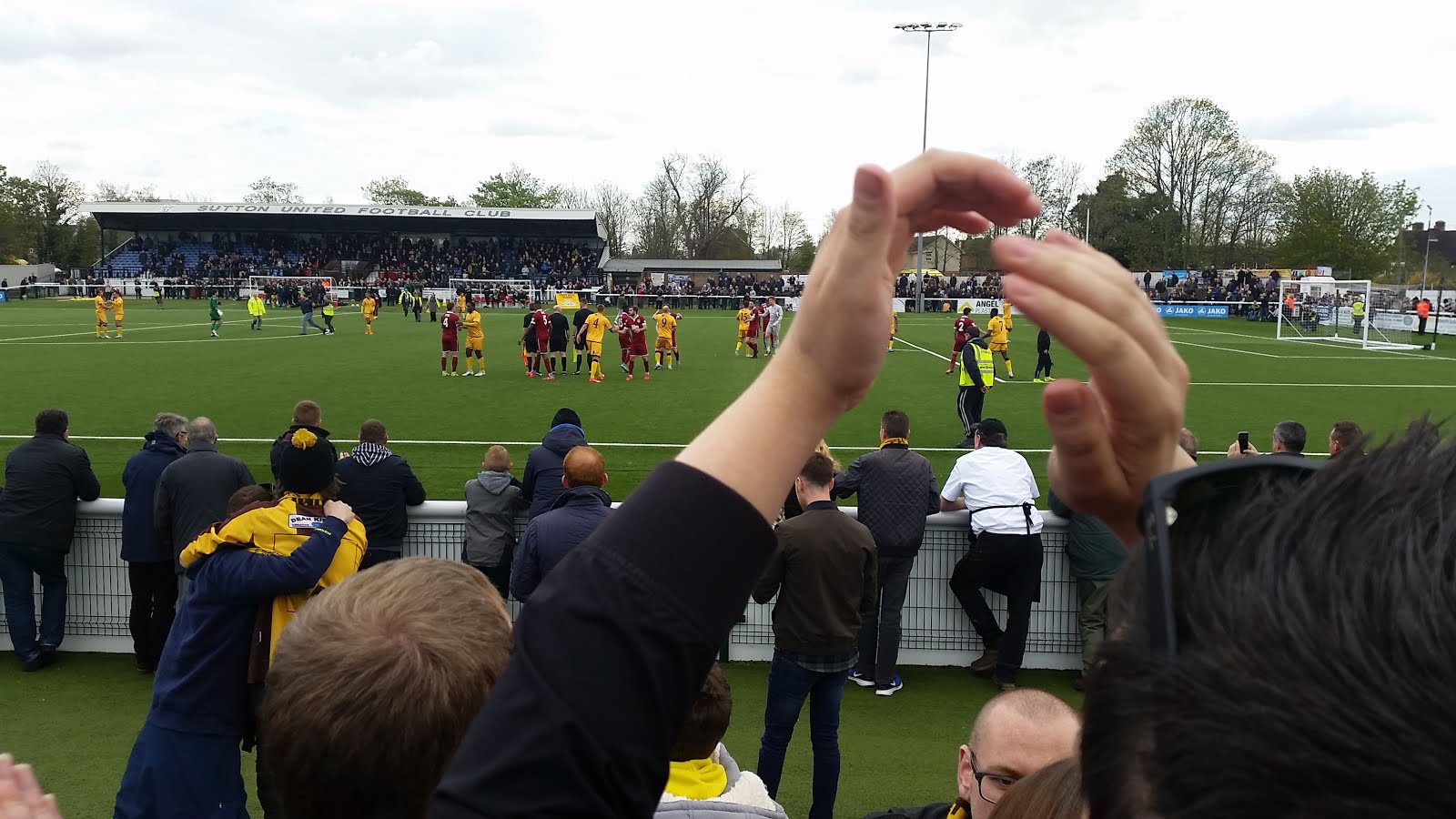 All over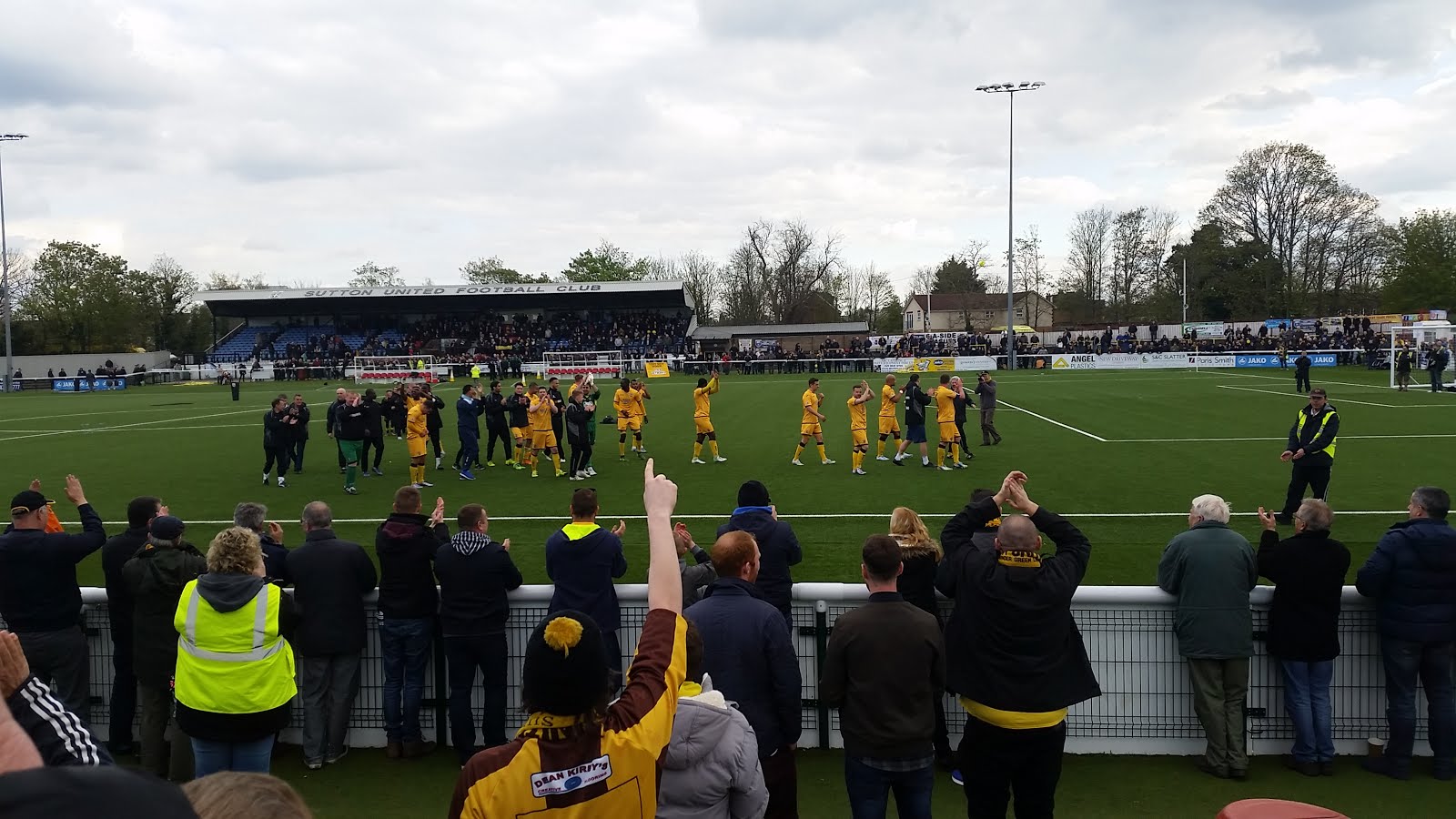 Lap of honour.
From the off, the lads seem to be in a hurry to get the job done. The movement and confidence amongst the players is plain to see. Passes have zip and none are wasted. Stearn fizzes in an early low cross from wide that just evades the touch of Fitch in the middle and an early sighter from a free kick about 30 yards out makes the keeper work at this near post, but it's a relatively comfy save. Chelmo aren't here to just toss it off though, they've apparently been playing a lot more fluently lately and are safe from any worries at the wrong end. Their first threat comes from a long throw in from the stand side. It's nodded away to the edge of the box where their no.4 hits a low effort on the volley straight down the middle that Worns smothers. Sutton won't be denied though and about 25 mins in, the ball is worked wide to Stearn who comes inside and clips a cross into the area where Dan Fitchett nods in on the run from about 8 yards. 1-0! Here we go!!!
It's the 21st of the season for the striker, so we guess 4 Days owes him at least a pint after their drunken discussionbet in that spicy named nightclub in Jersey way back in Pre-season. The lads keep buzzing and looking for another, but some stout defending from the visitors keeps us at bay, but with half time looming, it's really time to get the party started. Tombo befuddles his man out wide, fires a low ball across the edge of the area and Ross Stearn has a snap shot blocked. But the ball rebounds straight back to him and he makes no mistake the second time, thumping a smart half volley beyond the keeper. 2-0! WE ARE GOIN' UP SAY WE ARE GOIN' UP!
Right on the break, Bolawinra has a shot deflected from the edge of the box and it has the keeper scrambling. He pushes it away wide, Stearn is in like a flash and clips the ball back across the face of goal but there's no U's shirt near enough to prod in the loose ball. So we go in just the 2 up at the break and we're now 45 minutes away from the title. That's it.
To be honest, the 2nd half is a bit of a non-starter. The visitors know their chances of being party poopers have gone and we know that 2-0 is probably going to be enough to get the result, so things are played at a more sedate pace than in the 1st 45 with brief sparks of life as we try to extend the lead when gaps appear. A nice move has Stearn in wide, but the keeper tips away his curling shot and then the little Bath chap gets a clump in midfield, but the ref waves play on. Eastmond is played in and despatches a lovely shot into the top corner but the celebrations are cut short by the linesman's flag. Stearny has another little dart and shot again tipped away by the keeps before late on Chelmo remind us they're still about with a free kick into the box. It drops invitingly for a striker but Worns is out bravely and smothers at his feet. There'll be no dirty sheets today thank you!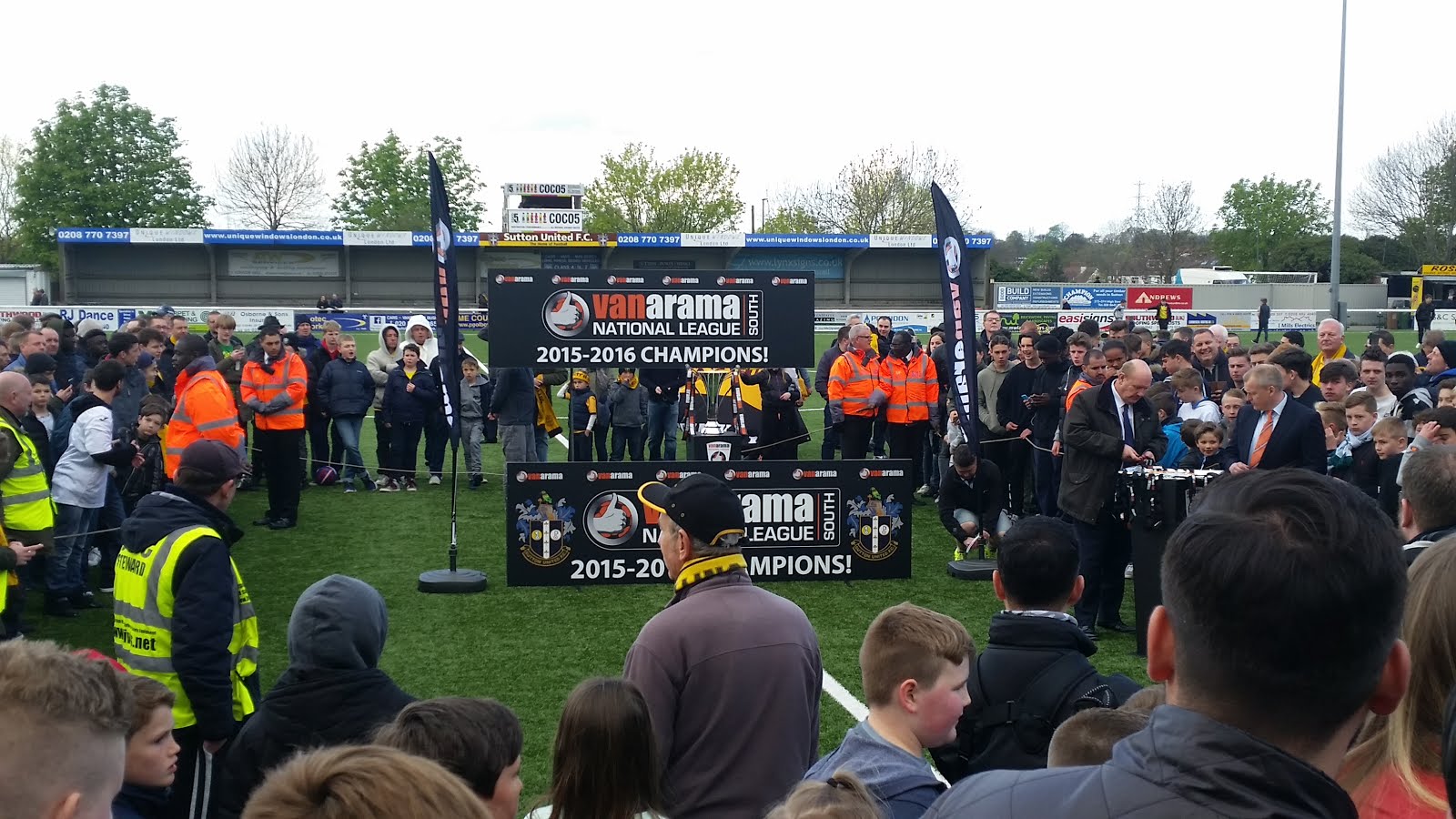 Anticipation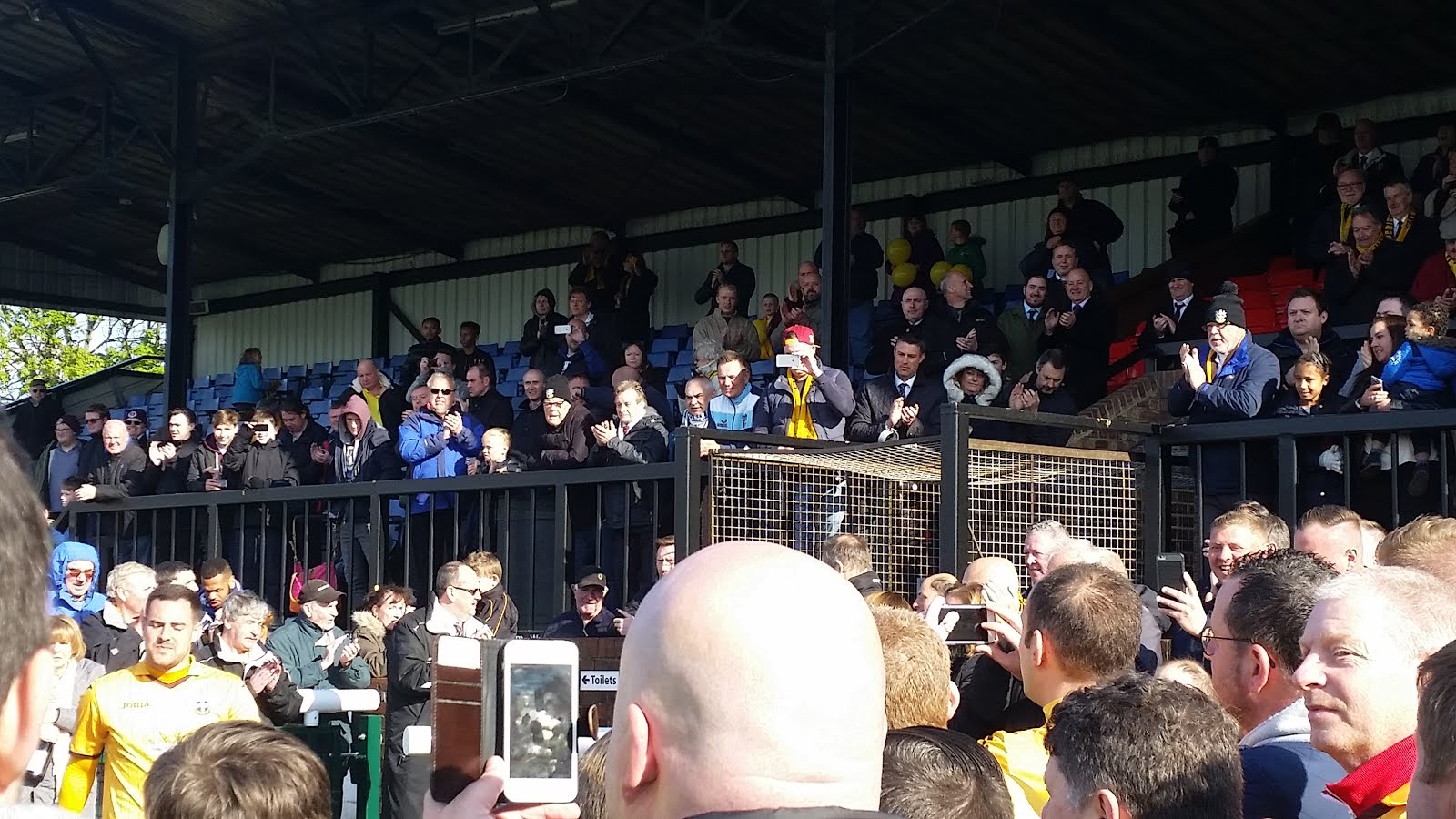 Where's Dos?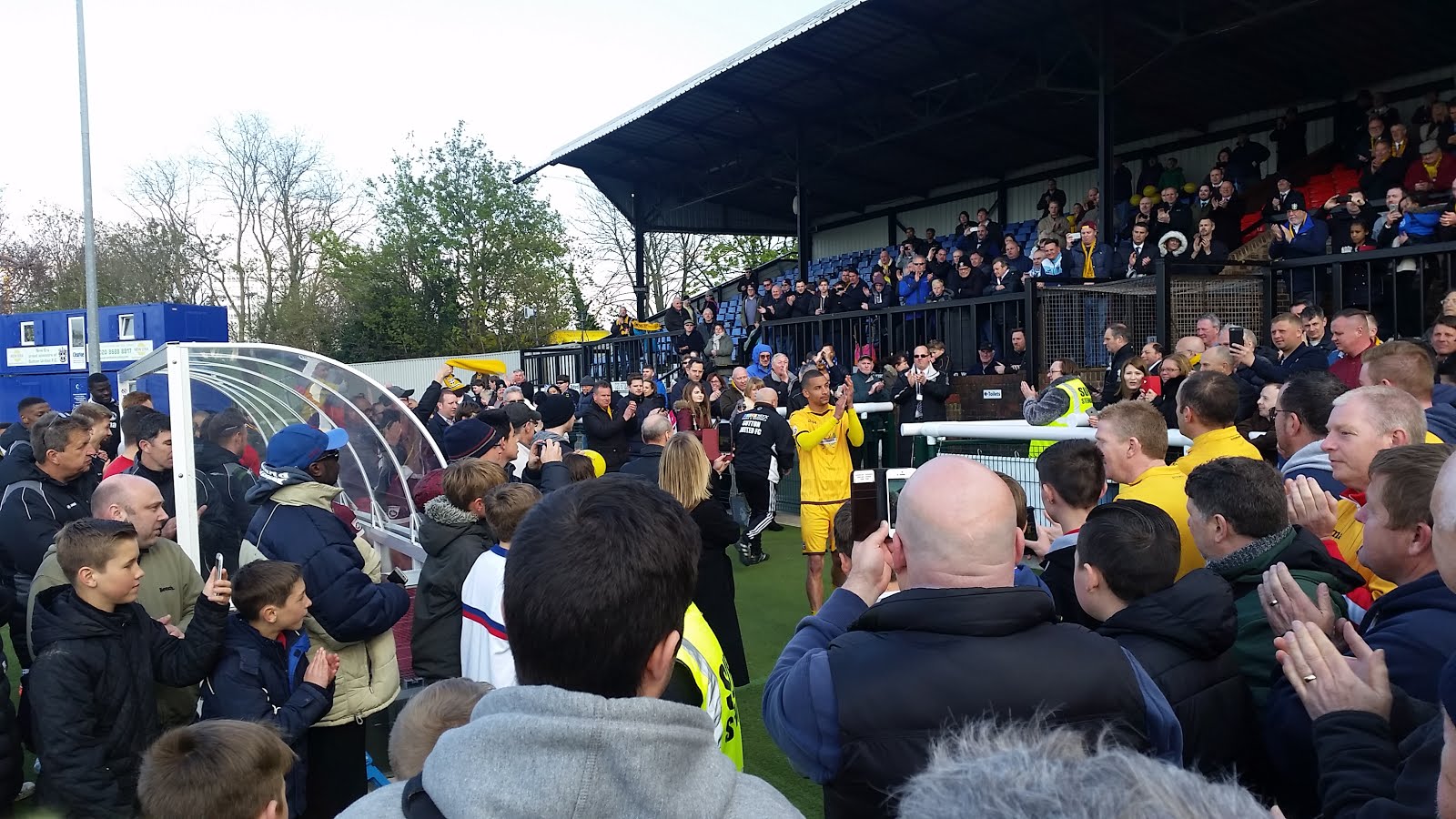 Milking the applause
We make changes, bringing on Dundo and then punting Simon Downer on up top for the last few minutes for what purely seems to be shits & giggles, but that's all there really is to add. In the end, the final whistle comes as a blessed relief. We've home. We've done it. Twenty five games unbeaten. We're fucking Champions!!
The immediate aftermath of that moment is all very sedate to be honest, as the lads and the staff do a lap of honour to greet the crowd before the presentations. Annoyingly, these are done at pitch level and not in the stand so that everyone can see it properly. Still, I guess Vanarama need to get their money's worth, but it wouldn't have hurt to have done a more spontaneous presentation followed by all the pics to satisfy the marketing bods afterwards, surely? One by one the lads are announced and come out the tunnel to get their medals as Dos stands above watching & taking it all in, a big smile on his boat. Then it's his turn and finally, FINALLY, Jamie Collins appears to pick up the pot and really get things going! As the photos are done and the lads amble off, I make sure I ask Clive the kit man to try & steal me one of the sponsors 'Champions' flags that are floating about and the true gent he is, he promises to do his best for me.
We then stumble down the tunnel and back to the bar so we can once more begin taking in refreshments. Here things are a little hectic as we all buzz about, catching up with other fans and I also take a few minutes to chat with Chelmo fan Kieran and his dad, who he blames for "Getting me into watching this shit". Good man! Everyone is beaming, everyone is chucking the ales back. Lovely. There's also a good few old faces hanging about like Craig Watkins and Glen Southam. Then one by one the lads start filtering through, all dolled up for tonight's festivities whilst we have one eye on the first FA Cup semi on the telly. Finally Dos appears and I pop over to offer my congrats to the man himself. Putting my arm round his shoulder, I don't get chance to say anything before I'm ordered to "Put your fucking pint down and give us a proper man hug".
And when the gaffer tells you to do something, you do it!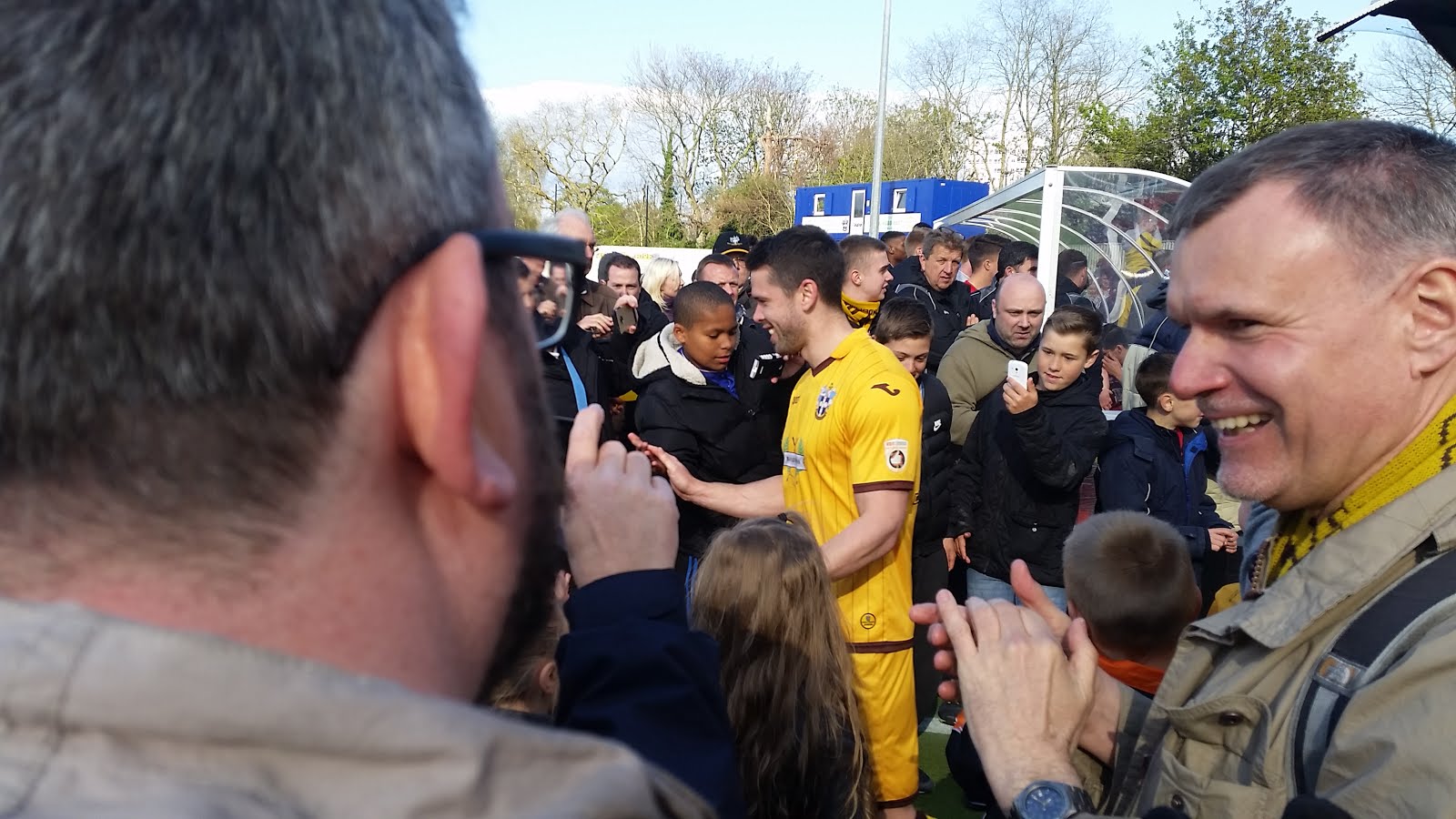 One F in Fitchett.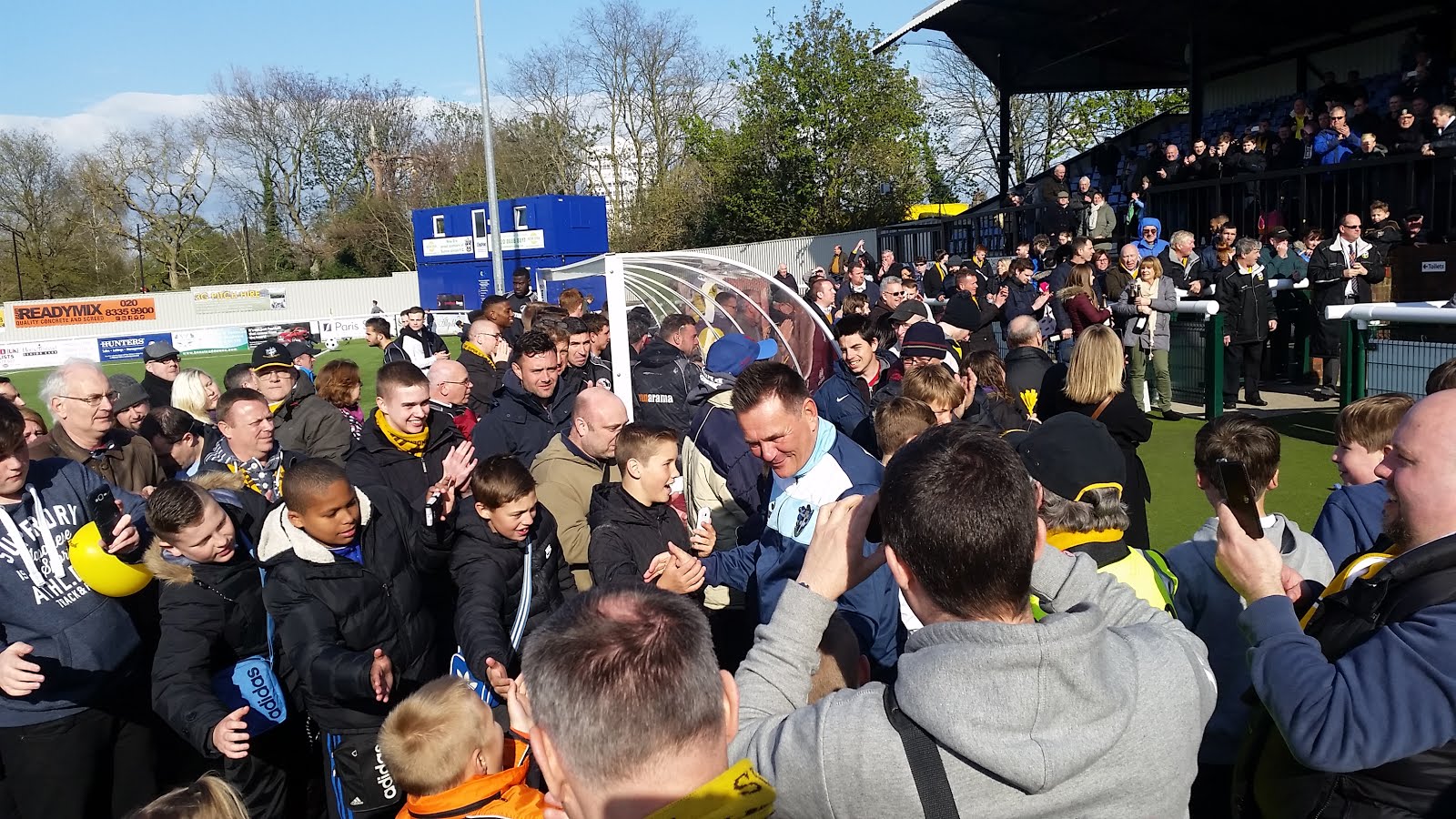 Gaffer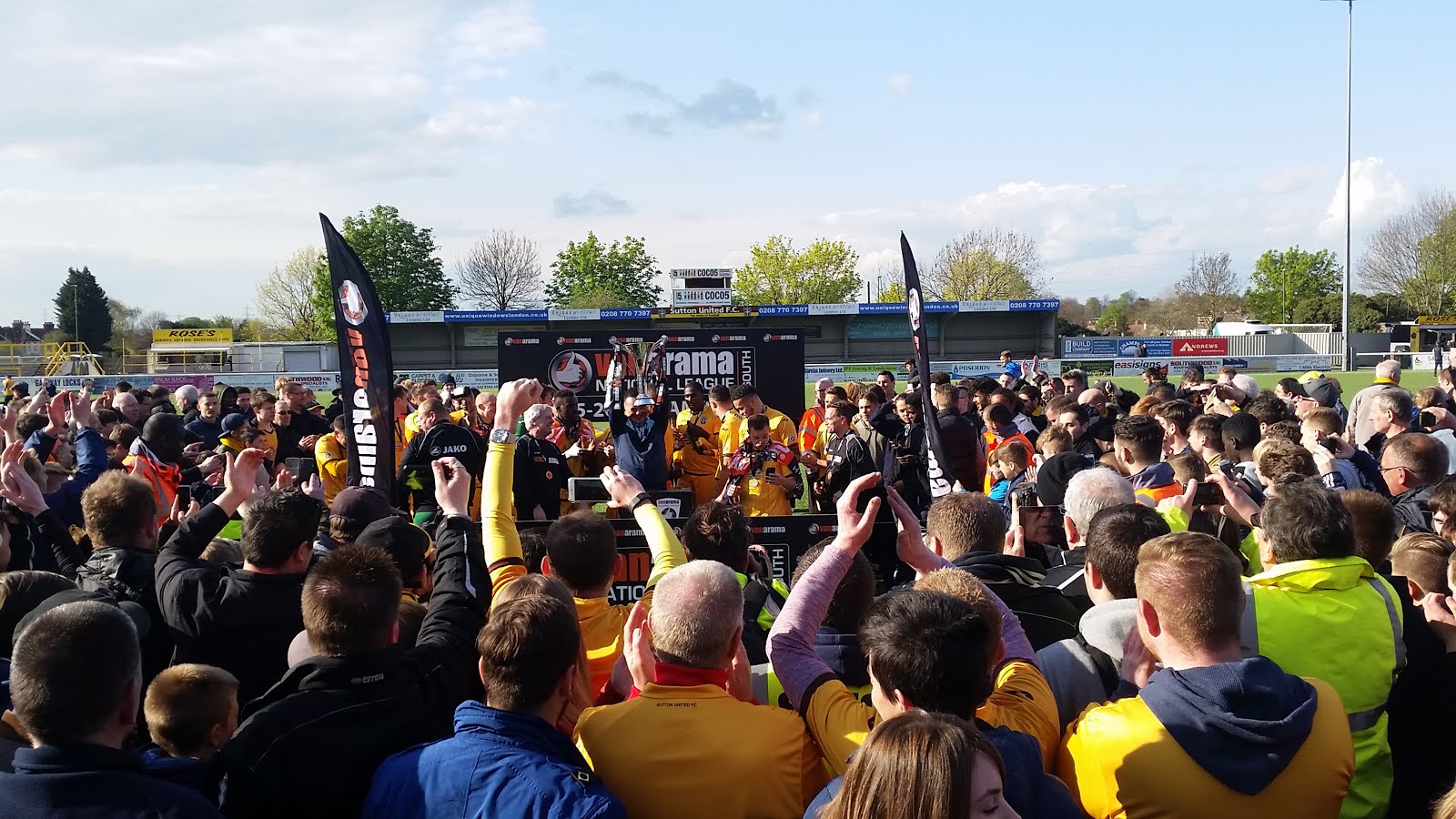 Held aloft!
I then pop down to the changing rooms to see my old mate Clive, but sadly he's come up blank on the flag. Not to worry old bean, I'd expected as much. So I instead take a moment to marvel at the trashed dressing room, the 3 buckets of empties on the physio's table and get my first close up look at the trophy. I snap a pic for posterity and head back to the bar. As the Man Utd – Everton semi enters it's death throes, we start being told to get next door to the TSL for the end of season do to get under way. A couple of the Chelmo lot join us briefly, including Kieran who thinks it's a great idea to get us all a round of double Scotches. Idiot. I hate Scotch. Still, not wishing to offend our guest, I neck mine and concentrate on not throwing up by listening intently to the Strikers are Key draws going on up front. All I know is we didn't win and someone else walked away with 1100 sovs. Fair play. Us with a grand to play with tonight would have been fatal!
The rest of the evening is taken up with the usual awards stuff and gushing end of season speeches you get when you've just won the league. And it's great stuff. Especially Dos' speech where he says such nice things about our vanquished title foe and the mob down the road. The sort of 'nice things' we'd say too. He also even gives the 'Shoebox mob' a name check. Unsurprising really, given we're kind of a big deal round here. Then I take the opportunity to avail myself of the buffet having made sure I'd lobbed a tenner Lyall's way to get me my ticket. It's been a long time since breakfast and that intake has long since passed it's soakage limits, so it's a happy little Taz that scarfs down a big plate of Sweet & Sour chicken with rice to ensure I survive the rest of the night. God I'm getting too old for this.
Towards the end, we get Greek's iPod punching out the usual favourites so everyone can have a nice drunken singalong whilst the trophy gets passed around like a cheap hooker for photos and suddenly, it's tipping out time. As it's still relatively early, a good number of folk decide that they'd like the party to continue so we decide to head up to O'Niells and have a few more there. Before we leave, someone decides that taking one of the long Vanarama 'Champions' signs from earlier that now adorn the stage is a jolly good idea. We can't be arsed to change people's names to protect the guilty, so we'll just be really vague about it all. Suffice to say, someone pops the fire escape and they try to make off with their booty. And they'd probably have got away scot free had someone not knocked over and broken a glass on the way out.
Undeterred at being rumbled, the giggling thieves disappear into the night with their prize and the Chairman's challenge of "OIIIII!" ringing in their ears.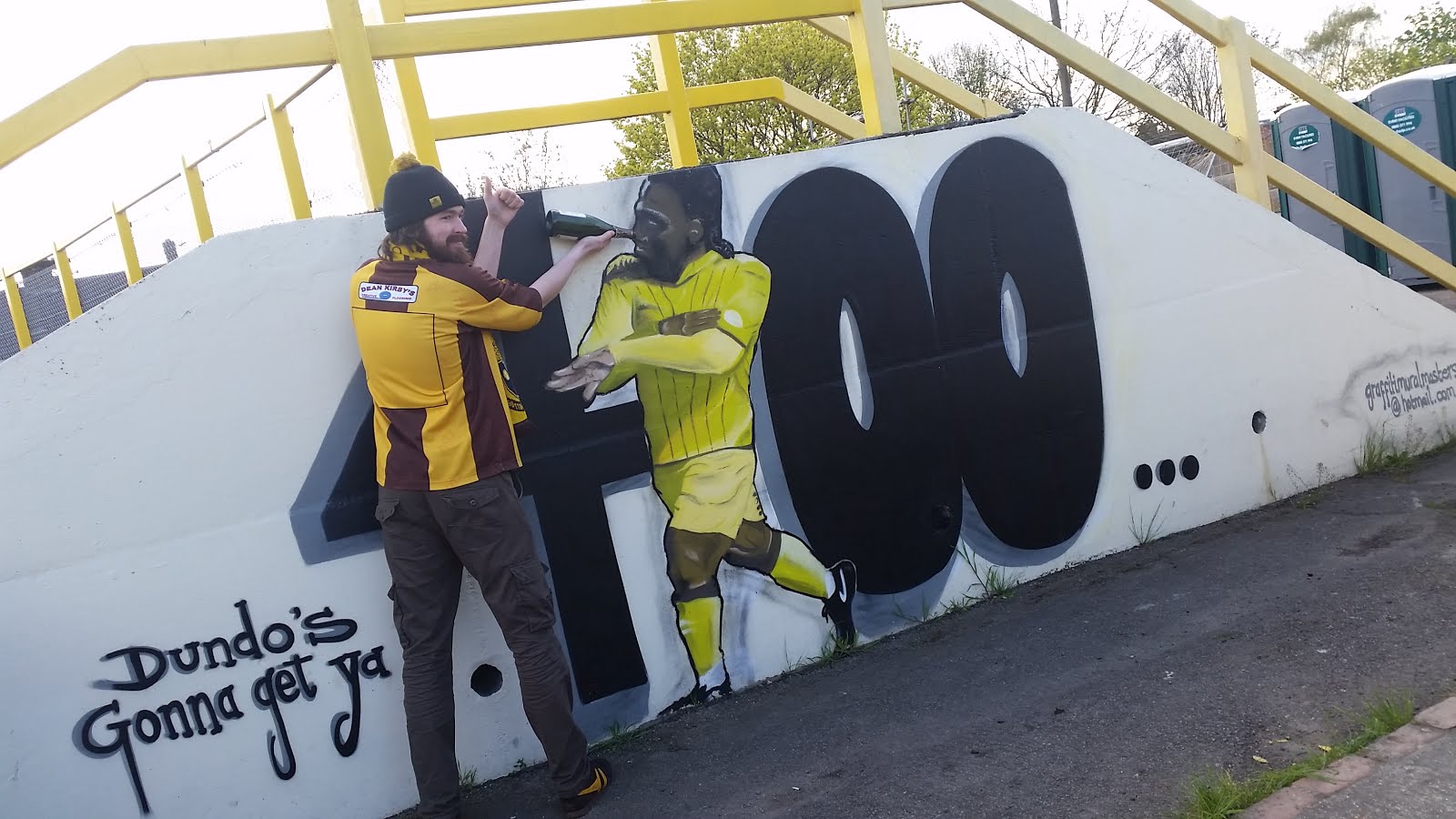 Bubbly for Dundo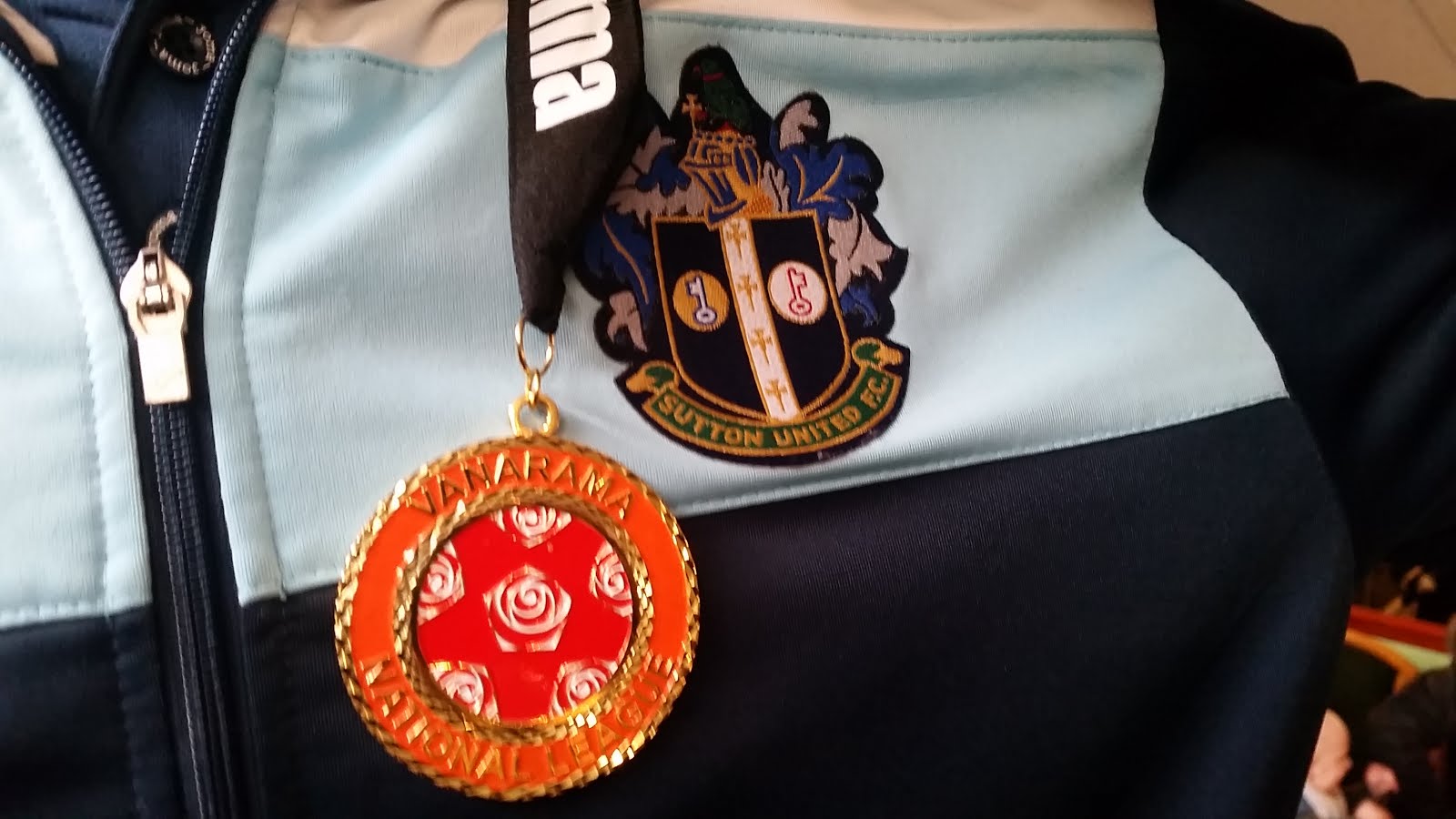 Oooh. Shiny!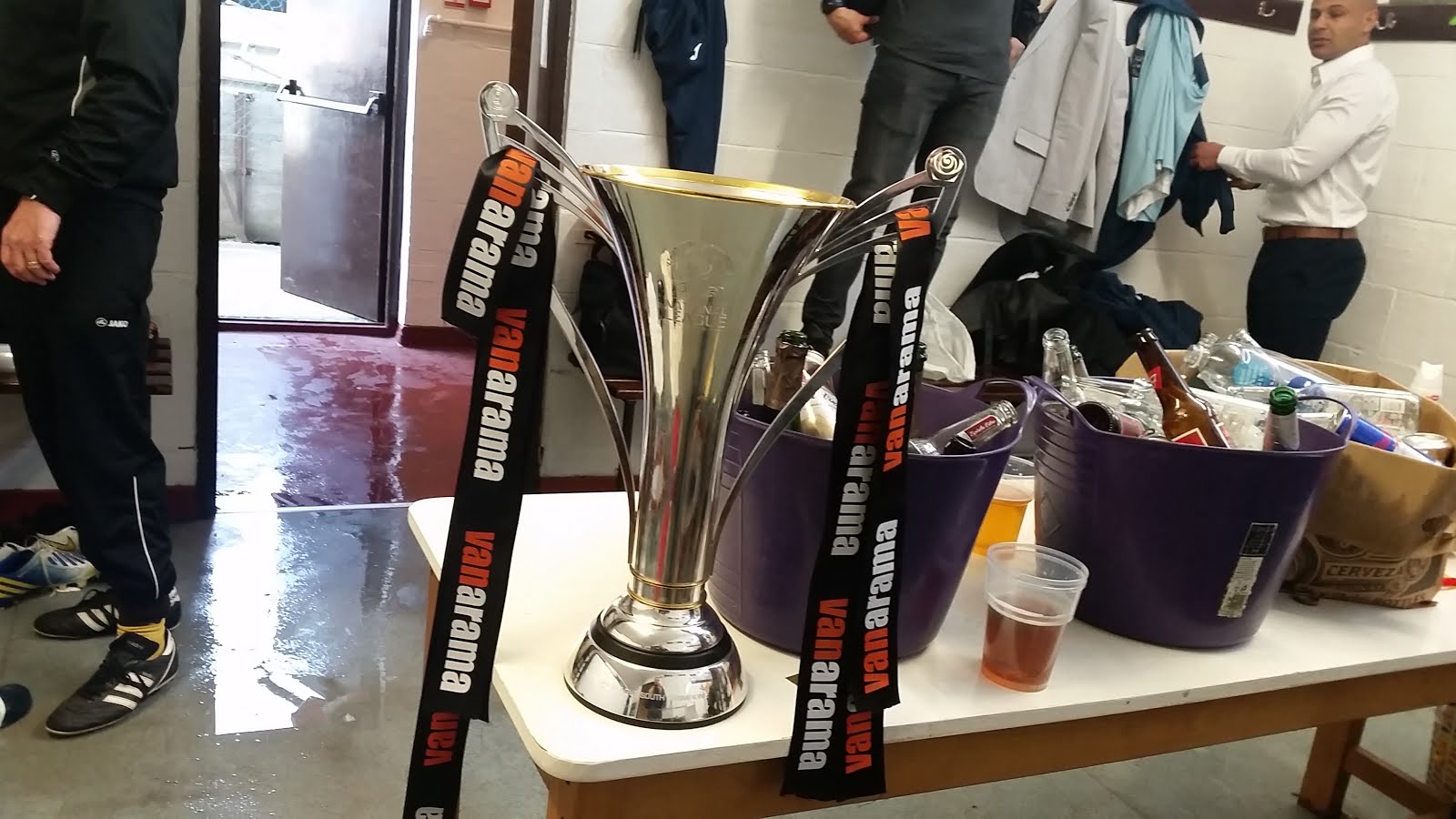 Ooooh. double shiny!
We head up the high street and arrive at O'Niells with the band in full swing and some people carrying a 14ft long Vanarama 'Champions' sign. Amazingly, the only casualty at this point is Bacon Roll's boy who has no ID on him to prove he's over 18, so they depart for home. The rest of us stash the sign up the side of the pub and stumble in having name dropped the guvnor's name to the doorman as leverage, mainly as we're all now pretty pissed. That and we've just shown up with a 14ft long sign.
There's a good number of Sutton bods in here tonight, with Tatey, Millsy, Chalmers, MarkyN and many other faces all joining the party and generally enjoying themselves. We also get a good laugh off a tweet from the Maidenhead GMOSC crew who are down in Weston pissing it up. But, all good things must come to an end and around half 1, the boozer starts it's chucking out procedures and having name dropped the guv earlier, we decide not to annoy the doorman and make good our escape. Well, sort of.
First we need to work out exactly what to do with this fucking huge sign. In the end, Loffers offers the use of her parking spot at her flat around the corner to stash it for the night before we sheepishly return it tomorrow, so plan in place, we head outside and collect the sign. At that precise moment, Si Downer and at least two other lads emerge from Subway opposite, having been out in Wonderlands. I'm pretty sure the last thing they expected having got themselves a Philly Cheesesteak was finding a bunch of pissed arses greeting them outside with a large sign singing 'Championes'.
This moment of silliness is brief however as clarity hits us all and we realise it's chucking out time on a Saturday night. And a large gaggle of policeman officers are gathering not a few yards away, no doubt looking to give stern tickings off to twats like us. Fuck off? Fuck off. So we rapidly exit stage left and head for Loffers place to ditch the contraband. We mostly giggle our way there at the absurdity of the current situation and that we'd managed to somehow not even get so much as a funny look from the Po Po. Our mirth is cut short right outside our destination however when we see a Police car coming round the one way system. Oh fuck. We put our heads down and try to act natural, hoping he won't notice 4 dicks and a 14ft sign. Sadly he does. "Is he stopping? Oh fuck he's stopping. Evening officer!"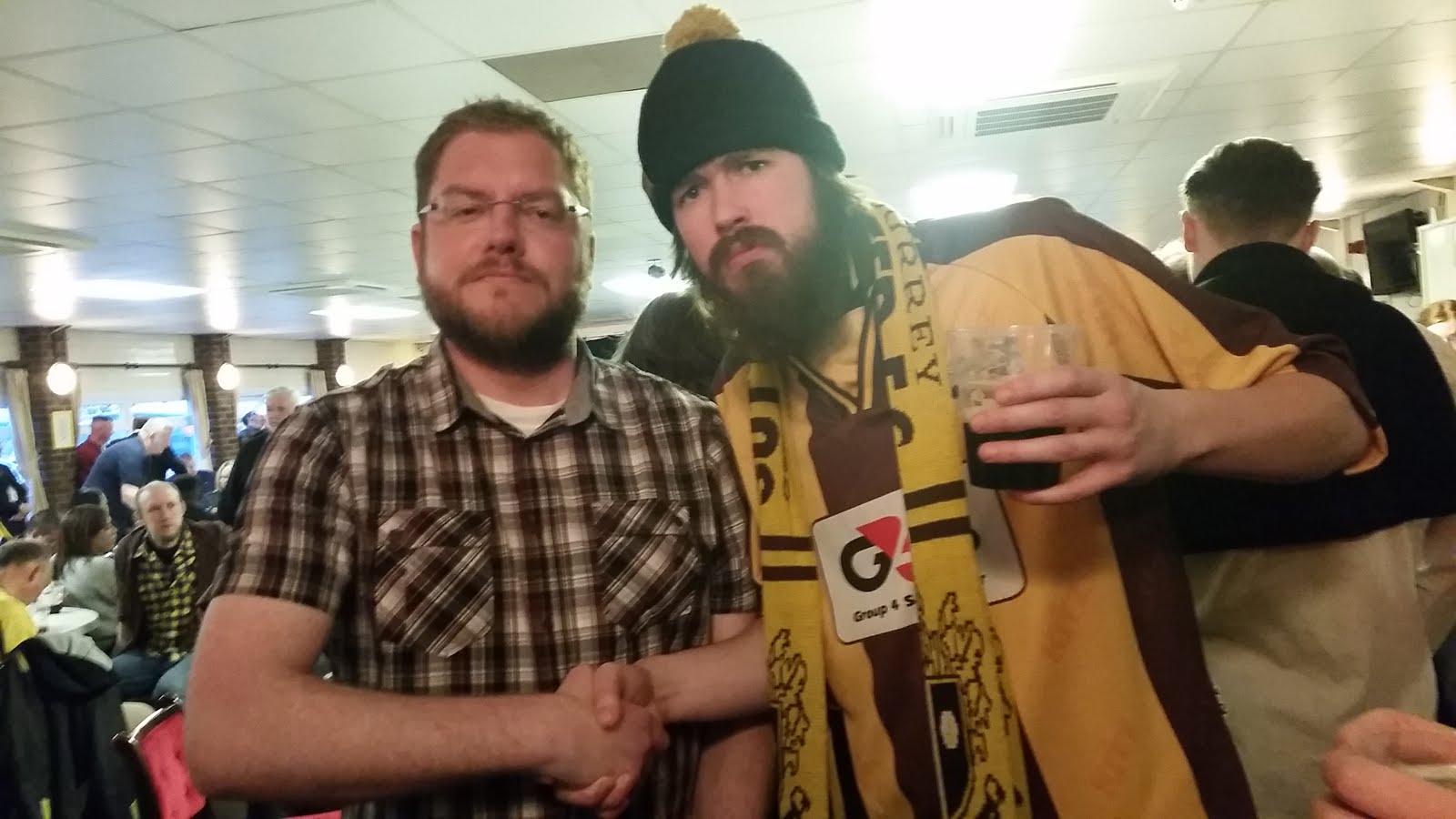 Togging the Tog.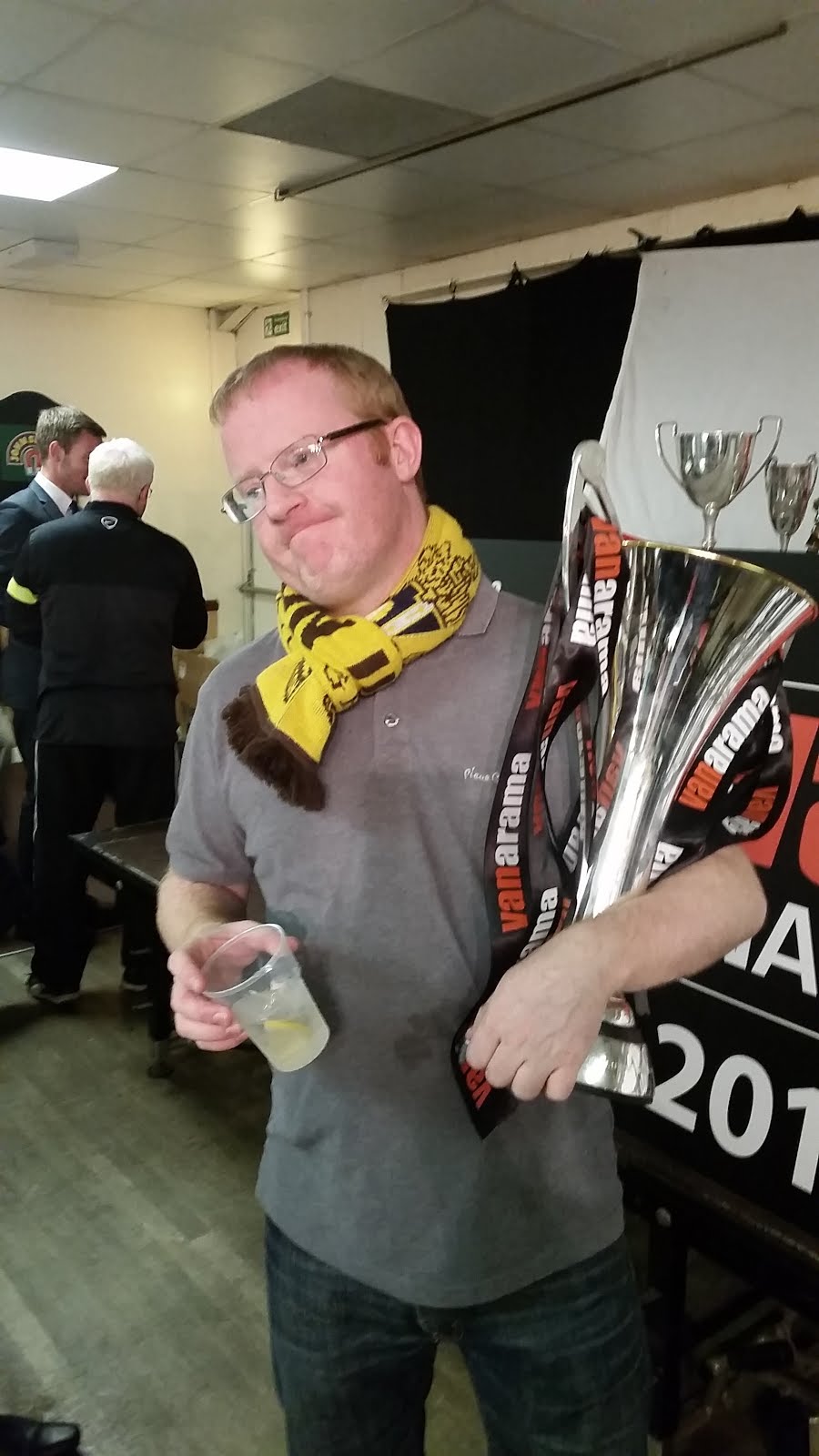 "Oh come on, just for tonight!"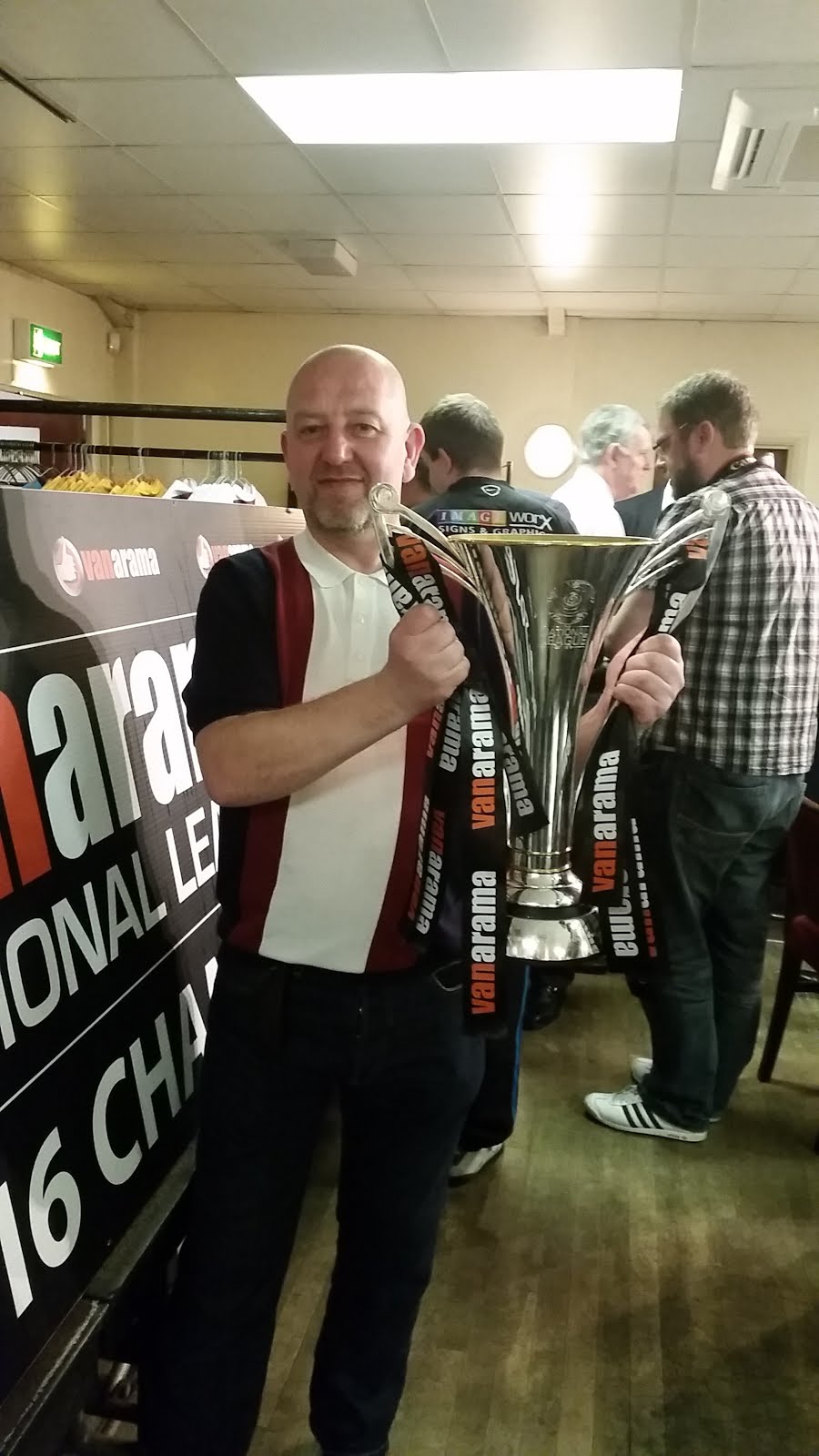 Dogger Len!
Fortunately, we're charming people. Even more so when inebriated and the Policeman officer takes it all in good humour.
"You found it eh?"
"Er, yeah. That's it. Found it. We'll return it tomorrow"
"Oh I bet you will, would look great on someone's bedroom wall that"
"Oooh no, you've no idea how badly we're gonna get shouted at for this"
With the local Constabulary satisfied that we're indeed quite harmless, about to stash the temporarily misplaced object for the evening and definitely fuck off straight home to bed the moment we have done so, he heads off to do another circuit of the 1 Way whilst we stumble into Loffers underground car park and promptly piss ourselves laughing. 'We fought the law and we sort of managed a score draw'. We'll take that.
We leave and meet Dukey coming the other way. Can we go home now please? 4 Days and Loffers go for eats and Dukey decides he wants a Subway which he quickly bags and we then scamper off once more to Melvilles, the number one supplier of transportation to pissed up Non-League bloggers in the Sutton area. Of course, we get a driver we've had before and he's soon pissing himself as we tell the tale of the sign 'borrowing' and our teeny tiny brush with the law. Soon though I find myself stood outside HQ, grinning like a twat and taking a deep breath of the sweet Championship night air. There's not even a hit of the sewage works.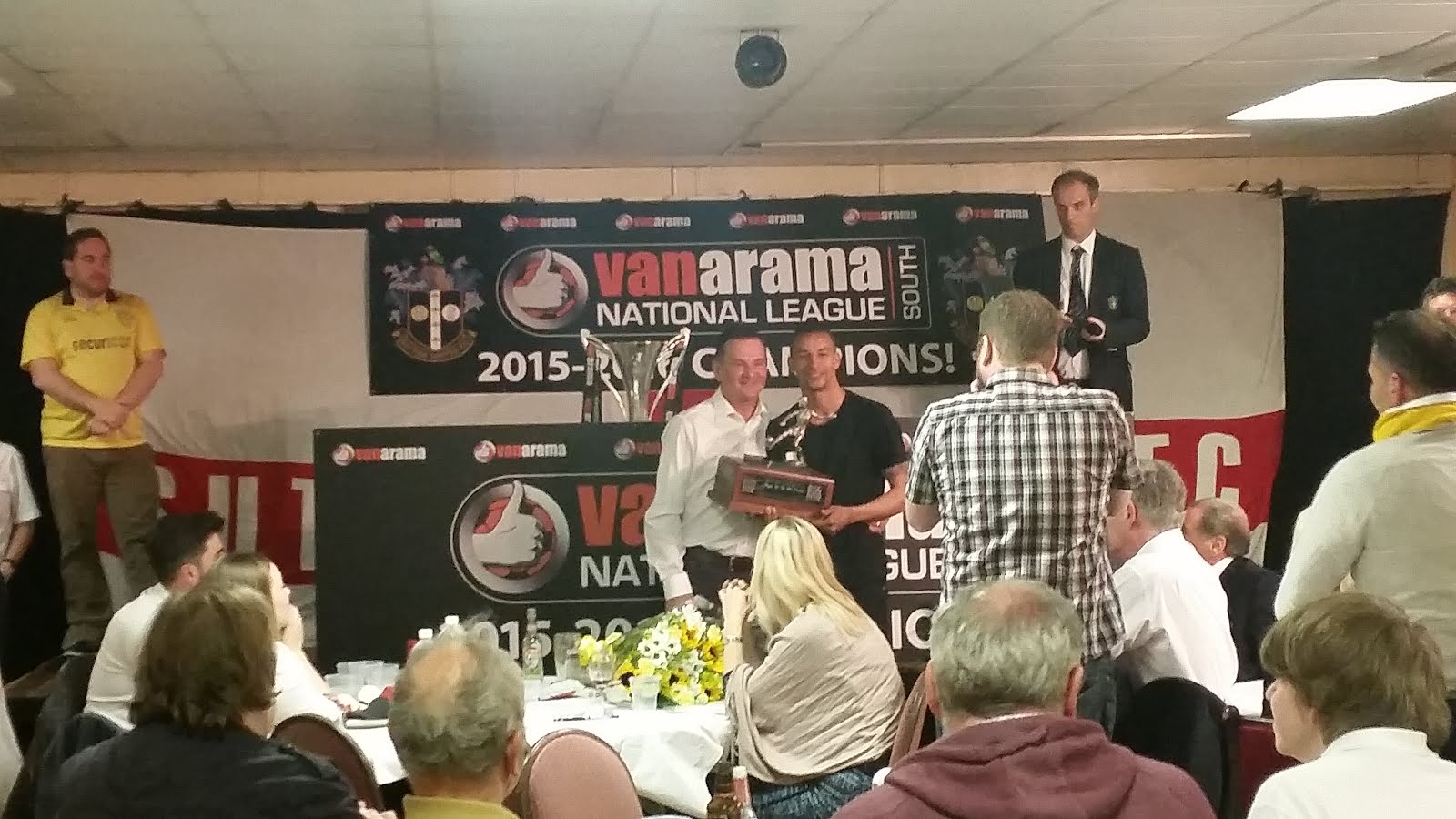 Player of the Year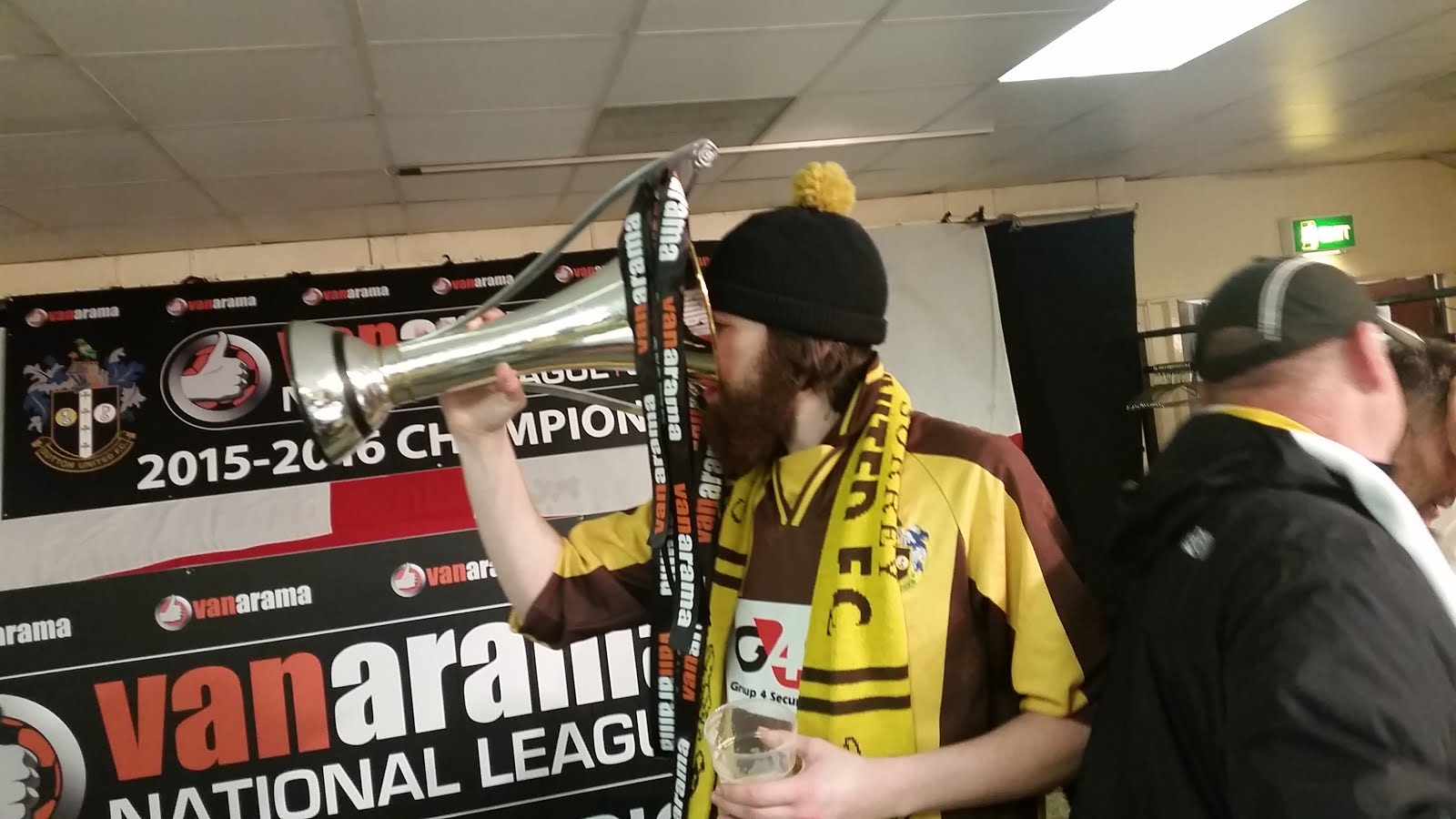 Tradition innit!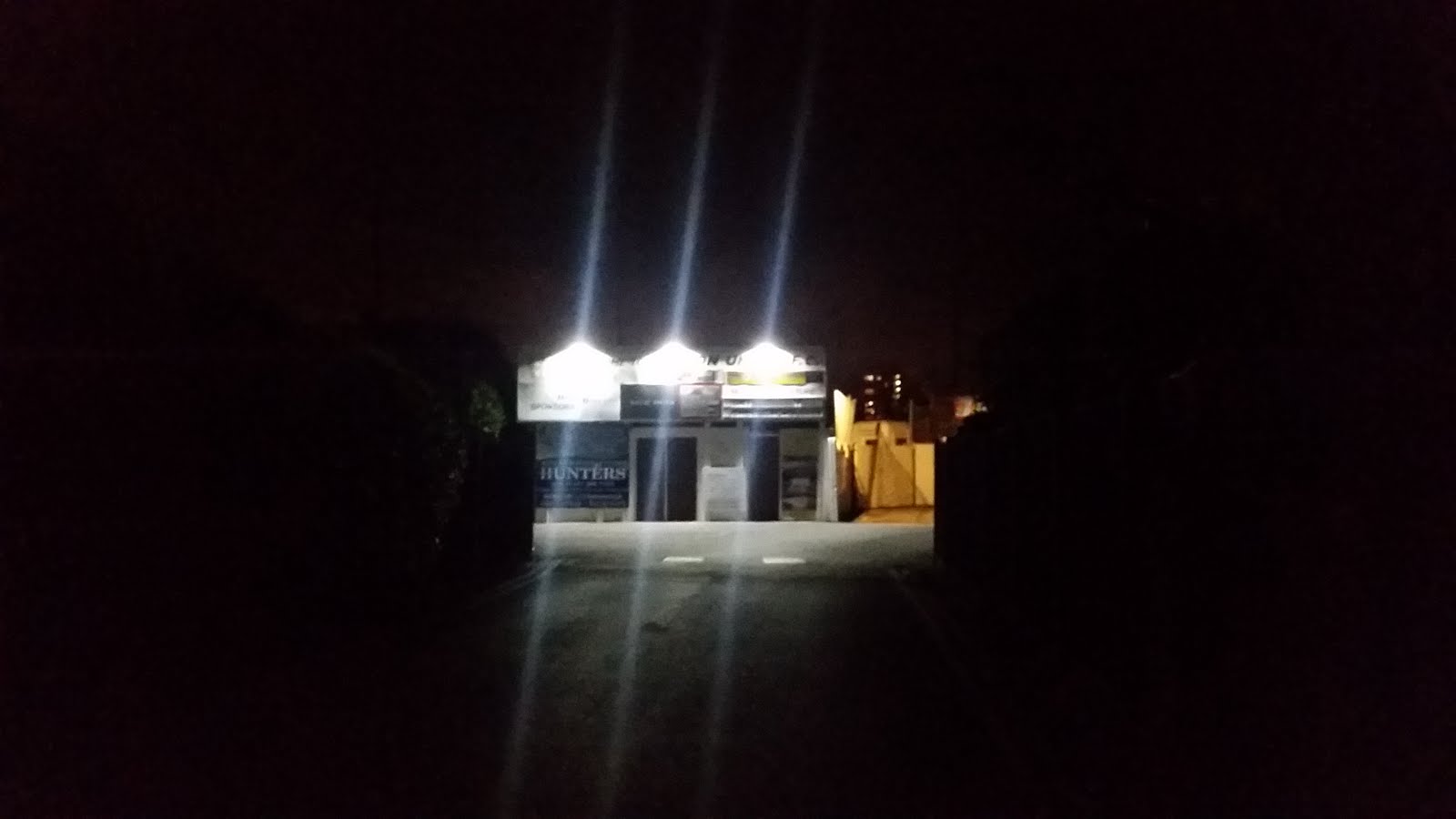 Bye GGL!
You know what, I couldn't half go a couple of rounds of toast now. I'm knackered. Thank god Dukey's doing Oxford.
Taz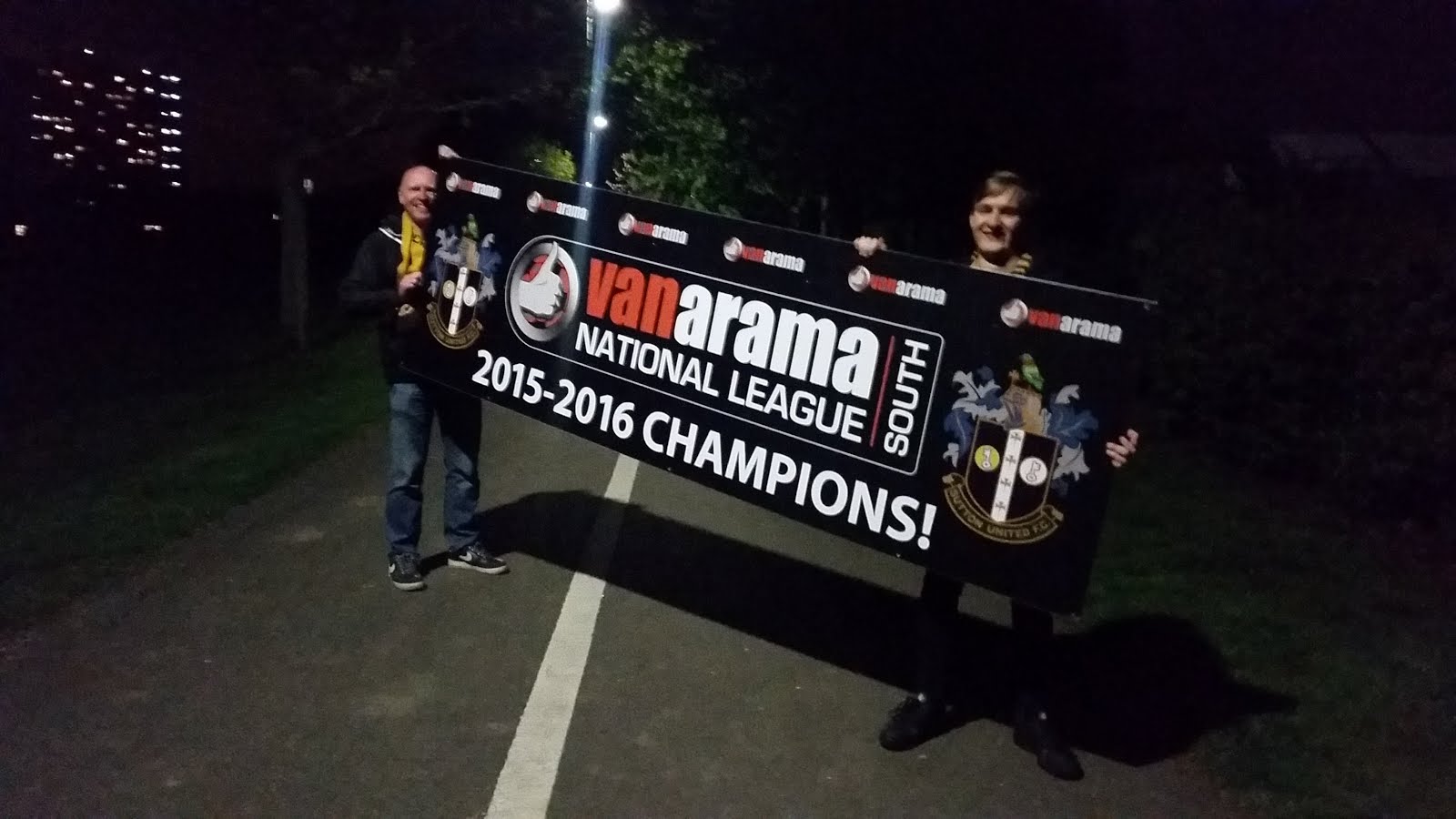 "It's ok, we're only borrowing it"