Thank you very much Dukey for the kind hand-over from the previous blog! Determining on tonight's
result this could very well be the last time I write for Gandermonium. You readers may remember me writing in the
Weston-super-Mare entry that Natalie labelled me a "bop" because each time I
have written for this lot, doing the games against Bath City and Weston-super-Mare, we drew both of them.
If you're a musical genius such as myself you may recognise
the significance of the title of this blog.
The said lyrics come from a Boyzone cover of a Cat Stevens record called
"Father and Son"- Dukey even had the great opportunity to witness me signing it
to him. Reason I labelled it this is
because for the Bishop's Stortford game I brought my Dad down – he has been
talking about going to a game and I thought this one may be best for him
considering the remaining two games at home.
We make the journey well before kick off so I could get a decent car
parking space down our old road of 13 years (Frederick Road) and take in some
of the walks/routes we used to do when we lived there – bit of nostalgia never
goes amiss. Plus I also think the title
says it all to us about just relaxing and everything will work itself out – we
know what we want and we have to believe it will happen = promotion!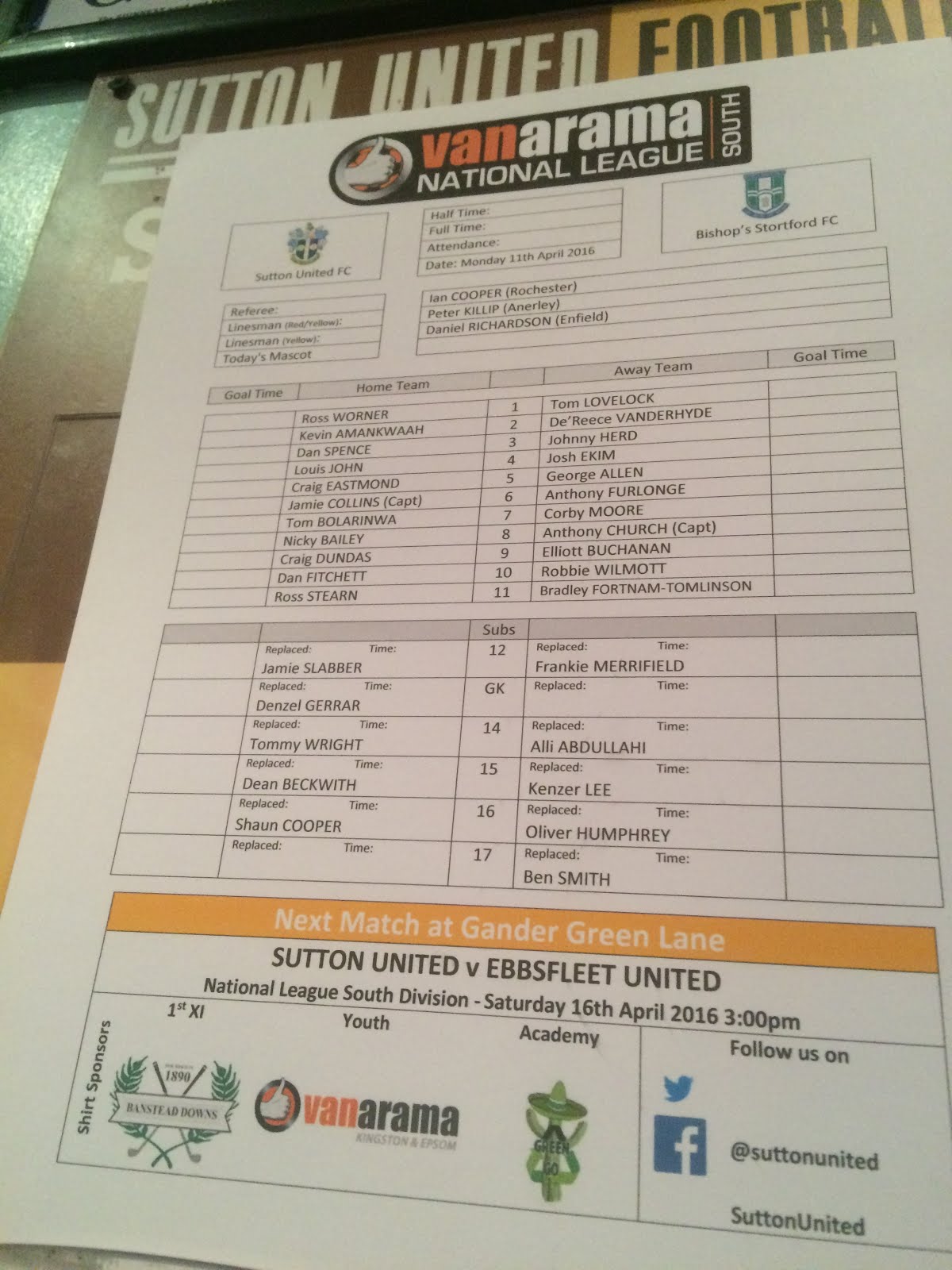 Personnel.
What a ride (no Margate pun intended!) us U's fans are on at
the moment, a 22 game unbeaten run, last four games all won and now with four
games to go its looking likely we are going to (hopefully) pip Ebbsfleet to the
title and get that sought after promotion to the National League; of course I
am choosing to ignore the other "paperwork" issue as I am sure the club are in
hand with this. As Rossi Stearn said in
a Tweet much earlier on, every game is like a cup final now! As for last week's win at Maidstone, wow I
have never seen anything like it – the celebrations from fans and players at
that final whistle is something I will never forget. Moving onto the Margate game on Saturday and even though we fans were
thoroughly drenched in the second half, we watched our U's get yet another win. This was followed by countless people coming
up to us wishing us luck and hoping we go on to win the league, even BBC Radio
Kent – thanks!
So to tonight's game – Bishops Stortford, a team sat in mid
table and looking very much likely to survive relegation, with no realistic
prospect of the play offs. I notice a
familiar name in goal for them – Tom Lovelock – a former U's keeper. I liked him, a shame he never got enough chances
but I would no way swap him now for Ross Worner – and as Mr Barry says the best
keeper in the league. Sadly we will be
missing Wish tonight due to his suspension.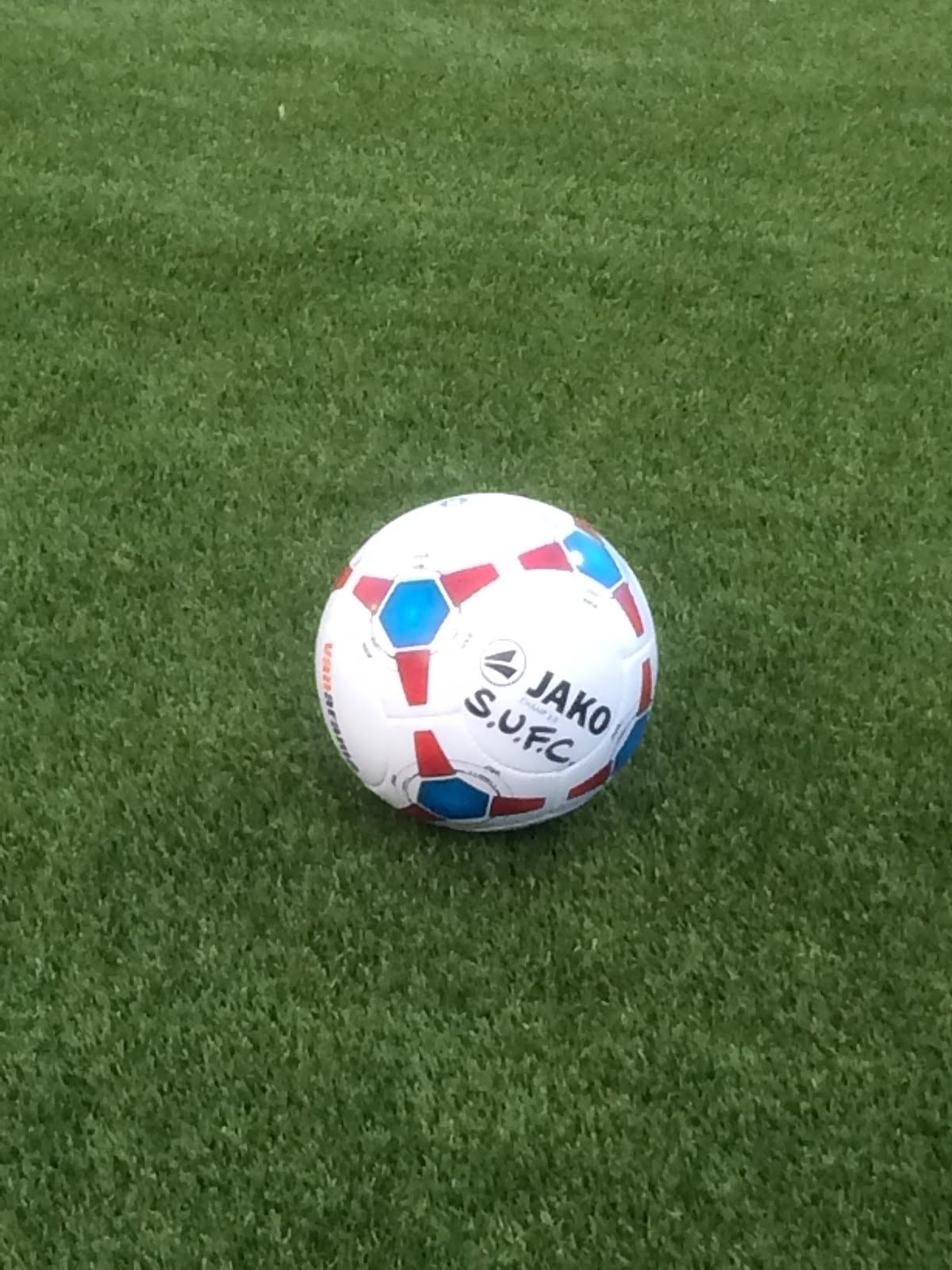 Got our name on it.
The team for tonight is as follows – Worner, Amankwaah,
Spence, John, Eastmond, Collins [C], Bolarinwa, Bailey, Dundas, Fitchett and
Rossi (Stearn).
Natalie has brought her friend Billie tonight, who is
attending her second game – most welcome.
I just hope she doesn't get to witness me being a "bop" and we win this one – boy
do we need a win again. In what is pleasant
Spring conditions, the game kicks off and the first spot straight away by
Natalie is the dodgy hair on the Bishops Stortford number 4 adding to the list
of dodgy haircuts seen down at GGL this season.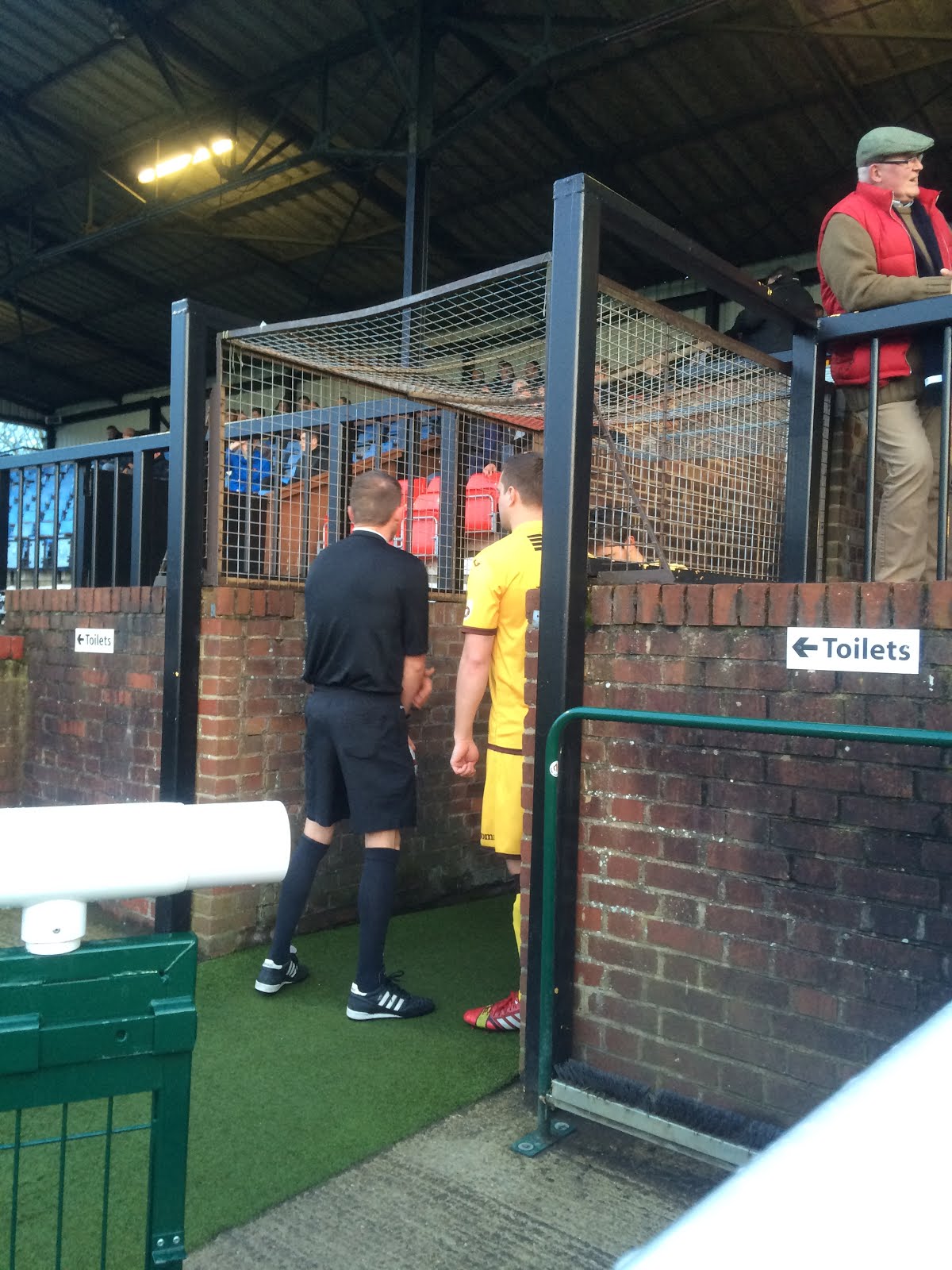 Where's the other lot then?
It was in the first 15 minutes where the first proper chance
fell to the U's where Louis John who had a volley saved by Lovelock. There was me now thinking oh great a former
playing come back to haunt us and this continued as further chances from Jamie
Collins (JC) and Fitchett were again missed…..until seven minutes before half
time; after Stortford failing to deal with another Sutton attack, the ball fell
to Eastmond who hit a low shot into the net, 1-0, and what followed was the
trademark Craig Eastmond celebration that we saw at Maidstone last week in the
form of an aeroplane. Apologies readers
I did not catch the celebration you will have to rely on Mr Loughlin and his magical picture device for that
one.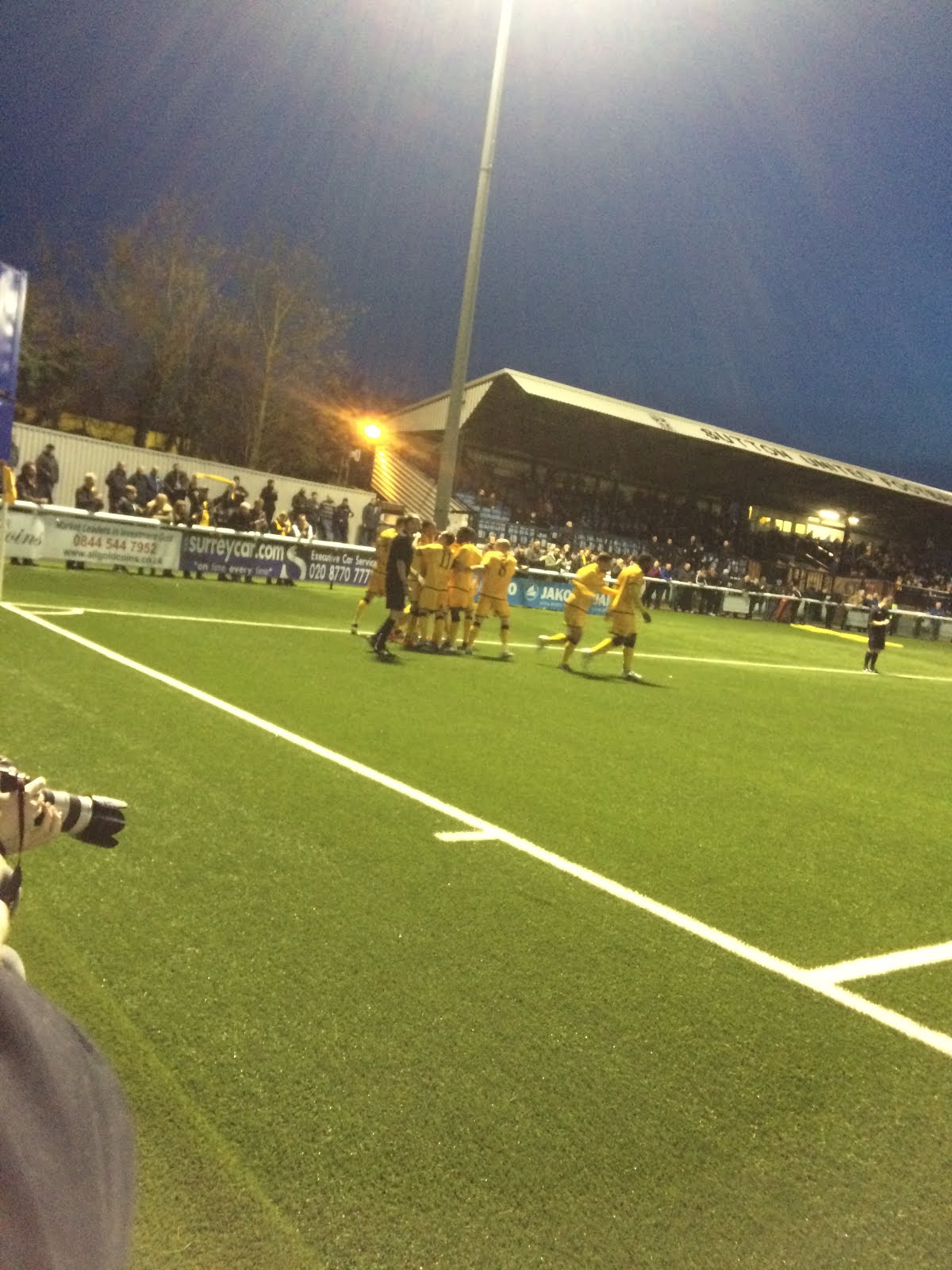 GOOOOOOOOOOOOOOOOAL!
May I add that Rossi took a number of corners nearby to
where we were standing and yours truly got a good action shot!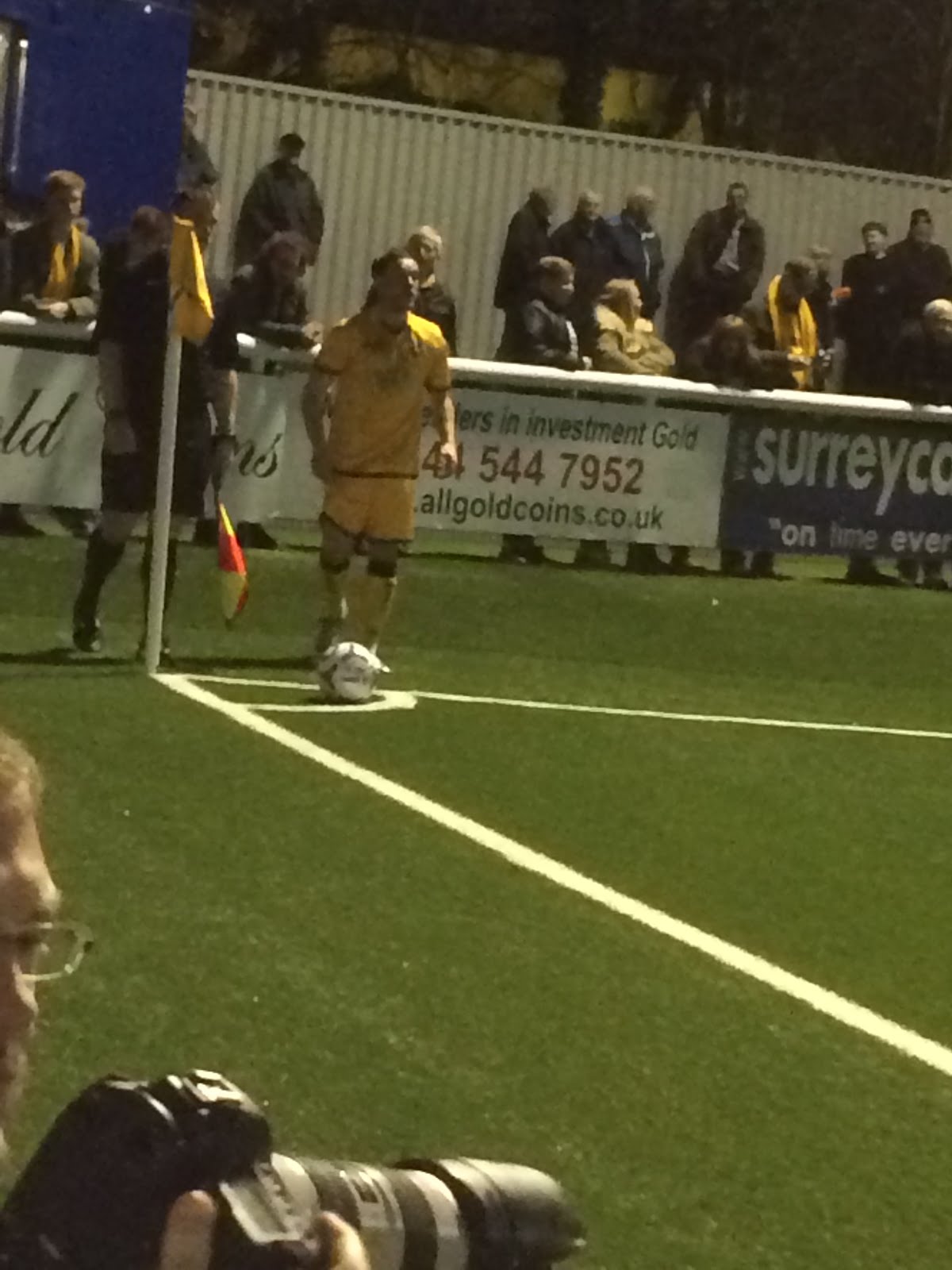 Robbo's Man Crush
Again, as I was on blog duty I stayed till the whistle ending
the first half which I jokingly mention to another Steve as he makes his way
down to the bar on 40 minutes telling him to have a drink on my behalf. As we head out for the second half I note
Beckwith comes on for Louis John.
Tactical or was there another reason? I did note the referee – who may I
add was another shocking one to add to the collection – previously talking with
JC about Louis John's conduct so obviously this was a precautionary
substitution with Louis already in the book?
What endured in the next 40 minutes of the second half was
one of pure tension and frustration as it did not look like a second goal was
coming and more scarily an equaliser for Stortford thus incurring the "bop"
theory about yours truly again. What
made matters even worse, for me, was Rossi being substituted on the 78th minute for Slabber – noooooooo! However, with five minutes to go, Eastmond
races through the penalty box and is tripped by funnily enough the Stortford number
4 (mentioned earlier) – penalty to the U's! Cue people with their phones and
biting fingernails as JC steps up to take it – duly then coolly slotted home and thus decreasing the tension inside GGL as its now 2-0 to the U's. One final substitution is made by Dos, bringing
Cooper on for Fitchett straight after the penalty scored.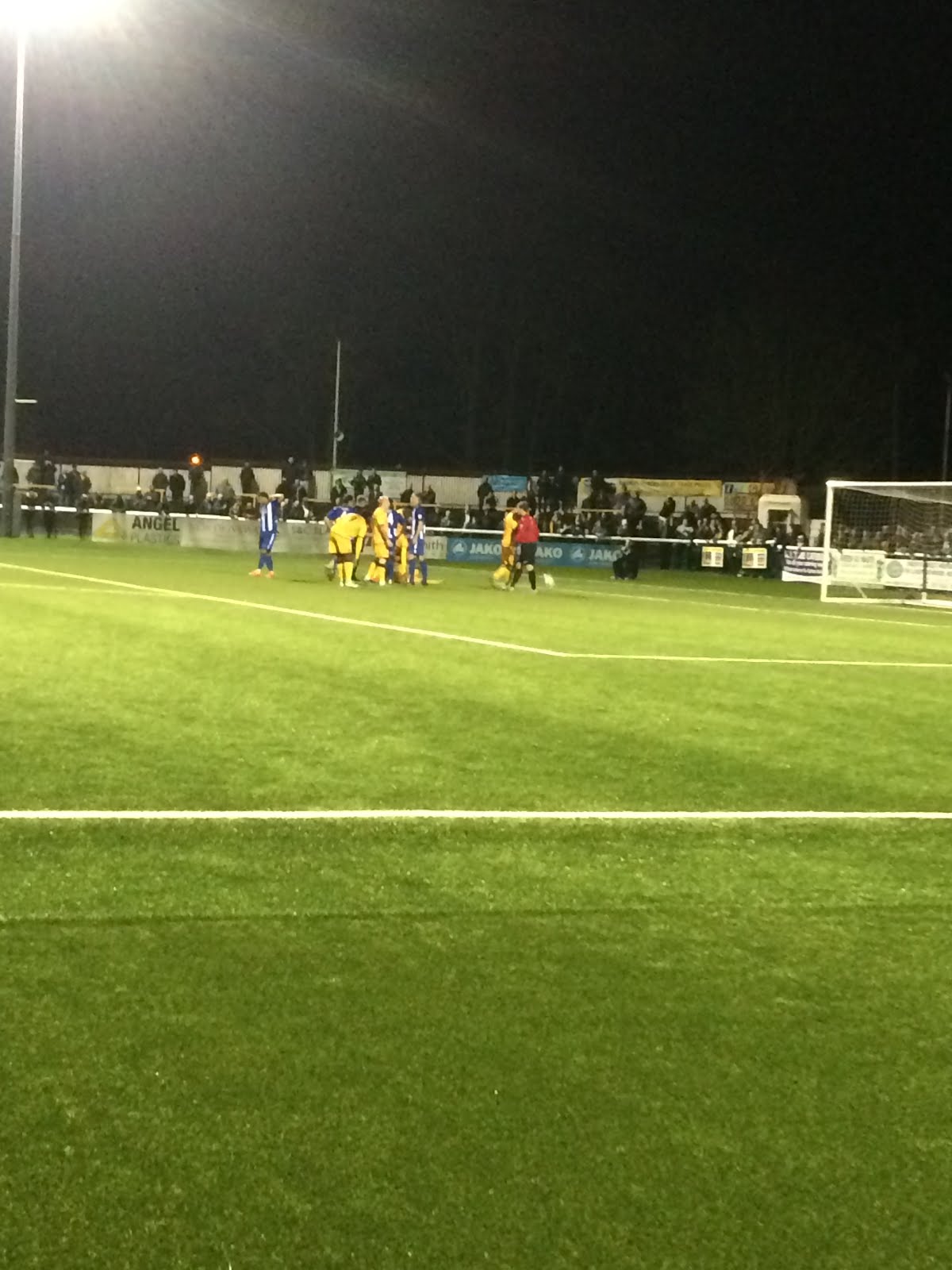 Penalty innit.
Natalie asks me "How long left" to which I look on the
FlashScores app to see we were now in the 90th minute and consequently
we begin our walk round towards the dugouts.
Thus what happens is halfway walking round the final whistle blows and
its game over and cue whooping cheers. That's
three more precious, valuable, important, cherisly (note the GCSE Grade B and
A-level Grade B English language coming out here) needed points for the U's. It might also be noted that an attendance of
1061 for a Monday night game is just amazing to hear. Cue the rendition of the song "wise men say, only fools rush in……"
how we love it! Subsequently, this win also
saves my blog writing duties for the time being – phew! A fact I related to
when re-entering the bar. Maybe I'm not a "bop" after all? (Ok, I give in. What the fuck is a bop? -Ed)
I guess I now have the much wanted, sought after and "proper"
privilege (after Dukey's albeit 45 minute write up of the Margate game), to say
that we, Sutton United Football Club, are now officially top of the Conference
South, wahoo!! Of course, we still have
a game in hand on Ebbsfleet and also a significantly better goal difference
which is worth an "extra point", let's just also add we still have three games
to play.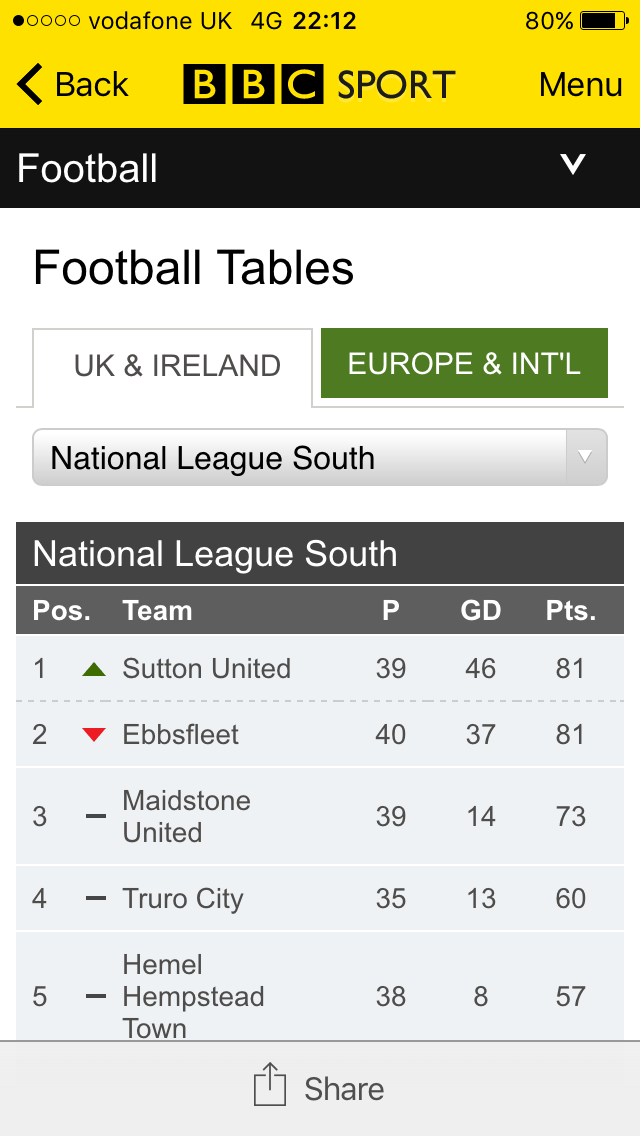 Looks lovely that.
It's safe to say the atmosphere in the bar after the game
was one of joy and happiness; leading me to declare to quite a few patrons in
the bar that we are going to do it (he says in all hope). You can certainly feel the anticipation,
excitement and joy throughout the club now – from the manager, to the staff, to
the players and to the fans. My Dad
even had the pleasure to speak to the great manager that is The Dos – go on
sir, we can do it – we're in this together!!
So now it's on to the big one – Ebbsfleet United this Saturday and what
I anticipate to be the biggest crowd we've had at GGL since the Notts County FA
Cup Second Round Tie back in 2011.
I would now like to officially hand over the blogging reins
to, er, whoever's next up for Ebbsfleet!
Wise men say……
Robbo