Wow, you have to go a long long way back to find a time when Gravesend Ebbsfleet weren't top of the league (middle of September apparently). But for forty fives minutes on Saturday, it was the mighty Sutton that ascended that very summit to bask briefly in all its glory. Of course, win against Stortford on Monday night and we're top again, but for a little longer. While on Saturday it seemed that it didn't matter.
But before we get too carried away with the what's and maybes, let's get straight down to Gandermonium's very own version of the Only Fools and Horses 1989 Christmas Special. Except it doesn't involve a coach trip, where the bus catches fire due to a faulty Albanian tape player. Or that we are forced to spend the night in run down B&B. The weather was different as well and so was the atmosphere. In fact, the only thing in common was that we were going down to Margate. Don't even know why I mentioned it now.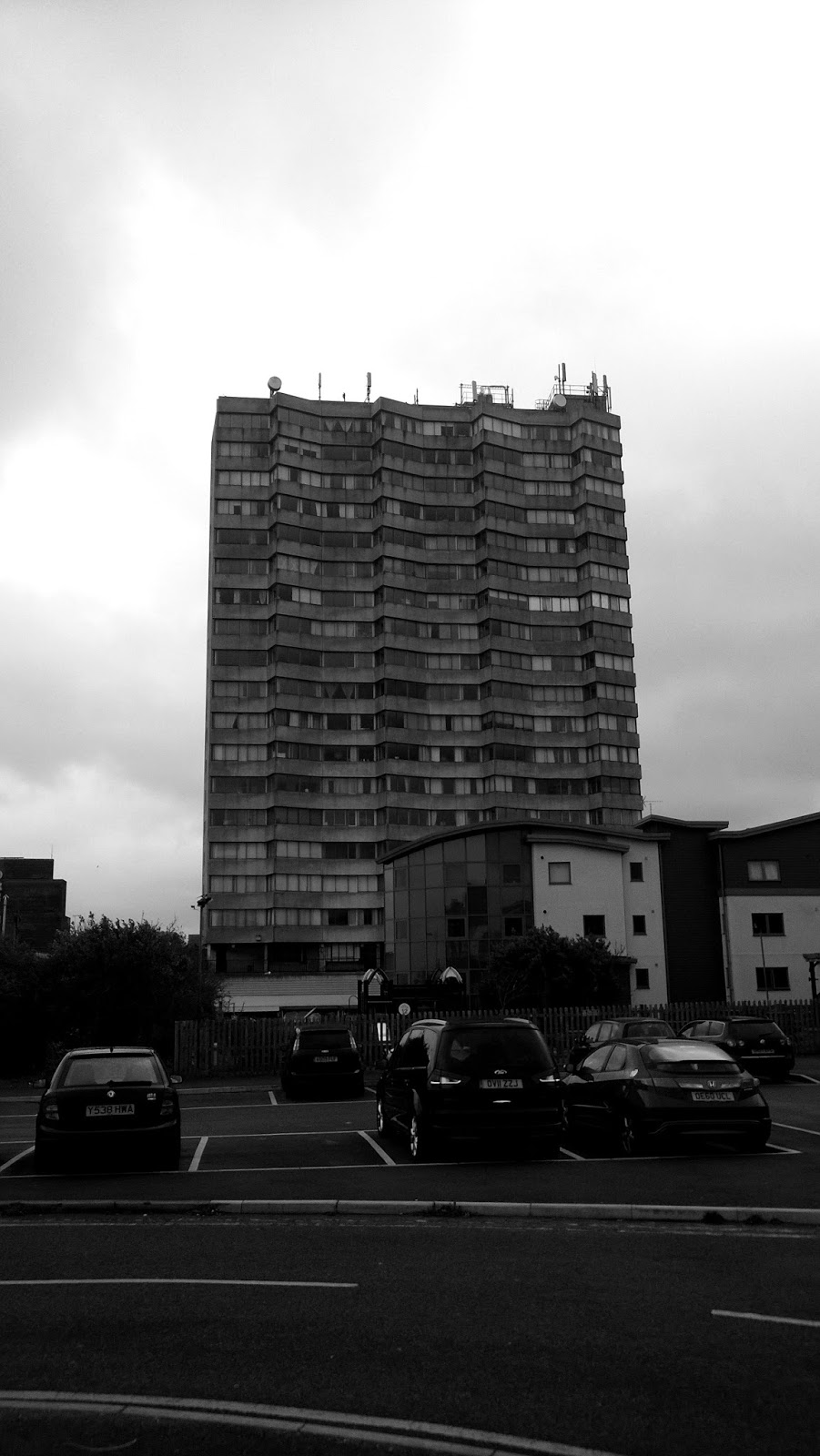 Wow, Margate is shit.
With our huge victory against Maidstone on Tuesday still fresh in our minds on Wednesday morning, we were hit with the news that off the field the club had been hit with an FA charge. Apparently, some paperwork may/may not have been sent/received regarding the re-appearance of Jamie Slabber from Hemel. Beside that fact he's been cited for one game (a twenty minute sub appearance when we were already 3-0 up at Stalebuns), that could mean up to a three point deduction. Talk about Sutton doing it the hard way as always!
The plan today was to get the 0811hrs train from Carshalton. This meant getting up early in order to the usual three S's were taken care of. With twenty minutes to spare, I casually walked up towards the station, doing the usual on the way up. Waiting on the platform was 4 Days & Lil' Chris. Luckily Taz wasn't too far behind and we waited for our train to pull into the platform.
Once again, those that alighted before us failed to sit in the final coach. Don't know why we bother thinking that they will be in the last coach each time because it seems that they get on somewhere different each time. Locating the rest of the Firm at last, we found Mr X, Dr Bell, Indy & Sean Connery sitting rather quietly. In fact, the trip up town was rather subdued for a Gandermonim train journey.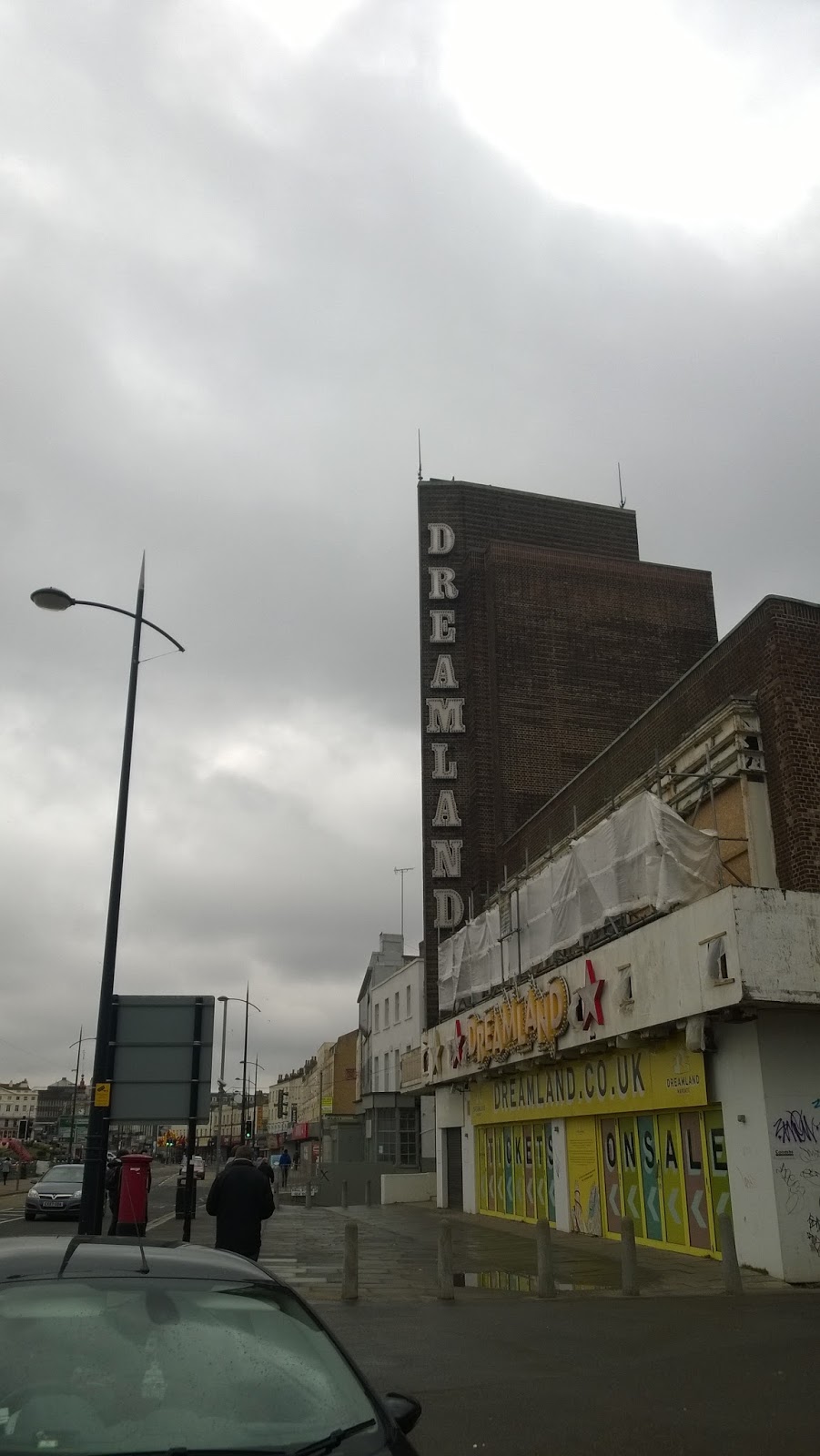 Nope. No better.
Arriving a couple of minutes late at St Pancs, we had a choice to make. Make a go for the earlier 0909hrs train or the original planned 0927hrs. With ten minutes until the earlier train left, we gambled on it. With Mr X & Taz supervising the ticket purchases, it was down to me to get all the waifs and strays up to the platform ready to go. As luck would have it, we were bang on the money and made the train with a minute to spare.
Riding 'Seb Coe', the Javelin was due to take just over an hour and a half to get to Margate. Now I don't know why, but the journey become the most fuckin' tedious journey ever. Christ knows what it would be like without the really fast bit at the start! Going through various tunnels meant that the phone signal kept dropping in and out meaning pissing about on phones was a pain and for some reason no one seemed in the mood for the usual very immature chats that we normally have on these journeys. A rendition of a famous Diana Ross song was the best that we could deliver. Title nerves maybe?
Arriving in Margate at just after half past ten, that left us with but one option. 'Spoons! Now there are two distinct features that will always remind me of Margate. The first is the monstrosity that is the ugly looking grey tower block as you come out of the station that emits an image that would make even someone living on Durand feel good about themselves.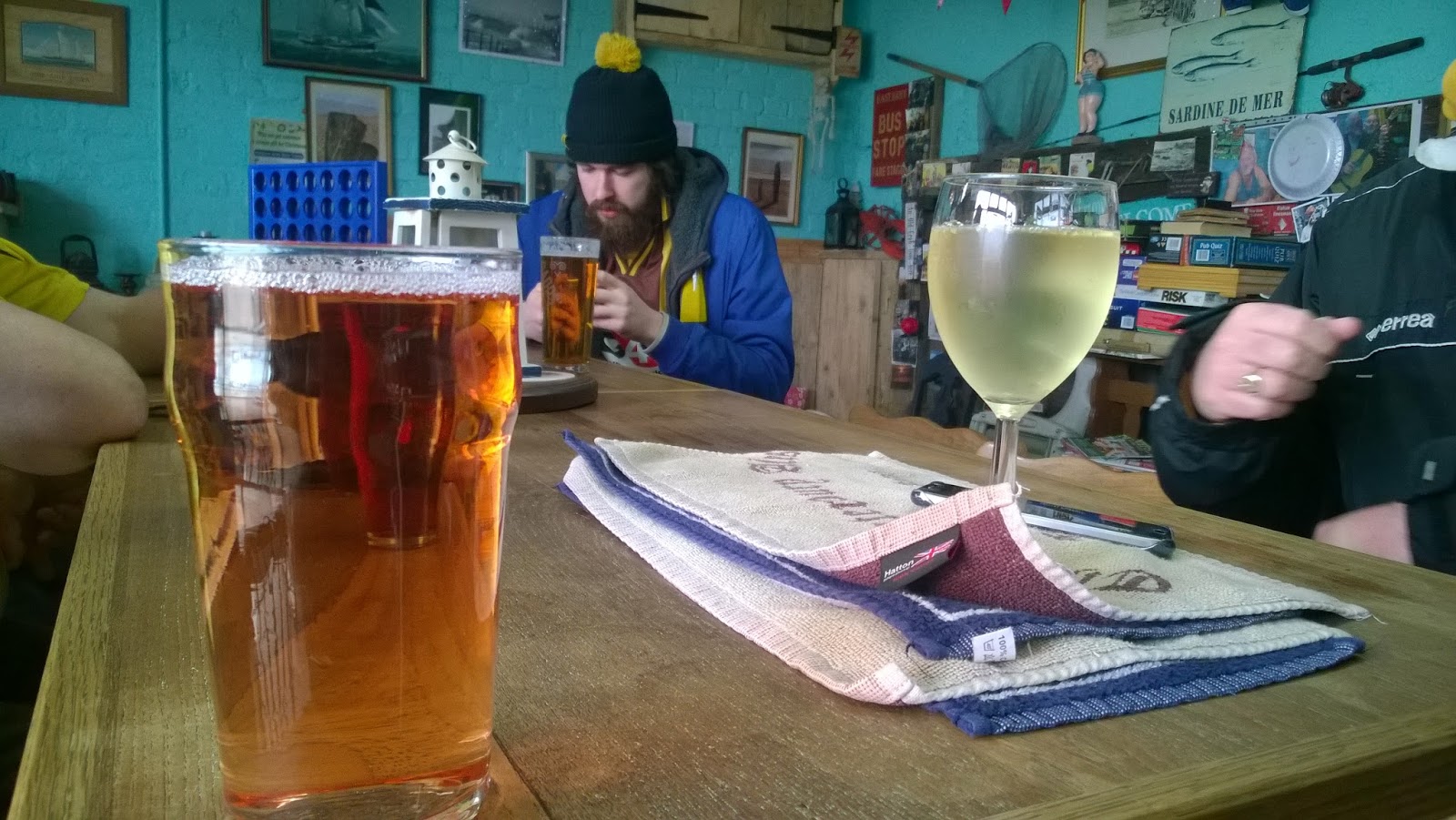 A nice glass of plonk dahling!
The other is of course Dreamland, which has recently re-opened, where we get to see a chippy's wet dream in the old-style timber roller coaster. According to 4 Days its a hefty £17.50 to get into the gaff, and by the look from the window at the back of the pub it appears to be not quite finished yet, because there seemed to be hardly fuck all on the site. With the added rain starting to fall, it looked like the queues wouldn't be long today.
The 'Spoons itself was not much to look at either. The supposedly pint of 'lager' that I had to force down my throat was possibly one of the worst that had ever came out of any pub, let alone a 'Spoons. And don't forget I'm a fan of the places! After one pint we decided to look for somewhere else. Now usually the trip to Margate entails a few in the 'Spoons before heading up to a Shepherd Neame boozer further along the front.
With 4 Days in charge today though, he chose a little pop-up place right on the harbour arm. Appropriately named the "Harbour Arms", it was a quirky place with all manner of shit hanging off the walls. We even spotted a couple of Wealdstone & Dulwich scarves. Being the sort of place beardy 4 Days & Dulwich types drink in, it turned out that they didn't sell any lager at all, not even a couple of cans. Mr X therefore went for a large glass of white wine instead as he likes a bit of plonk. He hated this stuff though, saying a £4 bottle from Tesco's was better. I doubt you could even give it away to a French polisher.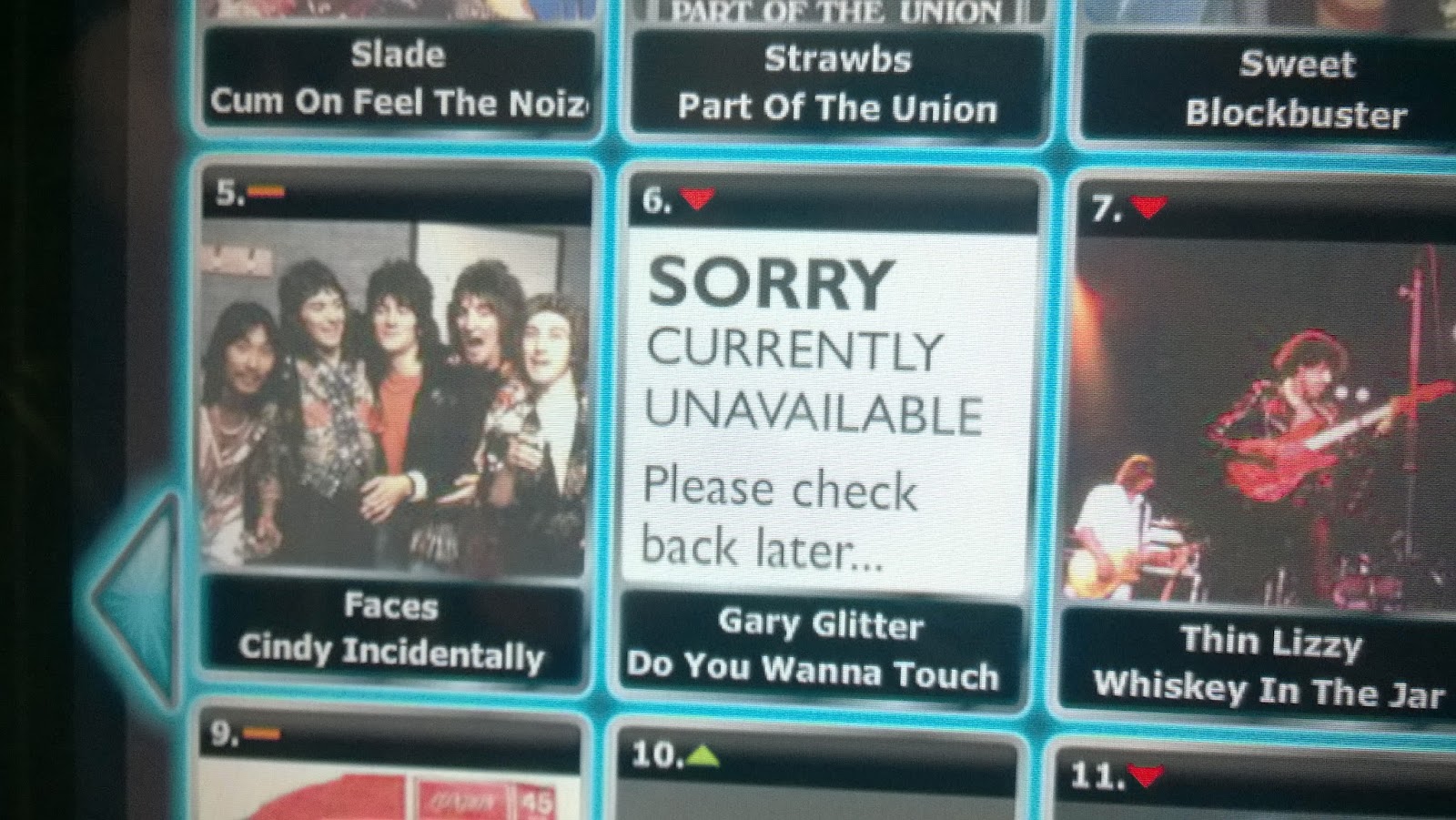 Can't think why….
The next pub we hit up was the Northern Belle, our usual 2nd stop, where we were soon joined by Wellie. Inside the pub you had a landlord that turned out to have played several hundred games for Margate & was a West Ham fan. There was even a juke box that contained over five million songs! The wonders of the internet age & heaven for us. Of course there were so many songs to choose from, that the trick was to find a song it didn't have, first off the bat for me was Collapsed Lung's hit "Eat my Goal". Boom, result! No play.
For the next hour, we spent our time looking at the charts from when we were born, to our 18th birthday and every other important dates. Unfortunately it only went back to Jan 1960, so the likes of Dr Bell, Sean Connery & Wellie were unable to locate their birth songs. Where Connery was concerned, we had to start with his 21st! Signs of people getting old I reckon.
With the sherbets ordered for the nine of us, we waited for them to arrive. The first two arrived shortly and that left me, Taz & Mr X hanging around like a bad smell as per usual. Eventually it did turn up, but managed to nearly get himself stuck in the alleyway outside the boozer. We began to think that making kick off was going to be tight. However, after a phone call to the owner of a parked car that was blocking our escape thanks to a 'For Sale' sign in it's window, we managed to navigate this obstacle and arrived at Hartsdown Park with enough time for a short in the bar.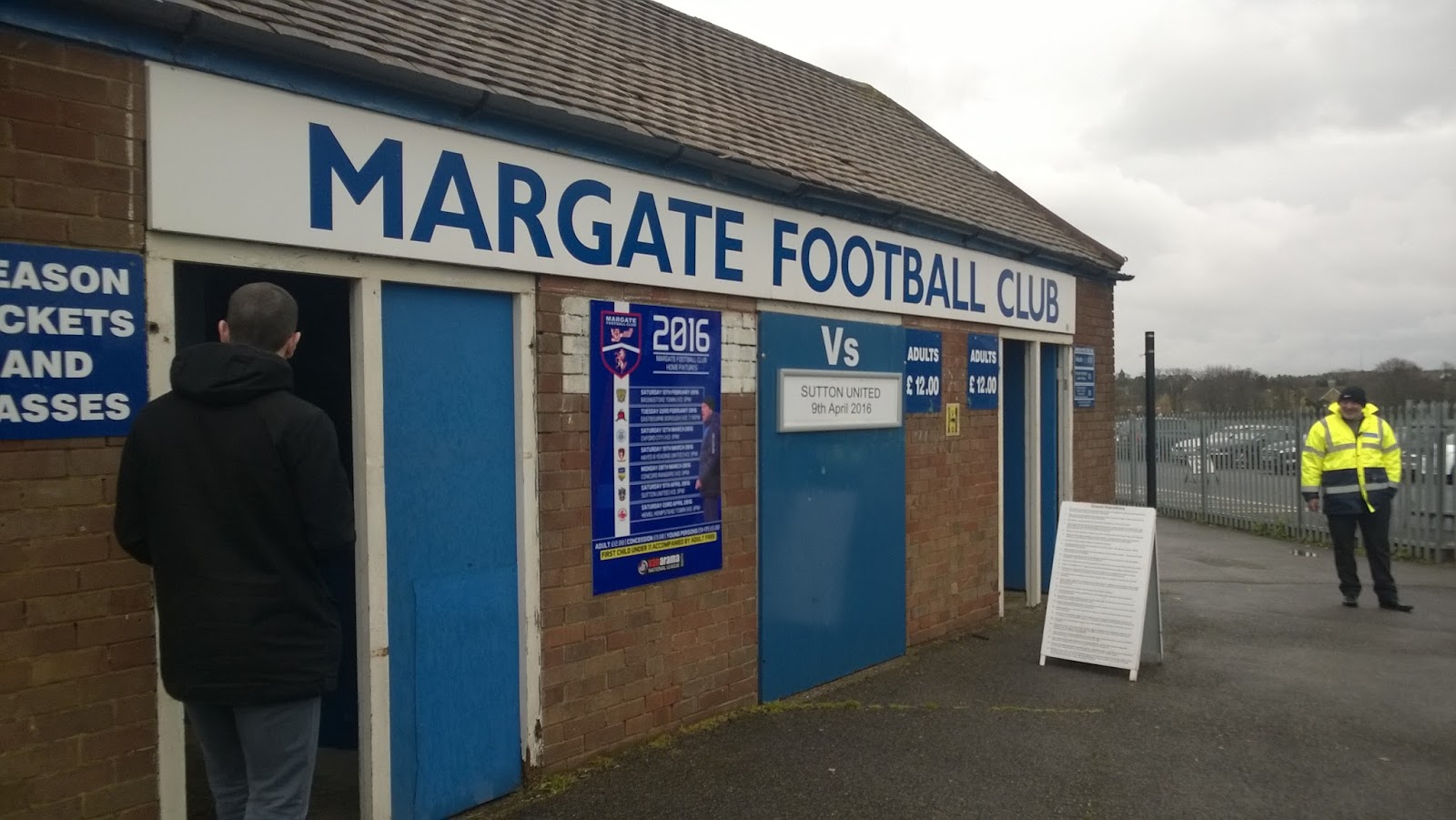 Beat the queues.
Worner, Amankwaah, Spence, John, Eastmond, Collins, Bolarinwa, Gomis, Bailey, Fitchett, Wishart. Bench Warmers: Stearn, Dundas, Beckwith, Slabber, Gerrar.
With the rain starting & stopping we took our place in the only covered end. From the off it seemed that another ground that we've until now, failed to win at, was going to go the way of the likes of Wealdstone & Gosport. With Wishart on the left, and Bolarinwa on the right, it was only the wind and some stout defending from the home side that kept the scores level until the quarter of an hour mark.
First Fitchett had the chance to open his account, his shot was blocked. The ball then fell to John, who saw his shot saved by the keeper. Then it was Bolarinwa's try, and he calmly slotted the ball into the back of the net. 1-0! Before this chance had been taken, news had already filtered through that Gravesend Ebbsfleet & Maidstone were both losing. It didn't take a genius to realise that as it stood, we were top of the league! Apparently it had been 33 weeks since Gravesend Ebbsfleet had overtaken Bath at the top. Not sure the game was quite dull enough to have wasted our time working that fact out though.
Not to rest on our laurels, Sutton pressed for a second. That chance finally came ten minutes later when Fitchett took the ball down in the box before heading away from goal. For no reason whatsoever, a Margate defender decided to bundle him over. A soft penalty was given but definitely a penalty to say the least. Gomis once again stepped up and guided the ball home from the spot. 2-0!
There was still a couple more chances for Sutton to put the contest to bed but the we failed to punish Martgate. Eastmond also picked up a justifiable yellow card that had Mr X remark that it was the 97th booking we'd received this season. Everyone was in agreement that it was more than likely we would see the 100th before the day was out!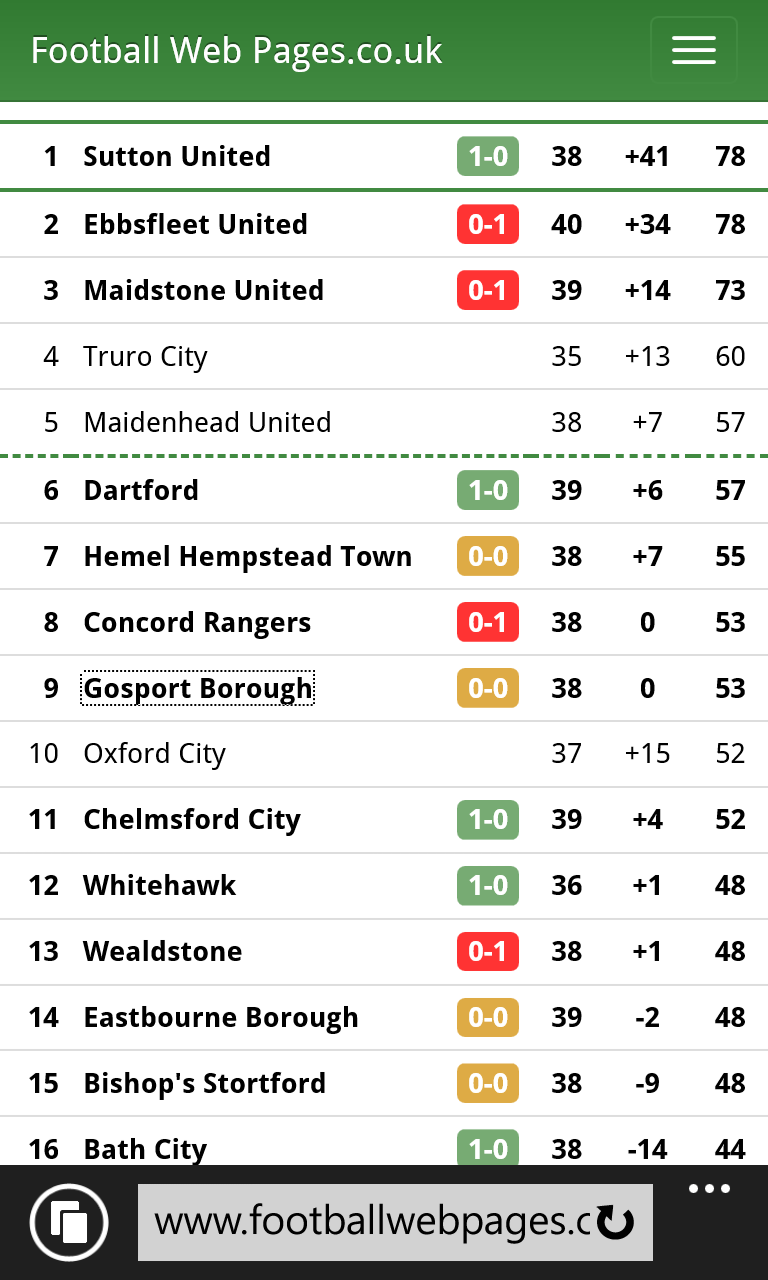 Short lived, but fun
Second half we took root in the exposed open end. If we weren't doing so well I doubt many would've braved the wind and the rain! Minutes into the second half, Gomis limped off and was replaced by Dundas. The referee, clearly bored of inaction, decided to get into the game by handing out cards like it was Christmas. Several were handed to Margate and Dundas & Bailey both picked up their own which made a couple of us hum '99 Yellow cards' (to the sound of Nena).
On the hour mark, Slabber was brought on for Fitchett but we still failed to kill the contest & looked to be cruising. With five minutes remaining and with Stearn waiting to replace Bolrinwa, Sutton finished the match with a flurry. As Sutton prepared to take a corner, Indy shouted out "Come on five, give us a goal!". The resulting corner was flicked on by a Margate defender, their number five had failed to bother staying with Amankwaah and he had the easiest of easy tap ins from a yard out. 3-0!
Heading into injury time, Spence picked up our 100th yellow card that made the away crowd cheer like it was a goal, mainly because the foul & free kick had been given against Wishart! Moments later, we were treated to the pick of the Sutton goals. Worner cleared the ball up to the left hand side of the pitch. Wishart took the ball down in one touch and took it past two defenders. He then let off a doozy of a shot that sailed past the keeper and into the corner. 4-0!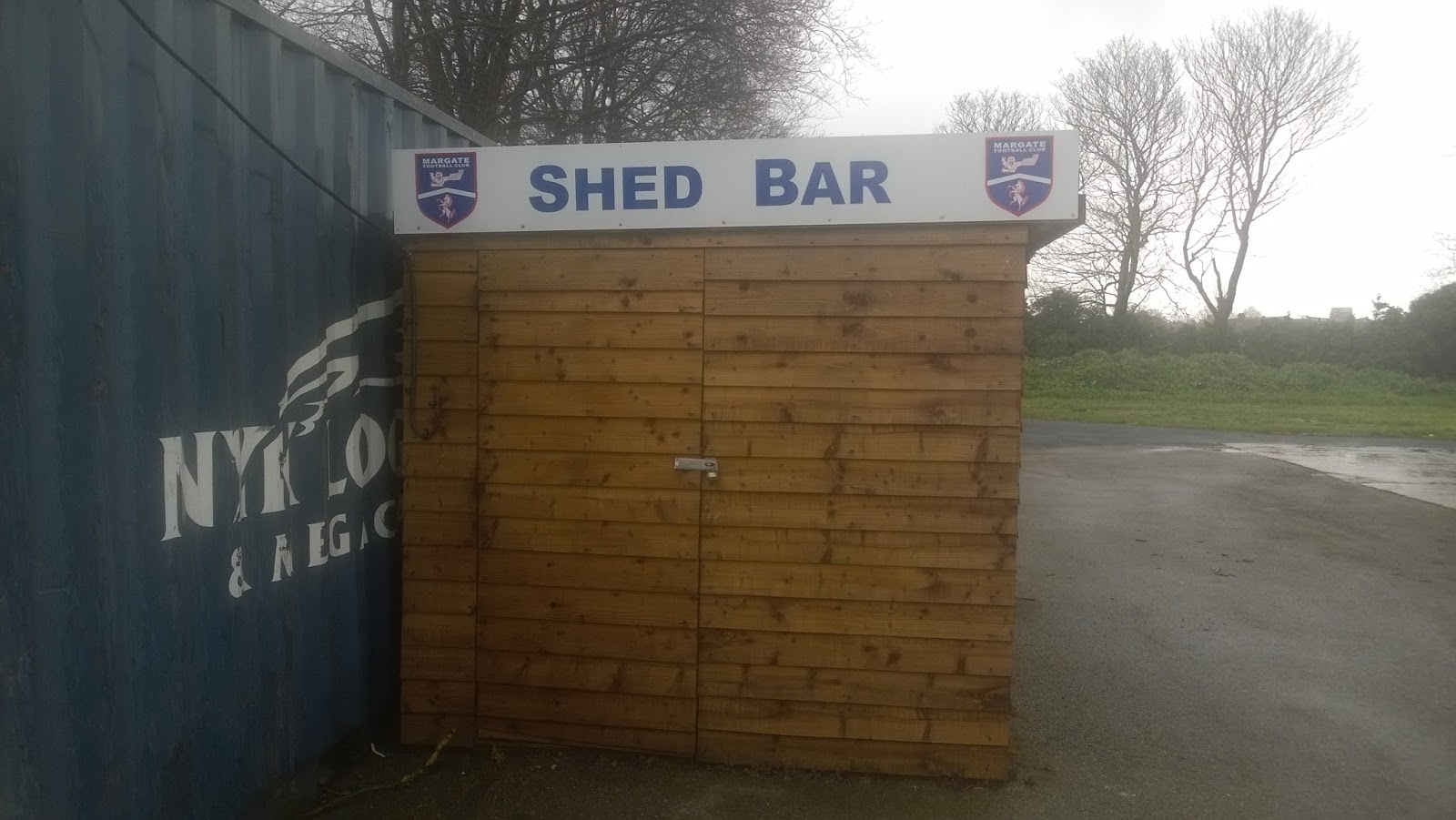 Not Chelsea.
With the game finished, we headed into the bar to take some time to dry our coats. Unfortunately Gravesend Ebbsfleet had come back and won, but Maidstone had lost again for the second time in the week at home to Dartford 2-1. This basically meant that when if we win on Monday, we shall be on top of the league for when we have to entertain Gravesend Ebbsfleet down the lane next Saturday. Exciting.

Having some pissed up Margate fan sing "Where were you when you were shit!" in the bar was a bit odd (the obvious reply was "Here mate!") and watching the Grand National unfold was enough for us as we then left seeking more varied alcohol. Another hipster beardy pop-up boozer that didn't sell lager was next on our list down the road, a place called "Ales of the Unexpected". Here we met an actually nice Margate fan who congratulated us on hopefully winning the title. I reckon it was more of a case of not seeing Gravesend Ebbsfleet win it as most of Kent seems quite keen on us all of a sudden!
It was decided that we would go for the 1905hrs train. Some of us were delegated to the local Tesco's to stock up, whilst others would do a food run. As is usually the case, it didn't go to plan as the foodies found the slowest chippy this side of Falmouth and we instead had to wait for the half past train back to St Pancras.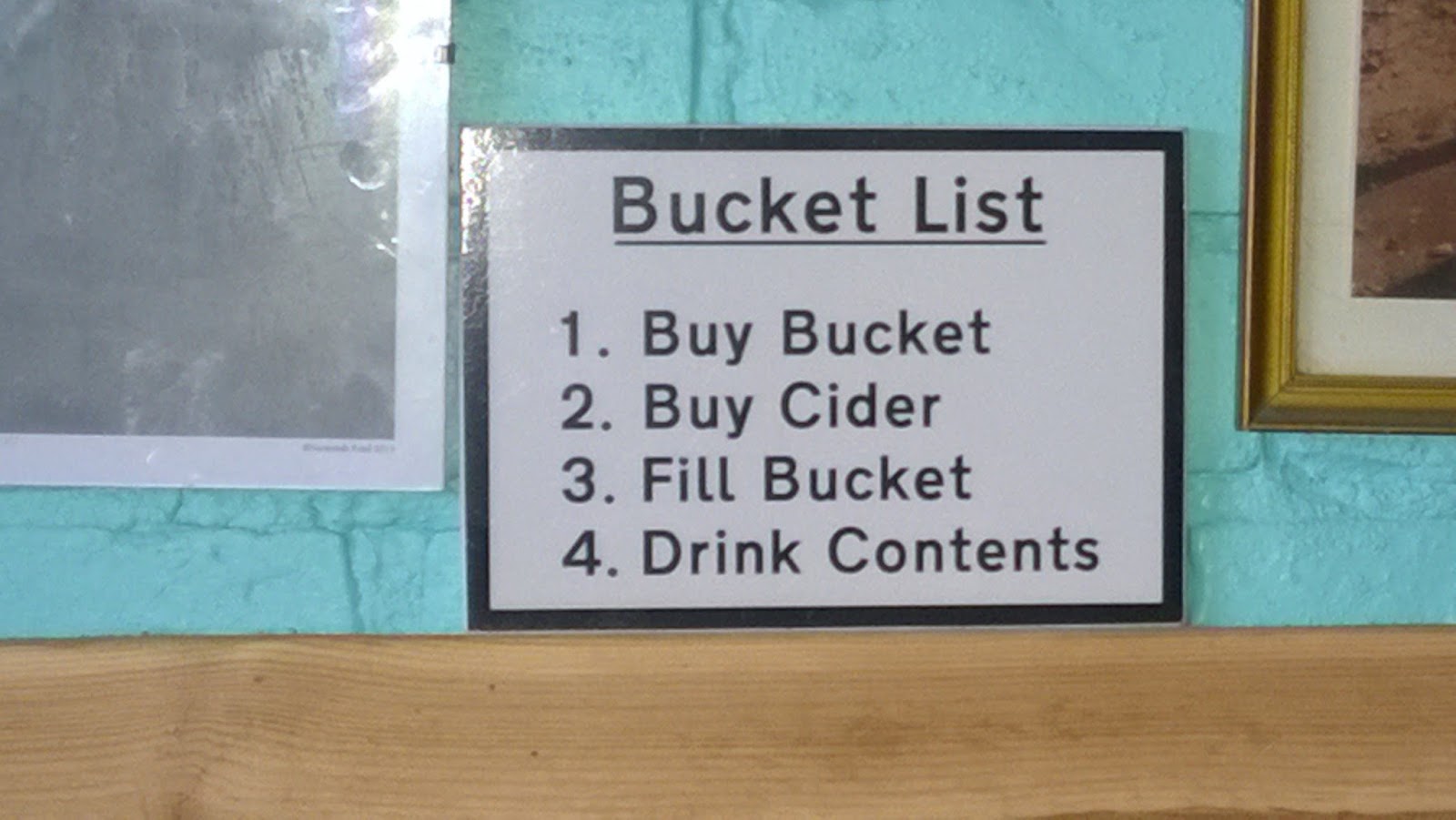 Rules we can live by.
Being met off the train by Southampton Steve was a surprise, especially as he had come from Southampton via Clapham. Clearly the boy was bored! A quick tube over to Victoria and we waited for the next train back to Sutton. With my bladder fuller than a bishop's ball bag I was forced to pay a whole fuckin' 50p to use the facilities at the station.Disgraceful! I was that much in a need that I nearly failed to get to the train on time, much to the amusement of the rest of the mob that were waiting for me!
With the usual haunt of O'Neills our destination, we said goodbye to Sean & Indy, as they were go to Claret's in Cheam and 4 Days & Lil' Chris as they had opted for a gig at the Cock & Bull. The remaining four of us then spent the next 4 hours doing what we do best. Drinking various amounts of alcohol and winding up Palace fans.
I will now hand over the reigns to Robbo as he is doing Stortford at home tomorrow, but before I leave you all, I would like to say one more thing. Apparently, I was a bit negative last time out concerning a sufferer of Celeriac Disease. Turns out that there are many people that can't eat Celeriac. This Knob Celery can apparently play right havoc with a suffering New Delhi. Causing what we call in the Firm, a case of the 'Sundays' (You know, the two bob bits), a touch of flatulence and just sheer tiredness. Yours truly gets it myself sometimes, so I might be in fact a sufferer of Celeriac Disease. So next time I'm down the quacks, I'll be sure to ask him.
Over to you Robbo…
Duke
Att. 576
Gap from no.1: 3pts