So, here we are. Super Duper Amazeo-massive clash number 1 of the Conference South title run in. Maidstone away. El Plastico pt2 if you will. And they don't really come a lot bigger than this at our level. 2nd v 3rd. We're unbeaten in 20. They've got one of the best home records in the league. 2200+ average crowds. Fuckin' Ada, if that sort of thing doesn't give you a full on football chubby, then nowt will. Unless you're dead of course. Or maybe a woman. Ok, so maybe I've not thought this one through properly. Sue me.
Either way, this is a biggie. Ok, it was a pretty 'bigger than average' clash already given the fact we're both top 5, but with Gravesend Ebbsfleet stumbling badly over Easter, the door to the title was kicked wide open by ourselves and the Kentish Stones with our own results that weekend and it suddenly went from being 'interesting' to more 'of vital importance' as now the title is a bit of a 3 way race rather than the procession the station near Gravesend probably thought it would be around Xmas time. And to make it even spicier, we've got to play both the feckers. Starting with our trip here tonight.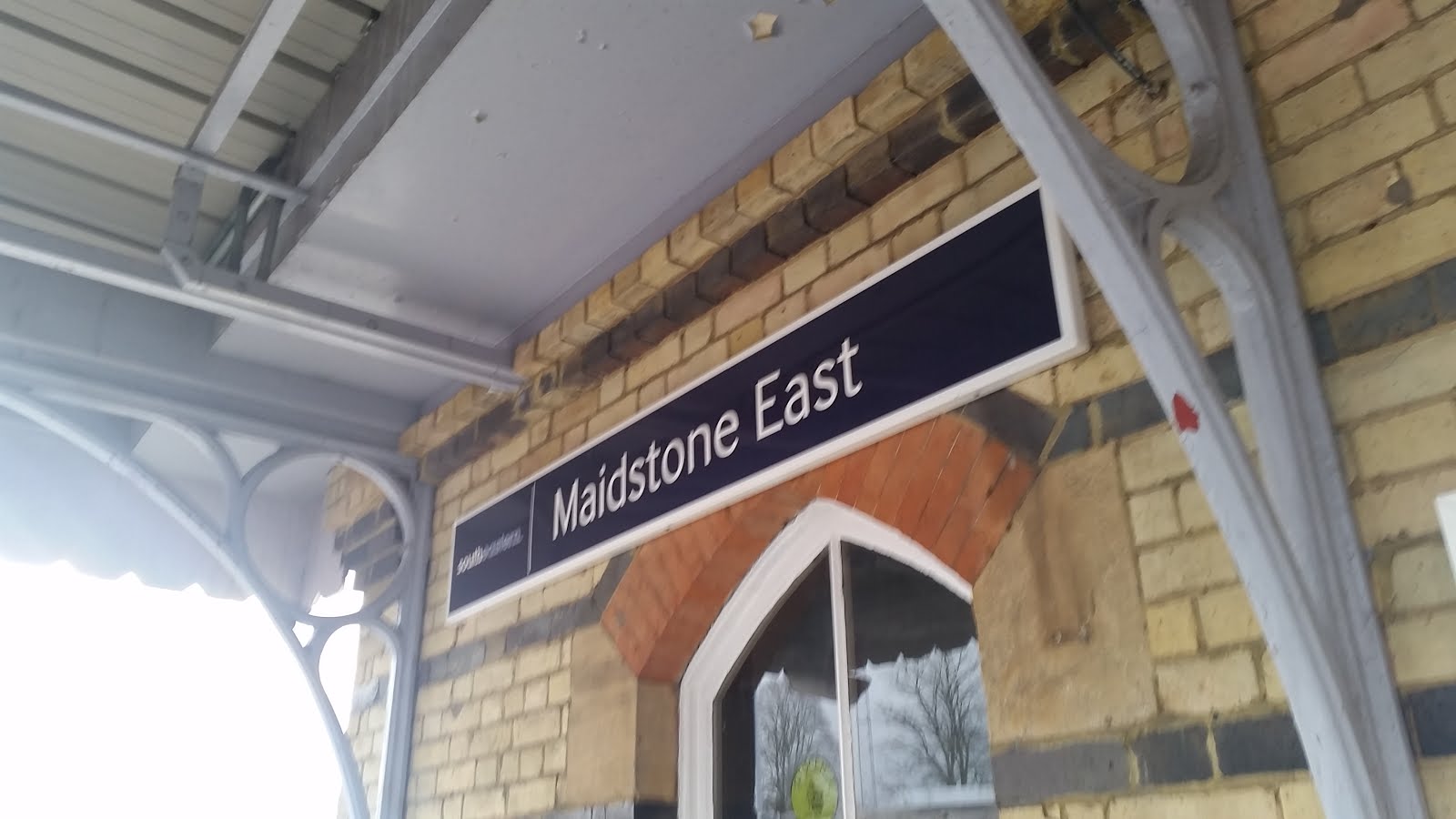 West Sutton to Maidstone East. Via somewhere.
With my 3 months of gardening in the garden-I-don't-have officially ending today, I was certainly looking forward to once more being set free into the big wide world as non-gardening gardening leave is really boring. And what better way to celebrate the occasion than a nice midweek viewing of the Association Football? With this in mind, I kissed my beloved farewell having utterly failed once more to impress upon her the importance of a footballing contest and traipsed up to the station from HQ for the half 3 into Victoria. Tickets bought, I awaited 4 Days arrival and we hopped on the chuffer despite the information displays best efforts to fool us into thinking it wasn't going to stop. Not today train bastards, not today.
On the train, we talk all things Kiev as the beardy one had been out there watching the Welshies rather than down in 'Cronwall' smashing back Squashed Frogs with us lot. He also produces 2 cans of Gamma Ray from his bag and pleasingly, one's for me! Happy Joblessness Taz! His reasoning for handing over perfectly drinkable booze (don't worry, I checked the best before date) is that as we've got a bit under 20 mins at Vic, we trot into Marks at our leisure for a bottle to chuck back on the train down. Good plan that as it happens, even if it does slightly devalue the free beer gesture a touch. Well played Mr Muslim Terrorist looking Welshie.
So Marks' raided, we pile onto the train for Maidstone East and settle in with our bottles and a sarnie to pass the time. Here 4 Days reveals he follows a rather odd account on Twitter. Apparently, it's one that broadcasts amusing snippets from various criminal court proceedings here in the UK. However, it does also supply some rather gruesome details about the acts which have landed said people in court in the first place. So having terrified half the carriage by reading out some rather explicit details about how a chap had killed and dismembered his missus and then flushed most of her remains down the bog (the head was a toughie apparently!), I decide to head for the lav myself. Either to take a piss or throw up. I'd not yet decided by this point.
The journey is smooth though and just under an hour later, we're hopping off at Maidstone East. Right, first stop has to be the Wetherspoons round the corner, get refreshments and ETA's from all the other train bound and driving folks. Here we find two comfy looking chairs and get our pint on as we observe the local wildlife. Dotted around are a fair few Maidstone tops, which really does bring home how big theor crowds are. We almost NEVER see home fans other than in their own club bars. Still, it's nice to see the town backing their team. Let's be honest, we'd kill to be able to wander into a boozer in Sutton and see people wearing U's shirts who A: Aren't us and B: without having to look in a fucking mirror.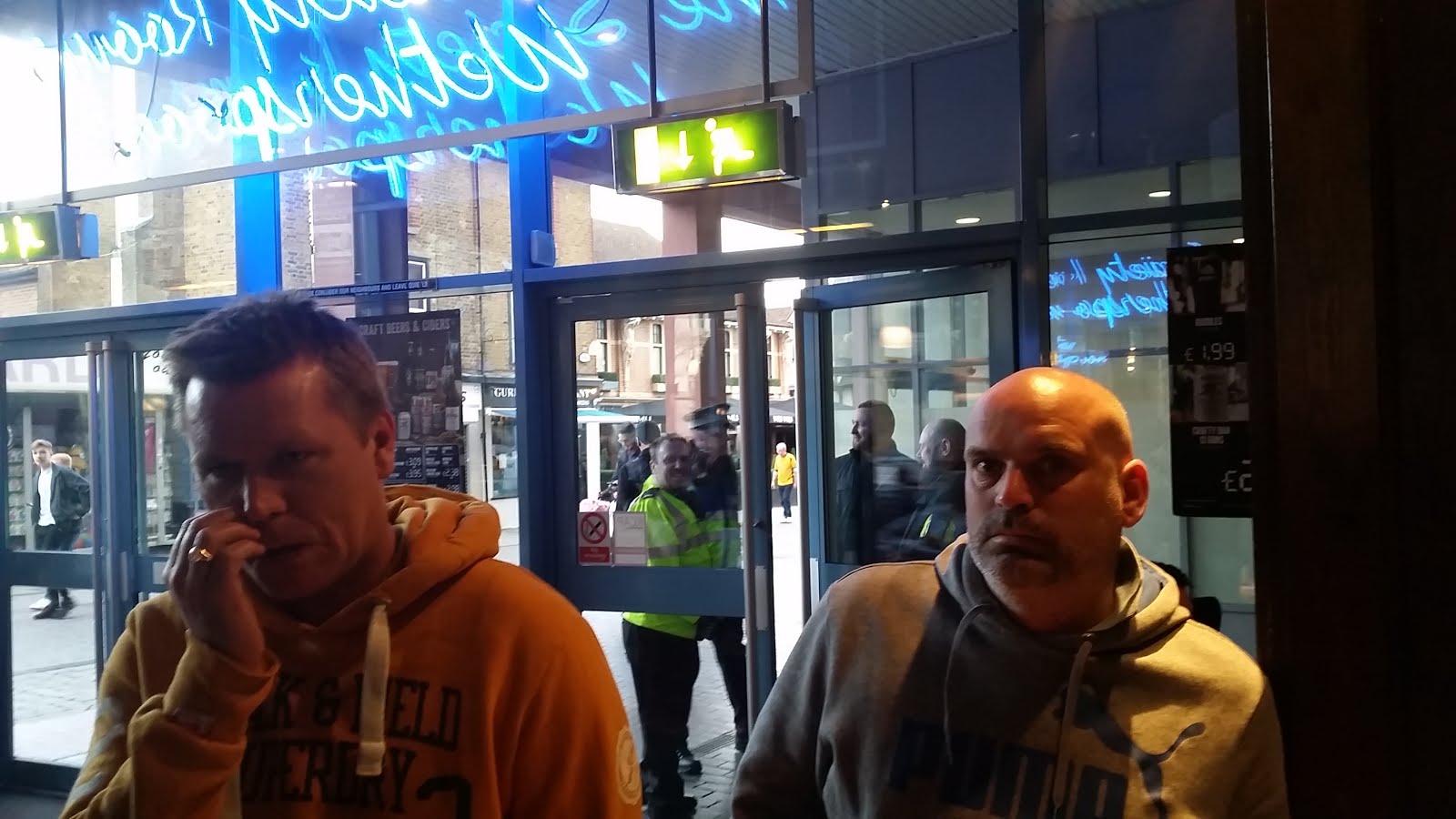 Don't look now, it's the rozzers!
Comms from the road indicate that the car convoy are all due to unload in the station car park, so we sack off the idea of heading somewhere else for a beer and settle in to establish base camp. Bob soon appears, quickly followed by Amber Aleman and they join us so we're now properly mobbed up. Before long, Car Notton & Car X arrive, then finally Car Greek. The latter having suffered a tasty whack to his windscreen on the 25. So he's in a top mood. Speaking of top moods, I'm in one. Now I know I'm a cynical old sod sometimes, ok a lot of the time, but tonight, I'm strangely at peace with the world and my football chakras are perfectly aligned. We're fucking having this lot tonight. It's pretty noticeable too.
"What the fuck are you smiling about?" enquires Greek. When I tell him how confident I am of a result and that we're going to batter them early doors, he's not impressed "Are you high?". Only on life big fella, only on life.
With 7pm fast approaching, we decide it's time to head down to the ground. That and because there's some plod milling about out front. "We getting an escort?" enquires Dukey. "Be like Berlin all over again!". The presence of the local police probably explains the pre-match absence of Chairman Totts, as being a Tory spot, they're probably not too big on left wing agitators such as he around these parts. Collecting Saints Steve on the walk down, we get chatting to a couple of locals on the way to the ground. All very social. Which probably upsets Dukey as he'd no doubt prefer a bit of posturing and finger pointing instead.
Fortunately at the ground, the queues are pretty small and we're soon in the ground and heading for our self designated 'gasteblock' at the far end of the ground. Given the bar is open throughout the game, the home fans rarely move from the terrace there so getting mobbed up in there will be tough on a normal game here let alone one where the place is expected to be sold out. Still, there's a drawback with being in the ground 30 mins before kick off. It's boring. Really boring. A couple of the lads take advantage of the food bar out back selling pints. That could get messy. We amuse ourselves mainly by talking the usual shite and taking the piss out of Stearny taking pens against new man Gerrar.
Oh just get the fucking game started already.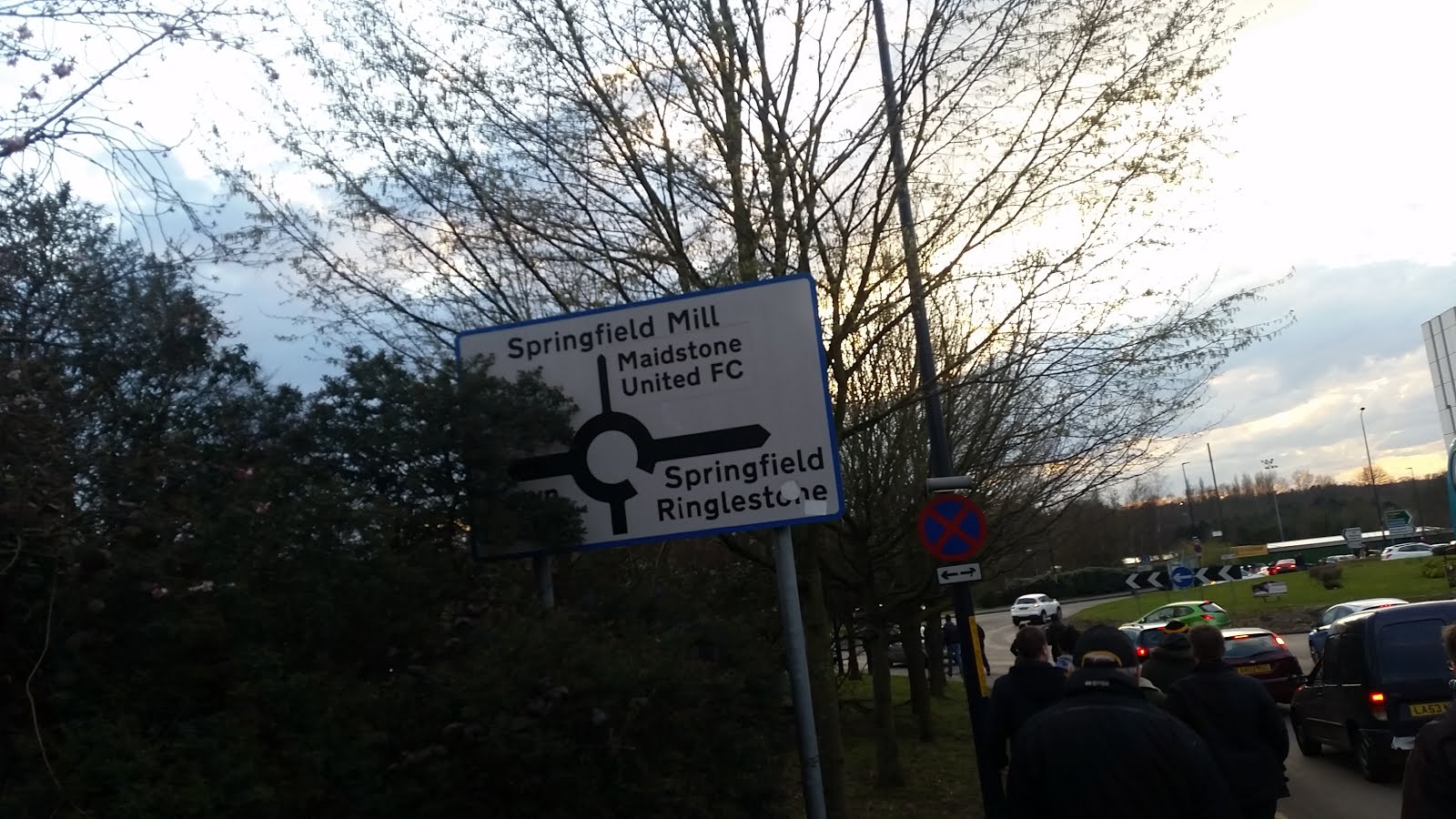 The walk down to the ground. Handy signage.
Worner, Amankwaah, John, Collins, Spence, Bolarinwa, Bailey, Gomis, Easmond, Dundas, Wishart. SUBS: Fitchett, Downer, Gerrar, Stearn, Slabber
Dos has set us up solid & big. There's no Fitch, Slabs or Stearn. Dudno is up top, Spence goes to full back allowing Wish to push up wide. It's a sound plan. I hope it works.
We don't have long to find out. The midfield gets stuck in from the off, Bedsy wins it, plays to Eastmond. His pass is short but Bailey buzzes in to pick up the pieces and feeds Spence. Dan advances and brings Wish into play. He doesn't hang about, spinning away from a weak challenge, he darts past another equally half hearted looking effort and into the box before drilling low across Worgan and into the far corner. 1-0! Of course, all we see from about 100 yards away is the shot and the net ripple. It's all we need to see to be honest.
Chaos. Sheer unbridled mental fucking chaos.
I don't know who, but someone piles in from behind and my glasses go flying. Being the Ginger Ninja I am, I manage to pluck them from mid-air but it's no use. People are piling in from all directions now and someone else comes over the top and flattens them. That won't be good. Oh well, deal with that in a moment. Right now, I'm waaaay too busy going apeshit. That and some joy filled fucker is wriggling about on my head.
Which is an odd sensation.
Once the silliness has died down, the damage is assessed. Maidstone are 1 down and yeah, the glasses are a bit fucked. They're still technically in one piece, just not the same shape they were about 30 seconds ago. But with a bit of persuasion, I manage to get them back into a shape that allows them to remain vaguely on my face so I can continue to watch what's happening on the pitch. Now normally I'd possibly count temporary blindness as a small blessing, but not tonight. And not with this team. Oh and why am I absolutely covered in beer? Ah yes. The little bar behind us. I fucking knew that wouldn't end well! Wonder if that was Steve's or Crockett's? Ah who cares, I'll slap 'em both later to be on the safe side.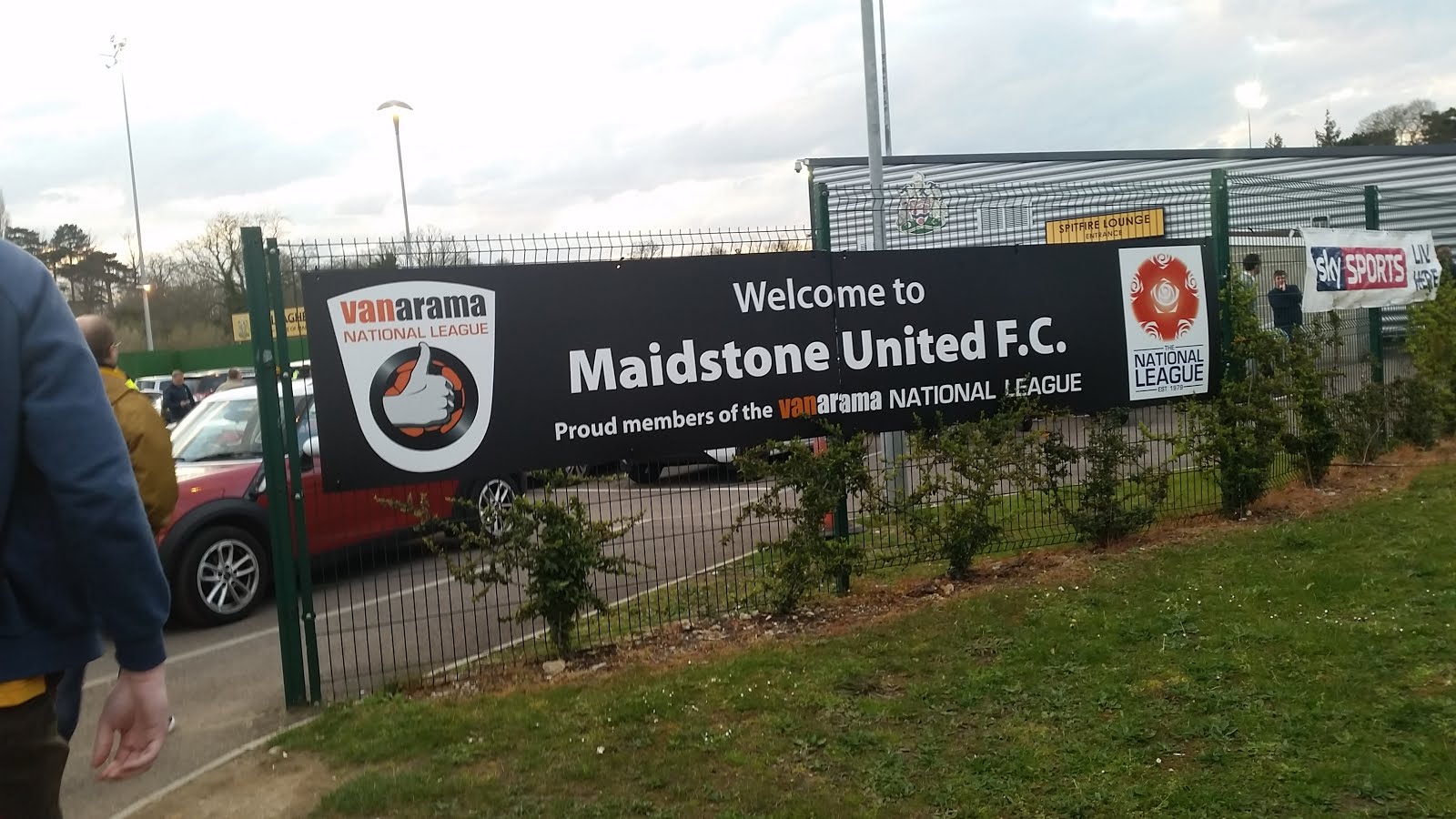 Another for the collection.
Our next chance isn't far off. A free kick from deep is aimed at JC just inside the box. He doesn't win the header, but he's onto the seconds and hooks the ball goalwards, forcing a save from Worgan. Maidstone's response has a slightly ominous tone to it and shows why we've gone big tonight. A huge throw is launched in from the stand side and reaches the back post where it's nodded onto the face of the bar. After a moment of concern, the ball is hooked clear. Fuck me, either this is the narrowest pitch in the world or that bloke should be working for NASA or someone launching satellites!
Another big bomb in from the touchline comes soon after, this time Spence is up to get a flick on that carries through to Worns, eliminating the danger. A couple of minutes later and again things go a bit bouncy. Manks throws down the line. Dundo chips forward and Tombo chases the ball down. He wins out, battles to hold off a defender and lays it back to Duns. He immediately clips it inside to a late arriving Eastmond and without breaking stride, the midfielder rifles a crisp low volley beyond Worgan into the far corner from about 12 yards. 2-0!
Once more, all we really see from the other end is the shot, a dive from the keeper and then the net billowing. Which Ladies & Gents is our cue to lose our shit again. This time I'm prepared, so as I leap into the air like a loon I also whip off my goggles with one clean movement, grasping them tightly in one hand as chaos once more reigns briefly on the terrace. They're fucked already, but at least after this they'll still be serviceable! Then once calm is once more restored, everyone does the same thing. Check the time.
Nine minutes. We've played 9 minutes. Nine. Fucking. Minutes. Is that all?? Christ this is going to be a long night!
Well, when I say we all check the time, I mean most of us. Chalmers is checking his own glasses, which have taken their turn to go flying this time in the carnage. Luckily for him his survive the ordeal better than mine! The hosts look a little shocked and whilst they get on the ball and push up, they just look a bit bereft of ideas in the final third. Worns has to take a catch at the second attempt when it's swung in deep from a free-kick, but it's becoming obvious that's where the threat lies. Deliver to the back stick, hit the big men. From free-kicks and throws. It's basic, but it must work for 'em otherwise they wouldn't be where they are. Wish causes more issues wide, doing his man and whipping in a cross that has to be put away for a corner to stop Tombo reaching it at the back post and he then has a dig from about 20 or so yards when he's again given way too much time. Worgan gets down well to save, pushing the ball away.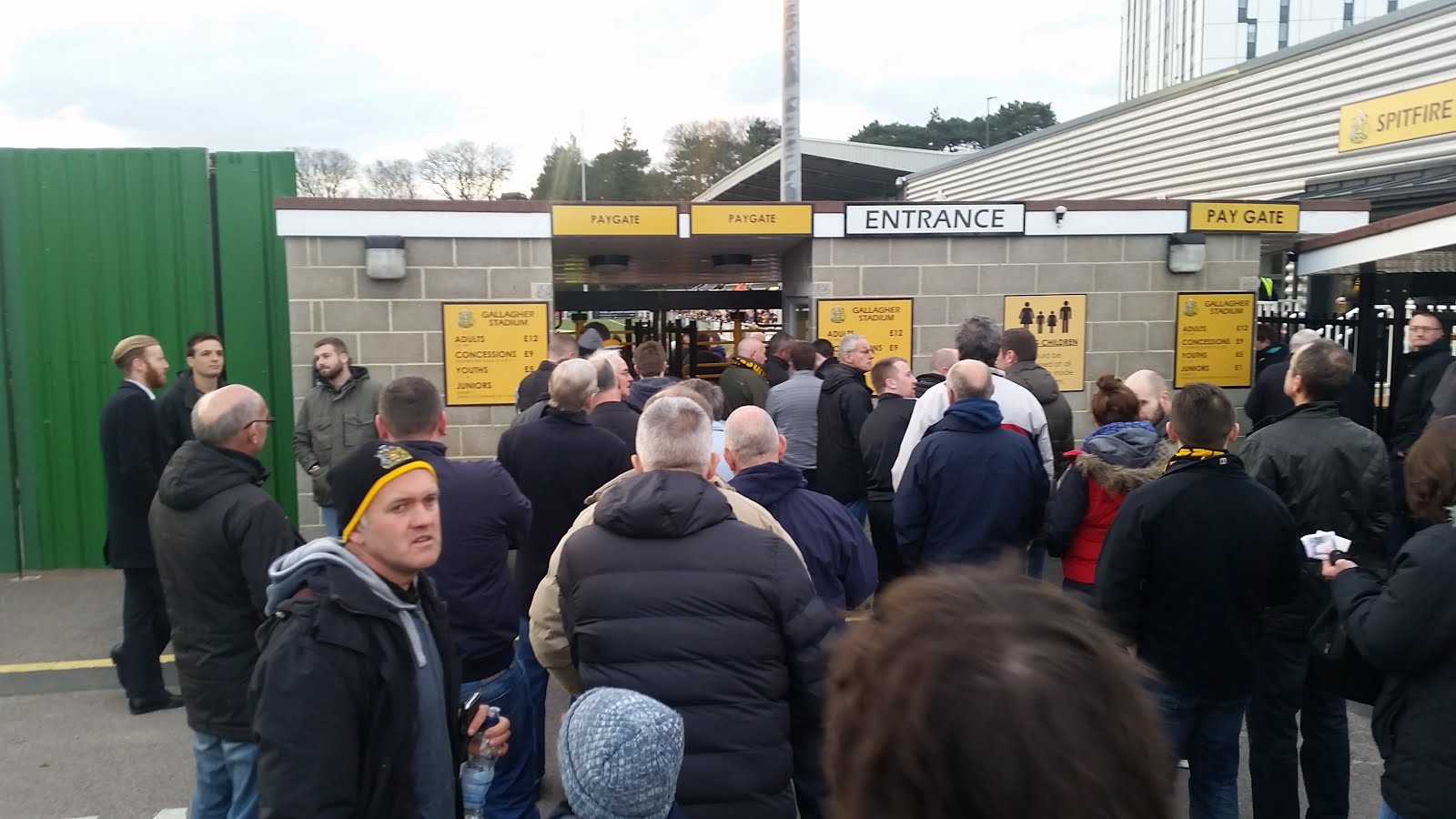 Queueing at Non-League is an odd sensation
Moments after this, Amankwaah is up supporting Tombo as we try to keep the pressure on out wide. The ball goes out of play from a challenge on the Sutton full back and the ref gives a goal kick. The lads aren't happy, but drop in anyway. Manks meanwhile sits and seems to have taken a whack. Worgan goes to retrieve the ball and then for some reason, tries to basically force the U's man to stand up. When he does, Kev pushes away the stopper and he falls to the ground after a small delay, holding his face & rolling about like this Serie A or something. The ref, nearby, can't get the red out of his pocket fast enough. In fact, I'm amazed it doesn't crack like a whip as it cuts through the night air to be held triumphantly aloft above his head.
Shitbiscuits. Once again, everyone goes to for timepieces. Awww, 25 minutes gone? REALLY? This is the longest game ever! Or it'll certainly feel like it now we're going to have to spend over an hour a man down. Good ol' Sutton United, we can never do it the easy way, they've always got to put us through the bloody ringer. Curse you football, curse you!! The lads immediately re-organise, as Wish retreats to full back to fill the gap and er…that's it. Time to dig in lads.
With the man advantage, the hosts push on a little more scenting a possible way back into the contest. But again, the main danger comes from a huge throw in from the far side. Worns punches the first away and the ball is immediately pinged back into the near post by the taker. We win the header but it's straight up in the air and causes problems when it drops back to earth. After a momentary scramble, a yellow shirt hooks it well wide of the target. Danger averted. For now. We then give Maidstone a little prod to remind them we're still about as an attacking force. Tombo breaks from deep on the stand side, cuts across and feeds Dundo centre. He turns and having given his marker the old Jamaican two step to confuse him, bursts forward past another defender and into the box. With a sight of goal and a man closing in, he brings a sprawling save from Worgan.
Hi! Remember us! We're the guys 2 up. Missed us?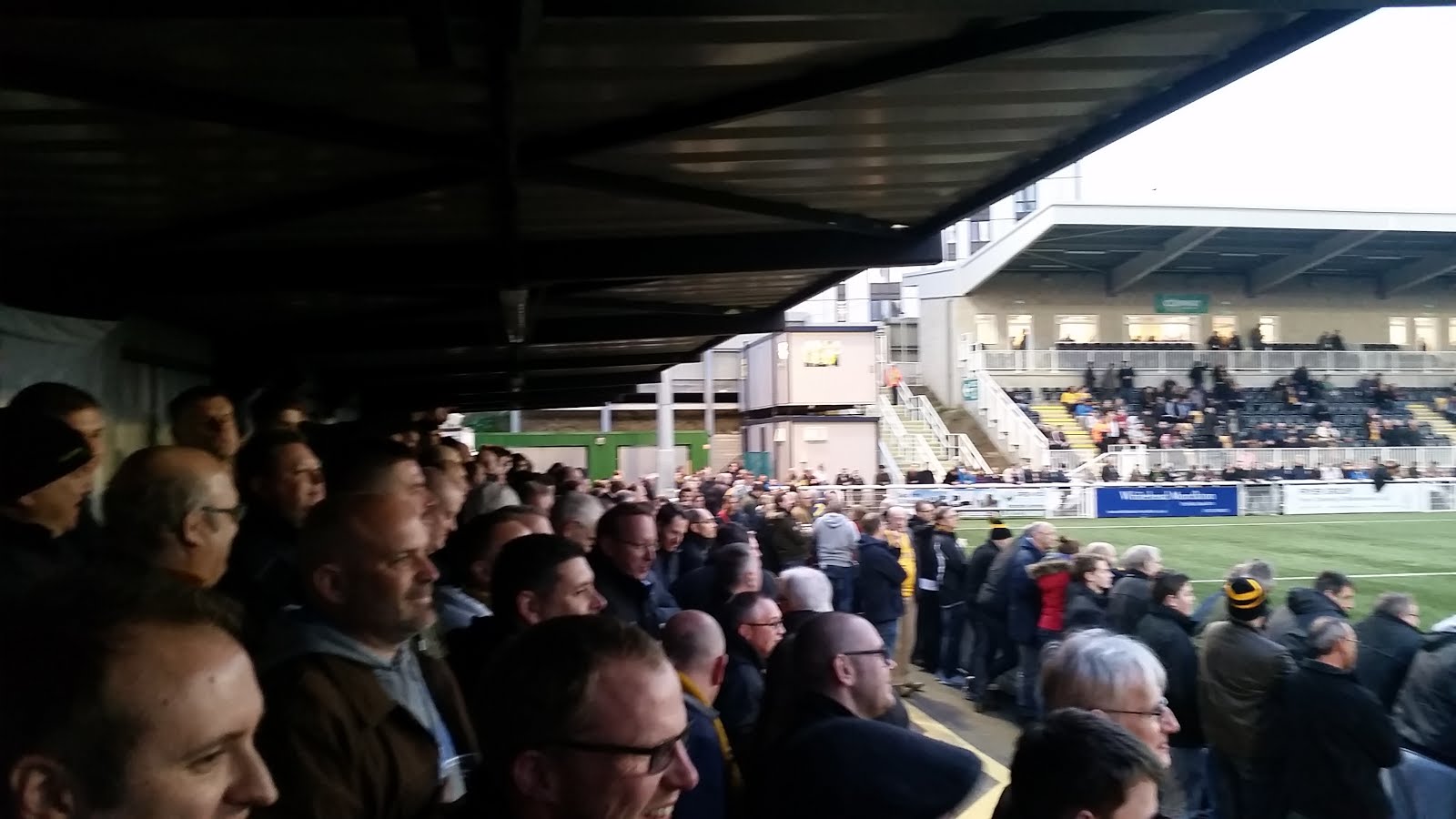 MOB HANDED!
The hosts best chance comes near the break. A free kick is superbly delivered from the stand side touchline about 30 yards out. It gets a little flick off a yellow shirt in the middle, but Worns sees it all the way and dives to his right to push it away for JC to hook clear up the field. Following this, the half-time whistle is greeted by the away support like the full time one. Act 1 complete and largely unscathed. That'll do nicely lads. FUCKING COME ON!
Half time is mostly spent getting breath back and working out all the names we're going to call Mr Worgan when he reappears to stand in front of us for 45 minutes. None of them are particularly nice. "Mate, I got soaked with beer after that 1st goal!" complains one of Johnnie's crew. Join the club fella, join the club. By the way, watching Sutton isn't always this exciting. No, really. It isn't.
We welcome the lads back onto the pitch and then do the same for Mr Worgan. If a chorus of "Wanker" could be deemed a welcome that is and we're under way for the 2nd lifetime…er…half.
But the expected onslaught from Maidstone doesn't really materialise. Sure, they press, but it's not exactly heart stoppingly frantic stuff forcing our lads into heroic last ditch rearguard. In fact the first real moment of the half is a Nicky Bailey free-kick from about 20 yards or so being deflected into the arms of a now booed-every-time-he-touches-the-ball Lee Worgan. Maidstone manage a couple of long range scuffers that Worns could deal with in his sleep before Dundo has a lash well high and wide from similar distance. It's all very, well, underwhelming. The home team seem to be more interested in playing it out to the full back and building from there rather than getting it forward and into the box quickly. Not that I'm complaining, but I can't quite work out if this is some cunning ploy to make us all excited and push up chasing the ball to leave gaps behind or to simply put us to sleep. Either way, it's not being hugely effective.
There's a big shout for a peno past the hour from the other end as a nippy little sub darts into the box, but he goes down seriously easy as Bailey closes him down and the ref just points for a goal kick. Even from our vantage point at the other end it looks like a proper fannies flop, so quite how the ref fails to card him for simulation is something of a puzzler to us. Maybe he sprained his wrist getting that red out so fast earlier?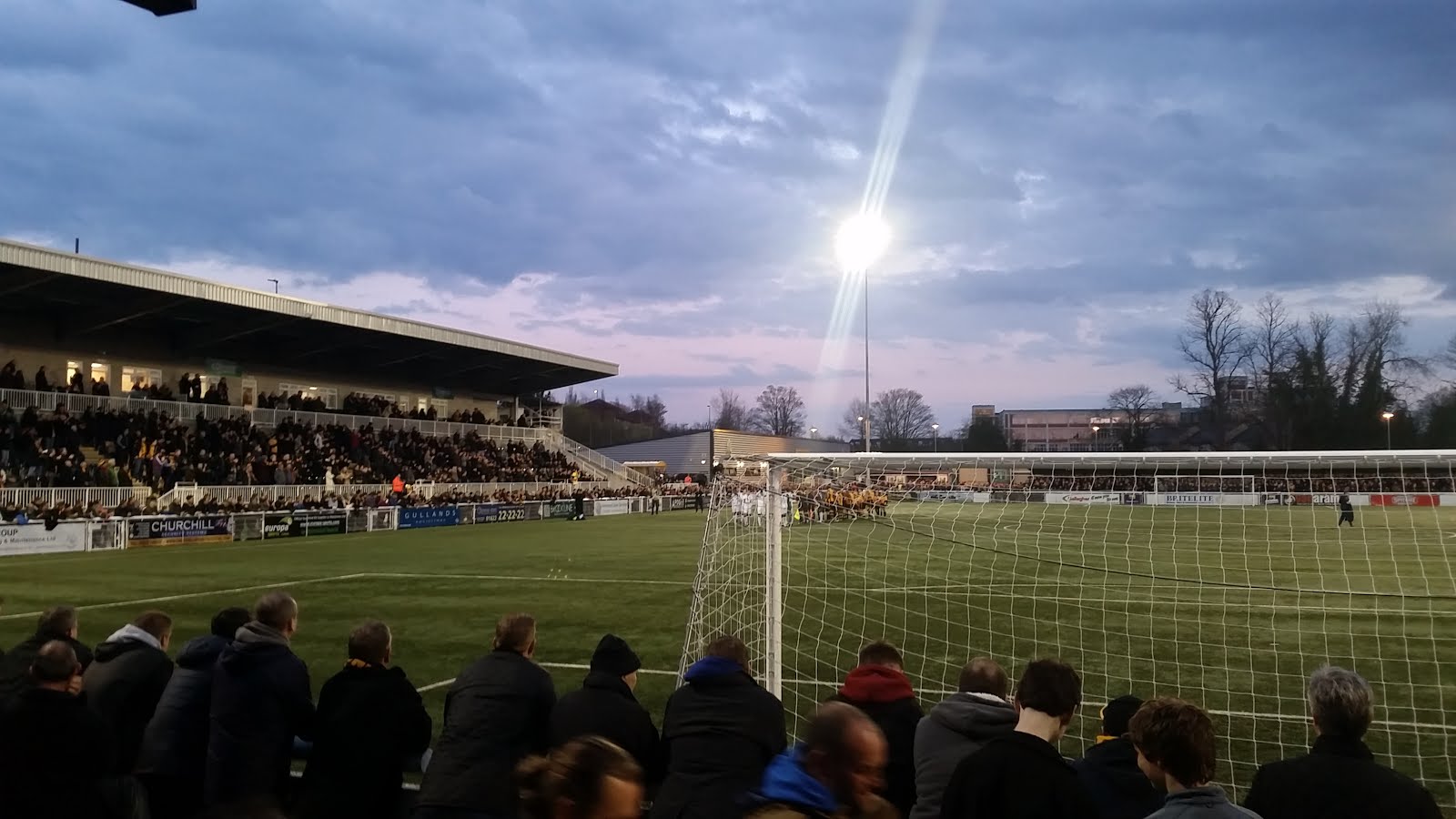 Bit busy tonight
Tombo keeps the Stones on their toes with a little dart, where he ends up cutting in from the left but his shot lacks power and is straight at Worgan. Maidstone then fling another big ball into the box. They win the first, we don't clear the 2nd and Worns has to beat away a shot. A follow up pings back off the post, but the lino's flag is raised for offside and brings a big ol' cheer from us lot. Plus a sigh of relief. Tombo then has another couple of darts down the left, one setting up Bedsy for a shot, but it's weak and Worgan narrows the angle for an easy save, then on the right he cuts in and tees up Dundo, but the pass is too strong and the big man can't rein it in. One of the winger's final acts is to allow the fussy ref to piss us off even more. The U's man tries to burst clear down the line just inside our half and having shrugged off the attentions, surges into a completely empty Maidstone half. At which point, Mr Snappy Cards gives a free-kick so he can do his admin. Clearly having half a football pitch to yourself and a free run on goal doesn't count as an advantage to this clown.
The lads are doing superbly though and with a couple of clever subs, we bring in fresh legs and shore up the barricades. And the clock just keeps on ticking down as Maidstone really do look like they're bang out of ideas. Their main attacking intent is a bloke on the right banging in crosses early and from deep, again to the back stick. But most are awful and simply carry out of play. Then with 2 mins to go, he clumps another ball in from wide and this time it carries over Worns and into the far corner. It's frankly a lifeline they barely deserve and I'm a little annoyed we've lost the clean sheet after such an immense effort to such a flukey shank. But it is what it is and we've still got to hang on in there. Thankfully, the goal just ups the lads resolve and as the board goes up for added time (four minutes you dick? Really?) we try and raise our voices for one last effort to drag this lot over the line.
Again, the expected onslaught we expect from that late goal just doesn't really materialise and most of the added time is wound down with us harrying, chasing down and forcing errors on the touchline. Then as one last hoof forward is launched into our half, the ref finally blows for time and it's over. Once again, people pile in for what can only be described as a somewhat 'agricultural' style group hug. We greet the lads after the whistle and everyone is grinning ear to ear. No doubt their view of us is much the same. And then all too soon, they trudge off towards the tunnel where we're later informed they're applauded off by some far too sporting locals.
I dunno. Football fans showing a bit of class to some oppo. Fuck me, whatever next eh?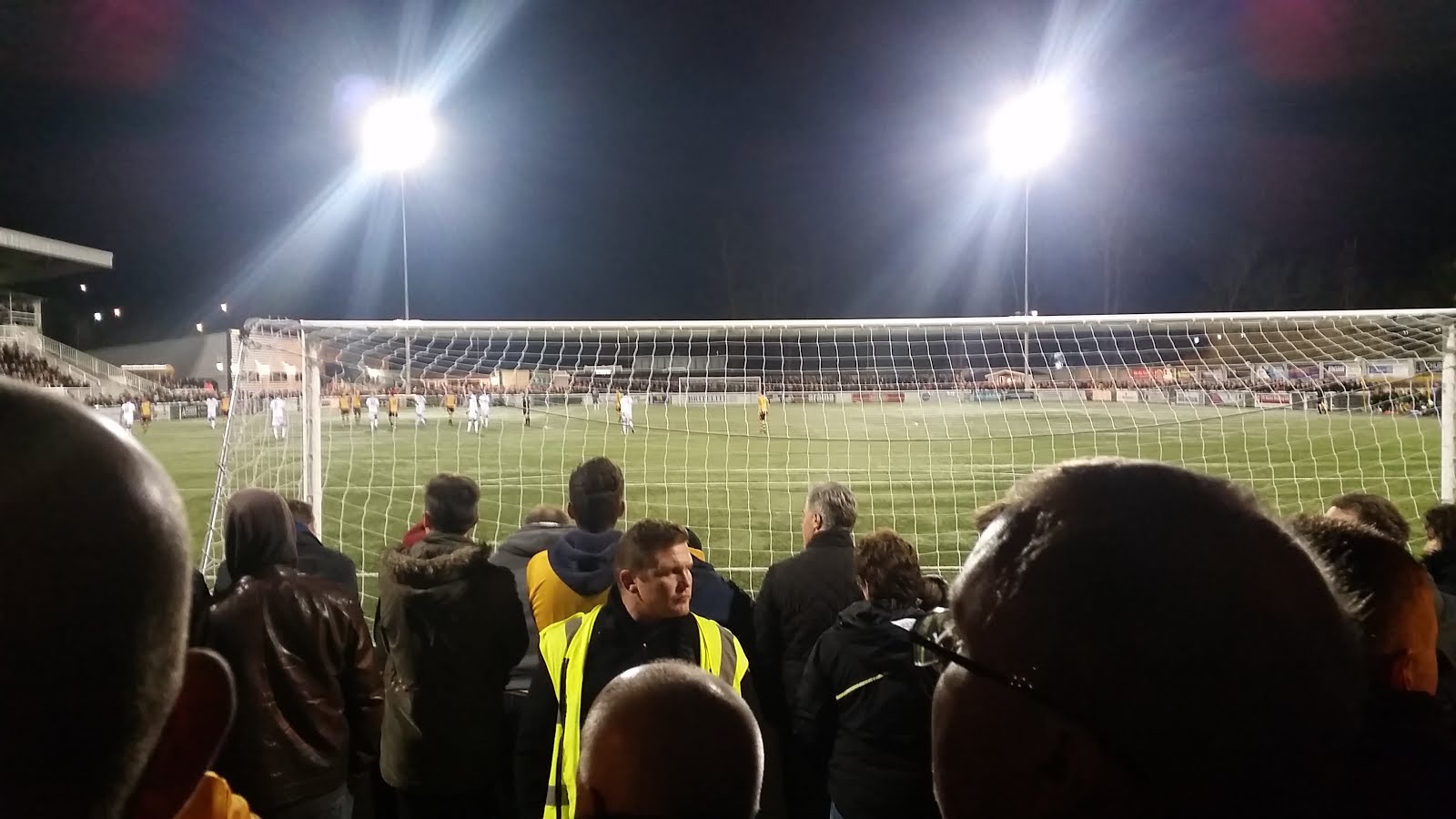 Defending like dogs!
My main train of thought then switches to why exactly my head feels like it's a 1000 degrees. Then I remember, I'd put my beanie on at half time and pulled it down over my ears to help keep my glasses on. Ok, not the coolest look I've ever gone for (and take it from me, I've gone for a few in my time) but as a practical solution it has served it's purpose. Just like on the pitch, job done. So hat off and time to literally chill out.
I locate Greek and having worked our way out of the ground he says he wants to hang back for Nat and Robbo. Not sure why, but hey, he's my lift home so where he goes I go. Eventually, it turns out that after several minutes waiting, we've missed them and they're already ahead of us. Right, sod this, can we go home please? Back at the motor, I call shotgun but am unceremoniously shoved out of the way by Steve. Manners young man! That and you really need to look up the rules to calling 'shotgun'. Shocking behaviour.
We're soon on the way home and motoring nicely. Another object clumps Greek's windscreen but this time does no damage fortunately. He still mutters lots of sweary words however, even after I try to offer him the comfort of "It's fucked already, so another crack won't hurt". No pleasing some people. Apart from this, the journey home is mainly us sitting in silence with the odd murmur of "Fucking hell", "Wow" and "That's massive". No doubt with such in depth analysis skills as these, the BBC will be after us to do Match of the Day before too long. Let's face it, we'd be million times more interesting than that twat Shearer.
Near home, we head down Purley Way to drop Steve off and spot THIS as we drive past, which does a nice job of releasing any leftover post-match tension as everyone pisses themselves at the vehicle what has been parked in the funny place. Eventually, Greek drops me back at HQ and I stumble in to find her ladyship still awake. She doesn't need to ask the result as I wander about with a big stupid grin on my face. "Football!" she tuts and disappears off to bed as I sit on the sofa sinking a couple of pints of Robinsons lemon to try & soothe my sore throat. Then the next job is to locate my spare pair of specs, as I'm by now sick of these bent up gits falling off my face.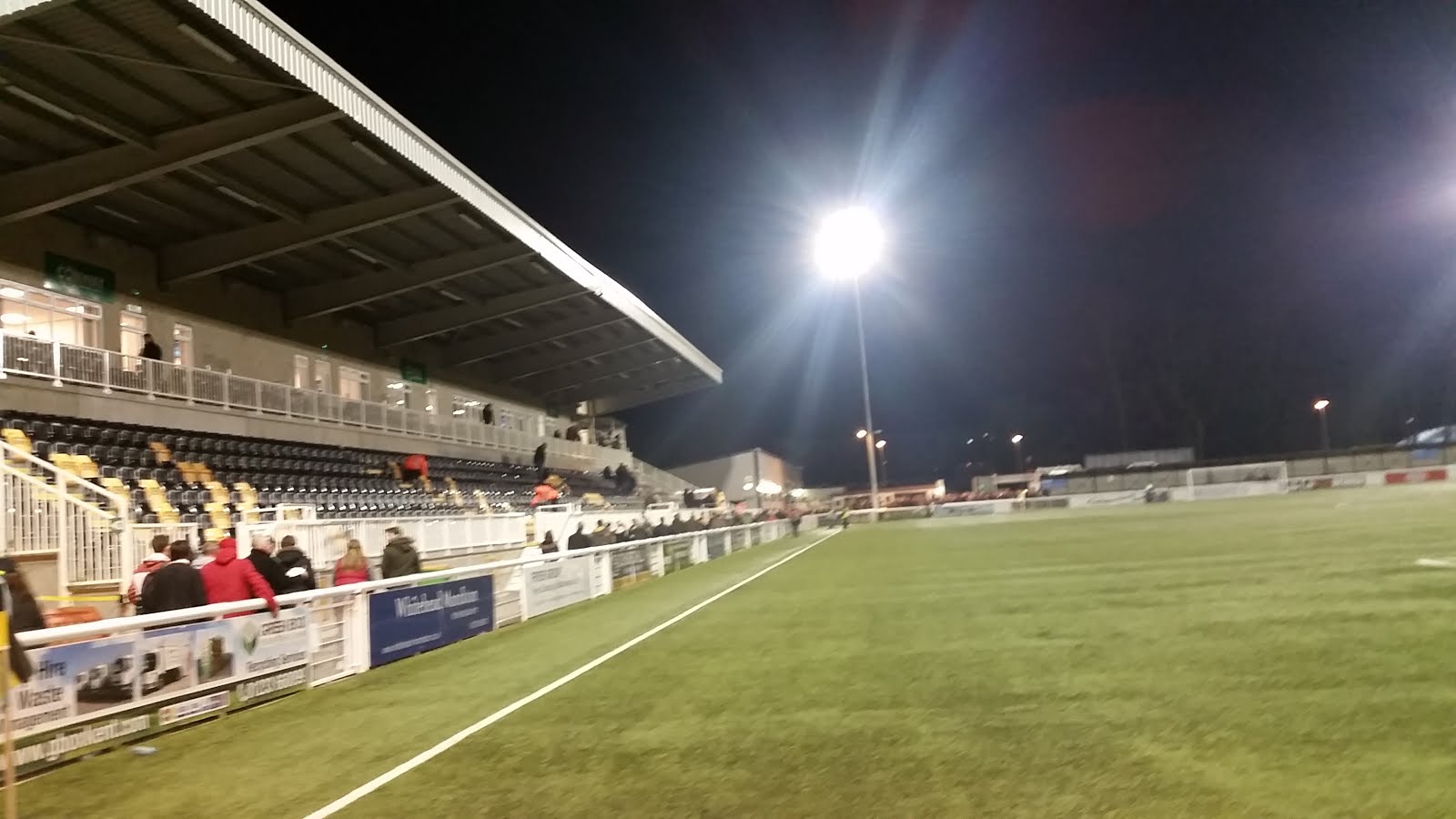 Where'd everybody go?
Ah, that's better, I can see more clearly now the Maidstone has gone. And it looks goooood.
Right, what's Specsavers number? Anyone?
Taz