I think it was some rebel traitor against the Crown who once remarked that there was "only two things certain in life: death and taxes". Well, we here at Gandermonium would like to add a third point to that statement and that's "if there is some sort of Micky Mouse cup that Sutton are going to ply their trade in, then Dukey is the man to cover it". And considering that we're now all of a sudden big time Charlies, our only shot at mediocrity has now been handed to none other than the the Pizza Senior Cup. Sorry, English Football League Trophy.
For the foreseeable future, the much beloved/derided (delete as necessary) Surrey Senior Cup has been binned by the club quicker than Mr X's recent dream of coming second in the 1988 100 metre Final. And with it, my now eighteen year wait for more success in said competition. I obviously can't see why we wouldn't want to play, and win, in as many matches as possible. But I don't steer the great SS Sutton United, so it ain't my call fella. More the pity. Still, at least I suppose I don't have to bear witness to a club sticking out a bunch of kids and getting embarrassed by blokes who are fatter & older than a lot of those who used to frequent The Shoebox. Oh, hang on….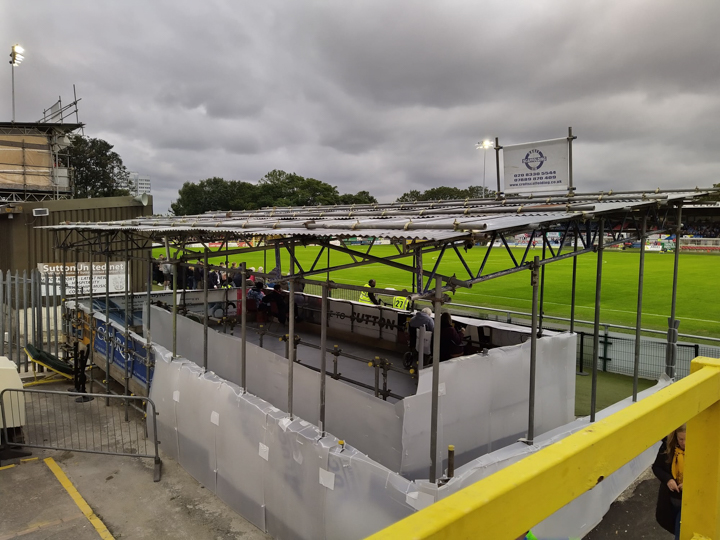 Ah the Shoebox. Yes a lot has changed down the club over the summer, and as you may have seen with Our Chairman Totts lil' piece about the Oldham game, not all 'improvements' have been received with the sort of excitement you get when you first thumb through the pages of a ten year old copy of Readers Wives you've found in a bush somewhere. Many a time we were asked to move round to behind the goal to generate some noise in the lower leagues, without much success. We stood firm! But whilst the world was in lockdown, the Shoebox has been spirited away from us and will forever be remembered as the best place to stand at Gander Green Lane. Life will never quite be the same again. Especially as it's replacement hosting our wheelchair section has a roof! A fuckin' roof! We'd been after one of those for years!
But enough of that of otherwise we'll be here forever talking about the "good ol' days". And we need to save some of that for other blogs! It's a Tuesday night and we have some cup football down the Lane. The Associate Members' Cup is one of those competitions that's been through several different incarnations over the years as it struggles to find a place in the modern world.
Currently it's a little group of four teams that plays each other once with at least one team being a very controversial Premier League Academy side. Couple that with some annoying eligibility rules that force teams to play certain players who had played the Saturday before, or after. Or something. There is a giant carrot daggling in front of our eyes however and that is the reward of a trip to Wembley if you get to the final. So it's a bit like a shit FA Trophy really. Here's hoping.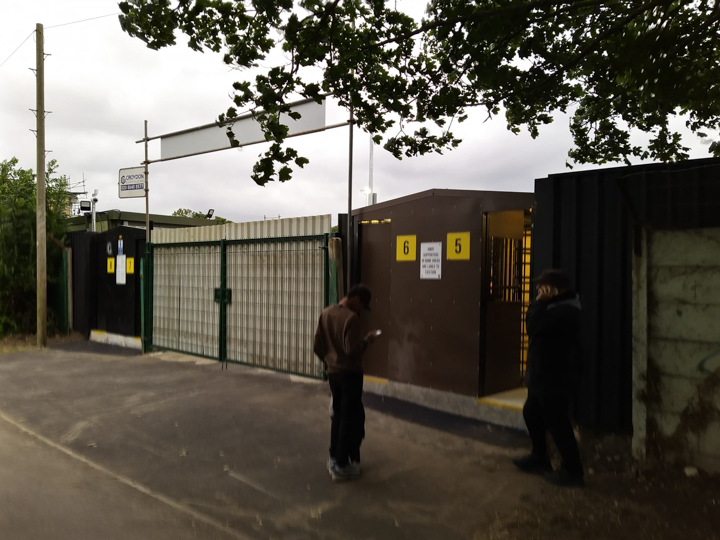 With me currently residing on the far western edges of the Republic, it's now a bastard of a walk towards the ground. Reckon I'll have to change my plans for the next time. Took me bloody nearly forty minutes to get to the world famous Gander Green Lane! Although there was the usual randomness as I made my way through past the Lord Nelson. It was near here that on the road that a couple of fellas in hi-vis jackets were drawing stuff on the road with chalks. "That'll need closer inspection on the way home" I said to myself, mainly as I'm not entirely convinced they were proper council lads making good use of our tax dollar. Was fuckin' coloured chalk for starters!
With it also being Sky Sports dildo-in-the-ear, money spaffing wankfest today (or 'Transfer deadline day' as you might have heard it called by some less informed sorts), we had to get in on the action now we're proper big time and the big news that came through during the day was the re-signing of Tanto from Millwall for his third spell at the club. Much welcomed we should say. Still, proper Sutton United that. Our first ever FL transfer deadline day and our only business is bringing in a geezer we've signed twice already. On loan. Proper. Arriving at the match, it's the park entrance once again for me and a spot on the curve with those that had bothered made the decision to attend. Highlight of the team news was that the Legend that is Dundo was on the bench and ready for his first ever professional appearance, this despite playing football since the last century. The fact he's old enough to be the grandad of some of the oppo ain't lost on us either.
House, Barden, Goodliffe, Rowe, Wyatt, Kizzi, Smith, Boldewijn, Sho-Silva, Korboa, Bennett. Bench Warmers: Bouzanis, John, Eastmond, Dundas, Ajiboye, Wilson.
From the start of the match, Sutton tried to pressure Palace high up the park with several early chances that went begging, much like on Saturday. Within the first minute, Sho-Silva would link up with Boldewijn to create enough space to have a shot. But it was not strong enough to trouble the opposition keeper.
Before the first ten minutes were up, Sutton would see chances from Sho-Silva, Boldewijn & Bennett. Palace would also have one or two attempts in a rather lively affair. Midway through the half Barden, in a rare appearance playing in the middle of the park, would have to replaced with Eastmond. Both teams continued to have chances but Palace were continuously denied by House and Suttons' attempts seemed to be a bit weak in the power department.
Around the half-hour mark, and Sutton took the lead. A throw into the box eventually fell to Smith who scuffed his shot enough that it fell to Sho-Silva who slotted the ball home. 1-0! For the rest of the half both teams started to get a bit bitty as they exchanged petty fouls as the man in the middle, a rather svelte looking Mr Rock, had his work cut out with the whistle. Eventually he would blow his whistle again and Sutton would head down the tunnel deservedly in the lead.
With half-time upon us, we all had to just had to wait around and er, do stuff, as we're now not allowed to head into the bar at half-time for a pint and we're also not allowed to head outside for a smoke. Although that didn't stop some as several people were seen behind the curve playing cat & mouse with the stewards & trying not to give away their position with their smoke signals. Most of the chat amongst the mob was about some forthcoming trips to the heady heights of Rochdale, Northampton & Colchester. Oh happy days. It's all fuckin' glamour in League 2.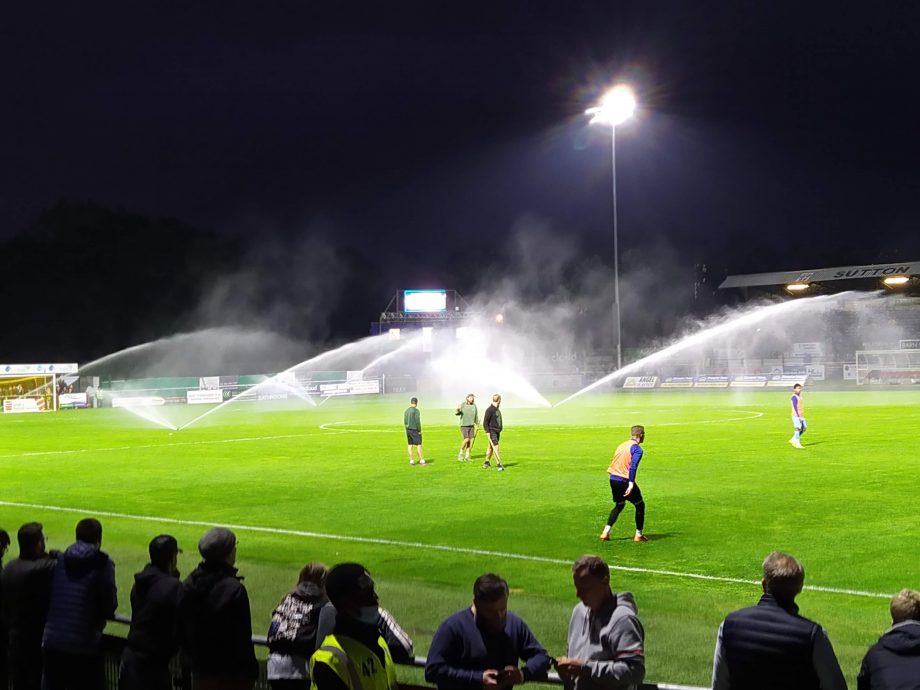 Second half, and Sutton continue to pressure Palace. This is not helped by a rather random Palace set-up when they took a free-kick. Instead of just belting the ball up the park, they would have their two centre backs stand in the six yard box and have the ball played to them before trying to clear it. Why? Fuck knows! But it did cause several problems for travelling side as well as some rather comical moments as several times players lost balls on the edge of the box as the Sutton boys pressed like nutters.
Out of nowhere, Smith played the ball over to the far side and found Korboa on the hunt. He played the ball back into the box. Smith, leaping like a Salmon, met the ball with a powerful header that ended the match as a competition. 2-0! Unless of course you're a long term Sutton fans and you know never to count your chickens until they've hatched. But you already knew that.
Two goals up and the game once again settled into a bitty affair of the two sides trading fouls and a few substitutions. Near the hour mark and Sho-Silva is replaced with Wilson. The bigger news is that with over a quarter of an hour to go, the man that is Dundo makes his move onto the pitch as he comes on for Bennett. Now all he needed was to get his name onto the scoresheet.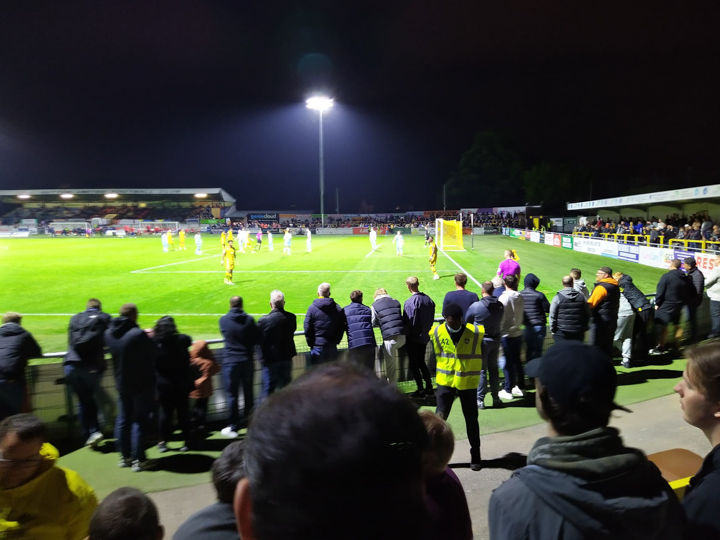 Just under ten minutes left and Sutton get the cherry on the top. And wasn't it a right beauty! Boldewijn & Kizzi link up in front of The Shoebox Curve with a spot of sexy football as they have a couple of plays of one touch football that really show up the Palace kids. The ball is crossed into the box where it meets Wilson. His shot is blocked, but it falls to Korboa who slots the ball home. 3-0!
This was the cue for the away end to start streaming out. And surprisingly a few in the home end to also take this opportunity to leave. Now either Sutton fans are already turning into modern football followers or there were several Nigel's that had slipped through the net in our end. With the match now dead, Sutton continued to press up the park. A much welcomed difference to Saturday where we tried, and failed, to park the bus. Even Dundas got in on the act but his shot was well saved, so alas he wasn't to get his name on the scoresheet this time to go with his first pro appearance.
With the match all finished it time to say goodbye and head off back to the wilds west of West Sutton. And what was daubed on the road I know you've been wanting to ask? "Rain water only please" on nearly every drain in the vicinity. Now I don't claim to be any authority on graffiti. But isn't that is rather a weird tag to have? Colchester away on Saturday as we try to get our first league win of the season. Fingers crossed. Enjoy!
Duke
Att. 1,504