It was written in the stars really. After the last couple of weeks of relaunching the Sutton podcast, appearing on Walsall FanTv and a very odd invite from someone claiming to be from Sky Sports – I was rather revelling in my newfound role of Sutton United's newest media darling. Then I spotted the chance to complete the holy trinity of media, a desperate plea from those uncouth chappies at Gandermonium. "Save us Mike!" they pleaded, or something like that anyway. With a depleted crew this season, they needed some copy for the blog and they were prepared to accept any old toot it seems. So here I am, wasting everyone's time and offending your eyes in print form.
Of course, then they found someone they actually wanted to do it and I was 'no longer required'. Well sod 'em, they can have it anyway! It was a relatively late decision to attend this match on my part, as I have quite mixed feelings about the competition, but we have done ok so far and I do love a bandwagon, so with zero shame, I jumped aboard! Choo and indeed choo.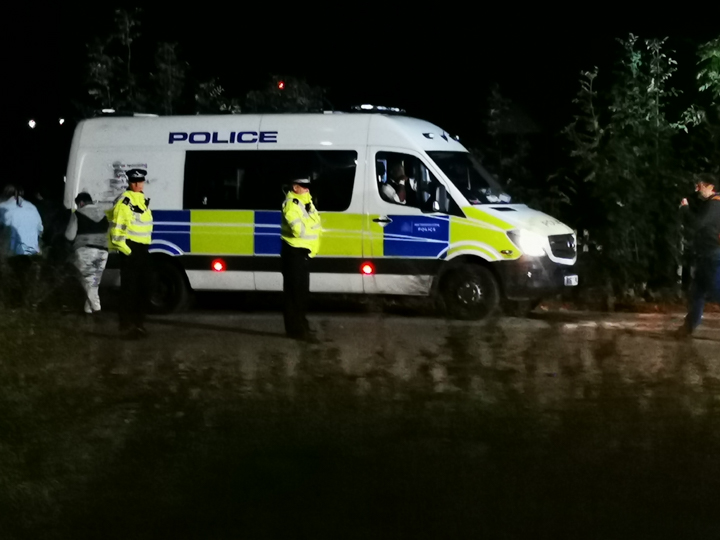 Regular readers will undoubtedly be expecting some travel-related shenanigans and tales of woe about public transport around now, but there will be none of that nonsense tonight. Some of us civilised folk don't live in far-flung corners of the borough and outlands – having a "proper" SM1 postcode means I'm living a mere 15 mins stroll from the Maracana of South London/Surrey (delete as you see fit, I just like to have people row about it) so there's no transport required.
After freezing on Saturday at Hayes I was taking no chances tonight, double socks, base layer, t-shirt, hoodie, coat and beanie. I arrived with plenty of time, so I head to the main gates to get my ticket for tonight and the Leyton Orient match. This requires two bouts of queuing at different booths, but I at least managed to pin AB down as a future guest on the Sutton United Talk Time on Podcast (I did mention the Sutton Podcast already, didn't I?).
As I walked in, I realised it was the first time this season I have actually used these turnstiles since the first match, and certainly the first time I noticed the brand new swanky toilets – I was tempted to film them to show off to the away fans moaning about the ones up their end on social media, thankfully even I decided this was weird and likely to cause conversations that would require paying for legal advice.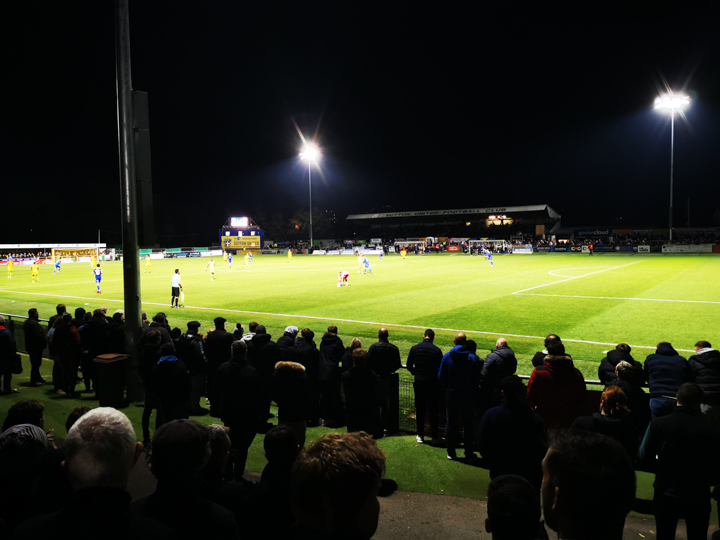 At Rose's, I get my scalding brew which will mean it'll be ready at halftime. Finally, I take up my usual place on the newly christened La Curva (I will grudgingly agree this name has more appeal than Mike's Miserable Mound, but only just) to soak up the pre-match atmosphere. It was about now I realised I was extremely hot and the egg head was boiled! Guess it is a touch warmer out than expected. Oh, you were expecting drinking tales too? Man; you really have been royally stitched up this week; you should probably ask for a refund! Don't fret there will be little mention of the football, so that will one out of three boxes ticked.
The lineup is announced on the PA but may as well be in Klingon as I don't understand a word of it, but thankfully we live in a marvellous modern world, and I have Twitter to help me out. Several changes for us. Brad starts in goal, Joe, Ben, Coby & Ben make up the back four. Ally & Kenny are in the middle with Ricky & Enzio out wide. Richie and Don upfront. Kenny is our captain tonight, and I'm told the fifth one this season so far. The bench is strong with Dean, Rob, Dave, Toby, Will, Tents and Dundo. Our opponents line up with Nik in goal and a bunch of guys I honestly don't care about too much…
Before kick-off, there was an announcement that the last post would play THEN there would be a minutes silence; as mentioned, it is quite difficult to hear over this side, so as the last post was played, we had a very respectful silence – however for about half the minute people clearly did not have a clue what was going on, so there was loads of noise.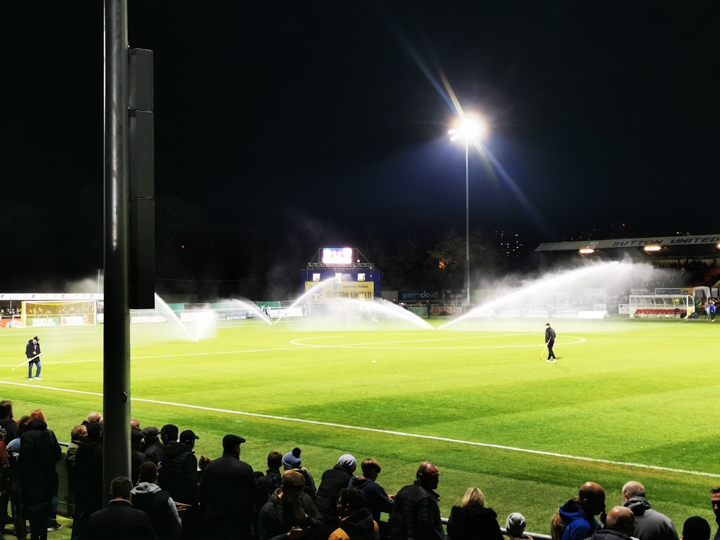 Anyway, here is a match report I'm sure you were all dying to read…
At some point in the opening few minutes, Brad rushed to just outside of the area and looked like he was about to catch the ball but instead delivered a thumping header that any centre back would have been proud of. We had a few half-chances in the first 20; with Ricky having the best of them, he decided to place his shot rather than leathering it, Nik saved easily in the end.
On 26 mins, Wimbledon had a corner; it was awful. From here on till the end of the match, we were treated to "You're shit ahhhhhh!" at corners as well as everything else. Novel and amusing. For a couple of occasions. Wears thin after a while though. At the half-hour mark, the area around me thinned out quite a bit, I was pretty worried someone had done something unpleasant, but it seems they were extremely keen to get some food from Rose's – one group had missed the first 10 mins of the match because they were getting food, but it was obviously nice enough to warrant a return trip.
A couple of other bits before halftime, Ally hit the inside of the post, and Brad went wandering off towards the centre circle at one point. But Wimbledon were very keen to get in at halftime with 0-0 on the scoreboard. At half time the new game of 'soak the subs' was spoilt by them noticing and warming up well away from the sprinklers. Boring!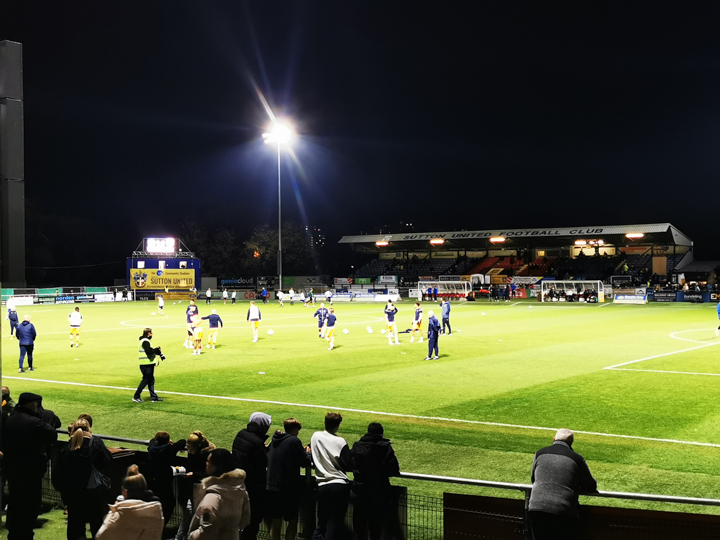 After the break, Nik Tzanev comes out and gives home fans a clap as a hello, a bit of applause back, but it is clear the bulk of this crowd aren't sure what is going on. Unhappily this gesture from an ex-player is thrown back at him later in the game with quite a bit of abuse, not banter lads, abuse. Still, it looks like some kids not in the main home group, so they probably don't have a clue who the guy is. Within five minutes of the restart, Don scores a great goal to give us the lead. The group of foodies then returned having of course missed the goal.
We control the game. Richie makes way for Toby, who has a great chance but heads straight at the keeper. Kenny makes the hour and is replaced by Rob. There was a naughty challenge on Ally at some point after this, which I could not see as was behind the floodlight pillar; he eventually got up and saw out the game though. Last 15 or so, the foodie group decided to leave – they had paid £13 each to watch about 25 mins of football and queue up for grub the rest of the time. Each to their own, I guess. Anyway, Dave came on, but the game was over really bar a late rally from the Dons, which never really threatened; even the five added minutes didn't help them.
A solid, controlled match. It felt we could have stepped it up if needed, but another £10k in the bank and into the next round we go. A Shade under 2500 here tonight too, with 500 Wimbledon fans in. So quids in.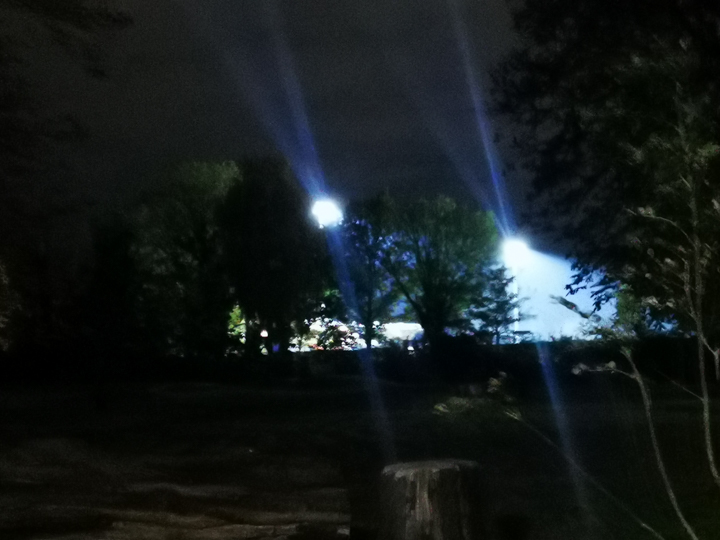 Time for a quick pint to celebrate after? Not me, I live in the real world, Sainsbury's for a loaf of bread for the kids lunches, then home to walk the dog and another brew.
Decaf though I'm not a madman!
Mike