It's been a tough couple of weeks here in the Republic, as the U's have found form, goals and fitness somewhat hard to come by lately. This has meant that our current run of form is up there with Matt Gray's worst back in the early days of his tenure pre-Torquay and it's such a testament to what followed since then that losing 4 straight is seen as such a huge run of bad form. Still, it is what it is and we go into our first League 2 local derby against the Wombles dreading what may occur.
Last weekend's defeat to a solid if unspectacular Tranmere was only really memorable for the fact we managed to break 2 centre backs inside the first 10 minutes. This only adds to our current injury woes and gives us a casualty list that would give one of Putin's Generals sleepless nights. Still, it could have been worse, I could have been blogging it and I really should give my thanks to Mr Clarke for covering that one and not only that, volunteering to do so. I know, what an idiot eh? It did however make a nice change from having to waterboard someone into volunteering. Especially with how much utility bills cost these days and us being supplied by Southern Water, who I assume are named as such as each bill makes you feel like you're literally lobbing up for all the water in the South of England.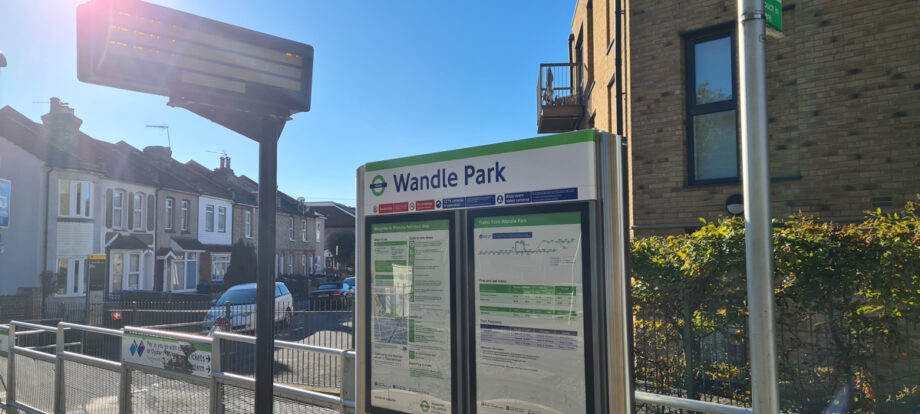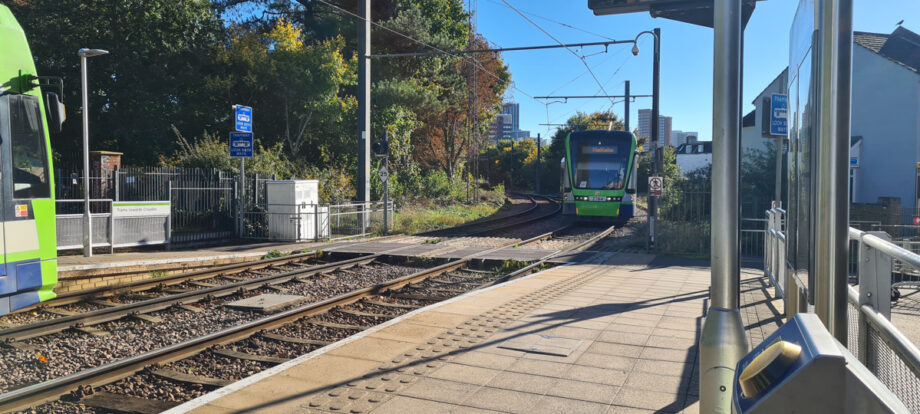 Back when the fixtures came out for our second Football League season, the Wombles meetings were of course one of those most people looked for first off and for a while there, we were looking towards it with hopes of getting one over our near neighbours as they struggled to find form following last season's insipid relegation. But then of course, as we've already mentioned, we've hit the skids a bit and as such we go there with the tea lady in defence, the worst away record in the division and a nasty habit of late game fragility. So naturally, hopes of a repeat of THAT night at Kingsmeadow a couple of years back when we screwed the litter picking rodents out of about 300 grand are not high. Right, where we drinking? I think a pint or two might be needed before this one.
After much discussion on the Whatsapp thingymajig, we decide on an 11am meet in Colliers Wood as this would take in a couple of boozers there before the short walk to the highly rated Sultan off Haydons Road before finishing off in the Garden Shed before the short walk to Plough Lane. This set a challenge for my good self as despite Sutton and the surrounds being remarkably well connected transport wise, getting to Colliers Wood was a bit of a faff from the Croydon side of the borough. I considered a Thameslink to Tooting and a walk from there and also tramming it up big style to Morden Road and walking up. But being a bit of a lazy twat, I really didn't fancy a 30 minute stroll from either and instead turned to the TFL site to give me some ideas. This threw up a perfect solution. Bus from HQ to Wandle Park, Tram to Phipps Bridge and then a bus from there to Colliers Wood. Sold! It's such an elegant solution that even Magnum PI can't refuse and decides to ditch his plan of going to Morden to join me for the run up. Good lad. He knows a sensible plan when he sees it.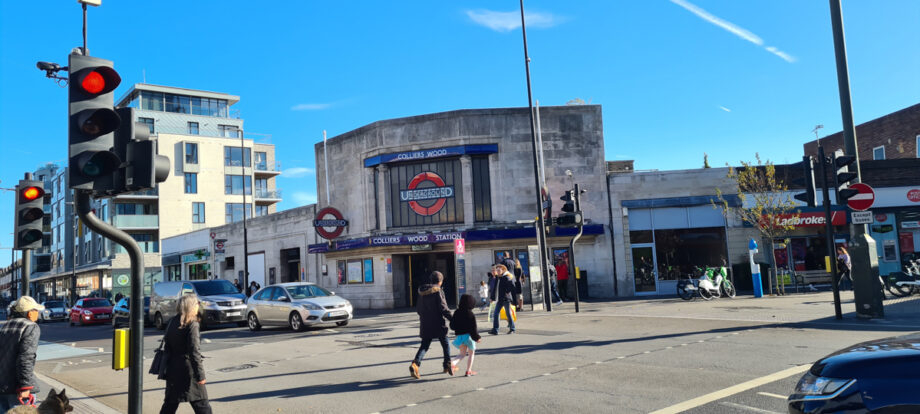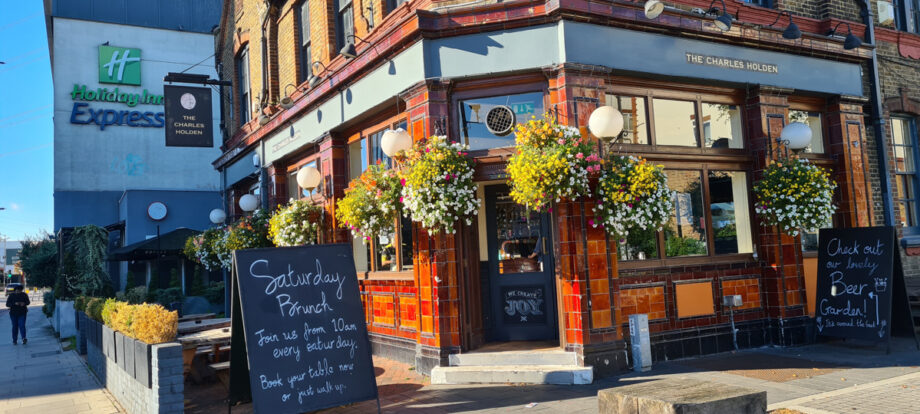 Up at 9, morning admin sorted and a couple of slices of toast down my neck, I head out into the warmer than expected morning for the 410 just before 10. As I wait, I note that my recent little sticker battle with some anti-vax dickhead has ended as our layers of stickers have now been completely removed from the bus stop. Shame, was becoming a fun little pre-away game ritual the last couple of months. I guess we'll call that a draw eh Tinfoil hat guy? The bus rocks up on time and a couple of minutes later, we're collecting Magnum from up by the Plough and on our merry way. We pass the time discussing Thursday's appearance of Tim Vine at GGL doing his latest Elvis themed show, which was a most entertaining little interlude this week. I think he's ended his run on it now, but if he does it again, check it out. Well worth it! We hop off at Wandle Park and typically just miss a Wimbledon bound tram as we walk up. Still, it's 5 minutes to the next one so we're not too cut up. Elsewhere, Chalmers has reported that he'd left his ticket at home and made his cab to the station go back home to get it, doubling his journey cost. Idiot boy! And all this despite Mr X reminding everyone not to forget them the night before. No helping some people.
The tram trundles us out to Phipps Bridge and we hop off into the backstreets to go locate our bus stop for the last leg of the journey. This is no bother and we wait a few minutes for the 200 bus to rock up as Magnum takes in the landscape and reveals he's pretty sure he's done some work on one of the addresses we're stood out the front of. Thankfully, it's not the one with the fridge and the armchair in the front garden. Our last bus ride is short and before we know it, we're stood by Colliers Wood station and it's basically just gone half 10. Not bad that, not quite 40 minutes door to door. Sadly though, this means we'll have 25 minutes to kill before the Charles Holden opens. Just as I start looking for a Greggs or somewhere similar that I can maybe obtain bacon based products to help pass the time, Magnum spots a guy sat in the pub by the window. "Is he staff just chilling before opening up?" he wonders aloud before adding "Hang on, he's drinking from a pint glass! I think they're open!". This top bit of detective work is all I need to push thoughts of second breakfast from my mind and I dart over the road to get a pint in instead. "Open from 10 on Saturdays for Brunch!" says the sign outside. Fucking get in. "We create joy" declares another one on the door. Indeed you do my friends, indeed you do.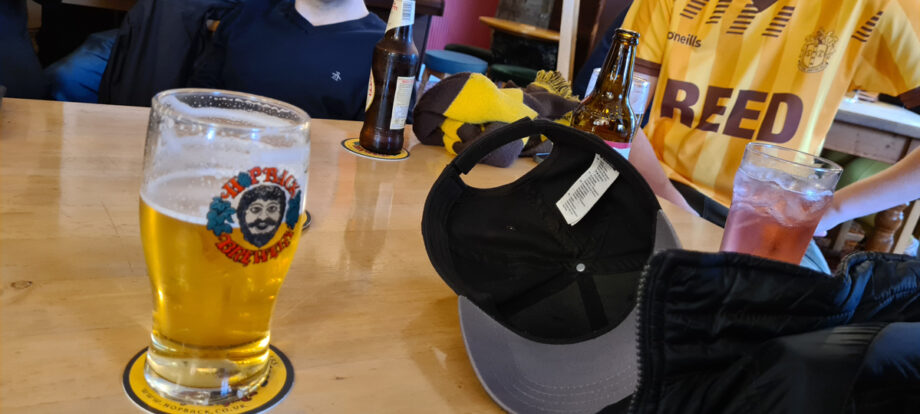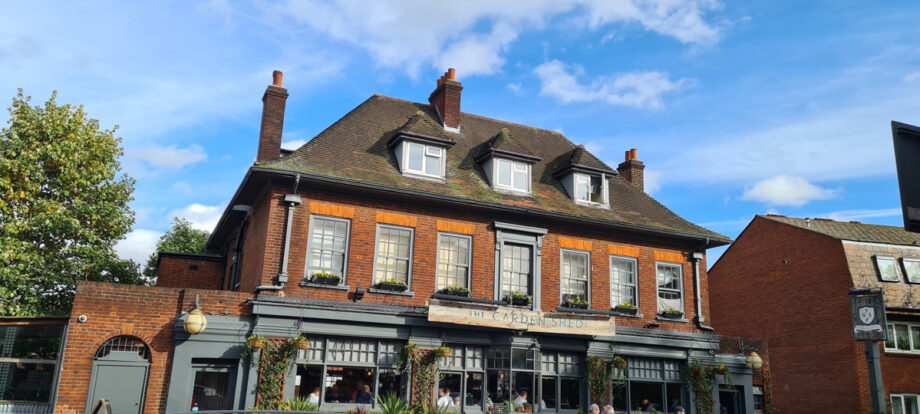 A couple of minutes later, we have pints on the go, a seat by the window in the sun and a smug "We've got a pint on the go" message on the Gandermonium whatsapp group. When you're winning at life, I find it best to share that success with those less fortunate than you. Spread a little sunshine. We're soon joined by Robbo and Dr Bell fresh off the Northern Line, as being central Sutton getting to Morden is a piece of piss for them. Belly lacks a coat and this is soon earning him some "Are you sure?" comments from myself and the PI. "It's lovely out!" he argues. Yes mate, it is now. Chalmers wanders in next, fresh from his walk up from Merton Abbey Mills and a cafe stop on the way. "Remembered your ticket mate?" I enquire innocently as I can. Mr X is next to arrive, also questioning the good Doctor's lack of a coat and then 4Days and Chris are next in. All we're missing now is Greek, who's apparently in a cab from home. "Get us a pint of cider in!" he pleads via the group. "He can Get fucked" being the democratic response of those in the pub for the agreed meeting time. He eventually arrives, almost half an hour late and of course this forces myself and Magnum to have a second pint to try & even up the intake of the group.
As per usual, we get stuck into the usual abuse and banter from here, mostly around Greek's tardiness. Robbo also reveals he's in the market for a Euro '84 panini album on eBay with the current asking price firmly into three figures. That and an unopened pack of stickers sitting at almost £25 quid. "You must be fucking barmy" mutters Dr Bell. With a couple of pints down here, we bid our farewells to the staff and plod off up the road to stop number 2, the Sultan. As we turn off the main drag to work through the back streets, I hang around to wait for Greek who's hit up an ATM as there's no way he'll find this with us directing him via phone. We soon catch up and wander into the pub, take a pew and get stuck into some cracking Hopback beers. Here we're joined by Indy, just off his first bout of the dreaded 'rona and then Dukey puts in an appearance with his father in law. Here he confirms that he'll definitely be doing the Surrey Cup blog for the game with Merstham, which is a touch as I almost certainly fucking wasn't! At this point, it starts pissing down with rain outside so of course everyone starts mocking Dr Bell and his lack of a coat. "It'll brighten up!" he declares, fooling absolutely no one at all.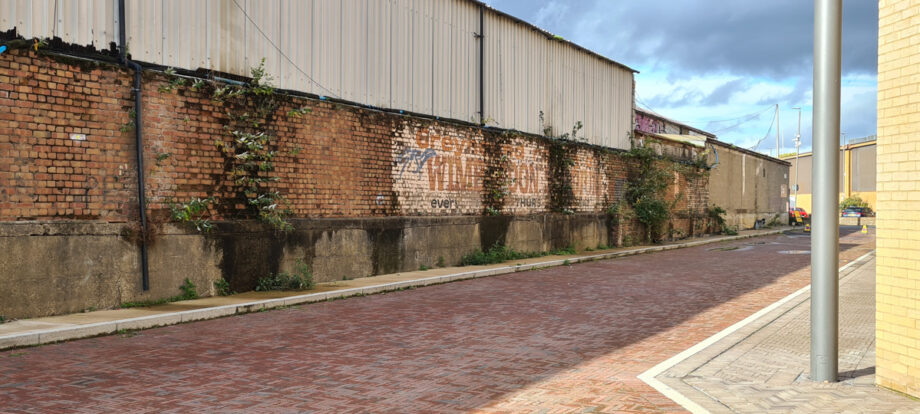 We partake in a couple of pints here and then move on to our final pre-match stop at the Garden Shed on Haydons Road itself. Here we bag pints and find the likes of Smarty, Dirty Barry, Dancing Marcus, Fish the Cabbie and Keepo out in the beer garden. DB's parked up in one of the garden sheds here and this is immediately dubbed 'Barry's Grotty'. We also meet a Sutton supporting lass who actually works at the Charles Holden and didn't even know they opened at 10 on Saturdays! We catch up with some of the faces about and down a couple more before we decide that making a move for the ground just after half 2 is probably best. Right, game faces on folks and strap in. This could get bumpy.
Ward, Boldewijn, Milsom, Kizzi, John, Eastmond, Lovatt, Neufville, Randall, Wilson, Bugiel SUBS: House, Hart, Kouassi, Fadahunsi, Dundas, Gambin, Thomas
With our recent troubles and a makeshift back four on the park, it's no real surprise that the hosts have the brighter start. Assal wide is causing Milsom some concerns but we're largely doing ok until a ball in isn't cleared, a cross shot goes through a crowd and the AFC lad unmarked back post somehow pulls the ball back across goal and wide. Wakey wakey lads!! This seems to get us going a bit and we're soon in the game and competing well. Neufville with a decent shot from the edge almost catches out Tzanev and he needs two goes to gather. It's a largely even first 30 and then we go and do something a little out of step with our recent showings. Score. Milsom whips a free kick in from wide and this tempts out Tzanev to claim, but Kizzi is in close attendance and the defender trailing behind ends up clattering the keeper and Easty is there to snatch up the loose ball and thump it in off the underside of the bar. The Wombles are furious as they think it's a foul but the ref's having none of it and the goal stands. "How shit must you be, we're winning away!" taunts the Yoof. Quite.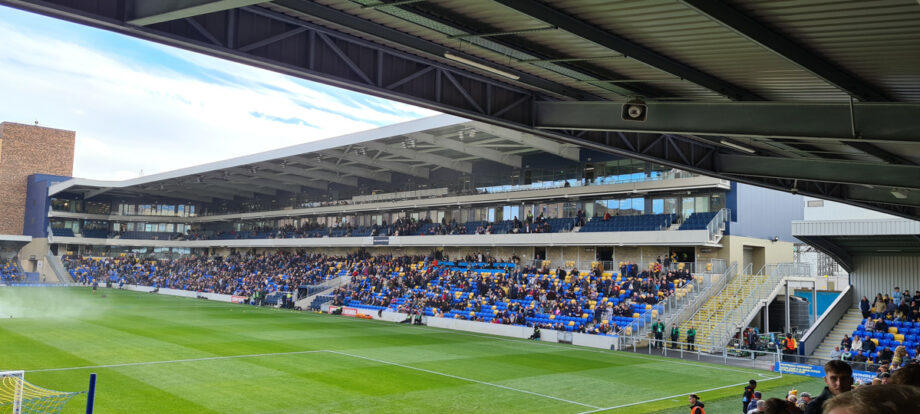 The rest of the half is pretty even, although Ward has to make a decent sprawling save from a free header off a corner and a blue shirt deflects a cross-shot over with a flicked header in front of goal. Still, we're glad to get to the break in front and it certainly gives us something to build on. It also gives us a break from the really quite packed stand, which seems to have been caused by people cramming together with their mates rather than getting in the seats they have. Bit silly really and not particularly safe if I'm honest. Another reason why seats are shite in my opinion. With a sold out away end, I decide not to bother trying for a Half time pie or similar and stay put to await the restart.
Expecting a response from the hosts in the second half, we instead get to largely see things out without too many problems as despite having a load of the ball, they absolutely fail to so much as lay a glove on a makeshift back four. Sure they have pressure and balls into the box, but the defence stands resolute, gets to most first and second balls ahead of blue shirts and Coby and Kizzi in the middle deliver a largely faultless showing. At the other end, we really should put them to bed but our old mate Nik Tzanev's not having it. Although he does give us one free hit for old time's sake, shanking a clearance from the side of his box straight to Omar 35 yards out, but he makes a mess of his shot at the open goal and dribbles it weakly back into the box for Tzanev to intercept. Fucking hell lads, got to take gifts like that when they're presented.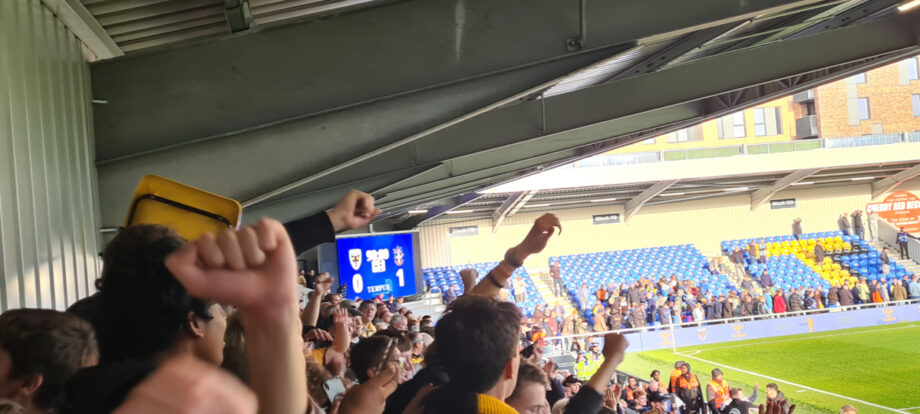 Randall draws a top level fingertipper out of the Kiwi soon after, cutting in and bending one for the bottom far corner, but the big lad is full stretch and tips it around the post. Then later in the half, Randall gets wide, pulls it low back across and just out of reach of Kouassi, but Nuefville comes in off the other wing with a late run and forces a point blank save from a couple of yards out. Then as our confidence behind ther goal rises and we keep roaring the lads on, Tope nearly does it again with an injury time dart just moments after coming on, but once more, the giant keeps spreads himself to block the shot from the U's sub. Still, despite there being 5 added, we see those out with no real fuss and the final whistle is greeted with great delight by the 1200 behind the goal. Get in there lads! Matt is soon over greeting the masses with a big grin on his face and a proper fist pumper of a celebration. A big weight lifted there and a largely bang on performance from the side. Great stuff. With the lads applauded off, we file out down a back alley past a fading ghost sign of the old Dog track in completely the opposite way to Haydons Road station. Yeah, cheers lads. We also hang back from some young lads who are singing some stuff about the old Wombles and going to MK. One bloke walking the opposite direction does a full 360 after walking past, going to have a word and then basically guessing it's not worth his time and deciding against it.
This away fan diversion means we miss the 20 past 5 back to the Republic and with the best part of half an hour to kill, we hit up Sainsbury's local for some cans and a snack to help whet the whistle and get our energy levels back up. As I cross the bridge, I find Magnum waiting with Irish Pete, who'd been in the home end thanks to a ticket from a mate. He reveals he thought it looked like their lad was the one who knocked it loose from Tzanev for the goal, but also admits he was very surprised the ref didn't just blow for a foul. We hit the platform and drink in our cans and our first away day 3 points of the season before the rattler rumbles in. As we trundle back around the West Sutton loop, we decide to pile into the Old Bank back in Sutton, purely as it's close to the station. And as we go, Mr X gets a call from vice-chair AB asking where we're heading. "Looks like we'll have management company shortly" he grins as he hangs up. Lovely stuff! Elsewhere on the socials, it's clear the hosts have taken the loss badly, especially due to their insipid 2nd half performance and some are demanding their manager's head. The pick of the bunch is one bemoaning that they've lost to a glorified Isthmian League club. Oh the irony.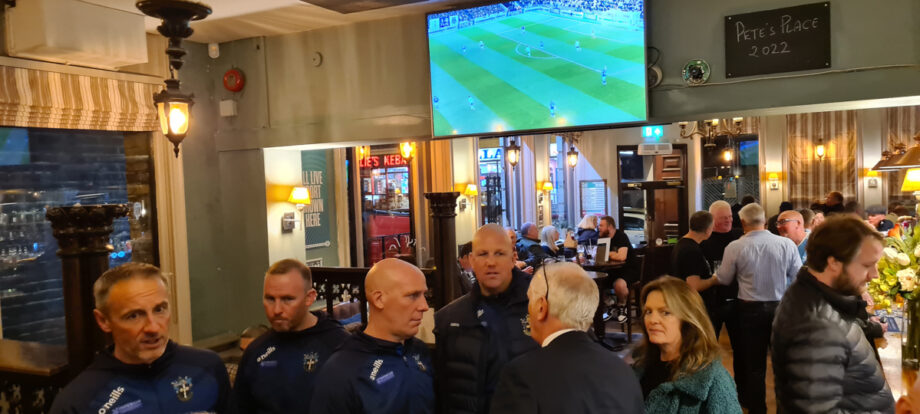 We dive into the Bank and get the pints flowing as Spuds Everton takes place on the telly. Greek taking none to kindly to mine and Pete's attempts to block his view of the screen. Miserable bastard! We also reveal to Nic that the lino our end today reminded us of a slightly balder version of her other half Southampton Steve. This she finds hilarious and approves fully of my sending the pic to and ripping the piss out of him for. Hey, he is back in Dubai sunning himself after all, so he's only got himself to blame! We've got a pint down when AB arrives and then Kiddo and soon after the management team with Matt and Jason along with matchwinner Easty, Louis and also the currently injured Ben Goodliffe. It's nice to see the lads after such a big win all smiles and kicking back to enjoy a well earned pint, especially after the last few results. Here's hoping we can stabilise a bit from here and kick on once we get some bodies back. Speaking of which, we also get updates on various players from Matt and in one case, Ben himself, whose knee brace comes off very shortly apparently.
The lads stick around for a while, enjoy a couple of celebratory pints and do some pics with some of the U's fans in enjoying the win before heading off and we just generally prop up the bar pouring it down our necks. Slowly, the crowd thins out and just before 10, I decide that calling it a night is probably advisable. That and I'm absolutely Hank Marvin, with the pre-train sausage roll from earlier having been little help in the stodge department. So I toddle my drunk little self off to German Doner and order up some grub to nosh while I await the bus home. But with scoff in hand, I walk around the corner to spot an X26 coming. Result! Express trip back to HQ! And before I know it, I'm stumbling in through the door pissed, happy and ravenously hungry much to Mrs Taz's eternal delight. "You smell of beer" she complains as I give her a first away win of the season peck on the cheek.
Sorry about that love, gimme a minute or two to scarf this bad boy down and I'll smell of kebab instead.
Taz