With an injury crisis, a habit of conceding heartbreaking late goals and a run of consecutive defeats probably the last thing Sutton needed was yours truly turning up at a game. My recent attendance at matches have yielded some very sketchy results; going against the grain of the almost unparalleled success U's have enjoyed in recent years. Indeed my old friend and everyone's favourite car park steward Mark Frake had tried to impose an unofficial ban on me watching the lads in action. Such a curmudgeonly attitude may be hard to believe for those familiar with his normal happy go lucky nature, but with the U's so out of sorts lately even he couldn't be bothered to object to my attendance at Saturday's game with Tranmere.
To be fair to Frakey my last game at HQ was the final one of last season when my presence at the match with Bradford saw the first home defeat in an eternity. This might not have been so bad had it not resulted in the U's missing out on the play offs by a point despite winning at Harrogate the week after. Nevertheless both Mark and I agreed that in spite of this disappointment Sutton's debut campaign in the Football League was a remarkable achievement; especially when you factored in the first trip to Wembley in 41 years.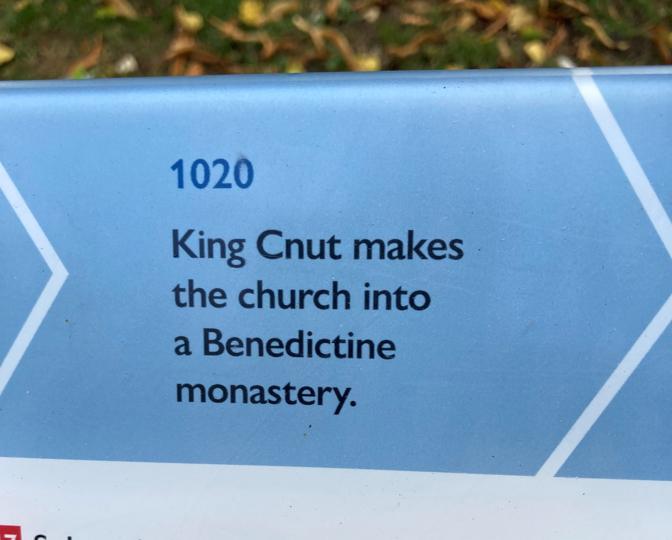 Emulating that success this term was always going to be a tough ask but when you take in some key departures in the summer as well as long term injuries to integral ingredients like Ben Goodliffe then the patchy form thus far is completely understandable. Having said all that Matt Gray has still ensured the team has been competitive with Tuesday's defeat at Stevenage being the only time the outcome had been decided before the end.
Anyway I'm now three paragraphs in to this diatribe and have realised there's been far too much mention of football. I must offer my profound apologies for this as I know that's not what Gandermonium's regular clientele are here for. The normal build up to the day's game involves a summary of the travel arrangements to the game and a round up of hostelries visited and beverages consumed. For away games this has often involved your correspondents rising at silly o'clock particularly for visits to some of League Two's most Northerly outposts. This dedication to duty is praiseworthy but when ranked against my departure from home for Saturday's game is decidedly second rate. This is because I left my humble abode on the Sussex coast last Sunday before pitching up at Gander Green Lane on Saturday. This convoluted journey was an indirect result of the industrial action on the railways but even the RMT's worst critics couldn't put the blame for a 6 day journey at their door.No the real fault lies with me and my obsession with football.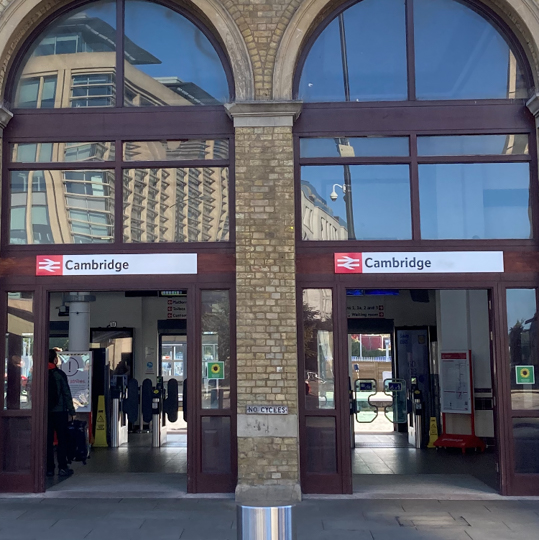 As those of you that have read my rubbish before will know, I'm a Fulham fan first and foremost and have had a season ticket there for more years than any reasonable person ought to endure. My wife had booked us a week away in Cambridge from last Saturday with a couple of friends but with Fulham at home to Newcastle that day I'd said I'd jump on a train after the game at the Cottage and join them that evening. I pretended I was being magnanimous as it allowed them to travel in one car with all the luggage rather than us schlepp up in there in two vehicles. My wife of course saw through this veneer as she's never tagged me as an environmentalist or as having any overriding concerns about my carbon footprint. However she was happy to go along with the plan on the basis I'd have been mentally absent from the holiday until Saturday's football was over anyway.
As it turned out with no trains last Saturday an onward trip to Cambridge that evening was out of the question. I'd ponced a lift to Fulham with my son and his mate so went back home after the game. This in theory gave me an evening alone to digest Fulham's defeat and ponder the stupidity of a sending off that rendered the game over by 10 past 3. However as a veteran of such disappointment I went to my default setting of pretending that football didn't exist; especially when I'd heard that Sutton had lost again to an added time goal. It also gave my wife Sallie and our friends an evening devoid of male company in Cambridge. I understand they coped admirably in the circumstances.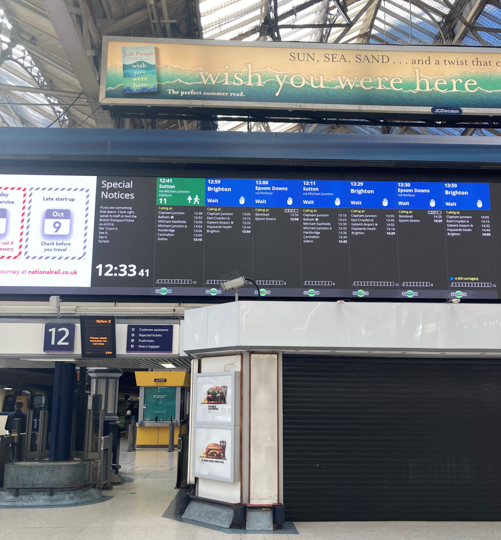 Therefore, getting back to the story, I left Clarke Towers last Sunday morning and trained it to Cambridge to join/spoil (delete as appropriate) the holiday. In fact I might be doing myself a disservice here as we have enjoyed a splendid week away. We've taken in the pleasures of Ely and Bury St Edmund's where I learned it was not only famous for hosting Sutton in the Isthmian League but also had King Cnut knocking about in the Abbey there in the 11th century. I'm not sure if he was the earliest victim of dyslexia or if he was just a horrible bastard. If there are any historians out there I'd be eager to learn more. Another highlight of the week was going on a punt on the River Cam where I did an admirable impression of the aforesaid monarch, being as I was just one letter out.
Anyway to finally get back to the story it had occurred to me that with just one vehicle for the return trip at the holiday's end it would likely be a squeeze. Once again my valiant nature got the better of me as I realised that despite some strike action I'd be able to get a train back to Liverpool Street, tube it across to Victoria and hop on a rattler to Sutton and make the game with Tranmere. The last piece in the jigsaw would be finding a route home after the game but as Mr Frake is now a near neighbour of mine in sunny Sussex and last missed a Sutton game back when God was in short trousers I thought it a good bet. Fortunately my hunch was right and with a shotgun spot assured in the Frakemobile it was all systems go.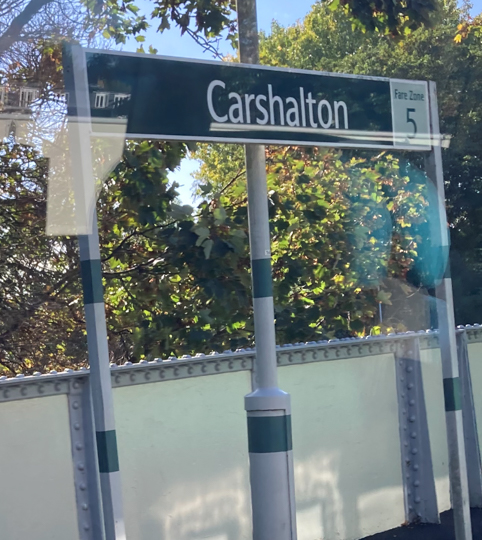 Saturday morning arrived with bright sunshine in Cambridge . After confirming London trains were running I bid the ladies a fond farewell and set off on the journey South. En route I started to consider the afternoon ahead. Tranmere were more familiar to me as a Fulham fan as I recall they were the opponents in one of the earliest games I saw at the Cottage in 1970. Our paths didn't cross that often although I recall Rovers knocking Fulham out of the Cup in 2000 when Dave Challinor's long throws caused havoc. I wonder what became of him? A year later we went separate ways with Fulham's promotion and Tranmere's relegation leading to a slow demise that ended in the loss of their Football League status in 2015.
Unlike a lot of BELT's they adapted well to their new surroundings and took only three seasons to escape La Bastarda. An added bonus was the making of Sutton's acquaintance in the latter two of those campaigns although they surely thought they'd left the U's far behind on their departure upwards. Like a bad smell though Sutton turned up again last term as our promotion coincided with Rovers relegation from League One. Frakey would know better than me but I think Sutton have had a reasonable record in head to head encounters and with just 2 points separating the sides in the table it suggested a close and competitive game beckoned.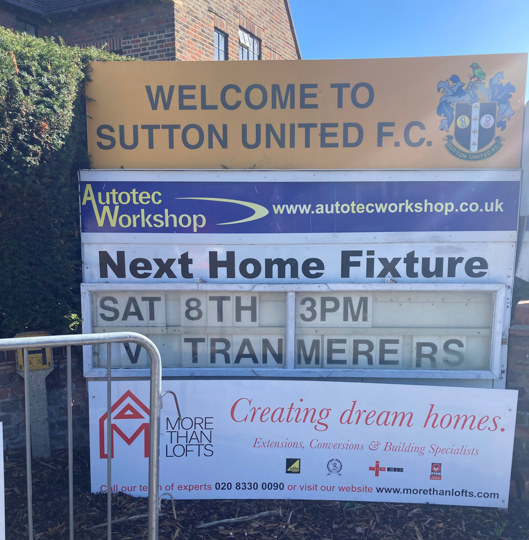 This in depth analysis is all well and good but the most thrilling pre match news was that my journey went like clockwork with all trains on time and connections made. Even travelling through the bandit country of The Occupied Territories passed without incident.With Lady Luck on my side I considered for a brief moment nipping in the bookies in Sutton and lumping on a home win. However the thought of Frakey pinning the blame on me if it went tits op swiftly cured me of the notion. Talking of Mark he was there to greet me with his usual wit and bonhomie on my arrival in God's country . I couldn't persuade him to forsake his duties and join me in the fanzone for a pint but I was happy to spot Dirty Barry already ensconced and joined him for a catch up. I'd read recently on this very medium that he's reached the venerable age of 69. I couldn't quite believe it of such a beautiful specimen of manhood but Barry assured me that is indeed the case. I'm not sure if his alleged pastimes are responsible for his youthful demeanour but if so I'd argue they should be made available on the NHS.
Ward, Milsom, John, Rowe, Kizzi, Eastmond, Lovatt, Neufville, Randall, Bugiel, Kendall SUBS: House, Gambin, Fadahunsi, Kouassi, Pierre, Thomas
After quaffing my pint I joined Frakey and made my way round to La Curva where I was pleased to see my team mates from the world famous ( well we were once) East Cheam Care Home quiz team in situ. With the sun blazing down we were set fair for a top afternoon of football but very quickly things started to go wrong. I'm not sure how many black cats have been run over but Louis John hobbled off within 5 minutes and his replacement Aaron Pierre went the same way just 10 minutes later. Joe Kizzi had to switch to centre back but before he'd had a chance to get his bearings gave away a penalty from which the visitors took the lead.These setbacks knocked the wind from our sails but as the interval approached Sutton started to get a foothold in the game. Omar provided Charley Kendall with a rare sight of goal but the youngster blazed just wide. It was therefore Sod's law that the referee played just long enough for Tranmere to create a chance of their own which naturally was buried with aplomb.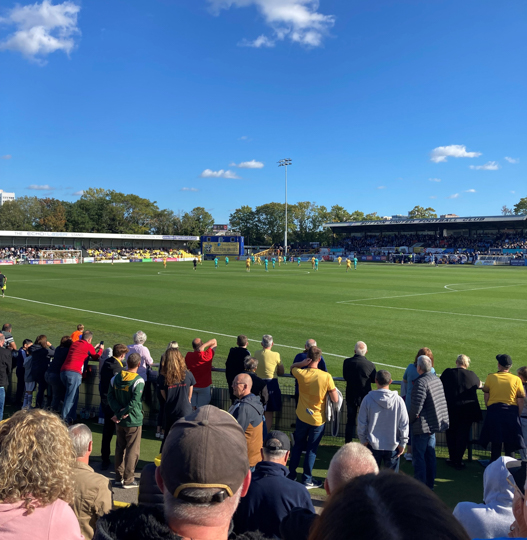 It was hard to see a way back from there and so it proved as the visitors played a solid second half to see the game out relatively comfortably. It might have been different if Joe Kizzi had got the one presentable chance on target but it had already seemed clear our luck was out with Will Randall being the next player to depart with an injury.
All that remained was to bid my mates a fond farewell before being chauffeured home by Mr Frake. We were philosophical about the day's proceedings on the trip back . The lads are undoubtedly giving their best but the loss of so many experienced core members of the side is taking it's toll on performance and belief. Hopefully the walking wounded can be patched up as quickly as possible and it won't be too long before results pick up again. I'm sure Matt Gray will be using all the managerial skills at his disposal to fashion a change but in all honesty he might just be better off at the moment to buy some lucky heather.
John Clarke