Thanks to Tuesday night's solid win over Crawley, we're heading into the last two games of our debut League 2 season still in with a sniff of being involved in the post season bunfight, a position that almost nobody in the People's Republic of West Sutton could have ever imagined the U's would be in as we crept into May after last season's carry on. But here we are regardless, still stood around scratching our arses with a "what's going on here?" look slapped all over our Chevy Chases. It's an incredibly wonderful and equally bemusing time to be a Sutton United fan right now and no mistake.
Our last two games give us a home and an away and with a distinctly Yorkshire flavour, with Bradford making their first visit to GGL today and then us heading North one final time to take on Harrogate next weekend, where we'll be having a lash up in Leeds and trying to ensure Dukey doesn't end up in fucking Garforth again. Hopes are not high if we pull off this play off bollocks I can tell you. First we have to close out our home League campaign with Mark Hughes bringing his Bradford City side to the People's Republic and we're sure he'll enjoy the two bob delights of our lovely little shit tip. Played in the likes of the Nou Camp, Old Trafford etc and managed in a few similar places too and now he gets to cross off SM1 on his bucket list. The lucky lad. We'd envy him if we weren't blessed enough to get to visit this paradise every other week.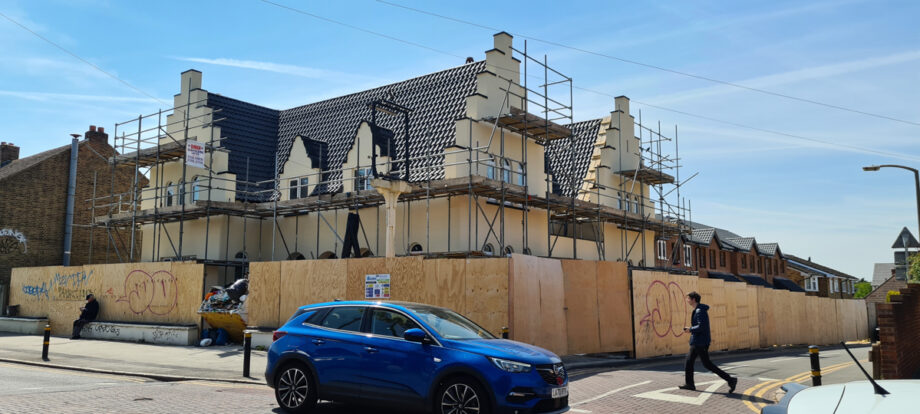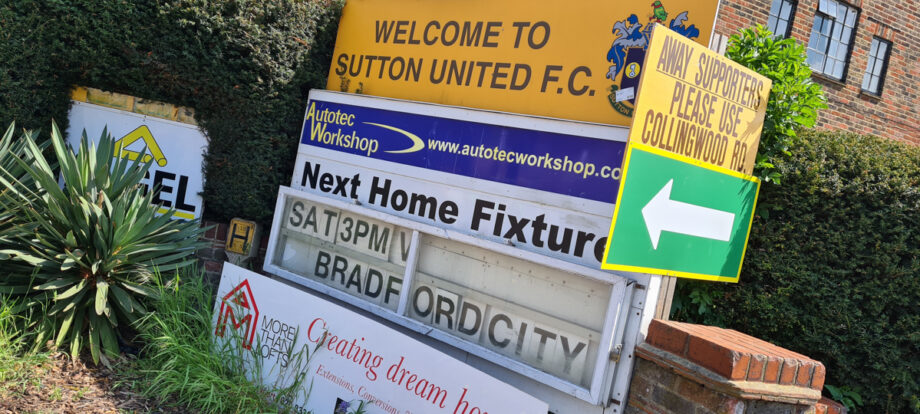 As with all Saturday home games, I'm determined to get my fullest allocation of the Z's and I eventually disembark from the good ship Bedfordshire around 10. A quick cuppa and some breakfast, a buzz over my nut with the clippers to tidy up by scruffy barnet (or at the very least, what remains of it) and then the usual personal hygiene admin taken care of I bid Mrs Taz the fondest of farewells, pop in the old headphones and stroll down the road in the sunshine towards Wallington Green for the bus into town. The wait isn't long and soon an X26 turns up to whisk me into Sutton nice and quick. Naturally, a set front of the top deck is acquired and I sit with the Beastie Boys serenading me on the ride in. "Oh my God, it's a mirage…" I know I know, it's hard to believe lads, but we really are 7th!
Off in Sutton, I grab the usual Greggs for the walk down and marvel at the number of old bill about the top end of the Hight Street around spoons. It's certainly the most I've seen this season for a home game barring Port Vale early on. Shaking my head at all the expense to the tax payer, I munch on my sarnie and head down to the PROWS further damaging my hearing as I go, passing the continuing housing development encompassing the old Plough pub. Tutting at this cultural vandalism, at the driveway I find myself hitting the line of stewards halfway up and demands to see my ticket, a quick flash of the old season card does the job and I'm in, but I can't help thinking this is all a bit OTT. A thought confirmed by Frakey soon after "Load of bollocks, I don't even think they've sold out!" comments the PROWS foremost carp parking operator. A tip of the hat to Magnum on the way past and stopping to catch up with Beckett on the way to the MBA and a pint, he gleefully informs me that the Wombles are already 3-0 down in their final game. Seems he's looking forward to a Thameslink tear up next season. I also notice we've added some fencing just past the doors to basically cut the car park in half. No idea what that's all about to be honest!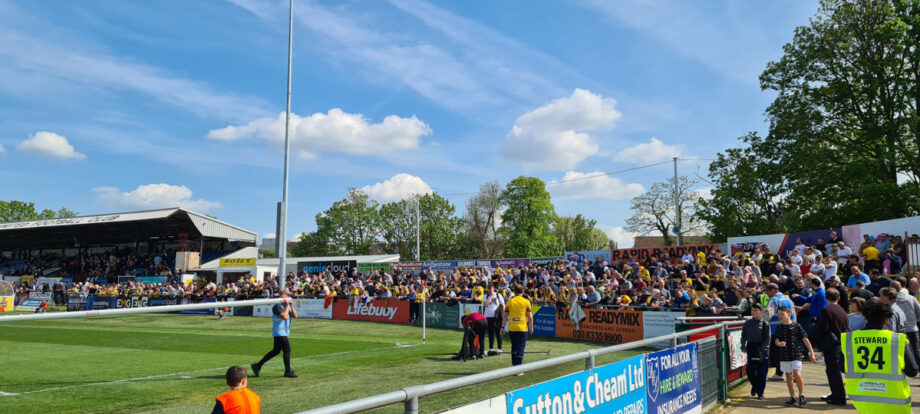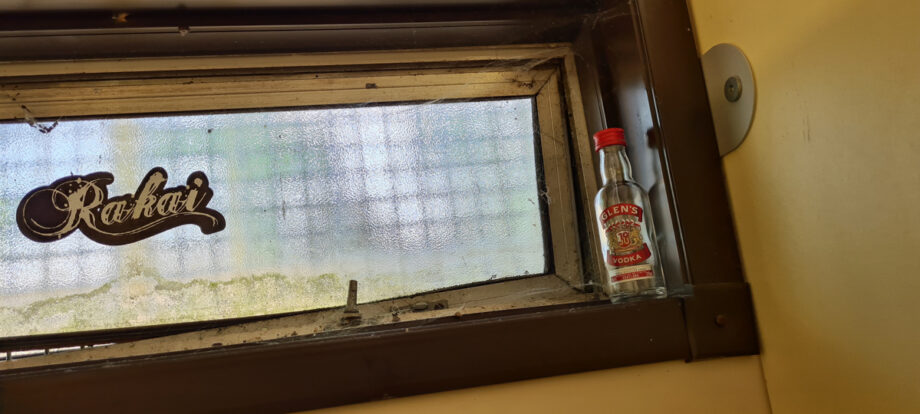 Inside, I find Steve and Greek enjoying a drink as Newcastle Liverpool plays out on the box. With a round sorted, I pull up a pew and join them in doing nothing in particular. Here I find that the big fella is having a bit of a mare today, leaving the house without his smartwatch, which is basically like having no trousers on for him and also that he'd failed to pop on any deodorant as well. "Had to pop into Morrisons and fucking buy a can for a couple of squirts!" he complains. On top of all that, his Uber in cost him the princely sum of £15, which is about twice the normal dollar he's used to laying out for a sherbet from the app on his phone. Oh well, things can only get better from here mate! Oh wait, we're watching Sutton in a late season game, forget I said anything.
We're soon joined by 4Days and Chris and the Welshman is another one just fucking brimming with the joys of spring today. "We could end the day 3rd and still not make the play offs next week" he declares cheerfully. Yes, we're all well aware of the level of fuckery that could ensue still mate, but some of us are preferring not to vocalise it cheers! Thankfully my Futbology app allows me to change the subject by reminding me it is 17 years to the day that we went to Cambridge City in loud shirts and silly wigs at the end of our first Conf South season. Yes, 17 years. God we're old. Also, there is a blog of that daft day out too, just to show that yes, we really have been churning this absolute shit out for that long. You're welcome.
The bar fills out some more as time ticks by and Greek is delighted to see Robbo has rocked up in the same polo shirt as me. "You're like a pound shop version of that movie 'Twins' with Danny DeVito and Arnold Schwarzenegger in it. And you're Arnie" he chuckles. Erm, thanks? I think. I'll be honest, compliments from Greek are hard to come by at the best of times, so you really should take what you can get. League 1's relegation issues are sorted with the early kick offs ending, with us looking at heading to Crewe, Donny, the Wombles and Gillingham next season if we don't make the play offs. All new grounds, so can't complain. Loffers and Nic appear briefly, but the former is suffering from a cocktail OD from the previous evening courtesy of the waiter flirting and plying the young lady with a load of complimentary drinks and they head out to get some stodge from the tea bar before the game. Price of fame darling, price of fame! Before long though, kick off is upon us and we filter through the crowds in the MBA back out into the sunshine and head for the turnstiles.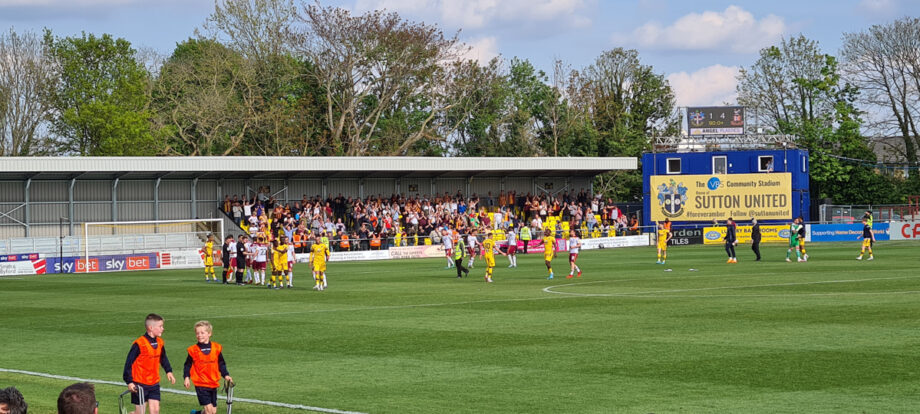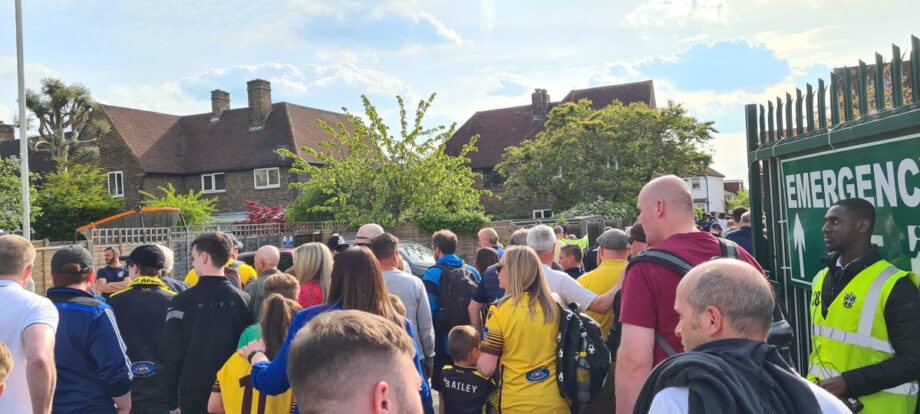 Bouzanis, Barden, Goodliffe, John, Milsom, Beautyman, Smith, Ajiboye, Randall, Bennett, Wilson SUBS: Davis, Olaofe, Bugiel, Nelson, Rowe, Wyatt, Boldewijn
From the off, the lads start bright and moments into the game, the ball's worked wide by Ali and then Wilson to Randall, who steps inside his man and bends one far post but the ball comes back off the upright. Moments later, Dave feeds Bennett in the box and he appears to be upended, but the ref ignores the pen shouts. From then on, we're pretty much up against it as Bradford take control and have us chasing shadows for much of the rest of the half. Deano must have faced more shots in this half alone than any other match so far and he has to make 2-3 early saves to keep us level. But after 15 minutes or so, a cross in from the near side is headed in at the back post and we're behind. The goal at least sparks a little bit of life into us and the visitors don't quite have the dominance they did after the goal, but they're still on top as we struggle to make any real inroads up top. We're not helped one bit by a fussy arsehole of a ref who takes 26 minutes to give us our first free-kick despite Bennett and Wilson getting dragged and held at every opportunity whilst we get whistled for even the slightest contact.
Bennett lasts forty odd minutes before limping off and is replaced by Omar, who naturally gets booked inside a minute for challenging in the air for a ball forward. A call that earns the ref a fair bit of a rocket from 3 sides of the ground when he finally blows for half time. Amusingly, one of the lads from the away bench is out to have a pop for some reason as they walk in. It's not been a great 45 for us and we seem to be following a pattern of late where we can't quite seem to string two performances together when we really need them. Here's hoping the second half is better. I brighten up my experience by heading for a piss and notice that on the little window ledge in the trap I go into is an empty miniature vodka bottle sat there. Yeah, this lot will do that to you sometimes! Elsewhere, many of the results around us are not too bad and mean that even if we can perhaps nick a point from this, we could still be in the mix going into the last game. Let's go lads.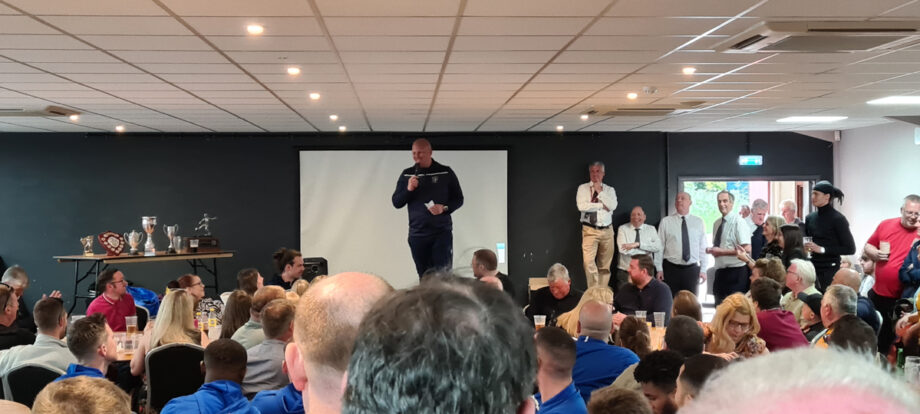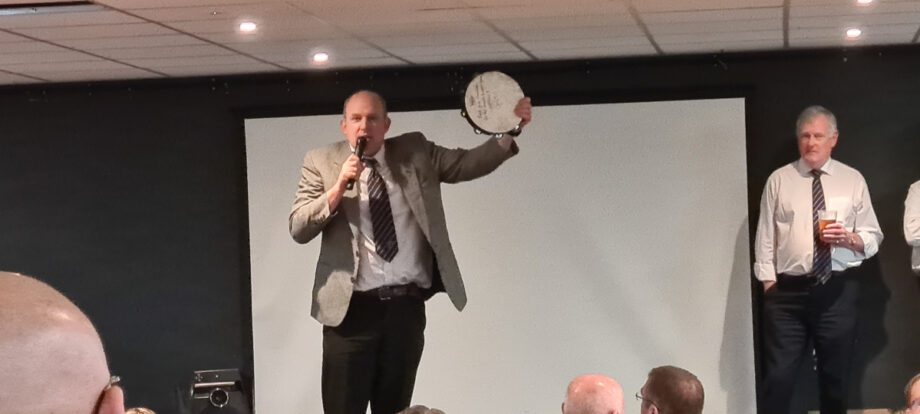 Second half, we're much much better and way more like ourselves. We just have that bit more snap about us and from the first whistle, the visitors look a little more lost as we turn up the heat. Having Omar up top is suddenly causing them way more issues and the two centre backs that have had far too much their own way suddenly have to contend with a far more mobile and physical presence than before. 10 minutes after the restart, we're level. Omar flicks on a Barden throw in, Wilson holds up in the box and feeds Ali to thump into the far corner on the bounce. COME ON!!! For a while after this, we're well on top with Bradford picking up a couple of yellows, including one for local lad Lee Angol, escaping a possible red against us for the second time this season, when he lunges in high on Beautyman.
Of course, the ref who's been unable to get the card our quick enough for shit like Omar's innocuous challenge takes a couple of minutes to hand this one out having been surrounded by oppo players the whole time. It largely sums up his utterly ineffective performance to be honest. We keep pushing and Donovan and then Dave have shots blocked in the box, but as we go into the last 15, a lung busting run from Dave takes him to the bye line. He overruns it though and actually manages to keep it in play for the defender who clears. And whilst Dave trots back having suffered a knock on his run, they exploit the space left and a cross in from that side finds a lad sliding in back stick to put Bradford back in front against the run of play.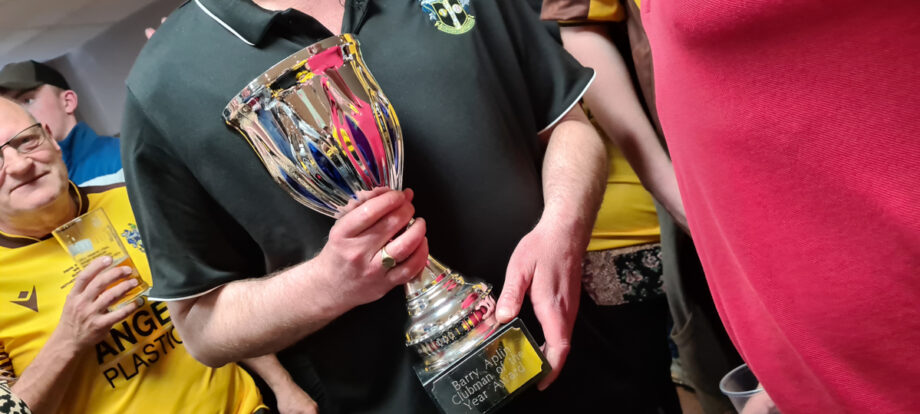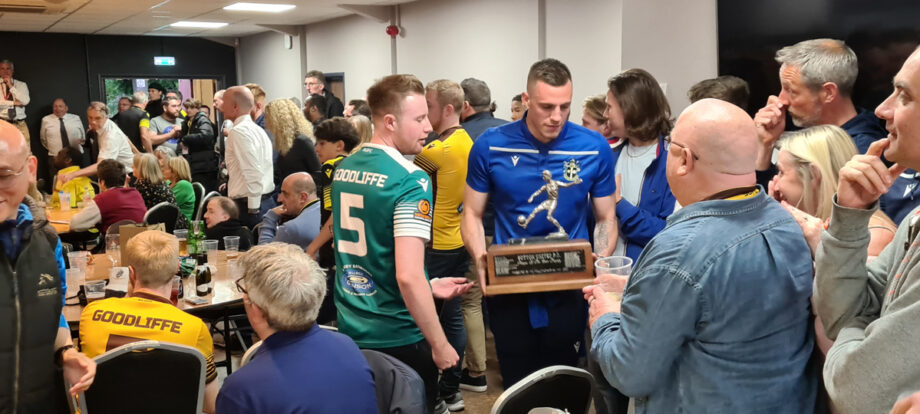 This pretty much bursts our bubble to be fair and they know it. They have 2 ruled out for offside and as time runs down, they put the game to bed. A low corner from the far side catches everyone out, a white shirt has a swing at it and it just diverts the ball across to their 6 all alone to fire in from a couple of yards out. Worse follows when Ben Goodliffe hobbles off straight after and with Enzio and Tanto on and our 3 subs already used, we have to see out the last few with 10 men. There's a surge of noise when the board goes up to show 9 added minutes, but no one really expects us to get 2 back with a man less. And so it proves, as we can barely get up the park at all and the visitors make the mad extra pay near the death with a fourth. Of course, results wise, there's been a right old switcheroo and everything's now gone against us by the final whistle, leaving us down in 8th and out of the playoffs. Which is a bit of a bastard. Still, there was over 4000 in today, which we later find out is the first time since 1963 we've had that many in here for a League game!! Oh and I managed not to rip the cods out of my strides too. Which is nice. We hit the bar and get some sorrows drowning pints in and settle down for the post-season awards thingy to follow.
Here we're introduced to Paul, a lad who's emigrated here from Hong Kong and now lives 10 minutes away. Apparently hasn't missed a home game since he moved! Hasn't done an away day yet however, so we let him know he'll need to put that right sharpish. Turns out he also loves his gee gee's and so we resolve to ensure he never speaks to any of the gamblers in the group otherwise they'll never stop badgering him for tips! Onto the festivities and Bruce leads out with his usual Chairman's speech, although he does reveal that Matt's pre-match lunch appearances had to be tweaked slightly with him changing a "Any questions?" request to "Any football questions?" after someone piped up with "Is there any more gravy?" earlier in the season. We also find out that Able rarely appears for breakfast on away trips and instead has a selection of Danish pastries delivered to his room. Next up, Matt does his speech and despite today's result he's still upbeat and immensely pleased with the season overall. Can't blame him really. We then follow this up with the serious stuff of the awards, with Ben Goodliffe unsurprisingly bagging Supporters, Young and Club player of the year. Only Joe Kizzi bagging Players Player prevents a clean sweep.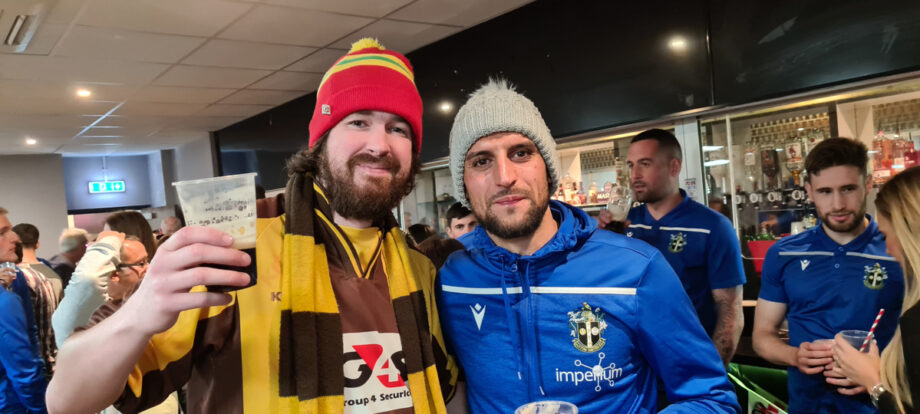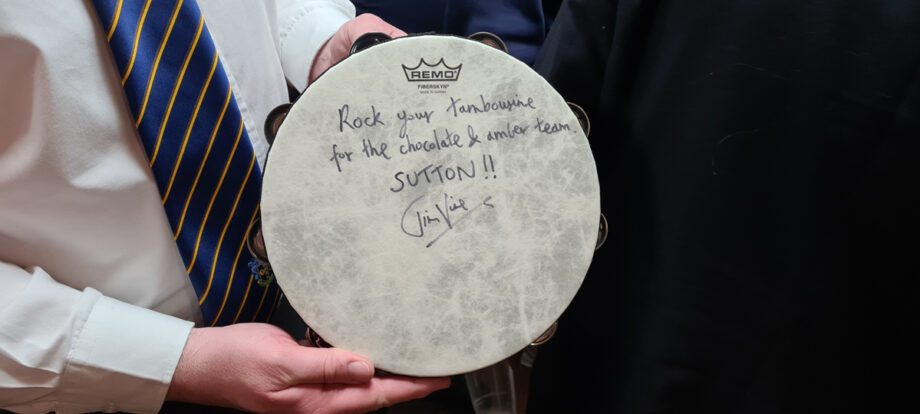 The other award for Clubman of the year goes to some geezer called Gareth. No one recognises the face or knows what he's done to deserve such an honour, but surely our very own Mr X deserved it for his efforts this season? A disgusting oversight and one we'll be firing off a strongly worded letter of protest to Bruce on! AB then does his Strikers are Key stuff, but with Magnum having cleared out the safe of 1400 quid last week, no one's that interested as the prize will only amount to a couple of hundred sovs anyway. Some stuff gets auctioned for more money than even drunk us's are prepared to pay, including Tim Vine's tambourine from his cup final song. This amazingly goes for £775 with Tim not only bidding himself on "Something I paid 6 quid for!" and reminding one bidder "You do realise you've just offered 450 quid for a tambourine yeah?". In the end, the winning bidder graciously gifts it back to the club for display somewhere at some time. Once all the stuff is done, we settle down for more beers as the crowd slowly thins out. I catch up with a few faces such as Keepo and Dancing Marcus, as well as accepting a pint from Vegan Bev for all my 'hard work' on the blog. Clearly she doesn't read it too closely! It's a lovely gesture though and one I think the rest of you bastards out there should be following suit on in my personal opinion. Sadly, all it does is remind me I don't yet have a starter for today's effort! Ah bollocks.
Hungry, I scoff down a cheeseburger from the hatch, but it's like chucking a sausage into Lake Windemere soakage wise and starving I then scoff a crunchie type bar from an Easter egg that Bev has with her for some reason. "It's a vegan one!" she warns as I take a bite. To be honest, at this point I'm past caring and it seems to be made of 90% sugar anyway, so the lack of any dairy or other bits of dead animals doesn't really matter. It at least gives me a little energy boost if nothing else. A couple more pints and before we know it, the bar is closed and well, that's it. No one really fancies going on anywhere else, so we call it a night and as we leave, there's an odd hand slapping\banging game that's broken out around one of the tables involving various management and others. I'm far too tired to work it all out, so I depart to ponce into JR's cab home as he'll be passing my gaff on the way back. I'm getting good at this free lift home lark!!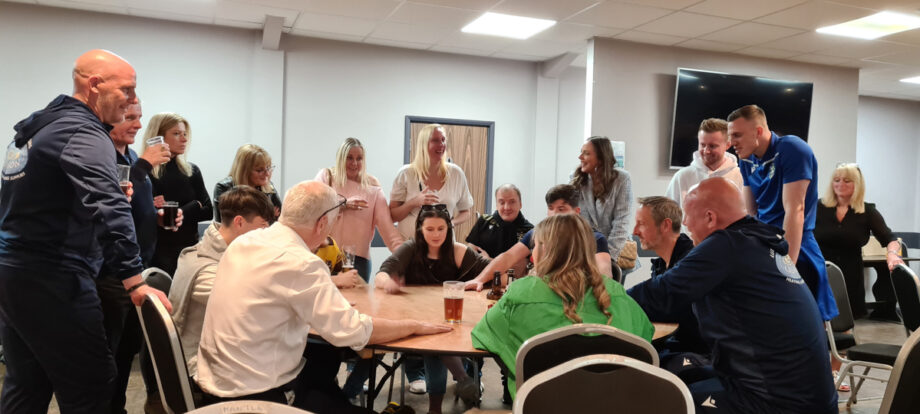 One left. Looks like we're gonna need snookers though lads.
Taz