Afternoon all. Bet you didn't think you'd be reading another one of these for a while eh?
And if you did, then you're a bit daft. We live in Britain you see. And shit weather is the one thing we do really well, so it shouldn't be a shock that today's clash with Salisbury was called off due to it fucking snowing. On the 23rd of March. Stupid stupid country!
So, it's off down into the basement of Gandermonium's secret volcano lair I go, with only a cup of tea for company to stave off the damp & the chill air. Having said that, it's probably a damn sight fucking warmer down here than it is outside…..
For today's journey back into the mists of time, I picked out several candidates. Amongst them was our 4-1 win at Aylesbury (yes, THAT 4-1 win at Aylesbury!), the Basingstoke last day 5-0 humping to nick runners up spot in what we (wrongly) thought was our last Ryman Premier season and the 3-1 victory at Canvey in that same campaign.
Instead though, I decided to go for a true classic. Cambridge City away. Last day of the 2004/2005 season, our first in the new Conference South.
It had been a tough campaign, mainly spent in the bottom half and always looking nervously down towards the bottom three than upwards, but without ever truly getting involved in the relegation bunfight. Still, we'd managed to secure our safety the week before by beating Welling and so we headed to the beautiful seat of learning that is Cambridge with the express intention of getting ridiculously falling down drunk. Whilst wearing hawaiian shirts and silly wigs.
If you hadn't already worked it out ladies & gentlemen, culture vultures we are not.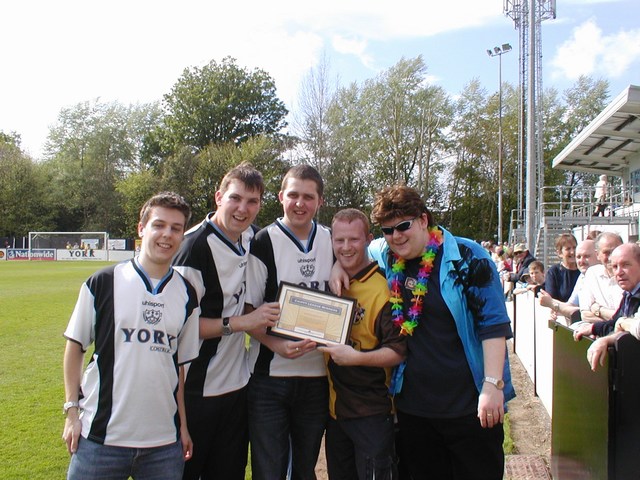 Sutton United FC – CCFC Chip League Winners 2004/2005 season
Cambridge City 0 Sutton United 1
Conference South – 30th April 2005
So this is it. The last game of the season.
Thank fuck for that!
Still, with last saturday's win over Welling, at least we can head up to Cambridge and have a nice relaxed Leo Sayer without the stress and worry of having to get points to help keep us in this league. And with the pressure off, we decide to add a bit of fun to the day and go for a 'Loud Shirts & funny wigs' combo for all travelling crew members.
We're pretty mob handed as well today, with Greek, Windy, Myself, Chalmers, Mrs C, Belly, Millsy, young Chris (making his Shoebox piss-up debut) and Mr & Mrs DS all heading up. The 9am train through from Sutton is the vehicle of choice for most of us, except Mr & Mrs Chalmers who inexplicably get on the Victoria train arriving a couple of minutes before the one they actually want.
And they're sober for crying out loud!
Naturally, strolling around Kings Cross in loud Hawaiian style shirts and an assortment of strange wigs does draw some funny glances. But we manage to make it safely onto the train without being arrested or asked "How much for the hour?".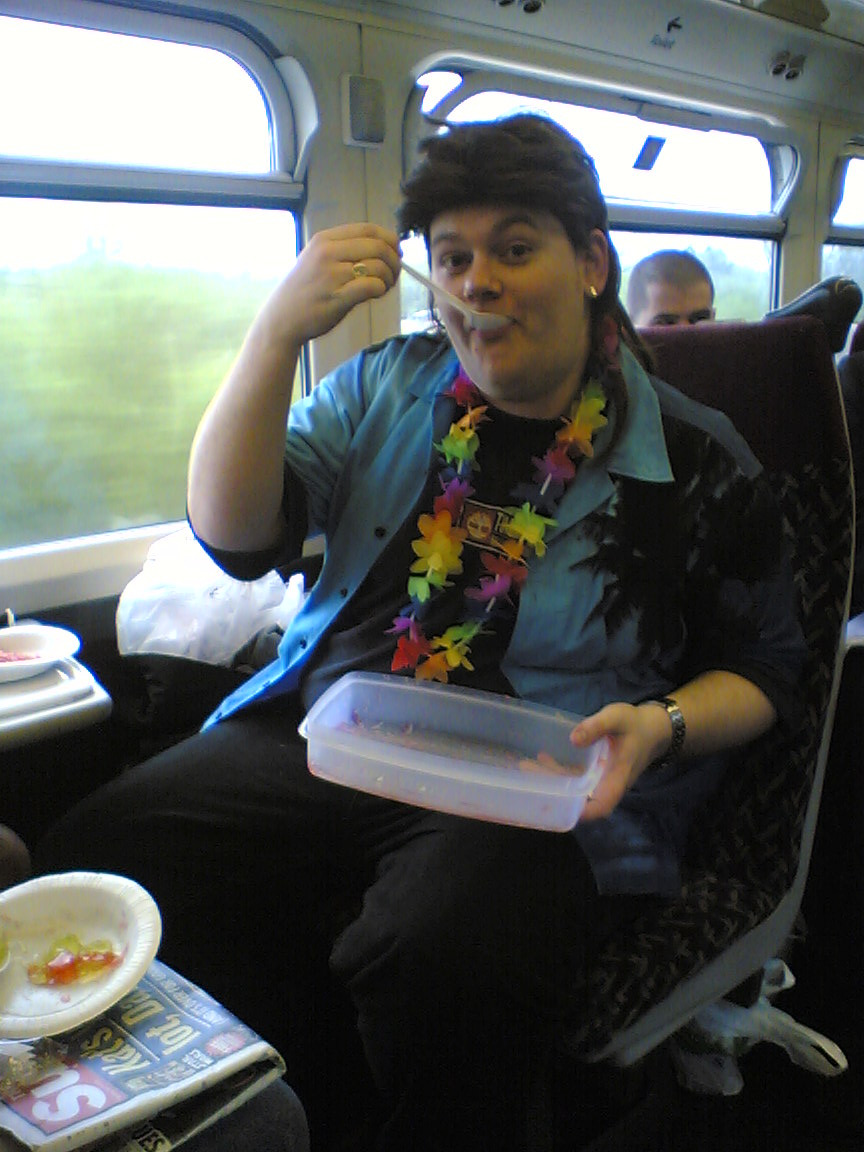 Dunno what's worse. The mullet or the evil gloop in the tub….
Another servnig of Greek's Vodka Jelly helps pass the time and it doesn't seem like that long until we're deposited on the platform at Cambridge. Right, it's 11.01, where's the first pub?? After a 5 minute stroll, we find the first chosen pub on our extensive list. The 'Live & Let Live'. Sadly for us though, it's closed. And not because it's one of these disgracefully late 12 noon openers, oh no. But because it looks like there's been a bit of carnage the night before! The place is festooned with blue & white Police 'incident' tape and there's even a couple of coppers doing house to house enquiries on the street. Erm, right, where's the next pub then? Ahem.
Thankfully, our next scheduled stop, the Six Bells, IS open. Ahhhh, at last! A pint! We park ourselves outside and enjoy the first proper beer of the day. For most of it, Millsy is cheerily greeting basically any bugger who walks or cycles past. Fool! Next stop is the Free Press. On the way, someone notices a rather embarrassing stain on the seat of Windy's shorts (quite what someone was doing looking at his arse in the first place, I have NO idea!) that looks like he's had an accident. It seems the damp benches outside the Six Bells have claimed a victim. Well, either that or he really has pooed his pants.
Style, panache, elegance. None of these are to be found in this picture….
The Press is actually closed up to the moment we arrive, actually being one of those disgracefully late 12 noon openers I mentioned. But several idiots in wigs & bright shirts looking in longingly at the window persuade them that it might be worth their while to open up more than a good few minutes early. Another couple are sunk in the pleasant afternoon sunshine before we decide to move on again. We don't get far! At the corner of the road, not 50 yards away, is another of the pubs on our list. The Cricketers. So we decide to pop in for a 'quick one' because it's 'on the way!'. Naturally, the pool table is soon in use. So much for a quick one! Having sunk a couple more beverages, I head for a pre-departure leak. Around the small horseshoe shaped bar is a banner stating 'Watch Live Rugby Here'. And as I walk past I notice one end has fallen down. On my return a couple of minutes later, I notice it's gone completely.
There's only two conclusions I can draw from this. Either the barman has removed it due to it's failure to remain where it was hung having had it brought to his attention by one of our lot, or one of this set of tossers has somehow 'borrowed' it. And I've got a sneaking suspicion it's not the former. Still, being British I decide it's best to pretend it hasn't happened, not make a scene and leave. Besides, we're in a hurry to get to the next pub.
Back out into the afternoon sun, we aim to make our next stop just by the river and have a quick drink there before heading to the ground. But between stops, a sudden and properly heavy shower soon puts everyone off the idea and we retreat into the nearby Elm Tree pub to shelter from the rain. Another pint or so later and a quick gaze at the dark clouds above, it's decided to abandon the walk and grab a cab instead. Dropped at the ground soon after, we decide there's plenty of time for a quick half or two. Naturally, the pissed up idiots in the stupid get up are well received by the locals. And somehow, probably due to the drink, I'm talked into being the Sutton United representative at a half time prize giving.
It seems we've won the CCFC supporters 'Chippy League', where they eat chips at each away ground they visit and mark them out of 40 points for taste, portion size etc. Bloody hell, shouldn't the Chairman be picking up such a prestigious award?? Whats that? Half time cup of tea you say??
Oh all right, I'll do it if he's too busy.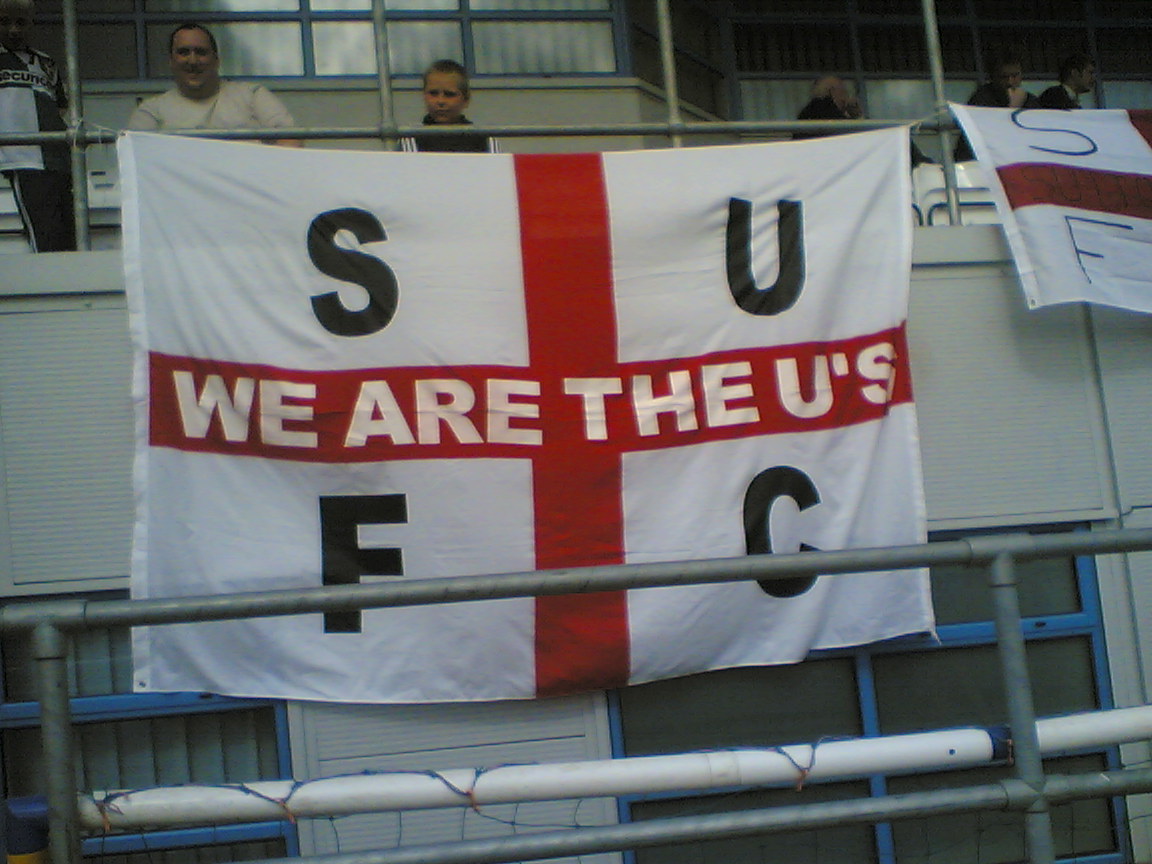 Thanks for the reminder! I'd almost forgotten….
Naturally, the Sutton line up is again forced to change as injuries once more cause us headaches in the selection process. Wilson, Corbett, Brake and Hunter are all ruled out. But thankfully, Quinton has recovered and goes straight into defence. Nurse returns to the midfield, Joff starts up front and young Steve Douglas is given his first start. Scooby is also passed fit, but takes a spot on the bench alongside youth teamers Luke Adams & Sam Clayton. The home side meanwhile are taking the opportunity to rest a few tired legs before next weeks Southern play-off final. And having got 2nd place all sewn up, who can blame 'em? Besides, gives us a chance at actually getting something from the game! So, flags in place, wigs on, we get stuck into the last 90 minutes of the season.
The home side are the first to strike, a little pass through the defence forces Iga into action. Parrying the attackers shot, with the rebound being cleared. It takes a few minutes for us to find our feet, but after 11 minutes, Gray tests the 'keeper with a free-kick out on the left. The resulting save bringing us a corner. Both sides then set about playing some good football, but neither really creates much. Although the tempo is pretty good considering it's such a nice warm afternoon and neither side really has anything to play for.
It's not until about the 22nd minute that another chance arrives. And for us, it's the best of the afternoon so far. Gray puts a cross into the box from the right, it evades a defender by the near post and bounces to the far post, where Akuamouah stretches to get a touch in front of his marker. The resulting effort drifting just fractionally past the upright.
Watkins is causing the home defence concern with his intelligent runs and his pace. Gray is his main provider, with one ball over the top shortly after Eddie's effort sets the former Epsom man on his way. But the 'keeper holds on well to his fierce shot. Soon after, JR is forced into another bit of re-jigging when Paul Honey, who up to this point has been brilliant, pulls up with what seems to be a hamstring problem and young Sam Clayton is sent on to replace him. Again, both sides enter a period of plenty of end to end stuff, but little in the way of chances until right before the half time whistle, the home side work a move that gets one of their men clear of our defence. His run and angled shot zips past Iga and just wide of the far upright. Thankfully!
At the whistle, I remove the flag and then am ushered round to the tunnel area for the 'Chippy League' presentation, earning me my second namecheck over a Conference South PA this month. Greek in his ridiculous mullet wig and loud shirt also decides to get in on the act for the official photo (see above!).
You're such a media whore fat bloke!!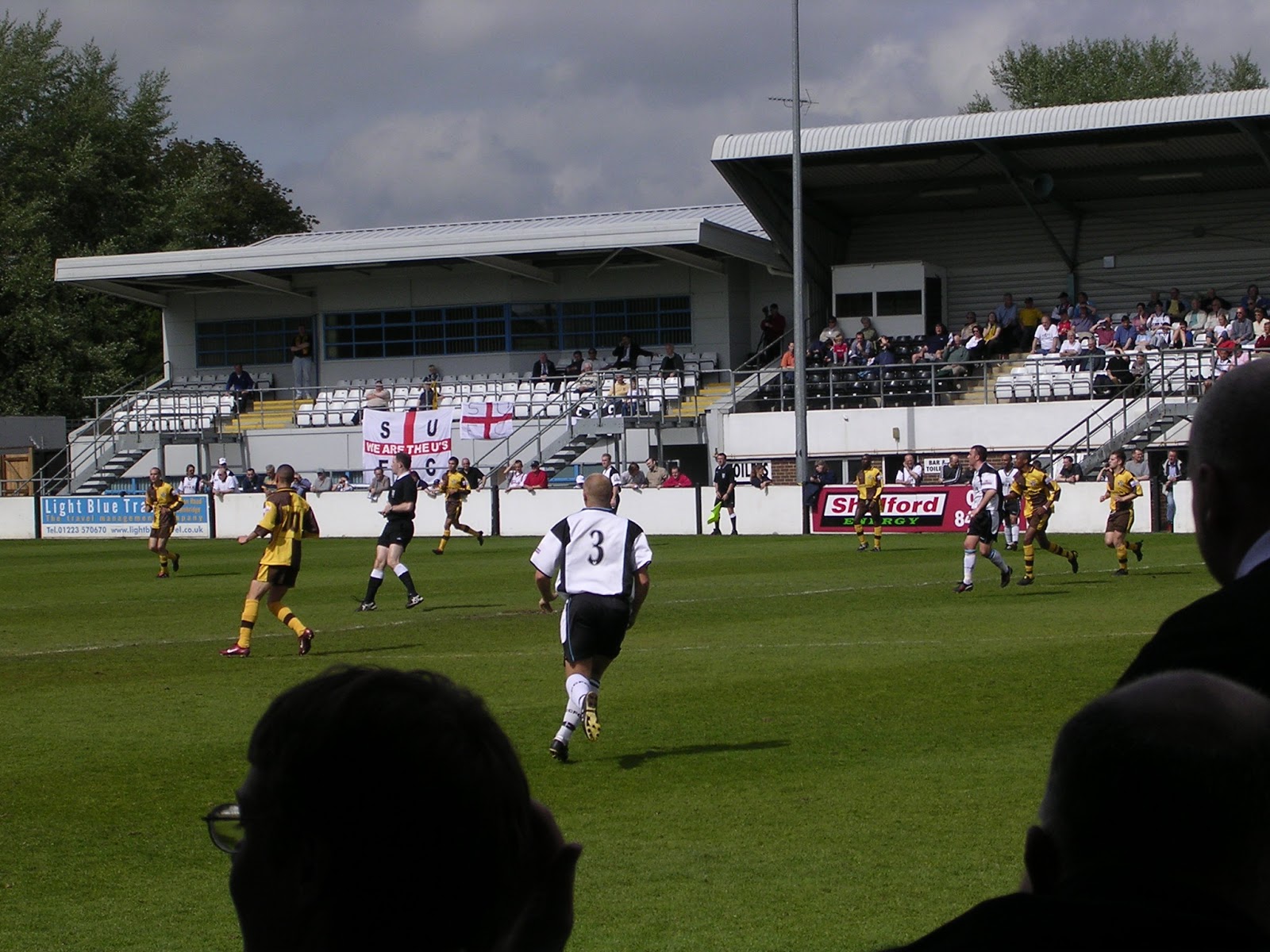 Obligatory match action shot!
With both ends being flat and uncovered, we decide to park ourselves under the cover down the side. This way we'll all be able to see and also make plenty of noise to try & counter the home side's 'Shed Choir'.
City are the first to create after the break, when a ball over the top finds the defence a little flat footed. An attacker scampers clear, forcing Iga to come racing off his line. The white shirt just beats the big stopper to the ball and lifts it over him, only to see it drop agonisingly wide of the far post. We breathe a sigh of relief and make some more drunken noise. The pace of the game is understandably slower than the first, but still keenly contested. But it's not until the hour that we manage to threaten seriously. Again Gray combines with Watkins to send the striker away. But he guides his effort disappointingly wide of the target when well placed. Gray is involved again several minutes later, this time curling in a free-kick that pings the outside of the post.
There's another scare after 71 minutes, when our defence is caught out playing the ball amongst themselves and a City man intercepts. A pass is lifted over the centre of the backline and again a man gets clear. Iga races off his line, trying to claim the high bouncing ball, but the attacker just gets there first again and the ball loops goalwards, only to fall just wide of the target. Vansittart gets his first real sight of goal soon after. Another good run by Watkins ending with a ball pulled back across goal. But Joff guides a weak effort straight at the 'keeper. Six minutes later though, the 'keeper is at fault and Watkins sends the travelling fans wild with the opening goal.
Gray swings a corner in from the right and it seems like a simple catch for the Cambridge stopper at the near post, but under only slight pressure from Vansittart, he drops the ball and Watkins pounces with an acrobatic effort to slam the ball into the back of the net. WOO HOO! We're drunk, it's the last day and we're winning! We then almost put the result beyond doubt a couple of minutes later, a poor clearance is played straight back towards the Cambridge goal. Joff races in and looks certain to score as the only remaining defender stumbles and falls to the turf as Joff goes past. Unbelieveably, the ref adjudges the Sutton man has fouled his opponent and awards a free-kick! Cock. If I wasn't so battered mate, you'd have really fucking got it for that one.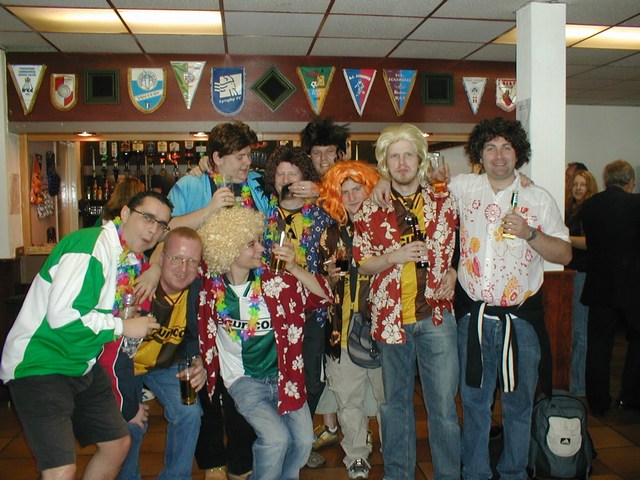 No one in this picture has been drinking. Honest m'lud….
The home side try to retaliate and rescue a draw, but the only time they manage to interrupt the almost constant chant of "We are staying up!" from the not-at-all pissed away fans is right at the end, when a good ball through sends a striker clear, but Iga is very quick off his line and smothers at his feet. And so we go back to our chanting.
At the whistle, both sides acknowledge their respective supporters, with our lot staying out a bit longer as the party continues on the terrace. The City PA guy adds a nice touch, declaring the travelling support the best they've experienced this season. Awww, shucks. Stop it, you're making us blush!
Sadly, Belly ruins the moment slightly by announcing the Scummers have managed a 4-1 win away at play-off bound Eastbourne and thus secured their own place in the league for next season. Bastards. How the hell did they manage that?? Ho hum, guess we'll have to spank 'em again next Christmas then!
With that, we stagger back into the bar and continue drinking, hardly noticing the Bolton-Chelsea game being shown on the big screen. Drinks flow and silliness ensues. Wisely, I decide to hand over the Chippy award to someone far less drunkerer than I am at this point for safe transport back to Sutton. The locals seem pretty happy despite the defeat, after all, they're safely into the play off final. Plus we're spending a fair bit over their bar! So we proceed to spend a lot of the evening chatting to various people and after a while, the players & officials of both clubs join us at the bar. The home chairman, suitably impressed with our noisy drunken selves not only reduces the prices at the bar as a 'thank you', but also buys us all a drink.
What a terribly nice fellow!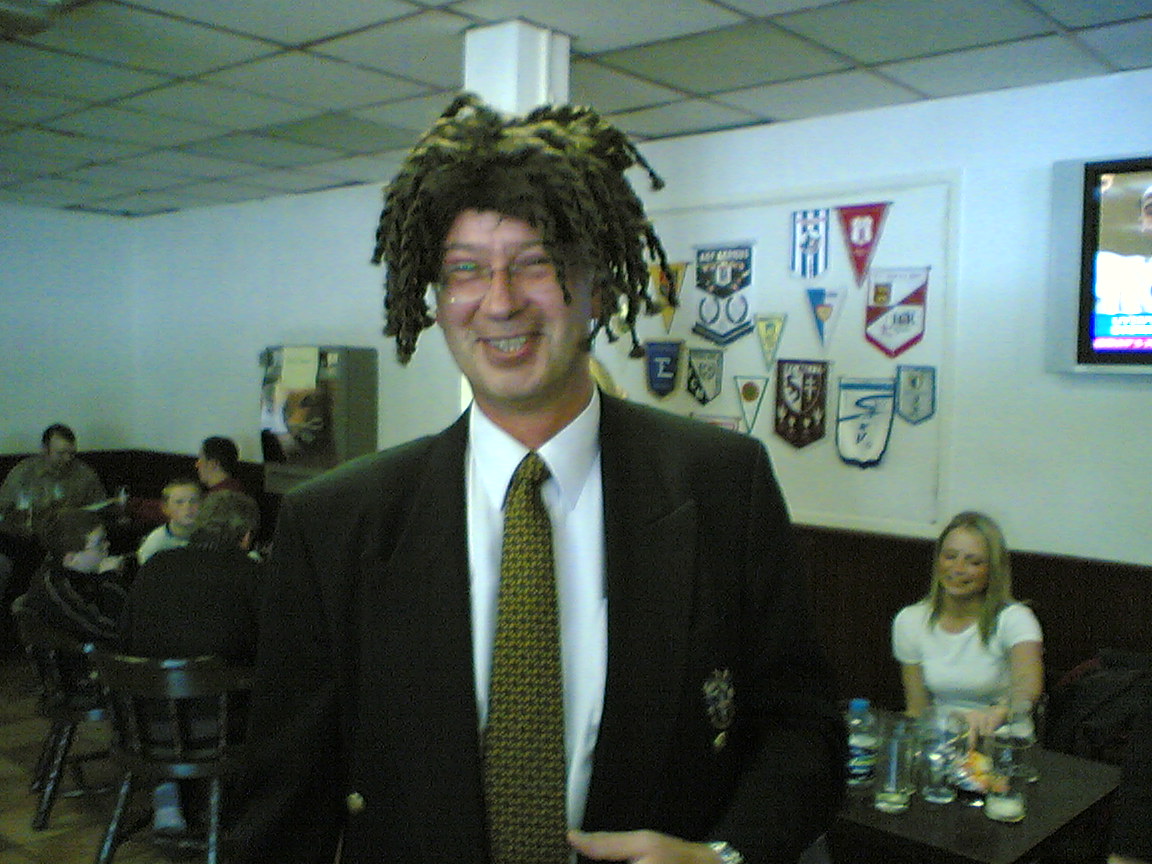 We said Hawaiian shirts, not blazers!!
Eventually though, it's time to head home and the 8pm train is our chosen transport home. Cabs back to the station and it's a quick dip into the Marks & Sparks for nibbles & beer before heading for the train. We end up in a compartment all to ourselves at the front (probably best really!) and the journey back to Liverpool Street begins. Not for the first time this season, Windy ends up drenched in beer as he starts and loses yet another 'beerfight', this time with Greek. He then cuts his hand on a can, only to have the fat bloke 'sterilise' it with a splash of Fosters! Millsy clambers up into the luggage rack for a kip, but requires the help of yours truly and only manages it at the second attempt after falling on top of me first time round. He might not look that heavy, but you try having him fall on your head!
A number of us also stack it on the now beer soaked and thus very slippery floor, including Millsy. Who spectacularly wipes out Windy when clambering down from his makeshift bed for a toilet break. Greek also stacks it in amusing fashion. The 'Live Rugby' banner I mentioned earlier also mysteriously appears, having indeed been borrowed by some thieving toerag earlier in the day and then stored in my fucking bag! Tut tut.
Eventually at Liverpool Street, we stagger upstairs into our favourite local haunt, the Hamilton Hall. Here we find several Stortford lads and also a Hornchurch fan and proceed to drink more beer in amongst the expected 'Wembley 81' comments. Mr & Mrs DS depart and then Belly slopes off home. We temporarily 'lose' Millsy, but 'find' him again 20 minutes later sat not 6 feet away, talking to two random young ladies.
We finally amble unsteadily out of the pub shortly before closing. But in their haste to get the train, I'm left behind by Mr & Mrs Chalmers and Chris when I nip to the gents. I return to find them and my bag gone. But happily find Greek, Windy & Millsy buying Cornish pasties from the place opposite (whoever decided to open one of these here is, without a doubt, an absolute fucking genius). And so munching my pastie, a quick call to PC confirms he has my bag and the 300 quid Shoebox flag it contains. Suddenly, the pasty tastes that little bit better!
Live rugby? Think it through. We're on a train you dimlo's….
Back at Victoria, we fail to catch the others and Millsy decides to continue his now somewhat pointless mission to soak up the beer he's consumed by buying a Whopper from Burger King. Bit late for that isn't it mate! Thankfully, the next train home isn't long in departing. On the way, Greek, still sporting his mullet, decides to engage two random young ladies in conversation. He's soon on a loser though as when he enquires what they've been up to this fine evening, they tell him they've been to see the band 'Embrace'.
"Who the fuck are Embrace?" he asks Miller and myself not very subtly.
But we're not listening. We're far too busy discussing whether Windy really really wants the last of the sausage roll he's bought at Victoria and if not, whether he's going to give it to me. Millsy finds this high brow stuff all too much and once more retires to the luggage rack for a kip to sleep off his Burger King.
Finding his travelling companions no help at all, Greek changes tack and attempts to 'convert' the two young ladies to his particular taste in music. And fails. Miserably. Succeeding only in boring the hell out of both of them for the remainder of the journey. Fortunately for them, I eventually depart the train at Wallington with Greek in tow, leaving Windy to deal with the Lesser Spotted Australian Luggage Rack goblin still asleep above him. Not fancying the stroll back to Hackbridge, Greek wanders off mumbling about getting a cab. I decline his kind offer of sharing his transportation and wisely decide to spend 35 minutes staggering my 15 minute walk home. Well, seemed like a good idea at the time.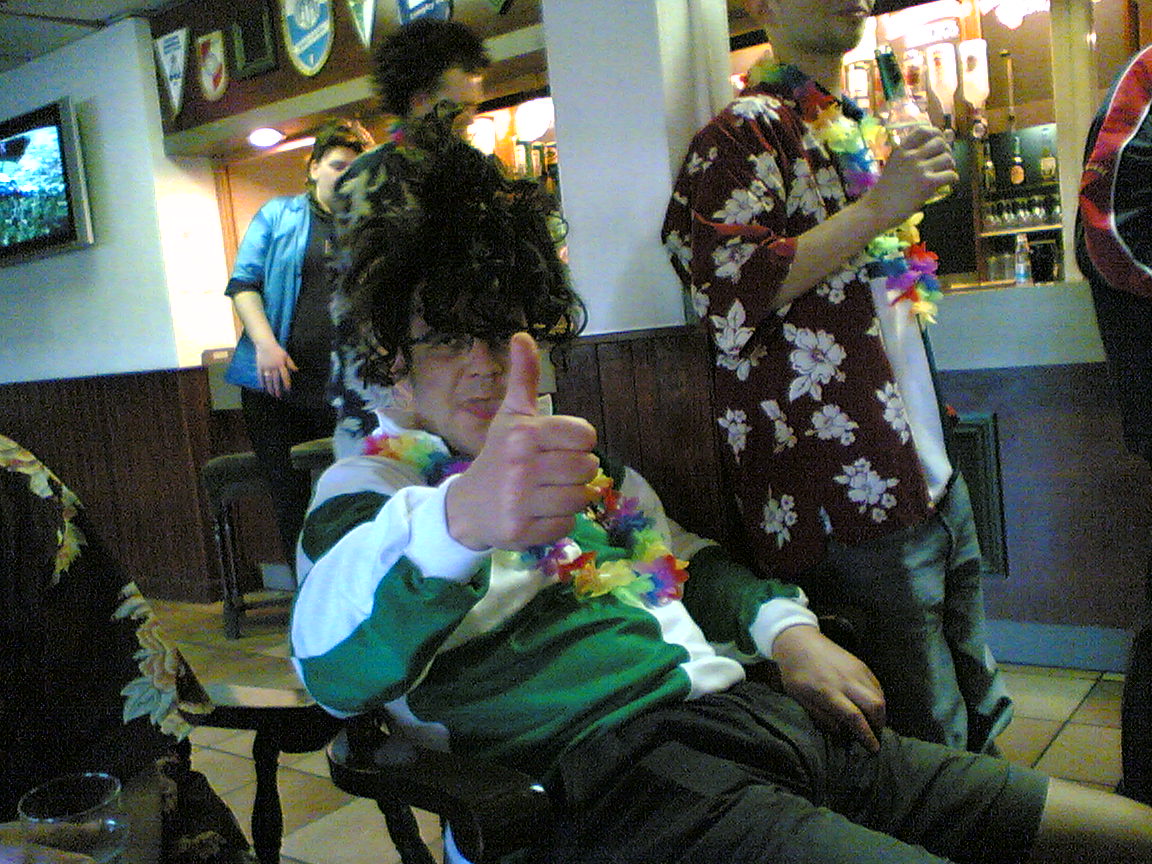 "So, had an enjoyable day then?"
Oh shit! The chippy league award!! Who the feck did I give that to?
Where's my bag?
Do I live here?
And whose bloody scarf is this??