Naturally, having lost to relegation strugglers Barrow at the weekend and everyone annoyingly else doing us a favour and losing, we travelled back home rueing what looked a big missed opportunity to not only take a huge step towards securing a play off spot, but also staying in the hunt for a sniff at that third and final and utterly preposterous auto promotion spot. Still, we have a chance left to redeem ourselves as we're one of only a couple of sides with a midweek game to take care of this week, so a win there and we could be right back in business.
Tonight's visitors to the Lane are Crawley Town, where we pinched a 1-0 back in October, a win that put us into the top five for the first time and had all there present wondering when this fucking madness would finally peak. The answer past us's were looking for? Yeah, still can't help you there lads and lasses. No bloody idea, sorry. The lads seem intent on stringing this out to the very death! This one of course got binned off and re-arranged from its original date earlier this month as we were otherwise engaged in a tear up with some lads from Yorkshire up in North London. How'd that go? Don't, just….don't. Since then, the visitors have also found themselves under new ownership with those odd Crypto bro's who claimed they were 'close' to buying Bradford a while back (turned out they'd literally sent one unsolicited email asking 'How much d'you want for it?') and gave a widely derided interview about it all in the Washington Post. Click HERE if you missed it and fancy a laugh at American techno geeks talking about something that's so far out of their wheelhouse it'll make your head spin.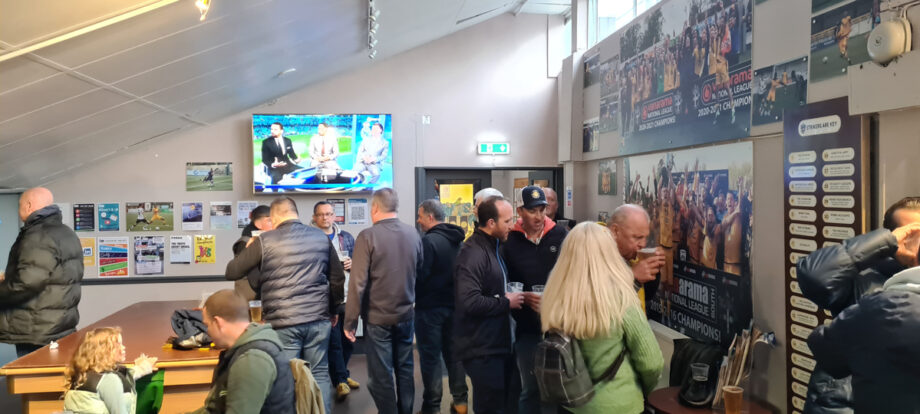 Anyhow, it seems they've at least learned lessons from that initial ill advised cavalcade of horseshit and they've certainly come across a bit less "No fucking idea whatsoever" from what I've seen since buying into the Sussex mob. Of course though, a 'ambitious' plan has been stated (League 1 in 2 years) and that they're gonna spunk some dough to do it. Which all sounds very familiar I think you'll agree. "But Taz!" I hear you cry "Surely you're only dumping on this because you're old and don't understand NFTs and Crypto!! Get back to your slippers grandad!!". Well, whilst you'd be correct there on the 'old' front, you'd be incorrect on the not understanding it part. I'm no world renowned expert admittedly, but I get the jist and 15 years in and around the fintech world has revealed to me all sorts of carry on and shithouses and this is no different. Although when some simply call it a modern day Ponzi scheme, I'd say that's unfair. Mainly as there's a load of them that are simple pump and dumps as well, whilst others are just plain old school pyramid schemes. And on occasion, some are just flat out fraud. It's complicated is what I'm saying.
To cap off a busy couple of weeks in Gatwick's main car park, they this week suspended manager John Yems for something inappropriate he had allegedly said at some point. Now innocent until proven guilty and all that, so we'll be swerving that particular little commotion like we actually have a legal team and they've told us not to touch it with a fucking barge pole. Idiots we may be, but stupid we ain't dear reader so we'll swiftly move on to some Bastard League carry on instead. This week the National finally confirmed what we'd all suspected a couple weeks back that the play off final wasn't at Wembley and would be at West Ham's taxpayer funded fun dome out by Westfields. Of course, people have kicked off about this as all the sides in the running are up north or generally miles away from the capital. We get this, having a game in London when you've got to hike down here from out in the sticks must be a pain in the arse. Not cheap, certainly not at the moment anyway. Christ, Wembley's a pain in the arse for us to get to and we live in London! However, there doesn't appear to have been any complaints about annoying to reach London area stadiums when the game was set for the FA's cash cow whose name begins with a W and has a big arch over it. Funny that eh? Right, I think that pads out a home midweek game entry more than adequately I'm sure you'll agree, so let's get down the the usual old shite vaguely surrounding a football match shall we??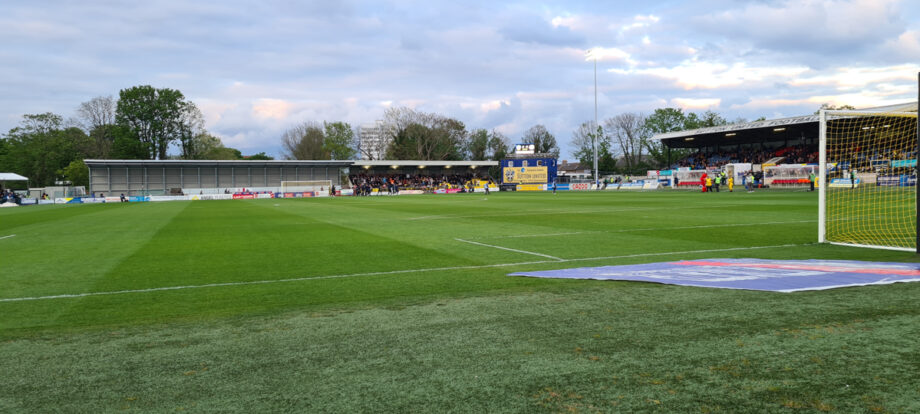 It's been another crap start to the week here at Gandermonium HQ with that annoying thing I call 'the day job' proving to be once an ache in the buttocks. My plan for this evening was to get my slog on and then tip out the door about half 5, head into Sutton and grab some food before the walk to GGL. Sadly though, as the day progressed, things got worse and it soon became clear my plan was a pipe dream. Irritably commenting on the top secret members only Whatsapp thingy, Greek picked up on this vibe and with me likely to have to drive down, he offered me the VIP Gandermonium parking spot he'd already bagged so long as I gave him a lift home after. That'll do for me squire. And so with my bullshit finally wrapped up shortly before 7, I've fired up the motor and I'm heading for Mr X's driveway. As I hit the lights top of Sutton, I spy some away fans meandering down. They're easy to spot, mainly as one of the lads has a Crawley flag draped over his shoulders. Big game lads?
With no parking worries thanks to Greek's earlier generosity, I'm soon sorted and strolling at pace over the road and up the GGL driveway. I greet Magnum and Frakey on the way through and having bagged a Harrogate ticket from Phil in the box, it's into the bar for me. Luckily, I arrive in the players just as Steve is getting a round in, so of course I ponce in on that. A pint is very much required after the day I've had. In situ are 4Days and Chris, Tatey, Greek, Indy and Irish Pete, who's on a ponce of his on tonight with one of Tatey's tickets gaining him access to the match. Hey, with these cost of living increases, you gotta watch your pennies these days! Spennymoor Pete is also in, so there's time for a quick catch up there and then BT Pete appears after a sabbatical away spending time in less fortunate communities. And by that I mean he's got a season ticket to AFC Wimbledon who've slowly bled out over the course of the season and all but surrendered their League 1 spot with a 27 game winless streak. Probably see you next season lads! With time getting on though, I sup up and head for the turnstiles to see how our Play Off charge gets on.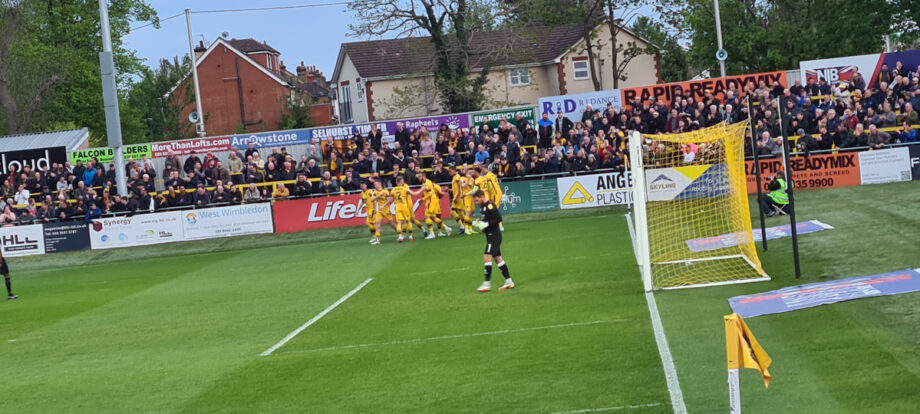 Bouzanis, Barden, Goodliffe, John, Milsom, Ajiboye, Smith, Beautyman, Randall, Bennett, Wilson. SUBS: Nelson, Olaofe, Boldewijn, Kouassi, Wyatt, Rowe, Davis.
With nowt left to play for in mid-table, it seems the visitors have kinda pegged this as their last real thing to get into for this season and there's a few up from Sussex for this one and in decent voice as we get the game underway. Both sides are bang at it early on and they have an early sniff after some neat movement, but with 3 gone, Wilson gets to the bye line, pulls back but fails to pick out Bennett. They clear weakly, Harry wins it right back and Ali Smith gets himself some space before pinging one from a good 20 yards past the keeper at his near post. 1-0 to the good guys. Couple of minutes later, a clumsy foul on the touchline in front of us on Bennett gives us a free-kick. Milsom whips it in at height no one wants to attack and it reaches Richie (no 'T' apparently we've been told, or his Nan will be after us!) who despatches it with a deft little clip of his heel as it goes through his legs. 2-0! Seven minutes played. Have some of that!
This seems to spark Crawley a bit and they have a decent little spell with a lad bending one wide and then missing a bit of a sitter when Ali is seemingly fouled deep in their half, they break quickly whilst we complain and Deano has to make his first save, but the lad following up with the whole goal to aim at bends his shot wide of the post. An open entertaining half flows back & forth from here, but with the U's making the better of the chances and we really should put the game to bed before the break with a trademark Dave run setting up Donovan, but his shot on the turn is deflected wide and then a great bit of hold up and a flick sends Randall clear, but the keeper spreads himself well to make the 1 on 1 save and we go into half time 2 to the good.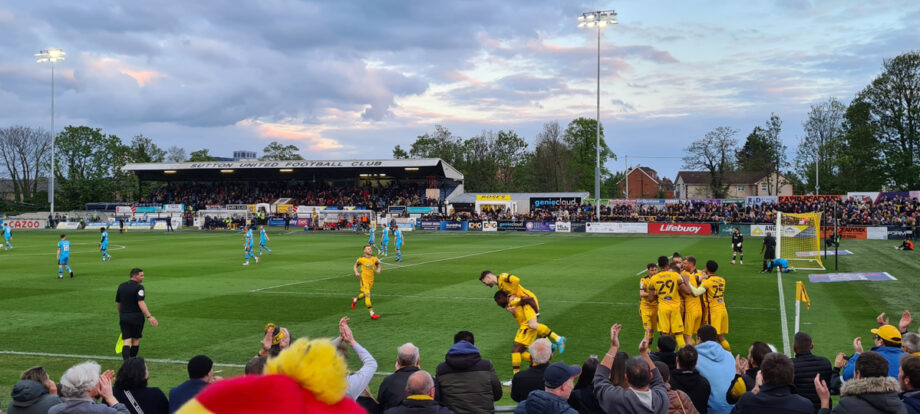 Half time is the usual nonsense chatter along with checking results. Annoyingly, FGR's promotion hangover is still ongoing and they're losing at Swindon tonight, firmly opening the door for Exeter behind them in the title race if they can overcome Barrow this evening. Mansfield are ahead too, which is a pain as it means the play off spots are gonna get even tighter after this is it stays like that! Nat also enquires of Dr Bell where his coat is from the weekend and Mr X comments that "There was more passes played in that first half than the last 2 games put together!". Can't argue there to be honest, they were definitely what we would call 'a difficult wank' round these parts. We also conclude that the away support is like watching football with sweary 2 year olds as loads of their chants are questions "Who are you?" "Who the fucking hell are you?" "What the fucking hell was that?" and so forth.
Second half isn't quite as high a tempo as the first, but it still ticks along nicely and keeps the attention more than adequately with both sides playing some decent stuff. Crawley start bright and go looking for a way back into the contest and in many ways remind me of the Carlisle side we slapped here earlier in the season in that they really do play some nice, quick football, but never quite hurt you in the final third and look proper ropey old bollocks at the back. Louis has to get back to put in a super block to deny one opportunity before again we should be putting the game out of sight. First Wilson goes on a run keeping a long ball in play out wide and losing his man, but having done the hard part, his composure deserts him and he first comfortably over with the goal at his mercy. Randall also gets in wide, but his cross shot is beaten away from the keeper and never reaches Dave at the far post. They respond with a couple of long range efforts straight at Deano and from a corner, the ball just hits Ali in the box and loops just over, but apart from that, they offer little but nice approach play.

Last 10 and Ali curls over from a decent position after Dave's done no less than 3 lads down on the bye line and teed up the midfielder. But a couple of minutes later, he doesn't miss when Bennett wins the first and second header to set up Dave and his little run to the edge of the box allows him to roll the ball into the path of Smith and he lashes it into the roof of the net to seal the deal. 3-0. That'll do pig, that'll do. Bizarrely, this is the moment for the away mob to spark off a bit of pyro and some "we've been humped" red smoke drifts sadly across GGL as the stewards and old bill pop over to no doubt yank out the offending pyromaniac. There's also a chorus of "Sutton's a shithole, I wanna go home" which at 3-0 down with a couple left, you'd wonder why they haven't already to be honest.
Final whistle and it's a fine 3 points to add to the tally and with the lads clapped off, we head into the bar for a quick one and also so I can collect my fare for the trip home, as Greek had disappeared in at half time with Tatey ("It's getting a bit cold!" apparently) and they've spent the second 45 doing a Gander Green Lane bar crawl with only the boardroom not boozed in while we were outside under the lights. Pissheads. Unlike Saturday, results haven't been kind to us with Swindon doing FGR and Mansfield seeing off Stevenage. So the top 7 is more congested than ever before. Exeter have also turned over Barrow meaning they're up with the Vegans, but also level now on points with 2 to play. Suddenly the title is wide open again. The stupidest part of all is that we're now only 3 points off 3rd again. Sure, we need snookers to get it, but still, fucking barmy.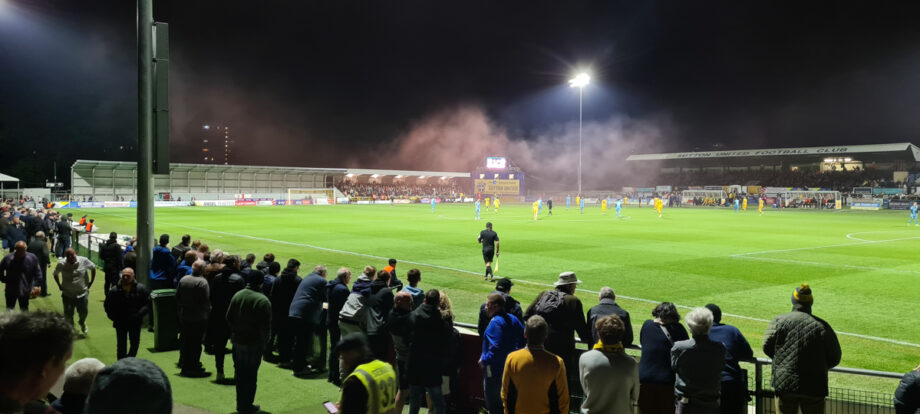 4Days calls B-Team Beckett "our lucky traffic cone" after he's rocked up for tonight in his full on hi-vis work gear. Steve then reveals he'd literally and physically bumped into the walking Belisha beacon at Sutton station earlier before the game. "How? Are you fucking blind?" I enquire incredulously. After a while, Mr X fresh from the Megastore joins us for an end of shift pint and spends most of the time staring at his phone looking confused. No point trying to work out the play off permutations mate, it'll make your nut spin! The main reason is that the week of the post-season, he starts a new job and is, he reckons, very unlikely to be able to nick off for any midweek aways. To which Greek states he'll do his mate a favour by pretending to be his mum and calling in sick for him. And as if to accentuate his credentials, does some horrific fucked up accent that we generally agree is part Jamaican, part Mrs Brown from the awful Irish 'comedy' show. Yeah, absolutely nailed on to succeed that mate, cannot fail. Oh no.
With time pressing on though and my stomach rumbling thanks to having had no tea, I hustle Greek and Steve out to the motor and we set out for home. First stop is the Carshalton Acropolis for the Mediterranean chap and then I drive past mine to drop Steve off in his moody CR postcode before I can finally get back to mine and tuck into some sausage pasta to plug the food sized hole in my belly, whilst like an idiot, I try to work out what the bloody hell is going on with all this play off lark. What an idiot. I'll be here all bloody night.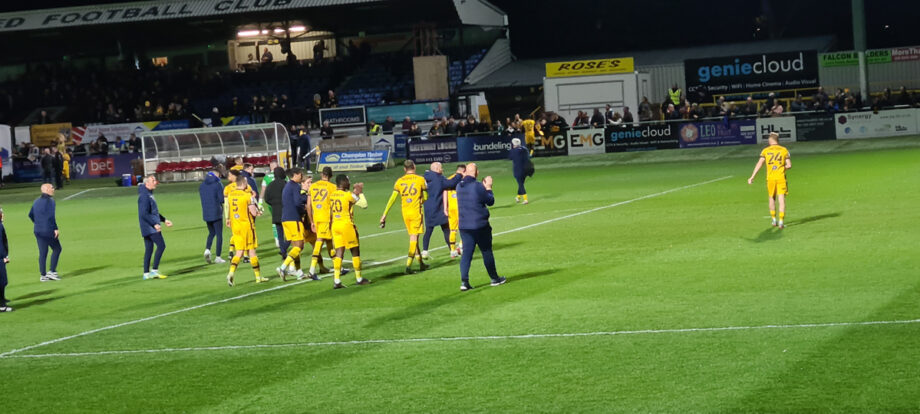 Two to go. Suck it up buttercups!
Taz