Back in 1981, I got taken to GGL for the first time by my Godfather to see the U's take on Hitchin Town in the Isthmian League. Not allowed to visit anywhere 'proper' by my folks thanks to the rather dodgy atmos in grounds at that time, I instead tagged along with Alan to watch a fair few other local sides such as Banstead, Tooting and even Carshalton over a few weeks before we eventually landed up in Sutton. They'd all been pretty shit and barely scored let alone win any of the games we saw, so walking through the turnstiles at the Borough Sports Ground shortly after kick off and seeing Micky Joyce run clear to score within 30 seconds was a most welcome sight.
Of course, this was the 81/82 season, the year after Sutton had been to Wembley in the FA Trophy final. There they'd lost a terrible game to a last minute goal against fellow Isthmian side Bishop's Stortford, a club who to their credit never, ever so much as mentioned it again when we met them on any occasion after that. Not. With the U's eventually being settled on as my true footballing love, I of course soon realised that we'd been to the twin towers twice before even that in the 60's too, so surely a revisit wouldn't be too long in coming round again right? RIGHT?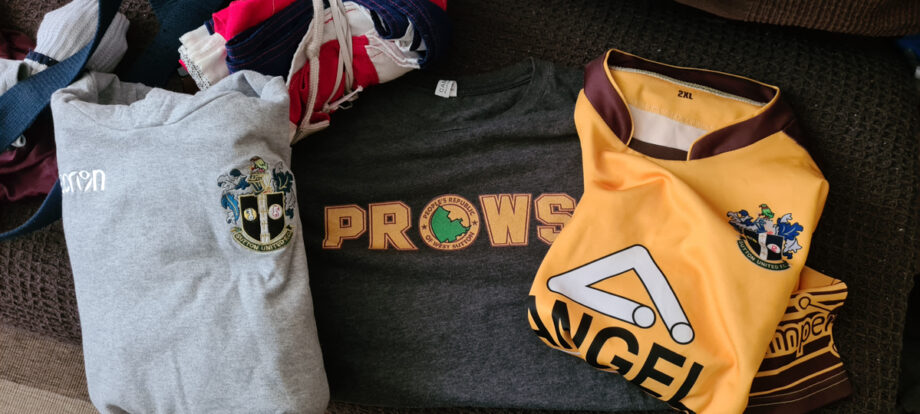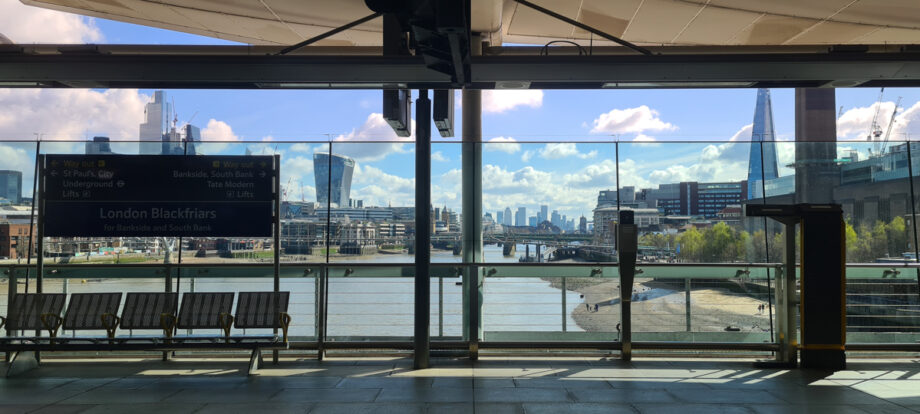 Yeah. About that. Fast forward 40 fucking years and that magical occasion proved so utterly impossible and bloody elusive to us that dusty little old, blazered, Non-League Sutton from the Isthmian League went and became a sodding Football League club, something I'm sure most people at that Hitchin game all those years ago would have laughed in your face about if you'd told them at the time, before we could manage a return trip. Which is a bit like getting a shag with a supermodel off Tinder before winning the lottery. At the time, we thought this elevation in status might make our chances of making it to HA9 that bit harder, mainly as our assumed route via the FA Trophy was now closed off to us for the foreseeable. However, it seems that getting FL membership was actually the magic key to the door all along and so, after four decades of teasing and a couple of absolute fucking hidings when just 90 minutes away from an appearance at the National Stadium along the way, we found ourselves in Wigan of all places.
Ah Wigan. Not somewhere I'd imagine many people would mention in relation to realising an almost lifelong dream to be honest, but this is of course Sutton United FC. Not much we do is 'normal'. This is the club that most people know of not thanks to beating Coventry, Leeds or facing Arsenal, or even winning a FL spot with nothing more than a couple of quid and a bit of grit, oh no, but for a fat lad eating a pastry product whilst sat on the bench. So it probably shouldn't have surprised any of us that we'd break the 'getting to Wembley' hoo doo in a nondescript North Western town with a 'pier' that's 50 miles from the nearest coastline. Still, as is becoming a habit, this bunch of bastards we've acquired to represent us on the pitch love a challenge and toughed it out against higher ranked oppo to dramatically nick the tie on pens and reduce grown men to tears. So. Wembley then. We've made it back at last! Uh, so now what?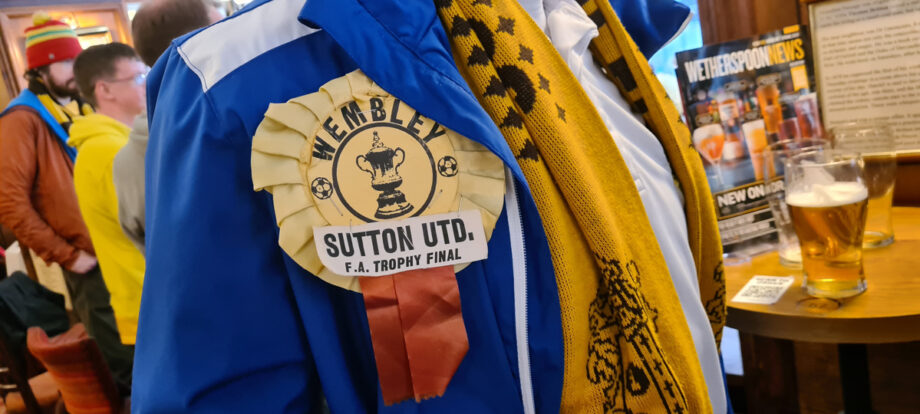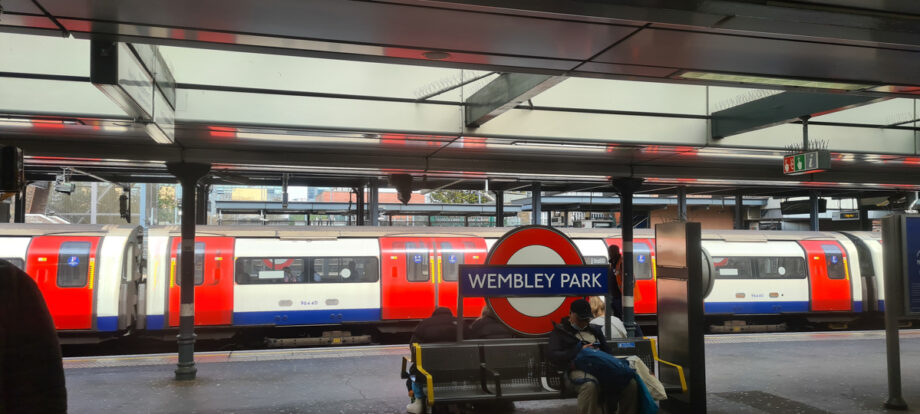 With a recent glut of injuries hitting hard, we've had to slog through our recent League 2 contests and results have been hard to come by meaning we've slipped out of the play off spots for the firs time since well before Xmas. Still, it's tighter than a ducks arse up at the top there and despite this little lull we're still only 4pts off the automatics, so if we can get some legs back, we can still have a run at it once this latest bout of madness has concluded. Still, those injuries meant that working out what the side was going to be for the big day was slightly more difficult, although Matt gave a small hint at what might follow with the line up at Port Vale last weekend as several regulars resurfaced and got minutes, which gave some hope that we'd be able to put out a decent line up under the arch.
As the final is set for a Sunday, we get the unusual treat of getting to sit back and watch the rest of the weekend's action play out around us. Well, you probably did anyway. I had to practically gut HQ for the second time this week as the double glazing firm finally showed up to fit my new windows after crying off with Covid on Monday. So I spent much of my day making tea and then tidying up once the work was done. This on top of spending 4 hours wandering about London on a works event the day before meant I was a touch pooped and a 'quick 40 winks' around 5 turned into almost 3 hours kip. This meant I swerved the pre-final drinks out in Sutton a lot of the gang were attending at O'Niells that evening, ordered takeaway and then got myself a good night's kip ready for the big day. If nothing else, it promises to be a long one. Well rested, I'm up and in the shower before 9 and with all my crap ready to go, I'm out the door by half past. Despite plenty of time, I've still rushed and left my Forres scarf and pack of stickers indoors. D'oh! I take a quick look at Uber to see if any cabs are about, but with a 10-15 minute wait and a 410 now suddenly due, I elect for the bus. As I get to my stop, I see a familiar face crossing the road. It's Dogger Len!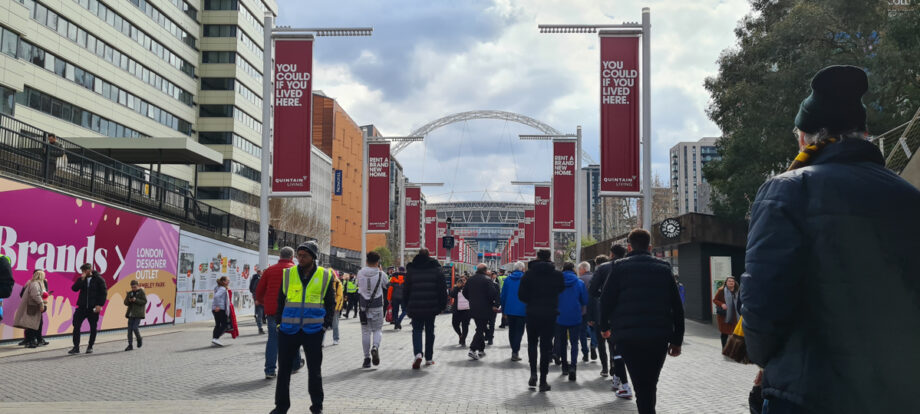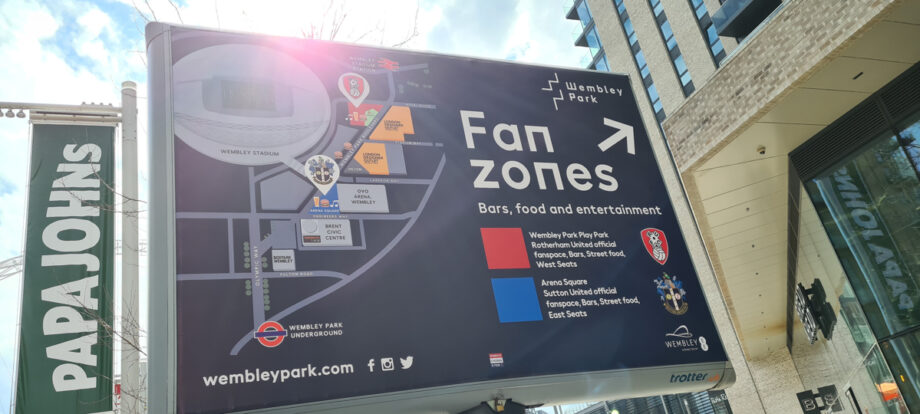 He's based out in Suffolk these days, but still works locally during the week, so has a flat not far away from mine. He's heading to East Croydon too to meet a mate at London Bridge and then take the Jubilee up, so we hop the bus and via the usual driver change along the way extending the journey, we wander down onto the platform to wait for the train. Across on another platform, we can see people boarding another service with colours on. Seems we're going to be travelling in numbers today! Steve catches us up and with a cuppa purchased, we're on our way to Farringdon to meet the rest of the crew. Sadly, the 30 minute trip lasts nearly an hour as engineering works sends us round the houses. So we sit and natter as well as checking socials to find out how everyone else is getting on. Tatey reports that Sutton is rammed with fans and the others using the tube from Morden also report decent numbers wearing Amber & Chocolate too. This is weird!
We also overhear 3 lads chatting opposite us, with one stating he hoped his next Sutton away would be Mansfield on Good Friday as "It's Tom's stag do as well". A quick check and we establish with the chap that he is indeed talking about Dukey's stag that Greek has been arranging for that weekend. Small world! Along the way I also suggest that Steve gain the nickname '5Jabs' as he's actually had 5 Covid vaccine jabs and "We already have a 4Days". We'll work on it. We also show 5Jabs little sympathy for his messed up sleep pattern thanks to all his jet setting to Dubai and the Caribbean lately. Having waved Len off at Blackfriars, we eventually hop off at Farringdon and hit the Spoons to find it already well stocked with Sutton fans for the game today. Breakfast is obtained and we get stuck in catching up with everyone there. We're a couple short, as Greek's gone direct to the White Horse by the ground and Mr X has been invited to spend the evening with the squad and officials at the hotel at Wembley too, but most of the rest of the mob are here. Also joining us for the day are Spennymoor Pete, Irish Pete and also the Somerset Supporters club in Simon from Weston.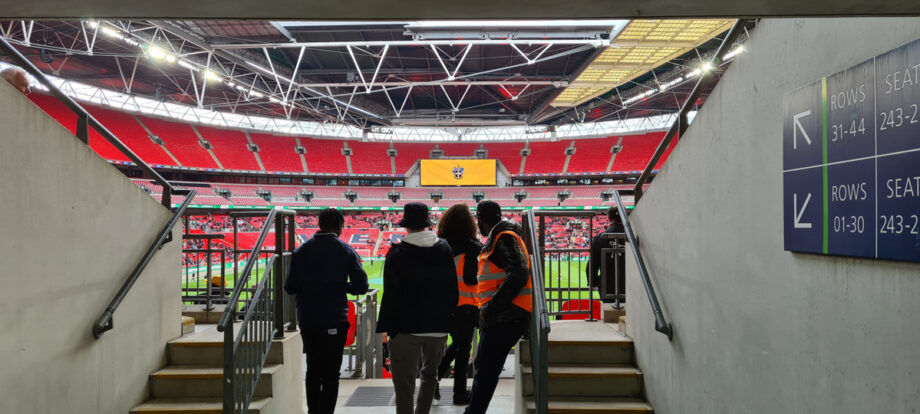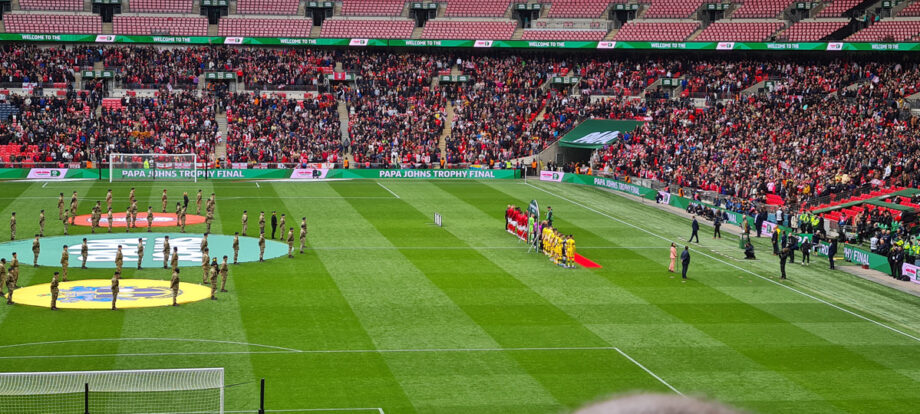 As the beers flow, the pub fills out with more Amber as we all catch up with some of the faces we've not seen for a while. In Simon's case, that was back in May at the Hartlepool game that essentially set all this absolute madness in motion. He's been designated lucky mascot for the day after the success of that last visit. Also around is seemingly most of Dukey's family, extended family and pretty much everyone else he's ever known. Also in is Beeney with his kids down from Southend. It's a proper bandwagon round here and no mistake. At the bar, I discover that Magnum thinks he may have bodged his ticket purchases, as he's handed out all the ones he bought but is still one short. His! Ah, I'm sure it'll be fine mate. There's also some fine retro tat on show with Red Oxide sporting a rosette bought at the last final we made back in 1981. With a few beers down, we make a move for the Tube at 1 and start the final leg of the journey to join up with the advance party at the White Horse down off Wembley way. The journey is passed with Beeney telling us all about his sports massage gig and the big hairy Turkish lads he has to layt hands upon. Clearly a busman's holiday if ever we've heard of one mate!! At the other end, we hop off and emerge into the sunshine to gaze down Wembley way. It's special. Ok, I've never really quite appreciated the new Wembley and its arch, the National Stadium was always about those two towers, but we're here so it'll have to do. Pics taken, we head down to the pub, with me pausing halfway for Spennymoor Pete and Simon to dip into a coffee shop for a leak. Pete comes out chucking after remarking "Seemed fitting, pretty sure they kahzis back in the day!!". In the shadow of the stadium and opposite our 'fan zone' we find the White Horse and join the short queue to get in.
It's not far off 2pm by now and they're apparently due to stop serving at 2. Get us in lads!! Thankfully, the door staff work out that closing the doors at 2 and letting the last few arrivals get a pint is going to be way easier than letting us in and then denying us a beer. Thankfully we're in and Pete and I head straight for the bar, using a spot handily vacated by Stu, one of Sleepy Joe's mates. Cheers buddy! We get served straight away and head out into the outdoor area to find all the other idiots. Greek and Mr X are in, 4Days, Lil' Chris, Juan, and numerous other faces including Welly who I've not caught up with a good while. It's good to see he made it. Here the excitement and general bullshit chatter goes up a notch as kick off approaches. We also get our first look at the side for the game. Matt's clearly gambling on a couple, with Rob Milsom starting, but it certainly means we should at least be competitive for a lot of the 90. With time getting on and the bar closed, we sup up and start to head in. Dukey is hanging around with his ticket sticking out of his pocket, so of course we steal it. As I go to leave, I ask him if he's all set. "Got your ticket and everything mate?" and leave him checking his pockets for it. I'll give it back to him in a minute, let him sweat!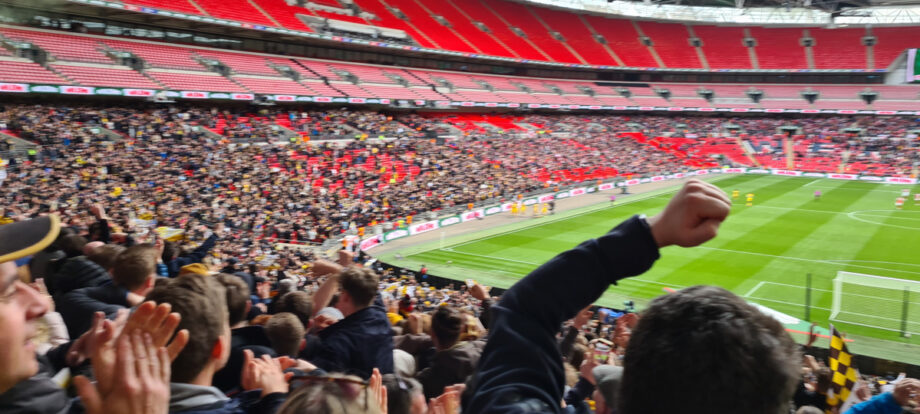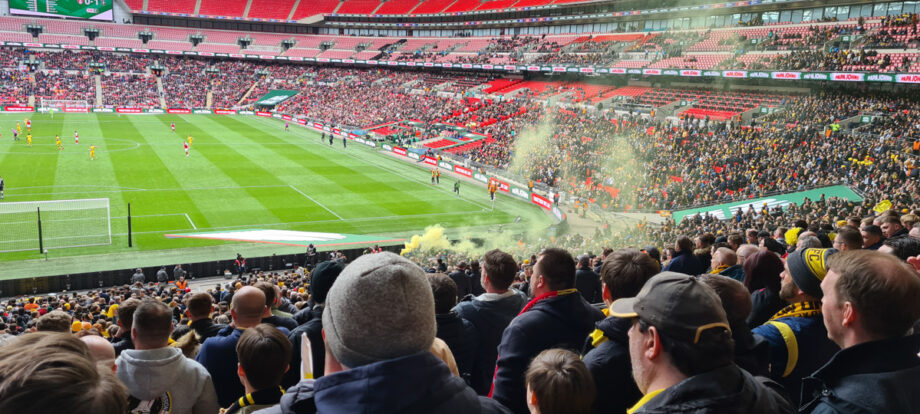 Bouzanis, Milsom, Goodliffe, John, Kizzi, Eastmond, Beautyman, Ajiboye, Randall, Bugiel, Wilson SUBS: Nelson, Boldewijn, Davis, Rowe, Olaofe, Bennett, Wyatt
The concourse is proper busy when we get in and I decide that trying to get a beer is probably not worth the effort, so I instead head for my seat and get the little Shoebox flag hung before it gets too busy inside. The barrier I'd picked out is unused so far, so making sure I'm not blocking the view of the front row. As I walk in, Sleepy Joe's cup final track is playing on the PA. That's so cool, I helped bully him into doing that!! Still, at least he can say he played Wembley now, that's a good one for the posters next time he plays the Sound Lounge. With the flag up, I decide to go find my seat and just await the start of the game. I've waited four decades for this shit, I can have all the beers afterwards. Here I catch up with a few more faces from the past, Andree now based in Lymington is sat nearby and I catch up with her and her hubby Kev quickly before the off, but before long the seats start filling out and the off gets nearer. We have a rather odd pre-match sight of Tim Vine and Paul Chuckle of Chuckle brothers fame riding in on the back of pizza delivery mopeds containing the trophy and the match ball. Yeah, magic, that'll do wonders for the image of the comp lads!
Harry gets us started and for the first few minutes, neither side really does much or settles into the game. Then with about 15 gone, we suddenly spring into life on the break. Beautyman's tackle wins us the ball and Dave goes on a dart. His run takes him deep into the oppo half and he feeds Randall wide on the overlap. He does everything right, steadies himself, steps inside the recovering defender and then fires just narrowly wide of the near post. Fucking hell son, hit the target!! The chance gives us a lift though and we start to really grow into the game from here. Chances are at a premium still, but with half an hour gone, shit gets very real. Rotherham never quite clear a corner and after a couple of crosses in that also aren't cleared, Dave sticks one in, it hits the perennially offside Rotherham #24 and drops to Randall in the box. He keeps his head, rolls it to 18 and Donovan Wilson gobbles up the sort of chance we've not really given him too much of this season. Touch and he drills it into the bottom corner beyond the keeper to send the far end of the stadium into delirium. The goal sparks Rotherham a little and they start to get more involved, but there's never really any great threat. Most of their play is aimed at that lad in the 24 shirt and he's just not at the races today. Then with the break looming, we're back to square one. Big ball out from the keeper, it's knocked down edge of our box and their 8 gets just that half yard of space to hit a dipper from 18 over Bouzanis and in. Fucksticks.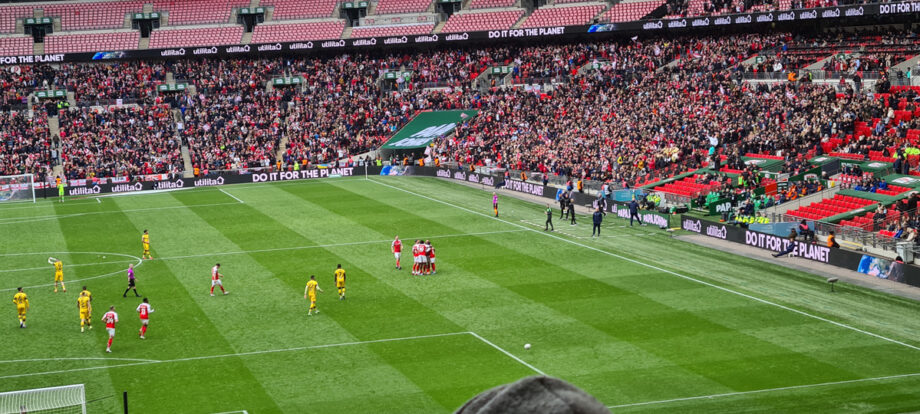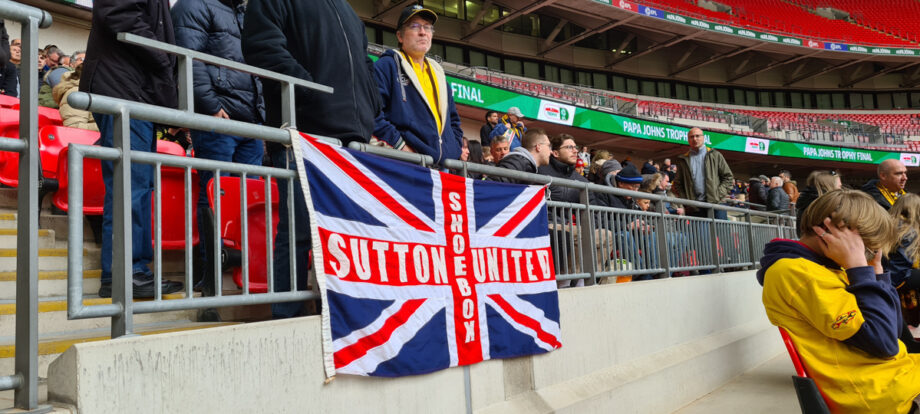 From there, it's all about making sure we get to the break level as they have their tails up. But make it we do and everyone sits down and exhales heavily. I head down to the concourse for a wazz and find the blokes khazis even busier than the ladies, with much bigger queues. I doubt I'll get in before the restart, but as I wait, Ipswich Lee appears and tells me the ones the next block down are totally deserted. Sorted! Bladder emptied, I head back in to await the restart. As per with Wembley, the game gets back underway with large empty spaces at both ends as people polish off pints etc. For those in our end, that comes at a cost. Rotherham test Bouzanis early with an angled shot straight at him and after the ball leaves his hands, possession is lost and then re-won thanks to the persistence of Will Randall. He slots a pass down the channel for Dave and the winger hits the space before pulling a ball back to the penalty spot where skipper Easty arrives late. His initial shot is blocked by a defender but it rebounds straight to him and he flicks it back into the far corner to once again send the Sutton end radio rentals. Again, our goal sparks the red shirts into life and they start pressing and probing all over the park, winning more second balls and basically making us work that bit harder. On the hour, they make a triple sub, getting some more firepower onto the pitch.
One of those, Ladapo, almost brings them level again soon after. Running clear onto a defence splitter, he's one on one with Bouzanis, but the Aussie stands up well and makes himself big to make a vital save. We soon make a change ourselves, bringing Issac on for Wilson and the Millwall man almost has an instant impact, bursting through on the right, but his shot is just the wrong side of the near post into the side netting. From here, the game gets all a bit Wigan as we dig deep to keep them out and that starts to take its toll. Ben Goodliffe goes down with cramp and has to be replaced with 15 to go, Coby Rowe coming on. We keep going though and with less than 10 left, we bring in more reinforcements with Kenny, Ben Wyatt and Ritchie Bennett for Easty, Milsom and Omar. The lads keep going and as the clock ticks away, we're keeping them largely at bay with Bouzanis only having to field a couple of longish efforts. Then as the 90 expires, up goes the board. Seven minutes. Seven fucking minutes. Jesus Christ, that seems an awfully long time. Have we got seven minutes left in the legs??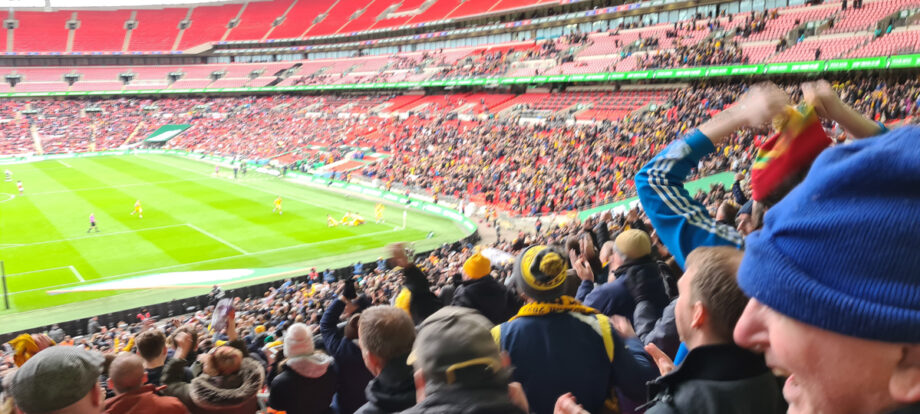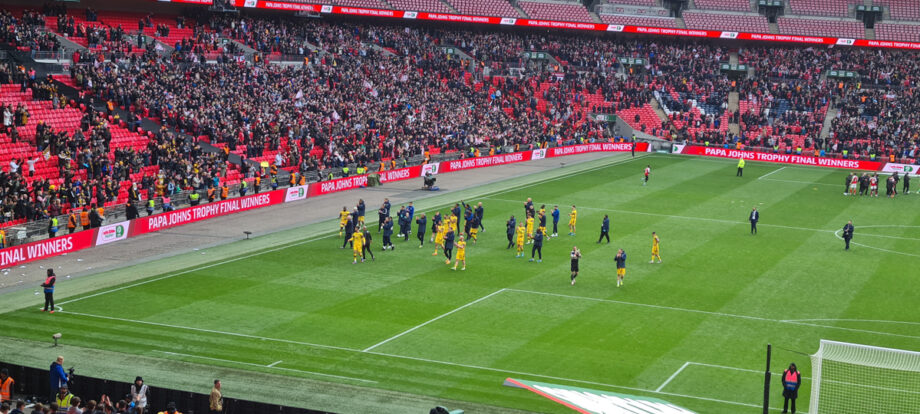 Even from our elevated spot in the stands, we can see Harry's fucked, Dave Ajiboye is running on empty and Randall too looks pretty goosed. Dig in lads. DIG IN! Largely, the added time passes slowly but without any real incident, we're almost there. Then one last launch up the field, we miss first ball, second one is just stuck in the box and Kizzi can only divert it to a lad only just on as a sub. He gets it out of his feet and as we get back in to try & cover, he puts the ball high into the top far corner of the net and the far end goes mental. What a prick. It's an absolute killer blow, as we're now certainly heading for an extra 30 minutes which with half the team now firmly blowing out of their arses can surely only finish one way. A minute or so later and the whistle goes to confirm we need another half hour. Death by a thousand cuts coming right up!! Extra time is largely us sitting in with two banks of 4 simply trying to keep them at bay, we're on fumes and they know it. Still, we keep at it and even force a decent chance several minutes in. Another corner causes issues. Kizzi hooks back from the bye line and Harry cracks a shot just too high from 18. From the resulting goal kick, we don' deal first ball, don't get to the second quickly enough and as Wyatt tries to get across to cover, Ogbene hits it early from about 20 yards and before Deano knows much about it, the ball has flashed past him into the net to make it 3-2. Ah. That's us a bit fucked methinks.
Still, this lot simply don't give in. They leave nothing out there and keep going. There's a couple of flashes, but the best we can manage is Issac working his way into the box with a clever little flick but his finish lacks composure and he lashes wildly over the target from a half decent position. It's to be our last real threat of the match. The second period is mostly just us defending to stay in the game but with the red attacks becoming more and more frequent as our clearances get shorter and shorter, a corner midway through seals things. Swung in from the left, Kizz is outjumped by his man and he plants a simple downward header in to make it 4-2. Stick a fork in us folks, we're done. From here, we just cling on and simply try what we can to keep the score down. Losing 5 or 6-2 now wouldn't be really what the performance deserves. This we do manage and at the final whistle an utterly exhausted U's side largely collapses to the turf. So so near, yet so so far.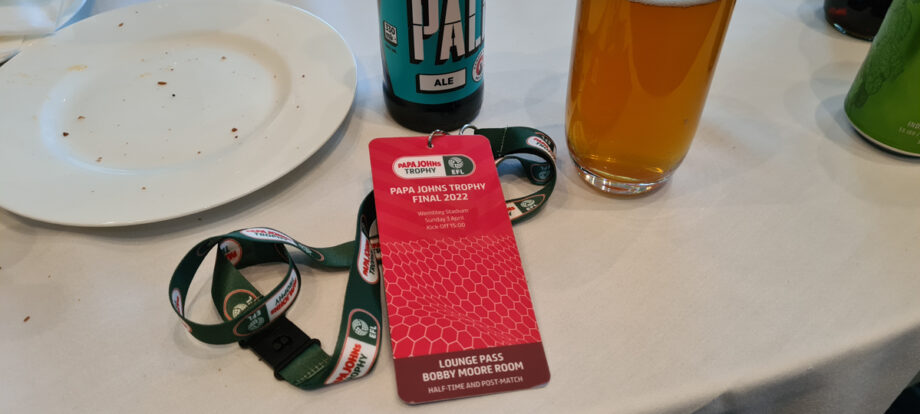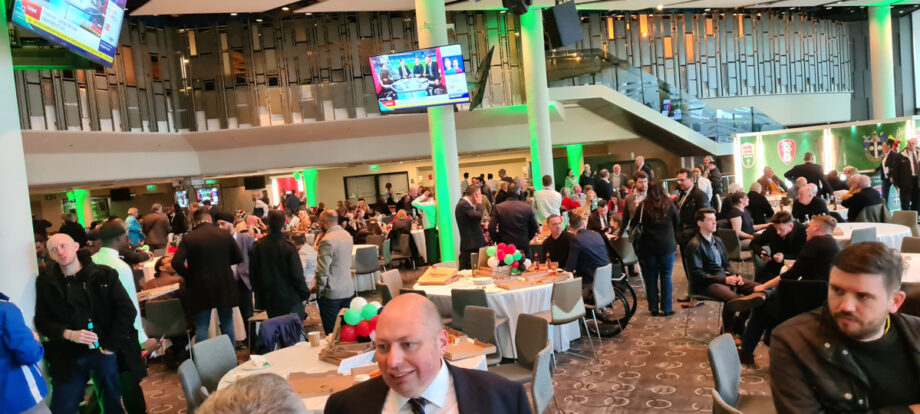 We clap the lads off and as I sort out the flag, I stand alone watching the boys go up to collect their medals. Porn Star and his good lady wander over to say hello and offer commiserations. Regrouped on the concourse, we head out to go partake in a bit of posh poncing with some post match drinks in the Bobby Moore Room. This doesn't go well as we leave the ground to go to the entrance on the advice of a member of staff, which is absolutely NOT what we were supposed to do. No readmittance apparently! Still, they're good about it and with about 30 of us all there with the same story, they take it at face value and usher us in via the fire escape to get some lukewarm pizza and expensive drinks at the bar. Still, we get to catch up with Macca and I get to shake Matt's hand and congratulate him on the effort. Also in is former U Tobi Sho-Silva, fresh from his 97th minute heroics for Carlisle at Tranmere yesterday. There's a couple of drinks here before the bar closes, despite my protests to FA employee Ipswich Lee "You fucking work here mate. Have a word and pull some strings will you!?". We also hoover up some little mementos and I bag the table number 51 card as it's my house number before we head down a pretty empty Wembley way to the tube. Next stop, Farringdon. On the way back we chat to some Rotherham fans who are very gracious over the defeat, although Mr X's attempts at the worst Yorkshire accent doesn't go down too well!
Back in town, we just miss one train back to the Republic and instead head to Spoons for a quick one before Loffers does a cans run and we catch the next one back to paradise. Here we say goodbye to Simon, our apparent 'lucky charm' as he heads back to Paddington for his rattler home. I shake him firmly by the hand, wish him a safe trip home and promptly tell him he's sacked. On the train back, Cat the physio's other half Paul is with us and is complaining about his phone battery being dead. And Loffers is the only one with an iPhone charger that he can use. She eventually relents to his constant pestering and plugs him in for 10 minutes to give his dead dog some much needed life. It turns out that he'd left home with it on just 9% this morning to start with! Some people eh? Back at West Sutton, we alight and as we walk down the driveway, we're all a bit concerned that the result might have deflated everyone and we'll be the only ones in tonight. But We needn't have worried, as we round the MBA lounge, it turns out the team have just got back on the bus and the bars are packed to the rafters. Lovely stuff. Beers sorted, the team get a standing ovation coming in and a rather surreal but quite lovely party ensues as everyone gathered celebrates the achievement of our first ever Wembley Final as a Football League club. And in, so I'm told, just our 50th competitive game! Not bad that. I catch up with various faces around the place I'd not managed to catch up with already during the day, saying hi to Kev & his lady Dee as well as Bob & Cathy. I also spot big Phil from the Wigan post match boozing at the bar and say hello. He thanks me heartily for his mention on these very pages and asks "Can I be in again?". Absolutely mate. Done!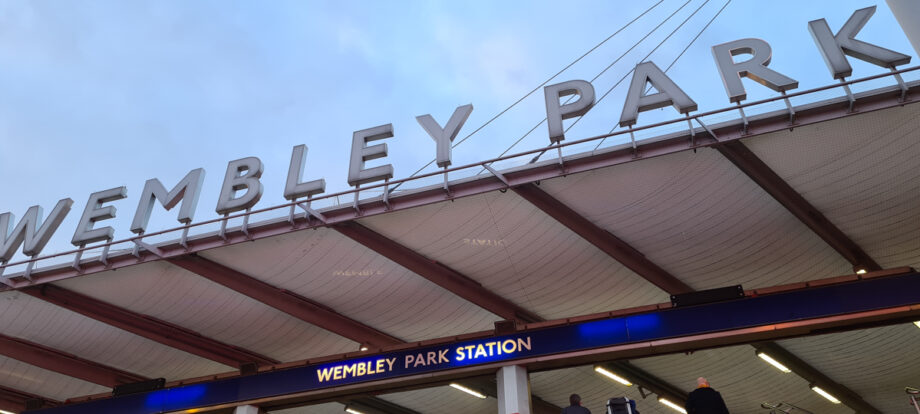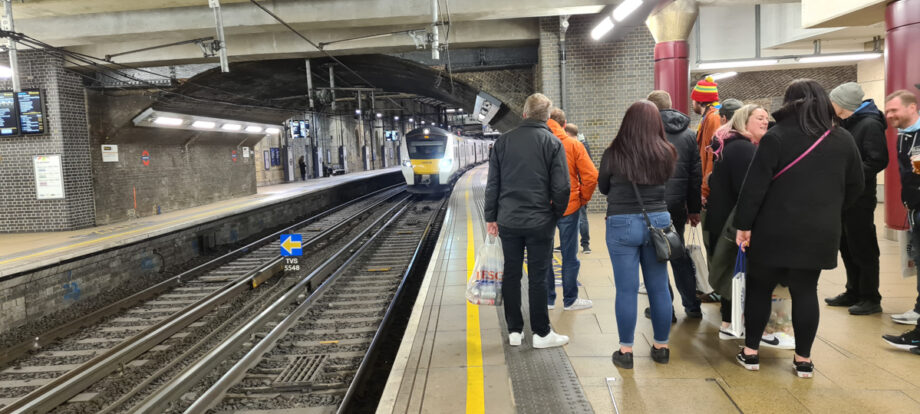 In between Lee thinking he has a stalker and being mistaken for Paul of low iPhone battery and Cat's other half at the bar despite being much shorter and baseball cap-less, I spend time chatting with Keepo and Fish. Also present is Bobby Bollocks, one of Totts old compadres from the mob who used to drink in the Plough. However, I only guess this from he and Fish talking black cab stuff as we've not been formally introduced. "Ah, so you're Bobby Bollocks!". Still, he seems quite as happy to find out I'm that bloke who does the Gandermonium blog. Fair trade I s'pose! Beer flows, people occasionally exclaim " Ah for fucks sake!" as their memory tips back to earlier, but the occasion is entirely one of celebration and great great pride at what this team has achieved. It also begs the question, if it's this joyous when we've lost, Christ only knows what it would have been like in here if we'd won!! Probably have razed the gaff to the ground or something. My final memory of the night is of chatting with our esteemed Chairman Mr Elliott and him largely being in tears laughing at a daft little jig Robbo is doing nearby. "This club" he says, wiping away a tear of mirth "Just gets you doesn't it?". It certainly does Bruce, no arguments from me there. With fatigue kicking in around 1am, Steve rustles up a cab and as he's going past mine, I take this as my cue to depart with the party still in full swing. Madness.
I'm soon tipped out on the pavement outside HQ and wander in to take my now customary post-big match spot. Which is sat on the kitchen floor with a couple of rounds of toast, a pint of water and a wind down check in on all the comments and love on the socials etc to decompress before turning in. I dunno why this became a thing, but I've done it now post Cheltenham, Wimbledon, Leeds, Arsenal, Hartlepool, Conf South title over the last few years, so may as well stick with it I guess!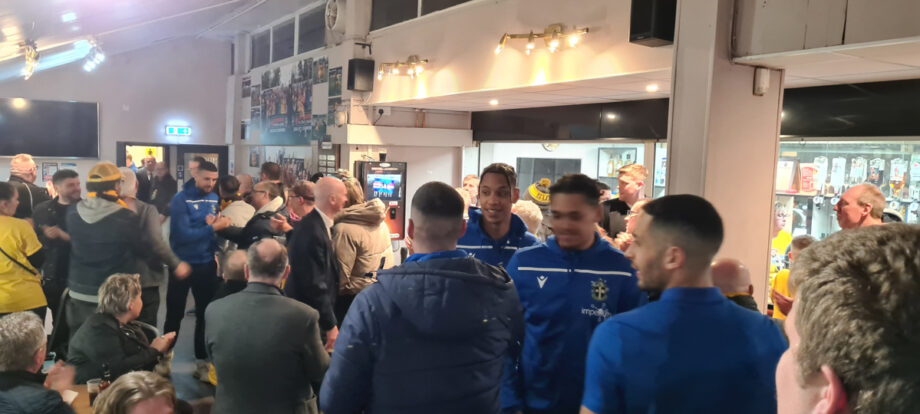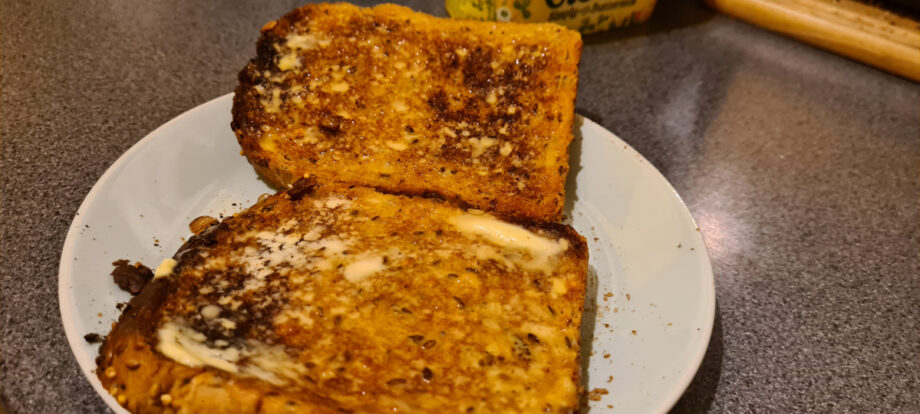 Ah bollocks. We were SO fucking close…..
Taz