Hello and welcome back once again dear reader to that Sutton United thing you've sort of heard of that isn't a podcast. This week, you'll be surprised to hear, we'll be once more bumbling to the far reaches of the North of England to watch grinding League 2 football, with Barrow the latest location to be graced with our presence and our beer tokens. Now a couple of weeks back, this was looking like a bit of a gimme in the race for the playoffs as they battled the drop and looked to be trying to give Oldham a real run for their money in nabbing that second and last spot through the trap door to the Bastard League. Naturally, they've since picked up a couple of massive wins including humping season long league leaders Forest Green 4-0 just last weekend. Which is just fucking typical really.
It's been one of those weeks at work where everything and anything that could go wrong did and in the end, I completely sacked it off at just after 4pm on Friday having been messed around endlessly by technofuckery. I wouldn't call it downing tools as such, as due to the problems I was having I basically had no 'tools' to down in the first place. So in true stiff upper lip, Blitz spirited British fashion, I said "Stick it up your bollocks" and went and made myself a large Gin and Tonic. Still it meant I was nicely rested for my appearance on FL pundit Gab Sutton's podcasty thingamajig later that evening to chat play offs and possible promotion stuff with a couple of other L2 followers. It's HERE if you fancy a watch and if you don't already follow Mr Sutton on the socials, you really should. Geezer's knowledge of the FL is ridiculous. God knows why he lets pissed up idiots like me on!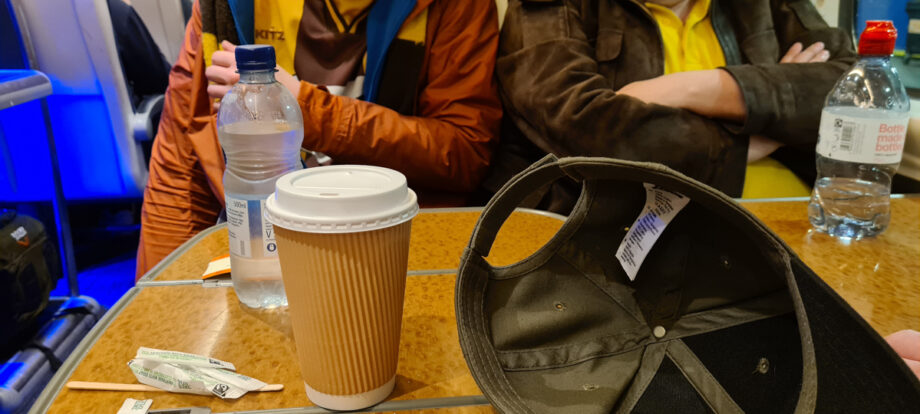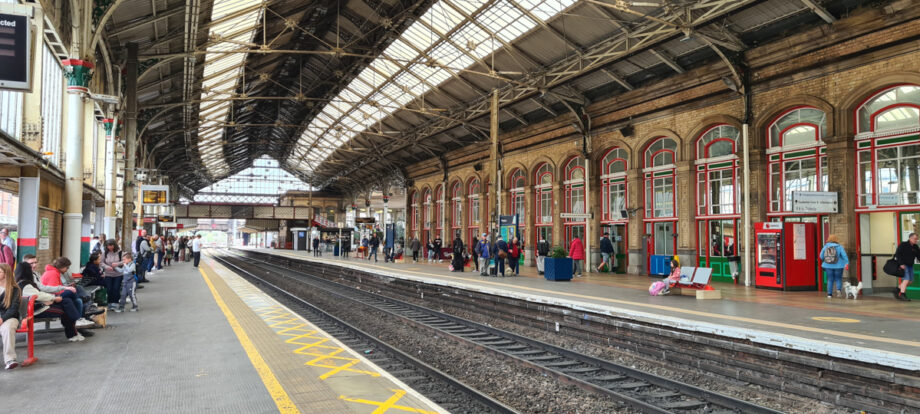 Another thing not helping this week is the persistent little bug I've had since last weekend that definitely isn't covid despite the constant cough and sniffles it's left me with. Still, that was only marginally less annoying than Dr Bell constantly abusing me all week as he reckons I'd passed this onto him. Ever happy to qoute 'Hot Fuzz', I couldn't resist telling him "You're a Doctor, deal with it!". I'm sure it gave his spirits a real lift. Now I'm sure a lot of you normal people out there would probably use this little medical situation to give such a long trip a miss, put your feet up and pamper yourself with copious amounts of Lemsip. Well, as you may have gathered from reading this shit, I am not normal like you. My solution? Go to Barrow anyway and kill it with alcohol. You won't get that sort of advice on the NHS, I can tell you.
It's an early start again on the Saturday morning, but not as bas as it could have been with the travel secretary getting us on the 8.30 out of Euston for this one. We could have gone earlier and maintained our almost perfect "arrive by 11" record, but that was a bullseye more expensive that the hour later and as that was already north of 70 notes, we made the correct fiscal decision and decided that getting into Barrow for midday wouldn't be entirely a bad thing. Avanti have had more than enough off us this season as it is thank you very much. I'm out on time but find that the buses are up the shitter, so whip up an Uber and hit East Croydon in plenty of time. However, not quite in time to make a Thameslink to St Pancs that pulls out as I hit the bottom of the slope. And with the next one cancelled, instead I bounce on the next Victoria train and get a 10 minute snooze in on the trip into the smoke. Hopefully the Vic line isn't on strike when I get there. Still, it could be worse, I could be Mr X who is currently complaining on Whatsapp about a bloke on his train sat opposite him singing gospel songs badly.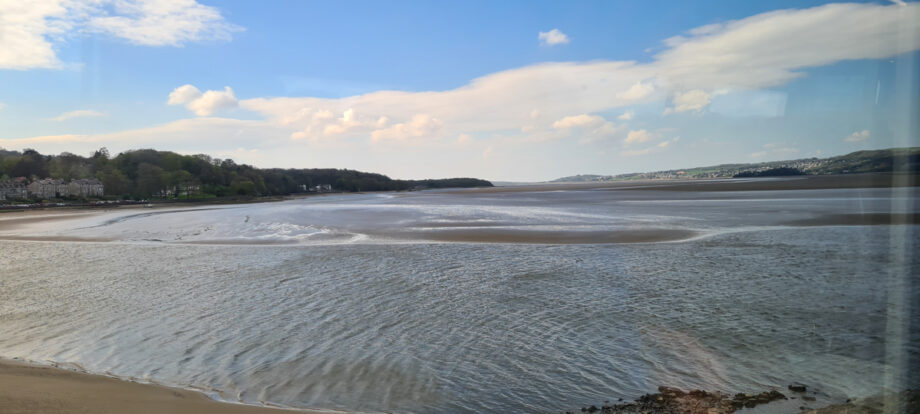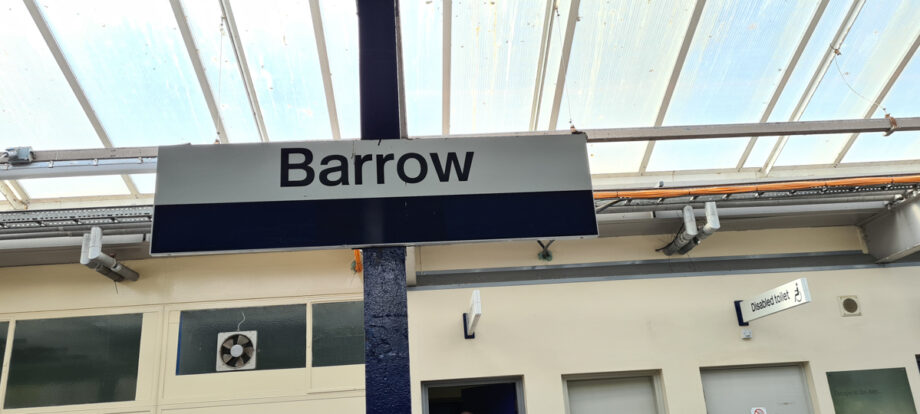 Euston is reached in plenty of time and I find the depleted travelling crew in the usal spot outside enjoying the sunshine. Mr X, Dr Bell, 4Days and Indy are all present as the man of mystery doles out the train tickets. I snap mine up and scarper to Sainos for bacon befrore the good Doctor can bend my earhole on his current condition. With breakfast sorted, I sidestep a heated discussion on the way out between the security and an apparent shoplifter and rejoin the mob. There's a lot of Wombles around we notice and a quick look at the fixtures show they're in a big must win 6 pointer up at Fleetwood today and that means there'll probably be loads on our train. Oh well, at least there'll be someone to pick up the litter. Cuppas and a couple of train cans bagged for the last leg from Lancaster, we hit the train and are soon staring out the window at all the stuff we've already seen a million times before this season zooming past. The COCs and some of the Yoof are in our carriage as well as a load of Wombles, including the gaffer of the Alex pub. They're understandably as downbeat as you'd expect for people who've not seen their side win for 25 games and not many rate their chances of breaking that run and surviving this season. Most also seem resigned to seeing us leapfrog them into League 1 next season. Oh dear!
Amongst their number is a lad in a full St George's morph suit that is, quite frankly, leaving very little to the imagination. This is apparently his attire for a stag do being combined with the trip for the game. "We should have put Dukey in one of those last weekend!" says 4Day before everyone takes a moment to take that info in and suhdders at the horror of such a thing before the Welshman ties it off with a "Ah, maybe not". An issue for Mr Morph suit is soon revealed when he goes for a piss and of course has to wrestle his way out of the thing in those tiny little train khazis before he can do the deed. Even worse follows when trying to put it back on, he breaks the zip on the back, much to his mates amusement. "Has anyone got any safety pins?" is a shout heard from that end of the carriage. The rest of the trip is pretty quiet, with Mr X snapping on a trip to the buffet and returning with not only a tea restock, but the gift of a can each. "Couldn't wait until Lancaster" is his excuse. Oh well! There's wistful glances out the window at Wigan's ground as we pass through and as we're approaching Preston, we recieve some bad news.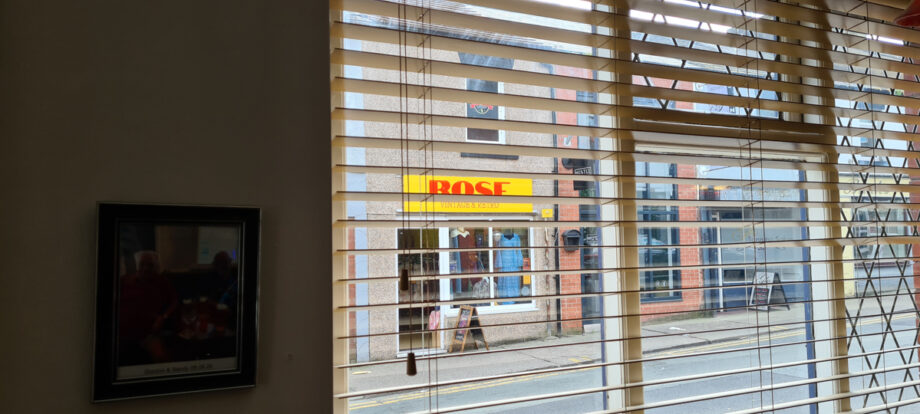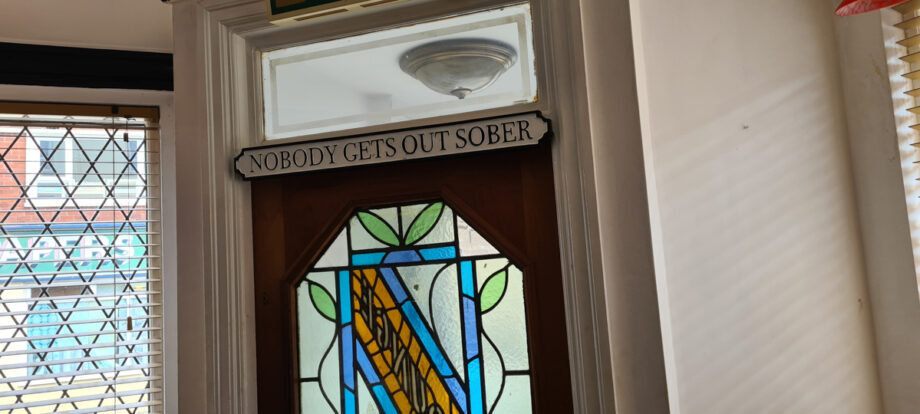 It seems that the train we're on is going to be held in Preston for a good 15 minutes as they're swapping out crew and the replacements are delayed on their way in. This is bad as it means we'll miss our narrow connection at Lancaster for the hourly train to Barrow. Arse! We mutter bad words about trains and again revert to staring out of the window, deflated. Hey, wait a minute. Does that train trundling alongside say "Barrow in Furness" on it? Bloody hell, it does! A quick check on the Googles and we find out that the Barrow train does indeed stop in Preston first on it's way up, so we can change here. Cue a mass scramble to collect up all our shit and bail out onto the platform. A quick dart to platform one and we're soon aboard the Barrow train, which is a much more modern effort than the last time we did this run as it has a khazi for starters. Here we break out the cans and settle in for the next hour and the last leg of the trip, joined by Phil, Mr X's fellow megastore\merch man who reveals he'd only bought his train ticket the night before, causing much wincing when we hear what it cost. Bob and Cath join the train at Lancaster and along the way, a local informs us of a pub that's opened up right on Lancaster station. Result! That'll make the pre-train pint on the way home far far easier!! Also on is a lady doing some knitting who via Dr Bell I find out is from Durban, where I used to have a load of family. Sadly for her, the train doesn't stop at Roose where she wants to go and she's stuck with us all until Barrow where her daughter will have to come rescue her.
Finally though, with cans depleted, we arrive at our destination. With the big orange thing in the sky making this feel all very un-Barrow like, we head over the road to the Duke of Edinburgh hotel for the first pint of the day. Phil joins us and there's a few other U's faces in including Chancellor Oakes, who is stuck entertaining himself as he can't get into the ground until half one. The chat turns to nonces for some reason or other and from here, Mr X and Phil discover they have one in common, an old PE teacher from back in their school days, which is only made worse by the fact that they didn't even go to the same school nor anywhere near at the same time! After a couple here, we head for the Blue Lamp up the road and most others head down Holker Street towards the ground. Sadly for us, the Lamp is nowhere near as good as it was the last time we were here and what was once a lovely locals boozer is pretty deserted. Still, the beer isn't bad to be fair so we sup here and as we do, we notice through the window there's a vintage and retro shop opposite. "Fuck me, check out that shirt!" someone comments and sure enough, through the open door we can see this properly 80's ugly shirt hanging on the end of the rail. Well, we think it's ugly. Dr Bell however doesn't think it's that bad and naturally before long Mr X has headed over to check it out and returns with it in his possession for the princely sum of £25, aided by a tenner donation from myself and 4Days.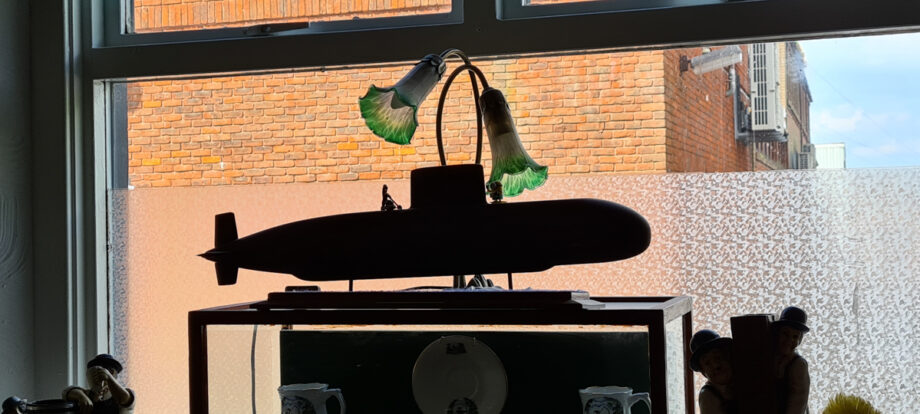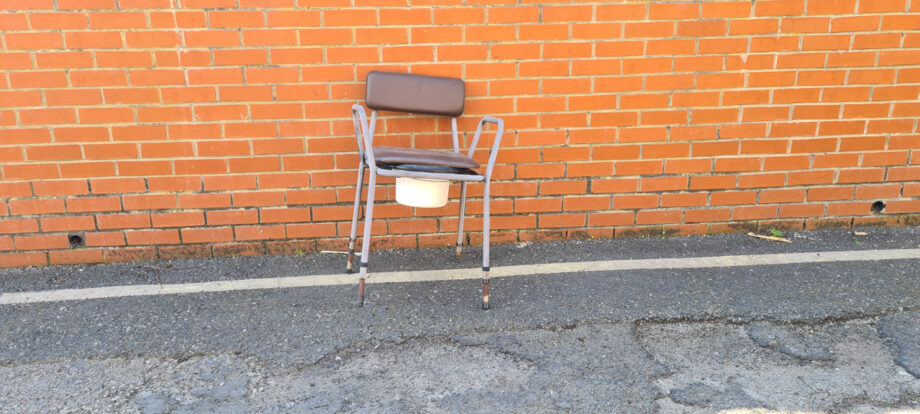 Of course, we force him to wear it and counter his complaints that "It's a bit tight" with "It's an 80's one mate, you wear it open with a tshirt underneath" our response to that. He's not convinced however. Pints downed, we head to the Brewery round the corner, only to find it's not open until this evening, so instead we divert to the Robin Hood, a proper locals boozer more in town. Along wth way, we spot what we reckon might be a 'Bullseye boat' parked up down a side street. In the pub, Belly's new shirt is soon drawing some admiring glances and comments and by 'admiring' I of course mean 'universally hated'. It's all good fun though with lots of Barrow old boys chipping with their thoughts and soon the place is falling about laughing. One chap who's been giving it the comedy cockney routine at the bar then declares the shirt to be "a challenge" to him and he disappears off out the door. All the locals chuckle. "You know he's off to the nearest charity shop for summat" one comments. Eh? What for?? It seems the chap has decided that Dr Bell's outfit is incomplete and has gone to get something he feels will set it off nicely. This should be interesting. A few minutes later, he reappears and hands Belly a carrier bag containing a long tan brown coloured raincoat going "Now you'll look a propah faaackin geeezah daaahn the maaaahket!".
Of course, he has to put it on there and then and the whole place is soon ripping it out of our unwilling clothes horse from all angles whilst we stand trying not to choke on our pints laughing. "Nice coat that" says a bloke with a big beard breaking off from his copy of the Racing Post "mainly as it means you can't see that fucking shirt anymore". One point that definitely escapes no one's attention is how the coat is a proper bang on fit for Belly, in fact I doubt it could have been tailored any better for him. "I'm an undertaker!" quips the pubs resident fashion stylist when questioned. It's proper local pub craic and will never cease to amuse me. Great stuff. The tag on the coat shows it cost the fella £9.99 from the local Heart Foundation place so as we leave, I make sure to slap a tenner down on the bar in front of him for his troubles. Of course he refuses reimbursement, but I insist using the logic that I'm not paying him back, more getting him a pint as we've had way more than a tenner's worth of fun out of all the carry on. This he accepts with a smile, so we say our farewells and begin the walk up to Holker Street for the game.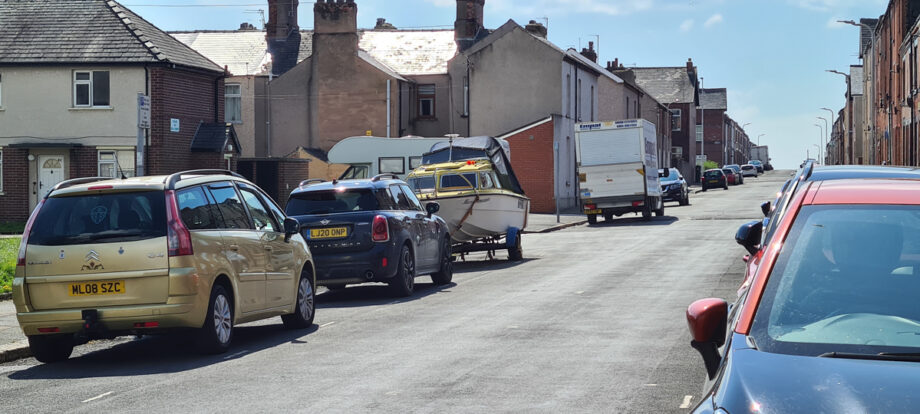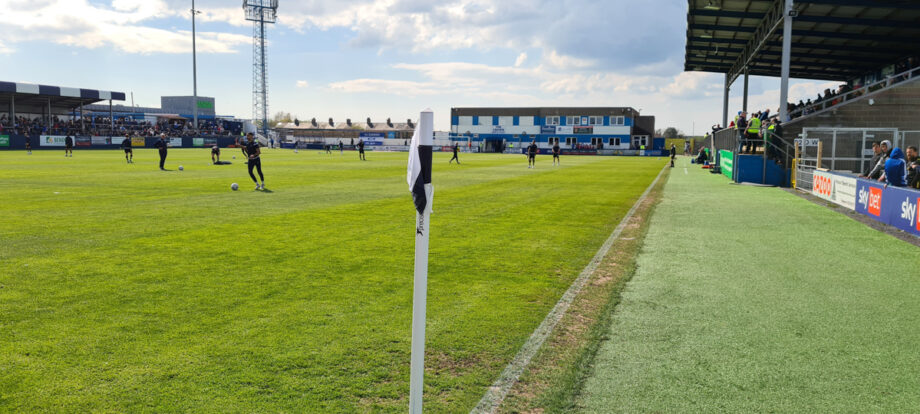 Bouzanis, Kizzi, Goodliffe, John, Milsom, Boldwijn, Ajiboye, Davis, Smith, Bugiel, Olaofe SUBS: Nelson, Barden, Wyatt, Rowe, Wilson, Bennett, Randall.
In the ground I get the flag up and fail miserably to find the place selling the pies, so instead I hit the terrace and wait for the game to start. Now, I'll admit that we're fairly well known on here for largely skipping through the game with the minimum of fuss at the best of times, but when you're faced with a first half like this, that really isn't hard at all. There's a strong wind at the lads backs as they attack the far end and a hard bumpy pitch doesn't make for a great spectacle. We create little of note, with a Dave shot deflected wide and then Omar lobbing well over after two defenders misjudge Deano's long kick about the sum total of the excitement for us. The hosts are scrapping for everything of course, as they need points to stay up but a cunts challenge yellow card for their lad chopping down Dave on the run and a shot well wide are all they can muster in response. The home fans next to us are also strangely silent, mustering almost no noise in backing for their side.
Goalless at the break, I eventually locate the pie stand and tuck into a decent steak effort filling my rumbling stomach with some stodge to help soak up the pre-match pintage. The second half with the U's shooting towards us is no better than the first to be honest, although with the wind now at their backs, the hosts at least have a bit more threat about them with a couple of corners earned and Ben having to deflect a shot wide. From the resulting corner, the ball drops at the near post and there's a bit of commotion where their lad on the line claims it's over, but there's no one else in a blue shirt appealing, the lino's not interested and neither is the ref, allowing play to continue as we clear our lines. Milsom whips a wide free kick across goal and just wide of the far post before with about 20 to go, the hosts edge in front. We're a bit slow to react to a ball wide, don't close down the space and it eventually comes into the box, it clipped away and there's a bloke arriving unmarked far post to put it away from about 10 yards. Some confusion then reigns as during the celebrations, the ref shows a yellow card and it turns out to be a second for one of theirs and the lad is off. This causes a bit of a delay to the restart whilst everything is straightened out.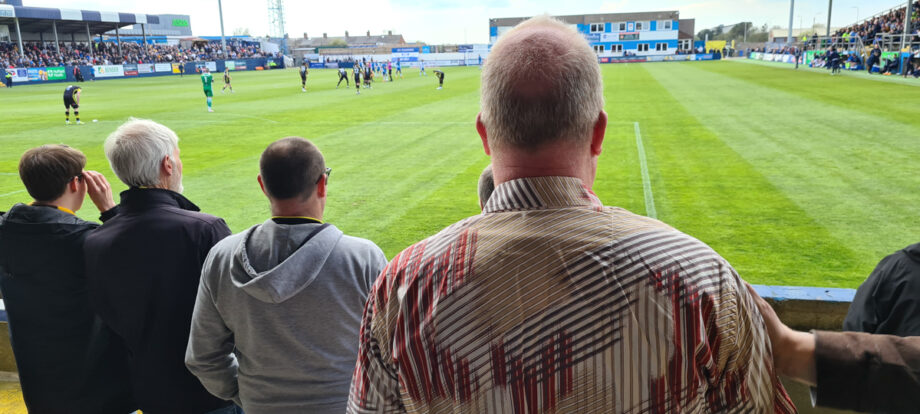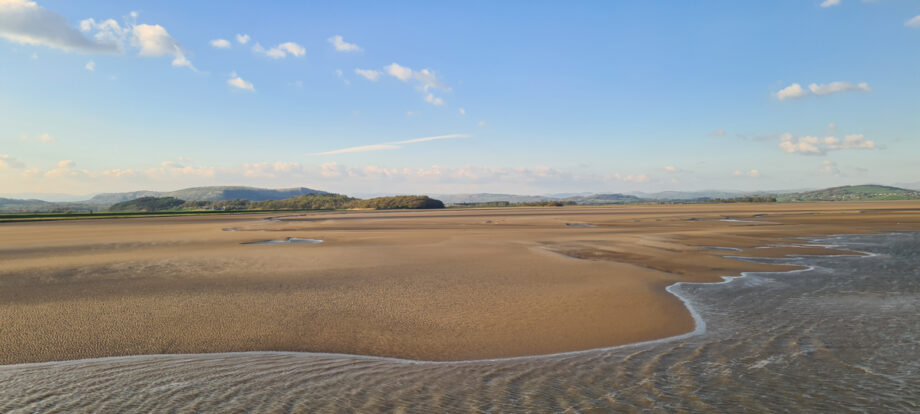 With the man advantage, we quickly introduce Will Randall for a quiet Enzio and set about trying to get back into the game. And several minutes later, we're chucked a lifeline by some brainless defending. We have the ball around their box and as we work it wide, Omar goes to make a run before being blatantly shoved to the ground in the box. Ref's right there and has no hesitation in pointing to the spot. Sadly though, unlike Monday's game with Newport, the keeper gets it right and dives to his left to make a decent save to keep our Rob Milsom's kick. This effectively kills the game and we're heading for a pretty forgettable defeat before with time almost up, the game is again stopped for several minutes. No one knows what's going on, but it soon transpires that someone's said something up the far end to one of our lads and we've mentioned it to the ref. Who refuses to restart the game until a PA announcement is made and the issue dealt with. Finally with the ground safety officer located, this is done and from asking a steward in our end, he confirms plod have apparently felt a collar for racials. Seriously, what sort of a cunt do you have to be in this day and age to still be abusing people for the colour of their skin? It's ridiculous. Ignorance of the lowest level. If you think a player's a wanker or a shithouse, then fine, say so. But to abuse players for their race and or nationality? Absolute cunts behaviour. No argument. Grow the fuck up and get out of the fucking dark ages or do us all a favour and remove yourself from the gene pool you rancid arseholes.
This stoppage means there's 10 added to the 90, but despite having loads of the ball, we never even look like creating something and the final whistle is greeted with jubilation from the home fans as the win secures their safety for this season. Elsewhere, results haven't hurt us too badly, although we have dropped back to 7th with a couple of sides now right on our tails. We also hear the Oldham v Salford has been abandoned with 10 to go with the hosts losing and heading out of the Football League as supporters have invaded the pitch to protest their shit owners. "That'll take some sorting out at this stage of the season" comments Dr Bell "Nah, they've just done that to make everyone go home. They'll play that out today. Same as Orient did a couple of years back" I say. Flags down, we start the walk back towards the station, but with the game running on so late, making the 20 past is touch and go and as we wind our way through the crowds of local little pre-pubescent scrotes trying to be funny and take the piss about the result, we instead elect for a pint back at the Duke before hitting Tescos for train cans and all of their sandwiches. Stocked with supplies, we make the next train back to Lancaster and watch the nice scenery slip by outside in the late afternoon sun as we head back to Lancaster with more G&T than is probably necessary.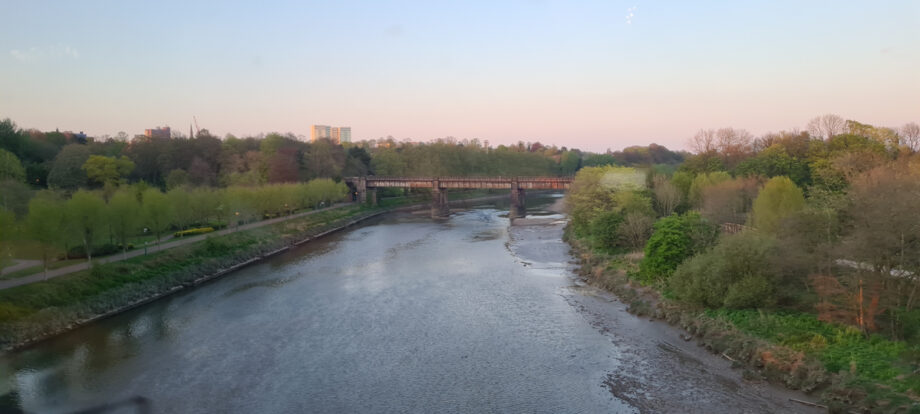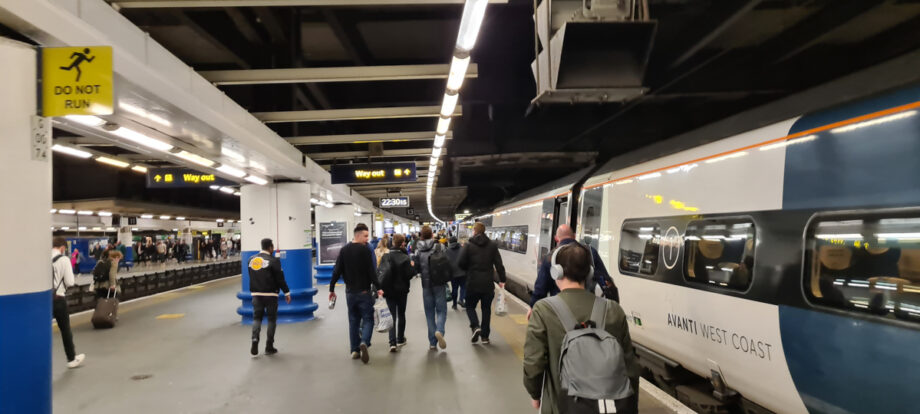 With half an hour to kill at the changeover, we hit the platform pub we'd been told about earlier and sink a quick one pre-train there. Dr Bell has now declared his ugly shirt as 'unlucky' and is refusing to wear it any longer, although we insist on him donning the Columbo coat and steal his actual jacket and shove it in the flag bag to emphasise the point. On the socials, the news filtering though about Oldham's game being played to a conclusion behind closed doors after they'd fucked everyone off home proves my earlier prediction correct and we also get confirmation that the racist abuse earlier was aimed at Omar, with Joe Kizzi hearing it too. Pints downed, the next train for the final leg home is boarded, but our expected inundation with depressed Wombles at Preston doesn't really materialise as the train remains pretty quiet so we stretch out and get stuck into the cans, finding out that AFC's relegation fate was all but decided by our old mate Nik Tzanev making a hash of a free-kick, taking one touch too may on the edge of his own box and the hosts equalising from the free-kick that in turn gave them. Oh mate.
It's the sort of fuckery that when you're down there struggling always seems to randomly pop up and kick you up the bollocks, I mean, when was the last time you saw that happen in a game eh? The rest of the journey is pretty quiet as we natter a bit with Johnnie about his new book he's working on as well as the fact that he's sold about 2000 copies of his FA Cup effort. Good work sir!! Mr X also nods off leaving me to demolish the Gin supplies on my tod. Cheers mate. Our run back is so without incident that the train rolls into Euston some 20 minutes early, much to all our delight and makes a nice change. As we disembark, I find out that Johnnie's jacket that looks like it was made out of bin bags cost him somewhere in the region of 450 quid. Fuck me, do you go to the same ugly expensive shop as Magnum mate??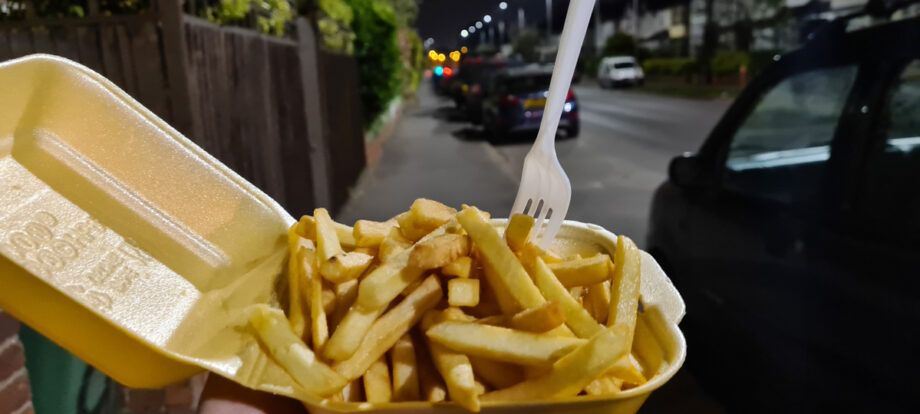 Underground back to Vic, the early arrival back in the smoke means we're not hanging about there and we can hop straight onto a quick Southern back to Sutton. This is a touch as it'll drop me a short walk from HQ and allow me the chance to get some chips on the way home. With the majority of the G&T polished, I say my farewells at the Badlands and flag back on my back, I head for the kebab shop on the high street. Sadly, he looks pretty much closed as I enter, but confirming I just want chips, the lad is happy to serve as the fryer hasn't been switched off yet. Touch! So with chips in hand and rapidly transferring to my face, I totter off down the road to home and my now very much needed bed.
Hope that big course of G&T therapy did the trick with my cold.
Taz