Remember when you were a kid learning to ride a bike and when you fell off your folks would just tell you to brush yourself down and get back on and try again? Well, I always thought that was bollocks. That shit properly hurt and I've grazed my knee and both my elbows. I'd like a drink, a sit down and maybe we'll revisit the bike stuff again next weekend thank you very much. Sadly, with League 2 football there is no drink, no sit downs and no breaks. After a fall like at Gillingham, you've got to get up off your arse, skinned knee and all and get right back on that 4th Division bike. And ride through fire. Into a cage full of angry Bengal Tigers.
Of course, having shit the bed on Saturday we're heading into that fire and tigers thing with a midweek run to Stevenage who have been really quite good at home this season, winning 5 out of 5 so far. Oh and they've apparently got a really annoying habit of scoring late late goals in games. Although that of course wouldn't be anything to concern us would it, as it's not like we've binned off 3 of our 5 aways in added time already this season or owt. Ah bollocks.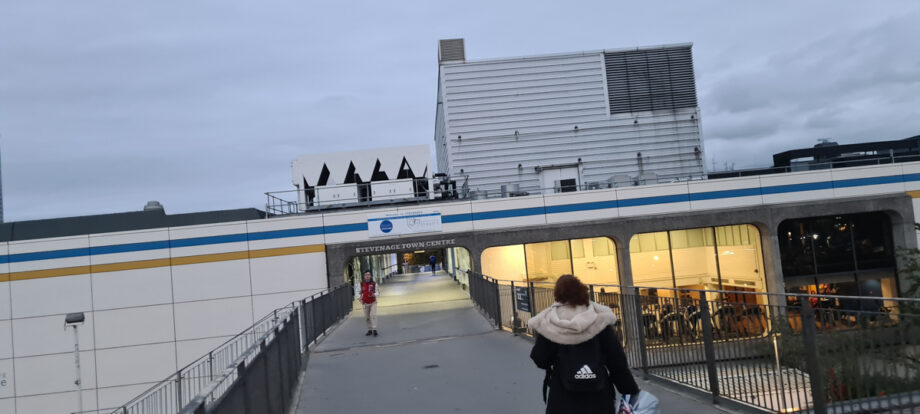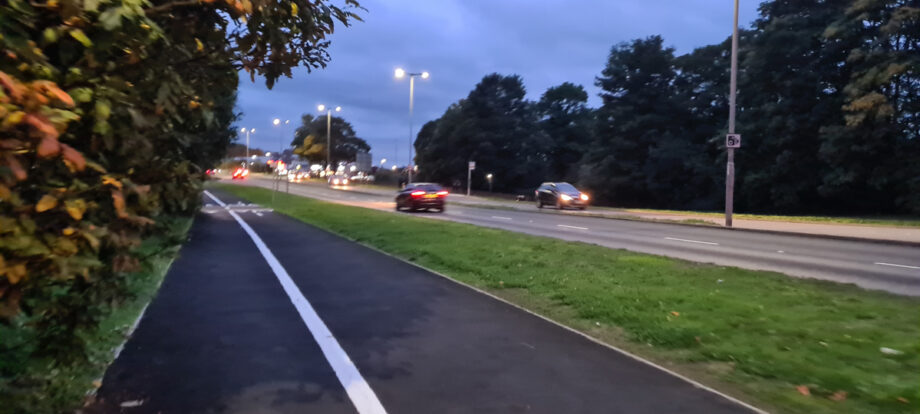 With Stevenage accessible via the old Thameslinks, I figure going into the office and putting me halfway there rather than slogging up from East Croydon would be easier. It would probably also mean a less early dash from the old grindstone to make it in time. A day's graft passes largely without major incident, broken up only by having an Italian Burrito for lunch. What's that? Basically a burrito but filled with Italian stuff, sauces and also a bit of spaghetti. Yeah, you heard me, spaghetti. It wasn't half bad to be honest, although the onion does come back to haunt me a bit later in the day and all the way back to London Bridge to get the rattler up to Hertfordshire.
Naturally, it's a few minutes late but it pulls in eventually and I find Steve parked up in the decommissioned first class carriage at the back. I slump down opposite him and catch up on the weekend's events, mainly "Were we as bad as we sounded?" from Saturday, as well as Saints loss to Everton and the other Saints loss at Tottenham to the Vikings in the NFL on the Sunday. As we pull into central London, the peace is broken by a geezer rabbiting loudly on his phone to a mate. The main jist of the convo is 'bruv' this and 'bruv' that. In fact I think he set a personal best for the amount if times I've ever heard the word 'Bruv' used in a single conversation. Which is some going given I live in South London. Thankfully the onset of tunnels means this is short lived and he leaves us at St Pancs to everyone's relief.
The rest of the run is trouble free and we hop off at Stevenage around 20 to 7. We mull over finding a boozer, but we really can't be arsed and given that the new town part of Stevenage is shit and the old town is a cab ride there and back, we decide not to chance it and set out on the 15 minute walk to Broadhall Way which having passed a large Stevenage mural at the leisure centre including a rather prominent picture of top Non-League twat Graham Westley, we make our way along some A roads, which brings back memories of nearly dying after the Carabao game in MK, which is lovely. As we cut through Asda's carpark and begin the final leg, Steve moans that we've crossed over and are now the wrong side for the McDonalds he's just spotted. "Bet you Magnum's popped in there" I suggest "Lad loves him a cheeseburger. Must be all the stakeouts he does". We're soon working our way through some underpasses and arrive at the ground. A quick frisk and a show of my dog eared ticket later and we're in to get a pie and a drink, which sadly doesn't include a pint. Which is a twat, as that means two games running sober for me. Not a good position to be in, not good at all.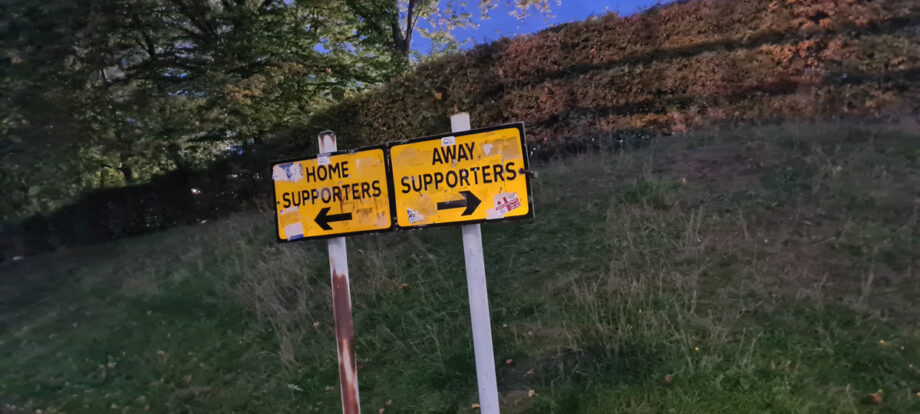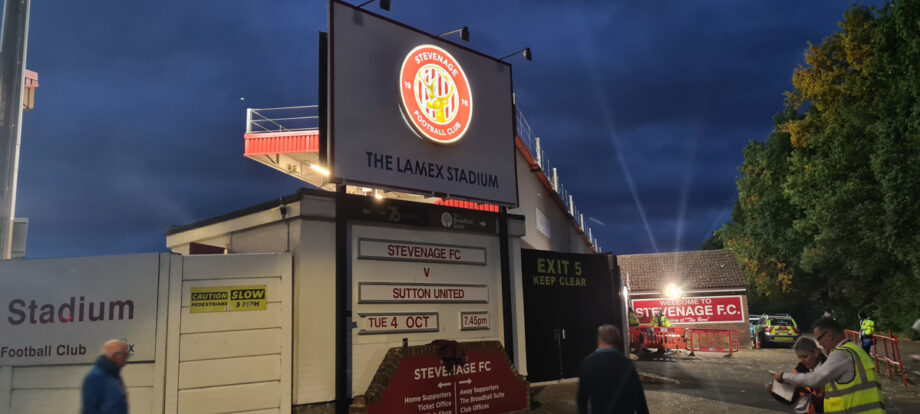 Grub wolfed and a quick slash and sticker of the gents later, we head up into the stand and spot Ossie before settling in for the evening. Soon Robbo appears with Mr X right behind with a cuppa in hand. "Why the fuck are you sat to the side of the goal?" he enquires by way of greeting. Yes, lovely to see you too mate. Magnum eventually appears from his visit to Ronald's place and as the minutes to kick off tick by, more and more familiar boats amble in ready for the off. On the pitch, Beautyman's hernia has dropped him to the bench for Barden and Kylian's back in the hutch with Charley Kendall getting his first league start.
Ward, Milsom, John, Rowe, Kizzi, Barden, Boldewijn, Eastmond, Neufville, Kendall, Bugiel SUBS: House, Beautyman, Pierre, Thomas, Kouassi, Gambin, Lovatt
I'll say it now, the first half is a much much better performance than the weekend, although the fact we turned up in matching kit and started with 11 players from the off pretty much put us in that fucking ballpark, however this is a bit more like us with the lads keeping a tight shape, looking organised and competing well with a side who've made a far more consistent start to the campaign than us. Whilst we're solid, we're a bit lacking in the attack stakes as their defenders soon have the measure of Omar and he's finding it hard to win owt in the air, which means we don't exert much pressure up top and Charley's once more living off scraps. Still, they're not exactly hammering on the door at the other end either. Some purposeful looking raids are made, but the final ball is lacking and we pass 25 minutes without too much stress at all.
Then we fuck up. Silly free kick out on the touchline is launched towards the box where their big number 6 stood on 18 has a free header down into the turf and that finds its way into the far corner. It really is a proper soft as fuck goal, there really is no way to sugar coat it and it's one of the sort we're conceding far too fucking many of lately. From here, the game slots back into the evens state it was before with us again competing well, but offering little threat, with the wingers in particular offering us very little in the way of penetration. So we go in 1 down at the break. Still, hopefully Matt can get hold of this lot and wring a bit more life out of us up top.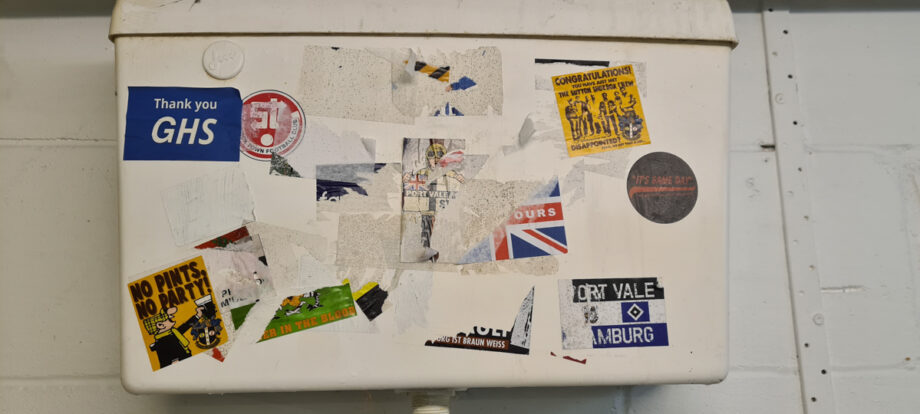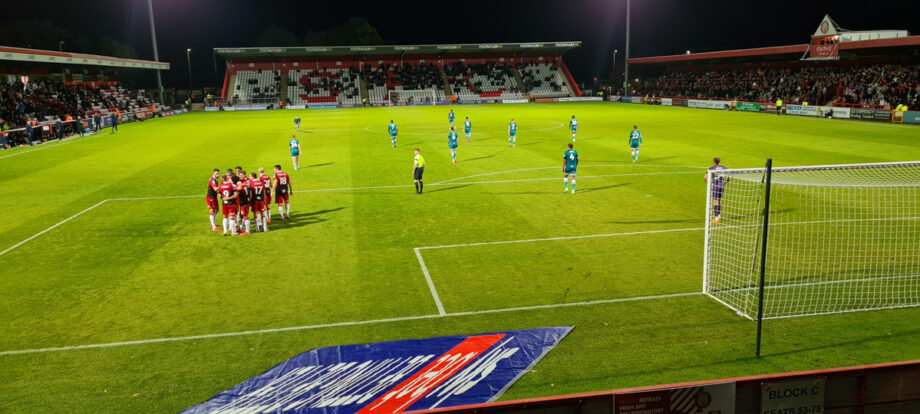 Second half, 2 minutes gone and it's 2-0. And it's another really poor goal for us. We suddenly decide that anyone in a red shirt gets 5 yard of space and their Mo Salah-a-gram wearing 11 puts a ball in from wide, it's nutted out but straight back to him and he lofts it in again. Kizzi allows his man a free header, Ward makes a decent stop and then everyone's utterly surprised to find their 9's in fucking acres and he larraps the loose ball past Ward. Stick a fork in us someone. Now, we're not generally the defeatist types round here, but like bollocks are we getting two back here tonight.
This second goal leads to a bit of a rather Gillingham-esque phase of play where we start to lose our man all over the shop, give the ball away far too much and rely on Ward making a couple of saves to keep the damage down. We do steady the ship a while and manage to win our first corner of the evening that's whipped in and causes them some trouble for the first time tonight, but nothing doing. Then with 20 to go, our latest go to the wonderful ride that is 'getting fuck all away from home' is concluded when Neufviulle loses possession wide, they counter quick and with us all over the shop, they feed the 9, again with the freedom of most of Herts, to get it out his feet and bend it smartly beyond Ward from 18 to make it 3-0. Yeah, good finish mate. Prick.
At this point, we decide to make some subs who make little to no impact, they laughably pick up 2 yellows for time wasting at <checks notes> three nil up and as time ebbs away, the evening gets even worse for our already thin looking squad. Barden, Coby and a Stevenage lad converge on halfway for the ball and Bards comes out the other side tumbling into a heap and waving his arm in the air in the way players do these days when they're actually, genuinely properly fucked and not the pretendy someone-just-breathed-on-me Neymar type stuff. Of course, the utterly clueless ref looks at this, fails to detect an issue and lets them play on for a few more seconds before he realises most players on both sides within 20 yards of the incident are also really not that interested in playing football all of a sudden and stops the game at last. It's soon clear that Bards is in trouble and it can't be good going by Coby's obvious distress at the situation. As Jon heads off on a stretcher we're already getting word via messages from those in the stand that it looks to be a broken leg or at the very least a busted ankle. Not good, not good at all.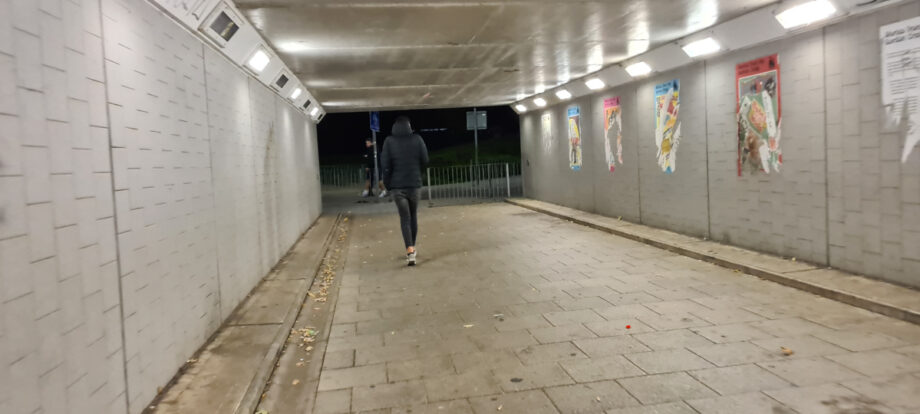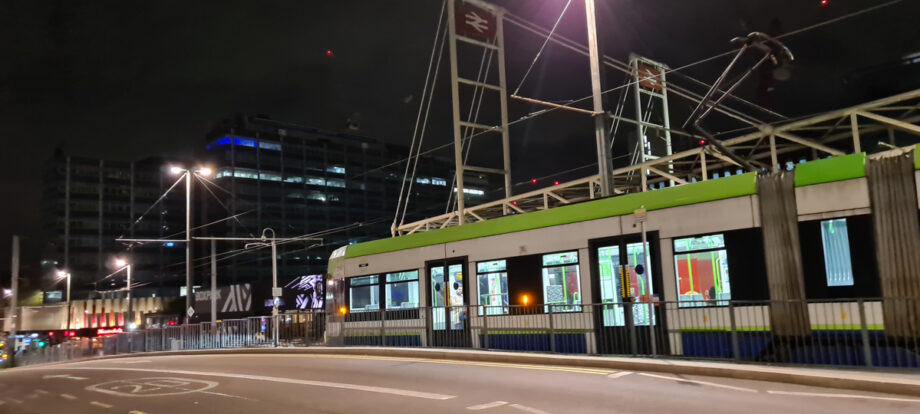 We end up with 15 mins added at the end, but no one's really interested any more and both sides generally wind time down as much as possible with Stevenage even lobbing on 4 subs to try & burn up as much of it as they can. As the final whistle goes, we head for the exits and with my back giving me a little gip at this point, I elect to forego a seat in Mr X's motor back to Sutton and instead join Steve for the walk back to the station and an hours train to East Croydon. We make the 17 past 10 and are soon rumbling Southwards once more and on checking the socials find out that Bard's has an open compound fracture. That's him done for a year then. Gutting. It's an understandably quiet run back and we hop off at East Croydon just after 11. Waving Steve off on the tram, I hop on a 410 and am soon back at HQ in need of a drink and a snack. Oooh, I have some of my bacon Tuc left! Lovely stuff. As I head for the kitchen, I spot Jon Barden's number 2 shirt from the Pizza Cup final still hung on the back of the sitting room door where I'd put it after collecting it at the Salford game. It's a reminder that sometimes the result really does mean sod all and there's more important things in life than 3 points.
Speedy recovery Bards.
Taz