When you follow a football club as long as us losers have, you get to learn a thing or two. Now I'm not talking about the best way to utilise a false nine, what the fuck a trequartista is or whether a 3-5-2 is better than a 5-3-2, oh no. We're sad but we're not that sad. No dear reader, I'm referring more to that sixth sense us fans sometimes acquire in relation to how our side is likely to perform in a given contest. Now that can be just a general feeling in the old waters or simply taking a look at the line up before kick off and knowing exactly how things are going to pan out.
Well, we're no different in this regard. From looking at the team sheet against Burgess Hill in the FA Cup a few years back and knowing we'd get done to simply the tingle in the nether regions that told me we'd tear into Maidstone at their gaff during THE RUN, we've all had our moments. And, well cutting to the chase ladies and gents, I just knew we were getting turned over today. How? I just did. That and the fact that the oppo were of a sufficiently abysmal form\standard that all I could think of most of the week was that fucking game at North Ferriby under Dos, where having scored about 8 goals in 20, we promptly turned up, shat the bed and bumped the total in their goals for column by about 25%. Plus our now seemingly regular habit of shooting ourselves in the foot as late as possible in games out on the road. Naturally, I of course hoped this wasn't going to be the case, that we'd turn up, be all Matt Gray 4-4-2 and bully poor Gillingham on the way to a solid 2-0 win, but still the feeling remained. Head versus heart.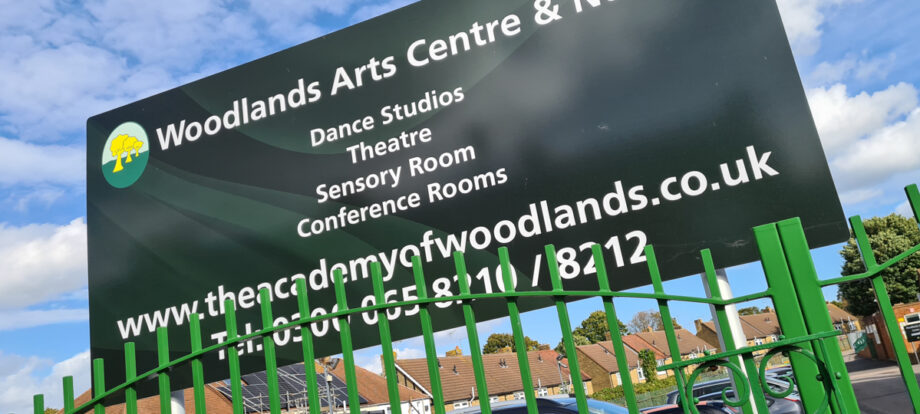 What didn't help was the fact that our first visit to Priestfield was going to be exceptionally sober as well. With another train strike announced for the 1st October, the options for getting down there were exceptionally limited. B Team Beckett reckoned they were getting the National Express in, but having looked this up, it was a distinctly one way trip with nothing coming back into London afterwards. And from what I'd been told by my Kent contacts, Gillingham was definitely not somewhere you wanted a one way ticket to. So, whilst some of the other members of the gang ummmed and aaahed about non-existent alternatives, I declared for personal transportation and that I'd drive. Which then caused a whole set of carry on of it's own.
Sensibly, both Dr Bell and 4Days messaged me directly for a lift. No danger, sorted. Magnum PI however felt that putting his own request in the main Gandermonium top secret, VIP, members only Whatsapp group was the best course of action. This dear reader was an error on his part as that is akin to pissing in the rain as the daily traffic on there can sometimes get into the hundreds of messages and if you're not there to see it when it drops, it may as well have not existed. So of course, when I then filled out the remaining space in the Tazmobile with Indiana Jones, Magnum was somewhat put out by his lack of a seat, even after I'd pointed out he was a dopey twat for the manner in which he had made it. Just can't help some people, I tell you. This then generated more confusion as then Dr Bell withdrew due to having errands to run pre-his umpteenth holiday this year and then Chalmers asked me for a ride after Magnum had decided to turf him out from his offered spot in the undercover Focus. Shambles.
So, come Saturday, I'm fuelling up the jam jar and then heading to pick up 4Days at a quarter to one. With the Welsh separatist aboard, next stop is Cheam for Indiana Jones and with minimal trouble, I'm soon on the A217 bound for the M25 and a quick pit stop off Junction 6 to pick up Chalmers from some layby or other near his gaff out in the sticks. As we join the worlds largest car park, I ask my passengers to remind me of this fact, as the last thing I want to be doing is blasting past the PC pickup as I'd need to go all the way to the M26 to come back and get him, which would put kick off in serious jeopardy. Thankfully my brain doesn't let me down and we're soon pulling into a spot just off the J6 roundabout, Chalmers is aboard and we're back on the road to Gillingham.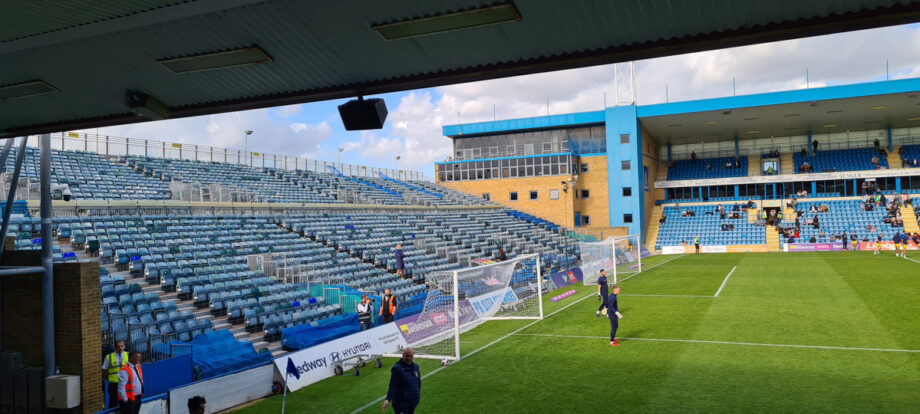 The journey is pretty easy, although there are some concerns about a brief little spittle of rain as we hurtle down the M26 as we're all aware that the away end at Gills is an open temporary stand that's been there since I was in my 20's. So rain means we're getting wet. Fortunately, it's merely a bit of meteorological based trolling and the sun is soon back out and the rest of the journey flies past without incident. Just after 2, we pull up to a school we'd been told would do parking and find a young urchin on a chair, tappy tap card machine in hand to relieve us of a fiver to park by the Art department. Clearly times have moved on from Johnnie and Ryan from the Yoof's £2 cash only racket of just a couple of years back at GGL. With the motor binned, we head down to the ground and find the away end is of course the furthest point from where we've parked. Once in through the turnstiles, I enquire as to flag placement and am lead round to the front of the big open scaffolding. "Can only go on the netting down the front" says the steward, referring to the 2 rows right at the bottom. My request to chuck it over the seats is refused, god knows why as despite our weather based worries, we're not actually sitting in this stand today. "I got off at 3 this morning and was here by 8 mate" shrugs the steward. Noted, I'll take that as a 'no' then.
From here I find a spot at the back of the section on the touchline we've been given so I can at least offload the bag I've completely wasted my time bringing for 90 minutes. Here I find Ryan from the Yoof mooching about and grumbling about having had to get the supporters coach down. "Needs must mate!" is all I can offer by way of solaces. It seems he wasn't alone on the trip down though as the B Team had abandoned their National Express idea and got on board too. As the away section fills out and I'm penned in, I notice that my view is going to be a bit shit thanks to a huge pillar in the way. Lovely, nice spot you've picked there Taz.
Ward, Milsom, Kizzi, John, Rowe, Eastmond, Beautyman, Randall, Neufville, Bugiel, Kouassi SUBS: House, Pierre, Lovatt, Boldewijn, Barden, Thomas, Kendall
I'll cut to the chase here folks in regards to the football. It's fucking awful. From both sides. They clearly look like a struggling outfit with 2 goals to their name whilst we work as hard as we can to perform as good an impression of them as possible. Everything's at walking pace, all we do is lump it aimlessly and barring a flash of brilliance from Neufville who does 2 on the turn and forces a decent stop from the keeper (with not a yellow shirt within miles of snatching up the seconds of course), there's really nothing to mention. Oh alright then, they do get the ball in the net 3 times along the way but each time there's a massively obvious offside beforehand, usually by their useful but terrible at timing his runs #24. The only the moment of note is Beckett declaring from nowhere that he likes his goalkeepers tall and as such, new man Ward "Ain't getting lobbed is he". Naturally, within 2 minutes, Louis and Coby fuck up to allow the 24 in and Ward takes his attempted lob just above his head. Beckett heaves a sigh of relief and I'm relieved of the duty of calling him a twat.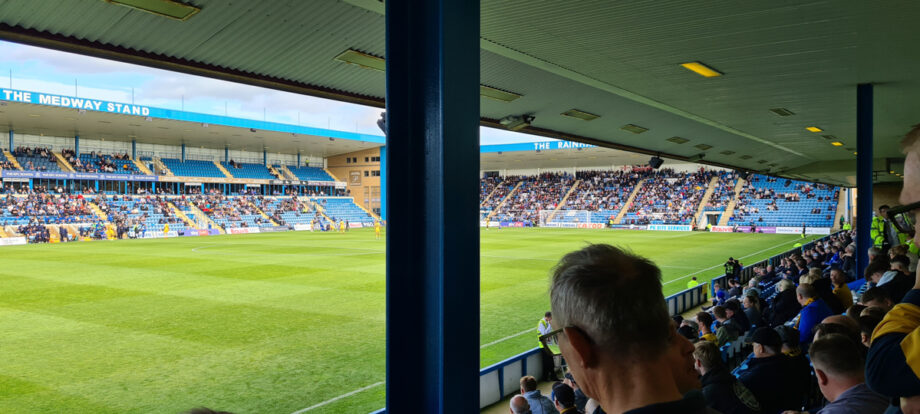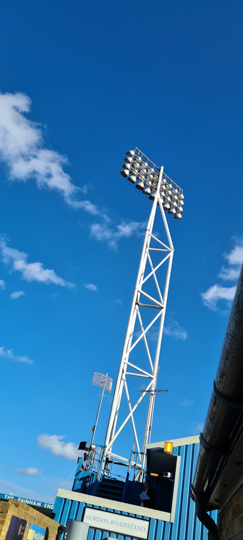 At the break, I relocate the rest of the mob who'd entered the seats just before kick off and I also catch up with an old face from back in our proper Non-League days. Hazel is from out this way and found herself following Purfleet\Thurrock for some reason. We'd not seen her about at all in the last few years as we got all Billy Big Bollocks, but with us on her doorstep today, she's popped along to lend her support. My aims of getting a half time pie are soon kyboshed by the fact there's a huge queue and instead I hang about chatting with Greek, Mr X, THS and a couple of others bemoaning the state of the first half. All the while, I still can't shake that sense of dread I mentioned above. Still, hopefully we can't be that bad again 2nd half right? Right?
Yeah, we are. More aimless hoofing, with little chance for Omar or Kylian to make any impact up front. Also the wingers fail to really get into the game and get us positions wide to stick the ball in the box. We do win a few corners, but nothing doing and as time winds on that sense of dread of mine only grows. Charley Kendall comes on in place of Kylian up front, but with the aimless balls forward we're playing, he's left chasing shadows. In fact I think it's not until added time some 20 mins after coming on that he gets his first real touch. Meanwhile, they're growing in confidence a little, as are the home fans who'd been largely silent first half. And as per, as the time winds down we're looking less and less likely to get anything whilst they force Ward into 3-4 decent saves, the best coming from a scramble in the box an d a shot through a crowd that he blocks with his legs. Still, 5 added minutes are announced, we make 2 subs and within 30 seconds, we've gone and done it again. Easty shanks one in midfield, they break, and the 24's slipped in wide. His shot is well saved by Ward, but we're flat footed getting back and their tubby little Scots sub nods the rebound back past him and into the corner.
So that'll be the third time in five away games this season we've got fucked in the 90th minute or later. And quite frankly, I'm really not up for more of the same "It'll even itself out" excuses. 3 times in 5 games is an issue. Not an anomaly or an aberration or bad luck. It's a problem, either mentally or with fitness or whatever. Fucking sort it. This side has prided itself on being set, organised and bang at it in the past and we as a fanbase have embraced that as it means we know we'll do the basics right. This is anything but. And it's not just away either as we got bang lucky at home to Barrow thanks to a shit bit of officiating as well. What makes these episodes all the worse is that in none of these games we've been getting battered and simply crumbled under the pressure, we've just let it happen from nowhere.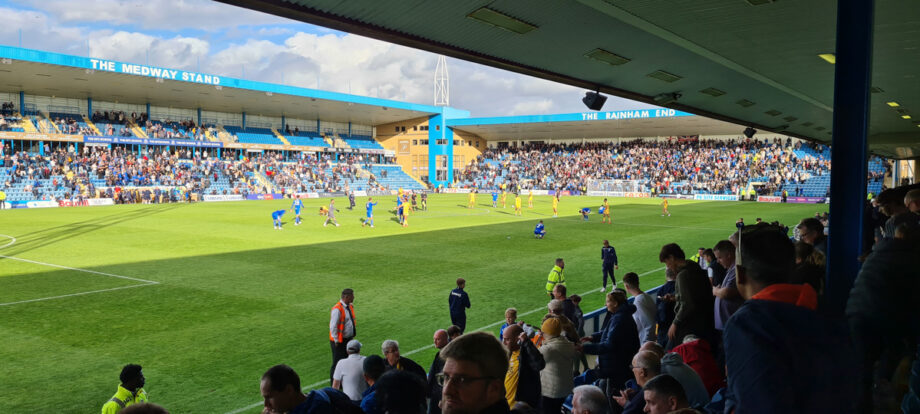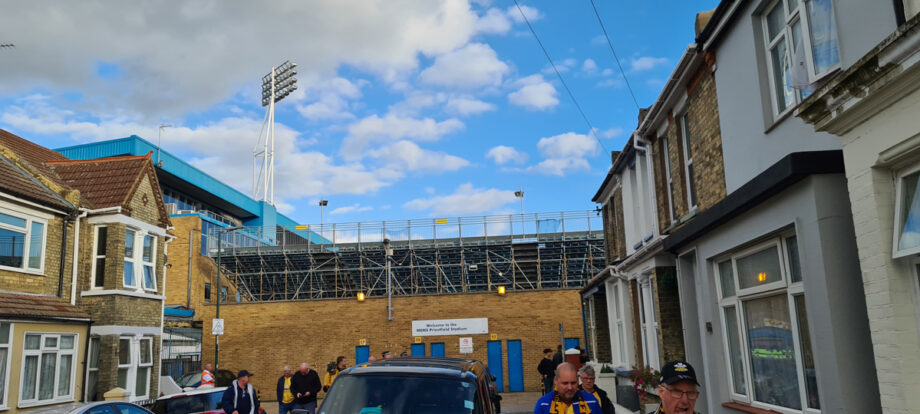 Fuck this, let's get out of here. We head out of the turnstiles to find that we're being completely blocked from going the shortest route to the parking and have to walk ages in the opposite direction to be able to then double back. As we walk along and grumble about the days calamity, we chat with old Medway Yellow, a U's fan that has lived out this way for many years and was a regular on the old Sutton online forums. "Wife's a Gills fan. As is my son. All my family are in fact" he sighs. It's a welcome reminder to us that whilst we might have it bad right now, there's always some other poor sod who's got it worse that you. Personally, if I was him in those circumstances, I'd be hitting my local straight after the final whistle and not leaving until they removed me from the premises. You're a braver man than I sir. Bollocks to that.
Finally back at the car after a tour of the arse end of Gillngham, we load up and edge out into the back streets for the run back home, much of which is taken up with more "Fucks sake" type grumbling about the result. The journey is again trouble free with Chalmers the first to be dropped back in the layby whence he came, then once more back in civilisation, we plonk Indy right outside the Red Lion in Cheam and finally, 4Days is dropped at the Hope for an evening shift behind the bar of a pub in Carshalton whilst wearing a Sutton shirt. Much like Medway Yellow, rather you than me pal. I'm soon back at HQ and fancying a proper feed up as I've not eaten since breakfast this morning. Sadly, my hopes of a proper Turkish feast are dashed and instead I and Mrs Taz settle for a pile of chicken wings instead. It's enough to fill the belly and make me temporarily forget we've got Stevenage away Tuesday. A team going great guns up the top of the table and with more last minute winners to their name already this season than even we've conceded. So a lot.
What could possibly go wrong?
Taz