Back in the drunken haze that was the Conference South title winning celebrations, we tried with difficulty to focus on the list of teams we'd be facing this season. One of them it seemed was North Furby, where no doubt those annoying little electronic burping, gurling children's toys come from. Then we focused a bit more and saw it was actually spelt 'Ferriby'.
To be honest, the Humberside village side have done well in the last few years, even winning the FA Trophy in a belting final against Wrexham at Wembley the season before last. But they've found the step up in standard hard this season, last winning in August and having scored only 8 goals all season. When you couple this with our growing inability to beat sides away from GGL, you could see why we weren't expecting a classic.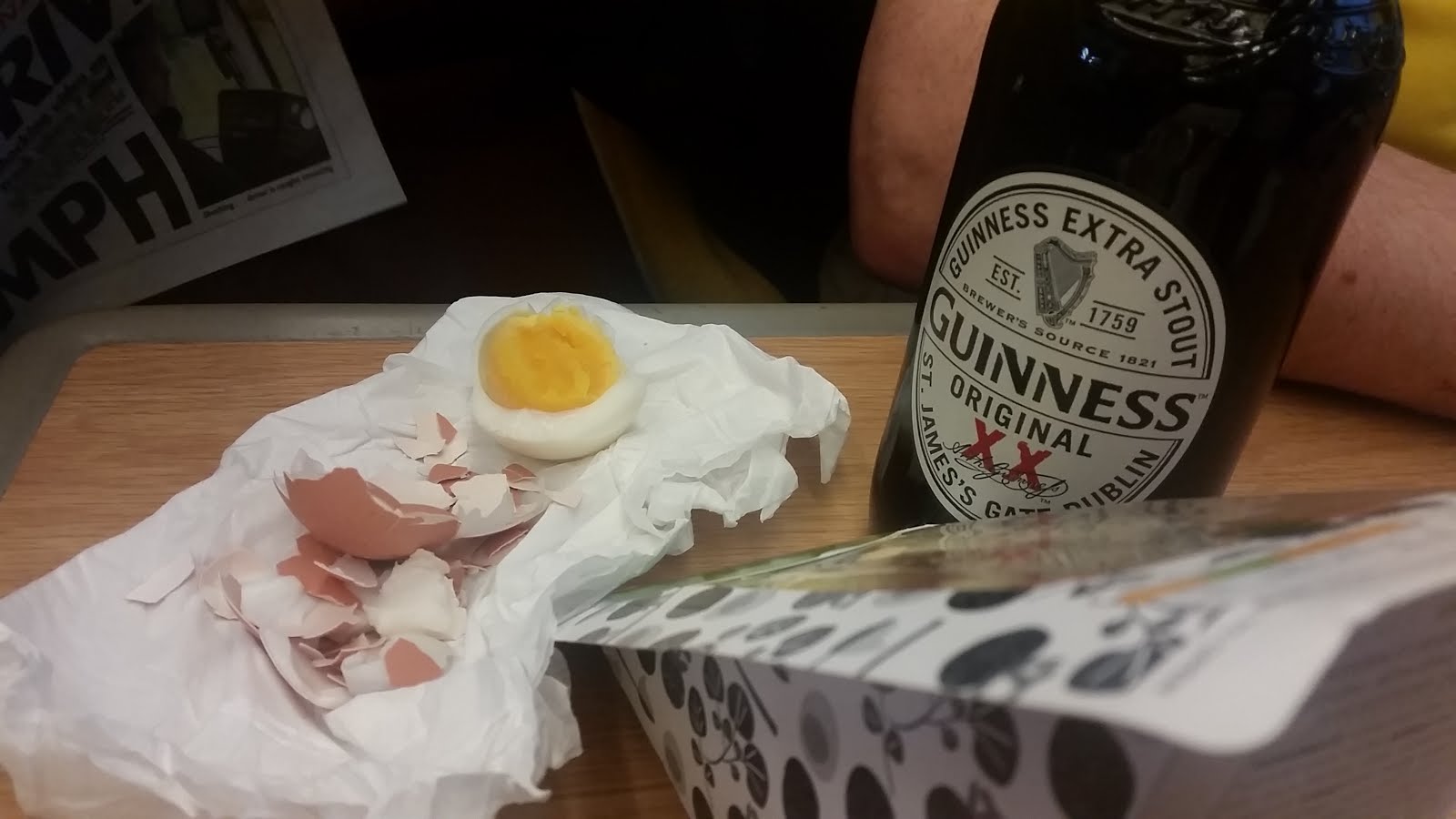 It stank…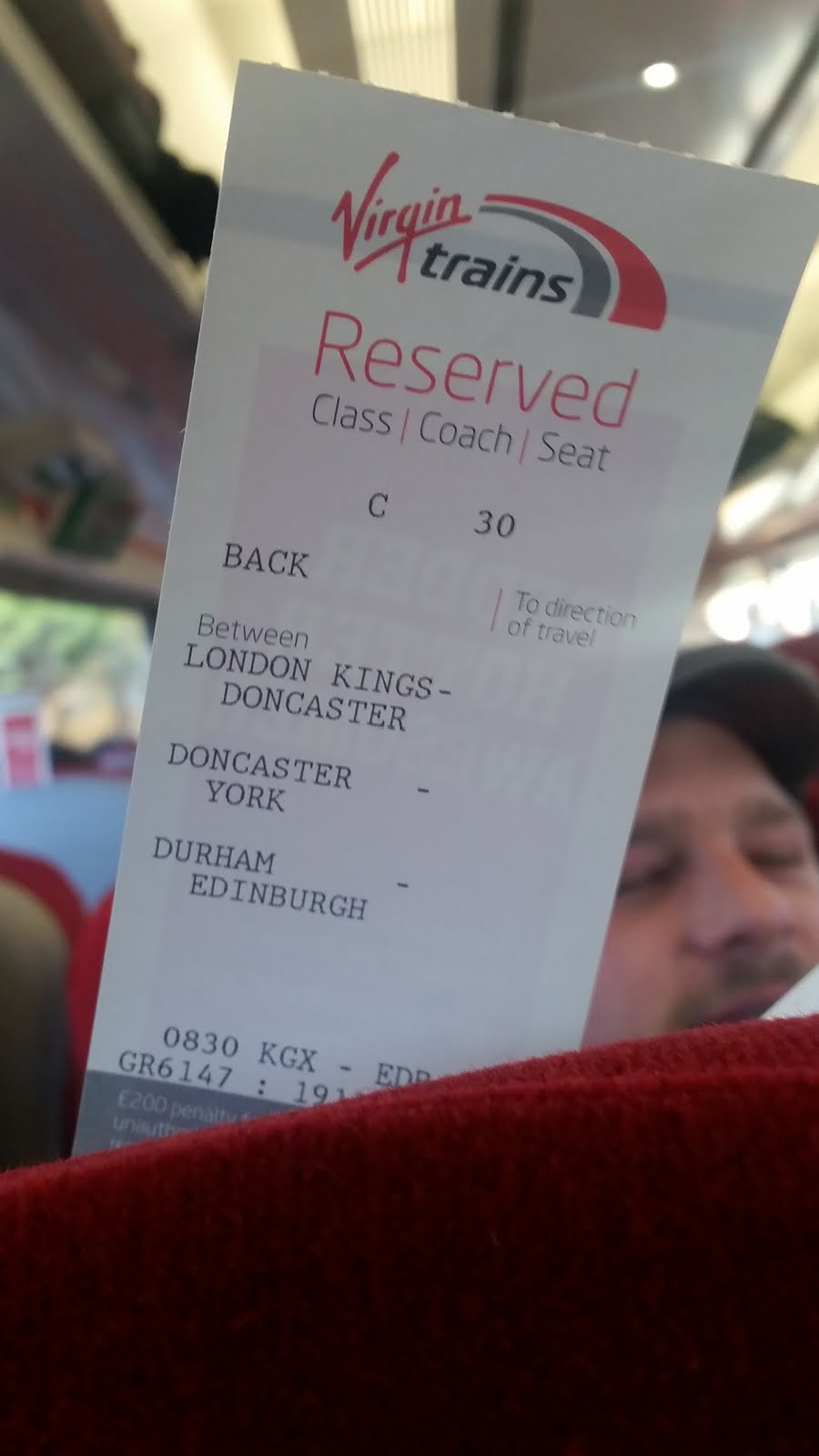 Busy busy busy…
I rise and shine at some stupidly early hour and fall into the shower to try and get some life into the old bones. Largely unsuccessful I head to the kitchen and find Gandermonium HQ's bread supplies exhausted, meaning I can't even have a round of toast to tide me over until Kings Cross. So with a cuppa necked, I head out into the cold for my bus to Croydon. This proves to be a bit convoluted due to a diversion at Reeves Corner meaning we have to go an arse about face way, passing East Croydon to get to West Croydon before retracing our steps.
This means my hoped for train at 25 past is a non-starter, something Chalmers is quick to share with the top secret members only Whatsapp Group. Conveniently forgetting that there's about 10-12 trains an hour into town from the station and that missing one isn't exactly going to throw me into a panic. As expected, I'm soon on another chuffer heading to Victoria. Here the concourse is eireely quiet, even for this early on a Saturday morning so I take the opportunity to get some coinage of the realm before ducking onto the Victoria line.
I find the rest of the mob milling about on the concourse at Kings Cross, with people at various stages of waking up and devouring pig based breakfast foods. Which looks a damn good idea to me. So with everyone else heading to the platform, Alan and I load up on cuppas and bacon rolls.
All cosy on the train, we settle in for the long trip northwards to Doncaster. Sean Connery's Stuntman here delights us all with his breakfast of a hard boiled egg to go with his Marks & Sparks sarnie. What we can't work out is why he'd go to all the trouble of hard boiling an egg but not making a sandwich. "Didn't have time, I was waiting for my egg!" was his somewhat odd excuse. Still, at least he's scientifically proven the saying 'A watched pot never boils' to be complete bollocks. Clearly it does.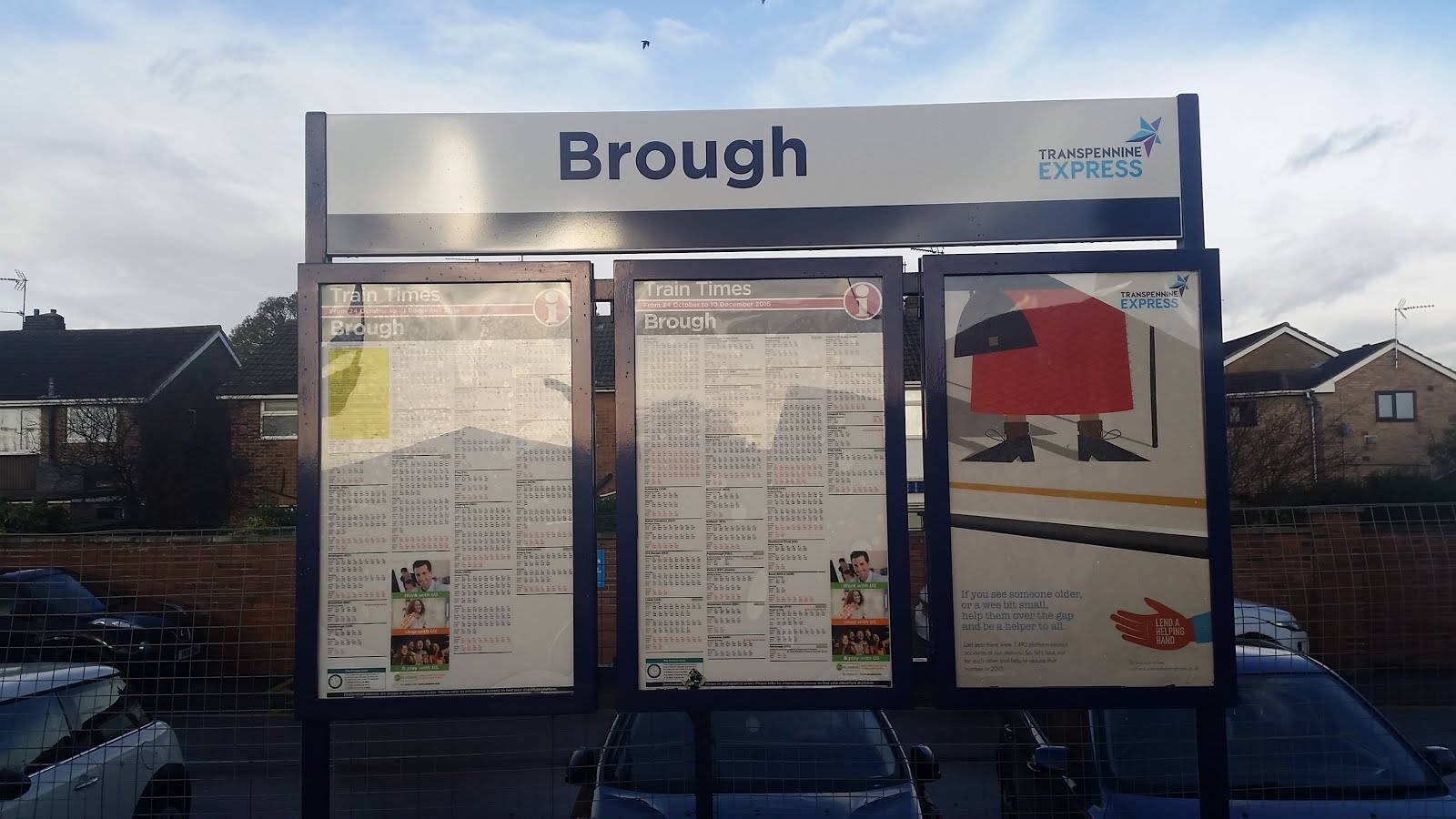 We had to look it up too.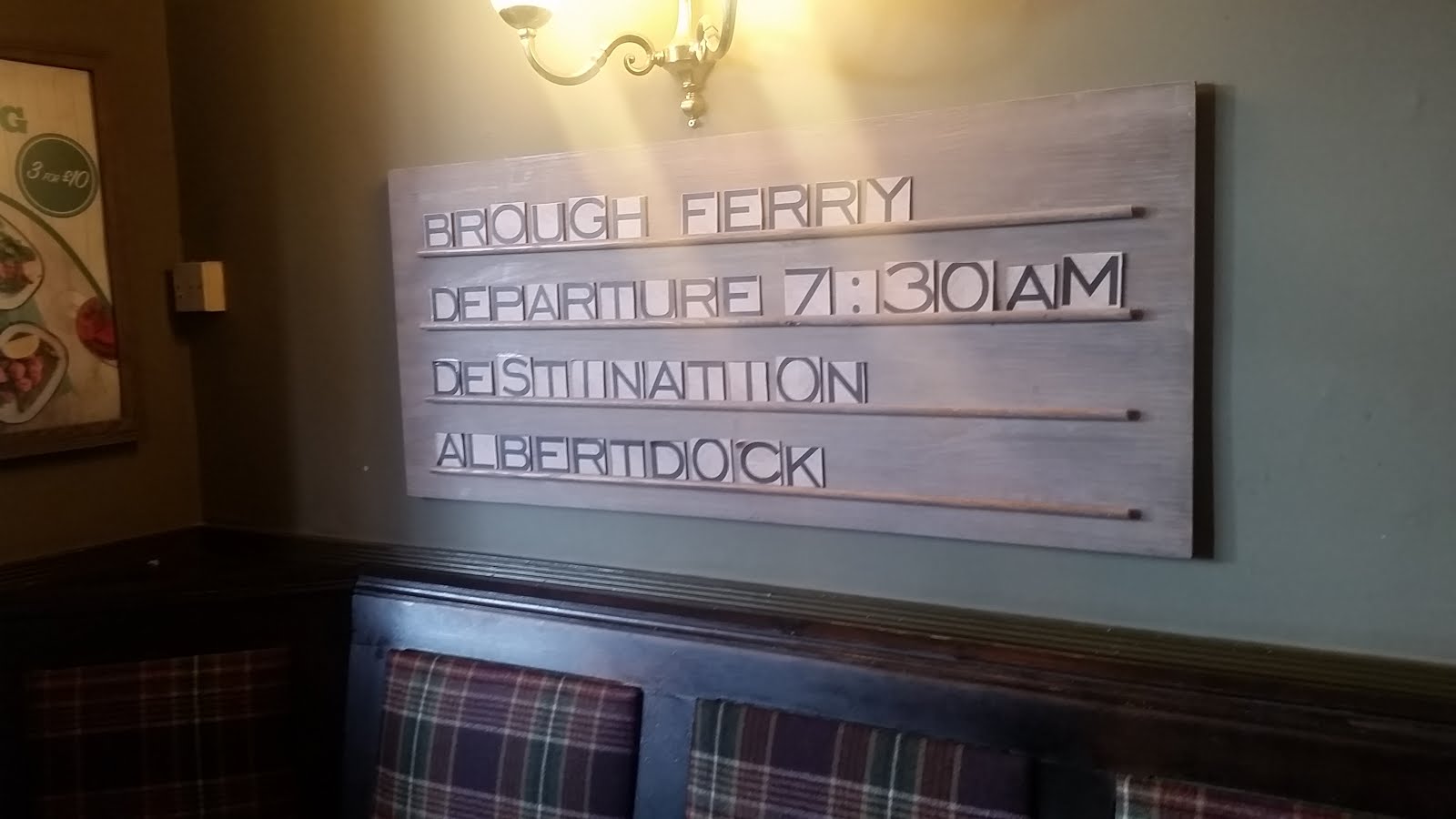 7:30am. In about 1938.
The time is passed with the 'Bridges are cool' discussion from Hereford the season before last being resurrected by Chalmers and as on that day, being roundly abused for the notion by Greek. Naturally I weigh in on PC's side mostly to annoy the Gadget Show host look-alike. We also discover that our French forward Maxime had faced off against another Sutton related Frenchman last season, scoring against a Grenoble side containing 42 year old Nassim Arkour. Amusingly, Connery's Stuntman mis-hears 'Grenoble' and starts warbling on about wobbly legged Zimbabwean goalkeepers instead.
As we near our changeover stop, Mr X checks his phone to see if he can find out what platform the next leg of the journey will begin from. "Fuck me! It's off Platform 38!" he exclaims. But before anyone can question just how sodding big Doncaster station is, he squints extra hard at his fondleslab and adds "Oh wait, actually it's 3B".
Gandermonium ladies and gentlemen. Intelligent? Rarely. Reasoned? Never. Entertaining? Possibly.
We alight at Donny and find platform 38 3B. Soon our little 2 carriage shunter toward Hull arrives and with several minutes to kill before it leaves, several of the party take advantage of the bogs on the platform. Not wanting to take his carrier bag of Fosters and baby wipes (don't ask!) in with him Chalmers asks his bro Alan to hold them for him. Alan happily obliges, before then following PC in to the bogs to take a leak himself.
Trundling through the mostly flat landscape of South Yorks and into East Riding past row upon row of wind turbines our ultimate destination is a place called Brough. A small town 1 stop before Ferriby on the line into Hull, described by a poster on the Conference forum as "Not even having a horse". The reason we're aiming for here? Well, Ferriby has just one boozer and getting tickets into Hull would have cost a ridiculous 25 quid more than the thirty we eventually shelled out. The reason the train was so expensive? Hull has a Jazz festival on this weekend apparently. So naturally, with every polo-necked, Gitaines smoking beatnik for miles around heading to the banks of the Humber, we've decided to give it a swerve.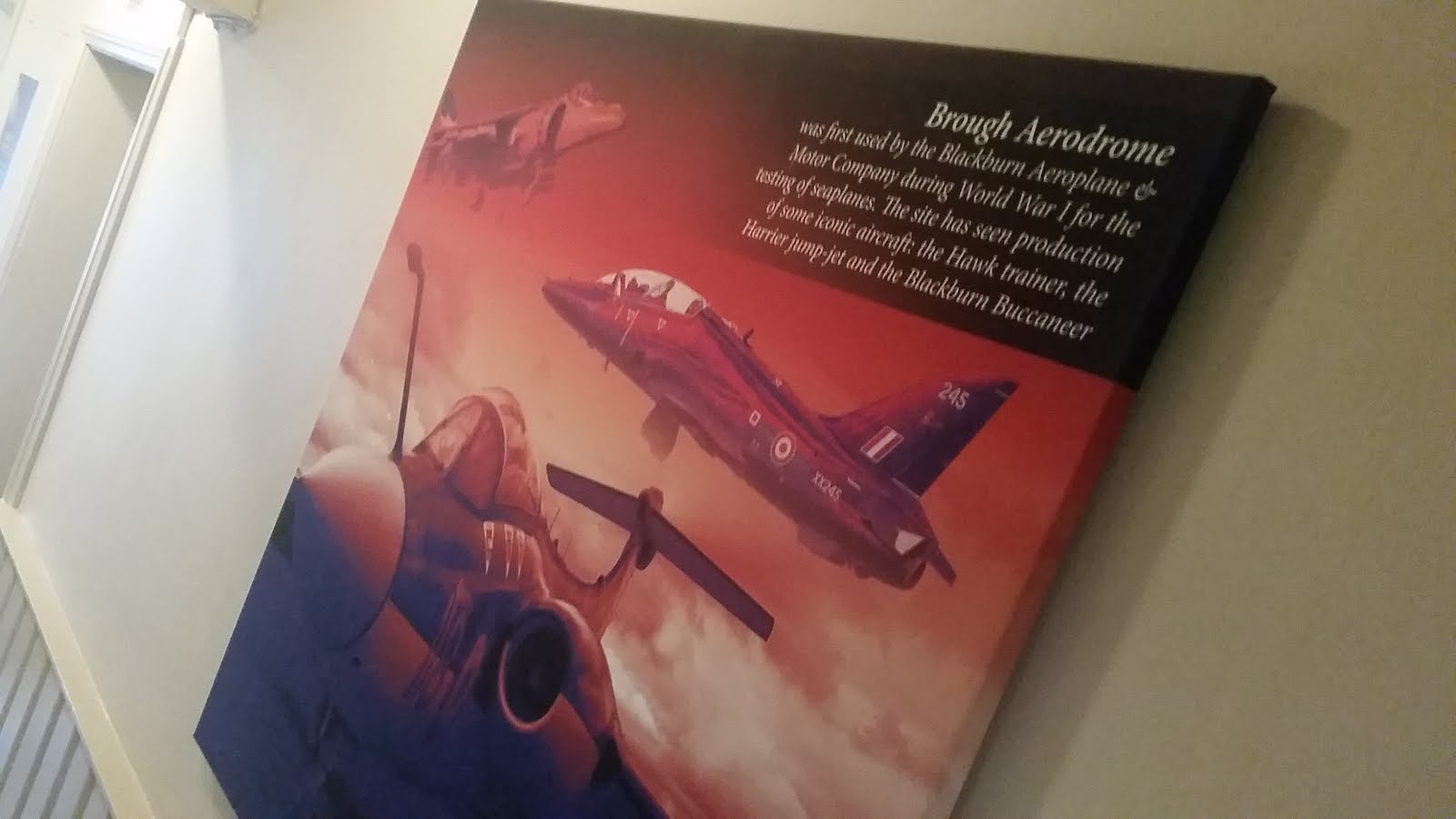 FACTUAL PICTURE KLAXON!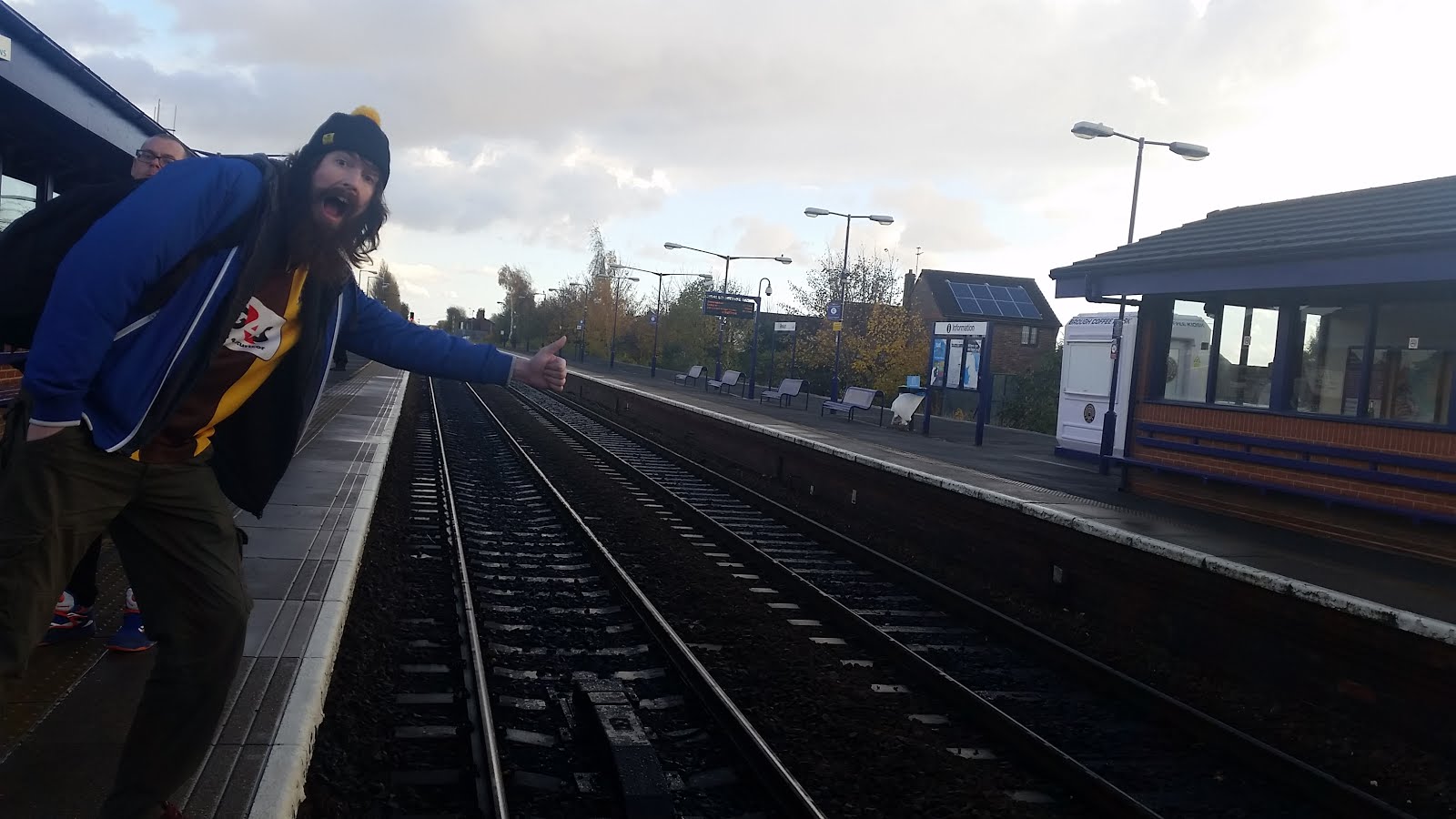 Calm down Nick, it's only fucking Brough station….
Brough is one of those towns that no one's actually ever heard of but has produced some pretty famous things. For example, the BAE works sat between the station and the Humber was responsible for turning out a rather iconic bit of aviation history as the Harrier 'jump jet' was manufactured here until 2003. They still make the Hawk trainers here today. Dick Turpin also used to board at the Ferry Inn here until he was finally nicked for being a naughty boy in 1739. See, we can be educational & informative if we really try!
We amble up the road towards the Red Hawk. A large local boozer that opens handily at 9am. Here we settle down for a couple of pints, also joined by young Johnnie from our notorious Yoof element. He proceeds to appall us all with the revelation he was born in 1998. 4 Days in particular finds this information hard to digest, lamenting "You weren't even born when France won the world cup!". Here a local, no doubt somewhat surprised to see so many out of towners in his local asks without a hint of irony "Bloody hell, is there anyone left in Sutton?". There's less than a dozen of us in the boozer.
With a couple of pints down us, we look to spread our wings and wander down back towards the station for a beer at Dick Turpin's old gaff. The Ferry is a nice boozer, with a couple of locals in sitting having a beer. On the wall a board advertises the next ferry to Albert Dock Hull is advertised as leaving at 7.30am, but not what century. As we sup, outside a brief hailstorm rages catching Connery and Indy out as they've lagged behind from the Hawk. By the time they arrive, we're almost done so they instead head onto our final port of call by the station, The Buccaneer.
A smaller pub than the previous two, it's a nice little place again with a decent beer selection. On the walls are pics of various Blackburn produced aircraft including the one the place is named after, another product of the works that turned out the Harriers. Having downed a pint here, we then dash back to the station and aim for Ferriby. A couple of minutes later, we're alighting at another small station and heading into pleasantly leafy streets, heading for the village's only boozer, the Duke of Cumberland.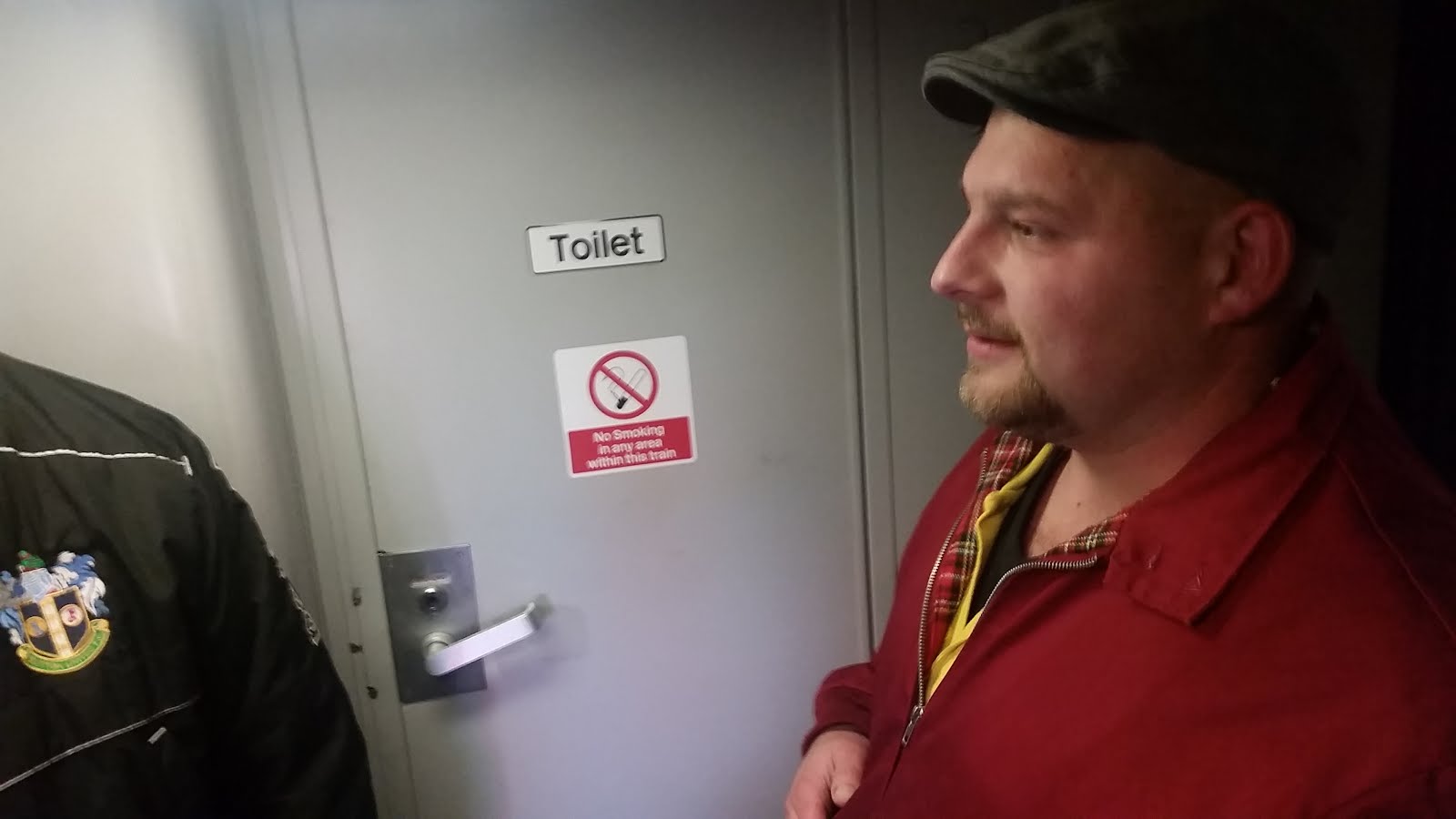 On a train? Must stand by the khazis. Thems the rules.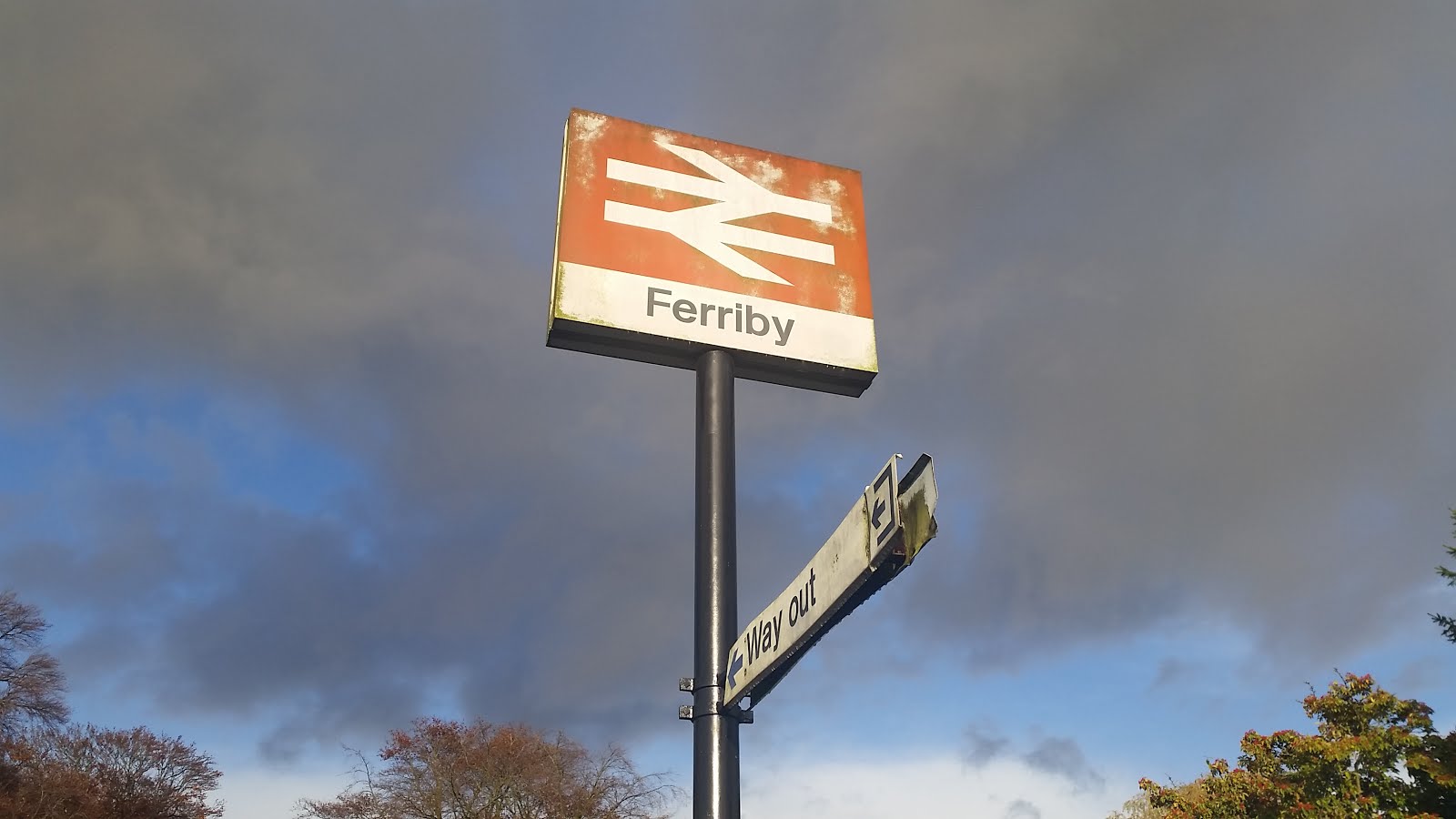 Oh, so it's not Furby then?
Here we find a big bustling pub and enjoy a couple more pints whilst passing the time checking out property prices in the village online. Let's just say that Gandermonium HQ's currenct market value would bring you a tidy 4 bed place and leave you with a nice few quid in your sky rocket were we to decide to relocate to the banks of the Humber. Amusement is provided by Chalmers lunch. His burger looks decent, but lacks his order of onion rings. The lass dashes back in to get them and returns with a dish containing two of the fuckers. PC is too busy laughing to complain. Before too long though, it's time to take a stroll down to the ground for the thing that usually ruins these wonderful days out. The football.
Arriving not long before kick off we forego the bar and wait to see which way we're shooting. The ground is small and very non-league. With narrow flat standing behind the goals and one stand covering the far touchline, seats in the middle and little blocks of terracing at each end. We've certainly been to worse.
Worner, Amankwaah, Jefford, Beckwith, Eastmond, Collins, Deacon, Gomis, Biamou, Fitchett, Burge SUBS: McAllister, Dundas, Spence, Dickson, Downer
Having seen the line up and taken one look at the pitch as we walk round to our spot on the corner, we're not confident. The surface looks heavy and our side looks a bit too footbally for it. I'm surprised the muscle and bustle of the likes of Dundo and Macca remain on the bench. We'll see.
We start brightly and look to get at the lowly oppo, but after about 10 mins a free-kick is put into our box and their bloke heads badly wide instead of hitting the target. It's a lesson we don't heed. No more than two minutes later another freekick is punted from just inside their half. Another free header in the box and this time it loops over a woefully out of position Worner for Ferriby's 9th goal this season. 1-0.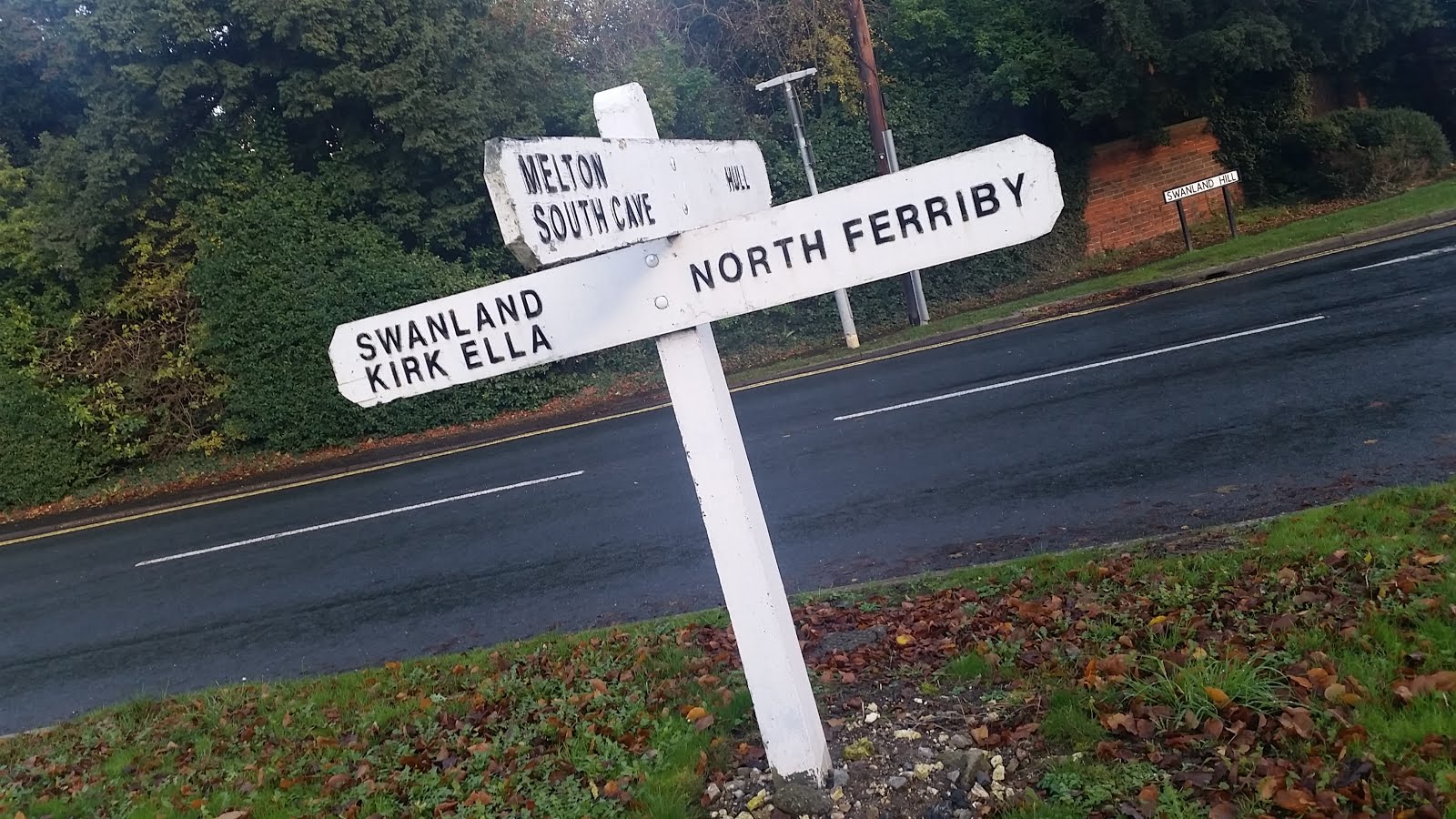 Which way next?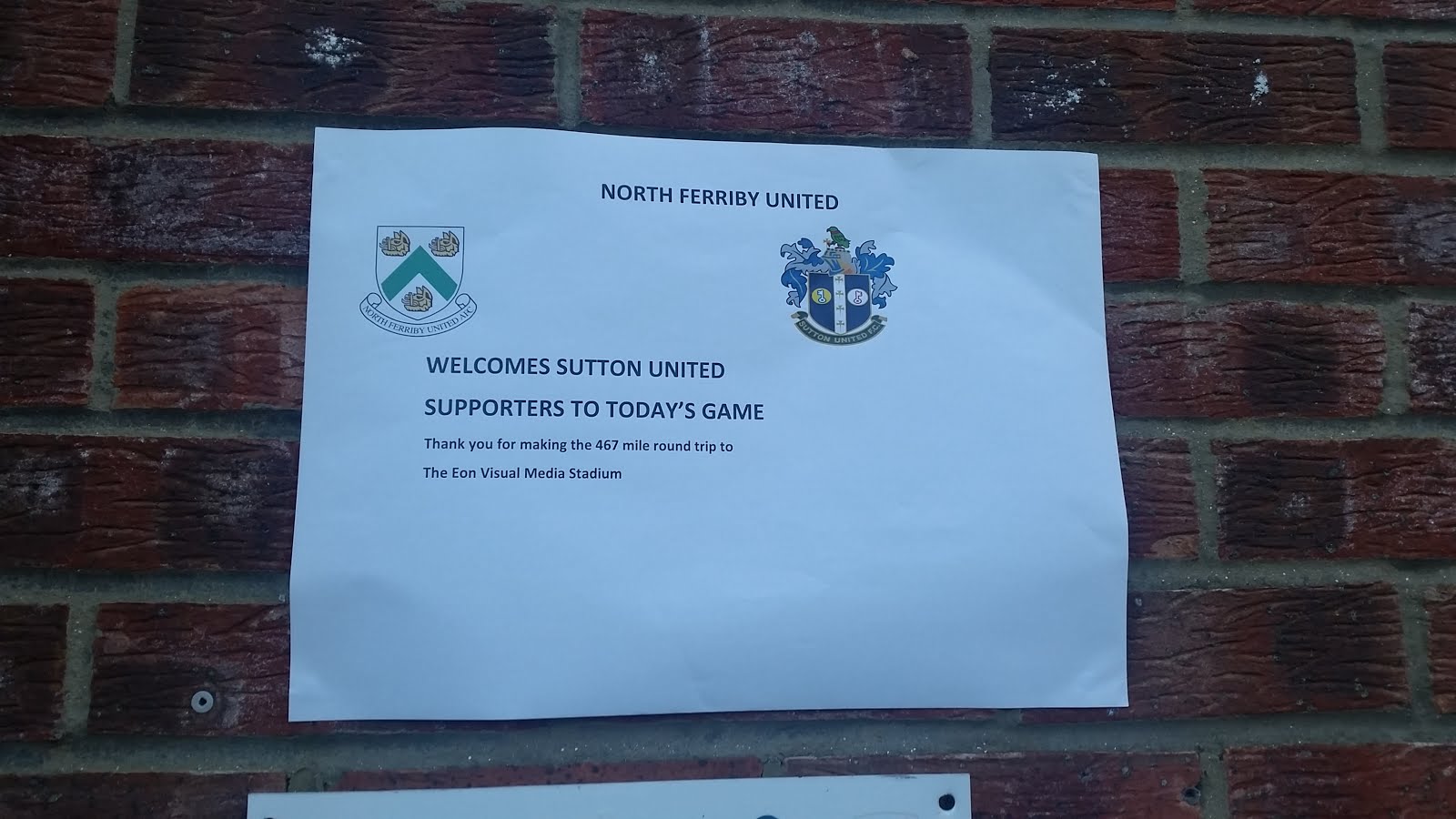 Awww, That's nice.
Fitch tries to reply soon after, but fires across the box. We're soon making them look amazing again. Their lad put through the middle, but with Worner to beat he puts his shot wide. Worns then has to keep out another effort as we go AWOL at the back again. There's little to cheer from a Sutton perspective in the first half but we do at least put Ferriby under a bit of pressure towards the break, the best chance coming with Becks shot being blocked after Fitch has nodded down into his path.
Not being arsed about heading round to the bar, we wander down the other corner to wait for the second half to start. Here we first encounter a lad wearing a Ferriby shirt. Along with a pair of shorts. If this wasn't odd enough, his West Country accent makes things stranger. Turns out he and some mates are here for some reason or other from Plymouth. Plus he's pissed and he's already annoying people.
Any hopes that our little glimmer of life at the end of the 1st half would lead to an improved 2nd are woefully misplaced. I go for a nice steak pie as we restart and as I walk away from the tea bar with my munch, I see Collins making a fucking mess of things down in the corner. "This is two nil" I mutter as the Ferriby lad strolls into the box. "Fucks sake" I add as he rolls the ball under Worner and into the far corner. This is not going well.
Max almost has us back in the game straight away. Jefford's cross is met with a good header and the home keeper finally has to make a save today. Still, they should finish us off. Worns saves well from the header and then JC gets turned inside out again. But the striker falls over the ball as he tries to go around Worns and the chance is gone. With an hour played, Dos has clearly seen enough and the changes come. Dundo, Dickson and Macca are introduced to try and get a handle on the situation.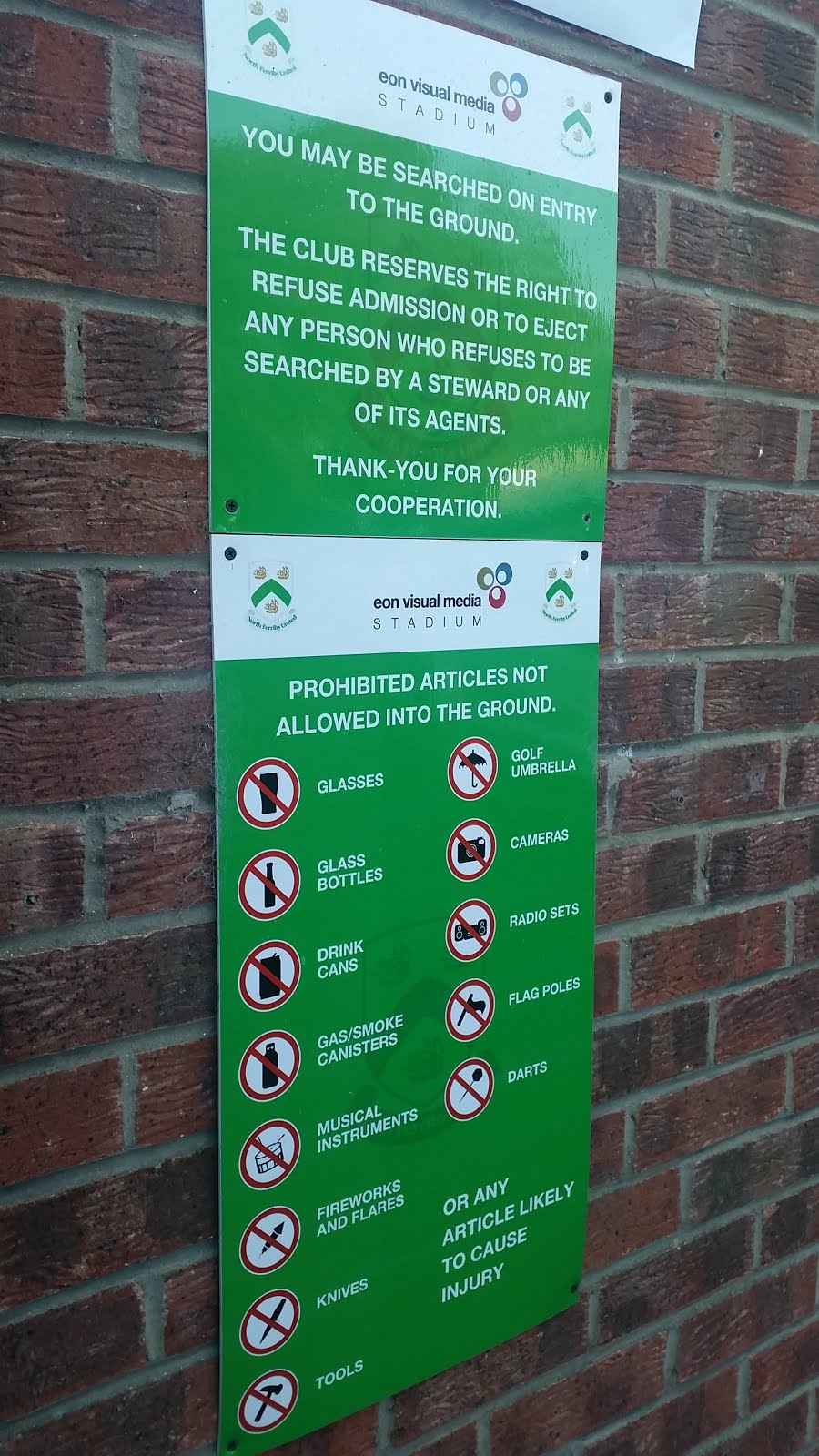 No bad things allowed!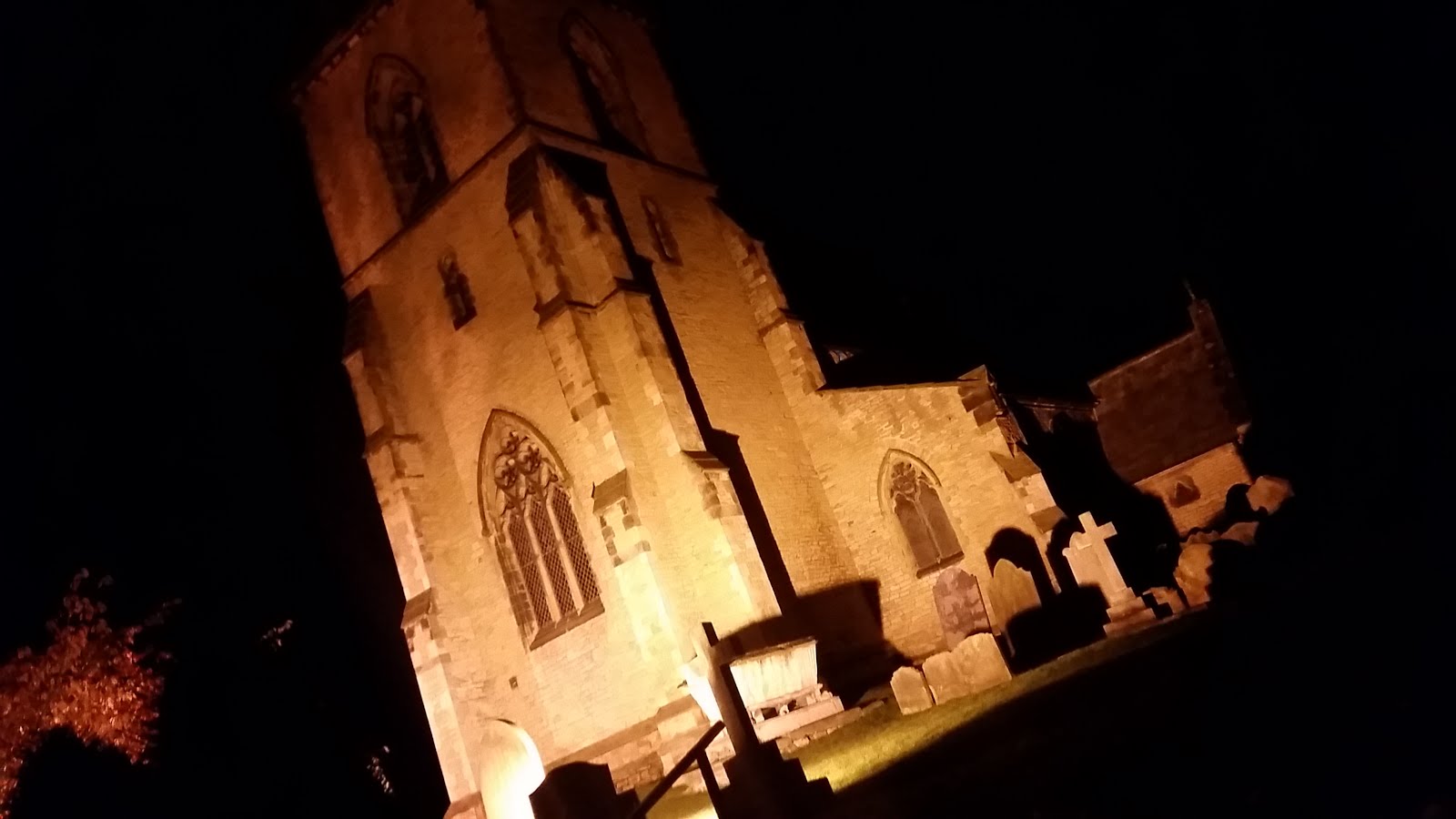 Pretty.
The effect is pretty immediate. Ferriby sag backwards to try & hold what they have and we start to exert constant pressure. A free kick is nodded back across goal by Amankwaah. But no one can quite get the finishing touch and the defence finally hack clear from virtually on the line. Next up Eastmond crashes a shot in from 20 yards that clips the post on it's way into the back of the net. Sadly for us, the ref has blown up for a foul a split second earlier on Deacon and as Whitehawk found out a couple of weeks back, that means no goal. Roarie curls the free-kick just wide.
Finally we get back into the contest with 15 to go. Dickson attacks wide, slips a diagonal ball perfectly into the path of Max who holds off his man and prods past the keeper who really should do better with the effort.
Whilst this goes on, there's the distraction of that dick from Plymouth who has been an annoyance for most of the 2nd 45 so far switching from trying to be all matey to basically goading people. Luckily for him, we're a pretty docile bunch as most others would probably have sparked the twat out by now. Eventually a Steward moved in to shift him away whilst his mates do very little to help keep him away, even when they're told he's going to get a slap.
The last 15 sees us have a couple of chances, the best falling to Dickson. One he cuts in from the left and with the goal opening up before him, bends his shot wide of the far post. And then near the end, the suspect home keeper thinks a low effort at his near post is going wide, only to see it ping back off the base of his upright. There's a couple of other scrambles, but Ferriby do what a struggling side should and throws bodies at everything to keep it out. Finally, our misery is at an end and Ferriby have 3 valuable points as well has having boosted their goals for tally by a ridiculous 25%. Most of us are irritated by the lacklustre showing and can't be arsed to applaud the teams 'efforts'. A couple of others only partake half heartedly.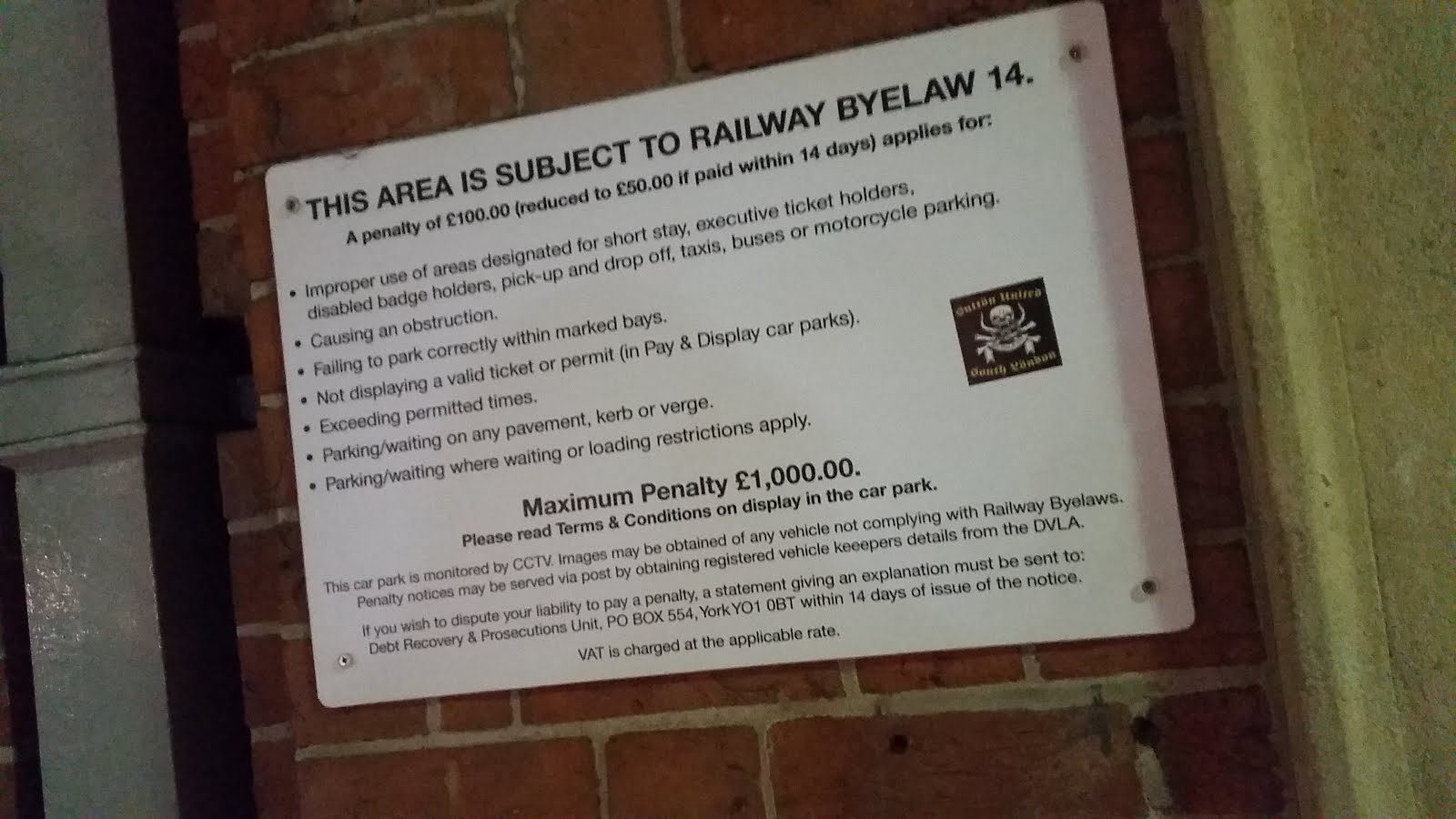 That weren't us right…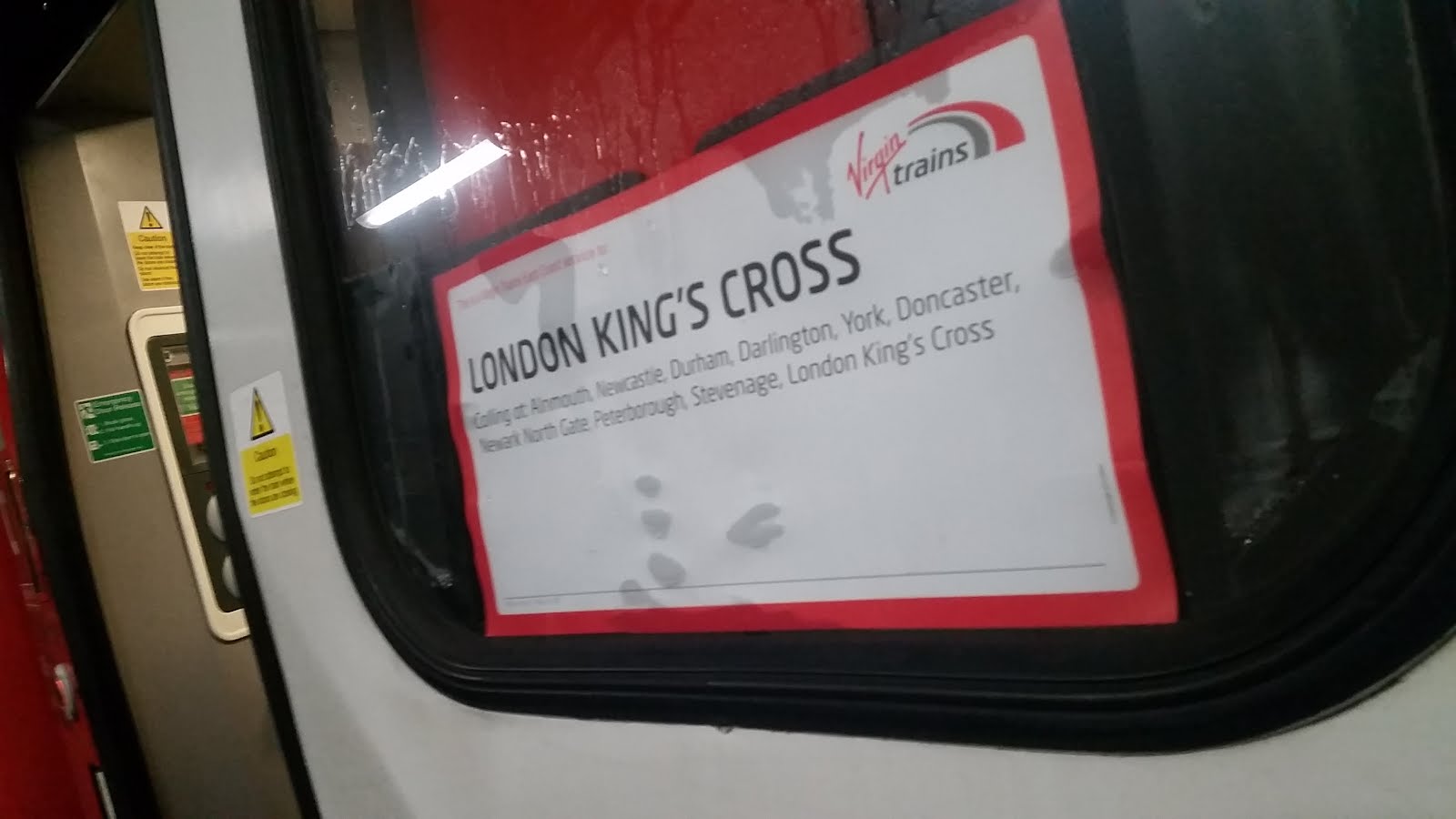 Homeward bound.
Deciding not to hit the bar due to Mr Pissed up Plymouth's continued presence and the very real likelihood someone would finally snap and give him a shoeing, we amble back to the Cumberland for one before we're due to head back to the station. A plan is hatched where we'll go back to Brough for one as the next train back to Donny takes over an hour and arrives after the train we're about to get. Sean & Indy don't want to rush and instead get another slowish train back to Donny and go for a pint nearby, we hit the Buccaneer in Brough and arrange some takeouts with the barmaid.
Back on the train, we hit Doncaster with a bit over 20 minutes before the choo choo back to London. So we scatter and go in search of sustenance and refreshments. Dukey is heartborken to find the KFC in the shopping centre less than 20 yards from the station is shut and we're now a bit stuffed for nibbles. However Loffers saves the day by locating a McDonalds and ordering an absurd 60 chicken Nuggets and 10 Cheeseburgers, which apparently goes down a storm with the long queue behind her! Mr X also magically finds an offy and returns with a carrier of beers. Train? Train.
The trip back is pretty uneventful as we mostly moan about the crap performance, thankfully it doesn't feel too long before we're falling onto the platform at Kings cross more than 12 hours after we'd left. A quick tube back to Victoria and we find there's a quick train back to Sutton almost immediately. Amusingly, after all this way we discover that we've somehow misplaced Alan between getting off the tube and onto the train. Shattered, I take my leave of the mob at Carshalton and hand Belly the remainder of the whip for use in O'Niells. Dukey joins me in departing at this point and we wave the others off before parting at the bottom of the hill. To round things off nicely, the heavens open as I begin my trudge home.
One miserable walk home in the rain later and I'm once more back at HQ, tumbling into bed to wake the missus up with my snoring drunkenly dream of winning away games.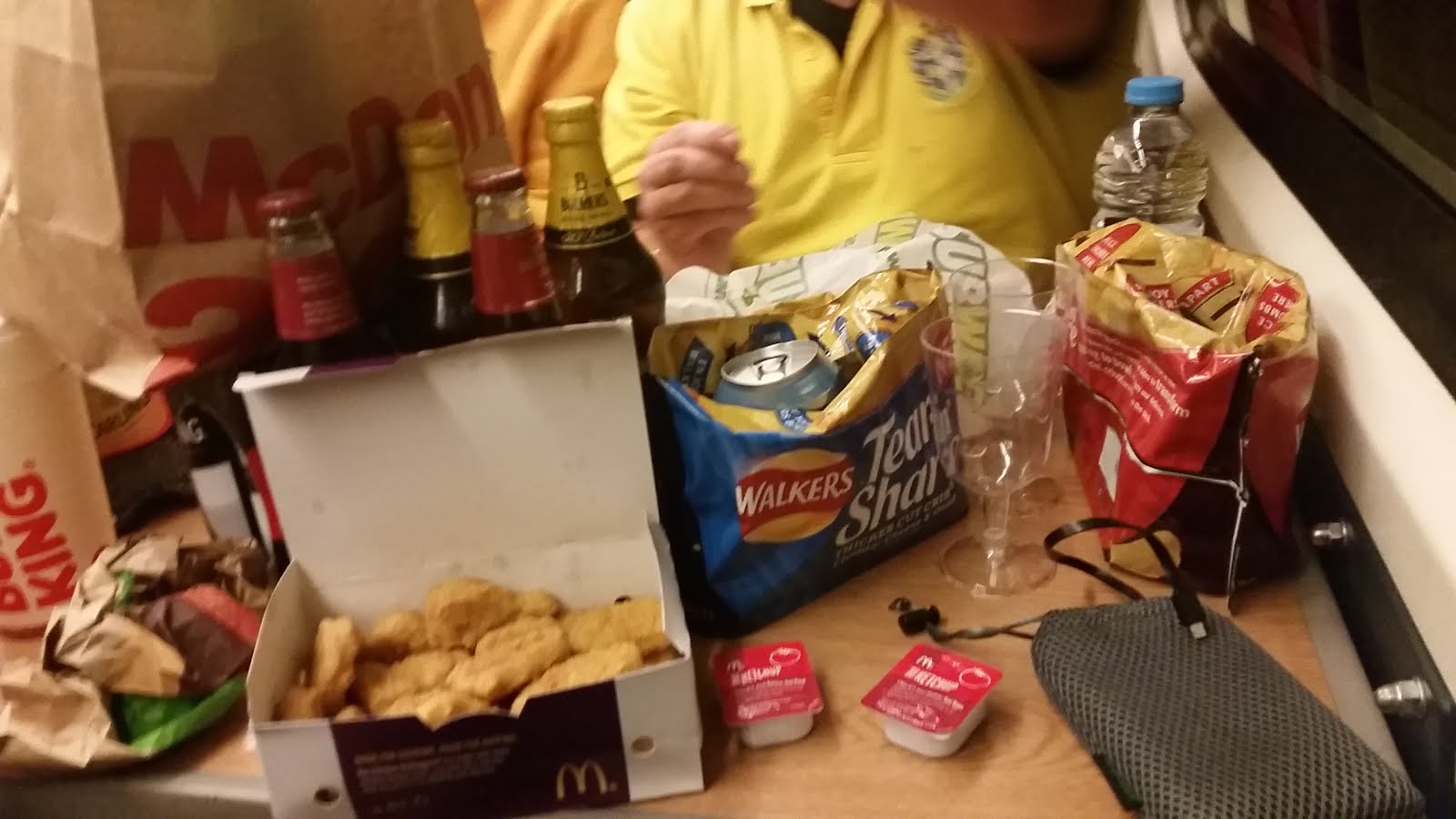 All a growing lad needs.
Of which we'll get another opportunity on Tuesday at Boreham Wood. Dukey's in the chair for that one, which should be interesting as I think the last time we were up there, some fucker broke into his gaff and nicked his motor while he was out.
One thing's for sure, if there's a repeat this time round one thing he certainly won't have to worry about is being left car-less. No one in their right fucking mind would want to steal his current jam jar. Mainly as it's worth about as much as an actual jam jar.
Taz