After last night's taste of the big time at Wembley, it's back down to earth with about as bread and butter a Conference game as it's possible to get. Barrow at home. Old scool. I just hope they don't have that bloody Cowperthwaite bloke up front any more.
Having stumbled in at 2am that morning, I was understandably a little reluctant to leave my pit when the alarm goes off. The missus comment about it being wet and miserable outside didn't help, so I was back under the duvet and bloody well stayed there for a couple more hours, finally emerging at 11. A quick run through the usual routine, peck on the cheek for her ladyship and I'm out the door for the half 12 bus. Which I see pulling away from the stop as I hop over the low wall outside HQ onto Croydon Road. Fucks sake.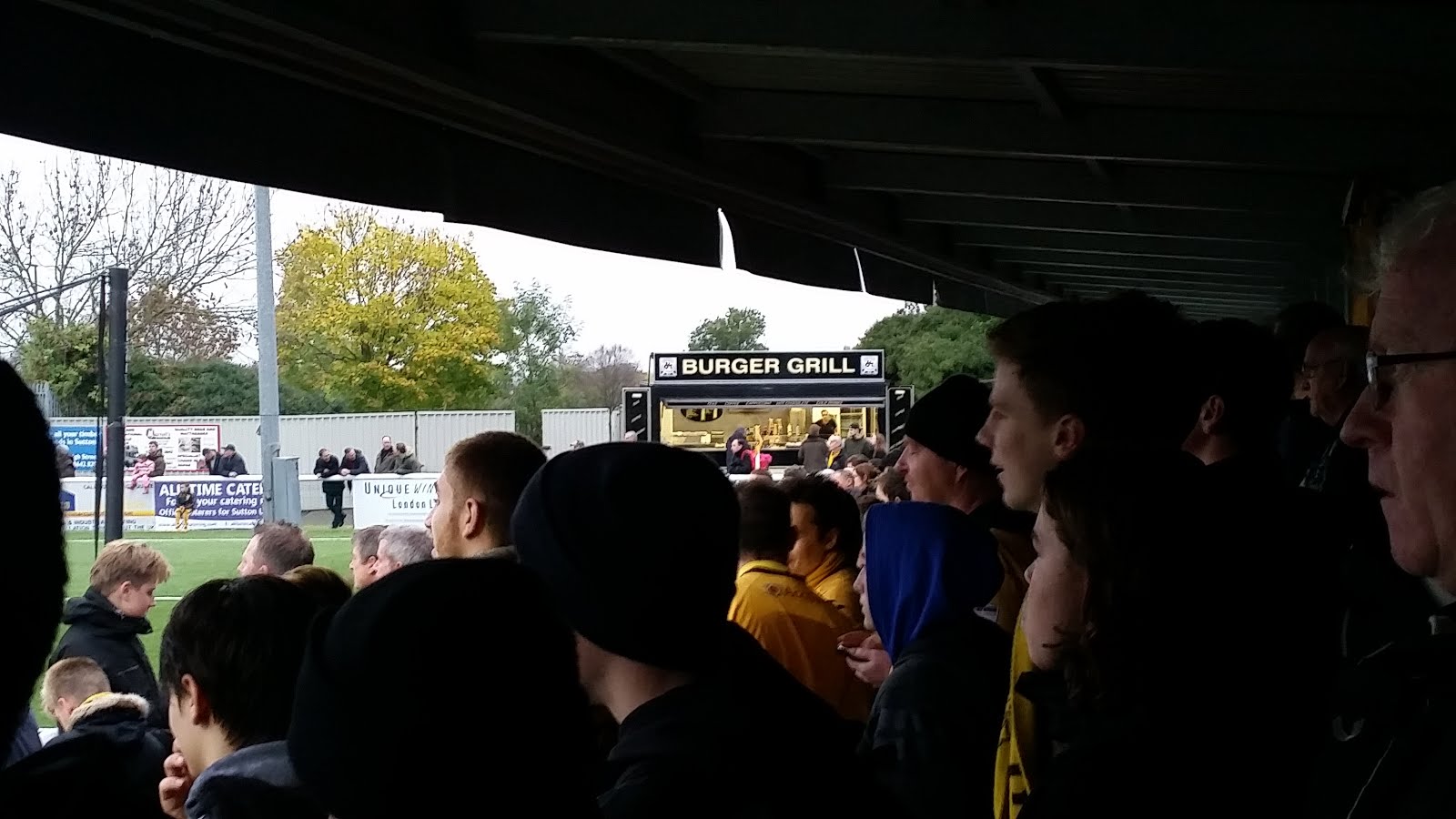 Mmmm. Burgers….
As if to put the exclamation point on this middle fingered salute from the 407, it starts to rain as I pull out my fondle slab to check how long there is to the next one. Luckily, it's only several minutes so I take a stroll in the drizzle down a couple of stops to kill the time. Soon I'm on the dry, warm bus and heading through the impoverished slums of Carshalton. On the trip in, I find that Dukey is for some reason in Sutton pretend ponce hole, All Bar One. I'm not sure what's more surprising about this news, the fact they've actually let him and his flat cap in or the fact he might be getting a round in whilst there!
Hopping off as usual at the cop shop, it's a stop for some folding then into Le Patisserie Greggs for a sarnie and some Ribena. I plump for a turkey and ham with cranberry baguette to push into my face on the walk down to GGL, as we're just a mere 41 fucking days away from Xmas after all. Jesus wept.
The clubhouse is fairly quiet when I stroll in and with little wonder. What is this shit on the jukebox?? I get a pint in and find Burgers looking pained. "Mr X gave Tony HS 2 quid to put in and pick some songs. It's all been proper crap. We've even had some fucking Olly Murs". My word, I'm kind of glad I had that lie in and rocked up a bit late now. The mystery of Dukey in All Bar One is soon resolved, turns out he was there for a family lunch and he'd got the old man to pay for it all. Unlike you mate! At this point, Mr X puts another couple of quid in the jukebox and like a true Scotsman makes sure he gets his money's worth by playing serveral tracks of 7 minutes or more in length.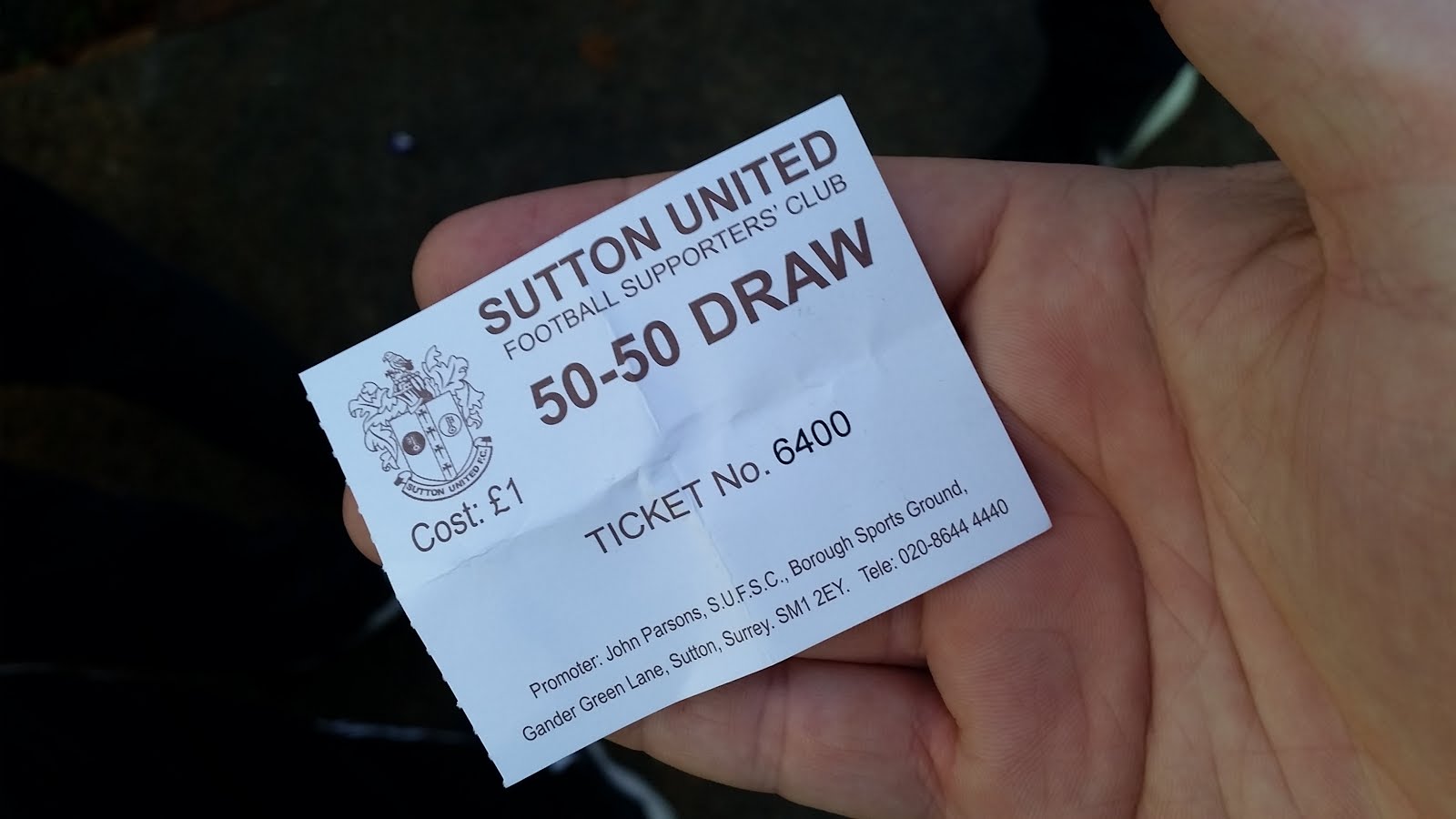 Did it win? Did it bollocks.
More & more faces appear as the bar fills out the closer we get to kick off and then some Northern bloke appears. "You Taz?". Bugger, some bastard's foregone my right to privacy and grassed me right up to the oppo. Thankfully, the bloke asking is Dave, a Barrow fan who also posts on the idiotic Conference forum. Nice bloke and we mainly discuss the less than impressive showings of some of the Full Time sides in the division. I think the phrase "tossing it off" is used more than once. Eventually the team sheets are out, pints are polished off and it's time to leave the warm sanctuary of the bar.
Worner, Downer, Amankwaah, Beckwith, Eastmond, Collins, Deacon, Gomis, McAllister, Fitchett, Stearn SUBS: May, Dundas, Spence, Burge, Haunstrup
First we have the minutes silence for Armistice Day, of course immaculately observed, before we find ourselves shooting towards the Rec end as per usual. Also as per usual, the lads get out of the blocks quick. Gomis breaking from deep into the box he steps inside and hits a shot that to us looks like is blocked with a hand, but the ref doesn't agree. Nor does he a couple of minutes later when Amankwaah sticks a cross in from deep on the left towards the back post and McAllister is unable to jump for it as he's being untidly bundled over by a defender.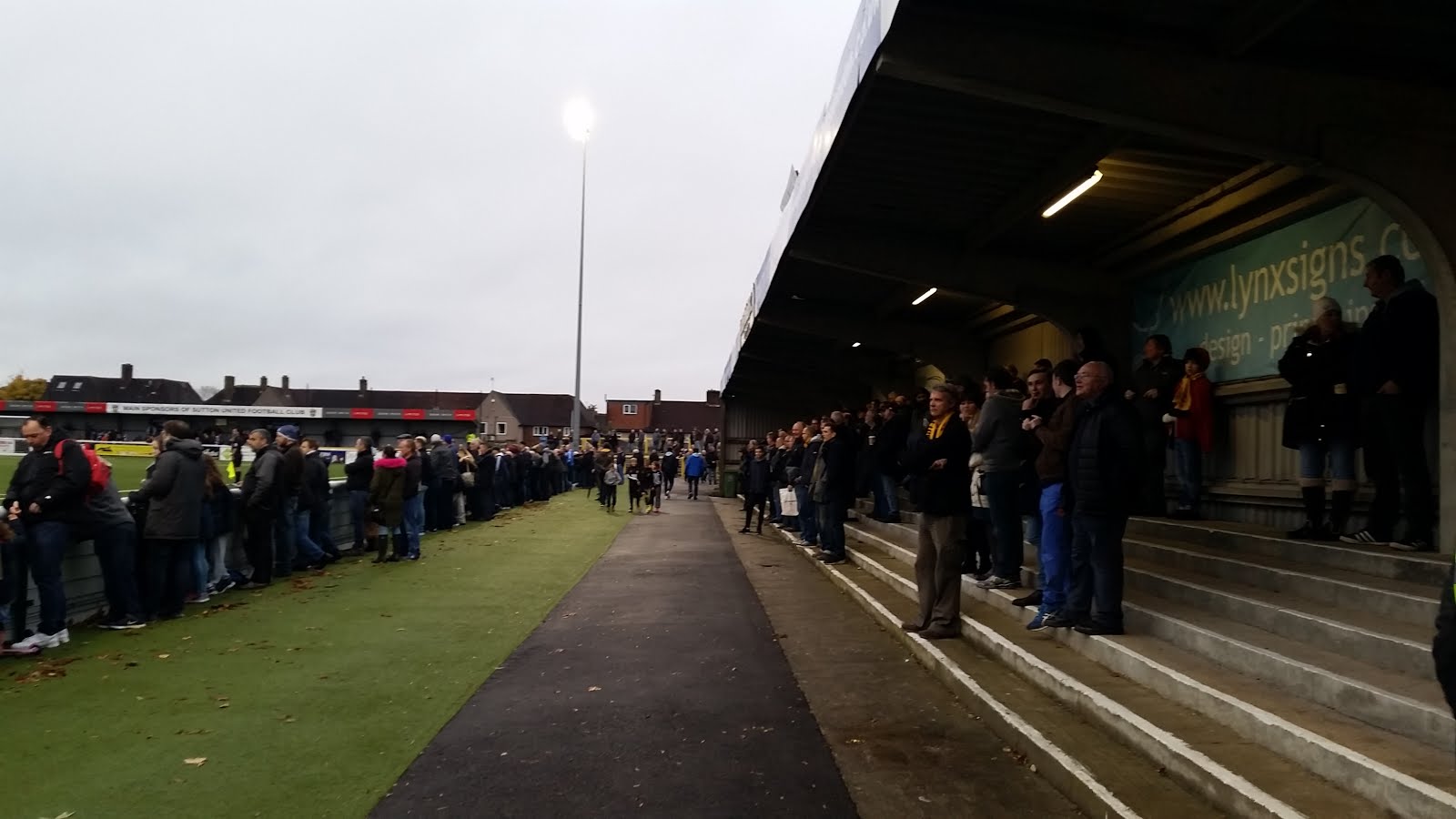 Packing 'em in again.
Stearn then hits a free-kick just wide from 20 yards and then goes even closer soon after when a short corner routine between him and Deacon results in a low shot thumping the base of the near post. From this, the oppo break quickly and the attack ends with a typically unsubtle Simon Downer challenge. The resulting free-kick stings Worner's hand as he palms over the shot. The resulting corner also causes problems, nodded down at the back stick, there's a brief scramble before the ball trickles out for a goal kick.
We continue to have slightly the better of things and again it's Stearny at the heart of it. First he gets to the line on the right and clips a ball across that finds Deacon. He chests it down nicely but a super last ditch block prevents the keeper from having to get his hands dirty. Barrow aren't out of things though, their best chance comes from another set piece. The free kick aimed to the back post, nodded down and with Worner stuck it's down to Beckwith to make a last ditch block practically on the line and preventing a certain goal.
So we go in level at the break. For a change, I take an early wander to the other end to see if I can bag a Bacon roll and a cuppa. Whilst in the queue, Chairman Totts takes advantage of this fact, pulls rank and orders me to get him one as well. Not wanting a knock on the door late at night and being transported to some lock up in the back of a Transit van for 're-education' I of course comply, like the good citizen of the Republic I am.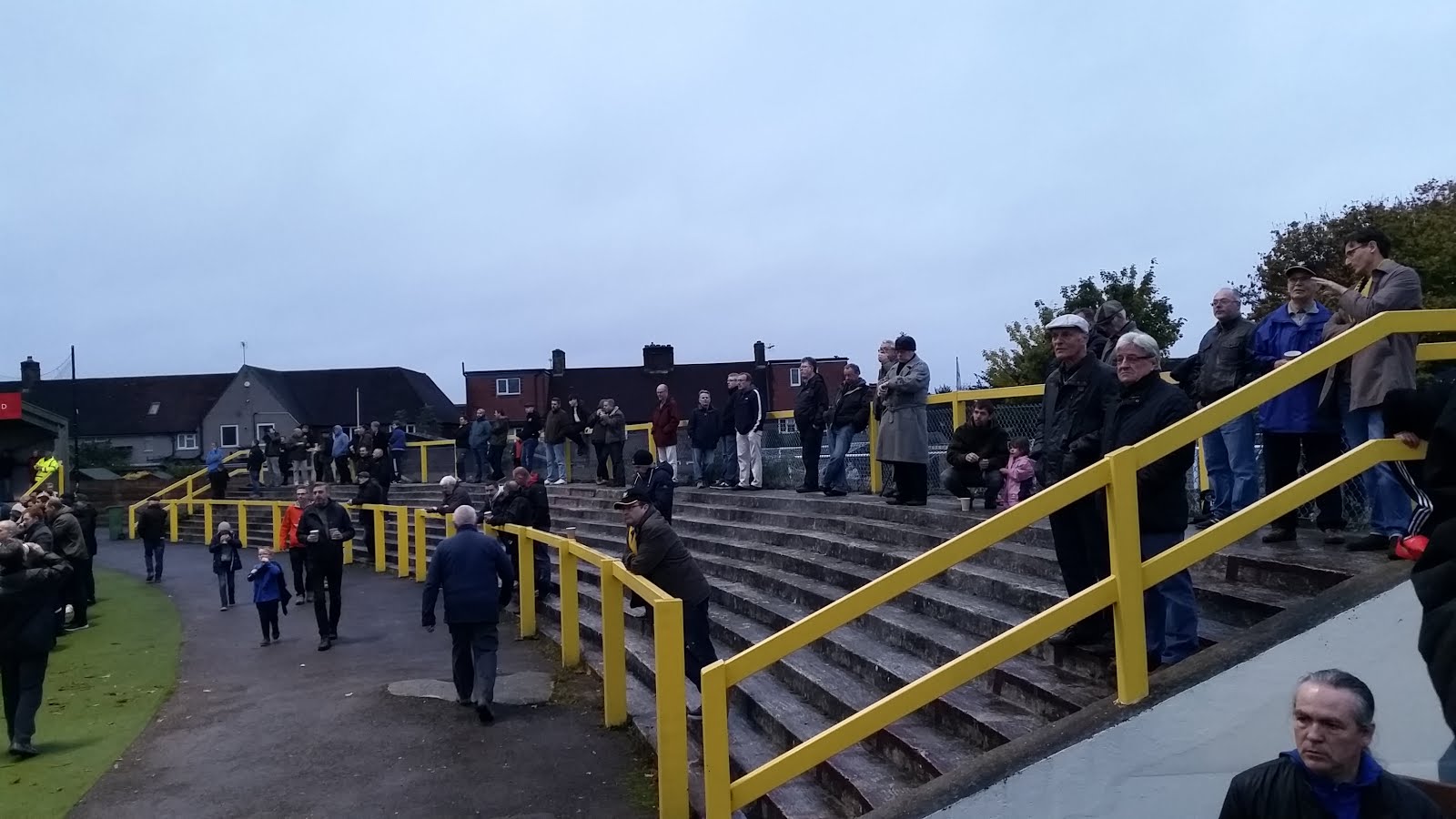 Cold Corner Curva
The 2nd half sees the visitors at it more. They've had a look at us, think they know how to take us and set about putting that into practice. Much like the 1st half their better opportunities come from set pieces. The first being a long throw that causes problems, is prodded to the edge of the box and then fired just wide from 18 yards.
Stearn again has a go from range, forcing the keeper to push the shot around the post before Worner has his hands stung twice more with efforts. The first from an angle after Beckwith is left out on the touchline by a clever touch, the U's keeper then beating away the shot. And the later save even better when a scruffy passage where we again don't convincingly clear the ball and the Barrow lad has a slap from miles out. But a strong hand keeps the shot out and JC clears up after.
We have a couple of half chances after, but the best falls to Roarie after a decent run but the shot catches the defenders boot as he lets fly and it just takes the ball into the keepers arms. So we have our first 0-0 of the season. And not a half bad one either. They're now unbeaten in about 15 and we've still now not lost at GGL to any of the top 6 in the table. Mildly satsfied with the point, we amble back to the bar for a beer and for Mr X to lament the non-appearance of his new mate Billy from last night. It seems he still owes our man for the cab!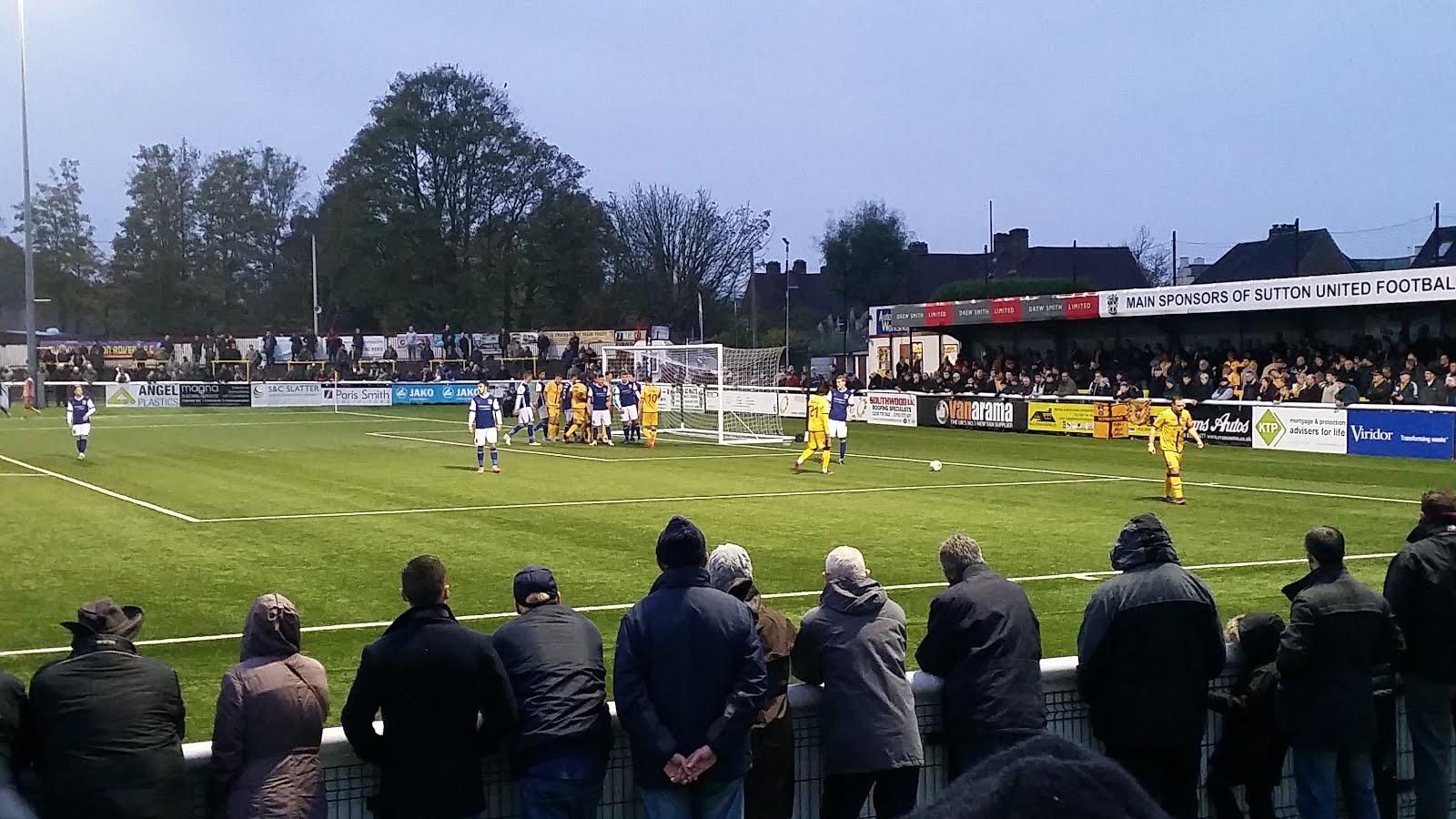 Mandatory, yet pointless, action shot.
I catch up with Steve from the Chicken Balti Group, mostly to take great pleasure in telling him his main side Tooting have won 7-0 at Chipstead thanks to 4 goals from ex-U Billy Dunne. We also get to see the Strikers draw with a slightly different take, with Micky Joyce taking the reins from an absent AB. In true man of the people style he first pulls out Indy's number and then Graham Baker's in the double draw. Neither opens the safe, so they walk away with a bullseye in the bin each.
Attention then turns to beer and the Woking v Ferriby game on the telly. Mostly as we're off Hull-wards next weekend. The game is mostly shite, with the main excitement provided by the Ferriby keeper's Gordon Banks-esque kit. Yellow shirt, white shorts, yellow socks. Fabulous stuff. The relegation 6 pointer finishes 1-1 with a late leveller for Woking. And with that done, we turn to boozing and restocking the jukebox with pound coins. It's around this point that I realise that one of our contributors is really quite the worse for wear. I know this as he tells me I'm a nice bloke. No one sober ever says that. I'll save him the embarrassment & won't name him, but it's not me, it's not Dukey and Totts isn't in the bar. So you do the maths!
Before too long, it's getting time to leave as I'm due home for dinner with the missus. That and Pete the Perv has stuck fucking Gina G on the jukebox. It's at this point that Mr X remembers something, the fact that fellow Sutton supporter Tatey has his 40th Birthday do on tonight next door. And we're all invited. An invitation that was made weeks ago, except he's forgotten to tell anyone. Shaking my head, I say my goodbyes and head off, stopping outside to wish the Birthday boy well and apologise for my absence. Then as I get onto Gander Green Lane I realise there's no train back my way for ages.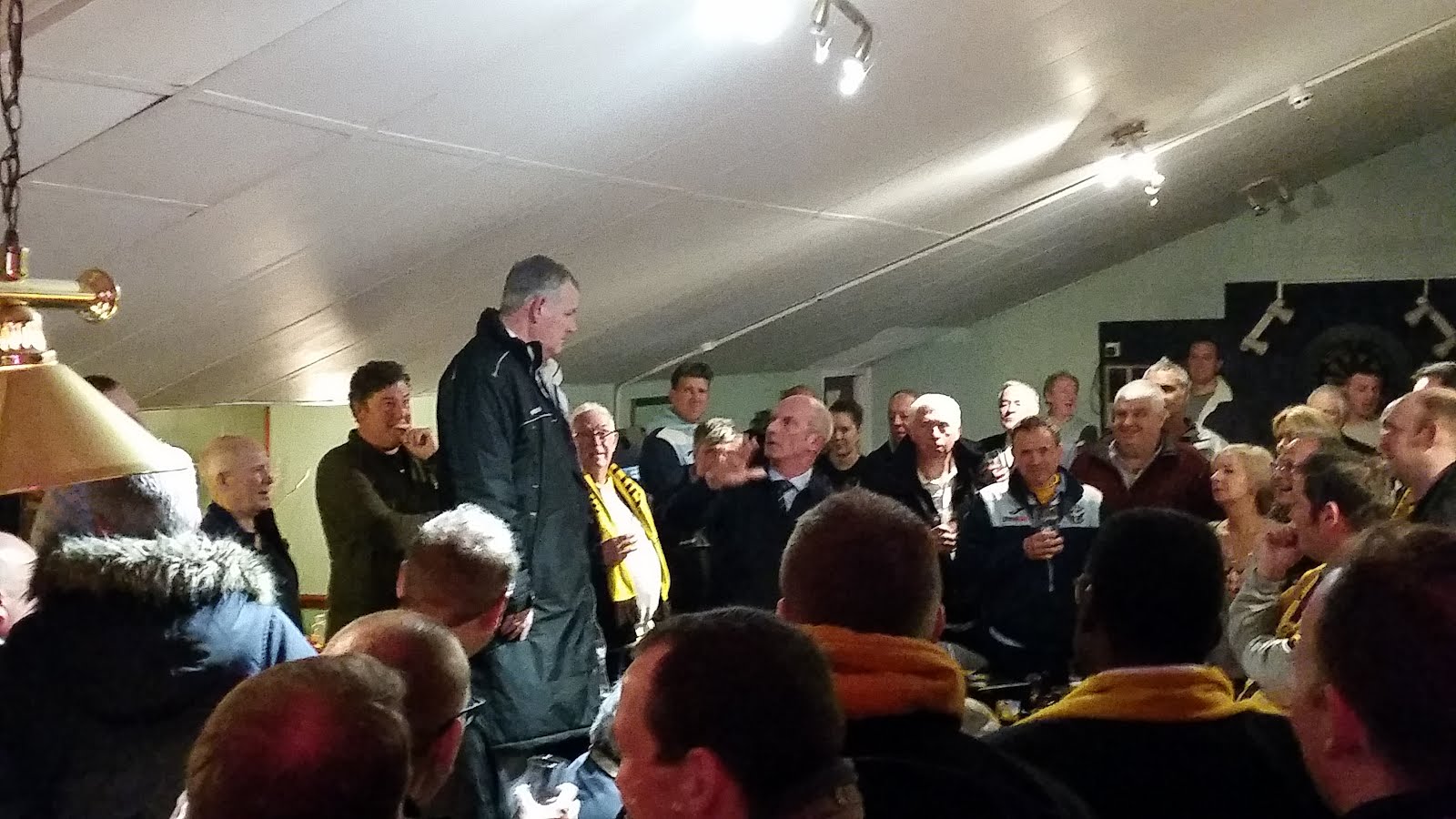 The chairman. On a chair.
Fuck this, Uber.
I soon have second thoughts as my confirmation comes up. The pic of my eastern Euopean named driver is somewhat unflattering. Unflattering in that it makes him look like he's going to murder me to death and then eat my liver, washed down with a nice can of strong polish lager. Clearly the bottom has dropped out of the war criminal business and has forced him into a bit of cabbying to make ends meet.
Thankfully, the chap turns out to be from Bulgaria and very nice indeed. Not once does he try to murder me, which of course earns him a much deserved 5 star rating on the app. S'only fair innit.
Right, what's for dinner?
Taz