Long ago, I used to be proper mad for England internationals. So mad in fact, that we hardy Sutton idiots were to be found at Wembley watching utter shite like the friendly with Chile in 1989 where the grand old national stadium could be found with under 16,000 rattling around for a 0-0 draw. Well, when it comes to shit football…
Still, this was a good 3 years before SKY had invented the game of football. So it's surprising anyone even knew there was a place called Wembley, let alone that we had a national team.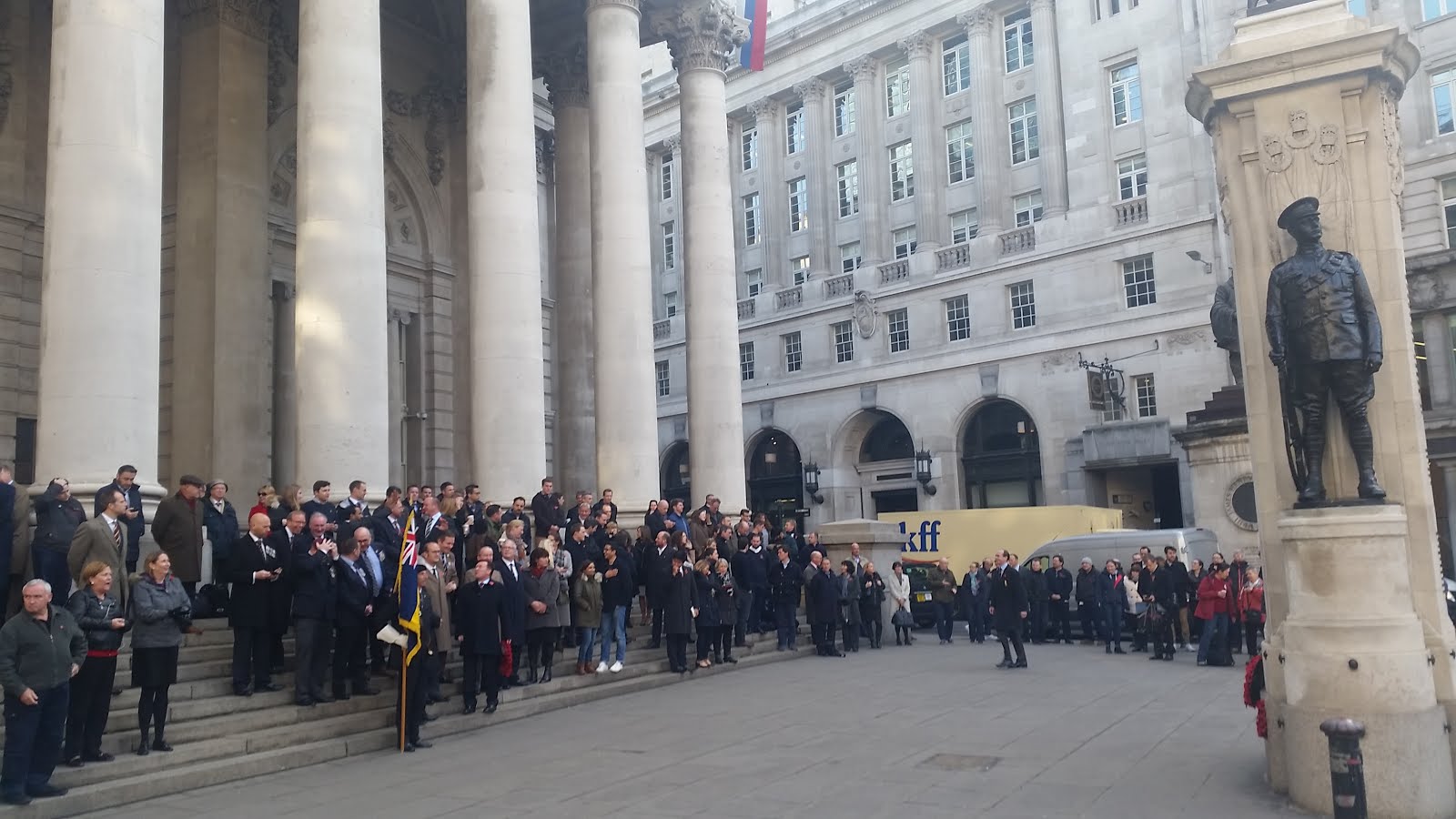 "At the going down of the sun…."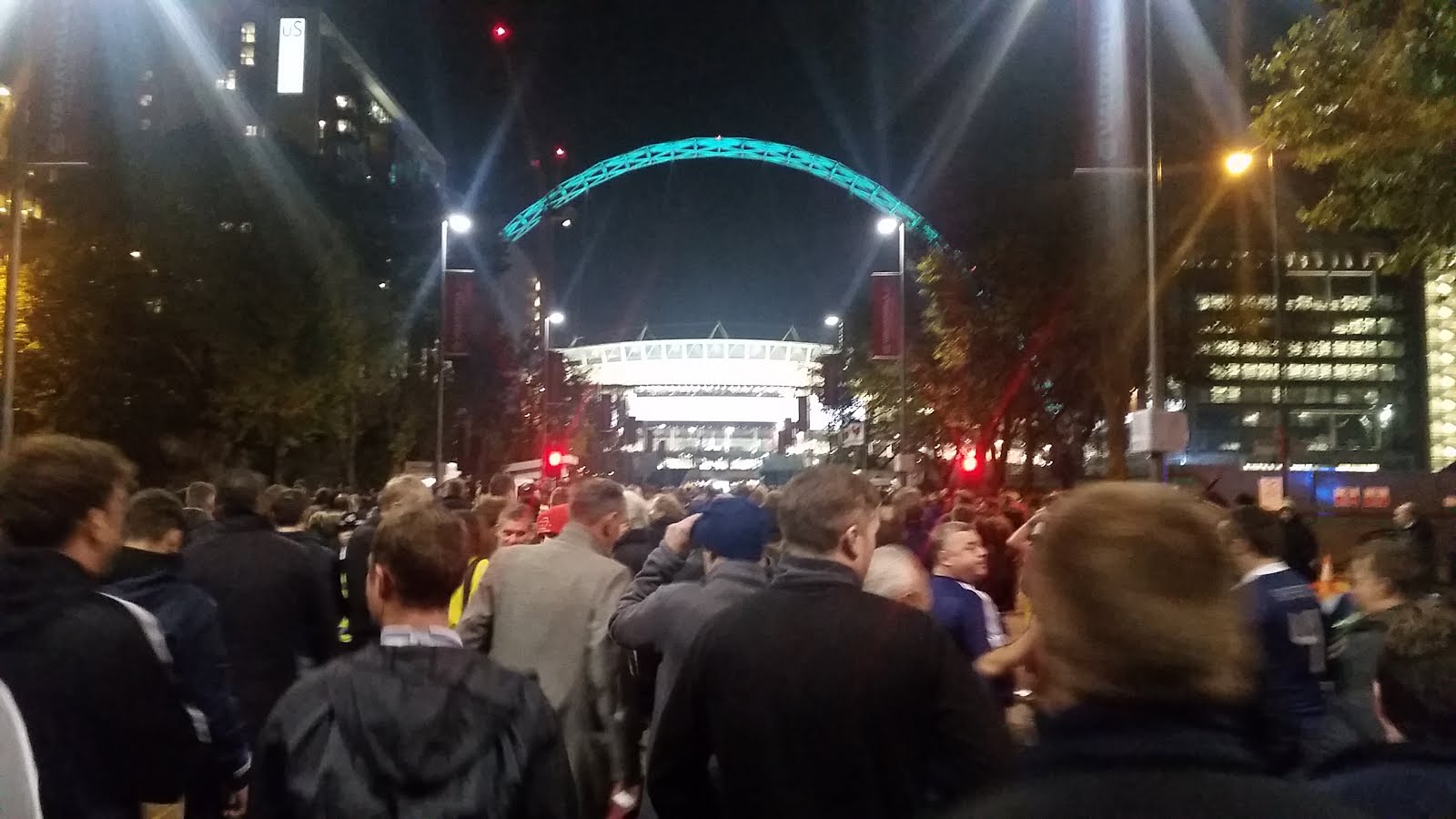 Oh. Here again.
Weeks ago, I got a text from our old Somerset Farmer mate, Simon. He from the Weston of the Super Mare variety. This chap, as well as following shit Non-League football, has a predeliction for taking in large games at the National stadium. It was because of him that I found myself at both last season's Charity Shield and then the cup final in May. I guess that if you're regularly your club's only fan away from home, the need to be at a game with a fuckload of people for a change can be overwhelming.
Well, Simon contacted me and wanted to know if I'd like to partake in viewing another England game. Which is odd, because after the last fucking appalling waste of my time and money that was the qualifier against Estonia almost a year ago I was pretty much done with the England circus once and for all. Oh yes. Even more so after the unsurprising twat show that was the Euros in the summer.
Then again, the game he was asking about on this occasion was the qualifier against Scotland. The Auld Enemy. Surely, if any international game at the new place could stir some sort of interest and life out of the sanitised Wembley crowd, it would be this one? Another factor was I'm now middle aged. So I'm a sucker for that old bastard, nostalgia. And as I was there that day in 1996 with Seaman's peno save, plus Gazza's flick and volley, naturally, I agreed.
Fuck my life.
Still, I resolve not to suffer alone and ask our resident Jock, Mr X, along for the ride. Timing here is everything, mainly as the mild sense of optimism from their last campaign still lingers, so I strike and he also foolishly agrees. A week later, Scotland get bummed in the face 3-0 by Slovakia and he's suddenly not quite so keen on the arrangement. Sorry chap, no returns no refunds!
I start my day with a wander round to the Royal Exchange with some colleagues to partake in the Armistice Day wreath laying and 2 minutes silence before returning to beaver away solidly so that at 5pm I can tip out of work and head for Moorgate to get the tube a couple of stops to Great Portland Street where the other 2 herberts are loitering with pints. Before long I step off into the cold evening air and cross over to the Albany pub and try to find my drinking companions. Handily, they're propping up the bar so this makes getting the first beer in very easy despite the packed surroundings. We then move away and occupy a table that has a note on it. Apparently Richard has reserved it from 5.30 onwards. And as it's now 20 to 6, we decide Richard probably isn't coming.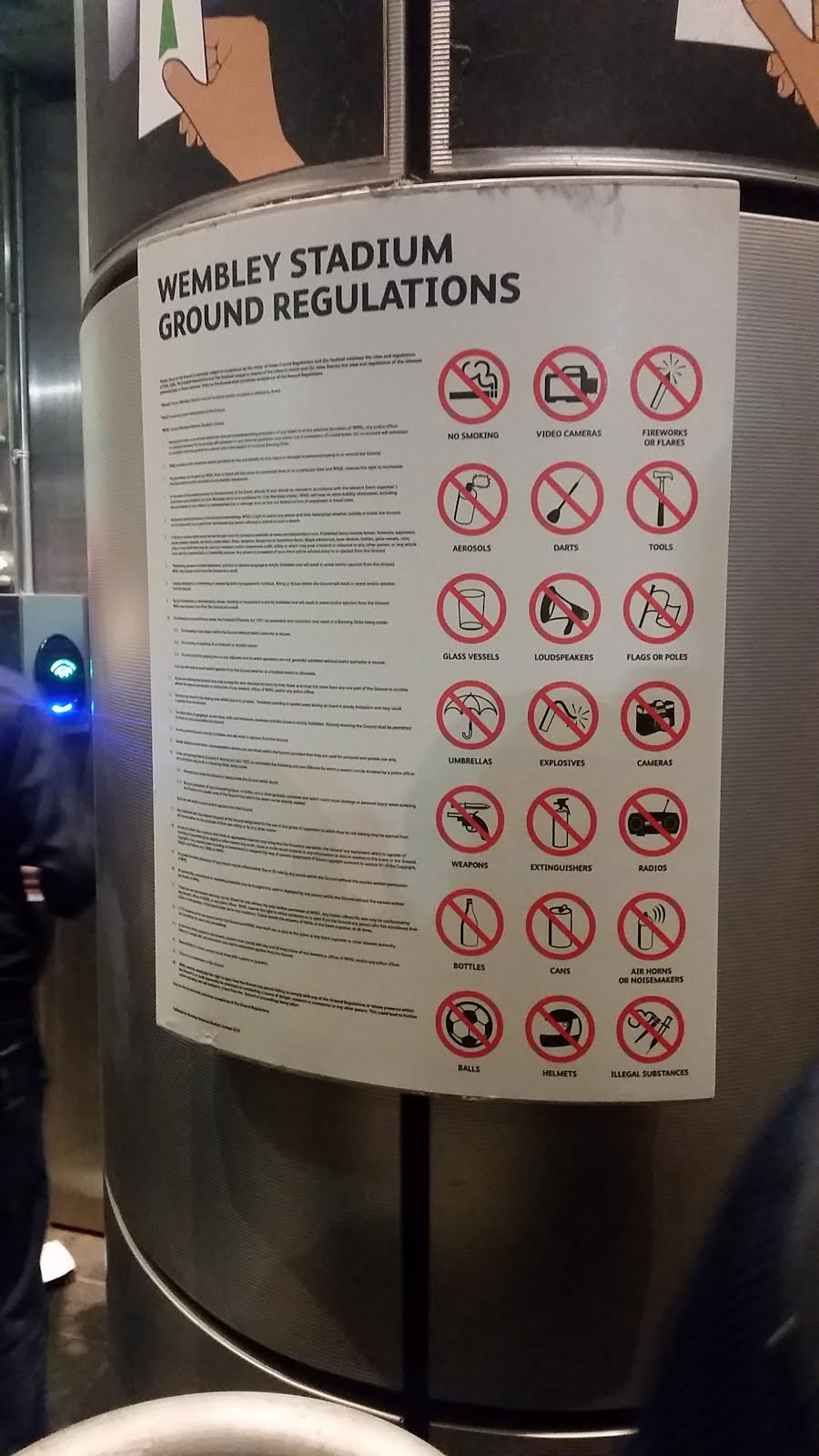 Good job I left my explosives at home…

Panoramamamama!
As befits a gathering of idiots like us, the chit chat is the usual nonsensical stuff. Simon recalls he and fellow Westonite Sean cracking out the cigars Greek got them from Cuba ages ago and gave them to be sparked up only when their rather unpopular former manager was relieved of his duties. He also tells us of an encounter with an exotic dancing lady at Maidenhead earlier in the season. But as this is a wholesome family orientated publication, I couldn't possibly divulge any more than that.
At about 6, a barman appears and tells us that Richard has indeed arrived to take residence at his table. We briefly consider sticking around to tell ol' Dick that his timekeeping is fucking appalling and arguing that possession is nine tenths of the law. But as it's over a fiver a pint in here, we instead decide to cut our losses and head a few yards up the road to the Green Man instead.
Upon entry, it's clear that the clientele in here is of a very different demographic. There's no leather satchels, no hipster beards and certainly no one called Jemima sipping on pinot. There is however a fuckload of Stone Island on show and a fair bit of Stella being necked. Having fought our way to the bar (figuratively of course, not literally) Mr X is in and beers are ordered. While we wait, we try to avoid getting soaked in Stella as some LADS engage in BANTER. Their final act is to blow the head off one of their lagers in our direction and move away roaring with laughter at their party piece. No doubt the encore involves turning their pockets inside out and undoing their flies.
We sink our pints and continue to marvel at the crowd in the pub. Still, it seems fairly good natured than at first glance as there's a good few Scots in as well, complete with kilts. Pints downed, we decide to make a move for the ground and head back underground. A couple of minutes wait and we're soon on our way, squished into a carriage with a fair few Tartan Army types, which makes Mr X feel a bit more comfortable. Annoyingly, the journey takes fucking forever. The whole time we're entertained by one inebrated Scotsman who spends most of the time telling all his mates "Yous a fuckin' pussy", there's also a keen debate on the Scottish independence question behind us which comes to an abrupt end when one of the skirt wearers blows a whistle at deafening volume.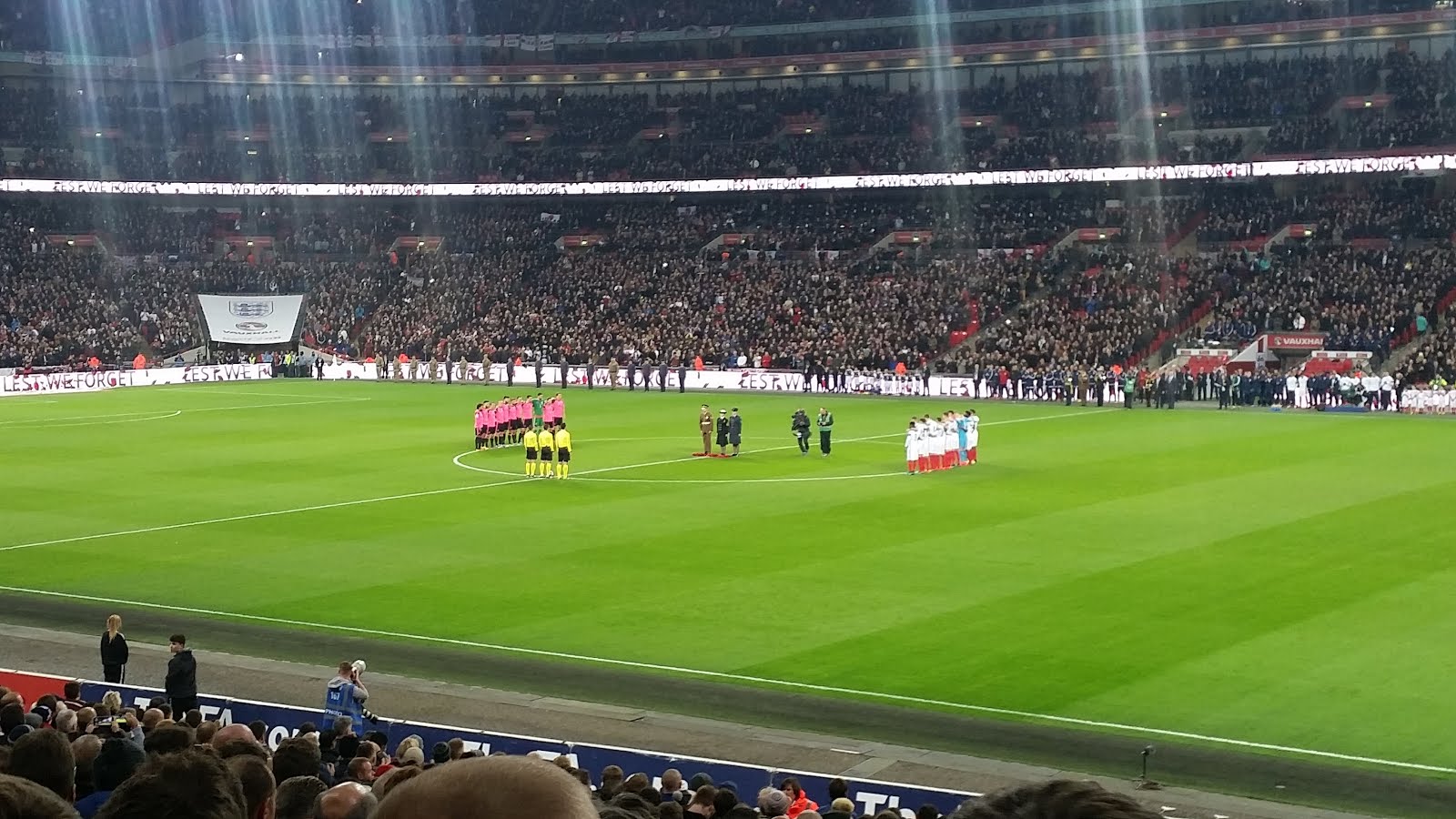 Silent again.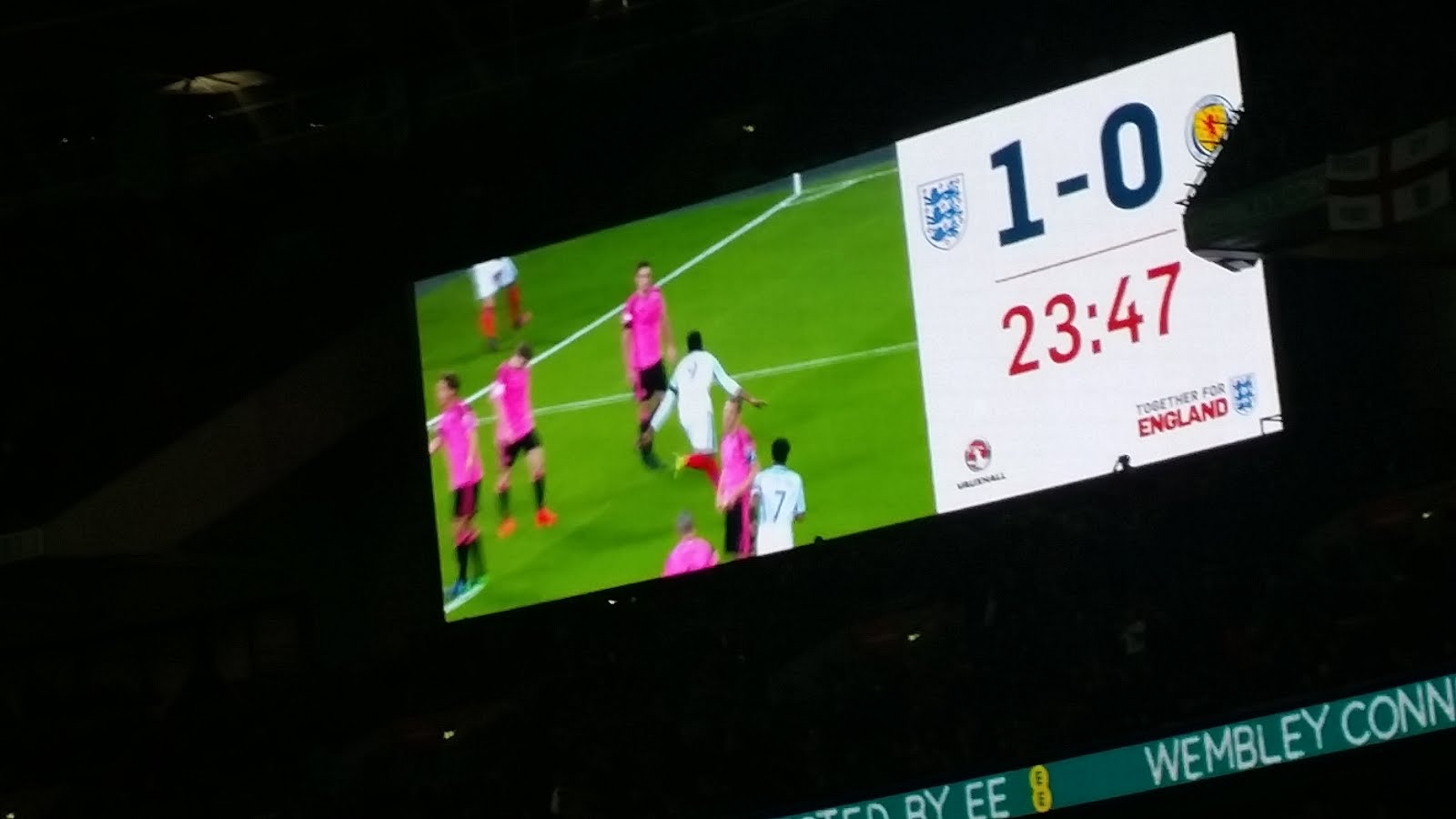 First goal…
"I fuckin' told yous, nae fuckin' politics!"
Seems fair enough.
We amble off with the crowds at Wembley and slowly shuffle our way out of the station and up Wembley way, which includes a lovely rendition of 'No Surrender' from some youngish lads nearby. I know the 80's are back in vogue fellas, but that's taking it a bit far I think. It's at this point we realise that we've not got tickets on the tunnel side as Simon had first thought. We're instead on the other side of the ground, by the corner flag. Naturally, this adds a few minutes onto the walk and earns Simon some deserved abuse. mostly aimed at his shit hat, one that looks like something Elmer Fudd would wear.
Having negotiated turnstile B and the sort of body search that would clearly make even the most hardened terrorist think twice about targeting this venue, the man of mystery and I head for the beers while Farmer Palmer goes for a programme and a bet. Tasks that take him so long that we've finished our pints and started on his before he returns. With kick off dangerously close, we once more refer to the Gandermonium motto and fuck off to our seats just as the first bars of 'Flower of Scotland' kick in and 15 thousand sweaties start roaring away to our left.
Simon isn't far behind though and with God Save the Queen done and dusted, it's time for the Armistice Day minutes silence. So well observed is this, it makes you wonder quite what all the fuss was about with the poppies on the shirts. Still, given that shit was mostly front page news in the Sun and the Mail tells you all you need to know on that front.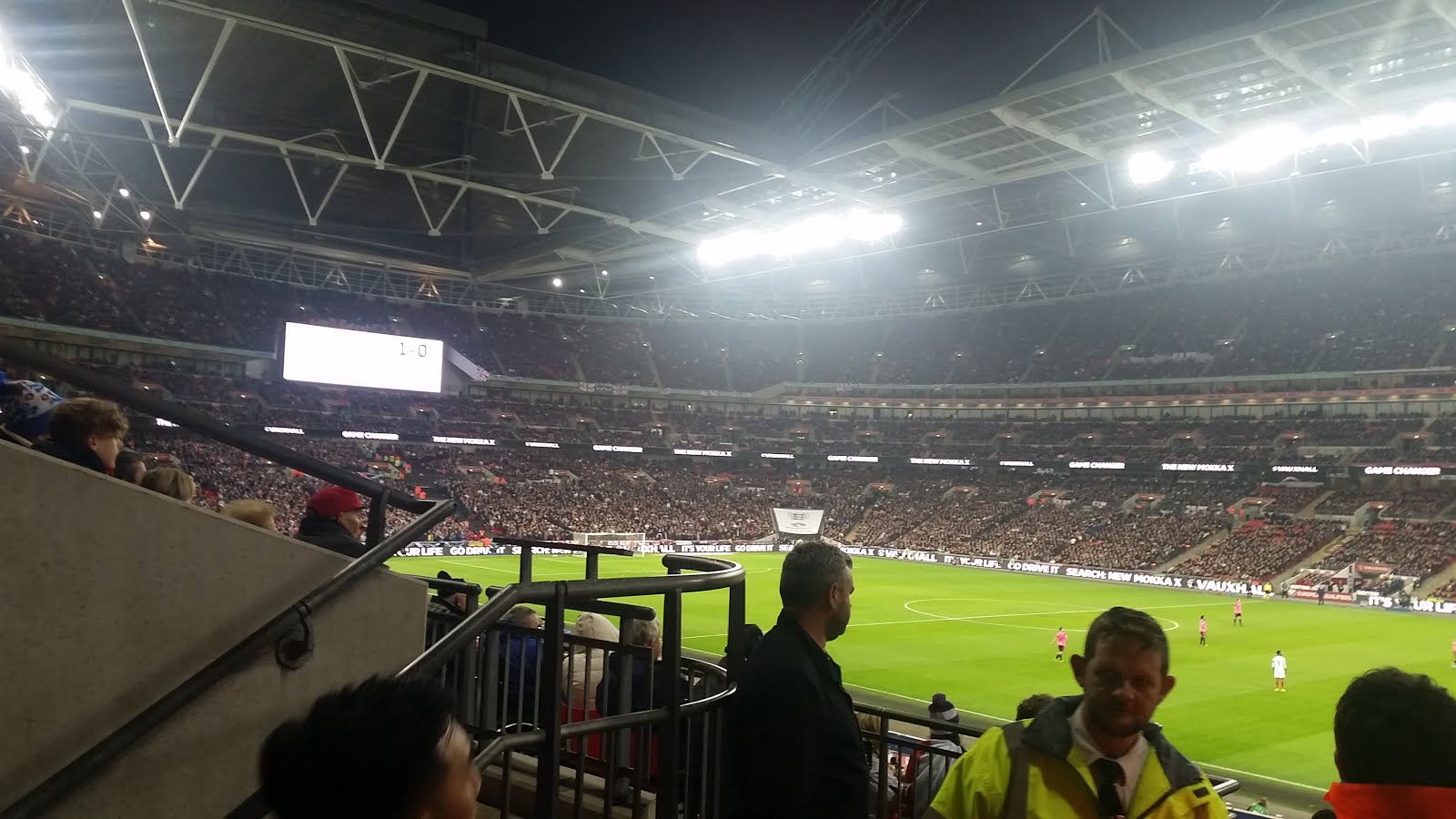 Different view…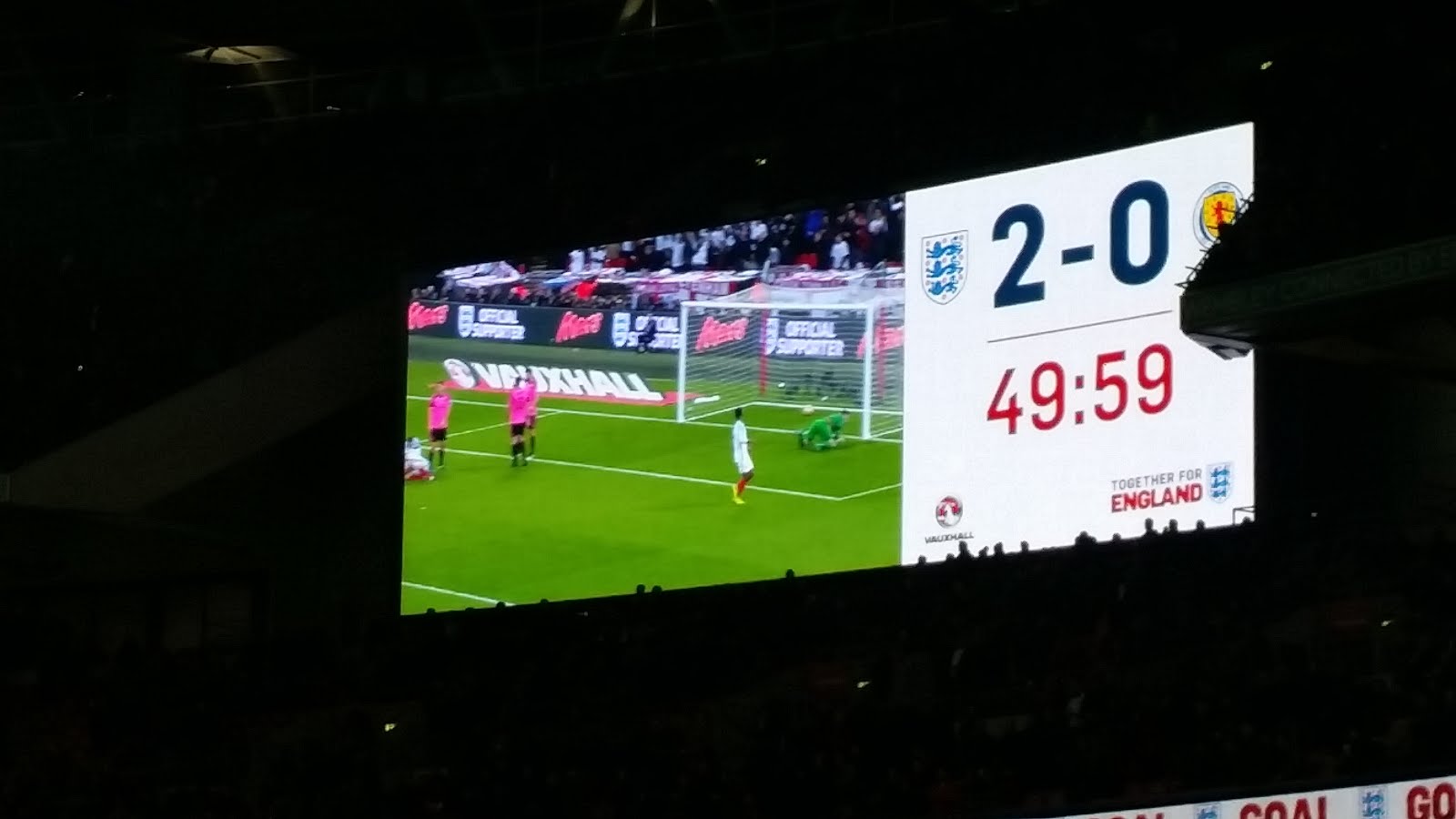 Another header….
The game kicks off and sadly it lacks any of the aspects I'd hoped for. Like any sort of fucking tempo for starters. This is the closest thing we can get to a local derby at this level. The oldest international fixture in the world and there's absolutely no zip at all. We've seen Conference games with more life in them. Even the Scots don't really snap into challenges or properly press the ball. Disappointing.
What we do get to see is John Stones failing to justify quite why the hell Man City shelled out close to 50 million of the Queens finest pounds for him with a bit of a bambi on ice performance. In fact in the first 20 minutes or so, the only real action is he and his centre back partner Cahill trying their best to fuck up and present the Scots with opportunities. Thankfully, they lack real quality in the final third and fail to punish these errors. Then after around 20 minutes, England amble up the park, Stirling has a poke that's blocked. It runs wide to Walker, who whips it across for Sturridge to stoop and nod into the far corner. 1-0 England and it's no exaggeration when I say it's the first real action of the game.
Naturally, all this makes Mr X very frowny face.
What comes a couple of minutes later only serves to further add to the furrowing of his brow when the Jocks have their best chance of the half from a corner. It finds Newcastle's Grant Hanley unmarked at the far post, but he gets his header horribly wrong and ends up nodding it well over in a very odd fashion rather than hitting the target.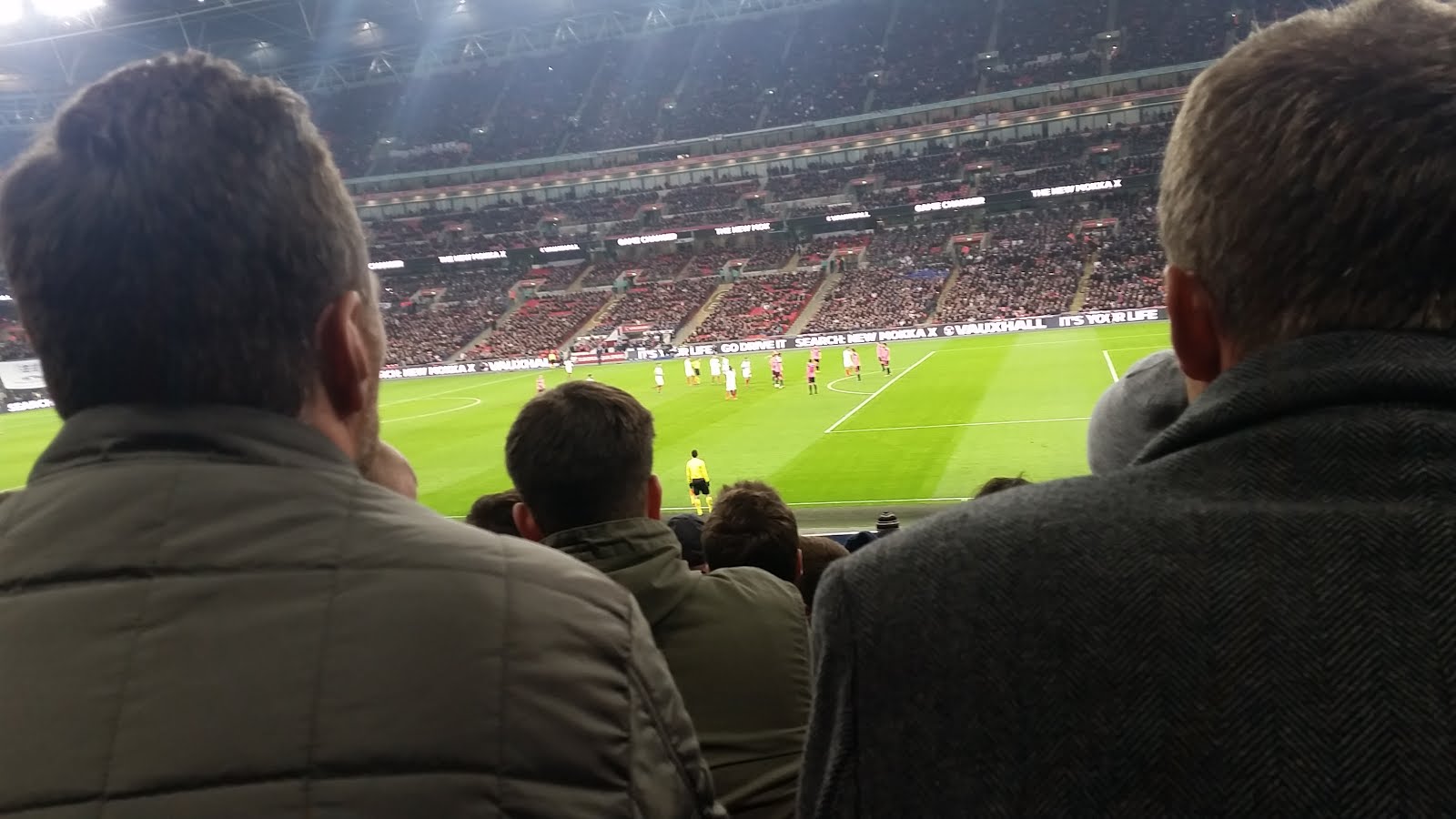 Sitting down.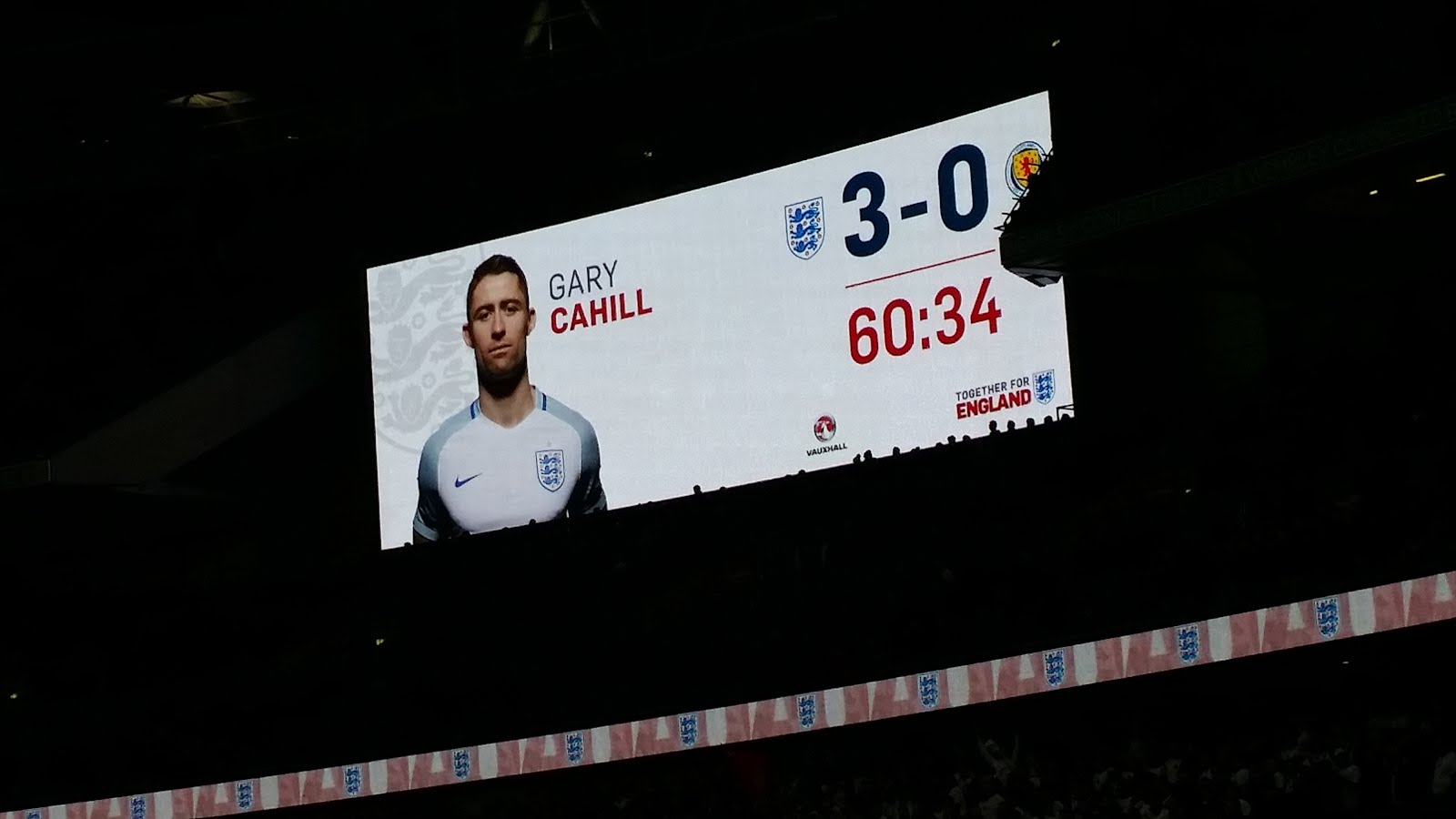 Yet another header.
Still, some more fuckwittery from Stones & Cahill with a helping hand from Rooney, set the Scots in for another sighter after half an hour, but the shot doesn't trouble Hart. Danny Rose flops in the box not long after this, but despite loud shouts for a peno it's a soft one that even a Conference South ref would be embarrassed to give. Apart from this, the only entertainment is provided by asking X what clan the very Scottishly monikered Ikechi Anya belongs to and Millsy back in Sutton telling us U's management duo Dos & Bairdy are in attendance tonight and asking "Had we seen them?". There's 87,000 people here mate, so er, no funnily enough.
Then it's half time, so whilst Simon and I go for a leak, Mr X is sent barwards. Relieved, Simon and I head over to await our refreshments. Whilst here, we notice pictures above the bar depicting scenes from the old Wembley's major moments. Of course, most are football related. But there's also one of Pope John Paul 2nd. "When was the fucking Pope at Wembley?" asks our West Country friend. I explain he did a 'gig' here in the early 80's when he visited the Uk. This then leads to further questions, to which I can only answer "No I wasn't here" and "No, I didn't get fingered". All this distraction allows Mr X to miss us in the crowd and we have to fight our way back to join him.
Necking beers, we prepare to head back in for the 2nd half, just as a couple of guys walk past and Mr X swears he overhears them saying "Yeah, they're Sutton fans". Bit odd. Although I do wonder aloud if they're our designated Police spotters we're supposed to have now that we're big time again.
Back in our seats just as the 2nd half gets going, Scotland have clearly come out to have a go. Within a couple of minutes they've created two decent chances with Snodgrass screwing one horribly wide by a good couple of yards, then almost immediately after Stones blocks a shot right in front of Hart after a nice little interchange down the left has put the Scots in. Naturally, as we well know, not taking chances is a bad thing. And soon Scotland do too. England once more amble up the other end, Rose gets in down their left and clips in a cross for Lallana to nod into the far corner. 2-0 and almost certainly game over.
It's such a simple goal that Mr X can do no more than shake his head.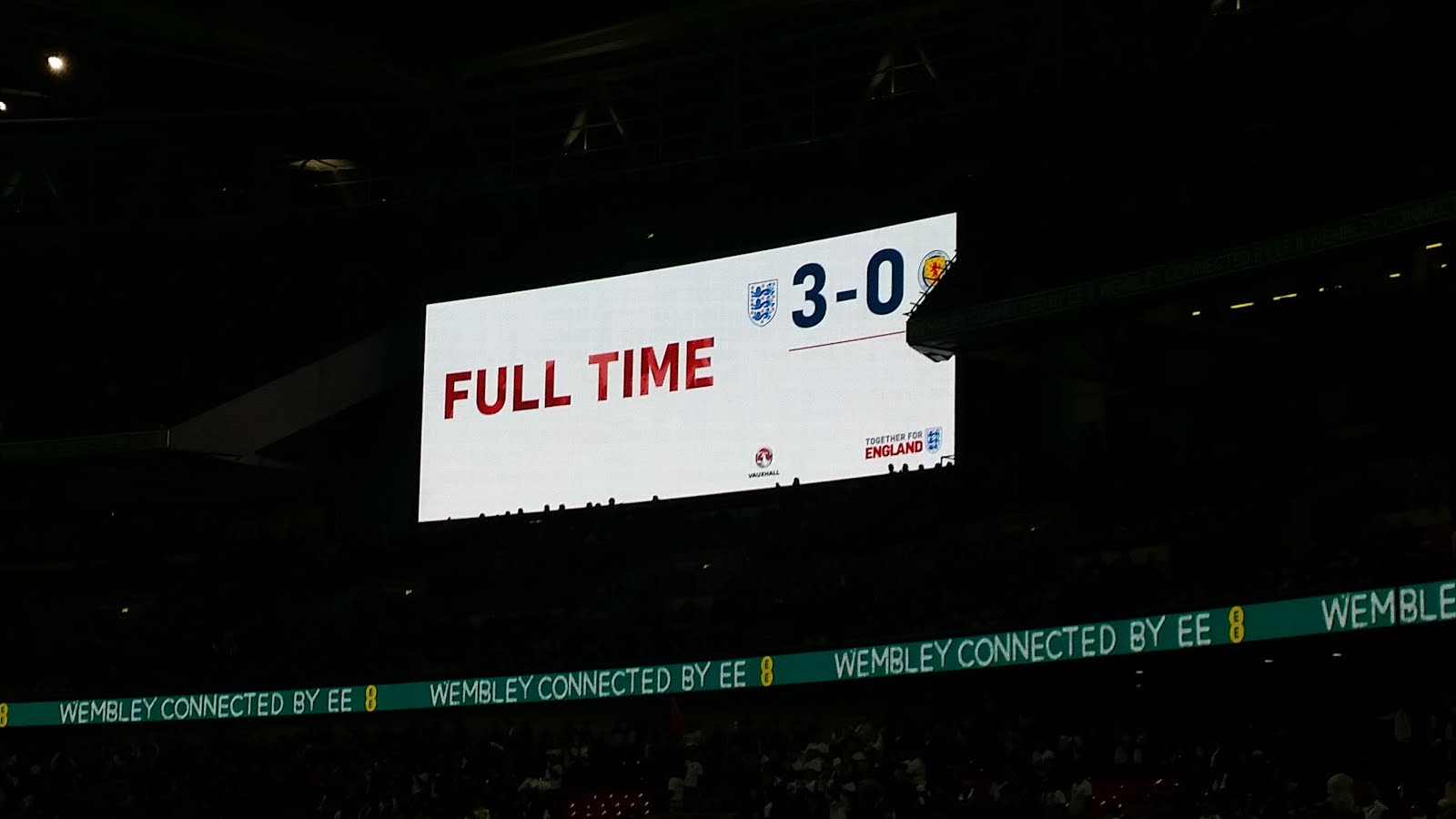 Not as exciting as it looks.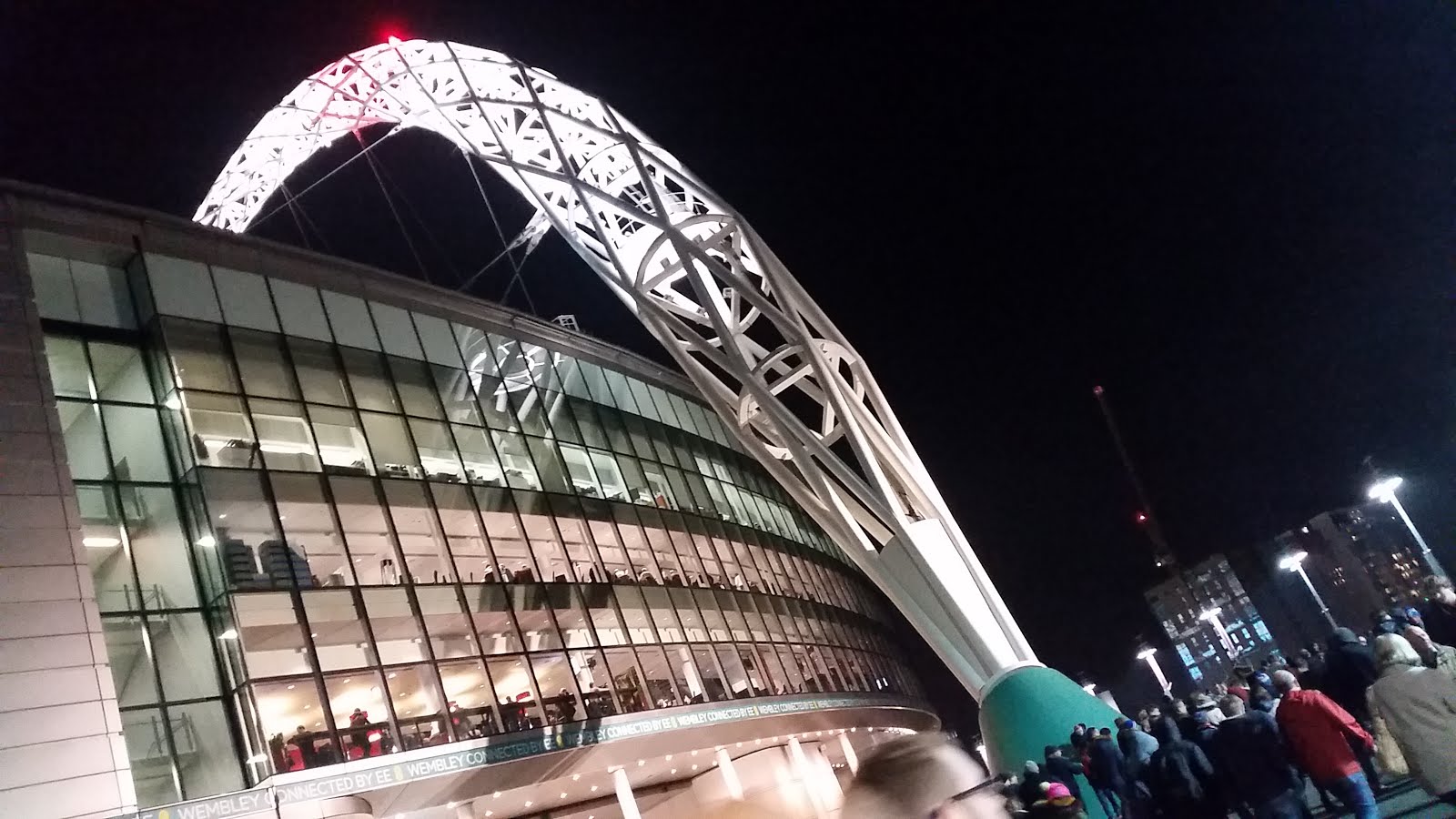 Thing.
With the so far noisy Scots fans becoming largely quiet from this point on, there's 10 minutes of not much else out on the pitch before a corner in from Rooney is nodded on at the near post and into the far corner by Cahill. If the game wasn't won already, it is now. Stirling misses a Mark Watson-esque sitter almost under the bar 10 minutes later and we settle in to mostly be half amused half irritated by two Geordies behind us who mostly spend their time exhorting Rose & Walker to bomb on as much as possible, which is odd given the two players in question had spend more time in the Scots half than their own in the 1st 45 minutes. "Fuck me, Ant and Dec need some new material" mutters Simon.
The rest of the game is a bit dull, with England pushing on a bit but never quite looking like getting a fourth. Quite a lot of people take advantage of the result being somewhat confirmed and start making a move for the exits whilst there's 15 still to go! By full time, the ground is almost half empty already. Hashtag AMF.
We scoot off into the night and make the best progress we can down Wembley way, slipping down the side of the crowd to get as close to the station as possible as quick as possible. It's not too bad and we're soon on the platform where an already busy looking train is waiting. We turn right and jog to the end carriage where we find plenty of room and slip on. Here we find a lad wearing a Grimsby scarf and we're soon enquiring after our old man Tom Bolawinra. Simon also chats to a Hereford fan and a lad who now goes to Merstham regularly. So we then ask after Phil Wilson & Tommy Kav, who were both seen just the weekend before on MotD against Oxford in the Cup.
We arrive at Kings Cross and say our goodbyes to Simon, who has decided to head off for the last train back to the South West and we decide that we need a beer, plumping for the Castle pub just outside Farringdon station. Here we contact Steve to see where he's ended up and after sorting our location based nonsense, agree to meet him for beers in the George back in Croydon. Which if we're to make, we need to neck pints and get a shift on. The train is caught with little bother and the trip back south is uneventful apart from Mr X being ironically told to turn his phone down by a chavvy looking chap as he's watching Bedse Gomis pre-Barrow interview video. Across the carriage, a chap snores like a champion much to the displeasure of the lady who'd chosen to sit next to him from Farringdon.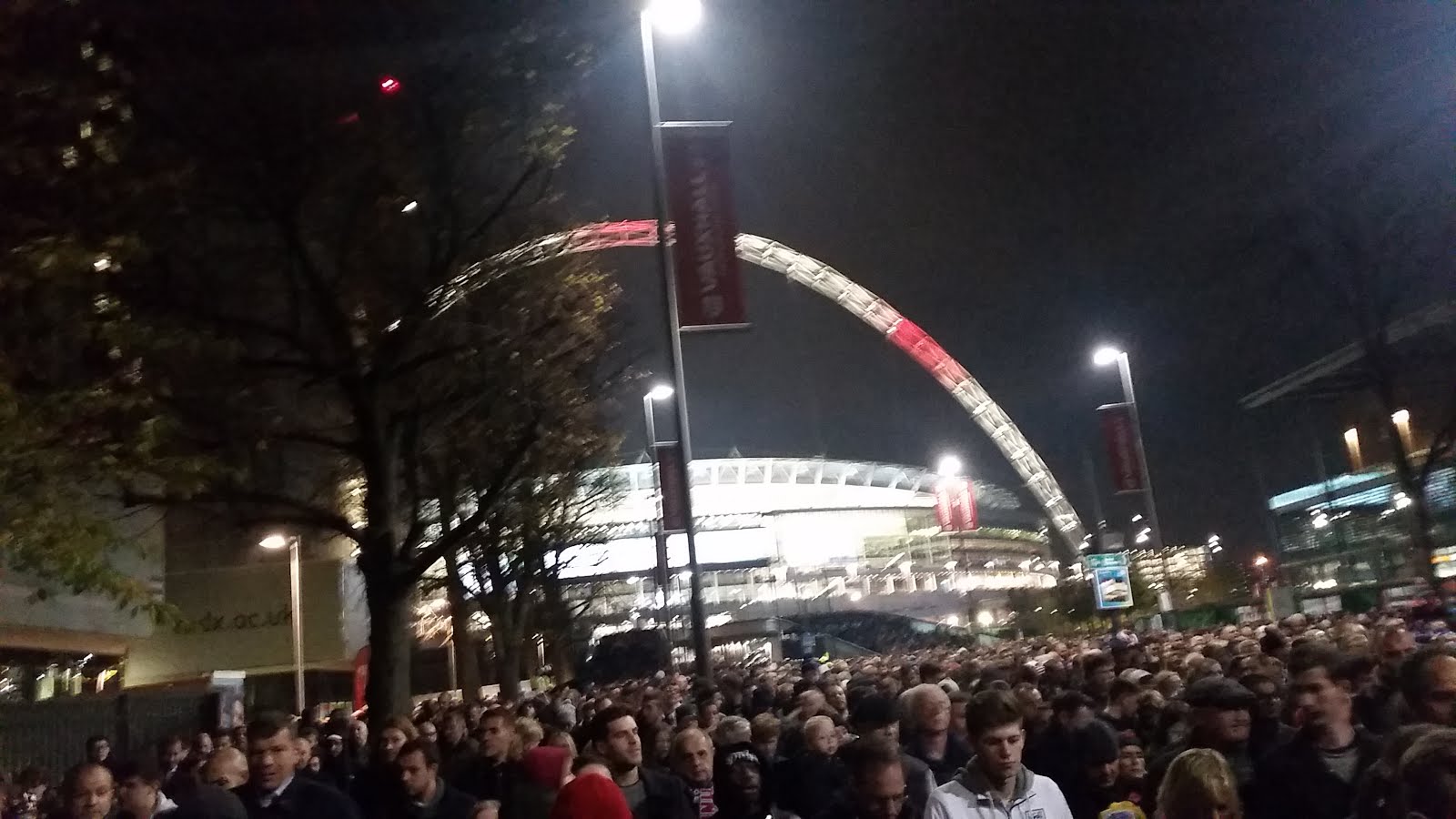 Bye!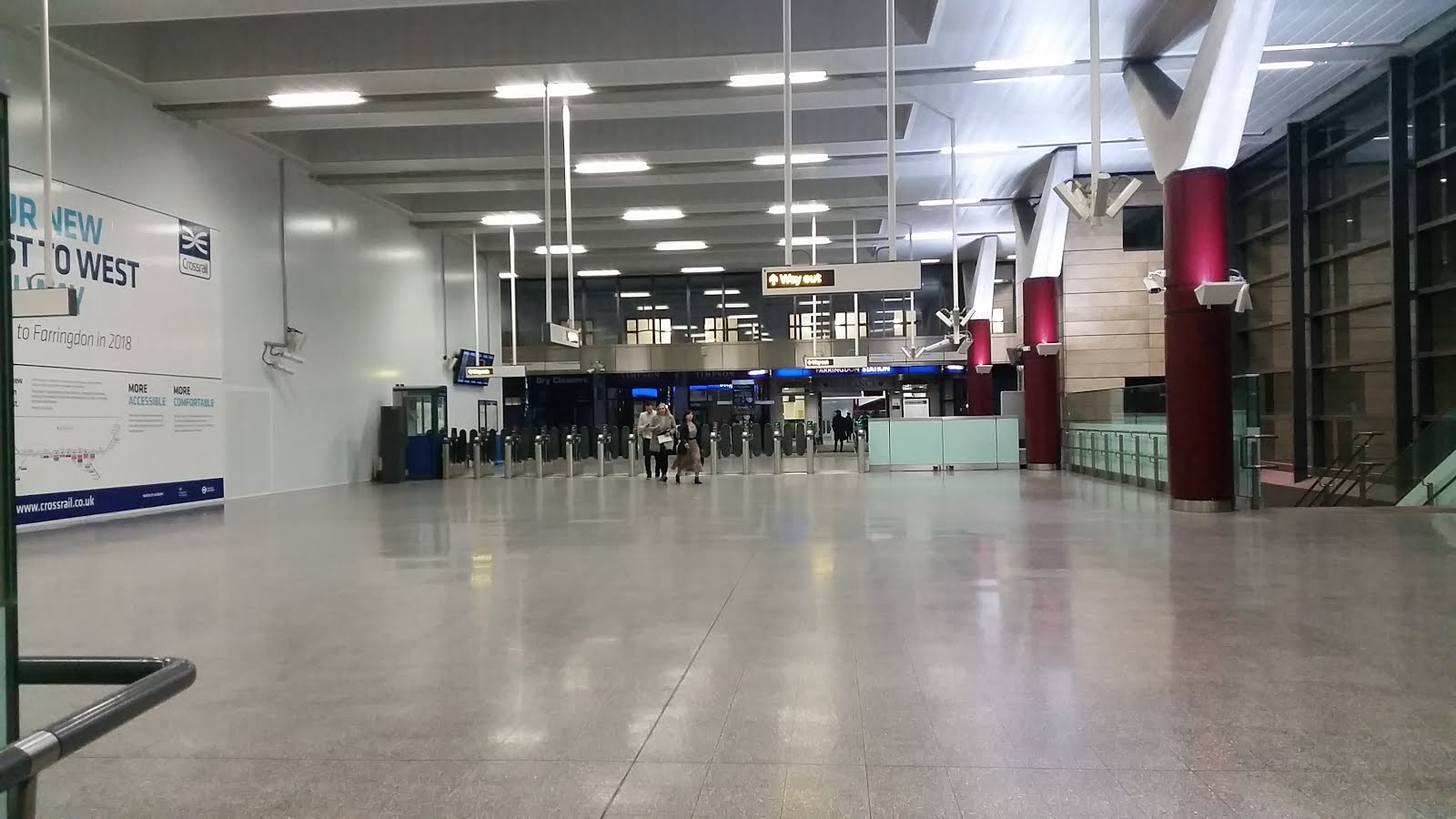 Beating the rush at Farringdon
Ah Croydon! We stroll down towards the pub and I call into McDonalds for a couple of cheeseburgers to fill the food gap in my rumbling stomach. This annoyingly takes a bit longer than I'd have liked, with their new Argos style ordering and pickup system proving to be somewhat inefficient. Says something about the world today when people like them are taking the fast out of 'fast food'. I inhale my burgers double time and we're soon propping up the bar in the Spoons waiting for his Southampton-ness to join us. 5 minutes later, there he is! Here we engage in a convo with a Scottish chap called Billy, a Partick Thistle fan now living in Malta who'd come over for the game and was staying in Mitcham somewhere. He'd clearly spent too much time on the small Mediterranean island as he mentioned he'd been very impressed with Croydon when he got off the train! Some people eh? Still, he's an alright lad and seems interested in visiting our beautiful Republic when he finds out there's a game (ours!) going on a couple of miles from his digs tomorrow.
After 2-3 swift rounds to make up for the lack of refreshments earlier, it's time to clear out as the pub is closing up. Mr X offers to assist our new Scots friend with a lift home, just as an exceedingly pissed Scot staggers past us waering no less than 3 half and half scarve. Leaving the Jock bretheren to their Uber, Steve and I head off down the road before noticing the very last tram of the night is due in a few moments. So we hop on and let it take the strain down as far as Wandle Park, where we go our seperate ways until we meet again in the bar at GGL in about 10 hours time.
I stroll back to HQ in the cold, reminded again of that evening in '89 against Chile and having found myself once more hugely underwhelmed by the experience, agin swearing that I really, definitely, won't ever accept a ticket for another England game at Wembley.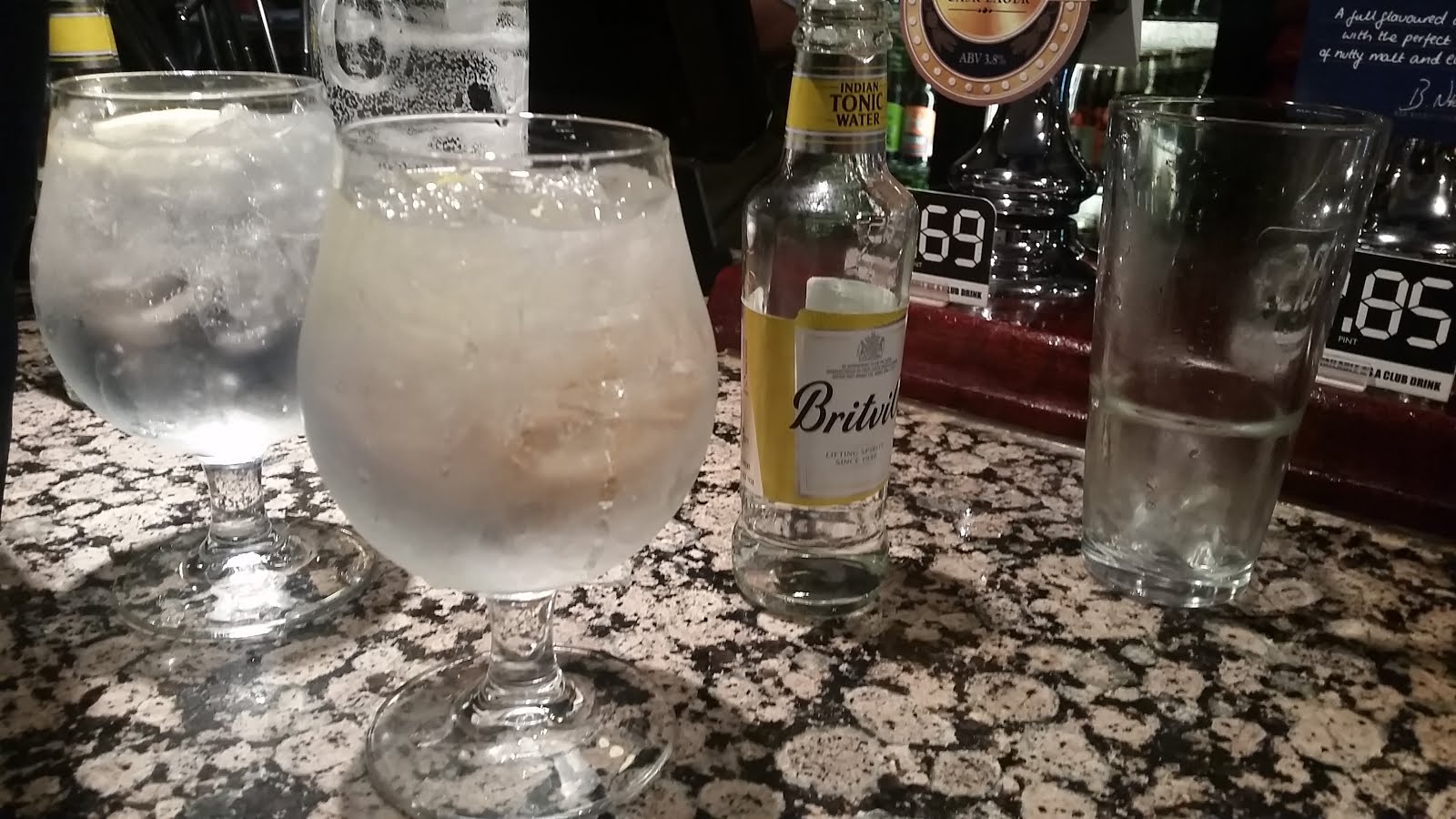 Nightcap
Yeah right.
Taz