So it's FA Cup First Round day! Time to dust off the old Amber & Chocolate rosette, grab you wooden clacker and hoist the second biggest tin-foil cup you own (the biggest one obviously being your tin-foil Surrey Senior Cup) high above you head. After the defeat of the Vegans & Vegetarians in the round before, Dartford away was our reward. Not quite the glory tie you hope for, and it's more of a qualifying round match, but a winnable tie nonetheless.
With a whole weekend of FA Cup football, you would think that we'd be keeping an eye on all the action. But instead, we were down the club taking part in a little quiz on Friday night. And what a bugger of a quiz it was! Out of sixteen teams we finished a meagre fourteenth, so we sort of Carshalton-ed it. Not surprising really, with some of the poxy questions asked.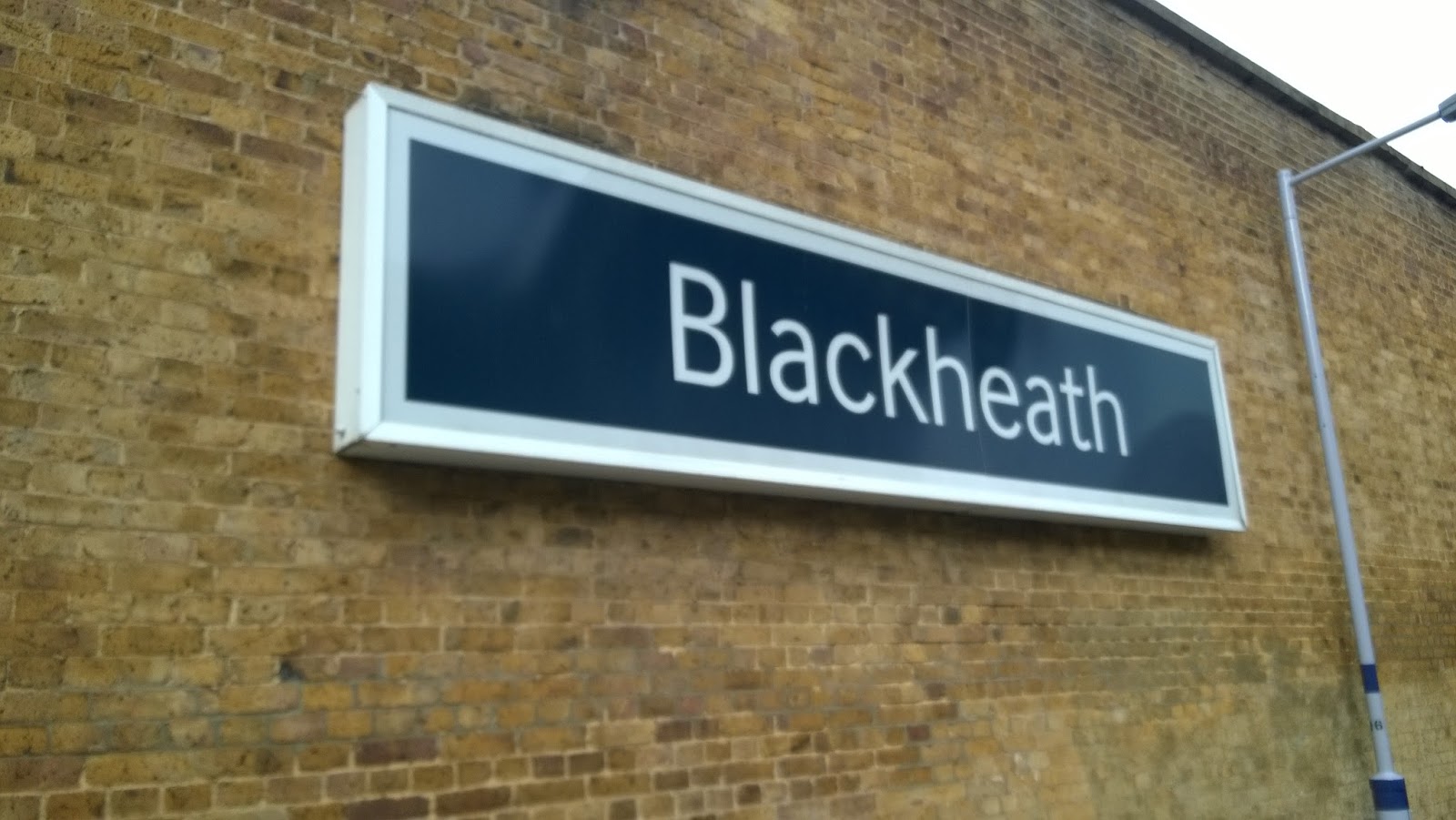 Not Dartford
When you have questions about poetry, Shakespearean characters & Fashion Designers, you know us at Gandermonium are right up the Khyber! There even was a whole round dedicated to questions about womenfolk that didn't have anything to do with porn. Even a simple 'Who was Page Three girl of the year in 2001?" or "How old was Linsey Dawn McKenzie when she first whipped them out?" would've been nice. "Jakki Degg" and "16" are the answers by the way, but you all knew that already obviously.
With another strike on Southern and engineering works on Thameslink, it meant that there was fuck all trains in and around Sutton this weekend. So it was once again every man for himself getting to London Bridge. Mr X & Wardy were meanwhile going for the very much underused Worcester Park to Waterloo route. Indy, Sean, Lil' Chris & 4 Days were coming up from Morden. That left me, Taz & Dr Bell heading for the East Croydon way.
With The Firm Leader driving to the game, he offered to take me & Taz to Croydon and we happily accepted. Getting dropped off we just managed to make the delayed 0942hrs and was greeted by a Dr Bell just finishing off filling his face with some pastry delights. With a very quick trip up to London Bridge we had plenty of time to just hang around and wait for everyone else to turn up.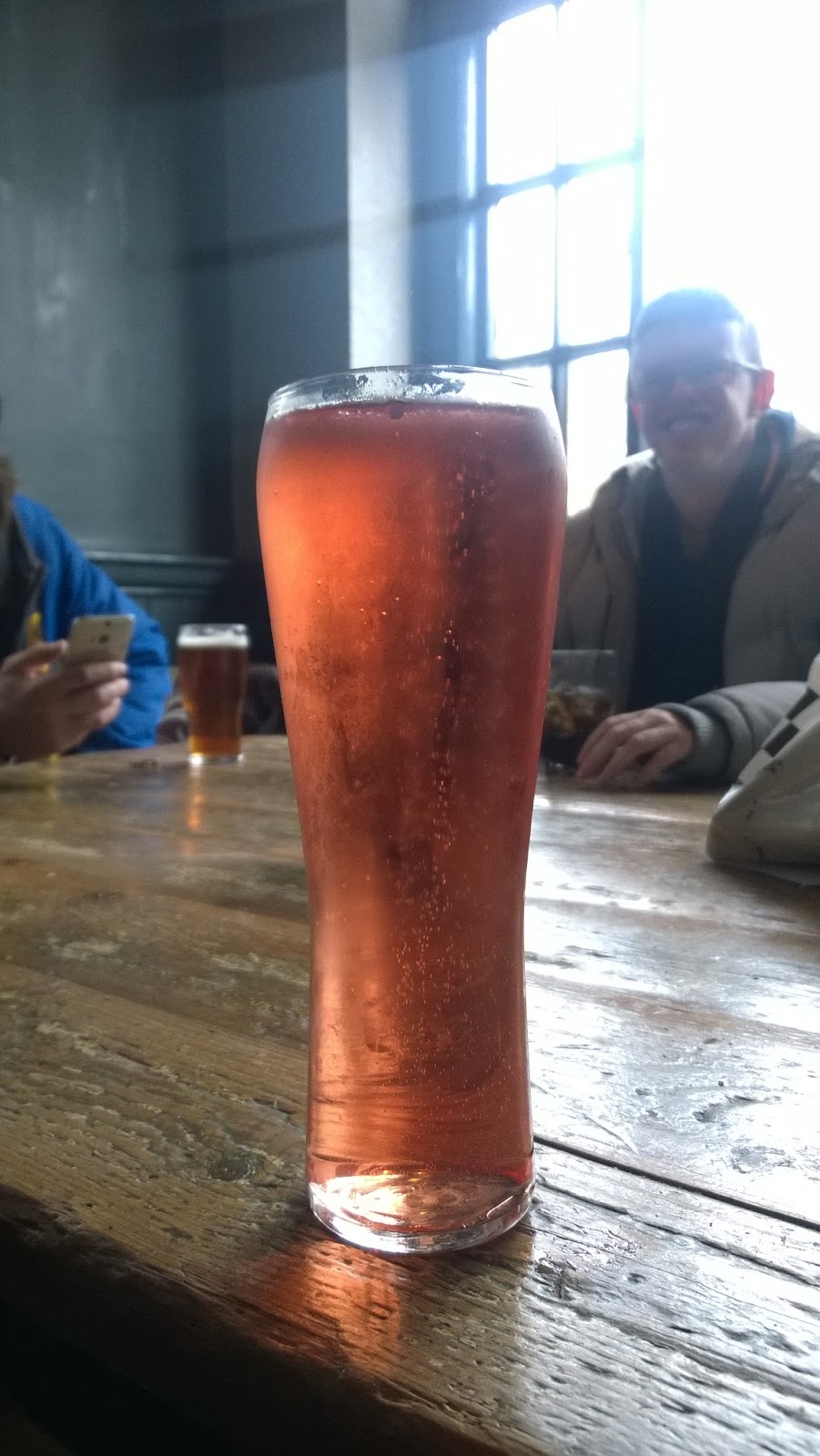 A large rose…
For today's trip we were going to have a slightly different approach. Instead of heading straight to Dartford as usual, we were going to stop off in Blackheath. This was because a fella we know from the Welling mob lives around them parts and had offered to take us around a few of the local boozers. Arriving bang on eleven o'clock our first job was to get some tickets to Dartford. Somehow it managed to cost us £11 quid each! And that's with a Network discount, the robbing bastards.
The first pub of the day was "The Railway" and here we were due to meet Welling Russ. First pint of the day for me was some sort of fruit cider that came out looking like a pint of pink wine. How very masculine of me. Still, it was just about drinkable. There was also some crazy Austrian beer being drunk by some of the boys but its name escapes me.
Whilst we were in this pub a rather strange sight appeared at the window. Being clearly attracted to the ponytail of silver hair that Sean Connery's Stuntman has upon his nut, was a albino Ferret. Yep, that's right, an albino Ferret. And despite having a glass window separating them, this did not stop the Ferret from eyeing up Sean's barnet amorously.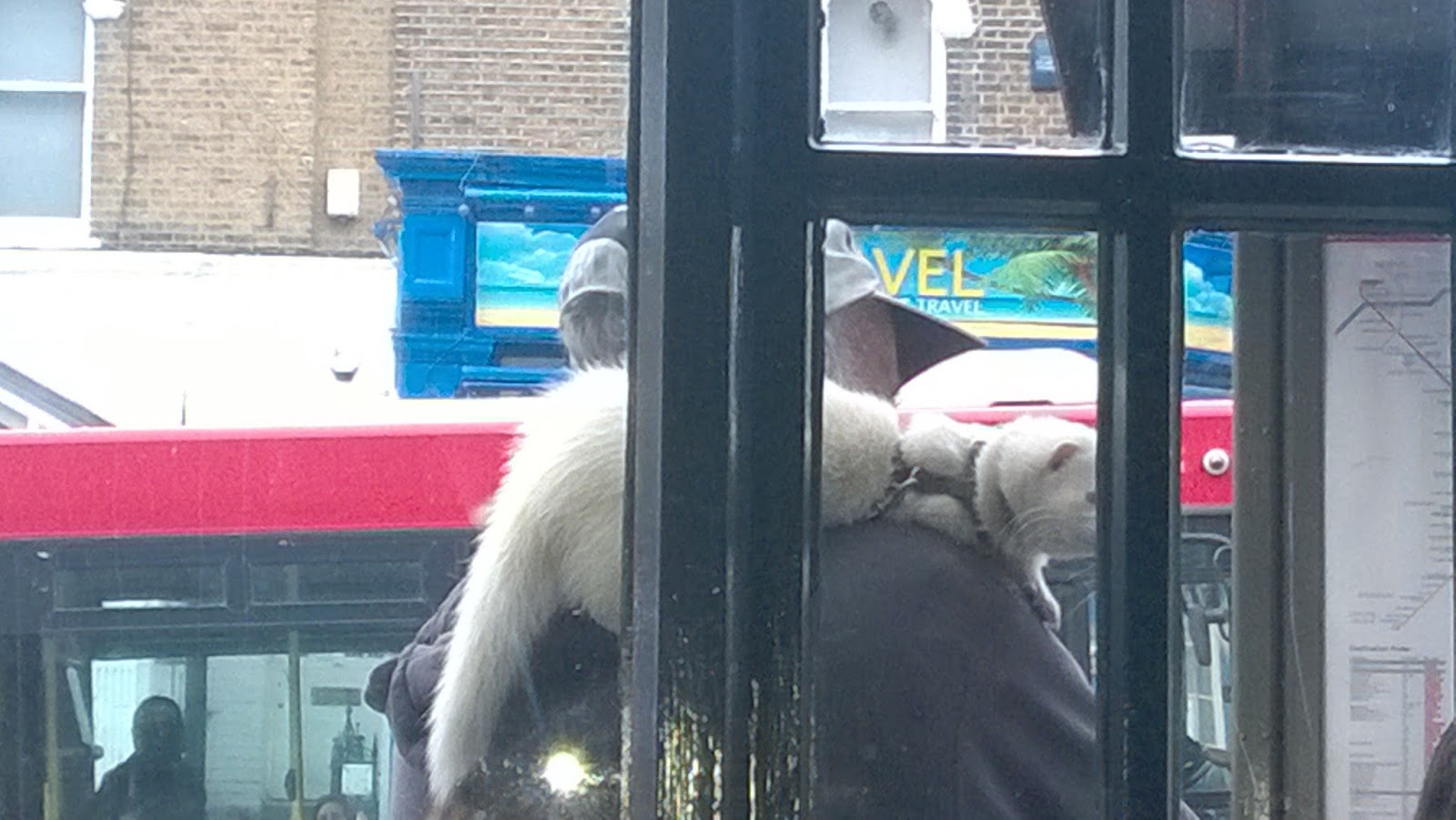 Another pint of the pink stuff and Russ arrives and we begin the usual shit that non-league fans discuss the world over, which is mainly shit football. With a rather tight schedule, we were soon heading up the road to another bar called "Zero Degrees" or maybe it was spelt "ZeroDegrees" like that poncy way of doing things. This was a microbrewery place, so had loads of 'craft beer' shite and only had one choice of bloody cider! The bogs were a mission to find as well as there were several flights of stairs to navigate, all through what looked like a Bond Villan's living room. In a way it was like the Porterhouse up town, where you could get lost if you wasn't careful (and or pissed up). Apparently these toilets have even won a local award, probably for the job it takes to find them.
Now it was time march across the green to the third pub. Having some family ties to South-East London I do know some places round here, but Blackheath isn't one of them. The place is pretty much like Wimbledon Village or somewhere like that. Nothing like the Mottingham's or New Eltham's that I'm used to. Also turns out that Blackheath has something of a major free fireworks display going on in the evening and would probably explain the unusual 2:1 staff to punters ratio in all the pubs.
"The Hare & Billet" is next and Russ assures me that the cider choice would be drastically improved in here from the last place. He's right because we have a 100% increase as I've now got a choice of two to pick from. Cheers Russ! Still he is a Welling fan, and you have to sympathise with him. Not only are they doing shit, but after having had Ricky Wellard in their team last season, they've now been lumbered with Mitchell Nelson! Poor bastards.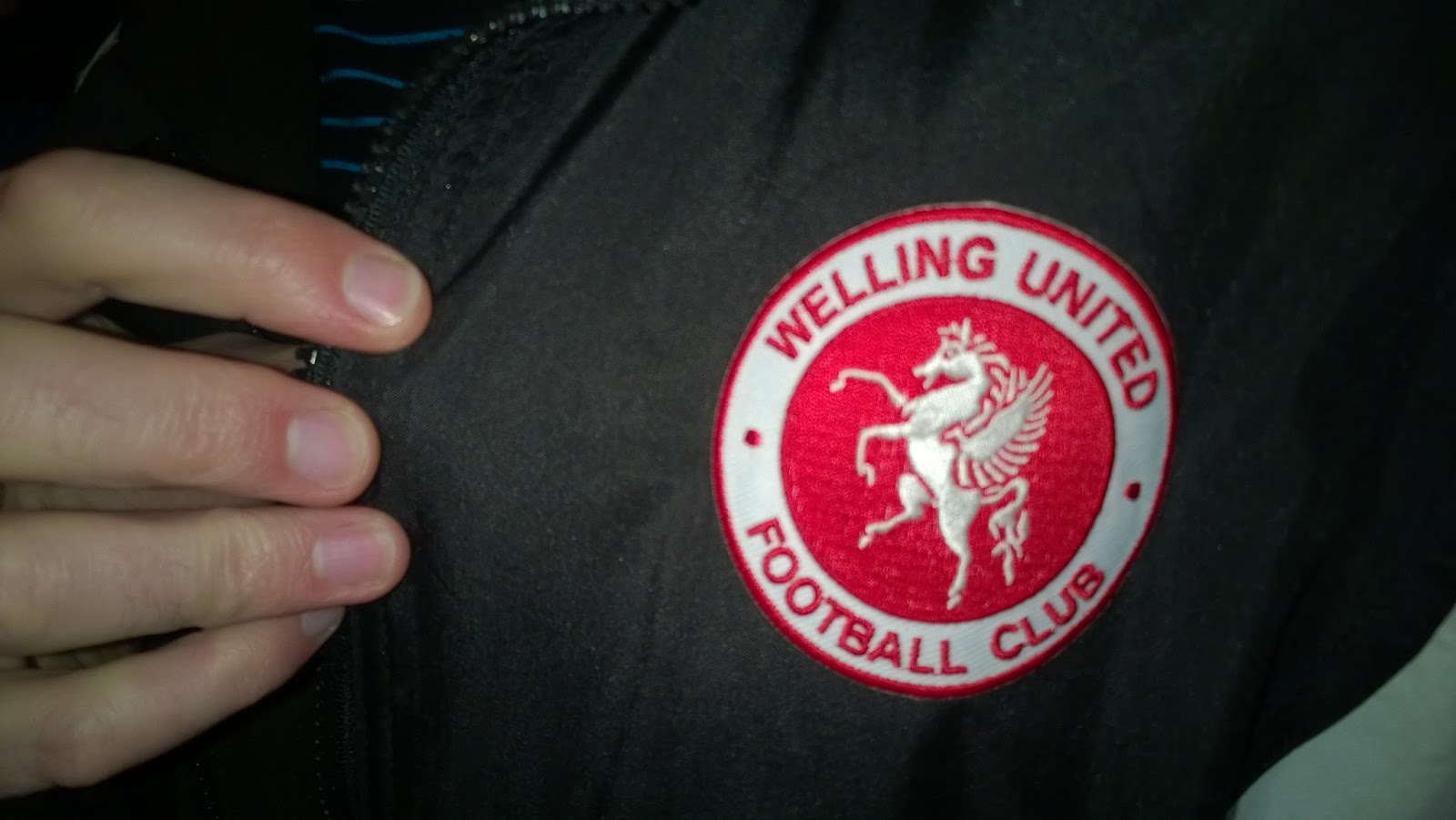 Always think of those less fortunate than yourselves…
With one more pub option, we head to "The Crown" and a quick round of shorts is ordered. Saying goodbye to Russ we start to make tracks to the station and with Wardy's watch being over five minutes fast we end up having more time than we think. Still, we mange to grab a can for the journey and we were soon arriving in Dartford.
With the time fast approaching half two, we've no option but to jump into a couple of sherbets and head straight to the ground. A quicker journey then expected and we've just enough time to squeeze in a quick drink. Trying to go into the bar, we're told to head into the ground first. £14 entrance fee (except for a certain someone managing to get in once again as a concession) and Mr X heads off to the bar.
Getting split up, and not knowing there was more than one, I end up in the wrong bar and have to frantically look for the other. Mainly as I know there's a beer waiting for me in it! Eventually I find Mr X, complete with a tray full of drinks. Turns out that no one else from the round has found their way into the bar, so its down to me and him to finish them all off. We also bump into a Dartford fan who seems to know us by name, but for the life of us we don't seem to remember his! He asks me what I think the score will be and I reply "with at least seven players out, game's got Nil-Nil Written All Over It".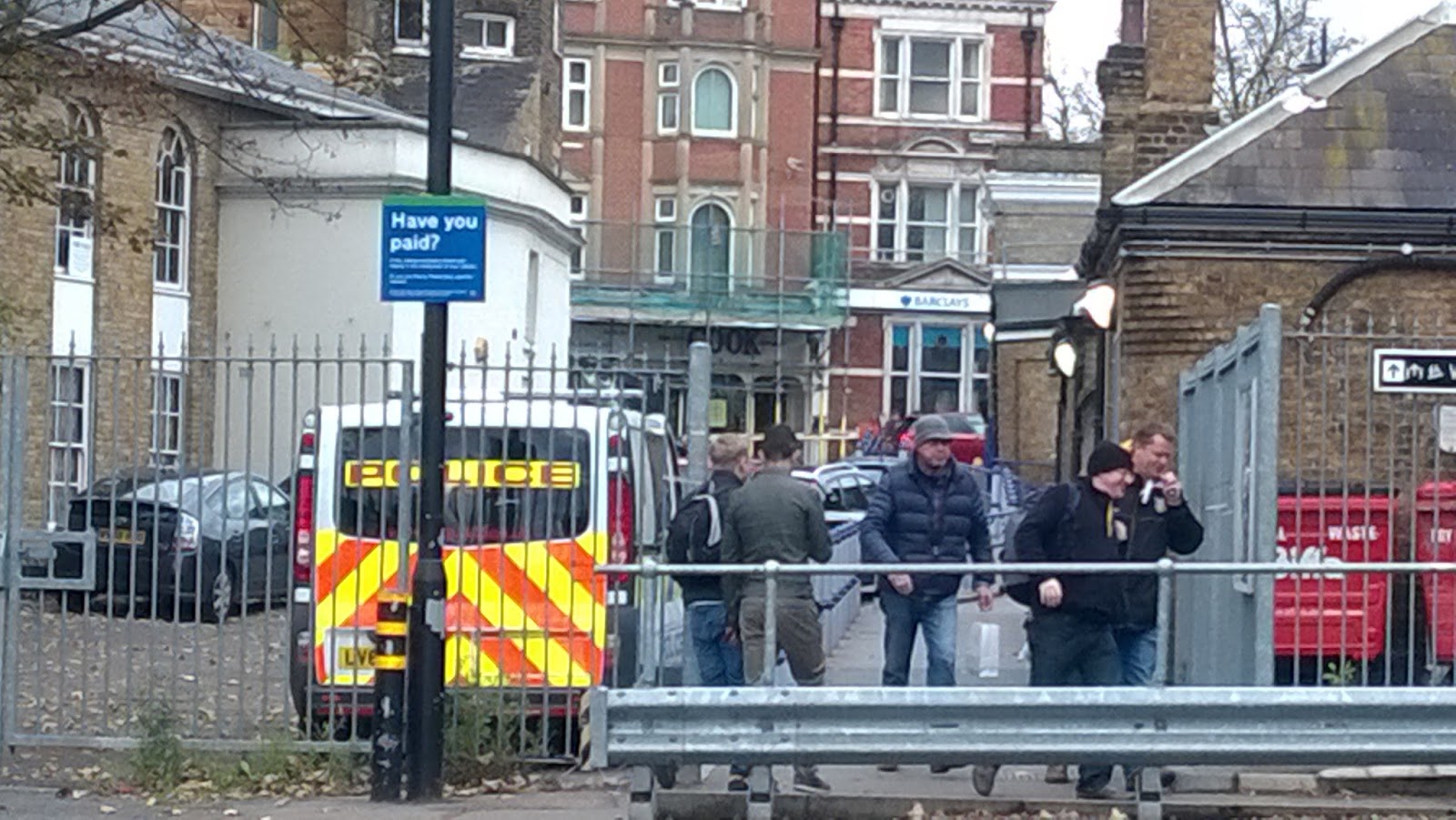 They're onto us lads! Scatter!




Worner, Amankwaah, McLennan, Downer, Eastmond, Collins, Deacon, Bailey, Biamou, Fitchett, Stearn. Bench Warmers: John, Hudson-Odoi, Spence, Dickson, Burge, Smith, Gogic.


Yeah yeah, so I missed the first fuckin' goal! Too much gassing with Millsy in the bar I'm afraid. Just as I'm descending the stairs into the ground I hear a big cheer. Big enough to think that Dartford have scored. But as I walk out I see from the scoreboard that Sutton are in the lead! And there's forty seven fuckin' seconds on the clock. Speaking to Bob as I walk round I ask him to describe the goal: "Fitchett back heels it to Deacon, he runs near enough to the goal line before playing it to Eastmond and he scuffs it and it goes bobbly, bobbly, goal" 1-0! Turns out it was Biamou who actually scored it, but cheers anyway Bob!
Taking my place with the rest of the away support, the mood seems happy enough. Didn't last long though as Dartford are soon level. A mix up between Collins & Worner has Collins try to clear the ball up the field. It's not far enough and Dartford have a chance as Worner takes his time to retreat back towards the goal. The fella hits it well enough, but once again we've let the opposition back into the game almost straight after going in front.
Only five minutes of the game have gone at this point and soon afterwards Dartford should've taken the lead when the fella missed a sitter, it looked easier to hit the target than anything else. A quarter of an hour gone and we're back in front when Deacon receives the ball on the edge of the box after a throw in and with enough bodies in the way, manages to rifle it into the net. 2-1!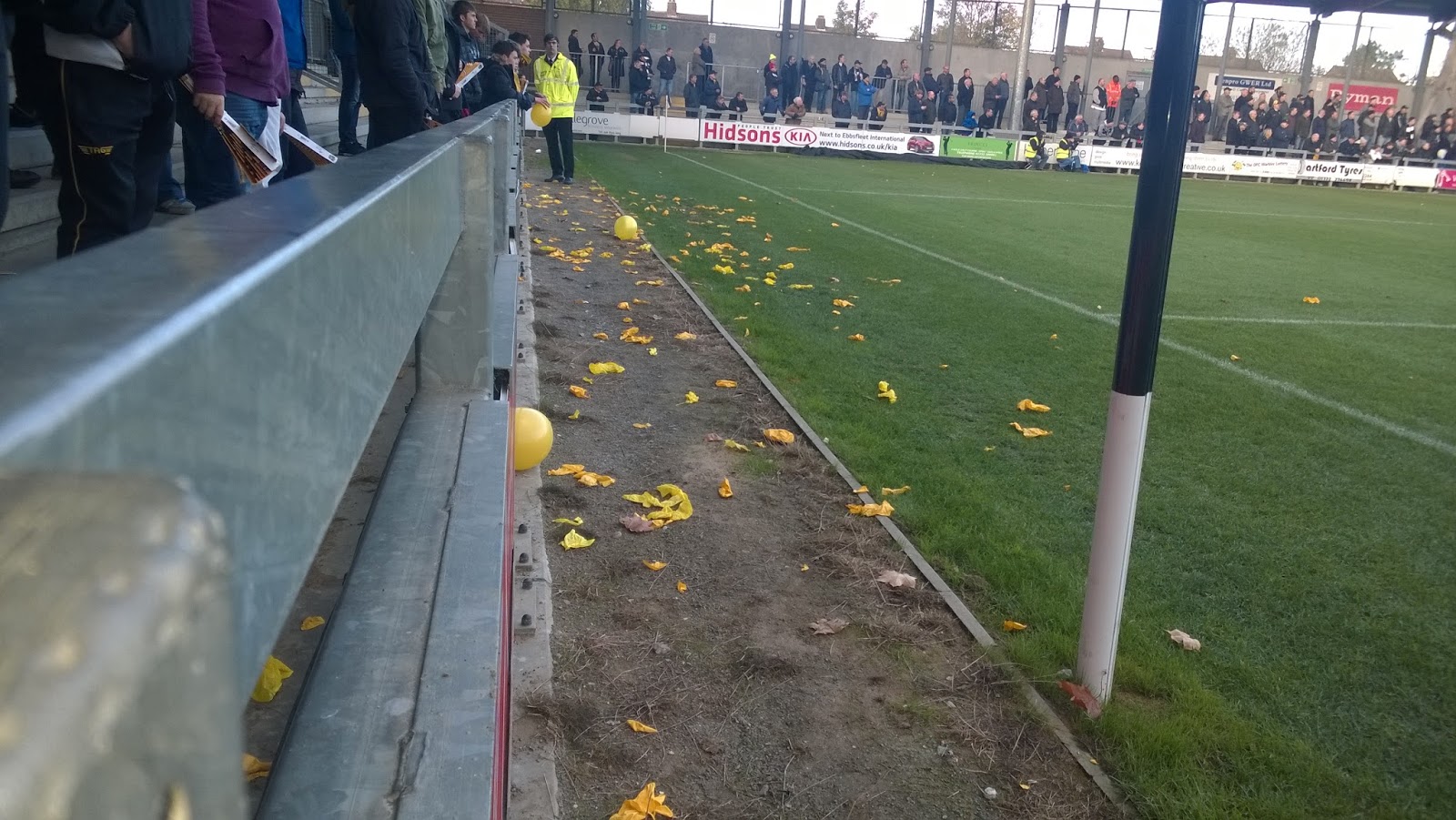 Who's going to clear that lot up then??




Once again the lead didn't last long though as we give away a penalty a couple of minutes later. From our view at the other end of the ground it did seem that Eastmond had his arm out as he jumped to stop a cross but he did seem to be turning as well when it hit him. Collins is booked for his reaction, Dartford score the penalty and we're all square again at 2-2. Jesus, there's only been seventeen minutes!
Five minutes later and we witness yet another goal. This time it's Biamou agina who puts us ahead with a first time turn & shot that sails into the top left hand corner after receiving a perfect ball from Deacon. 3-2! Five goals after only twenty-three minutes! We're enjoying this and it's not surprising, it was Lincoln away in August the last time we scored three goals in open play away from home.
There was still time for more action as the Dartford number 4 pick up a justified yellow card after bringing down Biamou. There were a couple more chances for both teams, but we were glad to finally be able to feed our tobacco habits at the break with Sutton in the lead. Surely the next half won't be as exciting as that?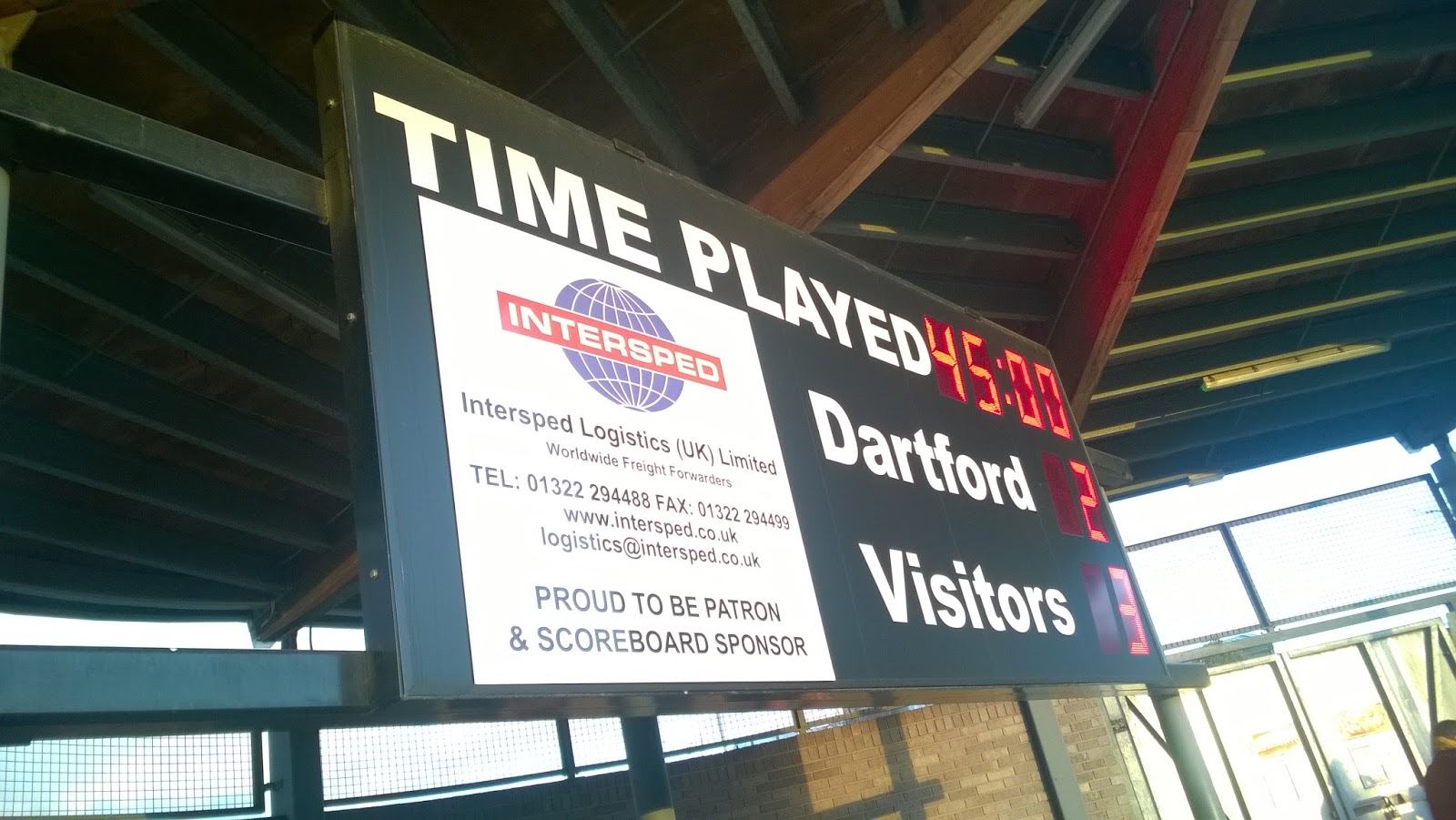 First half? Yeah, it was alright…
Second half and we're at the other end. Carrying on from the first half, there is still plenty of action. Ringo picks up a yellow for late challenge and Biamou then manages to miss a simple one on one. Then to make matters worse Dartford are level again less than a minute later. Poor marking in the box has not one but two players free on the right hand side. The first attempt comes of the post but the second is dispatched into the roof of the net to have us once again questioning our defensive frailties.
It didn't take us long to put ourselves back in front though and it's Stearn's, who's had a quiet day so far, turn to score. This time its a fumble from the Dartford Keeper that gives Stearn a simple finish. A quick look to the linesman to be sure and the celebrations begin again. 4-3! Soon after Ringo is subbed for Spence and the game starts to slow a little as the hosts look like they might finally be running out of steam.
Eventually Sutton get the decisive goal to finally kill off the tie when Deacon cuts in and hits a low shot that beats the keeper low at his near post. 5-3! Soon after we make another change when Biamou is taken off for Burge, who then nearly scores with his first touch. He receives the ball from Fitchett, but could only watch as the keeper makes one of his few actual saves of the day.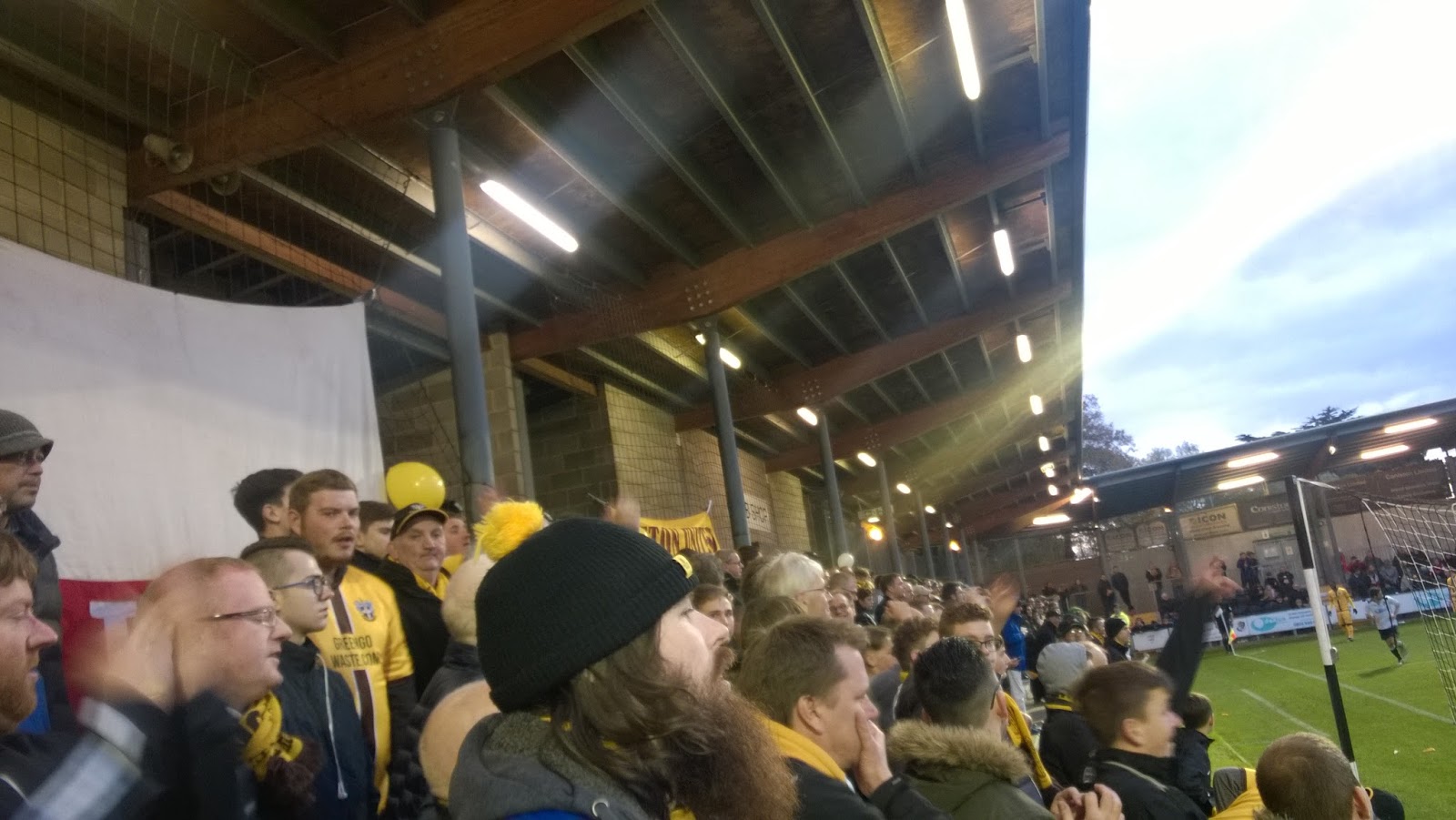 Happy campers
Dickson is then brought on for Fitchett and this brings a cutting comment from a member of The Firm towards their keeper who also plays for Gibraltar:-
"Oi keeper, there's now two internationals on the pitch and you're still the shittest one!"
Surprisingly, he took it well. On another day, Dartford could've been reduced to nine men with both the number 4 and 9 having both been booked for earlier incidents and then getting away with more of the same. I guess the ref felt sorry for em? The only sour note was hearing that bloody silly Palace song from a minority of the travelling away support. Fuckin' hipsters! With time fast running out, the game was capped off with another Sutton goal. Deep into injury time, Stearn received the ball from Dickson just outside the box and then curled a cracker round the keeper and into the corner. 6-3!


After the game we take the selfless way by celebrating our victory with a couple of pints in the club bar. Checking some of the other results we see that the apart from Macclesfield's win at Walsall there hasn't been any real cup shocks. Then again, have you seen the Whitehawk "full time whistle blows just before the winner hits the back of the net" video yet? Fuckin' 'ell how's you luck?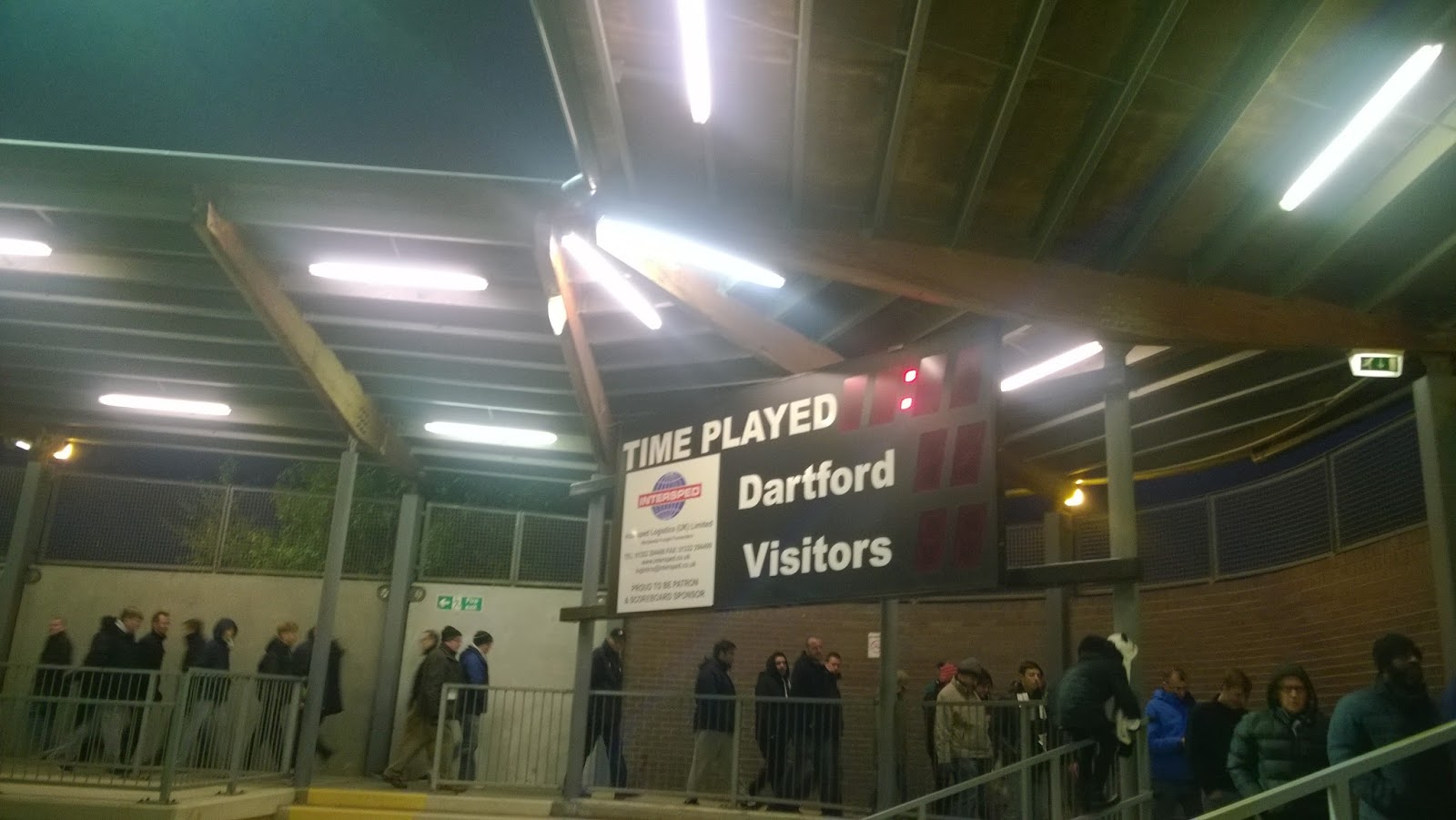 The Princes Park scoreboard gets a well earned rest.
A couple of pints later and we start to head back into town. Sending Indy & Sean off ahead didn't work as we meet them half-way looking slightly lost. "The Ivy Leaf" is next and the place is not only busy inside because of the Chelsea match, but busy in the car park as well as a load of free loaders are taking advantage of this vantage point to watch the various fireworks going off around like a bad night in Aleppo.
It was here where Taz done one of his trademark "love puffs" that had one of the boys comment about how disgusting he was. And this included comments from a man who'd earlier taken a piss in a sink at Dartford train station! With Chelsea giving Everton a right royal going over we bumped into a few Dartford supporters who were surprisingly not too broken up about the result.
We did try "The Malt Shovel" but it was too busy, mainly as there was a private party on. Not that this stopped Mr X stumbling in and getting to the bar before being told to leave and head closer to the station. Getting split up, it ends up with me,Taz & Dr Bell getting left behind. Thinking that we'd agreed on the "Wat Tyler" we head there only to find out that everyone else has gone to another pub. Turns out that we made the better choice as when we speak to Mr X, he confesses the boozer they've gone to is a right shit hole.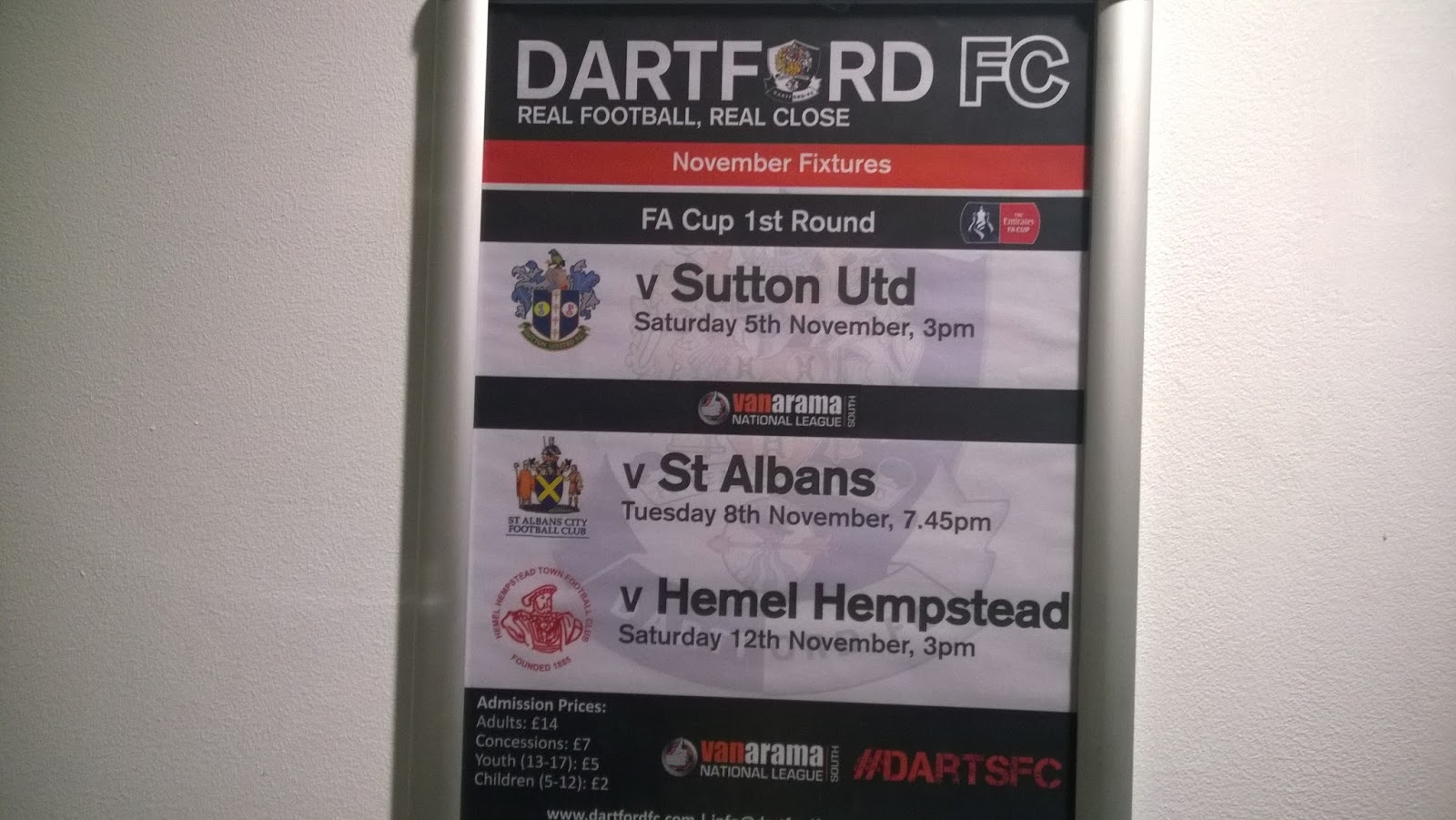 Top billing. And rightly so.
I don't think the barmaid in the pub would agree with us, because as soon as we walk in several Dartford fans at the end of the bar start to sing and cause her no amount of grief. Luckily it was all done in jest and it wasn't long before MR X has made himself useful and found us our train back to civilisation, the 1959hrs. With the time at around half seven I make a b-line for the local KFC to get the standard 14 piece bucket to feed the troops, whilst Taz heads off to find an offy for the standard 24 Buds and his G&T.
With the food sorted I head to the station to meet up with the rest and we're soon leaving Darftord for London. Of course, not everyone is on the train! You all know the first golden rule of Gandermonium and it cannot be broken, not even for a respected top boy like Lil' Chris, as he and 4 Days didn't make it. Turns out that Chris has managed to lose his dog & bone on the walk to the station! What an idiot! I mean, who loses their phone on an awayday? Oh wait…
The chicken on the train didn't last long an even the cheeky hot wings I brought went soon enough, despite the moaning by some of the mob about them being too hot. Still, that meant there was more for me! From London Bridge we have two options home, tube to Morden or Train to East Croydon. The Morden way wins out and we make our way down the tube. We did seem to have a police escort for the journey, with no less than about 20 coppers on the platform, but it turns out that they are all just going to Borough police station and not on the hunt for Non-League troublemakers.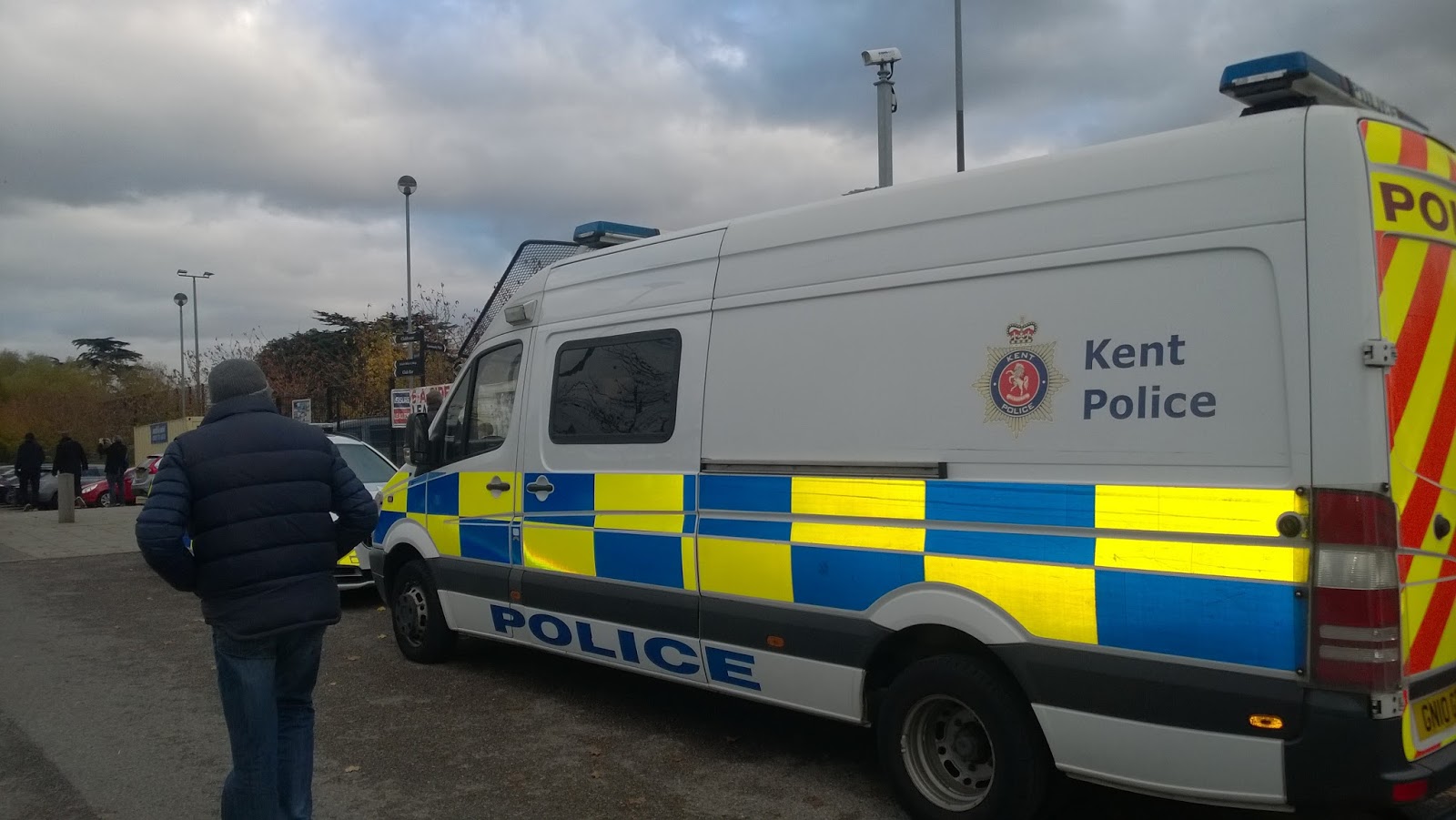 They're definitely following us….
Arriving at Morden and the place is busier than I've ever seen before. Not wanting to bother with a bus we instead mob up and grab a black cab that takes us to Sutton Station for the bargain price of £13. The Old Bank is our next stop off and we have a cheeky pre-O'Niells pint before Mr X decides to call it a night and then staggers off back to the Republic.
The last venue of the day was obviously O'Neill's. Here already are 4 Days & Lil' Chris (having found his phone thanks to a good samaritan). Wardy doesn't last much longer and is replaced with The Firm Leader who's on for afters following a party earlier. As you may or may not be aware, we seem to get on well with the guv'nor of this establishment and he seemed to be enjoying himself tonight, especially considering he's from the Emerald Isle and had just witnessed the Irish victory against the All Blacks in that funny egg chasing game we don't really understand.
So we move forward onto Monday, and the draw for the Second Round. Still not too sure who we would like but we'll see. Back to league action and Barrow at home next week and rumours are about that Taz will not only be covering that match but will also have a little something extra for you lucky lucky people.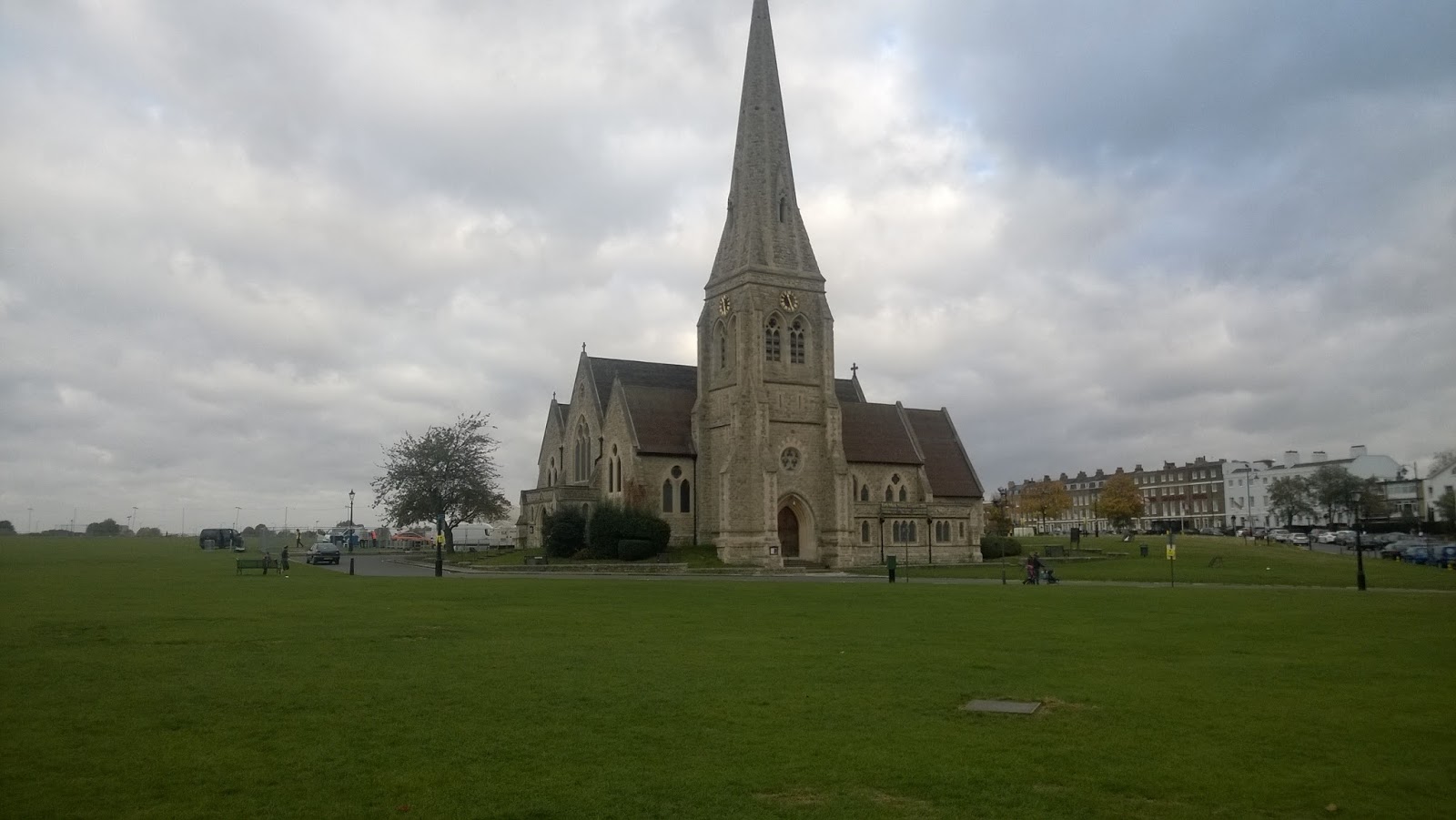 Wild party people. That's us!


Duke
Att. 1689