Back in the seventies – will you stop fucking groaning at the back – back in the seventies the Dirty Weekend was a staple of British comedy and as much a part of popular culture as Glam Rock, Spangles and a clip round the earhole from you friendly neighbourhood copper.
I have no recollection of when the Dirty Weekend fell by the wayside or was banned by the trendies but I do know that it happened by stealth and I also know that it was yet another fucking disgrace perpetrated on my generation who have been blamed for everything by the hipsters from enjoying a bit of slap of tickle, to destroying the planet via copious youthful application of Brut aerosol deodorant. Frankly, I'm sick of it.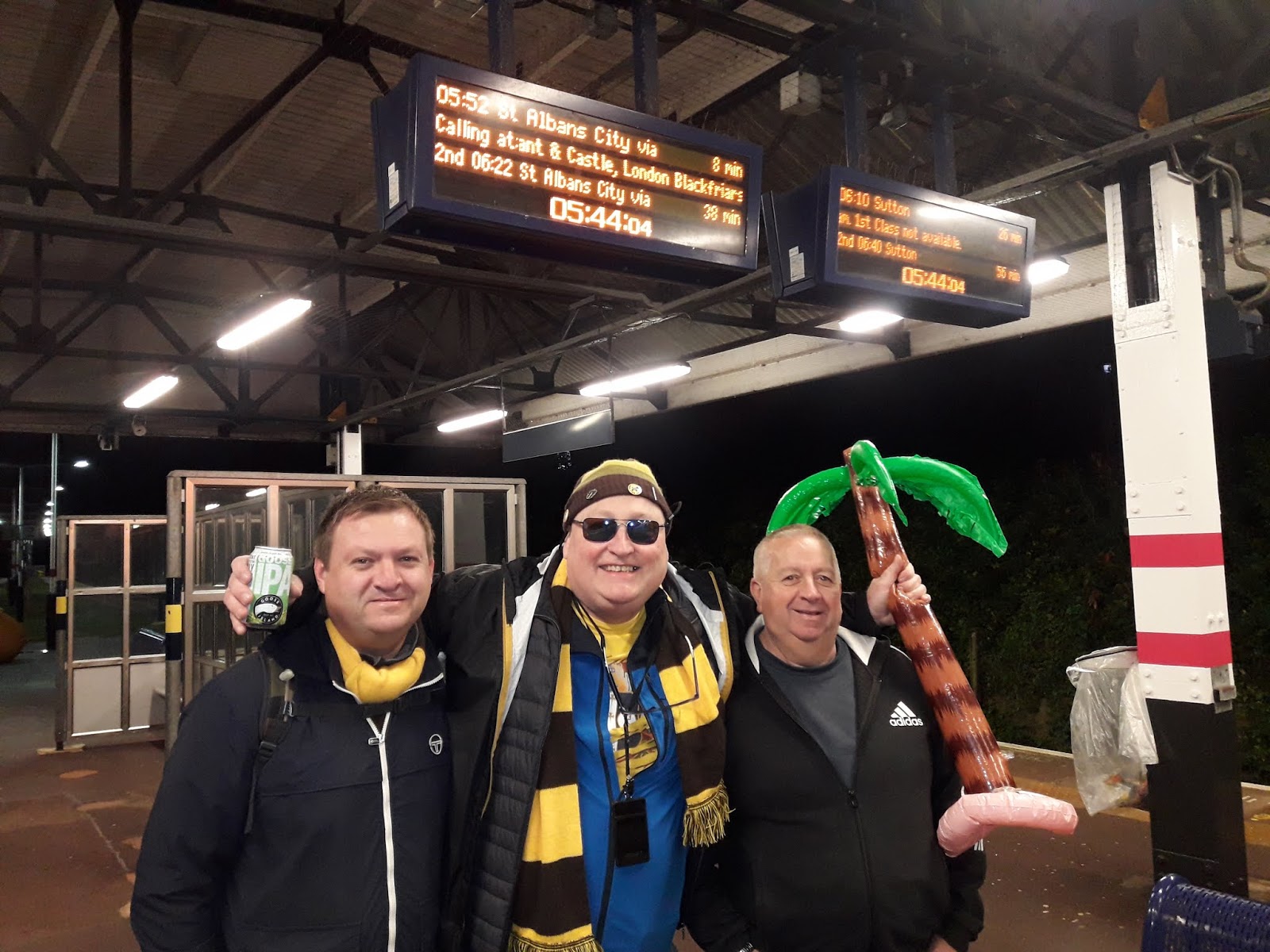 Off somewhere lads?
The Dirty Weekend of the Donald McGill postcard, the Carry On Films and numerous sitcoms is no more and that's sad. Now it's all Air B n 'B, exotic 'city breaks' and hooking up on a mobile phone app for a bit of How's Yer Father? with some scam artist who's after your PIN number and has no interest in flipping through your LP's to try and work out if you're a wong un or not. And if that's what they call progress then I'm glad to be living in a fucking time warp.
See, my heroes are the likes of Sid James, Arkwright off 'Open All Hours', Faces-era Rod Stewart, Peter Osgood, Ernie Bilko, Janie Jones, Jimmy Hoffa, Fred Kite and Mark Frake – and that should pretty much tell you everything that you are ever going to need to know about me. The fact that the modern world has cut me and many others adrift and left us floating in a sea of woke bullshit while we piss what's left of our lives through our fingers is hardly going to make for a column in the Guardian is it?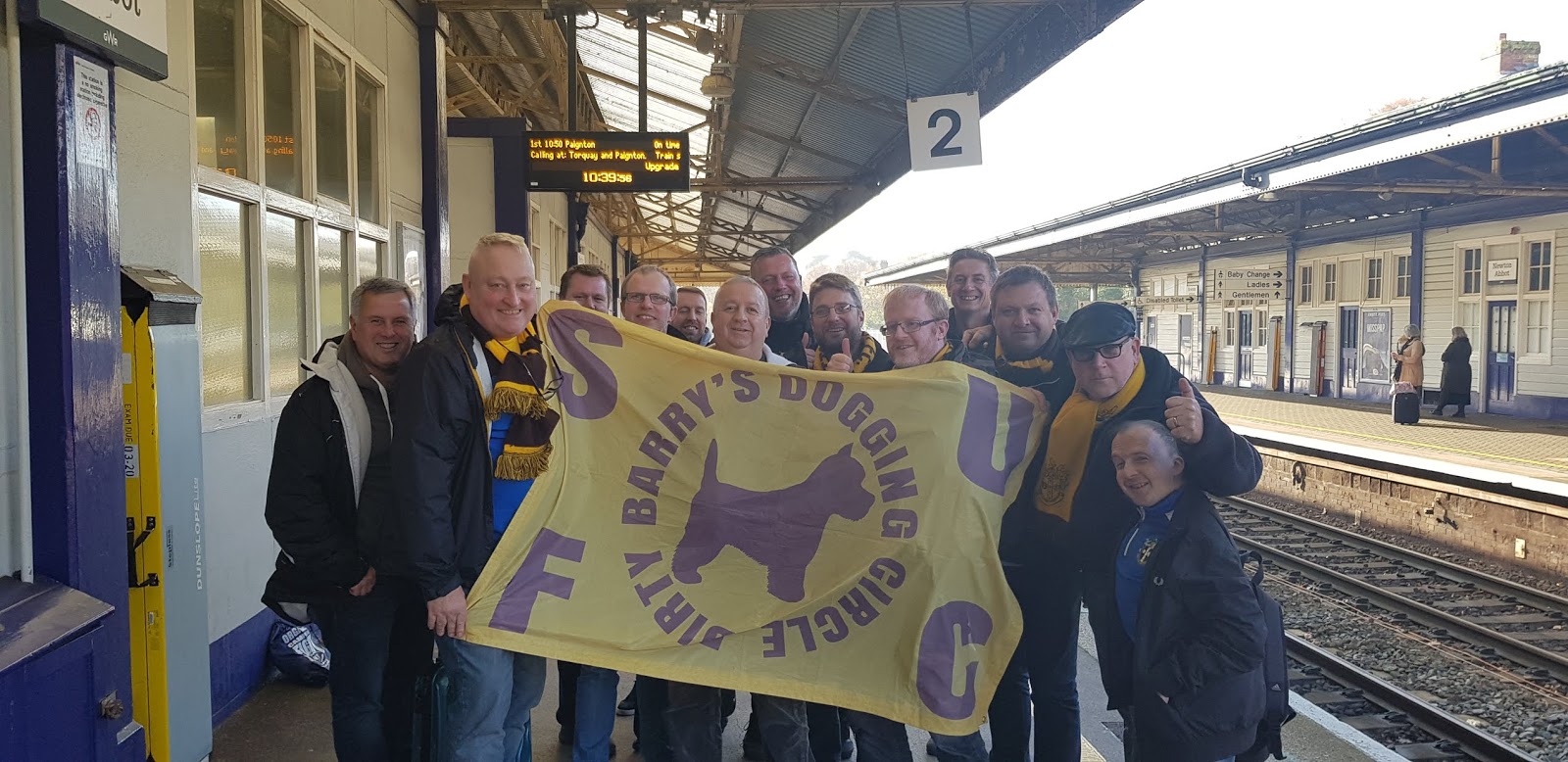 Wrong'uns at Newton Abbott
Anyway, I know what you're thinking – what the fuck has this stream of old bollocks got to do with a national league awayday to Torquay, and that, my old chinchillas, is where you are parading your own in-bred ignorance. Because everyone knows that the only thing that Torquay is famous for is Fawlty Towers and, in particular, it's finest episode where a Jack The Lad turns up in a sports car and Basil is convinced that he is trying to smuggle a sort into his room for the aforesaid dirty weekend. Bosh. The connection is made. You're welcome.
And so it came to pass that when the fixture list came out it was nailed on that Torquay in November would be a big one and would require some planning if we were going to pull off Dirty Barry's Dirty Weekend with aplomb. Originally there were four of us, me, the sexy beast, Hamill and Keepo. We booked up en route to Boredom Wood back in the lazy, hazy crazy days of summer when we were still winning the odd game and I picked out the Seabury hotel which at just over twenty notes a pop looked like top value and best of all it had an ALL YEAR OUTDOOR HEATED POOL!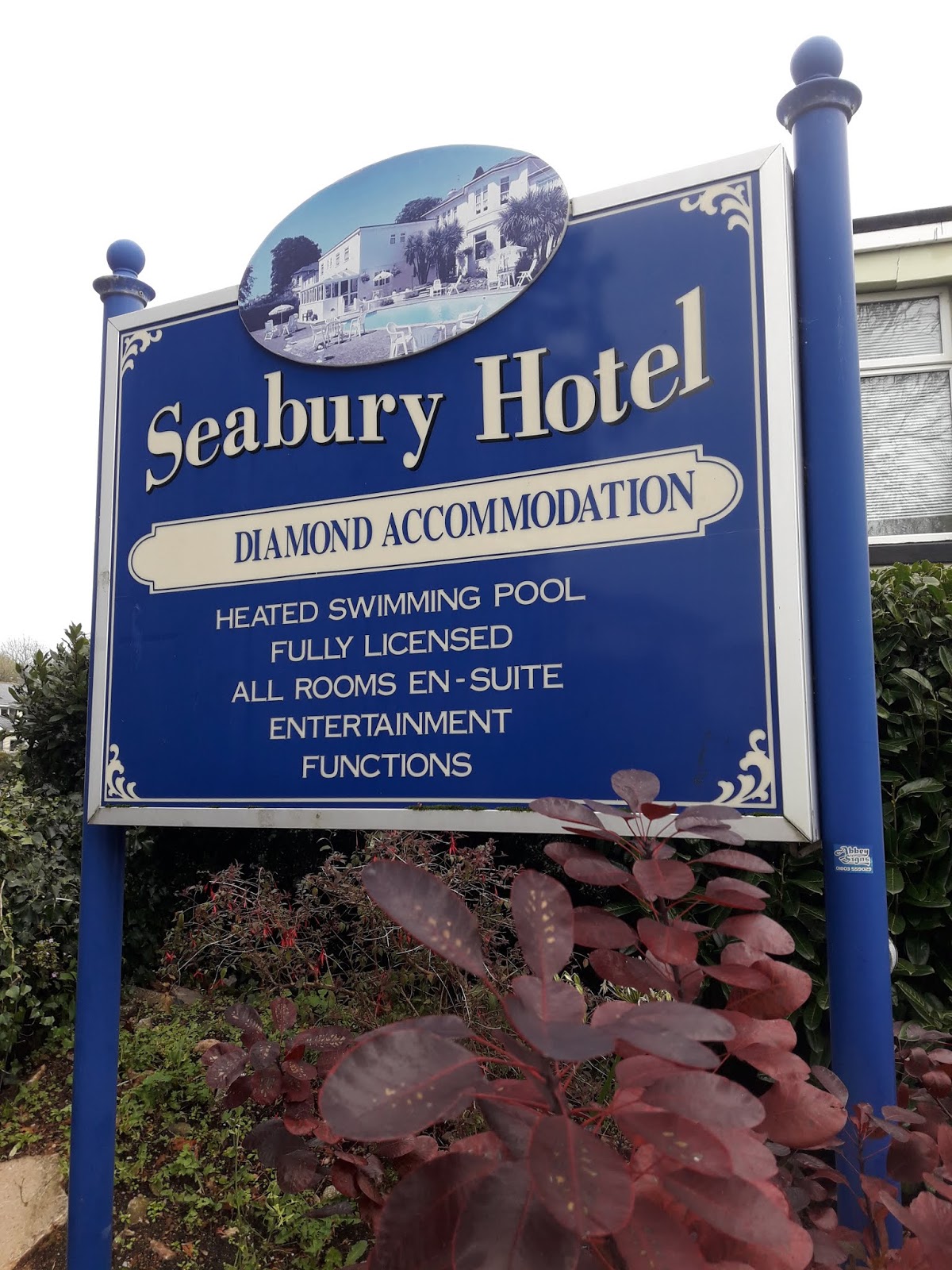 "I'd like to make a complaint about the pool…."
As time rolled on, word leaked out around the camp fire that this was the big one and with the current state of national politics might well be the last chance we all have to let our hair down before whatever set of random loons of whatever stripe take the stage next in the never-ending shit show and basically outlaw the idea of people just cocking a snook at the fucking lot of them and opting to have a laugh instead.
So as the clock ticked down classic late adopters – hello Dancing Marcus – eventually announced that they were on board and with Sean The Ram as our designated tour guide before we knew it we were into double figures and advising the National Grid that they could turn off the power to the whole Tobay area for the weekend as it would be alight on a surge of rampant testosterone. It was also clear that other firms – Wreckit Beckett's B Team and Original Gandermonium – had made similar overnighter plans setting the stage for a cultural experience straight out of the pages of Tatler.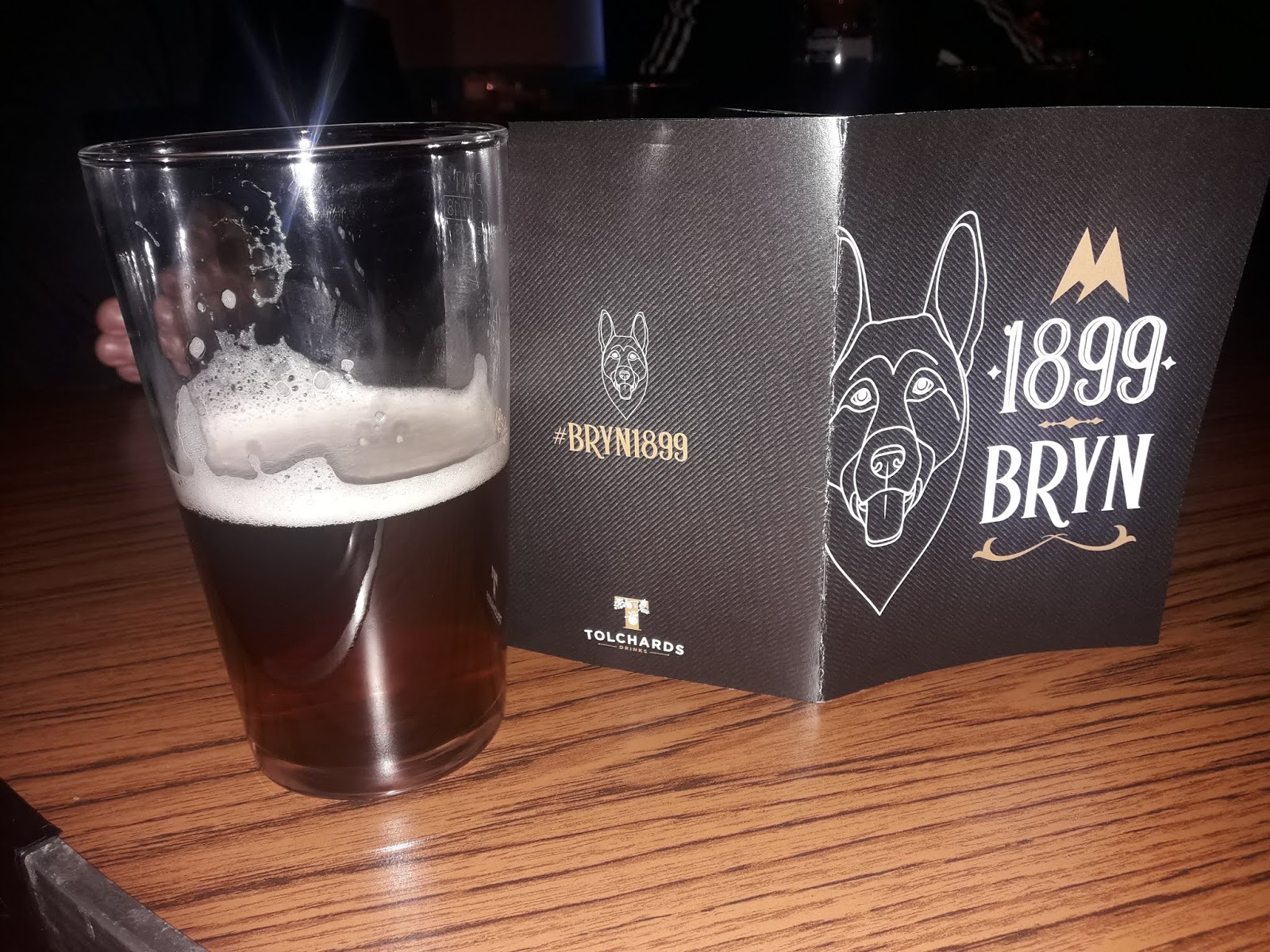 Refreshment
Evil comes in many forms but news that the Seabury Hotel outdoor pool wasn't very year round and was actually closed for the winter was a disappointment, scuppering plans for Dirty Barry's Pool Party and rendering the inflatable unicorns obtained by Big Malcolm for the occasion basically fucking useless. It was a bitter blow, relayed to me by one of the COCS up on the Shoebox during Tuesday evenings Surrey Senior Cup victory over Horley. Both Clive from the B Team and Ossie had boasted that their digs had pools and we might be able to cut a deal, we will see but let's not get ahead of ourselves.
Saturday morning rolls round and I am up out of bed at 5am like a coiled spring for a cup of splosh from the old Goblin Teasmade and a Pop Tart awaiting DB and the shaggin wagon for the short run up to West Sutton International where the old bugger has decided to leave his wheels for the duration so we are all on the same first rattler off the platform. There was talk about Bal staying over at Totts Towers for the night but Nurse Gladys Hoffa wasn't mad keen on the idea if I'm being honest. Apparently the old fella has a penchant for sleep walking in the nip. The Seabury Hotel are going to be fucking chuffed that they've been given the nod this weekend and no mistake.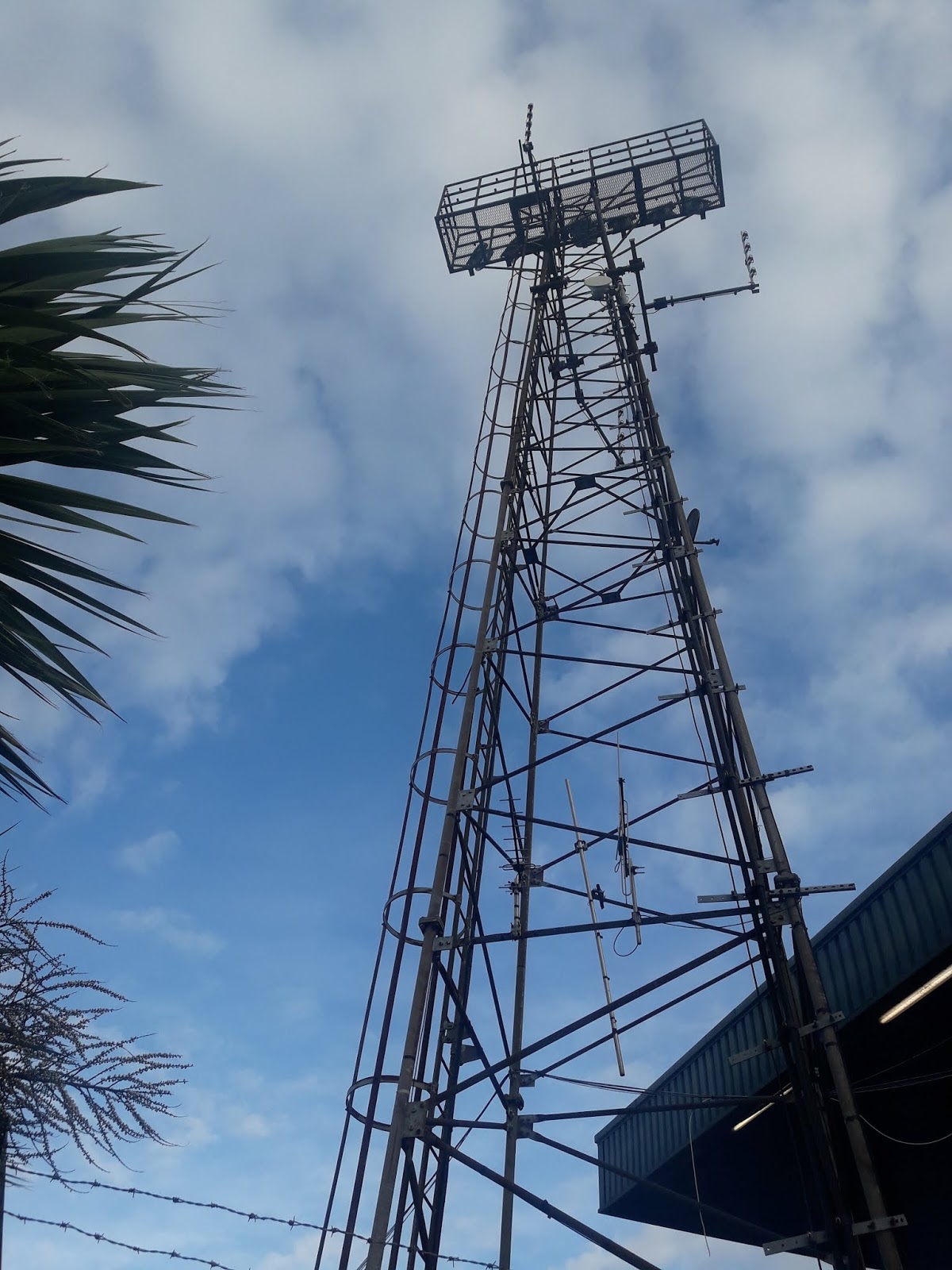 Pylon porn
At this ludicrous hour we are soon joined on the platform by Dancing Marcus and Big Malcolm who has come equipped for the trip to the English Riviera with a can of IPA, a yellow swimming cap and an inflatable palm tree. Russ the Chippy rocks up with Smarty who reveals that he has had less than two hours kip and is still pissed up from the night before. This has all the makings of a belter this one. Keepo meets us on the train and before long we are arriving in the cold and pitch black at Wimbledon for the tube up to Paddington. Well that's the theory, there's some sort of fuck up at High Street Kensington so we bale out at Earls Court and manage to flag down a couple of black cabs for a predawn hop across West London and are well in time on the concourse for the 7.30 to Torquay via Newton Abbott.
Taz, Magnum and a few of the others are loitering around with wheely cases like they are off for a fortnight in Majorca. Me? I travel light. A clean pair of Y Fronts and a splash of Old Spice is more than enough for an overnighter as far as I'm concerned. Disaster is never far away when you are on manoeuvres with Fred Karno's Circus though and we are denied alcoholic beverages in both Sainsbury's and M&S due to the ungodly hour. Never mind, we will get sorted out on the train and before long we are all aboard and ready to roll on the next stage of the journey.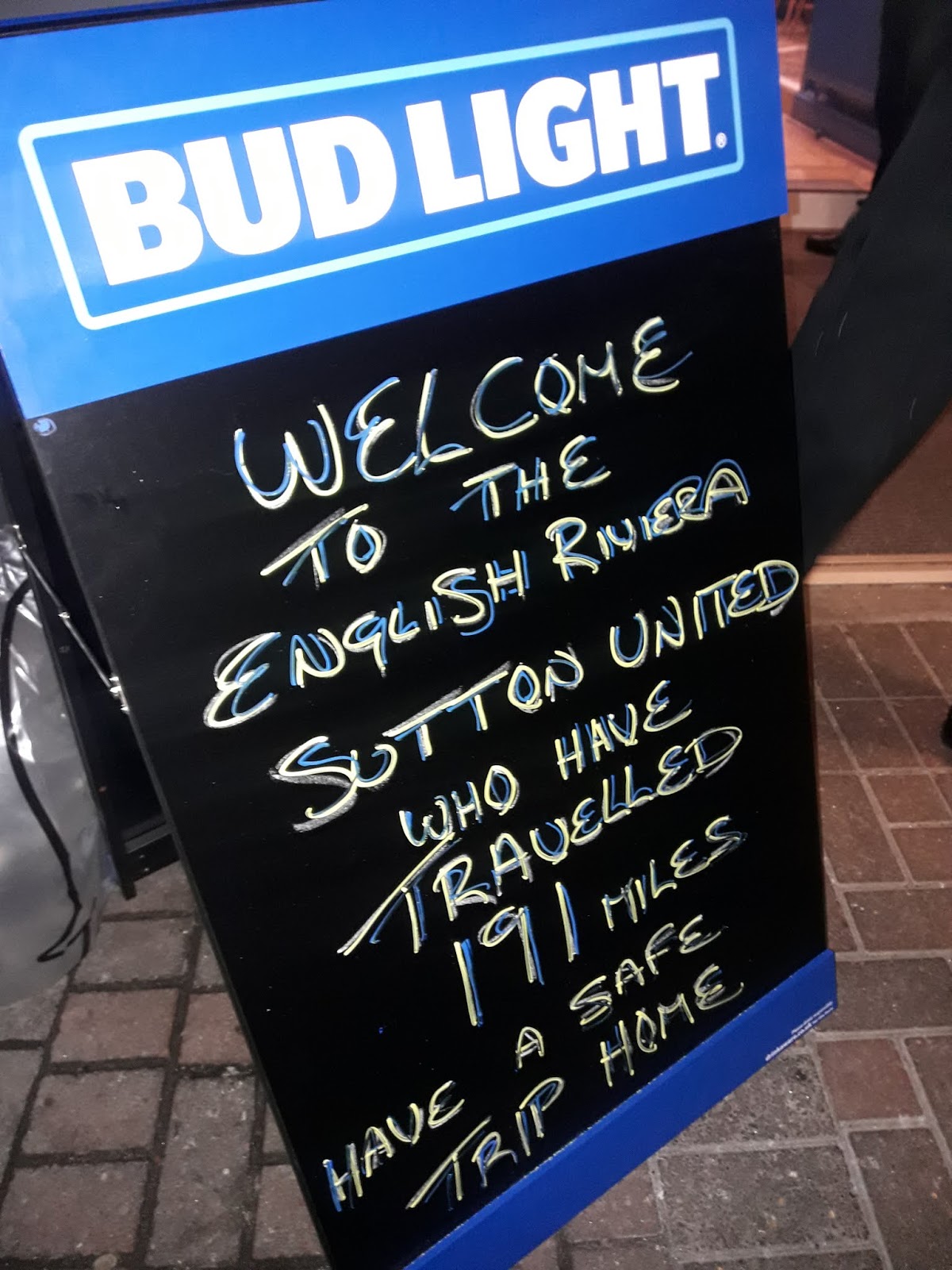 Hello!
A quick word about Great Western Railway. The twat who decided it was a good idea to rip out the buffet car and replace it with a few extra seats should be sorted out. Leaving one member of train crew to operate the service and sell stuff off of a trolley is frankly ludicrous. Luckily our train manager was a diamond geezer and despite being rushed off his feet sorted us some hot drinks and even opened up the bar in First Class so we could get a few liveners in. A brief layover at Newton Abbott and before eleven we are rolling into the seaside all agog with excitement. Right. Let's get a couple of cabs up to the Seabury, drop off the bags and work out a plan of action.
That plan of action basically involves finding the nearest boozer, the Fortune of War, loading the jukebox up with the seventies classics, playing a bit of pool and laying into the whip. Shall we go somewhere else? No this is grand thanks very much. Sean the Ram joins the developing party and we are having a fine old time all ways round but the clock is marching on and we make the short hop round to the ground and pile into the Boot and Laces, the club bar, for a few more scoops and a catch up with some of the other travelling U's. I have a pint of Torquay FC's own brew, which is very decent and they even give me a little booklet about the clubs history to go with it. Great stuff.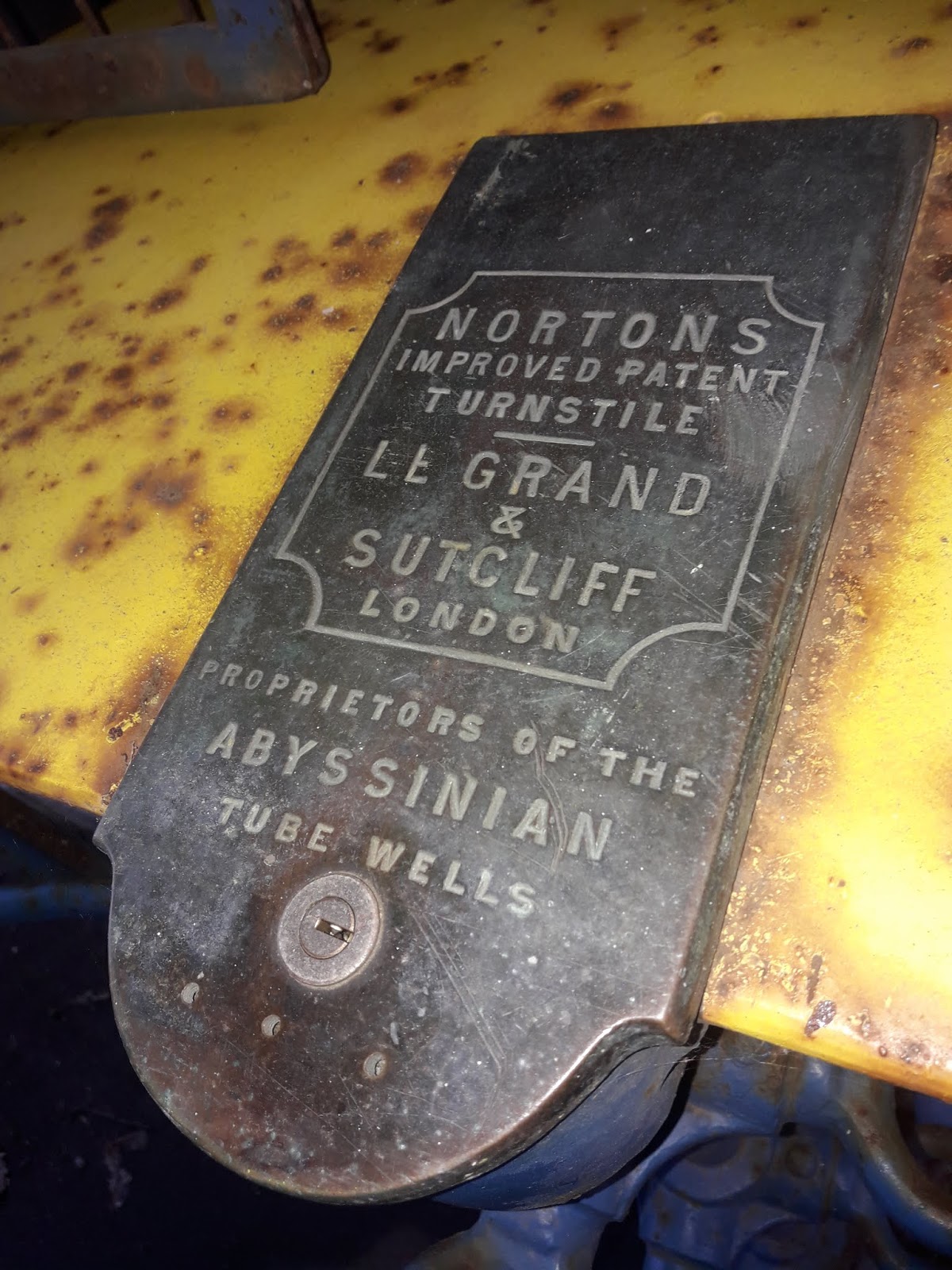 Turnstile porn
Now then. Kick off is approaching so we head round the ground to our allotted corner and clutching my fifteen notes I am suddenly confronted with a sight that stirs my loins like only some rusty, antique cast iron can these days. Torquay has a bank of Norton turnstiles, including a legendary Abyssinian, and I'm just rendered weak at the knees with uncontrolled lust. Part of the entrance block is closed and I manage to creep in for some furtive fondling of the gorgeous and firm curves. These are special moments. I'm horny, horny, horny, horny.
Dragged away by Keepo and DB before the police get involved we head for the food outlet and for just a fiver I pick up a highly reasonable slipper and a much-needed cup of splosh. Fine hospitality from our hosts and we have a marvellous view from our elevated seats looking across the ground with the rolling hills of the West Country framing the vista. OK then, football. That's what we have come for and that's what we are going to get.
Tzanev, Barden, John, Goodliffe, Wyatt, Eastmond, Ajiboye, Davis, Bugiel, Beautyman, Reid
SUBS:Collins, Bolawinra, Randall, Wright, Jarvis.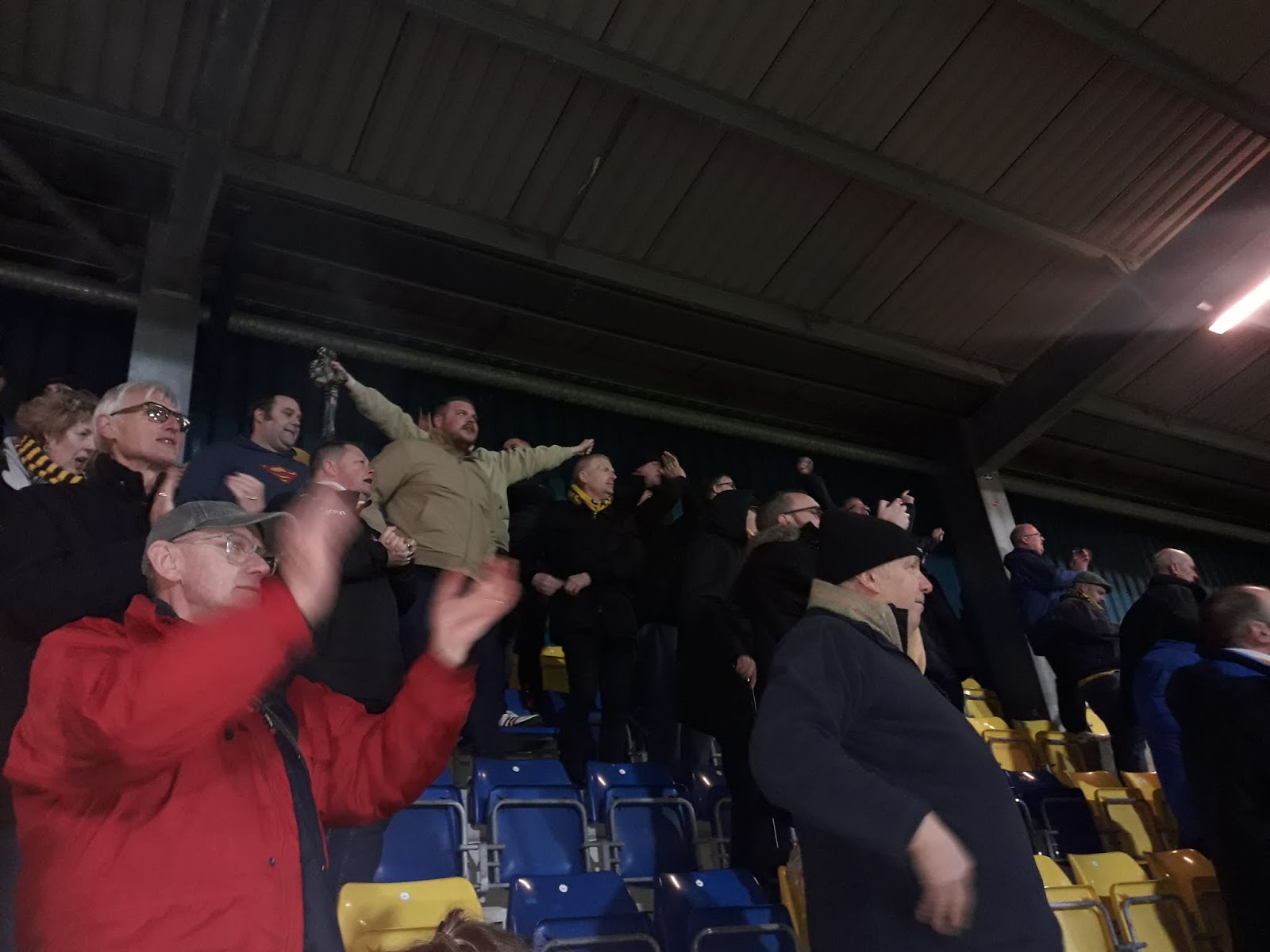 In full voice
There are some questioning the wisdom of dropping Jamie Butler in favour of the young keeper Nik Tzanev who has arrived in the week on loan from Wimbledon. I'm not one of them. Jamie's a top fella but something needed to change to shore things up and, along with the arrival back home of Louis John on another loan deal, I like this positive and imaginative move by the club management. With Rob Milson taking a breather to get over the knocks he has been carrying the bundle of energy that is Ben Wyatt drops in at left back. I like him as a player as well as it goes.
So we are off and it's clear that we are properly at it and have every intention of taking the game to the team at the top of the current form guide while we languish right at the bottom. Great travelling support for this one with at least a hundred making the trip and making a proper old racket as well and after some opening skirmishes we are richly rewarded for making the two hundred mile journey when Dave carves his way right through the heart of the Torquay defence on 12 minutes and belts a shot home to send us into a frenzy. Yes. We've all said we want to see Dave doing exactly this kind of stuff and I'm confident that there is much more to come.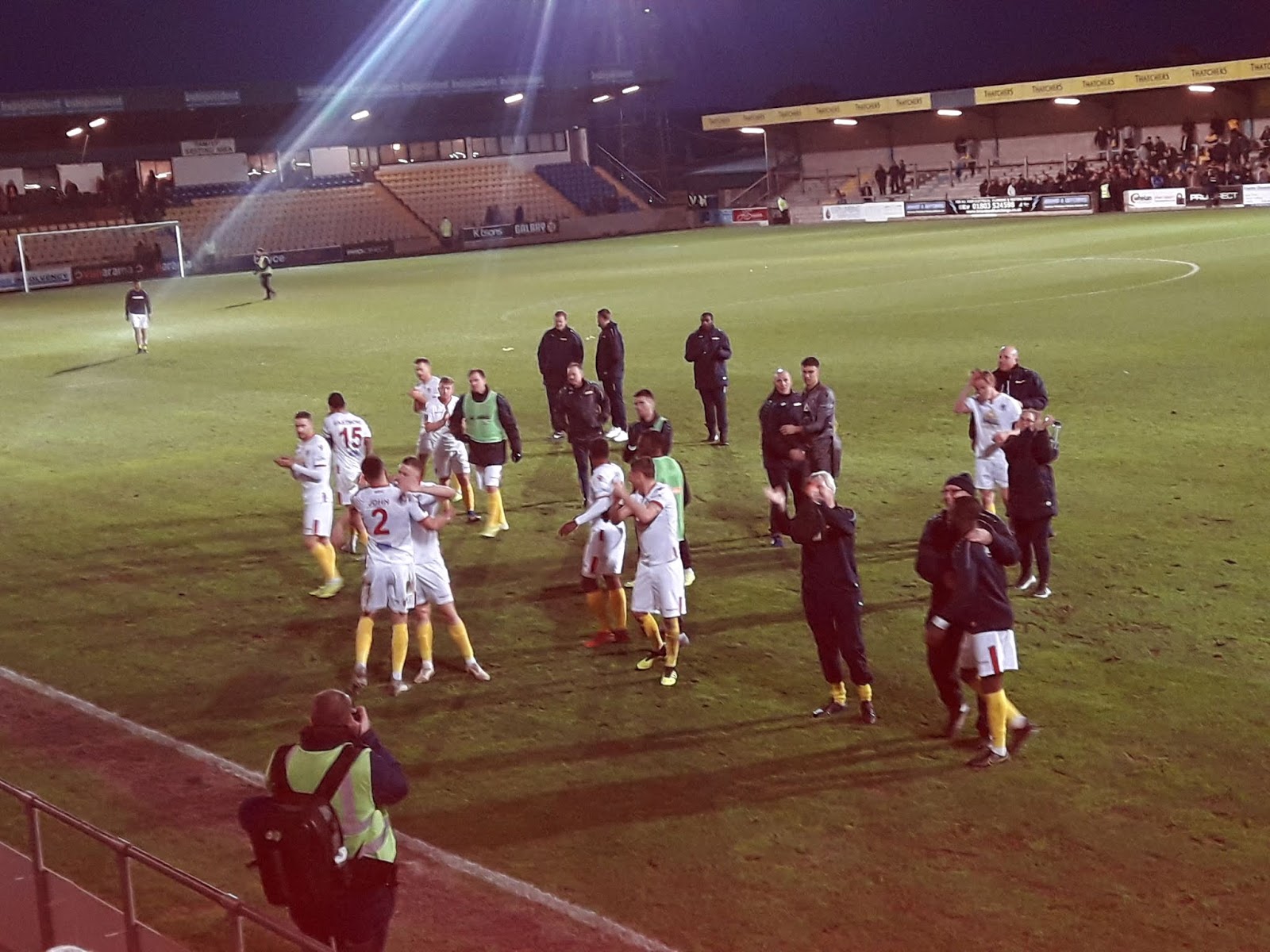 Finally!!
Torquay are no mugs that's for sure and a bit of a fuck up, putting it mildly, from our own free kick in our own half gifts Wynter a chance which he slots home comfortably. We didn't need that and after our recent run it would be easy to fear the worst but, as I've been saying throughout the poor run, we are a decent and committed side and have nothing to fear from anyone in the notoriously unpredictable Bastard League and we continue to slug it out toe to toe with Torquay up to the half time whistle. I get a Cuban on the go and we stamp our feet a bit while I catch up with Dukey and Belly who have opted to make this a romantic weekend, not with each other I should hasten to add but with their respective spouses. I've gotta be honest, I envy 'em. If I offered to show Mrs Totts a good time at a football weekender she wouldn't waste words, she would kick me right up the crevice and that would be the end of the matter.
Second half gets under way much as the first ended with us looking sharp right across the pitch. Omar is immense again for us up front and is working his absolute nuts off and is only denied the goal he richly deserves by a fine save by the Torquay keeper tipping over a bullet header from a Sutton corner. And it was Omar again who outmuscled the home defence to set H up for the goal that would ultimately prove to be the winner. Harry's finish was class and he celebrated with a stylish piece of posing for the benefit of club snapper Paul Loughlin. So what do we do now? There's still a good twenty minutes left and time was we would have tried to sit on the lead and close the game out. We don't do that, thank fuck, we opt to keep on the front foot but with Torquay chasing the game it's still gonna be a nail biter but there seems to be a renewed confidence about us that filters through to the fans. Omar takes yet another knock and Tommy joins the fray and everyone is doing their bit on and off the pitch.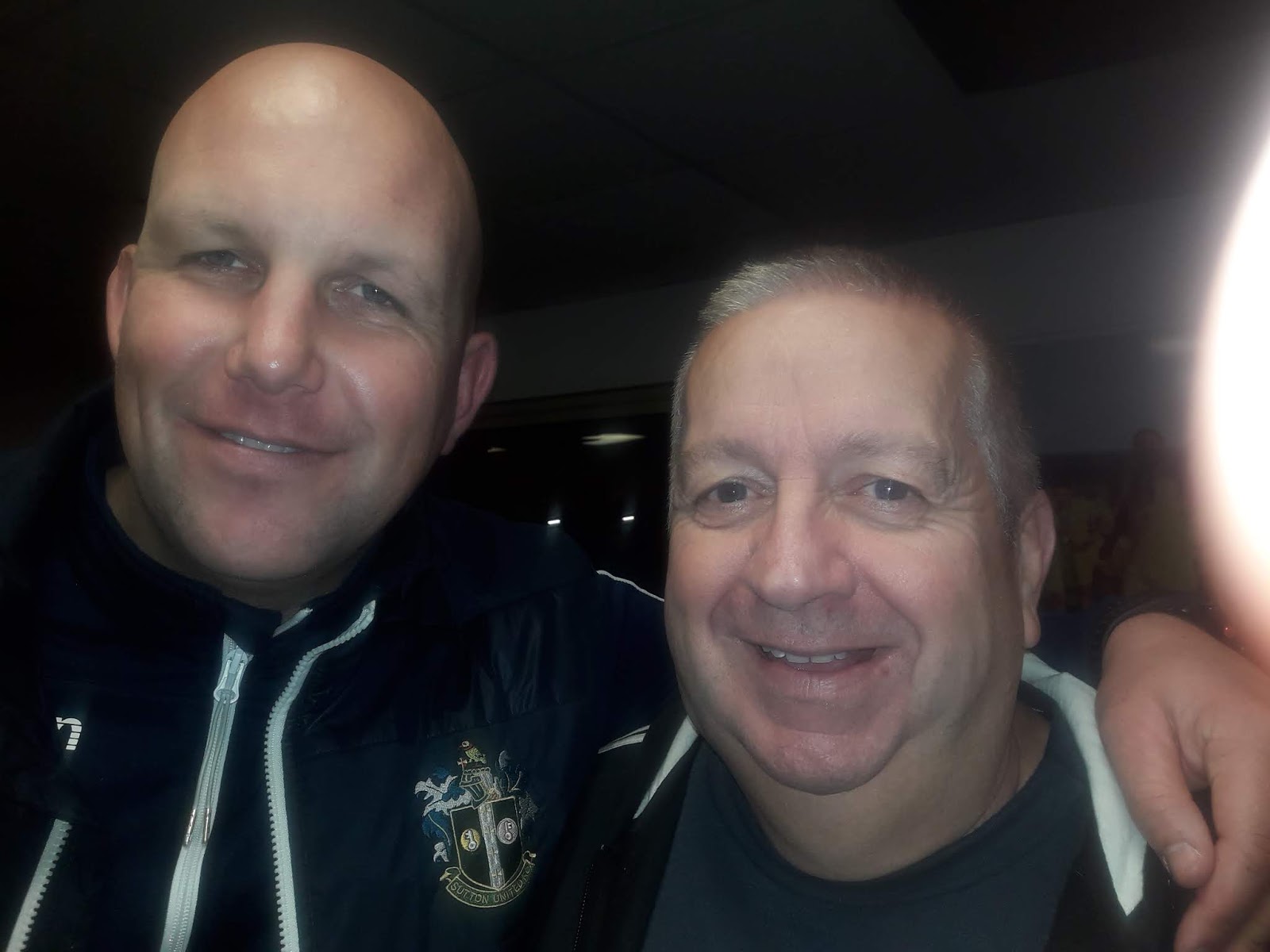 He looks pleased to meet a legend. Barry looks happy too!
Torquay's best chance comes with just a couple of minutes left but Nikki does well to save it and there's a right old row with the home side claiming a penalty for an Easty challenge the ref rules was just outside the box. Cheers mate. There's six minutes of extras to negotiate but we manage that fairly comfortably and when the whistle blows we all go radio and the sense of relief is palpable as the players and management team come over to share the moment. Will it be pivotal to getting our season back on track? Let's fucking hope so me old chinchillas.
Right, let's get back on it. We head back to the club bar and I've gotta say the home fans are gracious in defeat with one of them asking me why we are languishing in the dread zone when we can play like that. It's a good question that I really can't answer. That is just the way the Bastard League rolls. After a swift pint the message comes through from AB that we can get our arses upstairs into the players bar if we promise to behave ourselves. Say no more me old son, say no more. AB himself is pumped up like a Spacehopper furiously shaking hands and slapping people round the back of the head. Chairman Bruce is a little more restrained but no less chuffed and relieved. Anyone who doubts that the leadership of the club are straining every sinew to get us out of the hole is totally deluded.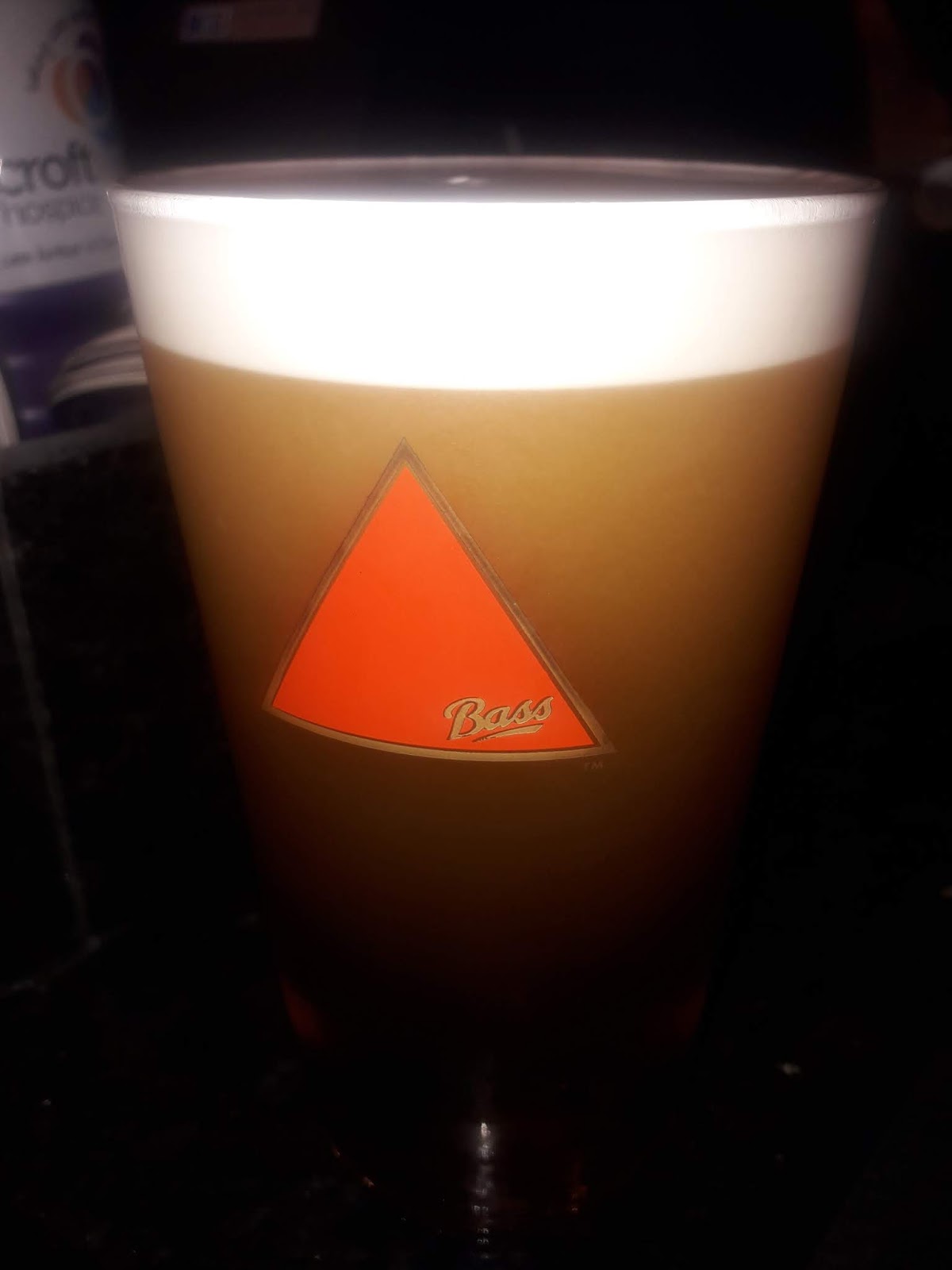 More refreshment
We have a lovely old chat with the gaffer Matt and his oppos Able and Jason and the same applies to these lads and the players who ask us to convey how grateful they are to the travelling supporters. Consider it done. Matt is more than happy to pose for a nice picture with Dirty Barry and as they all sup up and head for the coach we are left to carry on drinking Bass on draft in the luxurious and well appointed surroundings. In fact we are amongst the last to leave and probably would have checked in for the night if it hadn't been for the fact that the cleaners were basically hoovering around our feet.
Back to the hotel for a bob up, a clean pair of pants and a splash of old spice and before you know it we are back in the Fortune of War singing along to yet another selection of classics on the old jukebox. Our legendary lack of imagination when it comes to broadening our cultural horizons is in full effect. This of course is about the time of the evening after a day on the sauce when it all starts going to shit and we manage to get split up because, apparently, the cab driver ferrying half the groovy gang into town "didn't know where Spoons is." Have you ever heard such total bollocks?. Me, Mal, Smarty and DB have a few pints and fuck off the rest of our party who despite repeated messaging still can't get their shit together and we opt to call it a night with a farewell Biriani which plays absolute havoc with my notoriously dodgy guts and when Keepo arrives at my room Sunday morning to apologise for the previous nights logistical fiasco he almost faints as the fumes engulf him.
Gis a quid for the jukebox mister!
Just time for a bit of breakfast before we all agree that we need some fresh air and opt to walk the couple of miles down to the station where the khazi takes yet another hammering. Bleary eyed happy campers from Gandermonium, the B Team and other assorted reprobates crawl onto the platform for the Newton Abbott service with tales of bad behaviour and derring do from their night out on the English Riviera. We certainly dropped some wedge into the bins of the local economy that much I know.
At Newton Abbot Russ, Smarty and Marcus try to knock up the owners of the pub by the station to get back on on it but are advised to fuck off. I opt for a large and comforting hot chocolate on the platform while we wait for the London Train and Taz fills me in with his crews latest ticket shit show. Apparently….
It was going so well. We'd got to Paddington, we'd got the train no issues, we'd not lost anyone, we'd not lost or forgotten our tickets. We're home free, golden, winning the lottery of life. Er, well. About that. This is Gandermonium after all. Ambitious, but essentially rubbish at life.


Having hit Torquay, done the bag dump and strolled briskly into town, we find the car crews all parked up in spoons taking on some fodder whilst we do the same but in liquid form. The bullshit starts to flow and then our esteemed travel secretary Mr X asks me what time the train home is tomorrow. Now normally, that would be his department. But as he'd been away with work this week and met us halfway at Bristol this morning, I'd been given the duty of passing out the tickets to the assembled idiots.


I take a butchers at the reservation slip and let him know. "11:49 mate". Question answered. End of story. Right RIGHT? Well, no. "Oh fucking hell" he whimpers, barely audibly and in the sort of voice that usually prefaces bad news. Really bad news. "Look at the date".


I stare at the outbound ticket. Hard. I can't see a problem, what is he on about, they're for the 2nd of November and….wait, what? THE SECOND OF FUCKING NOVEMBER?! I panic and turn to the return ticket, maybe it's just a printing error or something? Yeah right. My heart sinks as I see the return is inevitably for the day following the outbound one. The 3rd of November. Absurdly, I unlock my phone to look at the date on it and check I'm not losing my mind. I know full well it's not the fucking 2nd of November today and that the 2nd was literally 2 weeks ago, but I just don't want to believe it.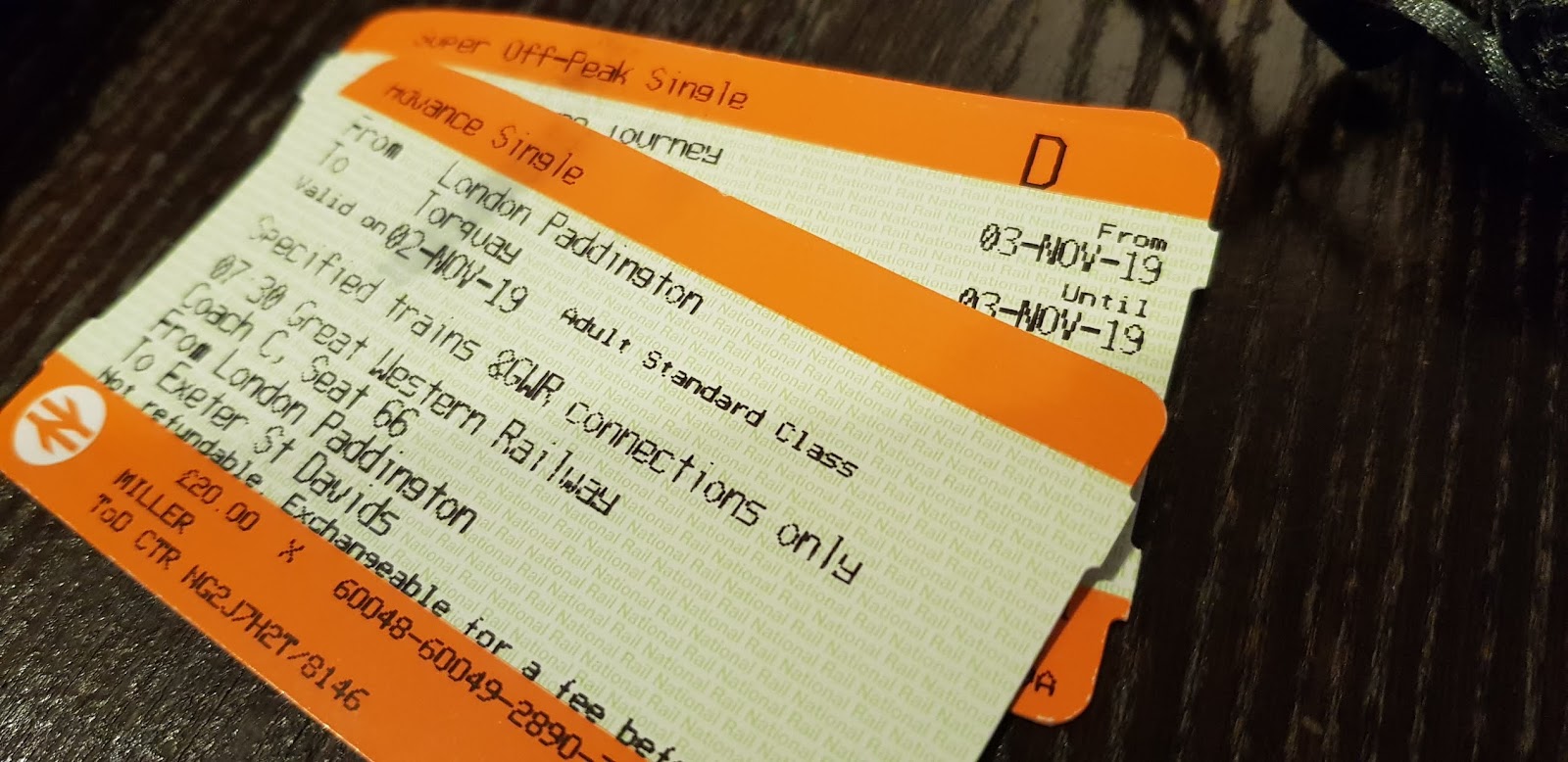 Oh for fucks sake, not AGAIN!




The culprit is by now sat there with his head in his hands. Which is a familiar look to me, mainly as the soppy cunt did the same when he realised he'd booked us tickets home on the Sunday for Harrogate a few weeks back. And it's at this point everyone else cottons on that something is amiss.


"You fucking knob" offers Chalmers. No one argues.


It seems that our travel sec has erred once more. And after a brief think back, we work it out. The 2nd-3rd was Barrow away. And it was all booked the same day as Torquay. So the daft sod has done his booking online, and then done another search by changing the destination but crucially not the dates.


Can someone get me a pint please. I need a fucking drink.
As we board the Paddington service we settle down and I use the time to start writing up this old bollocks and do my Turnstile Sunday thing. No one's expecting anything eventful to happen but as we pull into Reading there are coppers staking out the platform and inevitably it's something to do with some of our crowd but I can't go into details and quite frankly I can't be arsed to anyway as the garbled version of events that are relayed to me as we pile out at London are too bizarre even for this notoriously wacky load of nonsense. That's one you're going to have to pick up for yourselves off the West Sutton grapevine I'm afraid.
And that is pretty much that. We get our arses down to Wimbledon and pick up the West Sutton service and by four I'm back indoors, in my lounge pants hacking out the three thousand words of nonsense you have just taken the time to plough through (minus Taz's interruption above). I thank you for that and we now have a week to sober up before another big one against high flying Bromley on Saturday. I'd love to burst those buggers bubble.
See you on the Shoebox
Totts.