Hello dear reader. Yes, we're back with another of our rare little non-match related interludes, where we remind you that we can in fact read the written word and don't simply enjoy publications containing mainly images, adult in orientation or otherwise. That's right, it's another Gandermonium book review. And this time it's an even rarer treat for you as we're looking at a publication relating to something fairly close to our own hearts. Sutton bloody United of course! Because we just don't talk about them enough on here.
That's right, someone's written an actual proper book about the U's. And surprisingly, it's not us having lobbed together a load of rehashed rubbish off here and self published on Amazon. Oh no. I mean, ok, we might do that, but even we'd not be quite so lacking in self awareness to review our own work. This is in fact a proper effort with a proper publisher and everything. It's even got a foreword from someone famous in it! The culprit responsible for this is one Mr Johnnie Lowery, who you probably know from these very pages simply as 'Johnnie' from the Notorious Yoof Faction. Yes, even our youngsters can read and write. Amazing eh? All we can say is it's a true testament to the truly world class educational standards here in the glorious People's Republic of West Sutton.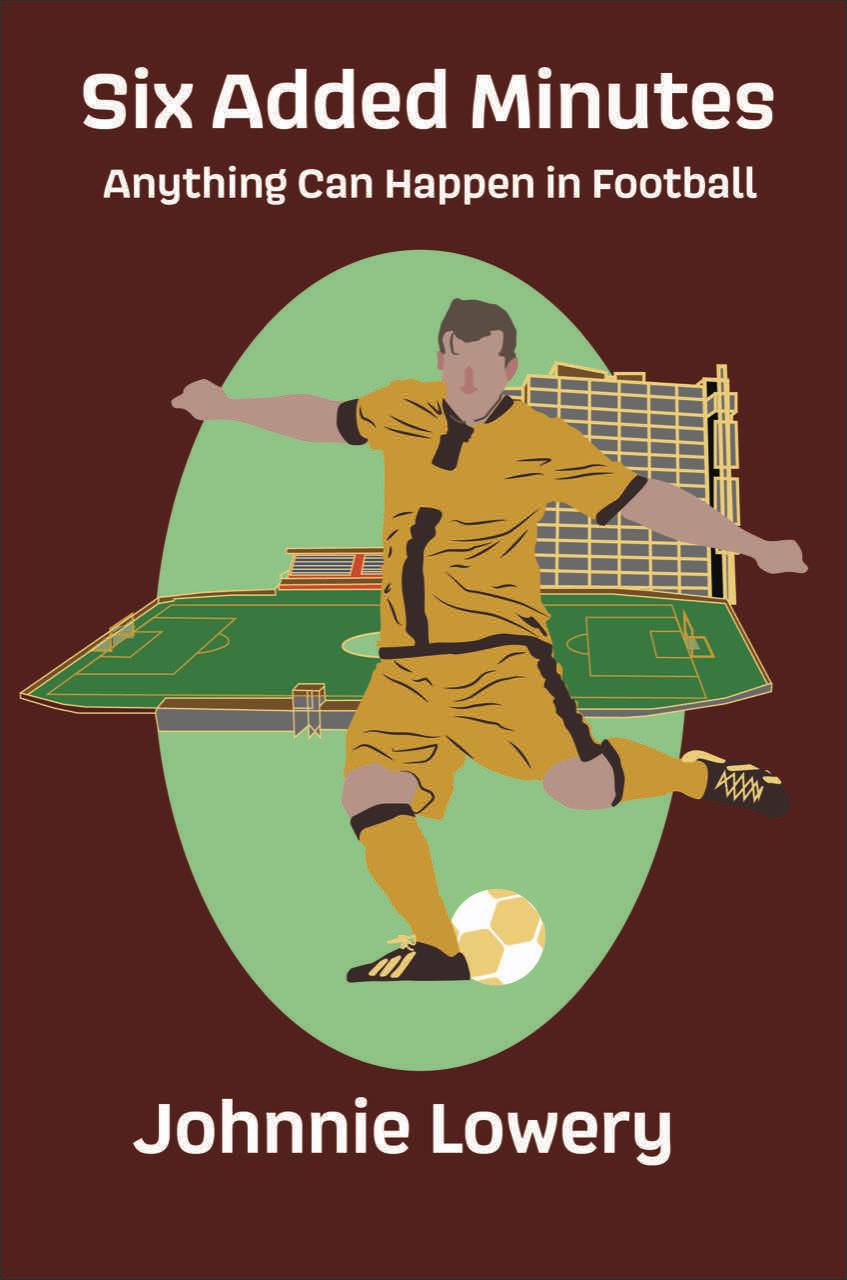 It looks like this…
The culmination of some 2 years graft, the book in question is titled 'Six Added Minutes' published by Goldenford and is dedicated to the U's actions in the world's oldest Association Football competition, the FA Cup, since Johnnie first discovered and began following Sutton as an even younger than he is now lad back in 2011. The title refers to the regular occurrance of that amount of time being added onto the end of matches during the ridiculous cup run of 2016 when we of course ended up playing Arsenal, but is probably better known to us lot as the moment Roarie Deacon scored the winner against Cheltenham at GGL that season. It's officially released on the 23rd of November and we were lucky enough to have a pre-release copy of the manuscript provided so we could have a nose through, point out all the factual inaccuracies and name checks for the U's number one unofficial internet outlet.
That's us by the way.
Here Johnnie takes us through his time watching Sutton via the prism of the FA Cup and as you'd expect from someone who started watching as a 12 year old and is just now in his last year at Uni, it covers the usual things you'd expect such as not being able to go to replays on a school night (that daft 3-2 win at Leatherhead being the stand out here. You missed a classic mate!), getting the piss taken out of you by your peers for watching a shit team instead of Chelsea and his attempts to drum up interest in a big cup tie amongst his class mates falling on deaf ears despite the fact that he name drops Southampton's 2003 FA Cup finalist Paul Telfer being in our side as a way to try and hook them. Yeah, we can't see how that one failed either.
There's also the usual young man growing up stuff you'd expect, discovering girls, beer, making new mates via the football and when old enough, starting to do the aways under his own steam instead of being transported by his old man which of course starts bringing in the silliness that such trips tend to encounter, such as the fence panel at Bishop's Stortford. Come on, we've all done it at one time or another right?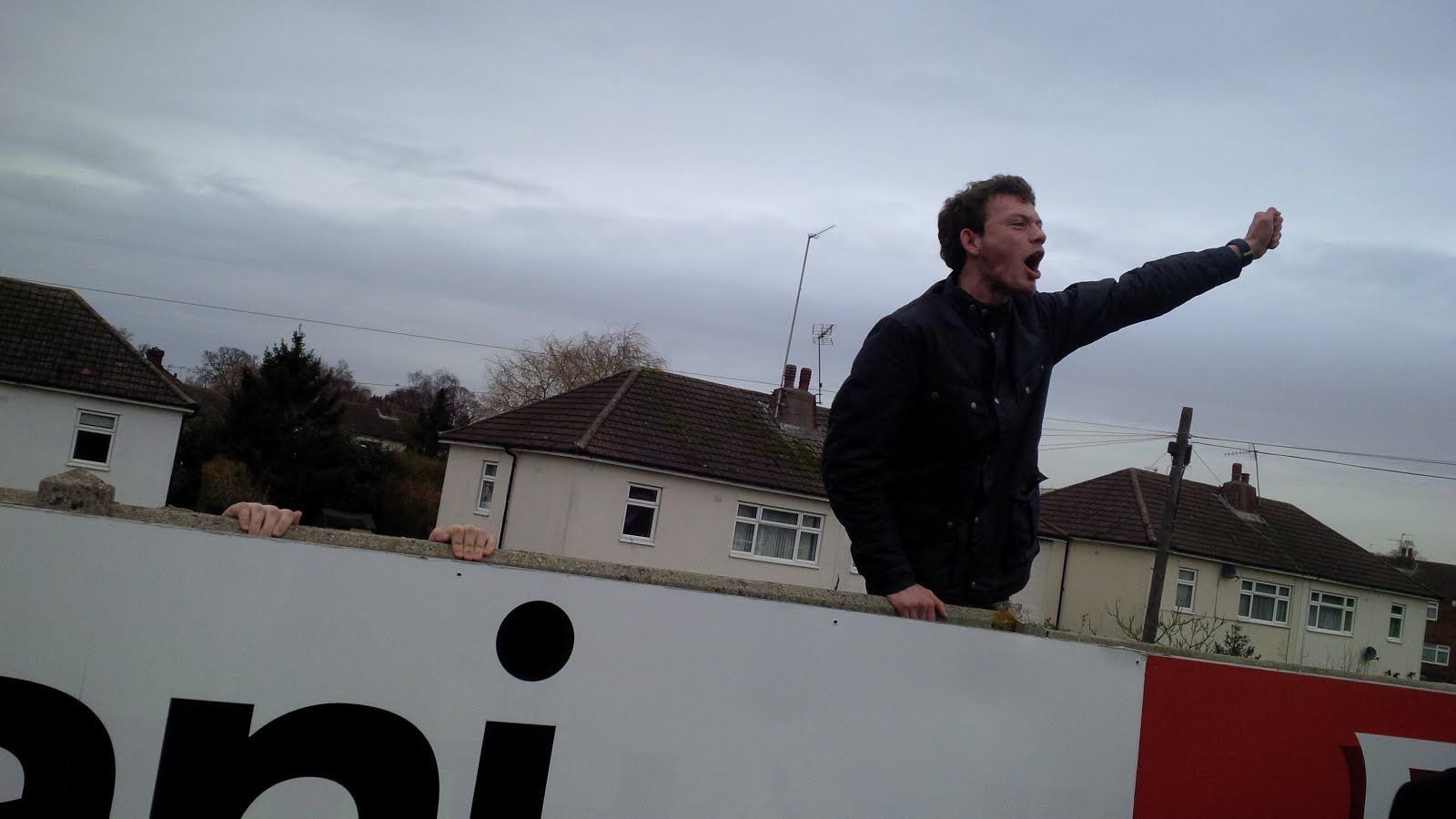 Your esteemed author
To be honest, much of the cup games covered are run of the mill stuff for a Non-League side like us. Familiar names at familiar grounds and for someone like myself who was there and has been doing this shit for a long time, it could easily have all have blurred into one and simply acted as nothing more than a lead up to the big ending and the insanity that was the Arsenal run in 2016. But Johnnie keeps things ticking along nicely with a mix of real life and obsessive football fandom, keeping you engaged. A lot of fan written books I've read the last year or two could take a leaf out of the lad's, er, book.
If there's one thing lacking, it's the fact that under Dos, we were largely pretty decent in the cup and its mostly the good rather than the bad. The one low point in this tale being the defeat at home to Burgess Hill in 2014. It's a shame he didn't start watching the season before he actually did as he'd have no doubt loved seeing us binned off by the worst team left in the competition, Alton Towers Town, at home in 2010 as that would have made a perfect opener given the pinnacle we reach at the end and bookended things perfectly. So yeah, you should have been going a bit longer mate. Poor form that.
Of course, as mentioned, the big sell on this one is the Cup run of 2016-17 when we knocked out National South, National, League Two, League One and Championship oppo before running a pretty decent Arsenal side close at GGL live on National TV and in front of the world. And it's I think this that would probably be what attracts most non-U's to the book, to give them a little insight into what it was like for us over those 5 months. And, thankfully, he leaves any mention of fucking 'pie gate' right out of it, only touching on the matter in an Epilogue. Quite frankly we'd have done the same in his shoes too. That nonsense completely overshadowed what was a magnificent performance by the lads and really deserves to be relegated to that of nothing more than a mere footnote rather than the main reason people have now heard of Sutton United. Good work squire.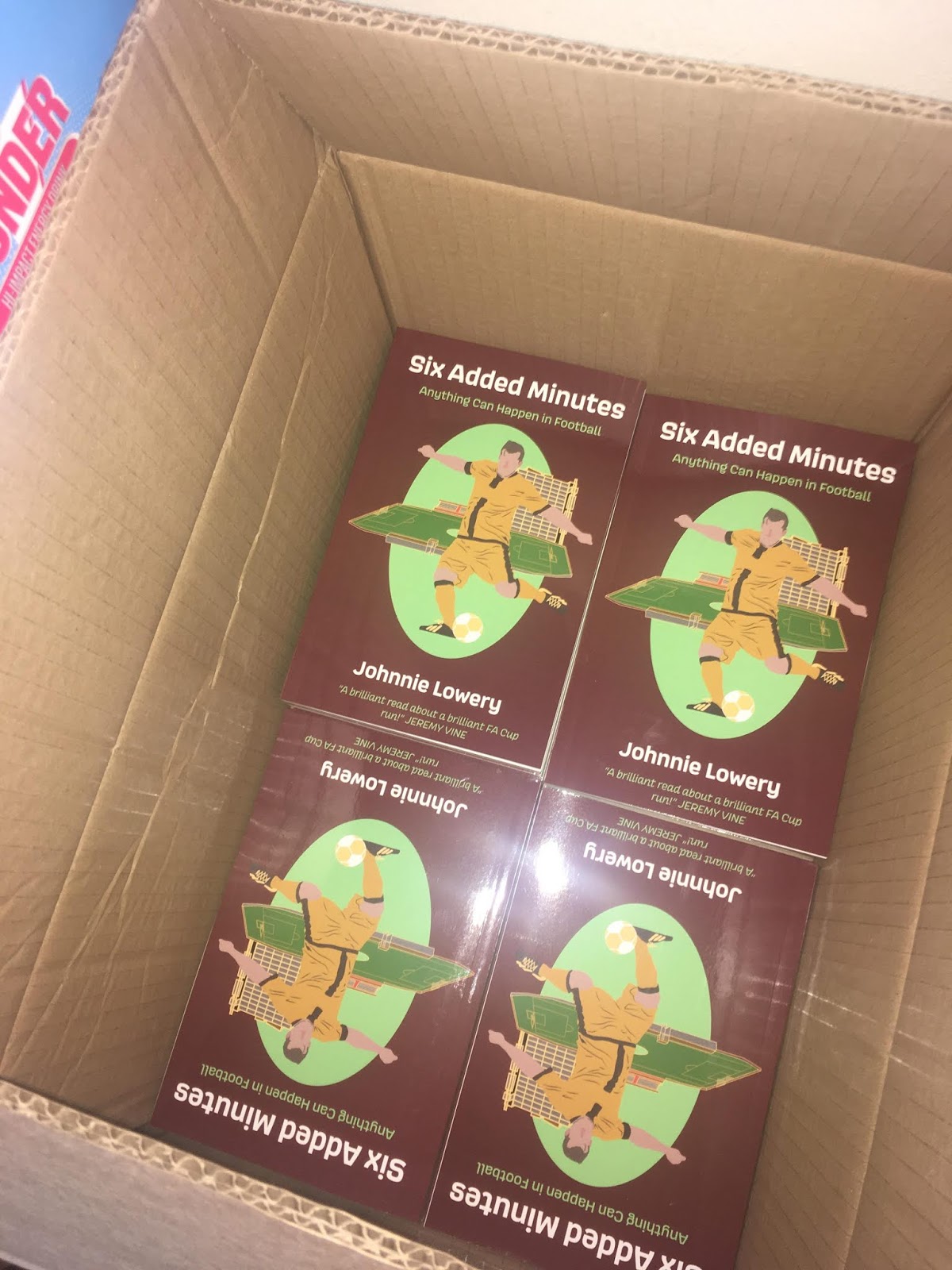 Delivery!
So, is it worth a punt? Absolutely. If you're a GGL regular it'll no doubt bring back some memories from the cup ties during the Dos era and who knows, maybe also remind you of when you started following this lot in the first place as a young 'un. As an older head, I was of course around for the Coventry game and I'd often half hoped we'd do something daft like that again as a reward for the people who've started attending since then and of course had to put up listening to boring wankers like me talking about it loads. For those outside the West Sutton orbit, its a well written and likeable tale and covers what is arguably the biggest moment in our history. I really don't think you'll be disappointed.
For SUFC regulars, the book is officially launched tomorrow with a little shindig in the VP's lounge at GGL immediately after our clash with Bromley. There'll copies for sale, so bring some folding with you and pick yourself up a little bit of early Xmas shopping. If you're not lucky enough to be resident in the People's Republic or can't stick around post-match, you can of course make use of this here dead clever interwebs thing and obtain a copy via Waterstones HERE for under a tenner. And we're also told there'll be copies on the club's online store shortly (as well as in the club shop itself on matchdays).
Oh and the number of name checks for us? Zip. Nada. Not a single fucking one. Not even in the "Thank You's" section.
And fair play, we wouldn't have done either.
8/10