As a wise man once said "It's not the despair. I can take the despair. It's the hope I can't stand". A quote that sounds like it was created purely for following a rubbish football team the length and breadth of a nation, but sadly was actually dreamt up by some script writer for John Cleese to utter in the 1986 film 'Clockwise'. Oh well, beggars can't be choosers, it fits regardless of it's origin and also with the John Cleese angle gives me an 'in' for talking a bit more about this past weekend's shenanigans in Torquay, which is of course the location of Mr Cleese's slightly more memorable production 'Fawlty Towers'. See that? Fucking seamless.
Well, as you probably read in Totts 'Five Dozen Go Mad in Devon' production from the weekend, not only did the U's break their recent run of bad form with a desperately needed win, but we all got nicely pissed to celebrate. Ok, admittedly most of us were nicely pissed well before kick off, but that's another matter entirely. Mainly to do with watching us sober being inadvisable at the best of times, let alone when you're in the middle of a god knows how many games winless run and have barely scored a goal in that time. We prefer to call it 'pre-medicating'.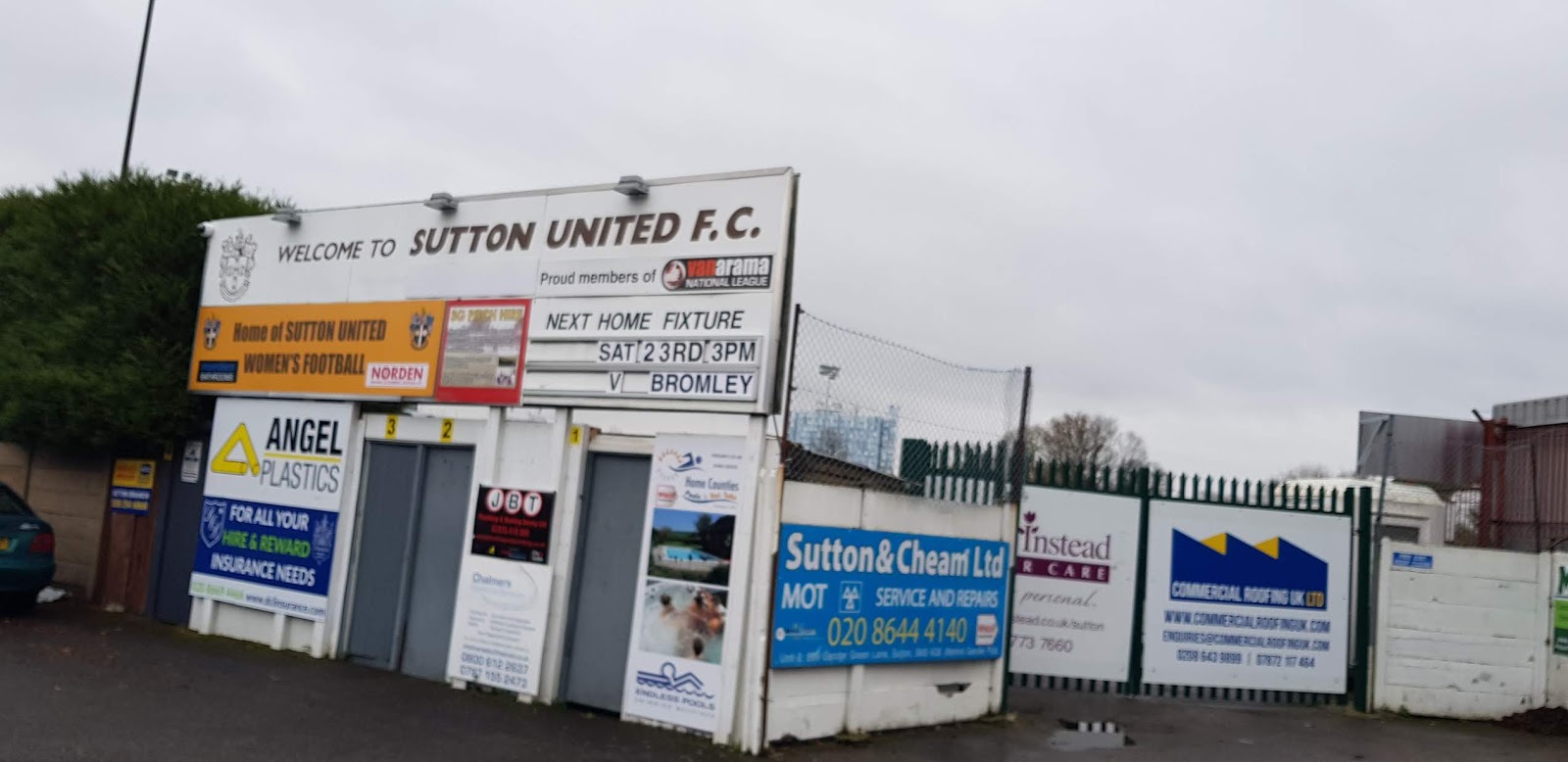 Here we go again!
You may also have noted that there was once more a slight issue with our train tickets for this trip. In that they were a bit out of date when we travelled. Well, two sodding weeks out of date to be precise if you want to be a pedantic fucker about it. Of course there are many aspects to this whole shit show that requires you, dear reader, to suspend disbelief, but yes, we had the wrong dated tickets for the SECOND time this season and genuinely didn't actually spot the problem until we'd arrived in Torquay. And to be fair in our defence a little, nor had either of the two separate GWR employees on the barriers at Paddington that morning who'd inspected them to let us on the train in the first place, or the guard who clipped them on the rattler from Newton Abbott to Torquay, so it's not like it's entirely our fault. Oh shut your face.
"So, how did you get home then?" I hear you ask? Well, after briefly contemplating Torquay as our new home, we of course discarded that idea as the place is fucking miles from anywhere and our hotel was only booked for the one night. We then also realised that we were proud PROWSians and simply giving up isn't in our nature, that sort of behaviour is for denizens of lesser lands like Carshalton and snowflake millennials, it's also because we're a bit thick and don't quite tend to grasp the gravity of situations sometimes. Hey, we accidentally booked train tickets for the wrong date after all. Twice. So come the return journey on the Sunday morning we simply applied all our stealth, cunning and daring do, combined it with a bit of brass balls and basically hid in the unreserved carriage hoping we wouldn't get checked on the way home just like on the way down. Did it work? Er, well sort of.
It was shortly before stopping at Reading that we heard the chilling words of doom we'd been hoping to avoid. "Tickets please". This is it, we're fucked. The ticket gestapo are about to pull our pants down and suspend us by our short and curlies. See you after the war gentlemen! However, I'm a resourceful guy and can think on my feet when I have to, so I immediately come up with a Plan B that is so left field, so cunning it surely couldn't fail. I pretended to be asleep! Ha, deal with THAT GWR ticket inspecting lady! Well, from here two incredible things then occurred. Firstly, my 'pretend to be asleep' ruse actually fucking worked and the lady guard simply ignored me. I expect to be getting at least a BAFTA nomination for that performance by the way, perhaps even a Golden Globe. Although an Oscar might be pushing it a bit, I was just pretending to be a kip after all. And secondly, she also proceeded to check and mark the tickets for all the other five foolish persons in my party who hadn't followed my brave lead and pretended to be counting sheep without any questions asked, before just going about her business further down the carriage. And yes, I'm well aware at this point I'm once more asking you to suspend disbelief but this is genuinely how this panned out.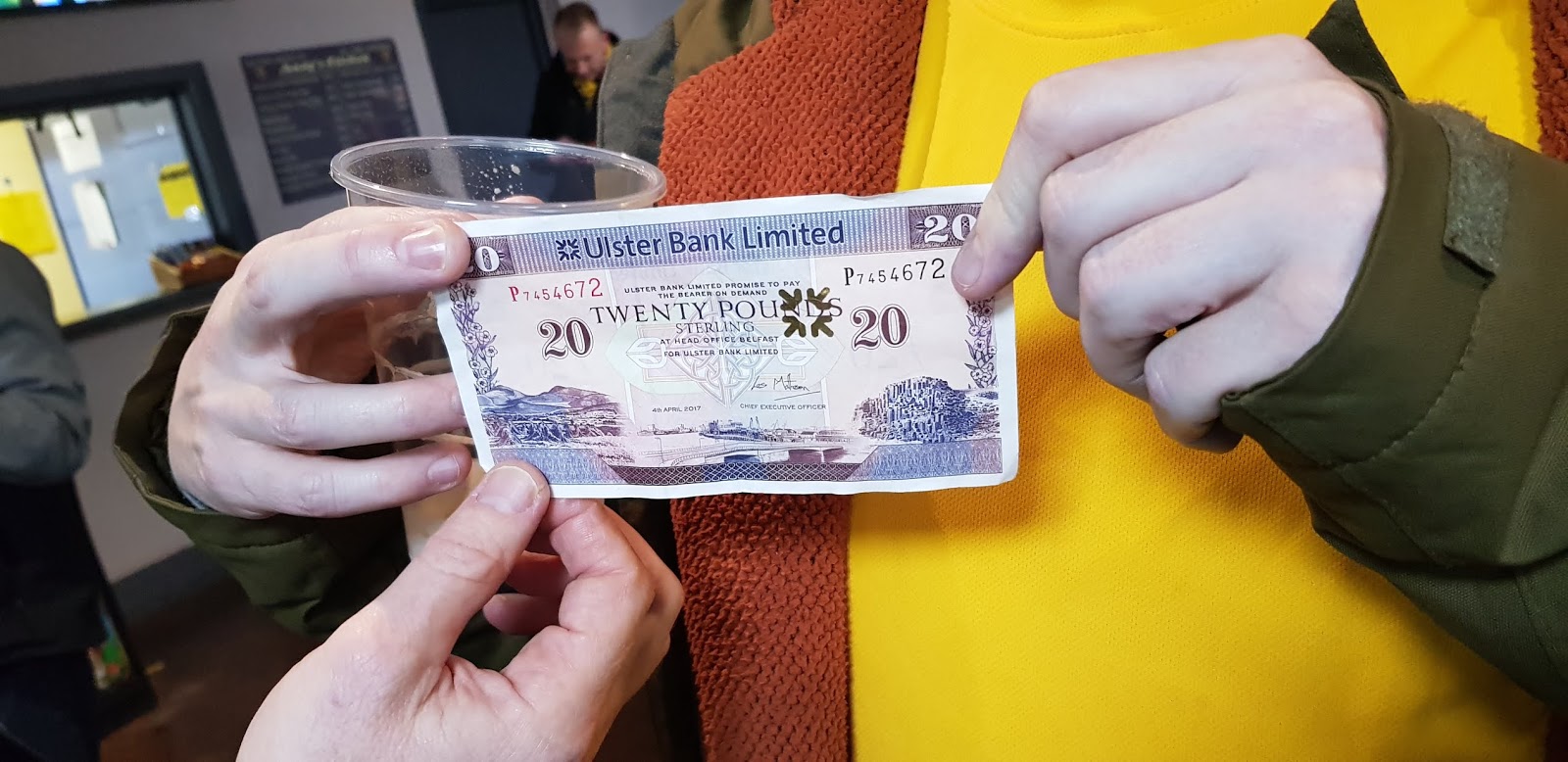 Mickey maaahse money innit!
With the danger seemingly passed, we all sit there in silence staring at each other wide eyed with the sort of look you might exchange with your friends when a mate chances his arm cracking onto a nine out of ten on a night out and actually succeeds in sealing the deal. It's a look that says "Fuck me, how did that just happen?". What more can I say? I guess no one at GWR has ever considered the scenario where half a dozen dickheads pre-book tickets for completely the wrong date and then still travels on them. How do you even train your staff for such stupidity? Naturally, having passed muster en route, we're even more delighted to find that there's no barriers on Platform 1 back at Paddington to cause us any further stress. A fact that sees Mr X, the man responsible for this whole fuck up in the first place, practically skipping out onto the main concourse with a grin so smug on his boat, you'd have thought he'd got a supermodel's phone number. The spawny bastard.
So, that's quite enough of the 'Great Ticket Fuck Up, Episode 2'. I think we're quite ready to move along to the matter at hand today, Bromley at home. I know I know, but come on, I've milked that shit for half a dozen paragraphs now and that's taking the piss a bit, even by our standards.
Being a home game, there's some extra sleepage to be had before the usual personal hygiene tasks are undertaken. I then head out to the shops for a quick supply run as our food supplies at HQ are somewhere between 'week old pepper in the fridge' and 'fuck all'. Plus if Mrs Taz doesn't get her avo on toast and cup of early grey in the morning she gets a bit cranky, so it's a sacrifice I'm willing to make. Chores done, I'm out and hopping onto the 407 for the trundle into Sutton. The buses on this route have recently all been swapped out from the single decker jobs to doubles, so I pop upstairs to enjoy staring into people's gardens that the elevated viewpoint provides and also, sit right at the front so I can pretend I'm driving as well. Hey, my inner 5 year old was delighted, so fuck you Mr (or Mrs) Judgey.
The High Street is a bit busier than normal and this seems to be due to some sort of Xmas fair type thing going on. Sadly none of the organisers is about so that I can tell them we've still a week left in fucking November. I don't linger longer than it takes to bag some cash and a Greggs as someone's playing ear bleedingly loud shite pop music of the sort that gets Robbo excited and there's a bloke dressed as an Oompa Loompa blowing large bubbles to the delight of nearby small children and no doubt the slight concern of their parents both about the concentration of the eyesight damaging detergents contained in said bubbles and the fact the geezer's dressed as a fucking Oompa Loompa.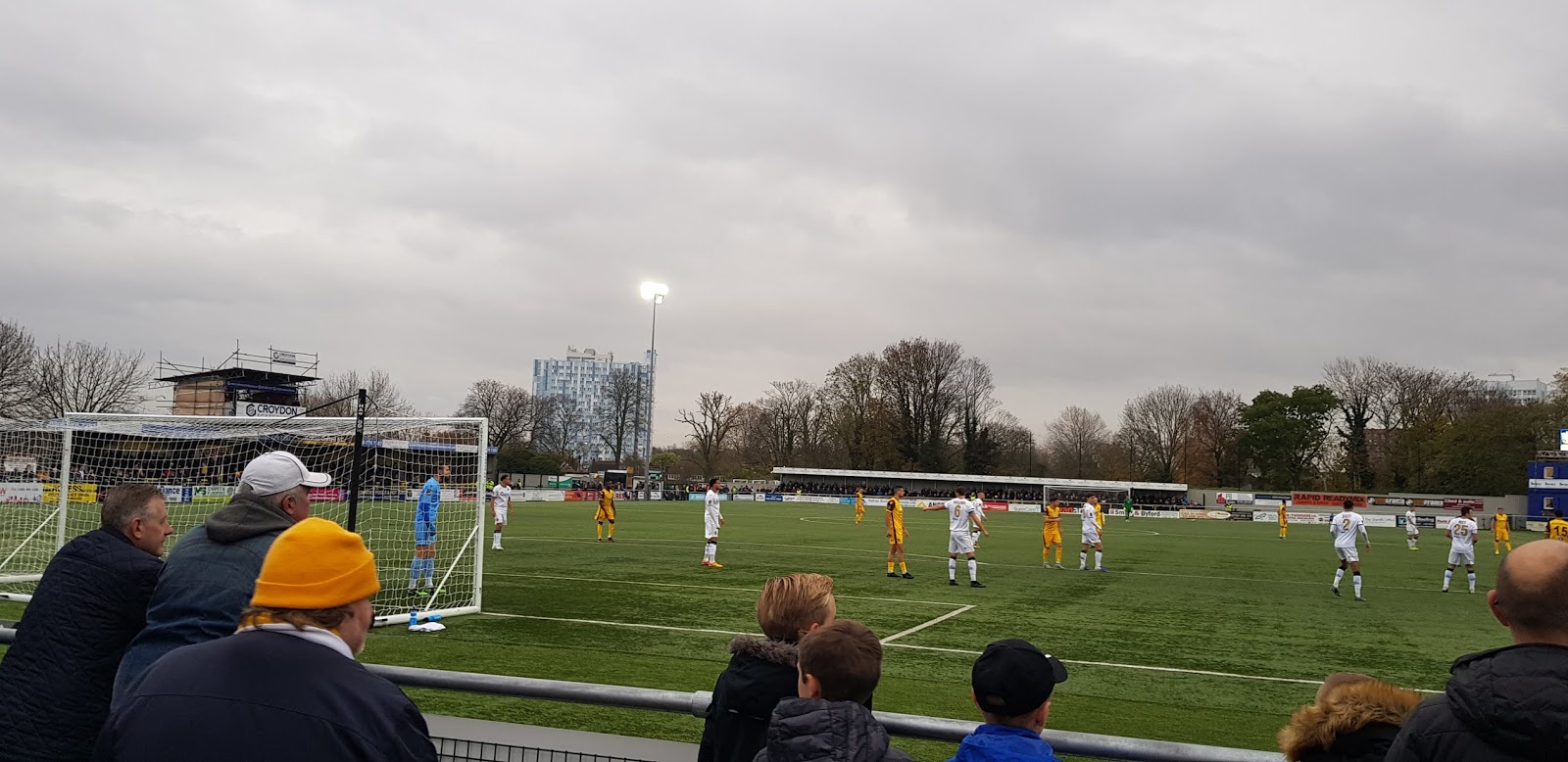 Change of perspective…
For once, the leader of the Notorious Yoof and now published author Johnnie is not front and centre on car park duty today, with his partner in crime Ryan instead doing front of house duties. A promotion he's absolutely delighted with. Further in I finally find West Sutton's newest literary sensation and congratulate him on his efforts before also giving him a Chinese burn for not giving us one single lousy name check in the whole thing. And to think we provided those cans to him and his crew on the way home from Lincoln that time! Fucking kids these days eh? The bar is surprisingly dead when I stroll in, with just Magnum PI lurking. Apparently today's meant to be a big local derby and yet there's no sod in. Oh well, at least my round will be cheap and I can get served! I half watch the second half of West Ham – Spurs before a couple of others filter in, with 4 Days and Lil Chris in the house and then the Irish Supporters club appearing and demanding Guinness. It's good to see the lads again and in Niall's case, it's the first time we've laid eyes on him since he toddled off into the Dublin rain after the Irn Bru game at Dalymount early last season!
With so few faces around, pre-match is pretty sedate and I take time to get some Baku intel from 4 Days after his Welshist trip there last weekend seeing as I've tickets for a Euro 2020 group game there next summer. Niall also tries to pay for a round with a Royal Bank of Ulster 20 quid note, much to the amusement of all concerned. But, try as we might we can't delay the inevitable and eventually head out for the start of the game. So late have we left it that the whistle goes for kick off as we approach the GGL end turnstiles.
Tzanev, Barden, Wyatt, Eastmond, John, Collins, Ajiboye, Davis, Bugiel, Beautyman, Reid. SUBS: Bolawinra, Dundas, Randall, Wright, Jarvis
The side is basically the same as last weekend, with only JC stepping in for Goodliffe after he'd pulled up in training yesterday. And the lads take confidence from last week's showing down in Devon and start the game brightly. Only a couple of minutes in, an early corner finds Easty at the front post but his header on target draws a decent save out of the Bromley keeper. For much of the first 15 we're on the front foot, but like a lot of games this season despite getting into decent areas, we just seem to be lacking that edge in the final third and our good early spell is ended when JC gives away a soft free-kick 25 yards out in a central position. Their bloke whips it around the wall and brings a good stop out of Tzanev, he then blocks the follow up with his legs but with his defenders too slow to react he can do nothing about the third effort that some prick from Eastleigh they've signed this week and who always scores against us rams into the roof of the net from close range. It's basically their first real action of any note in the game too. Sake.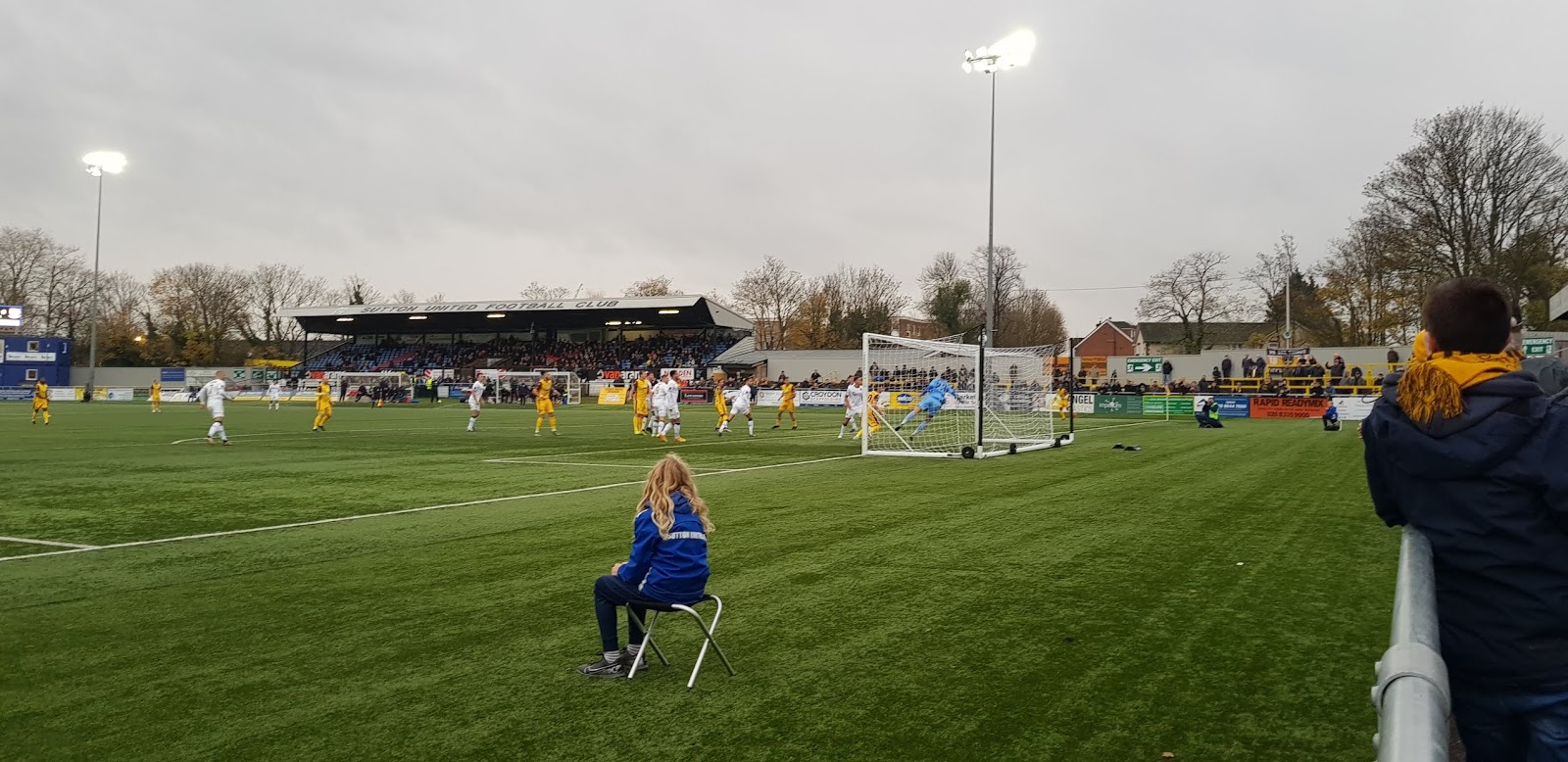 On target!
We have a quiet 10 after this as we struggle to respond to the goal, but to be honest they don't exactly push on and put us to the sword either. Don't get me wrong, they're well organised, solid and move the ball well but like a lot of sides we've seen this season, they just don't really do much in an attacking sense. Towards the break, we should probably have a peno as Loius is clearly flattened with a shove in the box, but the increasingly irritating ref and his myopic assistant on our side are both unmoved. Dave has a little dart wide and sends a low skidder across that just evades both Bugiel and Beauts in the box and the latter nods weakly wide from a Reid cross, albeit whilst being marked tightly by two men.
At the break I catch up with some of the passing B Team to find out about their own train ticket based woes from last weekend, apparently what transpired was ***THIS TEXT HAS BEEN REDACTED FOR LEGAL REASONS*** and I don't think you'll find a stranger tale from our travels this season!
The second 45 is slow to get going, but once we realise that the oppo either aren't that great or are simply happy to sit in on the lead, we build up a head of steam and for 20 mins, have a go at getting things levelled up. Sadly, despite a lot of effort and endeavour, the goal just won't come. The best chances falling to Louis John who latches onto a lovely flick on, but snatches at the shot and shanks it well off target and another dart from Dave, running onto a lovely through ball from Omar, but having reached the byeline, the ball across isn't great and again evades the two yellow shirts int the box. In the middle of this, the visitors remind us they're still about with one nice move on the break which ends with a lovely little low ball across the box from wide that their onrushing attacker puts a couple of feet over the bar.
Sadly though, as we enter the last 15 and make our second change to try and keep the pressure on at the other end, a right royal fuck up kills us off and not for the first time this season. A ball forward is headed back at us by the visitors defence and playing a high line, JC completely misses the ball and lets it run under his foot a couple of yards in our half. Cheek is lurking and on it in a flash, running unchallenged 40 or so yards to slot it under Niko and all but seal the deal.
Fucksticks.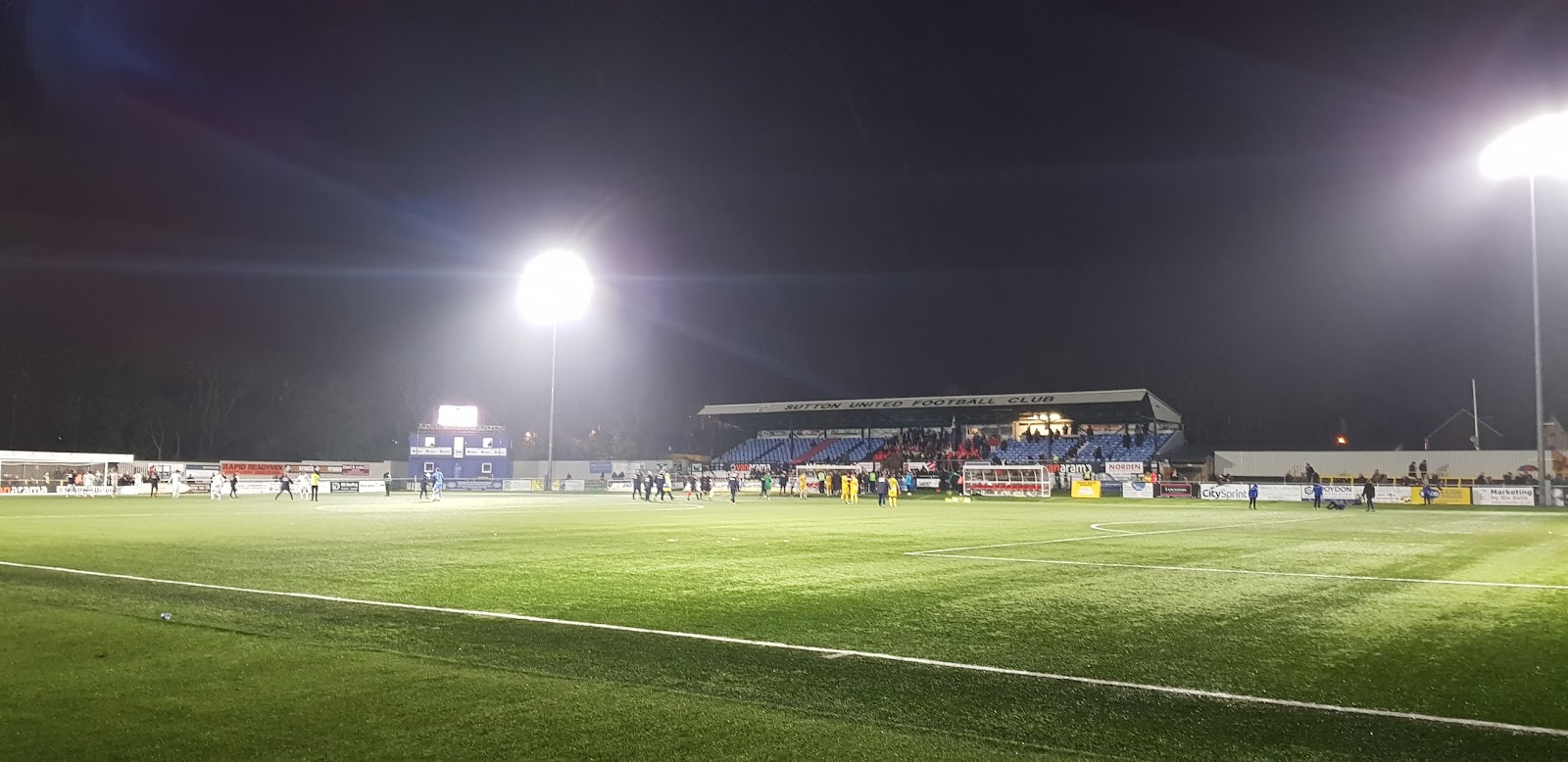 Nil again.
The goal firmly removes the jam from our doughnut and the last 15 or so are pretty non-descript. We do keep trying, but the lads know we're done and in the end, Bromley largely play out the match in our final third but without every really threatening to add to their tally. On the plus side, at least we don't give away a bollocks injury time peno like we usually do in these situations, so small mercies and all that.
Back in the bar and the post mortem is brief. Performance was largely ok, but once again we've pretty much killed ourselves. Our home record is now approaching the realms of 'non existant' and quite frankly, we need to start hitting the fucking target more. Another game gone with one shot on the mark in 90 mins at home is not going to cut the mustard. Still, it's not all doom and gloom as we get to say hello to Max Biamou who's back in town today to surprise Johnnie for his book launch. What a chap. So much so, he happily dons AB's yellow sequined jacket to stand on a chair and do the standard SAK draw. He pulls out ball number 1 which belongs to the bloody strikers. Yes, that's right, a former striker pulling out the ball of his fellow front men. Oh the irony. Naturally, Tommy Wright opens the safe and quicker than you can say "Didn't we just get nil again at home?" he pockets the 250 folding held within and disappears off into the assembled crowd to divvy up the readies. Yeah, thanks Max!
With beers now flowing, I eventually head into the shindig next door in the VP's to pick up a couple of copies and have a chat with the man himself as well as amuse myself at the number of baseball capped yoof he's managed to get into this members only sanctum. A state of affairs that has no doubt got Silver Fox, the resident VP's head of security, in a bit of a tizz in trying to extract the standard two quid fee for non-members from the sort of people he'd usually cross the road to avoid getting 'shanked' by. "Two quid fam? Go suck ya mum. Ya feel me?".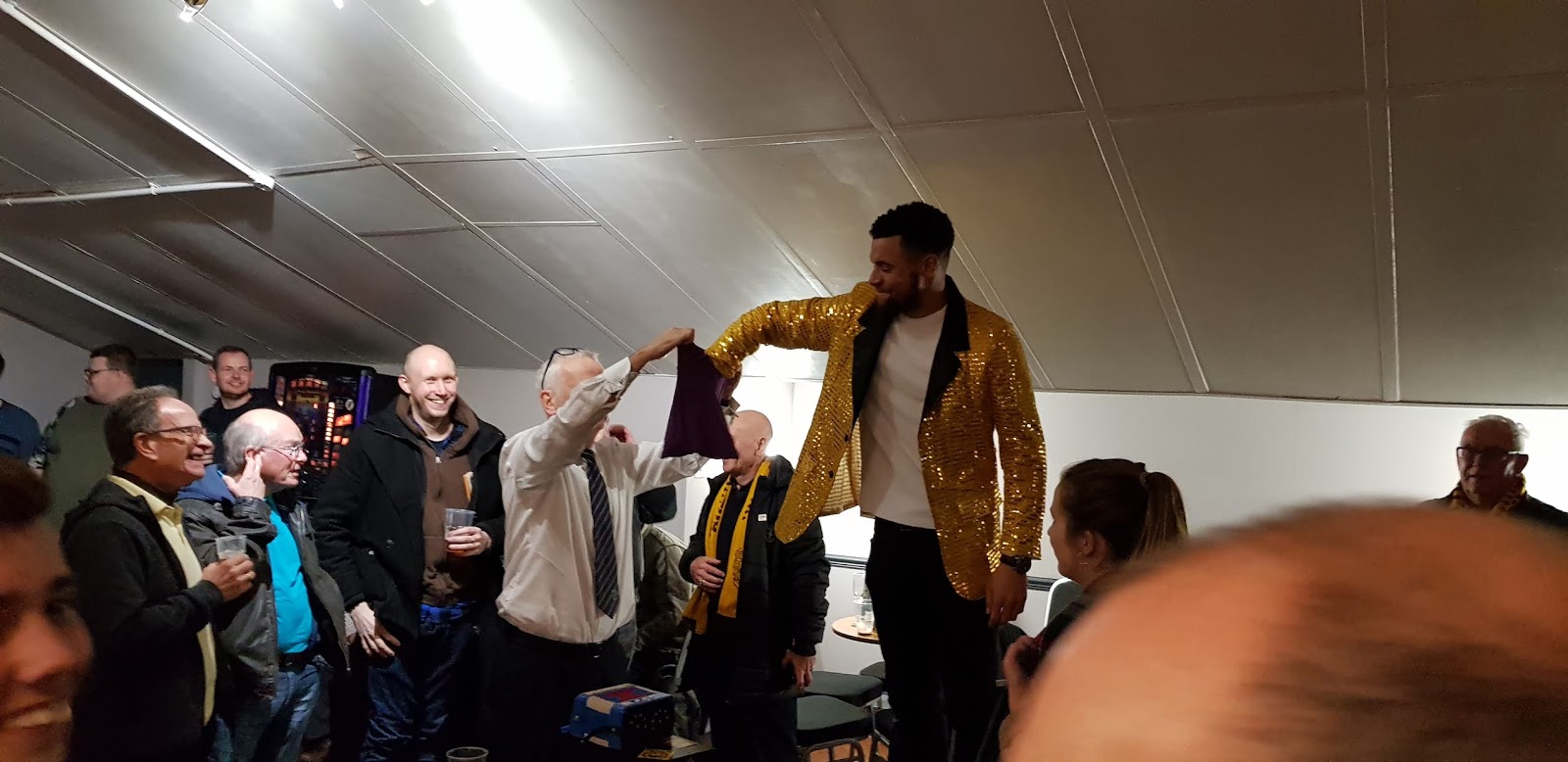 Allez Biamou!
I also chat briefly to Mr & Mrs Lowery and slap on the "You must be so proud" stuff proper thick. See Johnnie, no grudges held here mate. Just make sure we get a fucking mention in the next one or we'll start being a bit more indiscreet in such company. Capiche? There's also a nice lady from Johnnie's publishers present, although she refuses to be drawn on if they'd be even remotely interested in putting out a book full of this sort of old shit. Still, that's more of a response than when I change my approach and start pitching a warts and all Dirty Barry biography, at which point she starts flat out ignoring me. Your loss love, the SAGA holiday taking and dogging demographic might seem like a niche market at a glance, but it's a sizeable one with plenty of disposable income and no mistake. Fuck it, we'll self publish that one via Amazon, that'll show 'em! Next stop Netflix.
Back in the players bar, the Irish Contingent have headed off before it gets too messy and with the place emptying out fast and Robbo lurking around the jukebox no doubt intending to put on some more absolute fucking dross like 'New Kids on the Block' to assault our earholes with, I decide to head for home via an Uber with 4 Days and Lil Chris jumping to share the burden. Having dumped them off outside Chris' playboy mansion, I get tipped out near home outside the kebab shop. Not being in the mood to cook, I've taken an executive decision to feed I and my good lady with a couple of chicken and kofte mixed. Thankfully, my earlier sacrifice on the avocado run has paid dividends here and Mrs Taz finds this arrangement acceptable. Up here for thinking, down there for dancing as my old man used to say.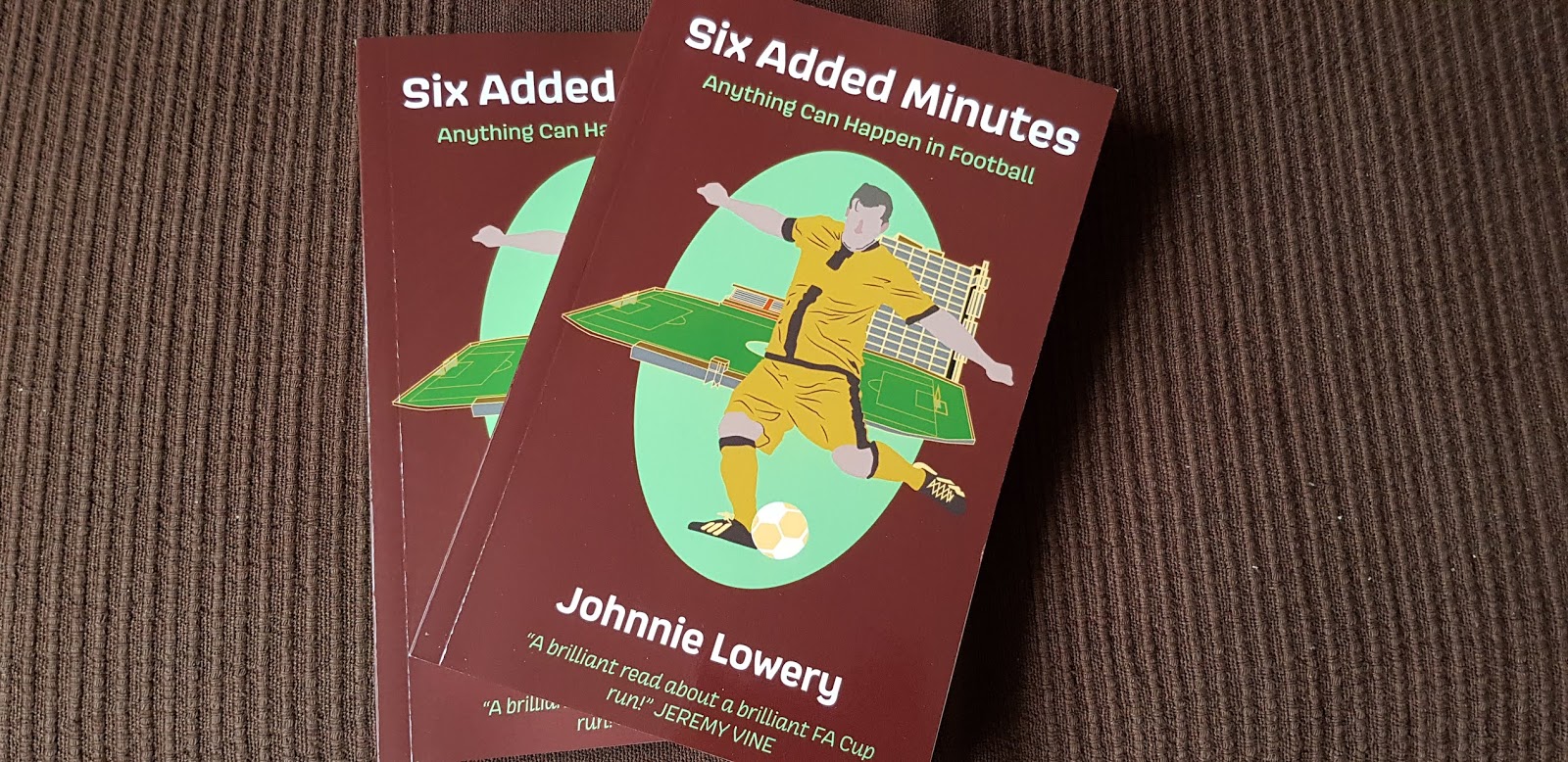 Competition coming soon!
No, I've no idea what the fuck he was on about either.
Taz