So the U's have done it once again. There's been a few, if rare, times that we seem to upset those on Social Media who like to have a little flutter and bank on a Sutton defeat in their accas this season. And yes, we've once again caused them to wish bankruptcy, death and all sorts on us for winning a game. More importantly though, when was the last time that Sutton United came back from being behind to end up leading and eventually winning a match? Must be a while ago. What? You expected me to know the answer?
It's a full fixture list tonight in the Alliance Premier National League, so everything is up for grabs at the bottom of the league. Defeat on Saturday means that we're now joint bottom with Gravesend & Northfleet Ebbsfleet & Chorley. And our quick respite the week before with a win at Torquay, has now once again put us bottom of the form guide with only three points in the last six matches.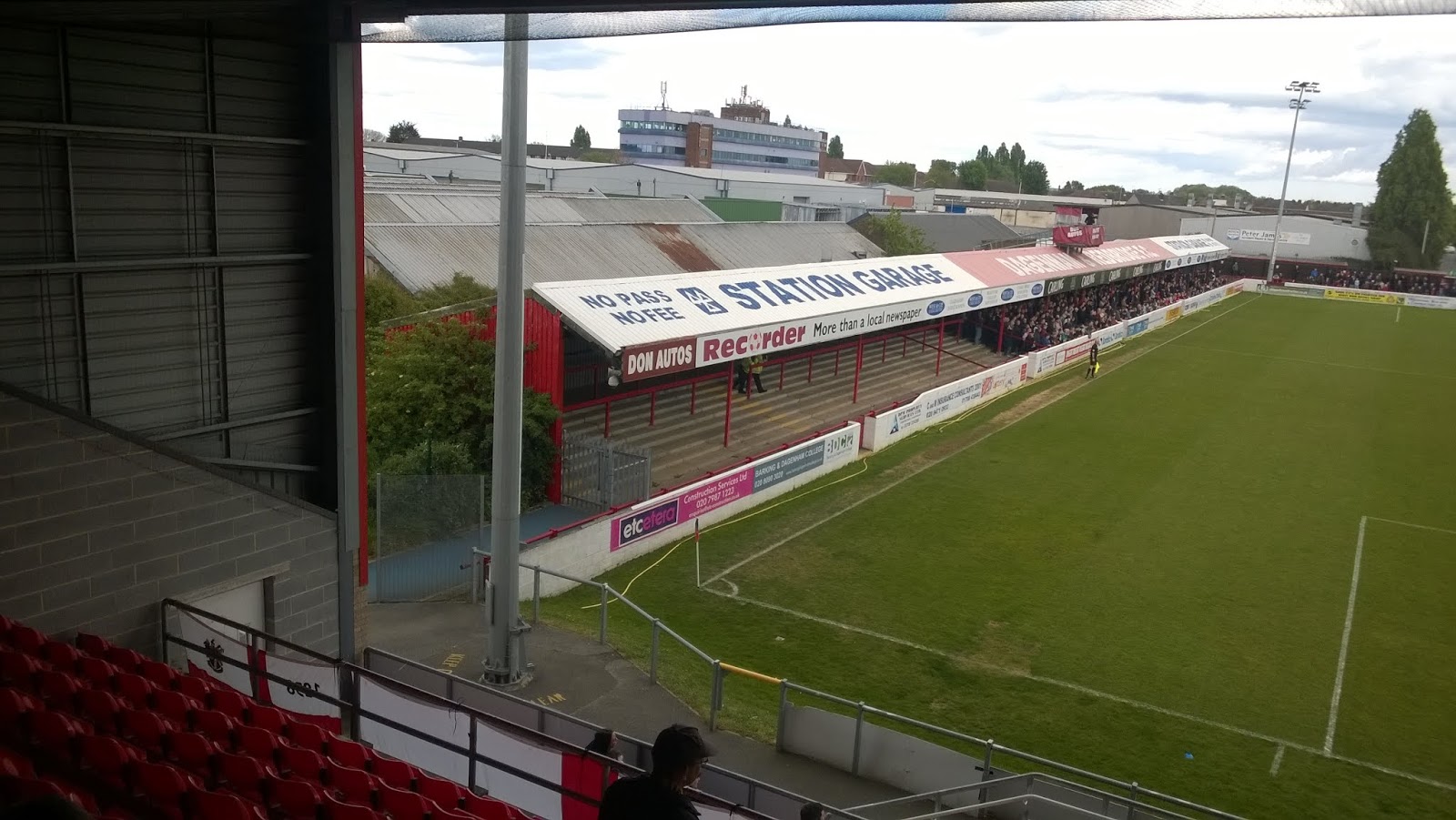 The £15 dream…
Last time we were here at Victoria Road was to witness a 1-0 Defeat. I'm not quite sure what is most memorable. Because the shitty performance clearly wasn't. It was either the fact that for once we were allowed down the side of the ground on the terraces and had to only pay £15 entrance instead of over a score. That or when Conor Wilkinson score the only goal of the match, the home players decided to celebrate by 'shushing' us and using the wanker sign in front of the travelling faithful. Judging by the racket the home fans made tonight, it was probably to tell us to keep the fuckin' noise down.
There was more transfer news that came ahead last week with the confirmation that former Sutton player Louis John was returning to us on loan for two months from Cambridge United. It appears now in order for this to happen, we've had to let Dan 'Top Knot' Matsuzaka leave the club. Guess the budget is real tight at the moment. At least John is sporting his own version of a top knot for a spot of consistency. That also got me thinkin'. Who was the last Sutton player to leave us for league football and didn't return? Answers on a postcard to somewhere or other.
On Monday there was also the all-important FA Amateur Cup Trophy First Round Draw. There might not be any real money, £4,500 for the winners and £1,500 for the losers in the First Round, in it compared to the FA Cup, but we're always sold the belief that this is a chance to take your team all the way to Wembley. And the draw? Only fuckin' Ilford Dagenham & Redbridge at home! that'll get the crowds flockin' in no doubt.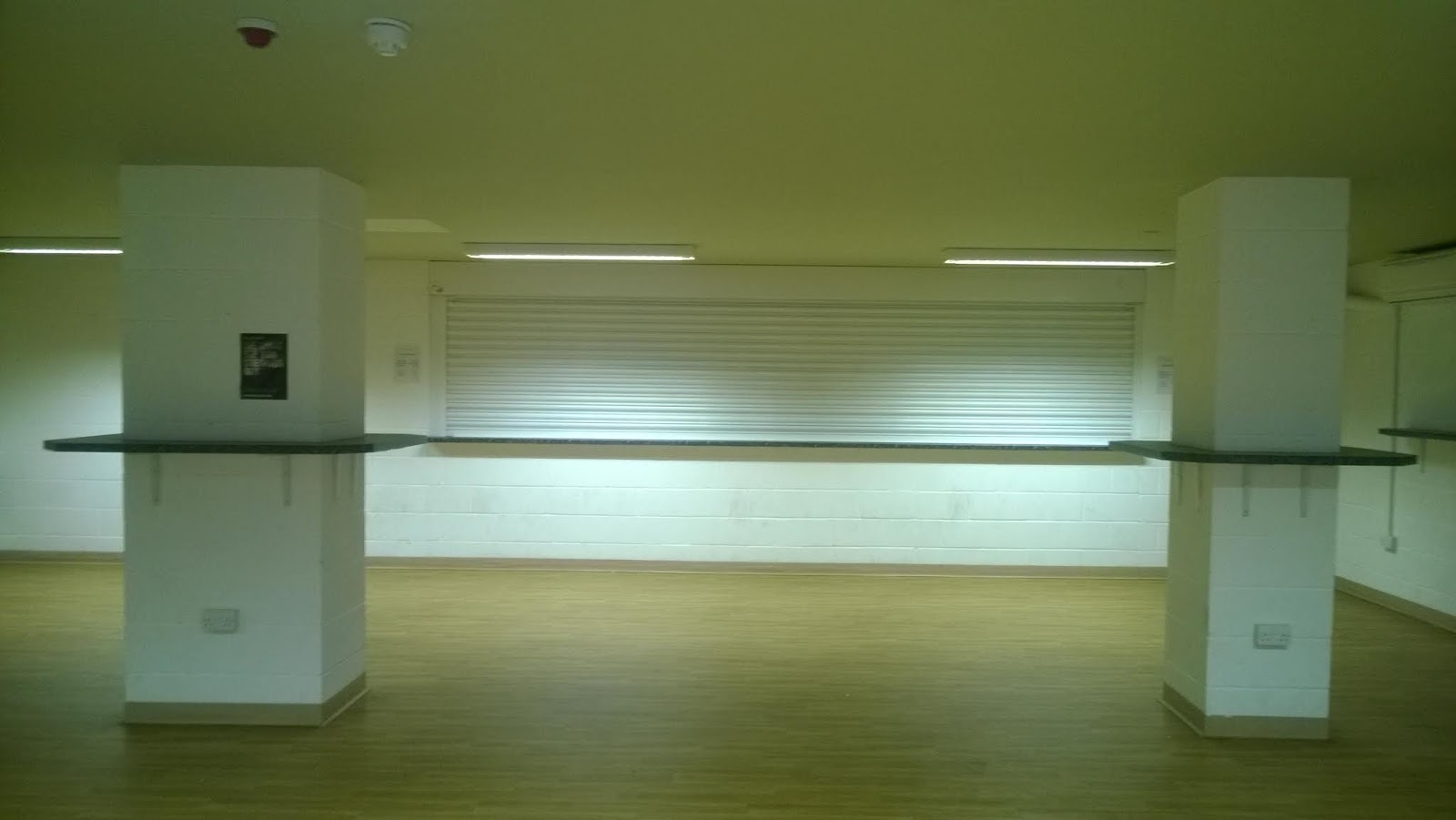 The bar was busy…
So onto Leytonstone Dagenham & Redbridge away. And just to think, it's only been ten league games since we saw them Win 2-0 at Gander Green Lane after they scored two quick goal before halftime. No thanks once again to some very suspect defending. And knowing our luck, former Sutton man Dobson will no doubt knock one in once again against us.
A slight change to our usual travel plans as Mr X was busy on the wrong side of town and couldn't guarantee us a lift. So it was down to me or The Firm Leader to decide who was going to bite the bullet and drive. Unfortunately for me, The Firm Leader is caught in traffic on the way home and decides to bail at half five. So it's simply down to me to fly solo tonight. Leytonstone-Ilford Dagenham & Redbridge here I come!
Two hours later I'm finding a parking space around the corner from Victoria Road. Two bleedin' hours! I couldn't believe it. Apart from the usual stand-still on the M25 near Clackett Lane services where we begin to move forward eventually without anything to indicate the reasons for it. At least my journey was only half as memorable as Ozzie's as she manged to come into contact with a lorry at a roundabout and damage her motor. At least it wasn't her jam jar though and she still made it to Victoria Road. Well Done! Spotting Mr X having also just parked up, we make our walk to the ground before spunking £21 on getting into the ground. No food purchases for me tonight then.We also learn that Walthamstow Avenue Dagenham & Redbridge have only four on the bench tonight. Things are clearly not happy here. A chance for us then?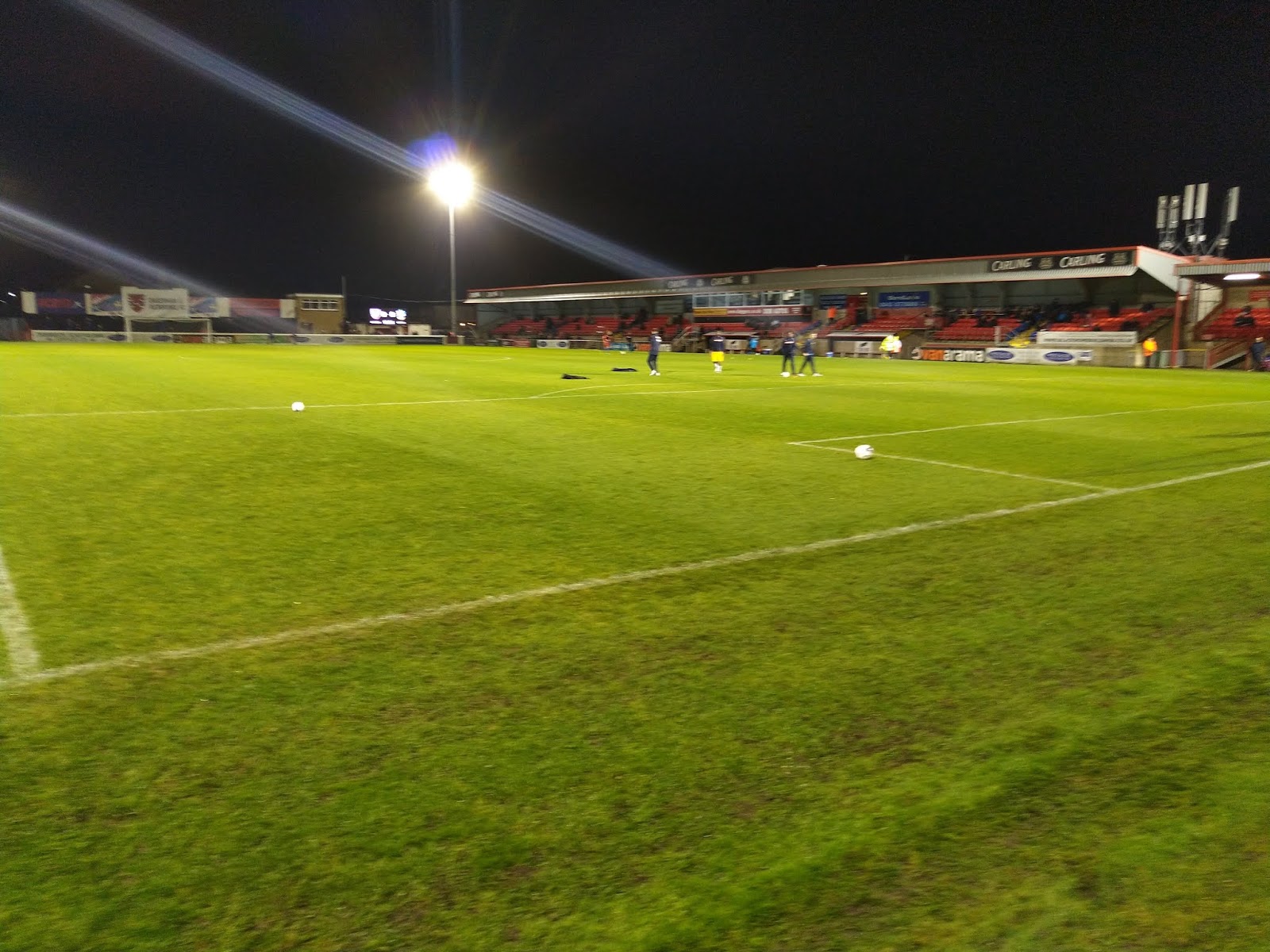 Tuesday night in East London…
Tzanev, John, Barden, Collins, Wyatt, Davis, Bugiel, Beautyman, Eastmond, Ajiboye, Wright. Bench Warmers: Bolarinwa, Dundas, Randall, Jarvis, Reid.
Sutton would start the match shooting at the far end from the 76 hardy souls that had made the trip. It was a quiet first quarter of an hour as both teams cancelled each other out. Then out of nowhere, in the middle of the park, Collins is caught out going for a ball. And instead of letting the player get it, he leaves the floor as he slides in with his right foot. Unfortunately for him, he's late and doesn't connect well and catches the player and injures himself in the process.
After receiving some treatment he's given a deserved yellow. What followed I don't get. Both him and the player he fouled and both having got treatment and then left the field of play. I thought these days if the person who fouls you gets a yellow, then you don't have leave the pitch? But apparently so according to this particular man in the middle. And let's face it, he wasn't any good was he for the rest of the evening. For either team.
Wright would have our best chance of the half, and if like against Bromley, it would've been the only chance we'd have, when the long ball forward to him was of a decent length and he lashed off a shot that went wide thanks to the outstretched hand of the keeper. The home side would also have chances themselves but were denied by some good goal keeping by Tzanev.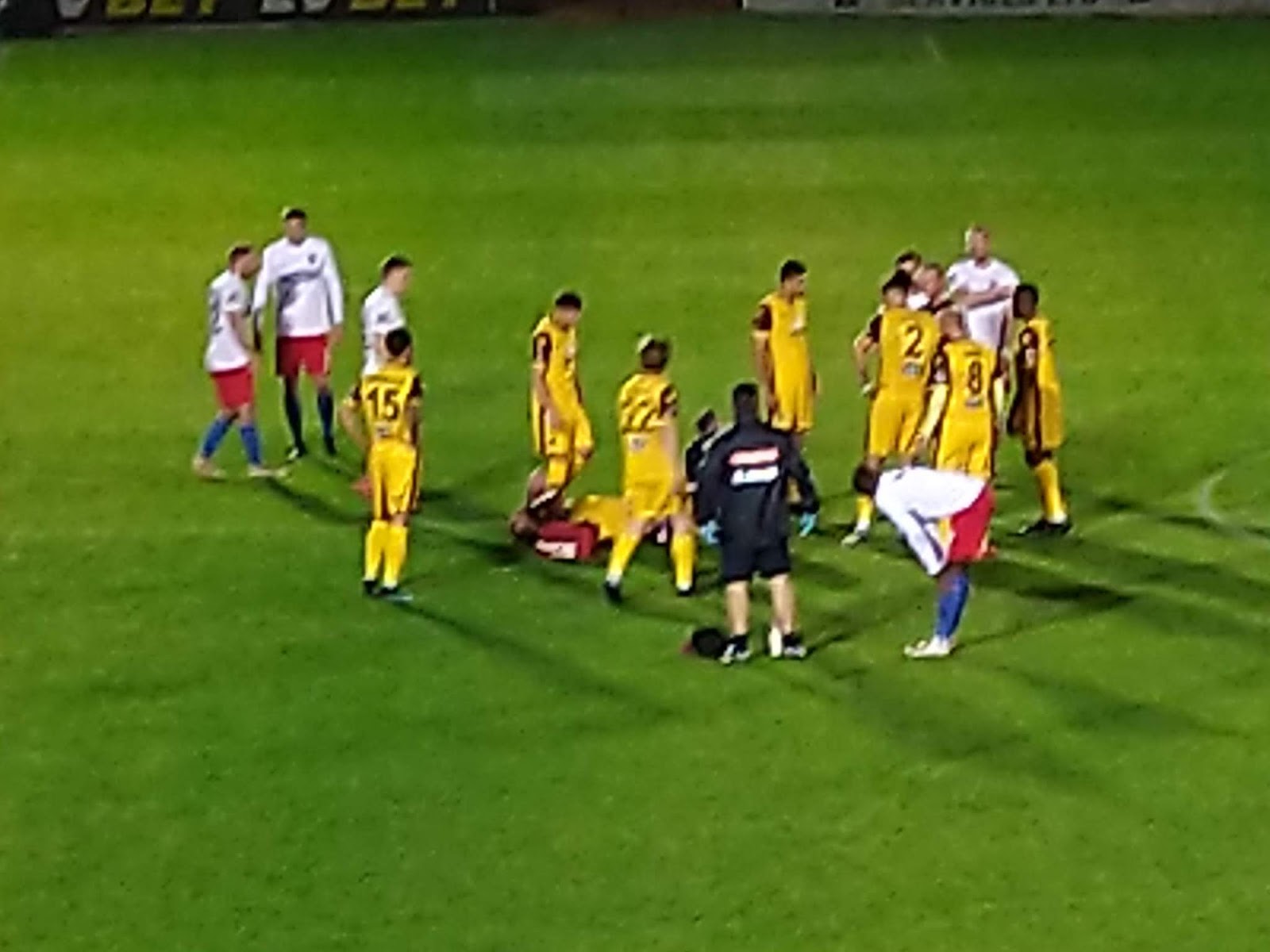 Collins takes a yellow…
The second half starts with the home team once again applying the pressure. I'm never sure whats said to our players at halftime but it didn't seem to work again. Tzanev would be called into action early on by being forced to make another save. Our luck wouldn't last as we found ourselves one down when Dagenham found themselves inside our box with only Tzanev to beat. Nuts! And the away support thinks it's all over. We never win when we go behind. The match would then settle down for the next ten minutes.
Then came the moment of inspiration from the bench. The Legend that is Dundo is brought onto the pitch for a tiring Bugiel. This was done as Sutton were about to put the ball into the box from a free-kick. It's whipped in and after a bit of the old confusion, the ball heads towards the back of the net off a Eastmond toe. 1-1! Cue 'limbs' in the away end. We didn't see that coming! And neither did a few of the supporters who felt that Jarvis would've been a better choice instead of the Legend that is Dundo. Blasphemy!
We hadn't even come off our high when Sutton actually took the lead a couple of minutes later. This time Dundo starts the lay off that is played long down the field to Wright in behind and he managed to keep his composure to smash the ball home. 2-1! Cue 'double limbs' as the kids say. Now we're winning, but really shitting a brick. Can't fuckin' last, can it? But the players continued to pile on the pressure. Dundo would see a header go agonisingly over from a corner and then he would flick on the ball for Wright to snatch at a shot that went just wide. Man, Dundo was on fire tonight. So much so that just his mere presence would put defenders off when they tried to clear the ball. Not bad for a bloke that's like 108 years old. Or something.
A nobbled Collins would eventually be replaced with Reid and Easty going into Centre Back. Barden would get a deserved yellow and by the time that Jarvis was introduced, Sutton continued to sit deeper and deeper and invite Leytonstone-Ilford Dagenham on to try and grab the Desmond. But with five added minutes of injury time, they failed to trouble, let alone find the back of the net and Sutton could breath a sigh of relief as the full time whistle is blown. The home support in the stand next to us would show their displeasure with their team. Most people are like that when Sutton beat them these days to be fair.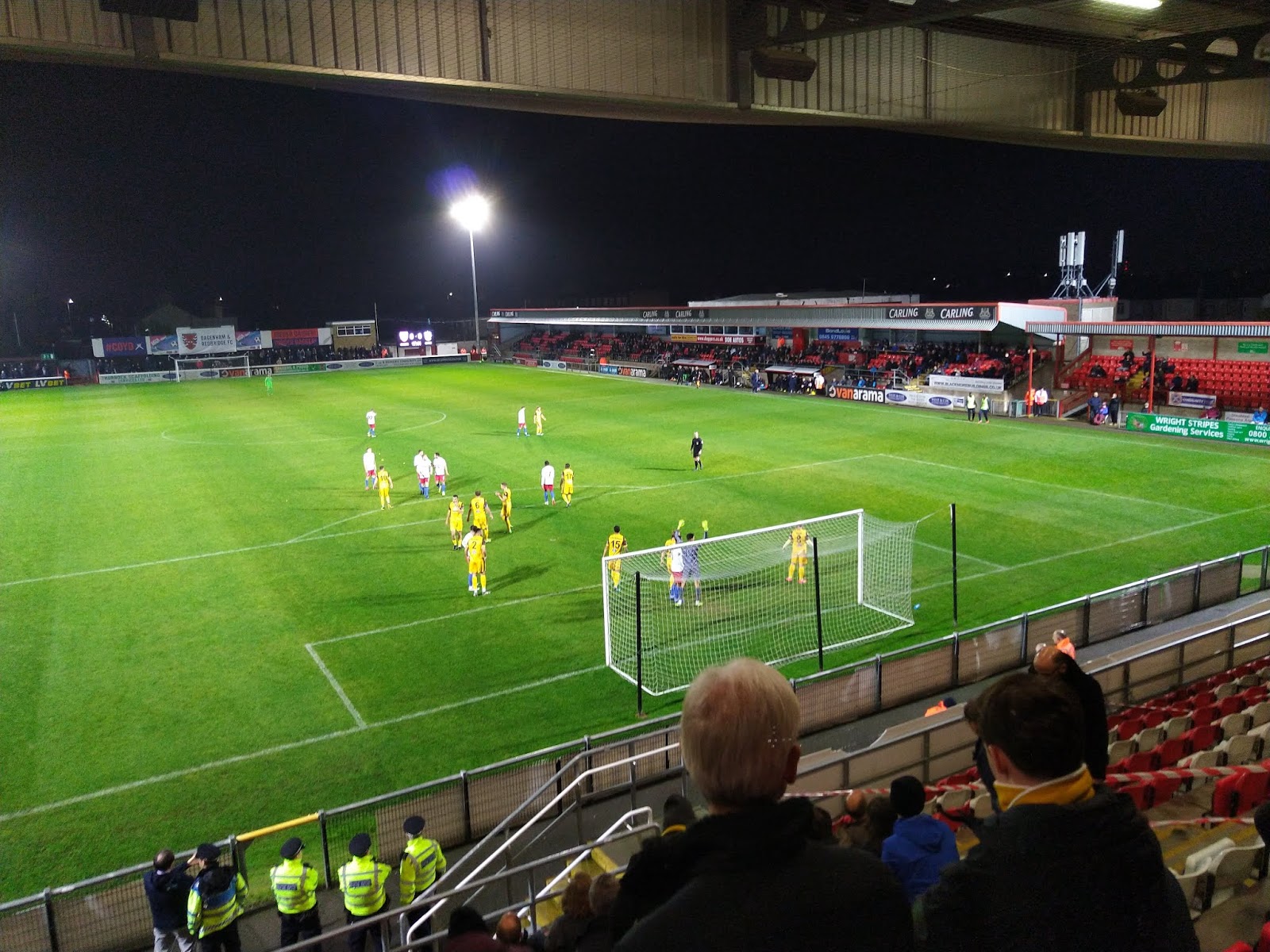 The view from the £21 Gods…
After the match and it's time to clap off the hardy warriors from South of the river. Ironically, this wasn't even the best performance we've seen recently, but we've got the result for once. Of course, the Legend that is Dundo would've been given the Man of the Match award from Gandermonium (if we could be bothered to do one) as he was clearly the inspiration for the win. It was also surprising to see that from being bottom of the league when we went behind to now resting just outside. Talk about a turn around. As for Redbridge Forest Dagenham & Redbridge, they were a lot worse than the last time we showed our boats around here, which is probably why less than a 1000 of their mob bothered with tonight.
It was down to me to take some of the boys home to the promised lands as I had Taz & 4 Days in my jam jar. And after nearly running down several members of the Babylon as we made our escape, as they decided to cross the road in front of me just as the lights went green, we're soon on our way through Essex in the pouring rain. It wasn't long before we're over the bridge and I'm dropping off Taz at Gandermonium HQ. 4 Days is tipped soon after and then it's my turn crashing through the front door happy & content. For once.
We now move onto Harrogate at home Saturday. And this is where we need to improve. Not playing Harrogate, but at home in general. We might not have the worst home record in the league (how?), as Gravesend & Northfleet Ebbsfleet have that honour by conceding three more goals than us, but it's something that the boys need to address if we want to carry on in this division next season. If not, then trips to Nottingham & Blackpool in the next coming weeks could be the last we make. Enjoy!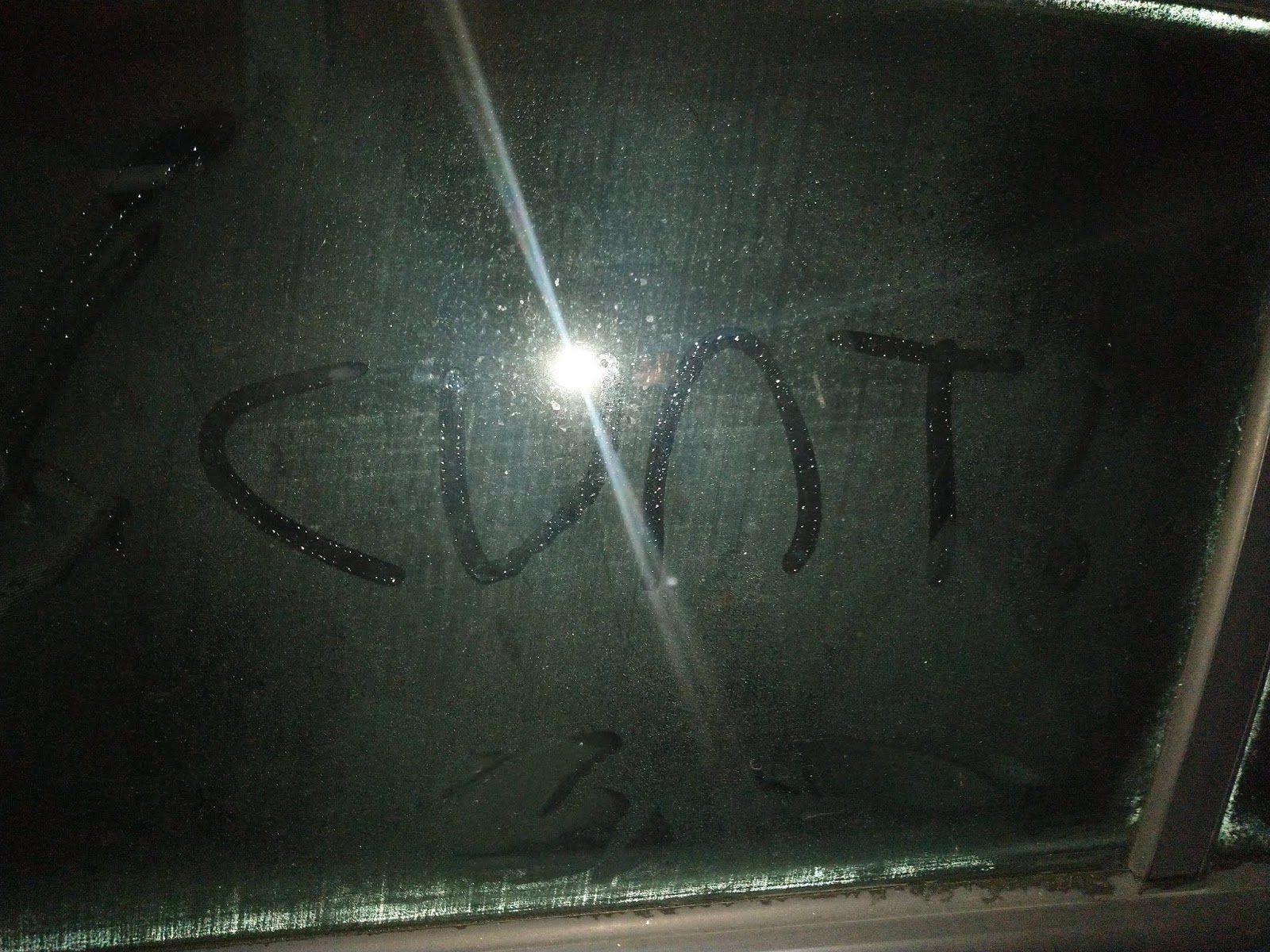 The maturity of my passengers…
Duke
Att. 1070