Well loyal readers it has been a while since yours truly
blessed with my writings based upon a Sutton United blog, thanks again to our
editor and chief Taz for stepping in for me that night I had the flu jab and my
left side went into complete numbness. You shouldn't believe all the scandalous lies my colleagues here at Gandermonium might tell!
Midweek saw the U's win away again at Dagenham and
Redbridge and our Tommy Wright with the winner no less.
Now what we need to do is start to generate wins at home and make Gander
Green Lane (GGL) a fortress again. Or if not a fortress, an average sized redoubt. Or a trench system perhaps.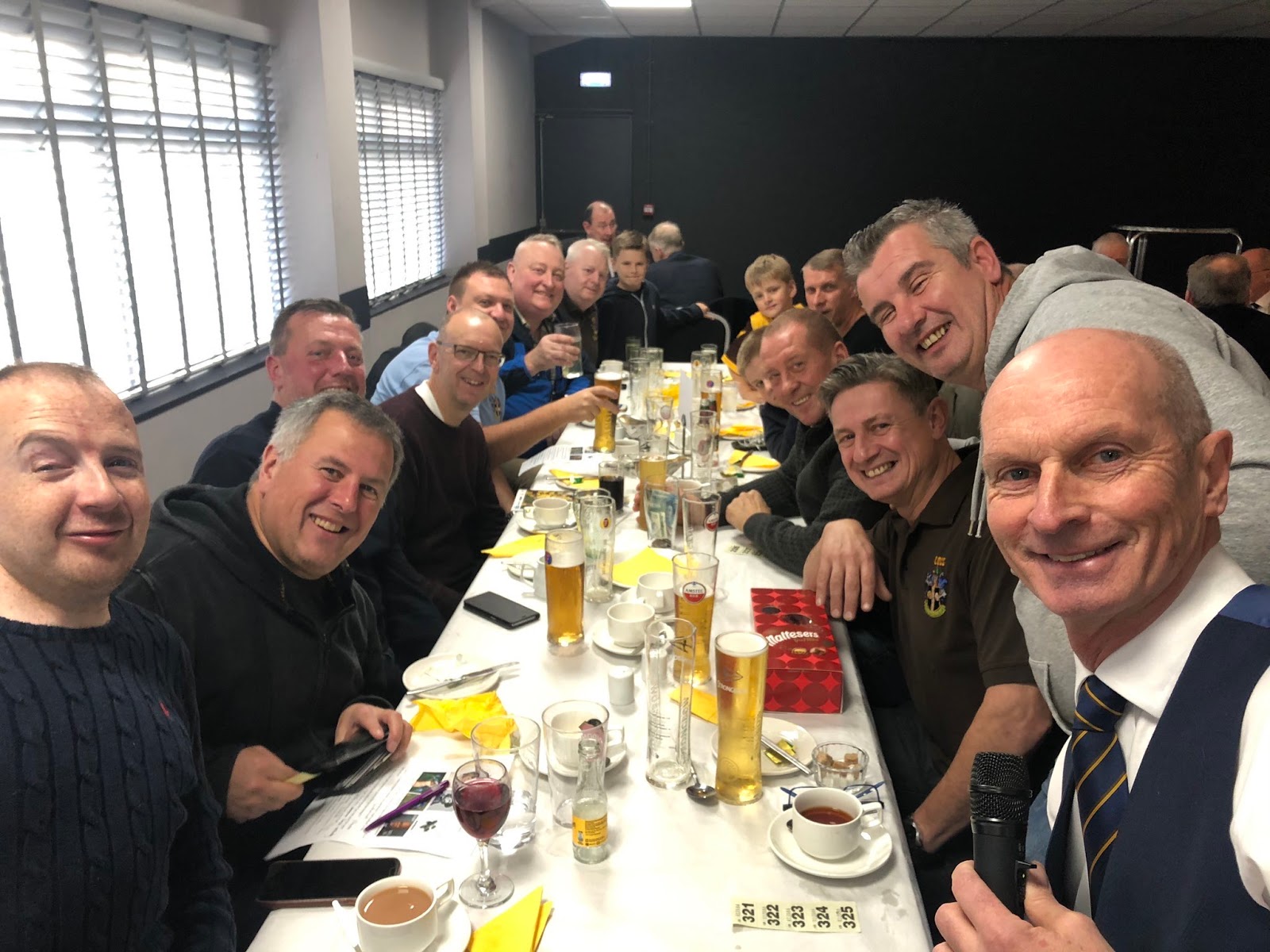 A posh knife and fork affair
In what has been the quietest week at work for quite some
time, must be something do with an upcoming General Election – the rest of the
week following victory in East London drags on somewhat leading towards Saturday's home game against Harrogate
Town. I turned down the opportunity to go
out for a carvery on the Friday night with my sister, her other half and my
niece as I wanted to keep myself "fresh" for the next day and the pre-match
lunch. Talk about saving yourself, and
thus can only mean ending up in disaster.
I am woken up on the Saturday morning by Dave Barrett (he
owns the seat next to me at Chelsea) calling me to buy the ticket for today's
game against West Ham. As loyal readers
will know I would much rather come to GGL then watch Chelsea these days – keeping
it in the community. Mr Barrett knocks
on my door at 11:30 and the ticket is passed on– where I now need to get my skates
on to head for the pre-match lunch.
However, I simply have to finish watching the late Gary Rhodes' Christmas lunch
cook which only salivates the palate for the lunch. Uber arranged and I am heading towards GGL,
driven by a QPHaha fan who compliments me turning down Chelsea for Sutton
United.
Walking into the bar I am greeted by the words "You're late"
from members of the COCs who keep begging me to join them. Sorry fellas, I will forever remain loyal to
Gandermonium! I take my place though as "head of the table" in which we are
served with steak pie and all the trimmings followed by raspberry roulade. Half of the table, which includes me, wins
Joycey's quiz, the only question we get wrong being which football CLUB
introduced the world to "Total Football" in the 1970s; seems we read the
question wrong and put the Netherlands but the correct answer of course being Ajax. The money won is put towards an Amber 500
ticket – so if mathematics stands correct £7,000 split between seven is a grand
each. My winnings surely would have go
towards bringing the great Sir Chesney Hawkes to GGL.
The gaffer tells all…
This next paragraph is solely dedicated to a one JR!
Firstly, my constant reminder to you is and I will shout this out SEND OFF FOR
YOUR WORLD CUP 2018 STICKERS – blimey the Euro 2020 sticker book will be out soon at
this rate you're going. The next I am
informed by various members of Gandermonium is regarding gout and eating
spinach, and I have also been reminded to ask what size coat you need to buy? Hey, don't shoot the messenger!
Whilst at the lunch MattHEW Gray comes in to talk through
the performance on Tuesday night and discusses that (my man) Harry Beautyman is
giving him a selection headache. I told you Matthew, you cannot drop Harry! He
announces the team to the lunchers as being:
13. Tzanev, 4. Barden, 2. LJ, 5. Goodliffe Ben, 22. The ever
impressive Ben Wyatt, 15. Eastie, 8. Davis, 10. Harry, 28. Reid, 9. Bugiel and
20. Tommy Wright Wright Wright
Once lunch has been finished, I am feeling ever so bloated
that I literally could fall asleep. As I
walk into the players bar Kevin De Bruyne re-gives Manchester City the lead at
Newcastle United with one of those goals Taz refers to as "a Yeboah" and also "porn" – you know the one
ball shot from far out bouncing down from the bar over into the line – this
will not be the first time today that Taz makes a pornographic reference in relation to football either. Strange man.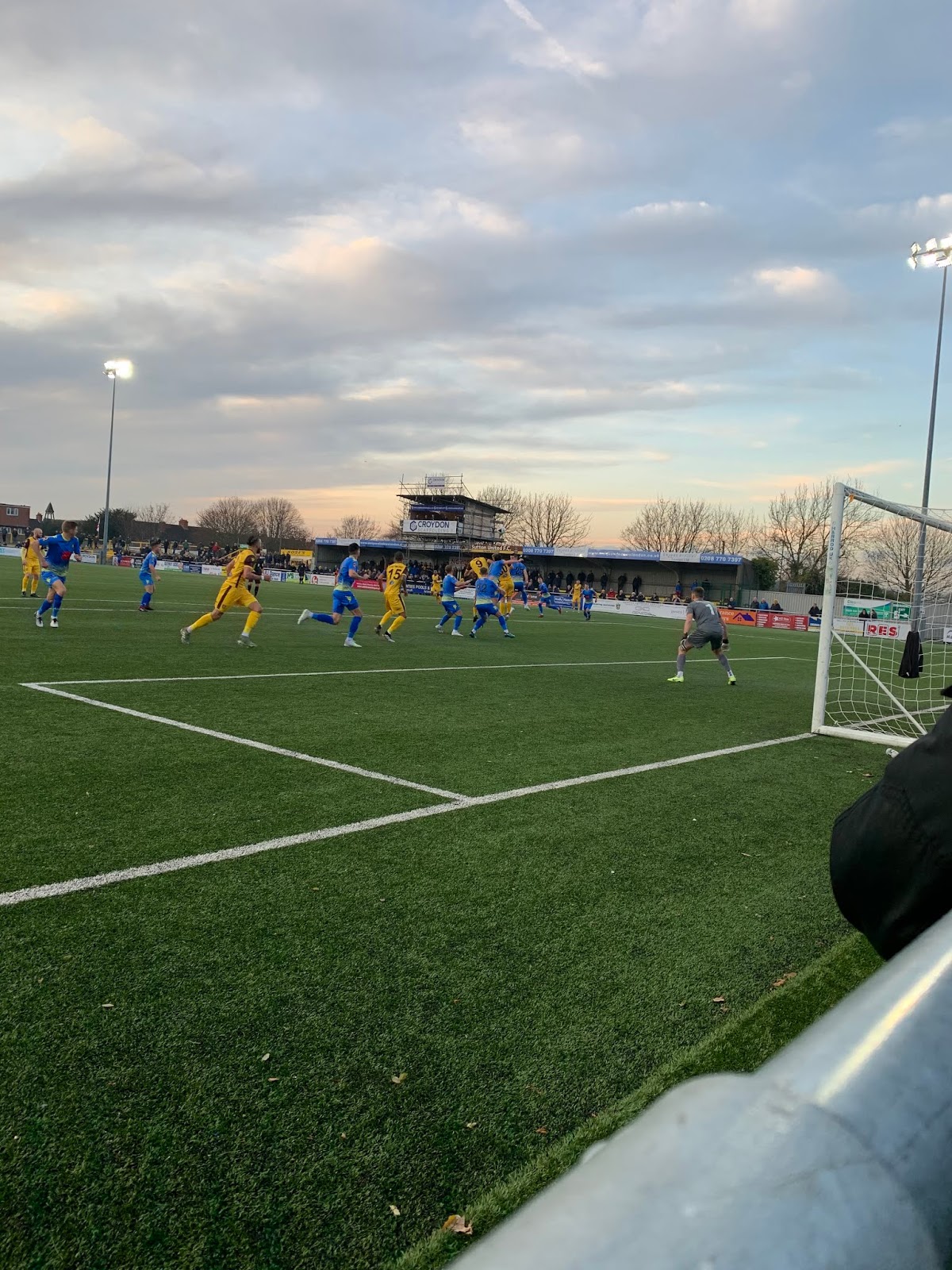 Action!
I head to the Vice President's Lounge and find a nice comfy
seat, so comfy that thanks to that big lunch, I actually start to nod off until I am woken up by Malcolm
Pearce who looks at the odds for today's game – the highlighted one being 11-0
to Sutton at 100/1. Hey, stranger things have happened. None of us takes a chance on it however!
Now what becomes a trending theme today is that inside is
far too hot – they have the radiators on full blast, so I decide to head out
and walk a perimeter of the ground to cool down and to try burn off some of the lunch and I end
up at The Shoebox where Ozzie is standing. As we
talk about the upcoming Nottingham and Stockport trips, it is a returning Natalie (from Costa
Rica) who arrives next. Going by
previous home matches we have always shot down to the GGL end in first halves
but today it backfires as we end up shooting towards the Collingwood end and we
leave Pete (aka Gareth Southgate) on the Shoebox.
The referee does his usual shoddy performance which as per normal irritates Taz and Mr X, and let us not mention the Harrogate number 4 – our
friend, Mr Falkingham, aka little knob! The referee fails to notice that there are
two teams playing as all his decisions seem to go the way of Harrogate, which reminds
me Harrogate I remember how your stewards made a song and dance about us putting a flag
up and me telling your stewards how poorly you run things and how our stewards
run things better – so check out the next picture showing your fans being
allowed to put up their flag without much fuss.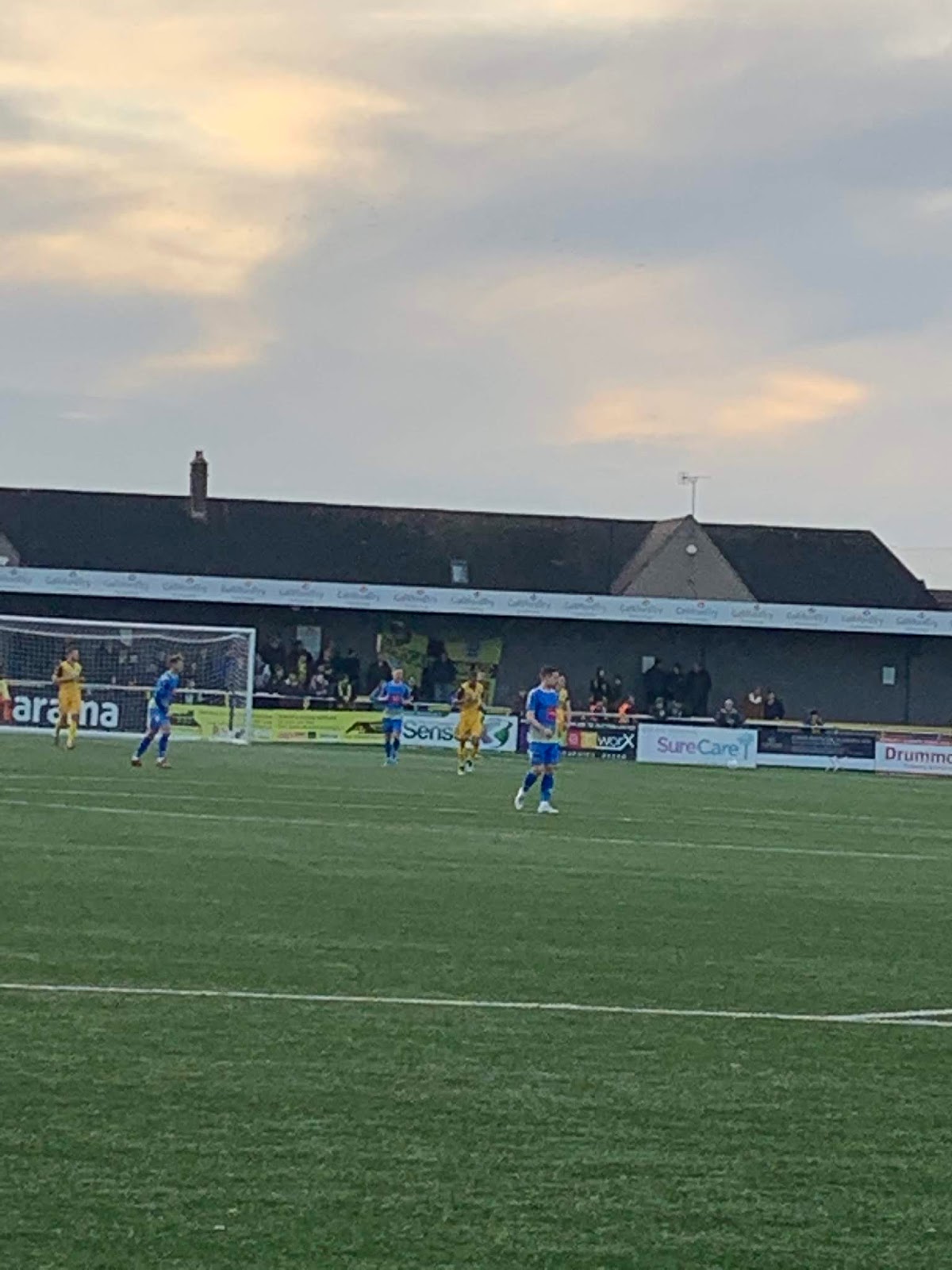 Flag up, no fuss!
This leads to on the half hour mark, my man, Harry Beautyman
to sneak in and divert a header into the net for the opening goal from Eastmond's cross, and his
eighth goal of the season (it's nine actually! – Ed). Half Time
Steve (HTS) on 35 minutes asks me what am I drinking – and as I am on blog duty so I
ask for a rum and coke. I head into the
bar on 41 minutes and thankfully I did not miss another goal. Second half and there is one change as Kenny
Davis is taken off for David Ajiboye.
This allows Kyle Reid to take his place on the left and with the increasingly impressive Ben Wyatt behind him.
We have a decent half and create opportunities, but they are not taken. However, we cannot rest on our laurels and unfortunately for
us and for me it is the Harrogate number 4 (HIM) who scores their equaliser on
minute 68! This leveller and our frustration does not last
for long though as within four minutes Sutton are back in front and it is an
absolute worldie which gives us the lead again.
Tommy Wright from 25 yards out takes a shot and ends up in the back of
the net, cue mad celebrations as it's the sort of strike we've not seen many of this season!
What is needed now is a third goal and we
only have to wait till the 87th minute where Tommy takes on
the Harrogate defence alone chasing a long ball and hammers a curling shot into the bottom left to make it
3-1 – these celebrations cause my phone to fall out of my coat pocket and leave
a chip in the top right, luckily not the camera part though. I guess we can call that game over and
another three points, this time thankfully at GGL rather than on the road. As for today's title, it's like what they say about buses – you wait for one
and two come along at the same time. That is our first back-to-back wins this season and Mr X says in 2019 as a whole. Blimey.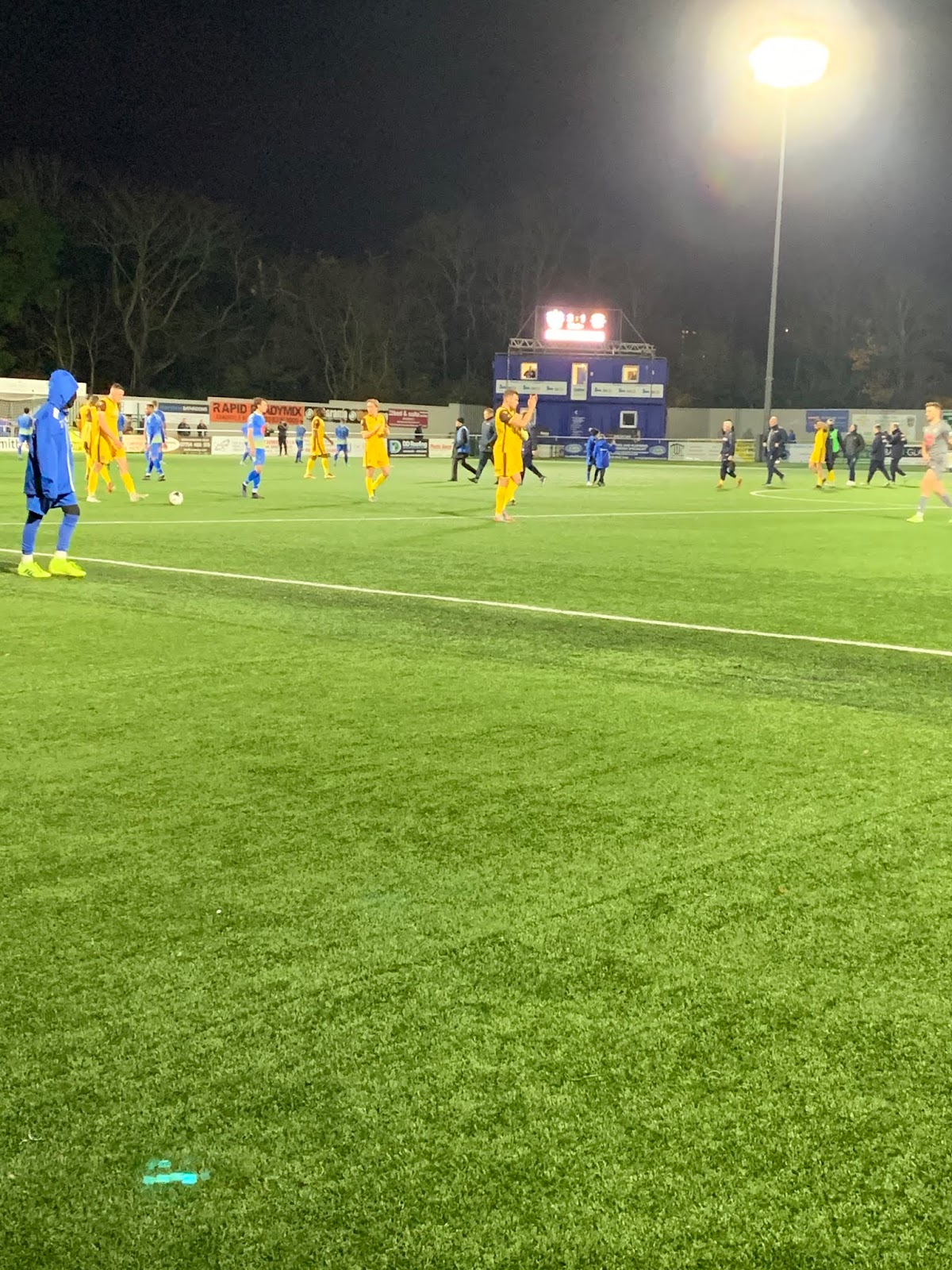 Victory!
Recollect back to Taz's rude porn analogy earlier and a message to the
Whats App Gandermonium VIP only group has the man himself stating how he will
'enjoying' himself to Tommy's goals when the highlights come out – keep it indoors my friend.
In the Strikers Are Key draw, it is the ball owned by our
photographer (and fellow Civil Servant!) Paul Loughlin and it is he who manages to
successfully open the contents of the safe for himself and his family. £550 is his reward. I'm sure that'll make for a very Merry Xmas! If you've not seen his wonderful pictures, here's a link to his webpage.
It is now that I start to feel really ill, my head feels
like it is burning up and is pounding so I decide to call it a night early on. Which
reminds me MattHEW Gray in that I owe you an after match beer next time. Before I depart though, some of the Gandermonium boys mention that
they are off to Baku for Wales vs Switzerland for the Euro 2020 fixture and there's also a trip to Bucharest planned for Ukraine versus Austria. No doubt all the strange goings on that both of these will entail will of course be detailed here shortly afterwards!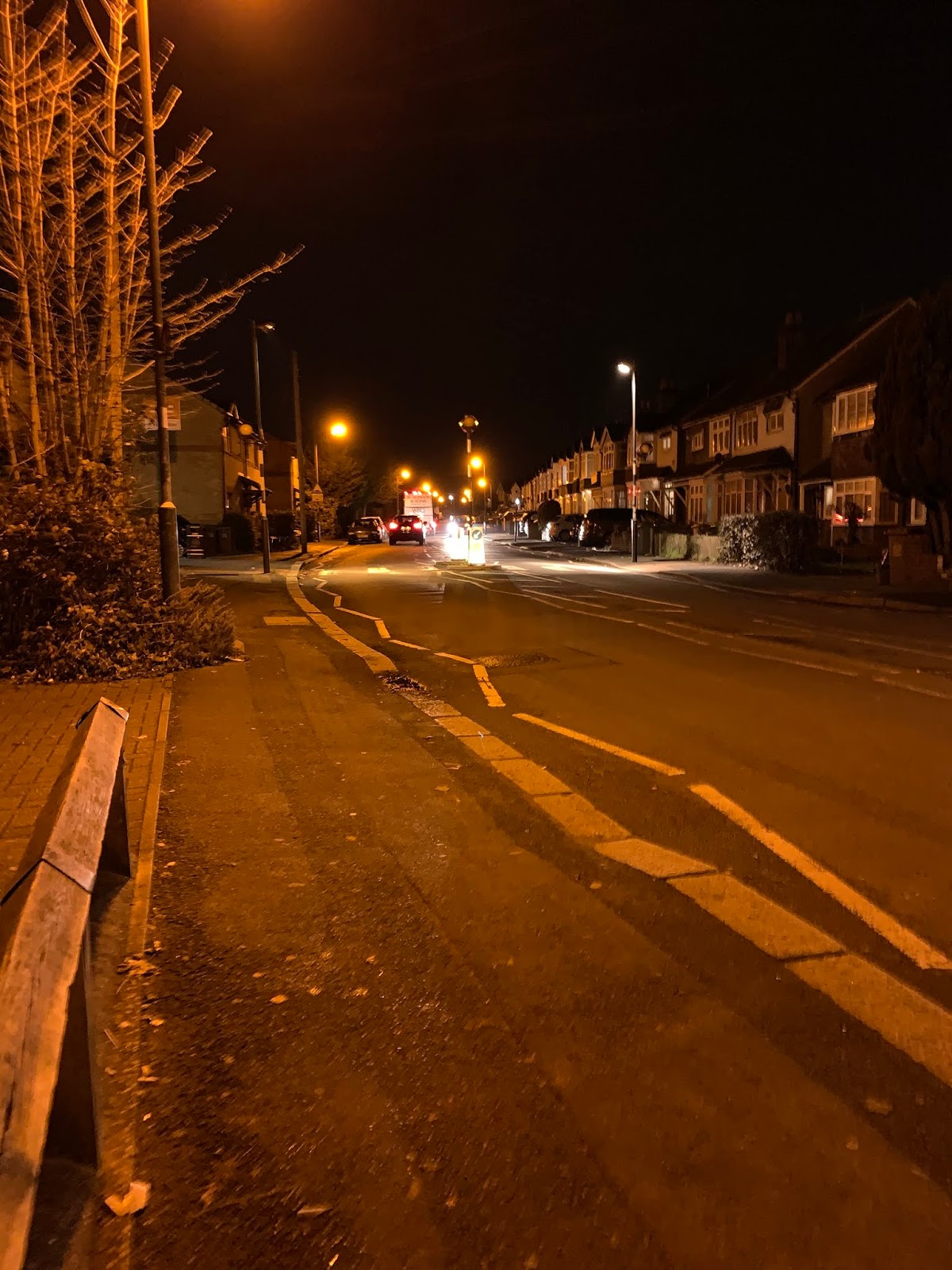 Homeward bound
I say my goodbyes to all, and head towards the West Sutton
bus stop for the 413 where I spy the Harrogate coach exiting the ground and
heading up GGL – would have loved to have seen Josh Falkingham's face! I am
joined on the 413 by Paul Loughlin and I congratulate him on finding the
correct key. He refuses to lend me a fiver however when I ask. Which is a shame.
From the Whatsapp messages I read the next morning, it
looks as though a good night was had by all celebrating the win, including Tatey disappearing
without trace late in the evening, JR getting home at 3am without having so much as a single alcoholic drink and others stating
they feel like crap due to having had much more than a single alcoholic drink. On to Nottingham it
is next weekend; how I am going to survive it, heaven knows as the night before I am
at my work's Christmas do with a three course meal at lunch followed by a visit to the
Munich Cricket Club to indulge in steins larger than me and a German oompah band. Maybe my colleague Dukey will be kind enough to fill you in on my progress?
Wise men say….
Robbo