Sorry folks, it's only me again at the reins of yet another Sutton United tale from the boys at Gandermonium. But to make things even worse (for you), it's that time of the year where a certain cup competition begins, one that has become the bane of the short-minded and the obsessive love of the lifers. Yeah you know what it is, it's time for the Surrey Senior Cup. Get in there!
Oh and what a wonderful competition it is. Well for me at least. I still get that sort of excitement every year around this time similar to that when my school friend Adam Ayala handed me a floppy disc of the tamest softcore action showing Lindsey Dawn Mackenzie washing herself in a shower all those years ago. But would this year be any different with a change of the attitudes of the previous management I wonder? Hmmm, that is a good question.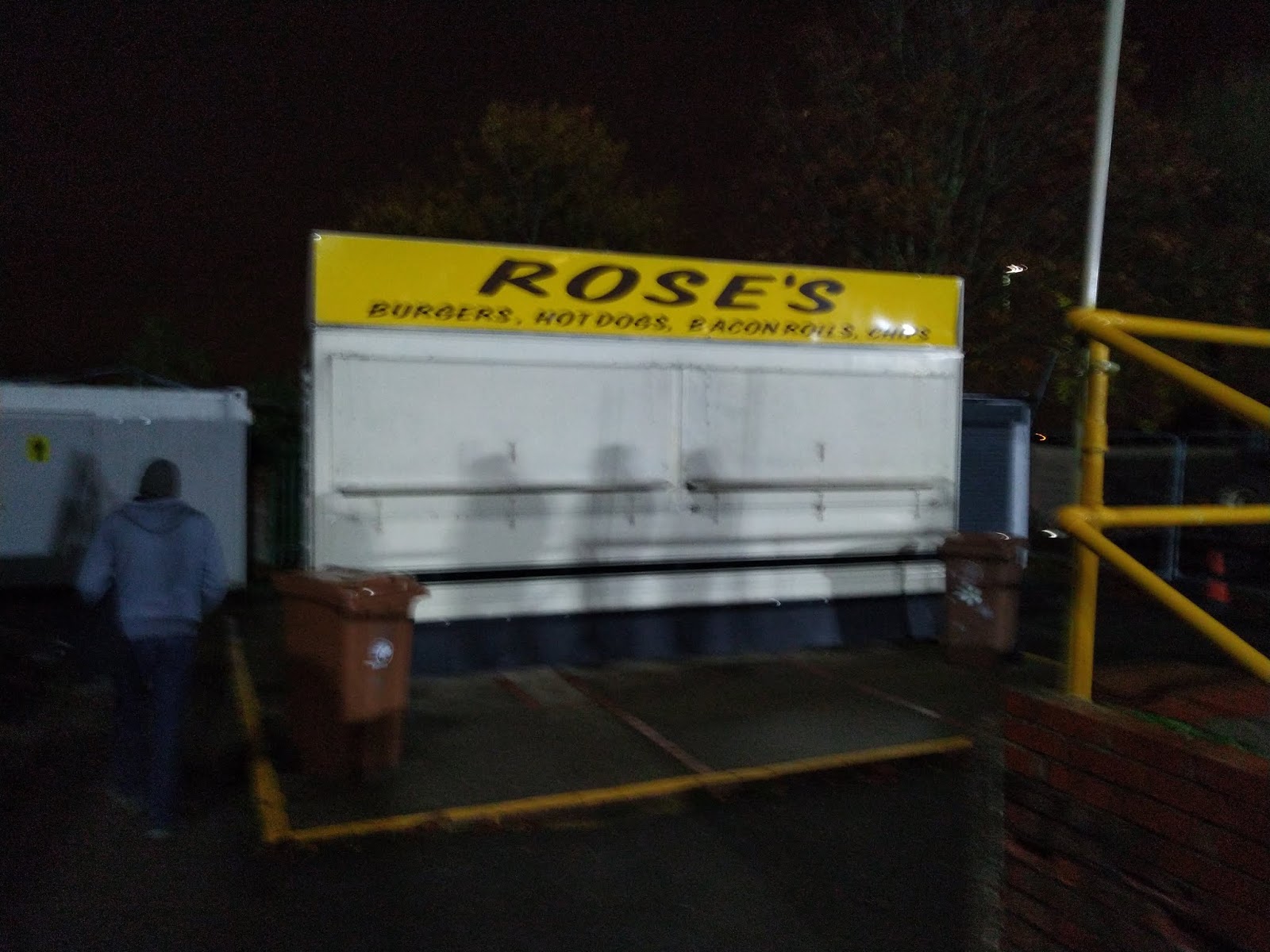 At least the toilets were open…
Horley Town are the team we're due to play down at the Borough Sports Ground and they've been plying their trade this year in the Southern Combination Premier Division. Whatever that is. It's on the same level that Chertsey were playing at last season when we met them though. And as we all know, that ended well! Now, random fact of the day, Horley wanted to remain so much in the Surrey Senior Cup that they even had an Act of Parliament made to keep them in county. That or they didn't want to be a part of West Sussex, which is totally understandable.
It's been over fifteen years since we last played Horley. A pre-season friendly I think I can remember. Later confirmed by the wonderful site of our own official photographer's personal Website. Definitely worth a butchers at if you need some stats for the last couple of decades, especially considering the official website's recent attempts have been somewhat lacking of late. So it's been a while since we last met, but most of us would probably would've preferred another trip to The New Defense rather than doing the usual GGL two step, but hay-ho. Beggars can't be choosers. Maybe next year..
The team line-up for these matches is always a topic of conversation. Well, for me at least. Ever since the first 'Meet the Manger' evening back at the start of this season, and where Robbo shamelessly stole my thunder by asking the most important question of all, we were told that Matt Gray would carry on the belief that the Surrey Senior Cup is not of great importance and that Marvin would be taking the match. One day that might change, one day.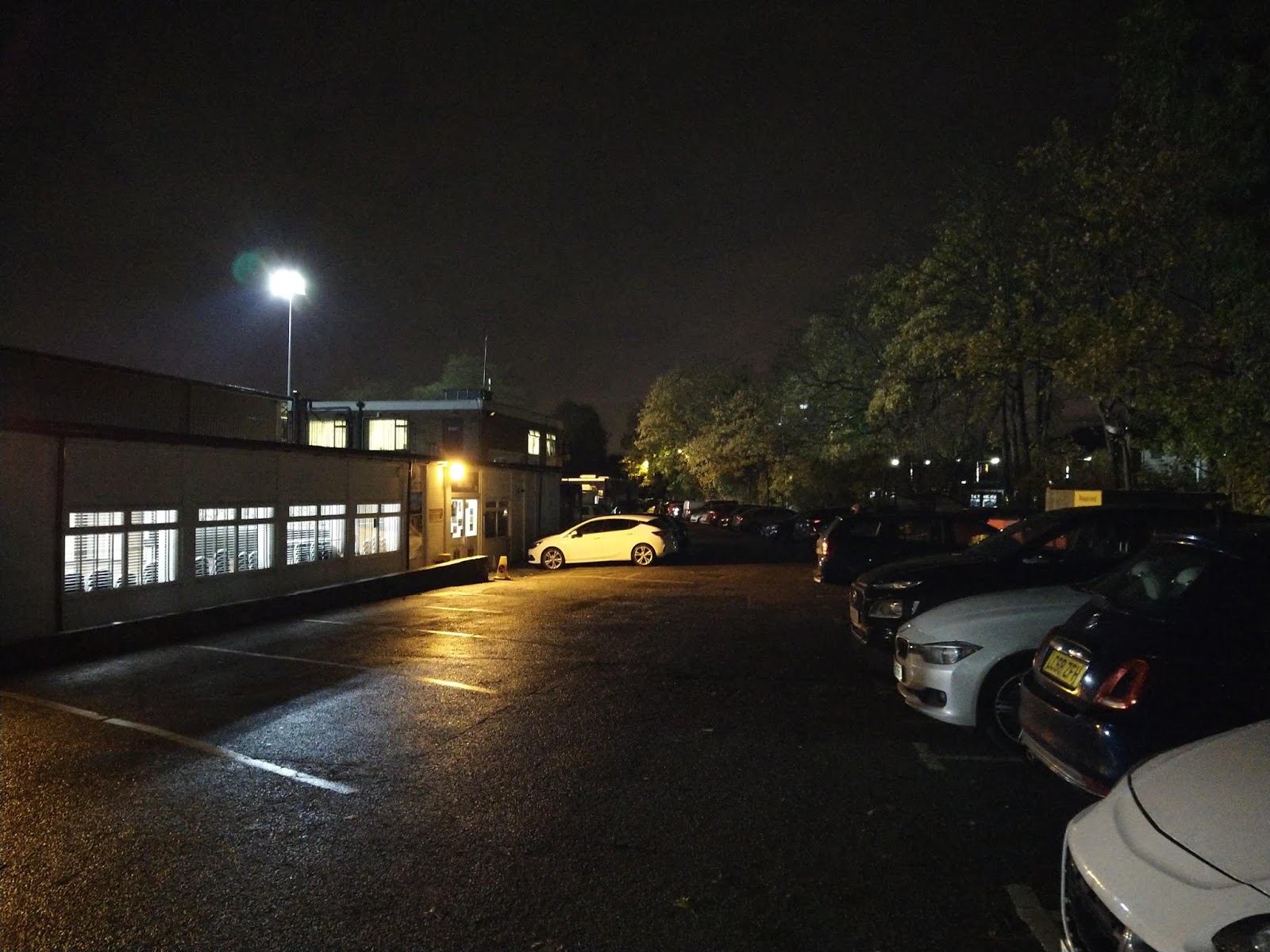 Where is everybody?
But with our recent run in 'form', one point in six games, bottom of the 10 game form table and being dumped on our arses by Billericay in the FA Cup, has it seems caused a slight re-think and now the word on the street is that there is going to be several of the first team playing in this one. But we'd need to wait and see. One definitely named squad member was to be Wayne Brown who was going to be making his first appearance since he busted his ACL nearly a year ago. Other news was that former Sutton man Louis John has returned on loan from Cambridge United, although I doubt we'll be seeing him tonight. It's great news for us anyway, but maybe not for our record of returning Sutton players. Guess they all come back in the end.
The Firm Leader offered his services of giving your humble reporter a lift to the Republic, so I readily accepted. He arrives on time and we travel to the match in his Nissan Juke. With it being a spot of Surrey Senior Cup action, we gambled on the car park having spaces available rather than trying to find a spot somewhere off Gander Green Lane itself. As luck would have it, there were plenty of spaces to choose from, funny that. Finding Ozzie still sat in her car meant that The Firm Leader could bundle away a carrier bag of chocolate that he was after before we headed in.
In the bar and there is a small smattering of people that have ventured out on this cold Tuesday night. Mr X is propping up the bar and doesn't refuse a drink from me as he knows that if anything is gonna get me to put my hand in my pocket, it's tonight's big, exciting cup tie football. Out of nowhere, Rax also appears just as I'm ordering. "Another Guinness please Steve". Dr Bell would also rock up, but thankfully too late to be included in my round. Phew. Beer drank, and it's off outside for the football. At least it's £10 entry and Southampton Steve appears out of nowhere as we enter. Nice of you to join us John.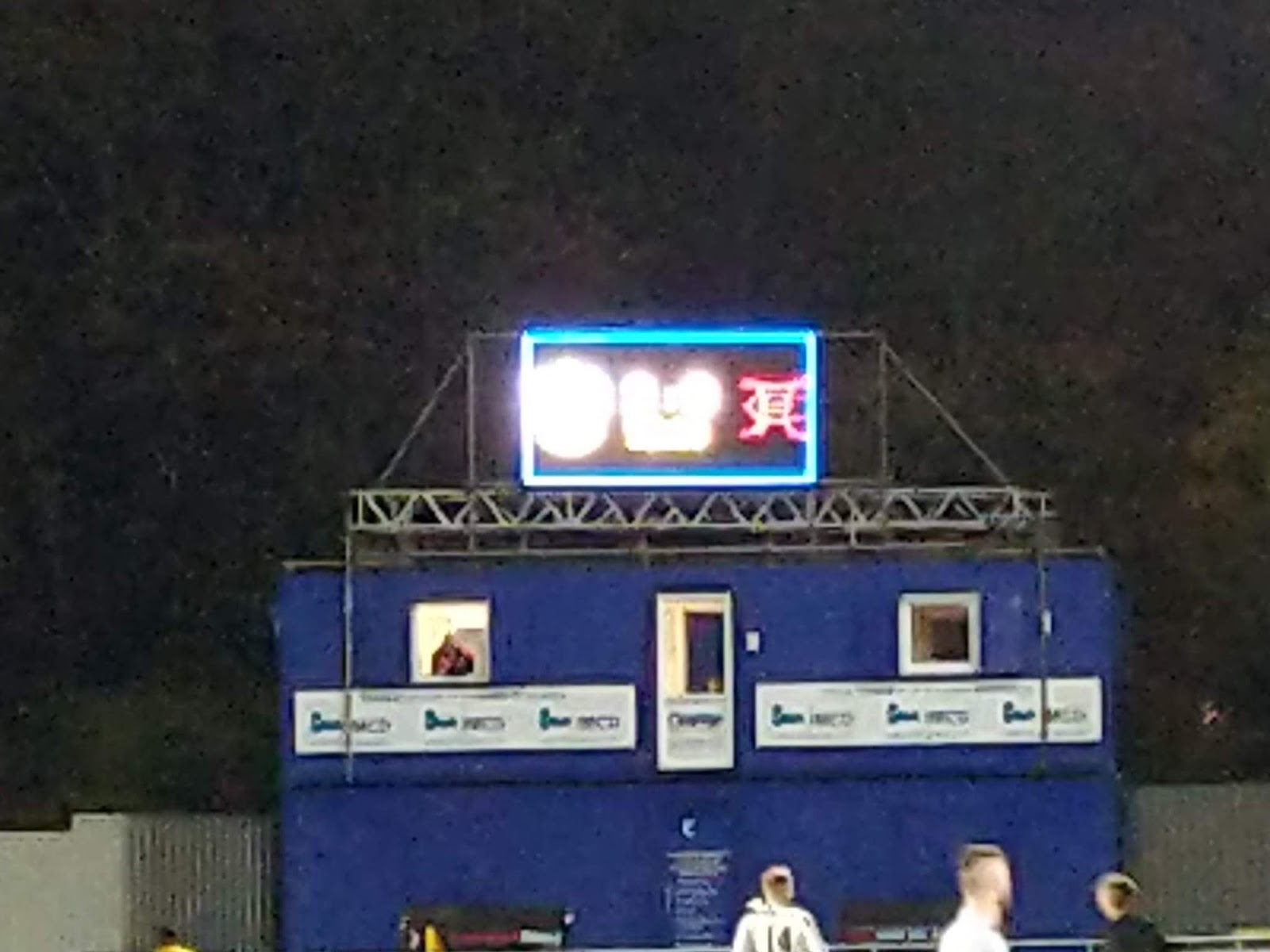 Horley Town badge or Chinese for Chow Mein…
Dudzinski, Byron, Gyebi, Bolarinwa, K Brown, Dundas, Randall, W Brown, Wright, Wyatt, Jarvis. Bench Warmers: Nundo, Diomande, Whitmore, Mokwenye, Mbeta.
Shooting towards the Rec End, Sutton started as brightly as you'd expect. Their first real effort came when Wright fizzed in a shot that clipped the top of the bar. But our anguish wouldn't last long as Wayne Brown capped off his return with a well worked goal which if it didn't have the power certainly had the placement as his shot from outside the box beat the keeper to the far right and went in off the post. 1-0! Welcome back sunshine.
That goal galvanised Sutton as they continued to put the pressure on the other mob. Several chances went agonisingly past the target, which is very unlike us of course, but Jarvis would soon grab a goal with a close range shot. 2-0! Wright again come so close to a goal and this effort was hit harder than the last and smashed back off the bar. Twice now fella! Our corners weren't the best as they failed to beat the first man several times, but we're used to that. In the Sutton goal, Dudzinski would have a pretty quiet night despite one or two scary moments. If Horley could've hit the target, it might've made the match a bit closer.
One of the academy boys Kilo of Kiyo Brown, who wore Dylan's shirt for the match had some good moments on the right wing, would see a shot be parried away. He looked alright on the ball to be fair, if a bit weak, but that'll come with age. Few shandies in the lad and some pies will do wonders. For the other two boys that made up our centre back pairing, they also did pretty well once they'd managed to settle themselves down and started trying to play the ball.

Still lookin'…
By the time Mr X had brought the half-time round, we're all back out on The Shoebox for the second half. And within the first five minutes, Sutton had nabbed their third to put the affair to bed. Finally Tommy had got the goal he deserved as his first attempt was saved by the keeper and after a little moment, he slipped the ball into the back of the net from the rebound. 3-0!
Wayne Brown lasted until nearly the hour mark and is replaced by Kai Whitmore to an applause from those that were there. Glad he got an hour of football at least. Ten minutes after that and Bolarinwa is substituted for Kevin Diomande. By now, the game started to lose some shape as both teams ran out of ideas. With Dundo leading the boys from the middle, a lot of the natch was pushed to the wings as both teams tried to play the long ball into the channels.
With ten minutes to go and Tommy would once again see another chance go begging as worked some space and let off a shot that beat the keeper but come back off the post. Jesus man, you could have had at least five goals tonight. Still, at least he's getting closer to the mark I s'pose. The final sub was Kiyo Brown being replaced by Peter Mokwenye. And the game dies on its arse before the man in the middle calls time. And to be fair for a Surrey ref he didn't have a bad game. Kept himself quite anonymous. That and and there were hardly any real fouls/decisions that needed his attention.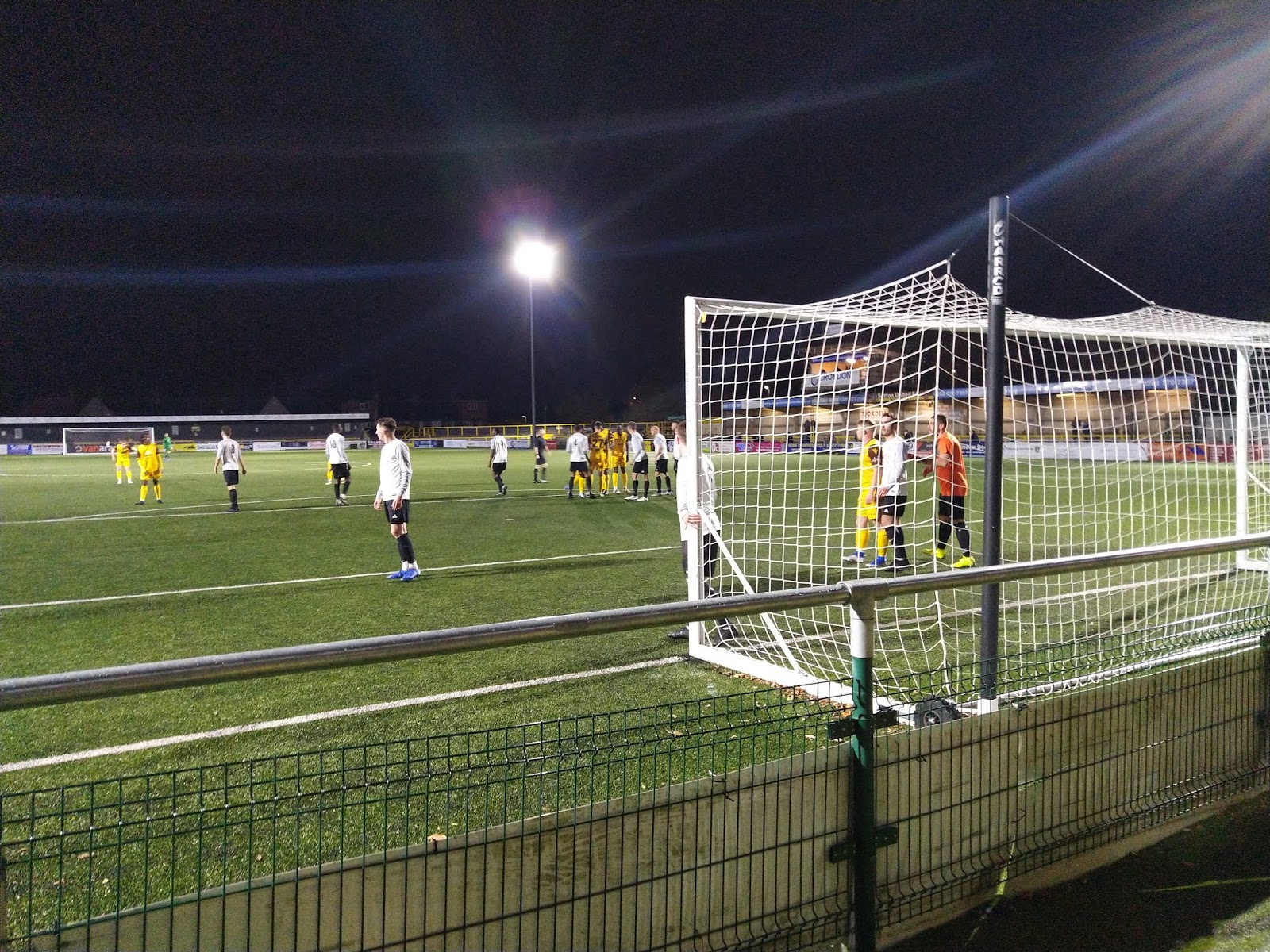 Action!
After the match and with 4 Days slumming it on some hill somewhere in the former USSR currently, it takes a bit of time for me to do my club duties as I have to pick up his slack. By the time I've reached the warm bar, it's only The Firm Leader & Sleepy Joe still around as everyone else that bothered to turn up tonight has already fucked off. So not wanting to feel left out, it's time to say goodbye as me & The Firm Leader take off for the return trip to the Badlands of Carshalton.
Thoughts on the game were that it was a good run out for those that needed the minutes. With only having three players from the academy to start with meant that the team wasn't disrupted as much as has been in previous campaigns where we've seen 50/50 splits that create a disjointed side. The scoreline didn't represent the efforts from some of the players but if we were to really put a team to the sword, just once, it would be nice. But more importantly it's a win and another match to come in the competition I hold so dear, so not a bad night's work.
We now move onto Saturday. And trust our luck to be playing the team at the top of form guide. And with us currently at the bottom, this could be an interesting encounter. There appears to be quite a few of us that are making the trip down and even doing another overnight stay. So I guess there's going to be a tale two for you to enjoy as our own Chairman Totts will be covering everything, including long awaited Dirty Barry's Pool Party, which I expect will probably be as big a success as that one Michael Barrymore had a few years back. Enjoy.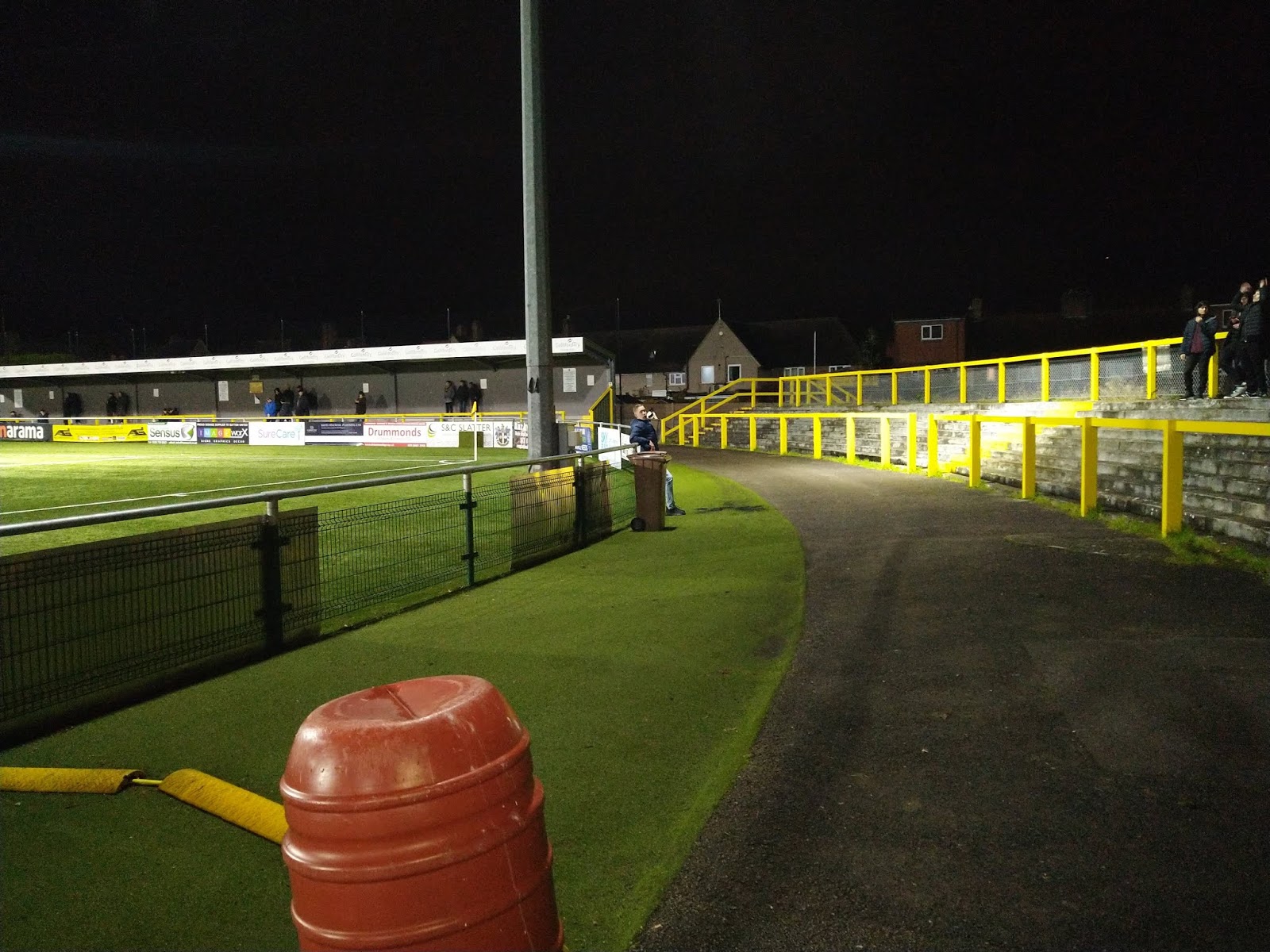 That floodlight's still not being much use….
Duke
Att. 156