It's not happening at the moment is it for the poor boys of lil' old Sutton United. We can't buy a win for love or money currently. The worst thing is that we're not playing that badly really, but we just can't seem to put the ball into the back of the net. Gravesend & Northfleet Ebbsfleet was just down to individual errors, Halfax was just not the rub of the green and what about Barrow? Well read on squire, read on…
The last time that we were around these parts was to witness a 2-1 defeat that only stands out because Aswad Thomas ended up having two goals disallowed. But for the few of us that made that trip, it would always be remembered as the time that Crockett manage to spend most of the match in various toilets as he tried to keep up with former player Tony Quinton in the beer stakes and failed miserably. Although he did manage to see all the goals somehow. That would also be the trip that Dr Bell would end up being asked the infamous question "Who would pick your strawberries Ian?" By Jacob the random Polish Kate Bush fan. Ah, happy days. And to think that was only a day trip as well!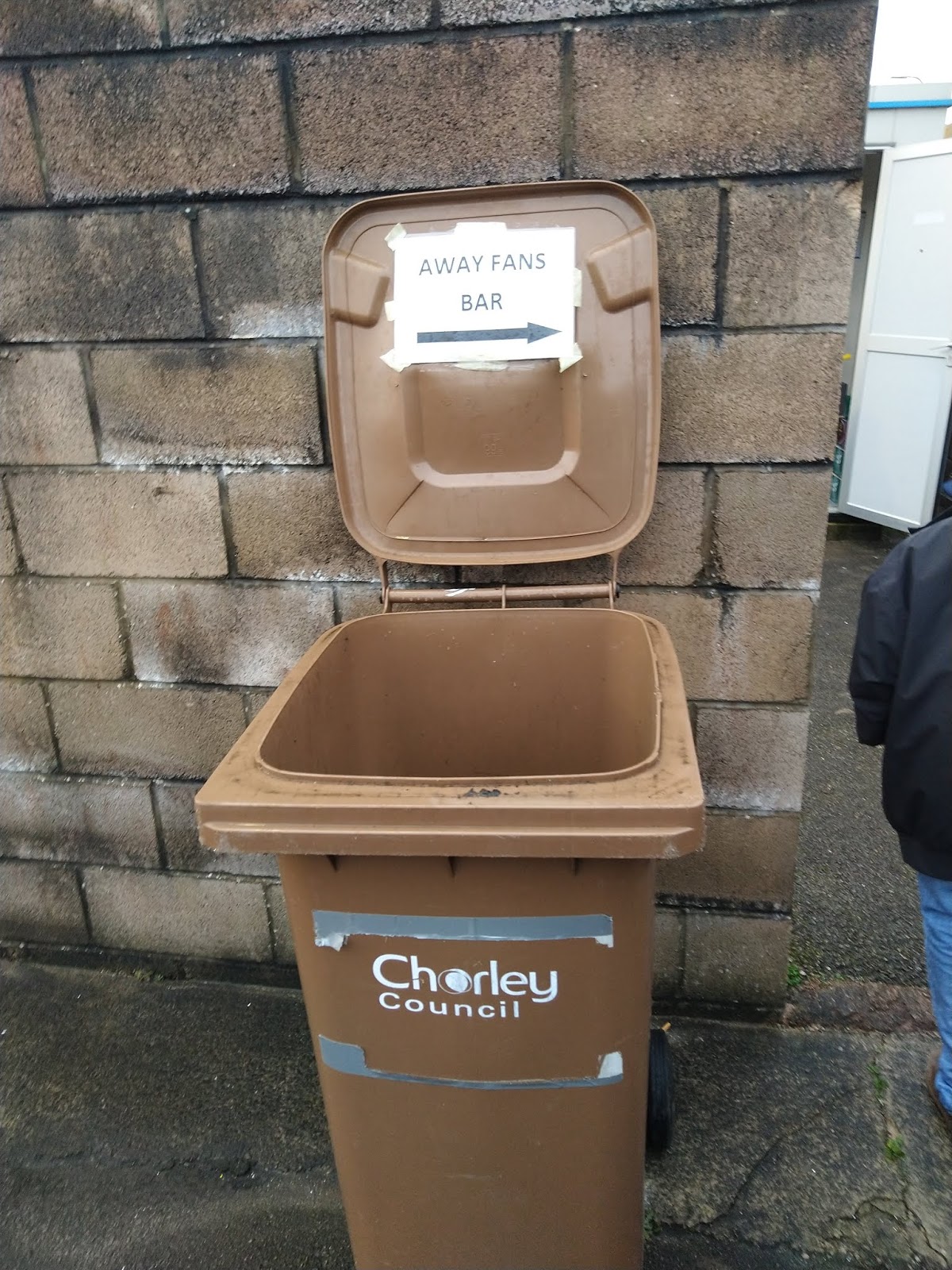 Our current form…
This time round, when the fixtures were first released, there wasn't much interest in this adventure. In fact, at one point it was only going to be me & Mr X that were going to bother. So we readily agreed on a single day as a overnight stay in Barrow is a once in a lifetime thing. and we'd done that for my birthday a couple of years ago. Well it ended up being two nights actually, but who's splitting feathers. Over time a few more of The Gandermonium Firm decided to change their minds and opt for a spot of North West footballing action. Why they did is another matter. So our day trip soon evolved into an overnight excursion.
So where were we to stay then? Well, one of our options was clearly going to be our changeover point of Lancaster. And yes you've guessed it, we've been there before to sample the delights of this northern university town. Before our adventure to Flid got binned due to the team failing to even get out of Euston, the last time that a Sutton match was cancelled while we were on the way there was obviously Barrow.
That one only got cancelled due to a waterlogged pitch that failed to dry up in time. And just as we'd paid the £12 extra to get Barrow return tickets was when we got the fateful call. Bloody ell! Instead we went for a spot of rare Northern Premier League action as Lancaster were home that day against Halesowen. And we weren't the only ones as there were a few Sutton fans who were in the same boat.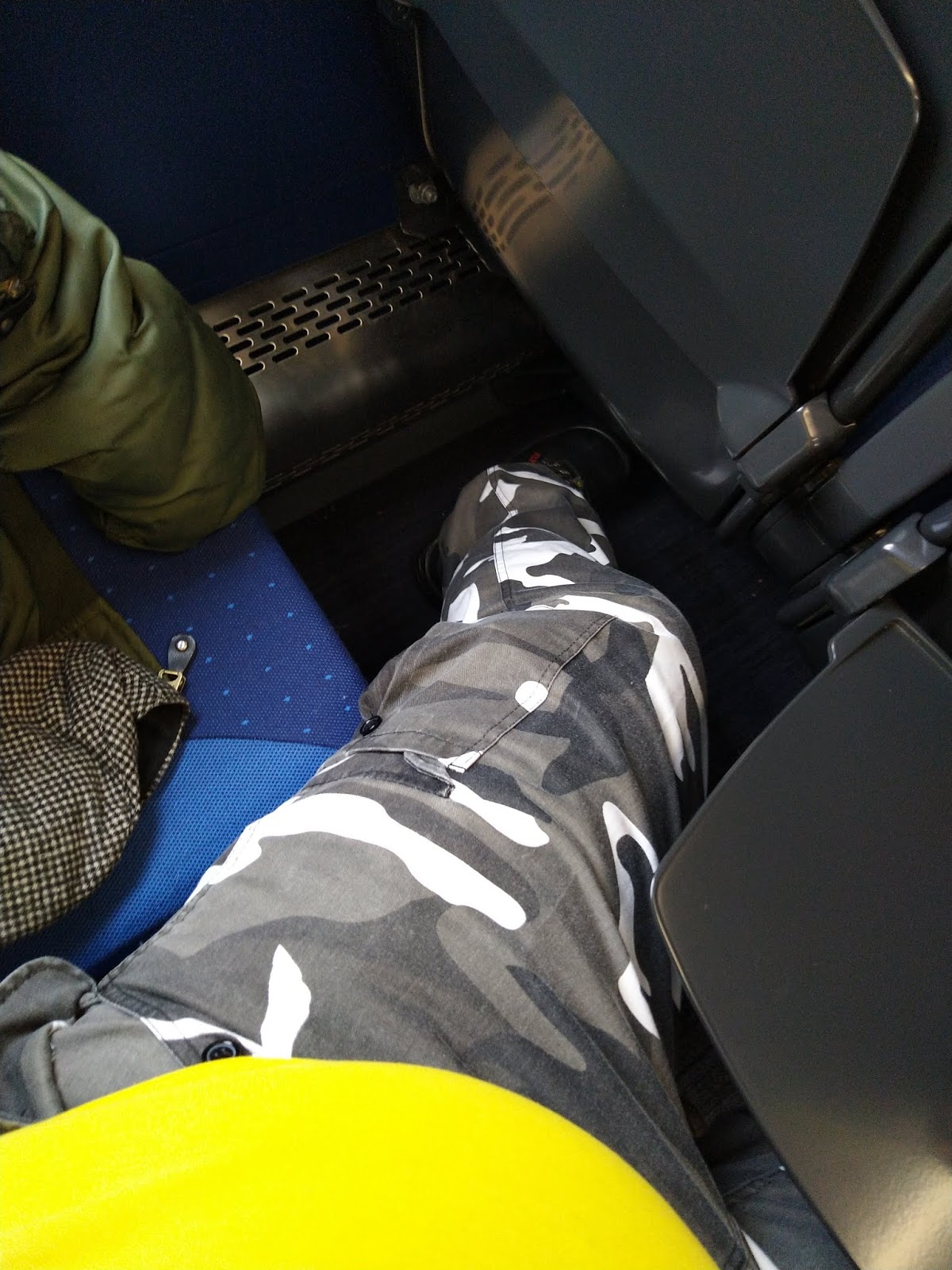 Where's my leg gone?
Because of that, It's still mentioned in some circles (or maybe just Gandermonium's) that there were nine hardy souls that made the trip to a 1-1 Draw on a Tuesday night that even had the players come over to shake our hands as a thank you for making the midweek trip. Gestures like that can go a long way sometimes.
So, onto today and the alarm goes off at around five o'clock and this gives me plenty of time to do the things a man likes to do before leaving the house just before the half six mark. The bus is soon upon me and round the corner is The Firm Leader who gets on. Straight to Morden, before we dive onto the Underground. Change at Stockwell and before you know it, forty-five minutes have passed from leaving my house and arriving at Euston. I'll take that.
Round the corner from the station near the strip club is a little local cafe that is open this time round and I order up a sandwich for me and several rolls for The Firm Leader. By the time I've returned, Robbo, Mr X, Taz & Southampton Steve have arrived and that's all of us that are making the 0743hrs direct train to Lancaster. Of course my decision to wear urban combats come under fire from them all, but more of that later. It's Choo-Choo time.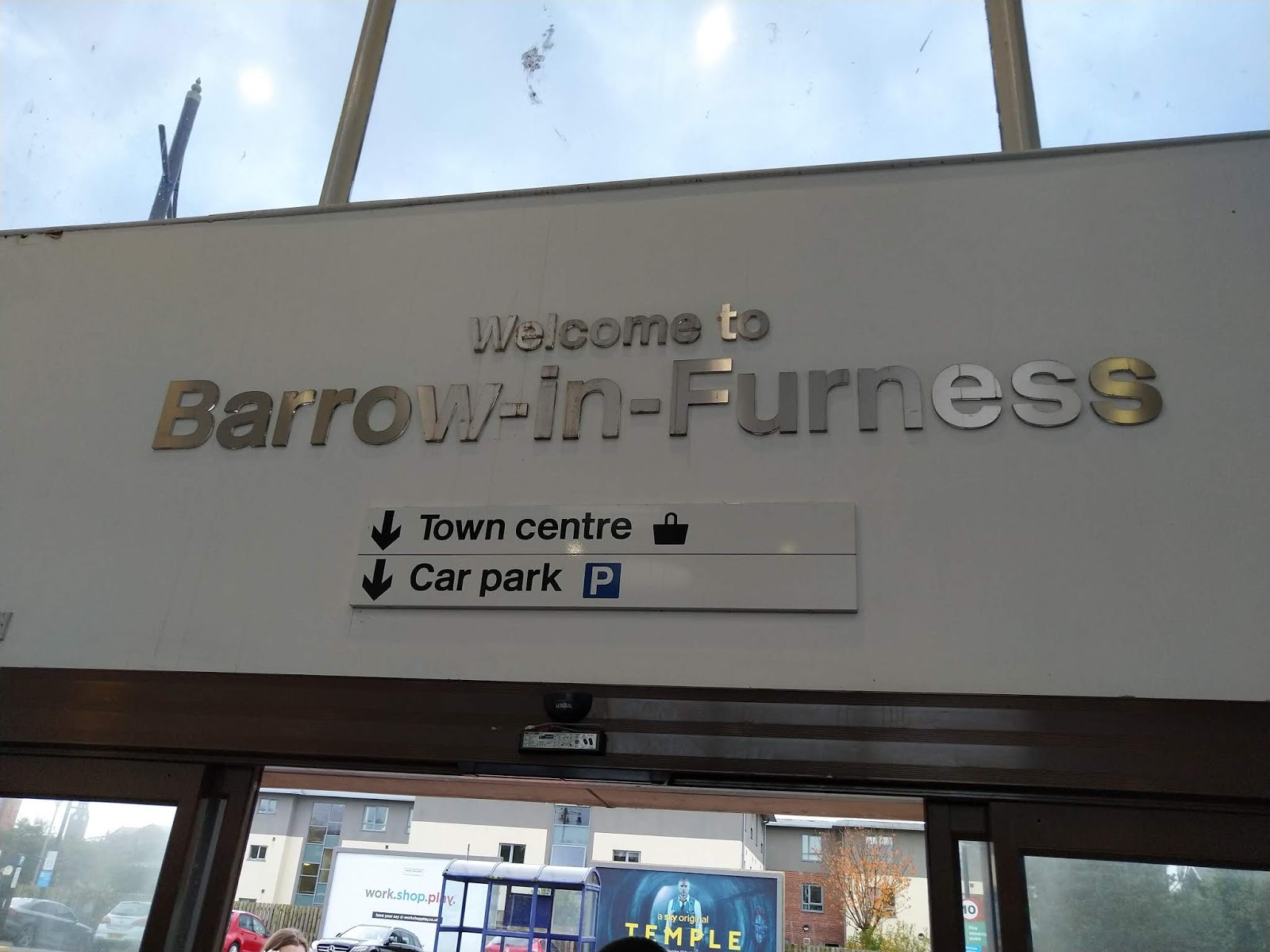 Hello Barrow…
This means it's also "Book a table Bingo" time and NO, we don't have a table. Taking our seats, we settle back for a quiet journey North. Well it would've been had we'd not been put into the 'Quiet Zone' and then had our silence broke by the constant announcement of 'We're soon be arriving in Milk & Beans Central. That's Milk & Beans Central' by the Bantersaurus Rex train guard. Then it was Taz's turn to obliterate the toilet whilst a young lady was waiting patiently outside. Surprisingly, she made it out alive although Taz refused to make eye contact for some reason.
Even after Milk & Beans Milton Keynes the public announcements kept on coming with references to ticket dodging, someone called Shannon who was celebrating her 21st birthday and even a Wendy who was on her hen do and going commando (or was she dressed like one?), which with my choice of clobber lead to be being called Wendy all weekend, and before you even know it, Bruno fuckin' Mars is played out over the tannoy. Jesus man. Still, at least the rugby went well. Ouch, too soon?
We arrive at Lancaster station and are greeted by a hungover jubilant Magnum P.I. who had spent the night in Warrington on business. Five minutes later and he's sent packing with our overnight bags towards the hotel. Hey, we've got some drinking to do and he's got his jam jar with him. The first pub is "The Merchants", which is the one that we were refused service last time as some people were a bit worse for wear. But this time round, there is no drama and we're soon supping our first pint of a long day.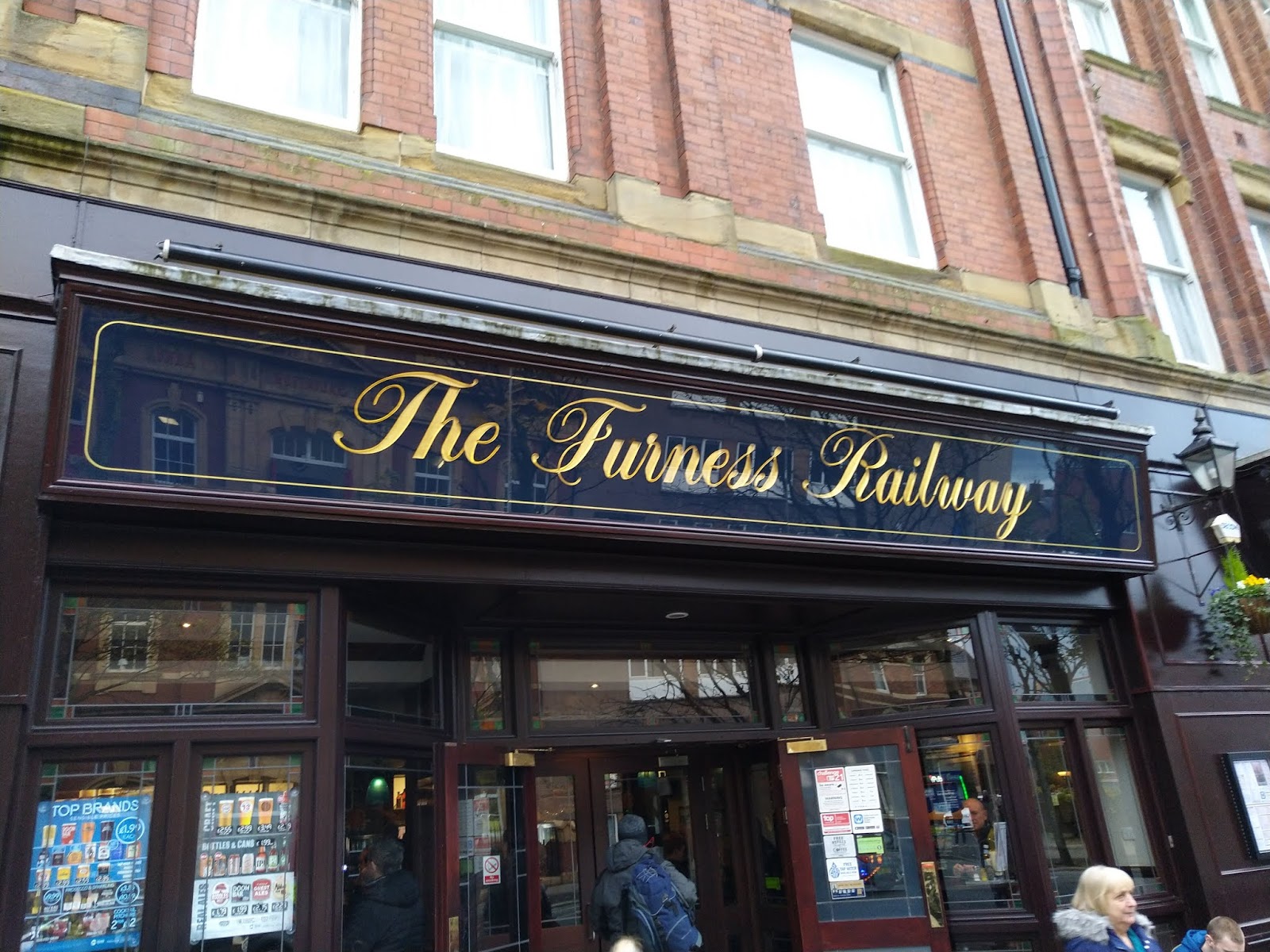 'Spoons!
The plan is to get the 1202hrs train from Lancaster to Barrow. The problem is with this is that not only do we hope that Magnum P.I. would make the train after dumping the car at the digs, but would ex-U Quinno make it too? Except, it turned out that Quinno was already in Barrow watching the egg chasers this morning. More fool him! Magnum P.I. would make the train though and after a quick snifter, so would we. Yeah we're professional piss artists. This ain't our first rodeo.
Grabbing a couple of beers for the journey from the Smiths on the concourse, we make it to the platform and the train soon arrives. Luckily, Magnum P.I. was early enough to correct his initial choice of standing on the wrong platform. It's an hour journey as we go through all the sweet-spots of the local countryside taking in the scenery, including the place we all got off to head back to Lancaster the last time we were up here.
Arriving at Barrow and it would be wrong of us to go anywhere first except for the local 'Spoons. 'The Furness Railway' is a place we've been to several times now and needs no further description. Inside we spot a ugly looking Jonnie who appears to have not had any sleep from the night before. Bloody students!In an even worse state than him is Ryan who apparently was celebrating his 18th birthday last night in Coventry with Jonnie. And to think, someone once gave him a beer when be was only 14/15 on the way home from Lincoln. No names please.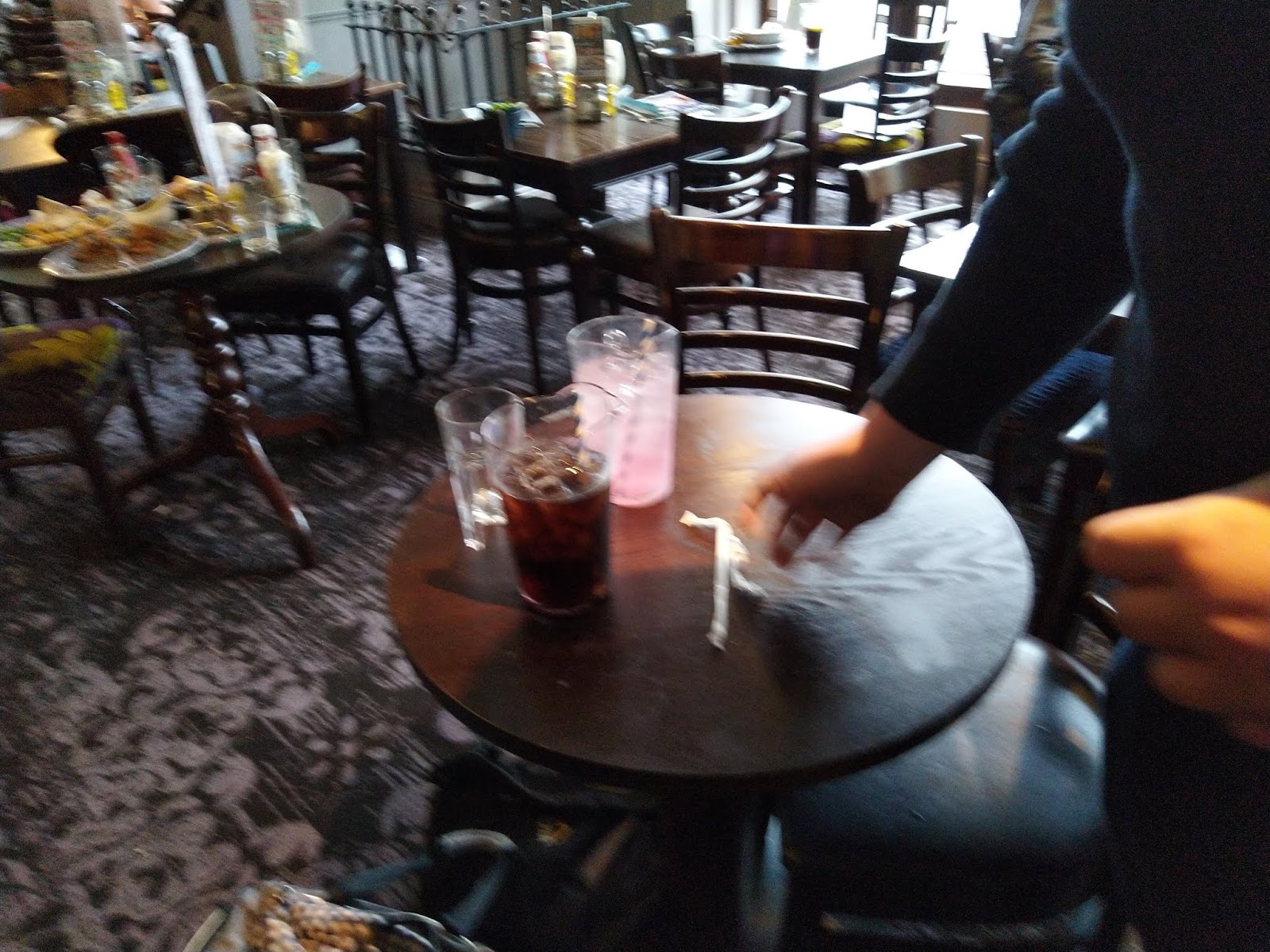 Someones pink birthday drink…
A couple of pints down and ex-U Quino makes a welcomed appearance. What wasn't welcome was his arse as it gave off more than one dirty fart that would be applauded by any Gandermonium member. Pretty much like Magnum P.I. & Jonnie both commenting on the recent performances of Mr Butler that had The Firm Leader jump straight to to the mans defence, involving slow mo replays of goals to prove his point.
Having not got into town until 1, our drinking time is short and now it's time to head to the ground. We take the usual walk up Holker Street, past Dundas Street and the flood lights are on full blast as we arrive at the ground. Except that we can't get in as instead of the usual away turnstiles, there is only one open that not only lets us in, but also home fans that want to sit in the stand. Segregation, Barrow style. Magnum P.I. & Robbo would come in via the home end, just to prove the point.
We walk into the open terrace and then wait for the match to begin. Except that it's already started as it took so fuckin' long to get into the ground. Taz asks to put the Gandermonium flag up at the back where there is no advertising and is given the ok from the nearby steward, but of course with him and Johnnie having got it half up, another steward then comes round and tells him to take it down. He wasn't happy!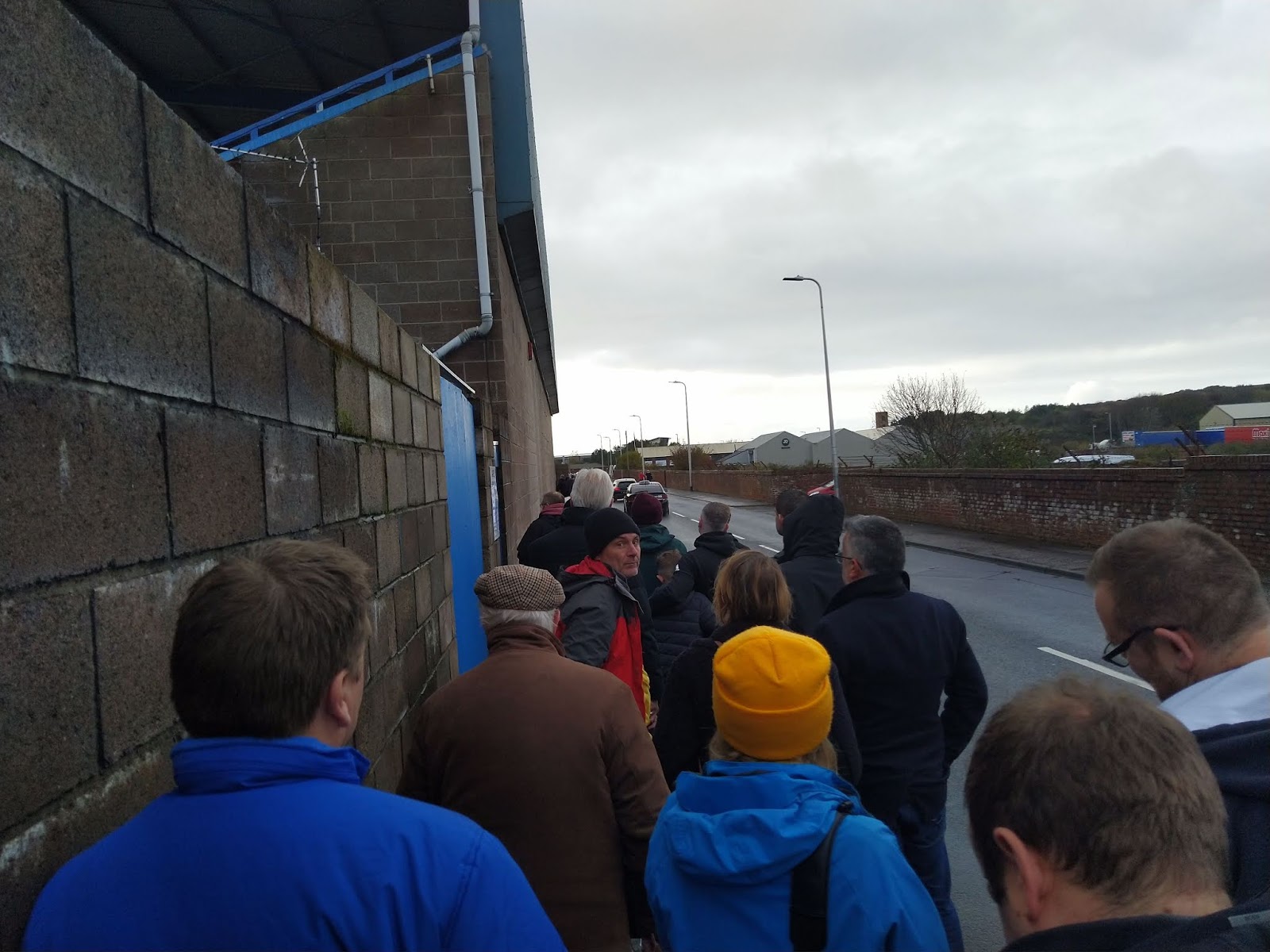 Queues…
Butler, Eastmond, Goodliffe, Matsuzaka, Milsom, Davis, Beautyman, Barden, Reid, Randall, Bugiel. Bench Warmers: Dundas, Ajiboye, Wright, Wyatt, Jarvis.
Sutton started the match very much like they have recently with a high line and a high tempo. They would even win the corner contest with eight corners to six. If anyone really cares that is. Reid would have our first shot on target but it was tame enough and it's aimed straight at the keeper. Barrow would also have a couple of chances but they also failed to trouble Butler.
Near the half hour mark, Reid would once again be the right man in the right place. It was a Milsom Corner that Reid met unmarked in the middle of the box. Unfortunately for him, his shot was way over the goal. Damn, we need to find someone who can put the ball in the back of the net. Because it's not happening at the moment.
There was only a minute of additional time and then we're off for the rare treat that is The Firm Leader buying a half time round. Surprisingly for the first time. It appears that the snack wagon has been moved into where the ladies were once located instead of not in the corner. First time for everything I suppose.

Half-time panorama…
Six minutes into the second half and Barrow grabbed the lead. Some easy work down the right hand side had Barrow create enough space. Next thing we know is the ball is lofted into the box, except it ends up in the back of the net and we're suddenly one down. What the fuck just happened? To add insult to injury, Bugiel is also replaced by Jarvis. On the hour mark, Ajiboye comes on for Randall down the left hand side.
Sutton continued to pile on the pressure as once again they manage to crate chances but without taking them. And for the few efforts that were on goal, they were again straight at the keeper as I think both keepers were rarely troubled once again. With ten to go and Wright comes on for Barden as we finally went with two men upfront.
The final moments of normal time throw a few spanners in the works. First a Barrow player would be forced off the pitch within a few minutes of Barrow making their third sub leaving 'em down to 10. Then after the fourth official puts up the board for six additional minutes, another Barrow player goes down after a clash with Top Knot. He seems to be in trouble as several doctors attend him and it surprising that they let him back on with what apparently turned out to be a broken collarbone. But he sees out the game and we fail to exploit this weakness, even with Goodliffe up top as a third striker for the last couple.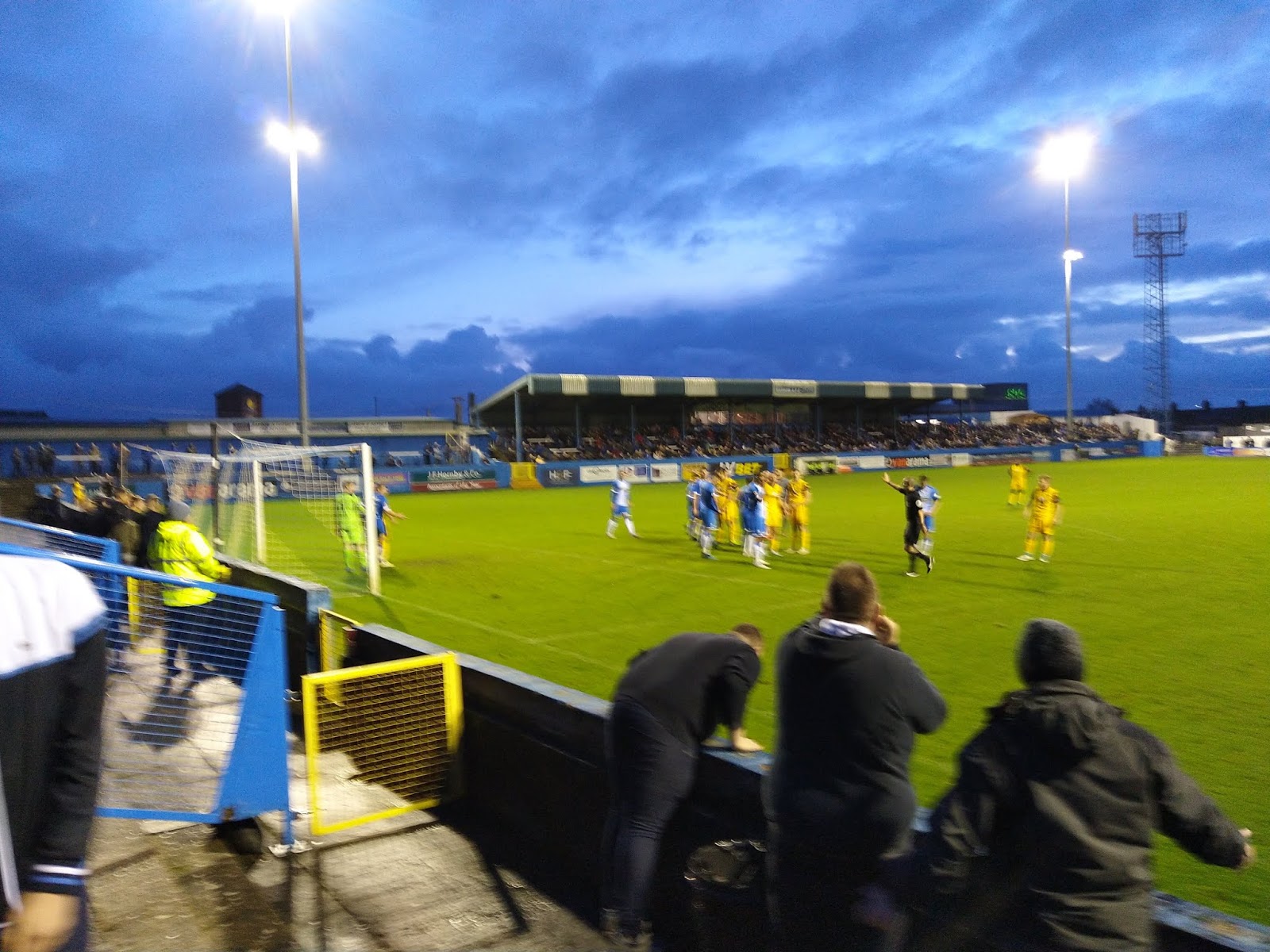 The final moments…
After the match and it's a march back to town. With no rush to get the earlier train, we aim for the one just past six and head for the 'Spoons for the debrief. For me, I feel like we could be going down if nothing changes soon. Others feel that there is something there that they saw today that makes them feel that our season might be about to turn around at any moment. Each to their own I suppose. But obviously over time I calmed down and decided to get on with the nights festivities.
For the hour journey back to Lancaster we make a sidestep to the local Tesco's. £25 worth of beer later and an argument ensures between me & Taz over who's Clubcard we were going to get the points on. Talk about a couple of middle-age wankers. Taz wins the discussion as being the whip holder, he's paying for the beers. Bastard. That's about 2p he's done me out of there. The train back would've been a quiet affair if it wasn't for the argument between a few of The Firm over if you can 'coach a player to shoot'. Yeah, fun times.
Back at Lancaster and the hordes that were on our train that were getting off at Arnside for a big bonfire, maybe the Palace pub or maybe not, are replaced with more hordes at Lancaster as they're having a bonfire/firework event at the castle. We say our goodbyes to the Yoof here and head for the hotel. The traffic was that bad that our Sherbet had to do a detour through the back streets to get us to our Premier Inn. Welcoming us at the entrance was a shoeless Robbo who not only had the keys to Magnum P.I.'s car but Mr X's bankcard as well. Why you ask? Fuck knows. Well, all Mr X said to Robbo as we headed in was "put the toilet paper down". Hmmm. I wonder why that is?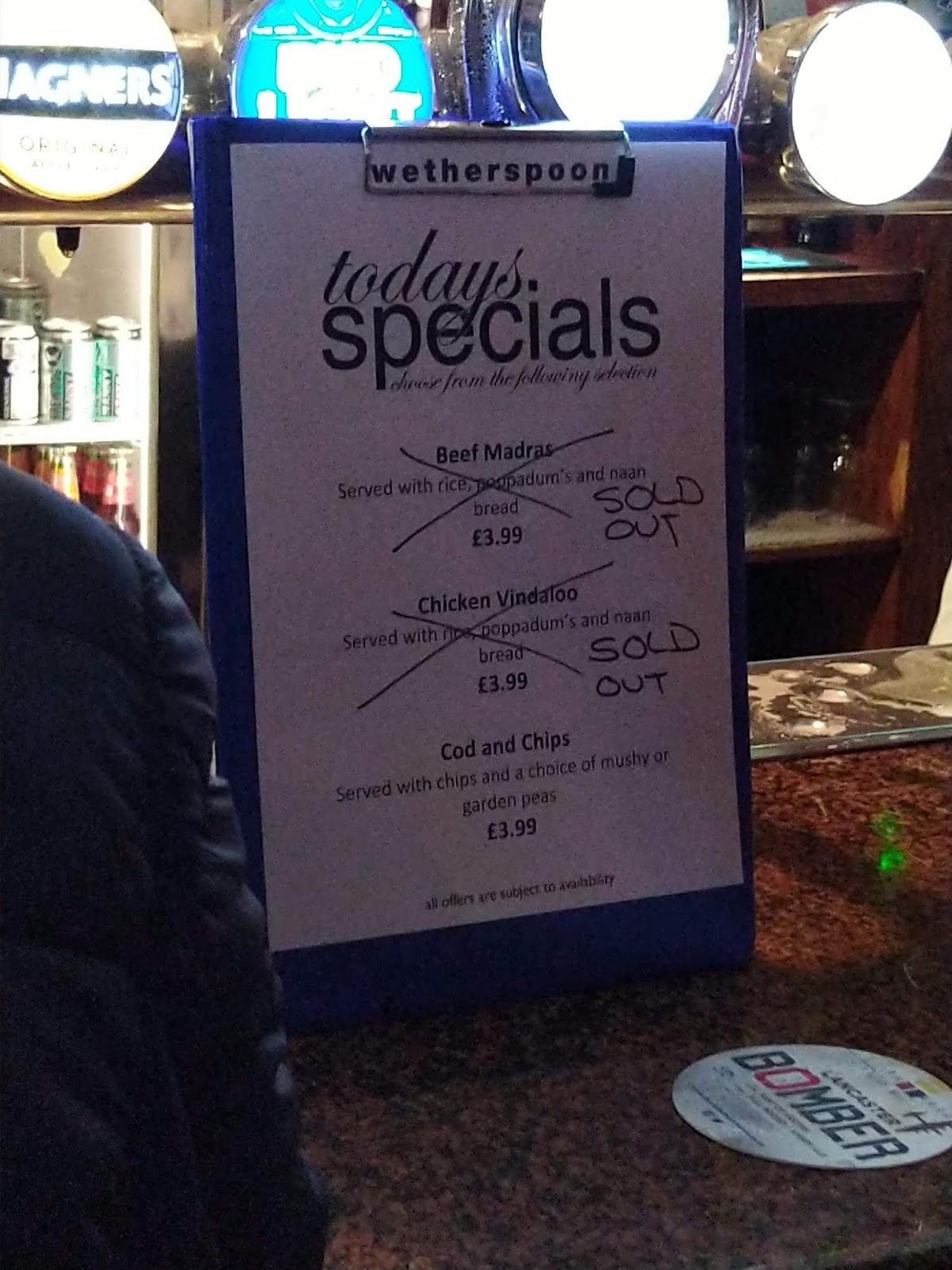 Our specials today are 'gone' and 'sold out'…
It's a quick change for some as with the time fast approaching eight we need to get back into town to start the drinking properly. Sherbets are ordered as well as a beer and the first to cry off are Ozzie & Robbo who we leave as he's watching some shit on telly and she's eating chocolate. Our pints are not even finished when the sherbets arrive. Now I don't know why everyone says I shouldn't be sat in the front with the driver and after this trip I still don't know why. I guess I must be there because after all, I am the PRoWS minister for cultural diversity. Holding back the pitchforks and all that. For my sins, I managed to snap the top of my charging cable for my power bank. And no, that isn't karma.
The first pub of the night is "The Sun" where we try to work out where we are as I thought we agreed that we were going to the "Ye Olde John O'Gaunt" first. Anyway, we never made it there as before long we've left the pub and headed off to "The Study Rooms". This was the last place we hit last time round but Mr X is convinced that's hes never been there, which is probably not a surprise given the intake by that point on that visit. That's what the blog is for fella! Entertaining the masses and working out what the fuck we got up to.
We're ticking off another new pub down the road. "The Stonewell Tap" serves the usual craft-type stuff that some of us like and others, like me, could rather do without. This is because I usually get lumbered with some random strong alcohol cider that doesn't go down too well and in this boozer this is what confronted me once more.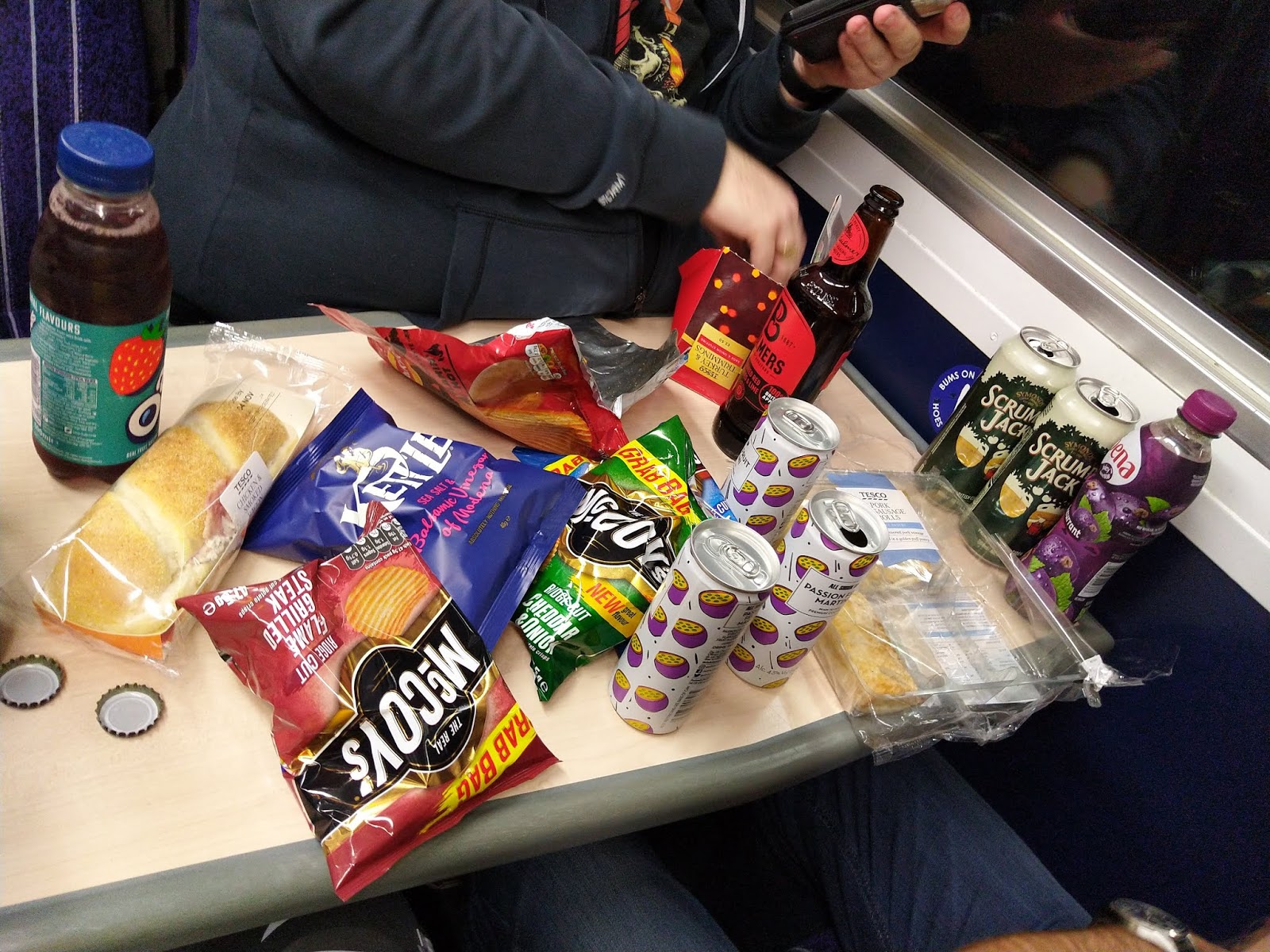 Snack for the journey…
Except this time, Mr X thought it would be funny to challenge me to a bet. £10 if I could finish it within five minutes. After a spot of thinking I decide to give it a crack. 4:59 minutes later and the last drop is drunk. Winner! The taste wasn't too bad, but the stomach didn't agree and was doing its best to knock it back out again. After that was done, Magnum P.I. thought it would be even funnier to bet me once again a crisp tenner to down anther pint of the hard stuff. And after managing to get another couple of minutes added, it's once again another contest as I try to stomach it. But as my luck was in, I managed to finish that pint as well, pocket the wedge and not lob my guts up.
Not wanting another awful pint, I tell them we need to go and we head off in another direction for more pubs, preferably ones that serve stuff that won't kill me. Next place we find is "Fibber McGees" that has a Halloween party in full swing. Finding a table near the action we have another string of drinks. Mr X wasn't pleased about his lemon hooch, but my vodka & orange was heavenly compared to what I'd just had in the last gaff.
There's no rest for the wicked though as the "Brown Cow" is next on the list and this is a place where Mr X actually remembered that we'd been in before. Mainly as it's the place where 4 Days was chatted up by a mature lady last time out. Another pint of the red stuff is drunk and we discuss some of the shenanigan's that may or might not have happened down the club recently.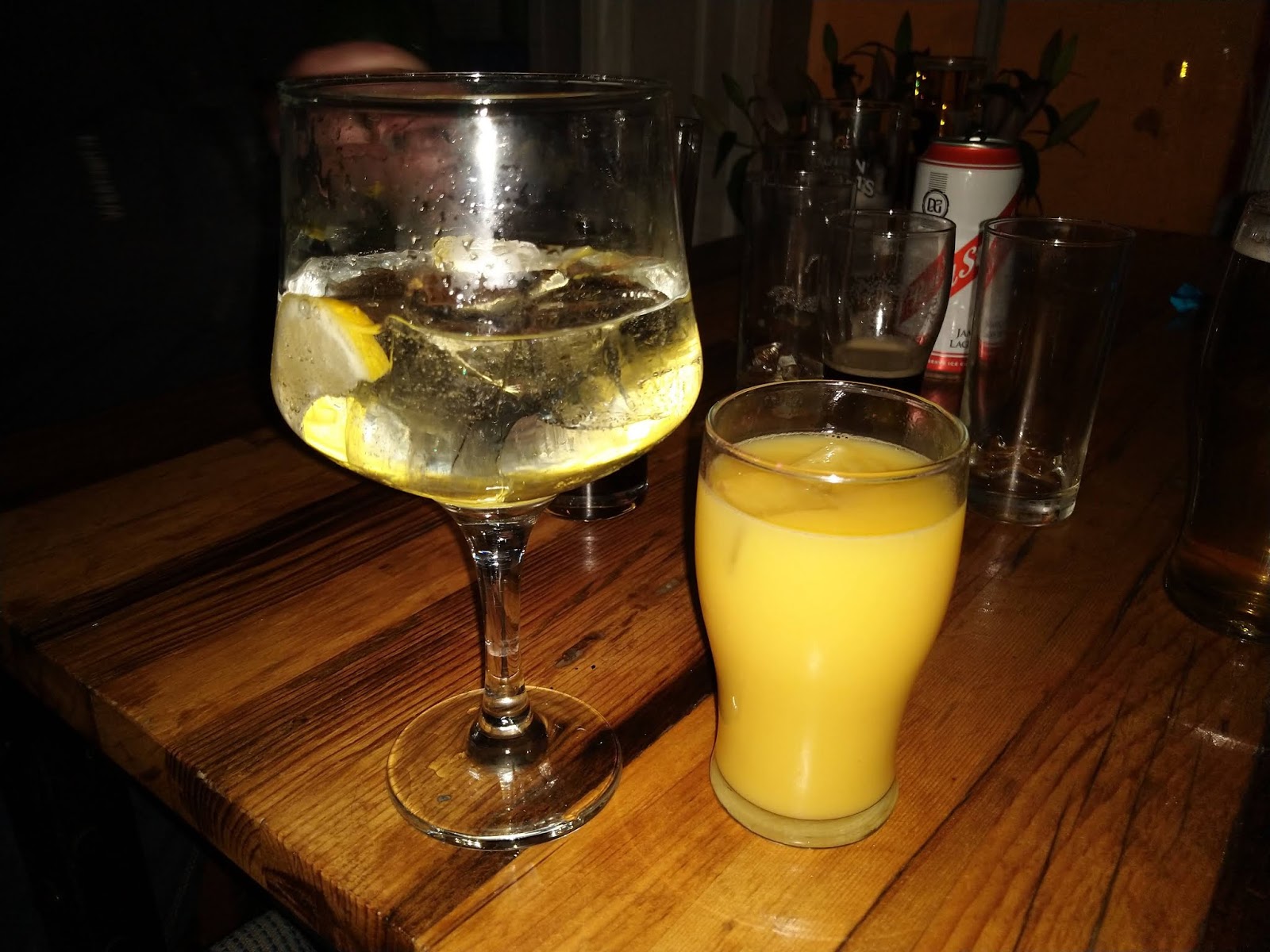 Different Glasses…
One last place is found across the street, "The Penny Bank". But as we are crossing the street, one veteran Gandermonium member would make one off the cuff remark about blowing raspberries on a strippers belly that had everyone in stitches. I mean, we're talking about proper Japanese businessman stuff here. Paying a stripper to let you blow raspberries on her is proper kinky shit. Who would've thought they would do that. Pervert.
After a couple more here, it's time to call it a night finally and we head off to find some much needed stodge. The Firm Leader would lead the way to McDonald's. Except it's way too busy, so next is a Subway. But half way there a few disappear somewhere else down a side street and find a place that does it all. Kebabs, Pizza & Chicken. So of course I go for chicken wings & doner meat. Unfortunately once again the Northern chilli sauce isn't up to the mark. One day people. One day!
Time for a sherbet and as our luck would have it, there's one round the corner and it's a 6 seater. But our luck wouldn't last as even though our sherbet arrived instantly, a minute after the start of the journey, our driver remarks: "Sorry lads, I've got a flat tyre. I'm going to have to take you back and you'll have to get another cab". Wow ,we broke a cab. That's a first, even for us. Any talk of us being fat or causing this malfunction due to such heavy load issues is bang out of fuckin' order. Anyway, there's no problem with the next one thankfully. Back at the hotel and me & Taz even took a walk over the road to a local McDonald's to sample some late night milkshakes.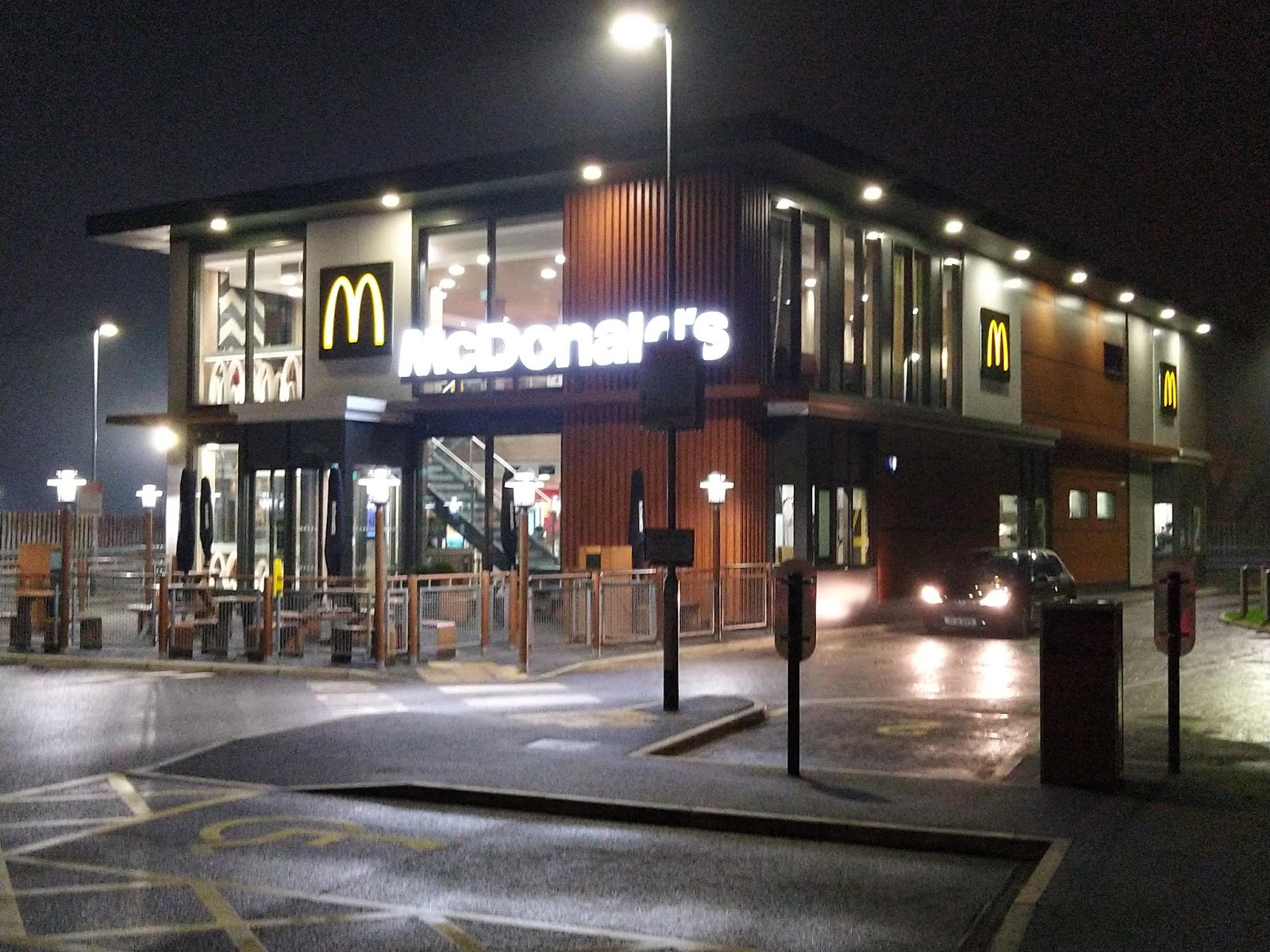 A two-storey Maccie D's…
Sunday morning arrives far too early as The Firm Leader decides that he needs to 'evacuate' at around half five. After that it's a rather labourious effort to finally crawl out of bed and into the shower. Next door in the pub is where breakfast is being served. It doesn't really sit well and it isn't long before I have to do a spot of 'evacuating' myself. Come ten o'clock, it's time to say goodbye to those that are driving. Except Ozzie, who's still in bed, and a couple of sherbets takes us to the station.
We're so early for our train for once that there's plenty of time to mooch around. Mr X would go and grab a Ribena, but at £2.30 it's a little pricey for me. It doesn't bother Taz, a confirmed Ribena addict, as he lobs out what turns out to be £3.50 for two! Our train arrives a few minutes later than expected and you couldn't make it up but who steps out but a couple of fellow Sutton supporters. Where the fuck were you going Bob & Cath? The match was yesterday!
It's an hour and half trip to Manchester where we need to change to get back to Euston. And as is the case with these long trips where there's been a few refreshments, everyone settles down to do what they want to do in the quietest manner possible. But before that, there's a matter of a dozen Krispy Kreme doughnuts that Southampton Steve had graciously purchased for us. Everyone likes a glazed ring.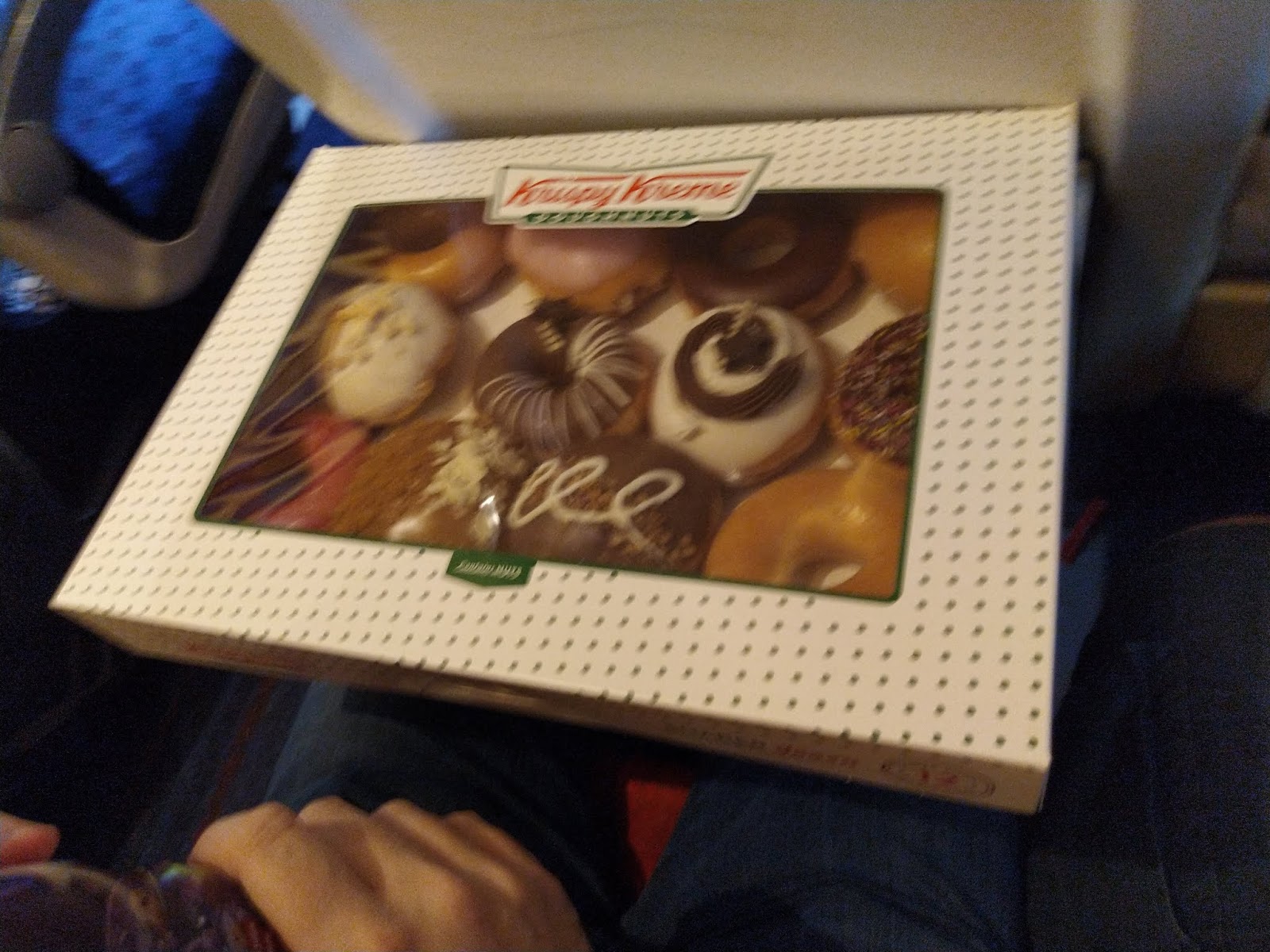 Mmmm, Sugar….
Before we know it, we're pulling into Euston at ten to three. Only the five minutes late then. As per usual, it's onto the Underground and the Victoria Line. With no Thameslink running, half of The Firm are heading for Victoria. For Me, The Firm Leader & Robbo, it's off to Stockwell before the Northern Line takes us all the way to Morden. An UBER ride follows and before the clock strikes four, I'm crawling back through my door.
So that's it for another week. and we're still joint bottom of the form guide if you look at the last ten league matches and only off the bottom of the main table on goal difference. Although I couldn't find who was top of the corners table. If anyone knows where it is, let us know where we can find it. With no football next week thanks to the fuck up at BIllericay, guess I'll have to find something else to do with my time. Probably take the Duchess to IKEA or something, I do need a new meat mallet thinking about it. Our next match is Horley in the Surrey Senior Cup. So three guesses who'll be covering that match, and the first two don't count. Enjoy!
Duke
Att. 1827