Over the weekend, I took my mind off all things related to the nether reaches of the National League table by delving into the old movie library here at HQ and re-visiting an old classic with a watch of Kevin Smith's cult movie 'Clerks'. This provided a bit of amusement to help lighten the soul in these dark, troubled and largely winless times, educated the missus who hadn't previously seen it (no, really) and also unexpectedly provided me with the lead in to this latest episode of Gandermonium, as like Dante Hicks famously states in said motion picture, I'm not even supposed to be here today.
You see, this evening's mission to try and make 5th tier football seem interesting had been originally presented to our resident shit pop music aficionado Robbo. But on the Monday evening I got a message from tonight's prescribed scribe to say that he's had some 'flu jab' and is feeling properly rough. Now, I'm what can be described as middle aged now, so I'm of course not all that clued up up on the latest substances that the kids are into these days, but even so 'flu jab' is a new one on me. Is it like that 'Spice' stuff? Or is it more serious Class A material? Still, I shouldn't be surprised as they're a rum bunch up around Rose Hill. Needless to say, he's sacked it off tonight and with Dukey needing to keep his powder dry for a weekend in Lancaster for Barrow, as the Editor in Chief of this here load of old bollocks I've no choice but to set an example and step in as a late sub and try to vainly save the day. Which feels a bit like us bringing fucking Dundo on with 5 to go when we're 2-0 down if I'm honest. God I hate being the adult sometimes.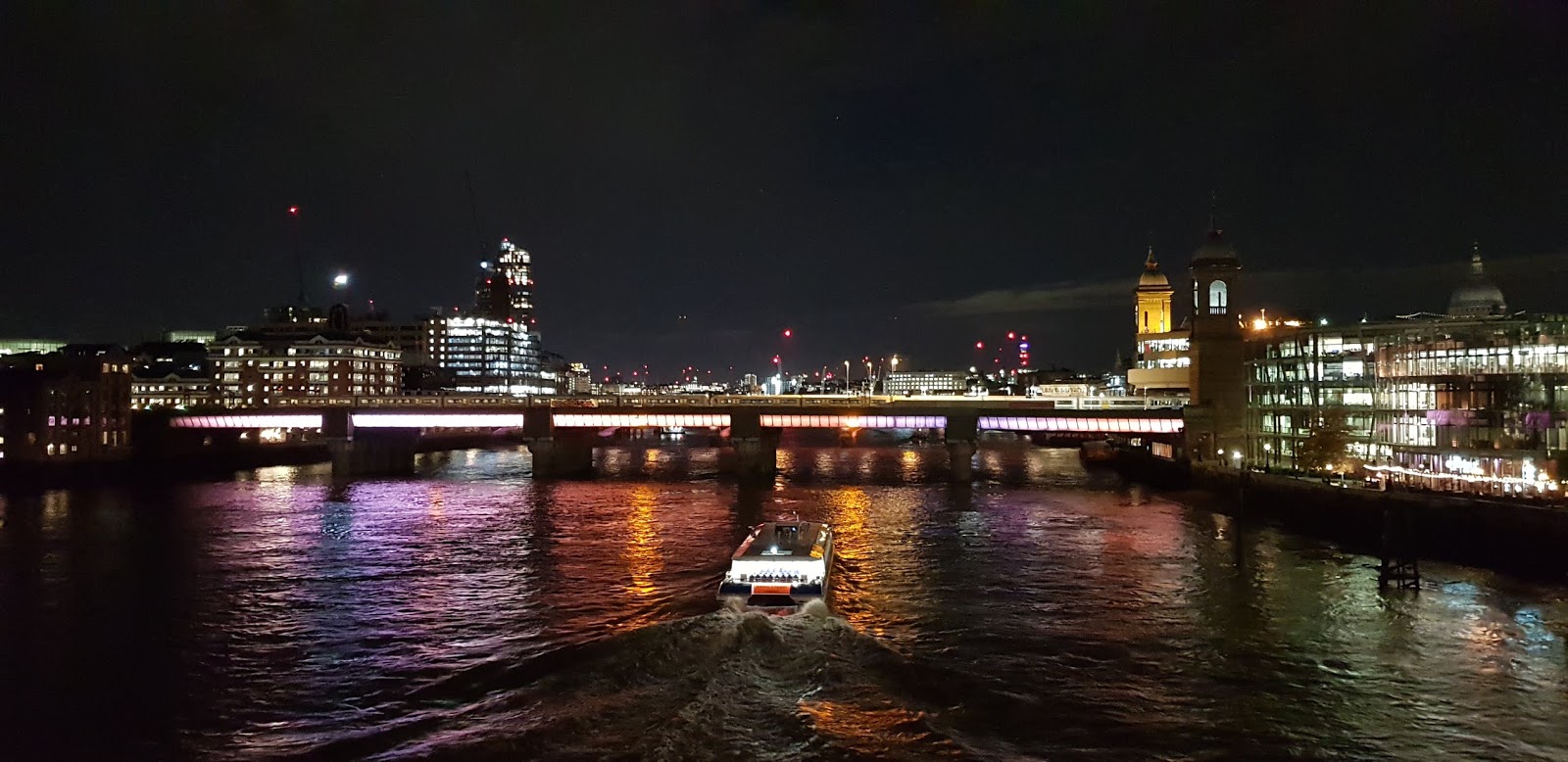 Bit o'culture…
So, yeah. Here I am. Fake literary smile plastered in place to try and plough through this load of old shit for the second time in 4 days. Sadly, having done Saturday's latest fucking calamity, I'm a bit short of material. If only I'd not wasted that storage heater anecdote at the weekend, that was prime midweek shit show filler material and no mistake. So I feel I must apologise in advance if this effort isn't up to our usual rib cracking standards of wit and repartee. Oh well, no point crying over spilt milk now, I'll just have to wing it I guess. Robbo better get me a beer for this inconvenience, I can tell you that for nowt. Or not play fucking Chesney Hawkes on the jukebox next home game. In fact fuck it, he can get me a pint AND not put that shite on, it's the least he can do.
With the late change of reporter, I decide to ensure that I'm at GGL in plenty of time for both a pint and some pre-match bullshit to help pad this nonsense out, so I skip out of the office 15 minutes early to ensure I catch the 18.22 from London Bridge to the Republic. This means I hit the station with a good 20 mins or so to kill, so I take the opportunity to grab some nosh. I end up in some gaff called 'Leon', which much to my disappointment is not a themed place based on the Luc Besson film. Here I grab something called a 'hot box' of Morroccan meatballs which looks like it'll do the job. On the train, I open up my foody prize to tuck in and find that this particular chain's definition of 'hot' differs to mine. Quite a lot in fact. The only way this could be genuinely described as hot is if you'd handed it to me after I'd spent a day outside naked in the Arctic Circle. Still, it's scran and I'm on the train now, so beggars can't be choosers and in the face it goes.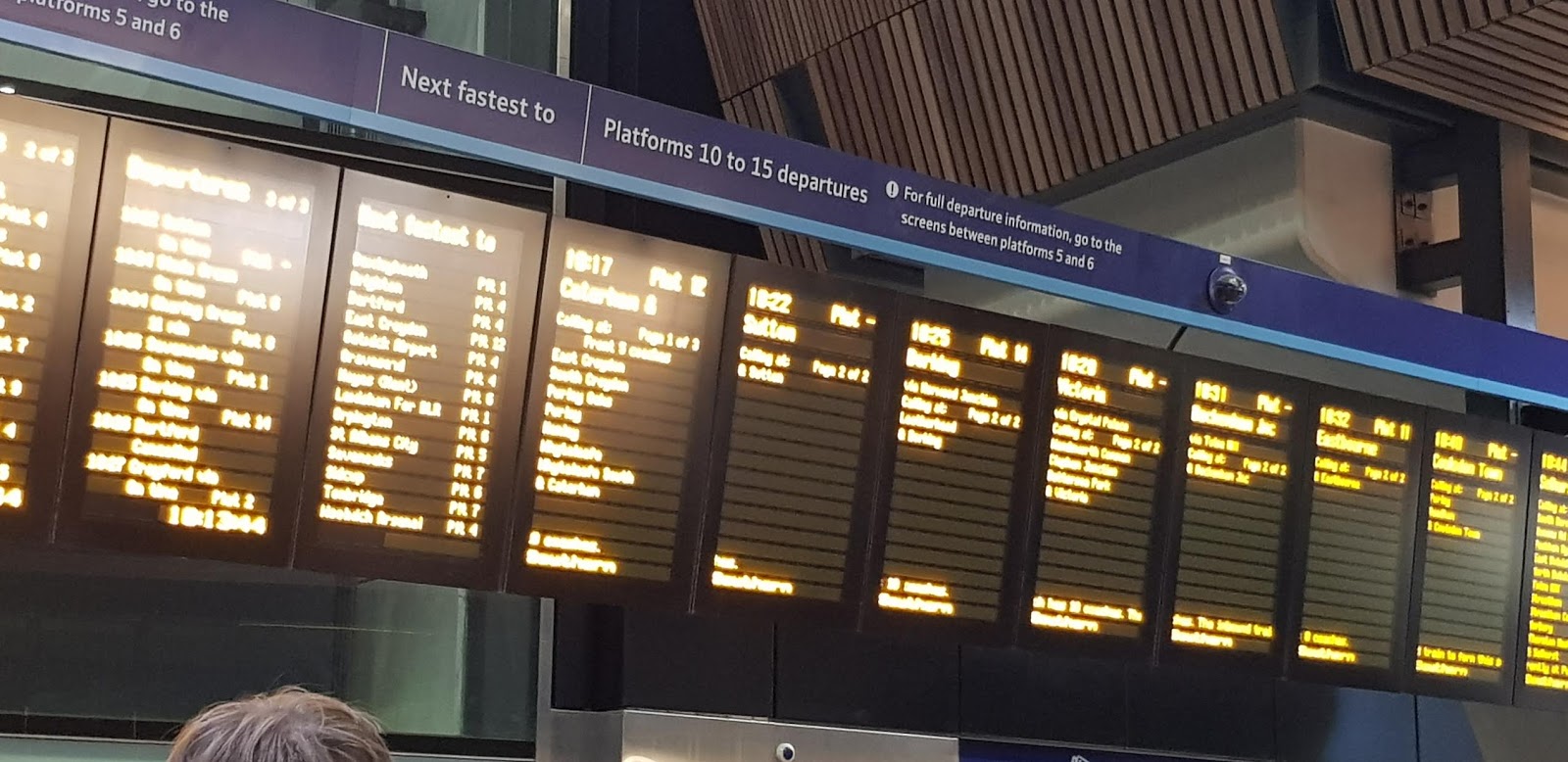 C'mon, what platform….?
After a trundle through South London, I'm finally stepping off at West Sutton International and make the short stroll to GGL. In the bar, I find some of the usual knobheads, losers and idiots around. At the bar is Tatey, who I manage to ponce a pint off, as well as Ipswich Lee who's taken a break from watching his vastly more successful and winning-er Tractor Boys in League 1 to remind himself what watching crap every week feels like. Good to have you back mate! Magnum's in, as is fellow Gandermonium scribe Dukey, who seems to have forgotten it's fucking late October and is wearing shorts. I give up, I really do. Amongst the pre-match chatter, Mr X declares he reckons we need 12 more points by Xmas to be on course of having a chance in staying up this season. It certainly causes a bit of head scratching amongst the assembled throng, mostly as none of us have a clue where the next win is coming from, let alone the next 4! Greek provides the obvious answer to the conundrum though. "Get in your motor and tear up and down the 217, that's the only way you're seeing 12 fucking points before Xmas". Quite. Sadly, time defeats us and we must break up this jolly little soiree to head out into the chilly October night and watch some football, or at least what passes for it in these parts nowadays.
Butler, Barden, Milsom, Davis, Goodliffe, Matsuzaka, Ajiboye, Wright, Bugiel, Beautyman, Reid SUBS: Dundas, Eastmond, Randall, Wyatt, Jarvis.
Having lost their last 3 and got humped 5-0 at Bromley on Saturday, we're hoping that early pacesetters Halifax are just beginning the sort of slide down the table they've had the last couple of seasons after a lively start. We certainly need them to be if we're to get anything from this. Our start is bright and we're on the front foot at least, whilst the visitors show a few flashes of why they're in a little blip right now as we win a fair few early corners, most of which are earned by the oppo slicing stuff out rather than relentless pressure from us. One of these sees Daniel-san disappointingly nut over from about 6 yards when he really should be hitting the target. Halifax seem to be set mainly on containing in the first half and I guess looking for a foothold in proceedings as their attacking forays in the first 45 are pretty limited. Our own efforts, despite plenty of ball in their half amount to an Ajiboye cross hitting a rusty looking Tommy when a shot on goal was the least we'd want and their keeper tipping over a looping Milsom free-kick near the break. Apart from that, our entertainment largely comes from the same old source. Us talking shite.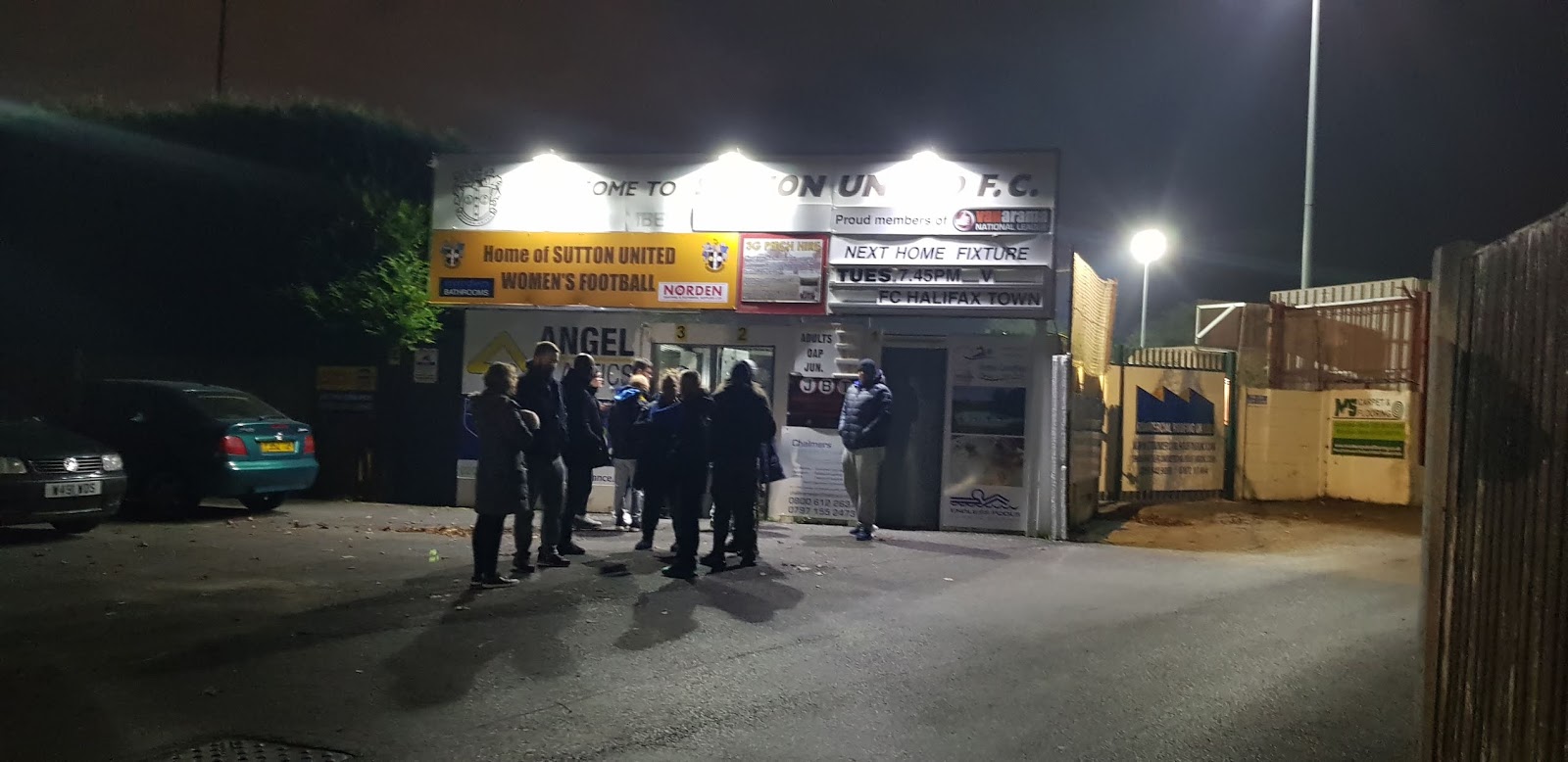 They're keen
Mr X declares early on that he's seen Halifax's orange and blue away kit somewhere before being worn by "a big club" at some point. I try and help out with a suggestion of "Braintree?" that I fully expect to be widely ridiculed, only for him to agree I'm probably correct after a short moment of contemplation. You heard it here first folks, Braintree are a big club! Probably explains why we got fucked 3-0 by them here late last season. We were clearly overawed by the occasion and not just rancidly terrible. Also, Greek decides now is the time to admit that when we signed Omar Bugiel in the summer, he got excited as he thought we were actually signing Omar Bogle, the former Grimsby Town lad who's now at Cardiff. To be fair, we've never denied being absolute fucking idiots, so this shouldn't come as any kind surprise to any of you. Still, at least he didn't go and get a tattoo done unlike some people when the rumour was we were signing Yakubu a couple of seasons back, so he's not a complete dickhead. Finally, we realise one of our Shoebox number is missing this evening. "Where's Belly?" someone enquires. "On holiday" replies Dukey. What? AGAIN? He's only just come back from his last one! And that one was just after he'd got back from the one before that! He's away that much there's members of our Royal Family that would be green eyed with envy over the time off that fucker has.
At the break, it's of course still goalless as that tends to happen when shots on target are at a premium and we do the wander down to the Rec End for the 2nd half. Sadly today, there's no Time Vine routine to keep us amused and we're just left to largely mill about in the cold waiting for matters on the pitch to restart. In fact the only thing worth mentioning is that the date of our SSC home tie with Horley has been set for 12th November, so at least that'll cheer Dukey up. Well, at least until he remembers he'll be on blog duty for it and we get fucking beat by them.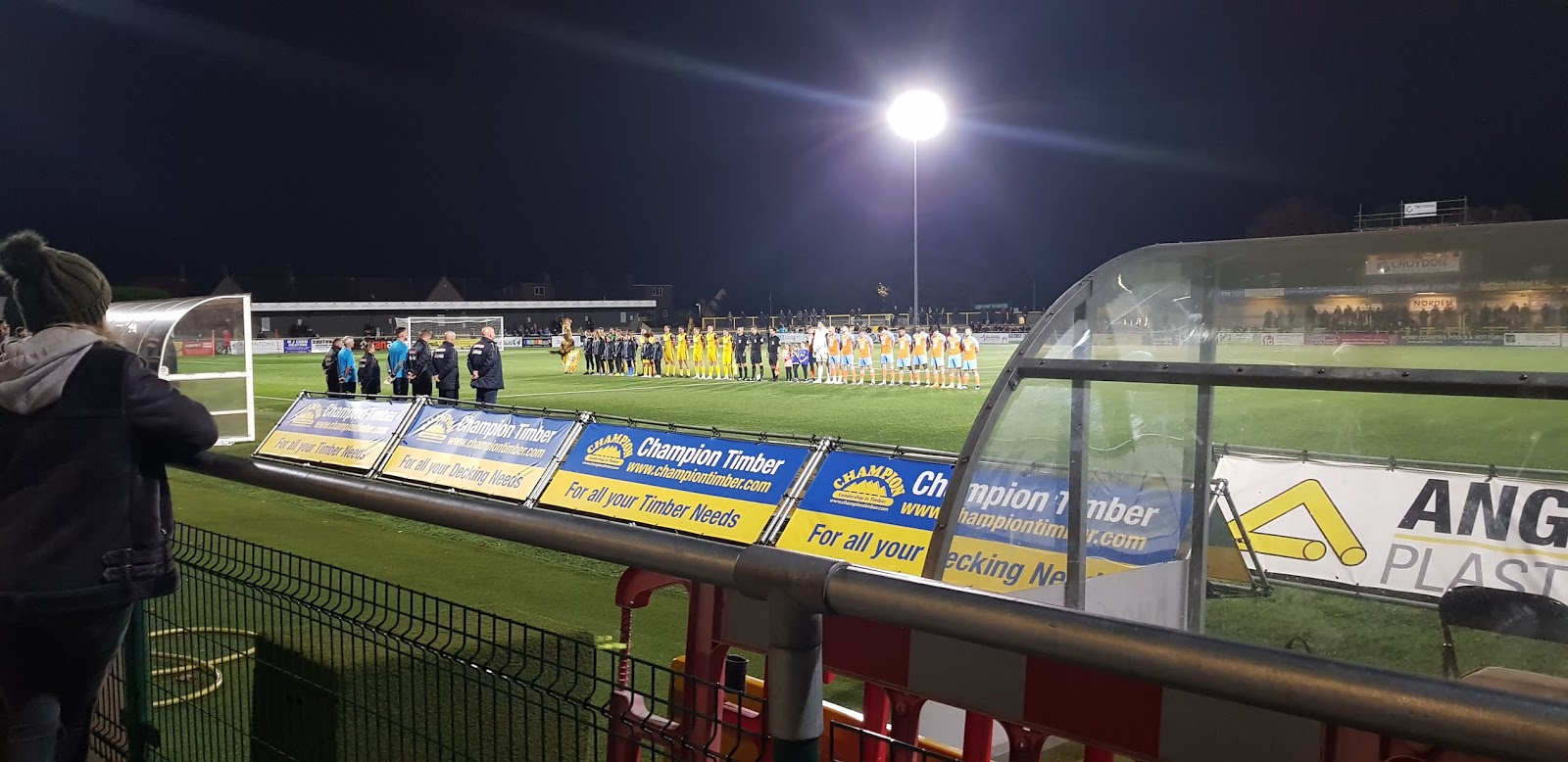 Lining up
Quite what's being said or done in our dressing room at half time comes into focus after the restart as we begin proceedings wandering around like the aforementioned Dr Bell wandering around in Barrow at 3am looking for his digs. Naturally, having kept a clean sheet first half and with a change made at the break, the visitors take this to mean our league position is not a cunning ruse to lull them into a false sense of security and that we are actually really are not that good, so they get a bit more adventurous. Before we've barely had the ball in their half since hostilities resumed, they proceed to create, and naturally convert, their first real chance. They get in behind Milsom down our left, a low ball is zipped across the box and despite the bloke near post mis-kicking, the unmarked bloke back stick arrives to slot home from the angle when the ball finds its way to him. 0-1. Well, with our record in games after going behind this season, I think we know how this is going to pan out don't we?
What's worse is the response. Or lack of one. It takes until past the hour mark for us to show any signs of life again and around the 75th minute to get a legit shot on fucking target when a little ball inside to feet from Reid finds Omar and his turn and shot brings a stop near post from the keeper. Our current plight is pretty much summed up soon after when having won a rare 2nd half corner (after having what seemed like 100 in the first half), we win another one immediately as a defender nods out of play at the back post. Or at least we would have, had the ballgirl on that side not stopped the ball before it's actually gone out of play. Result? No corner, drop ball them, pressure lifted and ball girl's removal requested by the ref.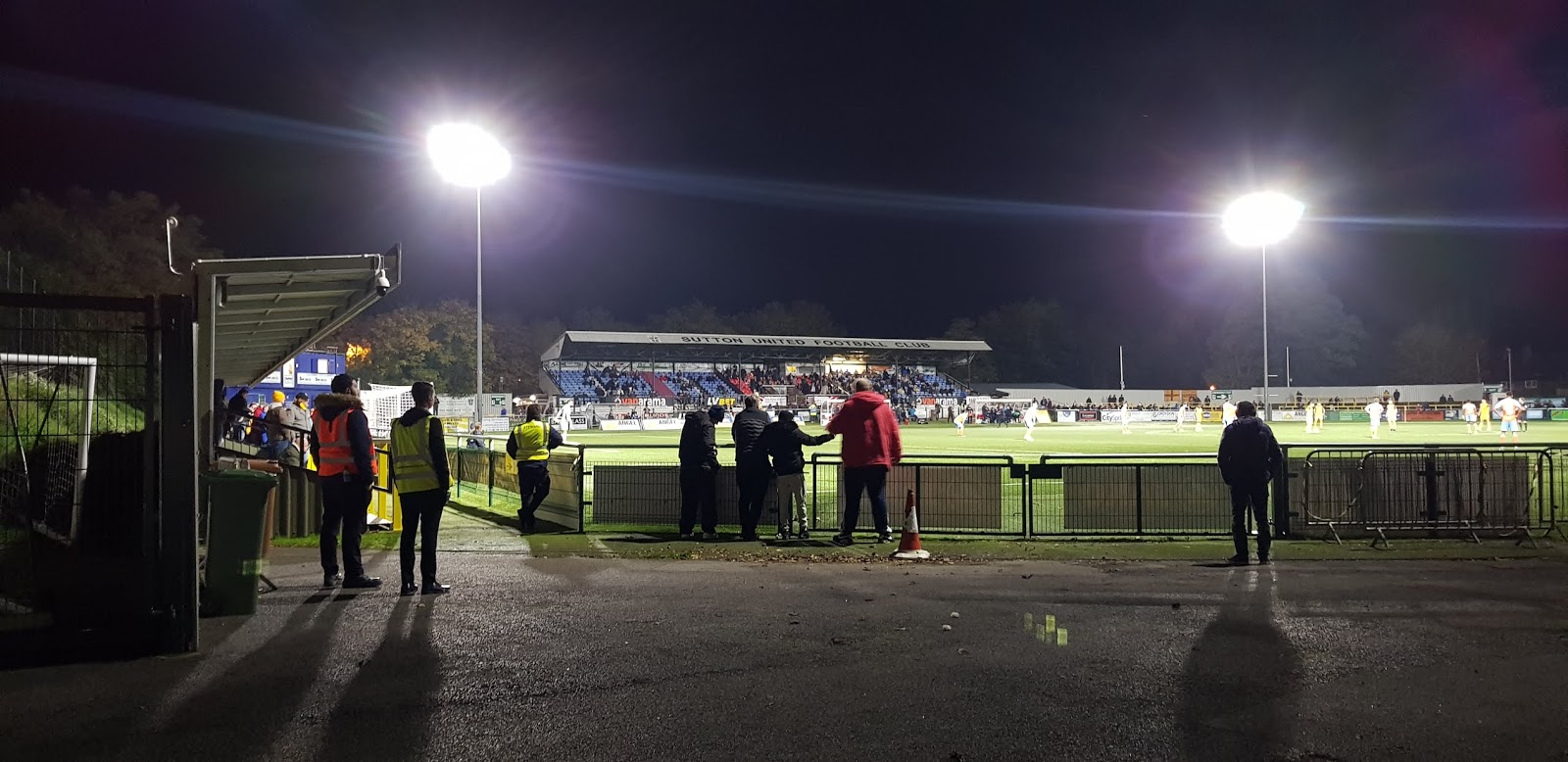 A different perspective
Easty replaces Barden at right back and his addition at least injects a little bit of impetus down the right late on and in the last 10 we finally do come to life. But having said that, our only decent chance comes with 5 left when Omar thuds a header back off the Halifax bar and two subsequent attempts to nod it goalwards are desperately cleared off the line. Fuckin' Ada as we say in this part of the world. In the end, we see out 4 minutes of added time largely fucking about taking too long over throw ins and giving away silly free kicks in the usual manner. Still, it should be noted that we managed to at least get through them without a brainless penalty being given away, a goalkeeper scoring or us getting done on the break. Again. So, swings and roundabouts.
I've seen enough at the whistle and head straight for the warmth of the bar. I need a pint after that. Slowly all the usual lot mope in and we have a mutter about various things, most of which boil down to the fact we're flat out not good enough currently. Having done my beer, it's time to go. Steve, I and Magnum head for the station to catch a rattler round the loop via Sutton and back to destinations thereafter. Magnum and I hop off at Carshalton leaving Steve to head to Mitcham Junction and whilst West Sutton's finest private investigator heads for a 157 home, I can't be arsed to wait simply to save a few mins off my walk home and stroll back via the kebab place on the high street for some chips. It's just about the highlight of my evening if I'm honest.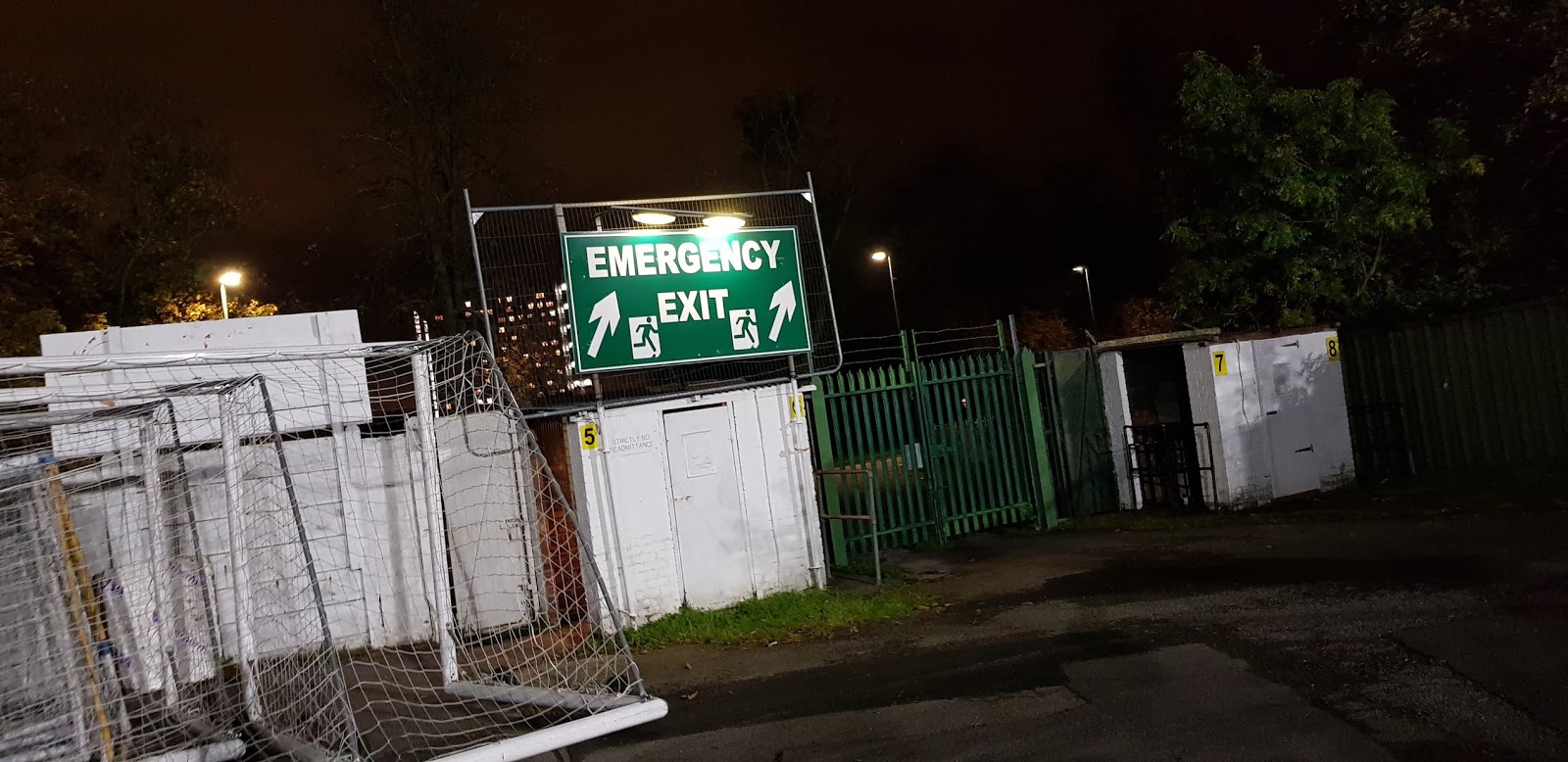 Tempting
Just the 320 miles to Barrow on Saturday. I'm sure that'll be a thoroughly rewarding experience for all concerned.
Taz