When you're on a run that's as success challenged as we are currently, you simply need to find some positives from somewhere, anywhere. A win against, for example, the one side who might actually consider you their bogey team, or perhaps a cup tie against a bang average team from a division lower than you that you can rough up and knock in some goals against. Oh wait, we tried that last one, didn't turn out so well. So, bogey team it is I guess.
Ok, if you insist. So about that Tuesday night thing then? Well, what can I add that's not already been muttered through gritted teeth or embellished with profanity by anyone who was present? Oh, that's right, nothing. It happened, we were fucking terrible and we should never speak about it ever ever again. Still, at least we learned that Alan Julian searches twitter for himself. That was a laugh.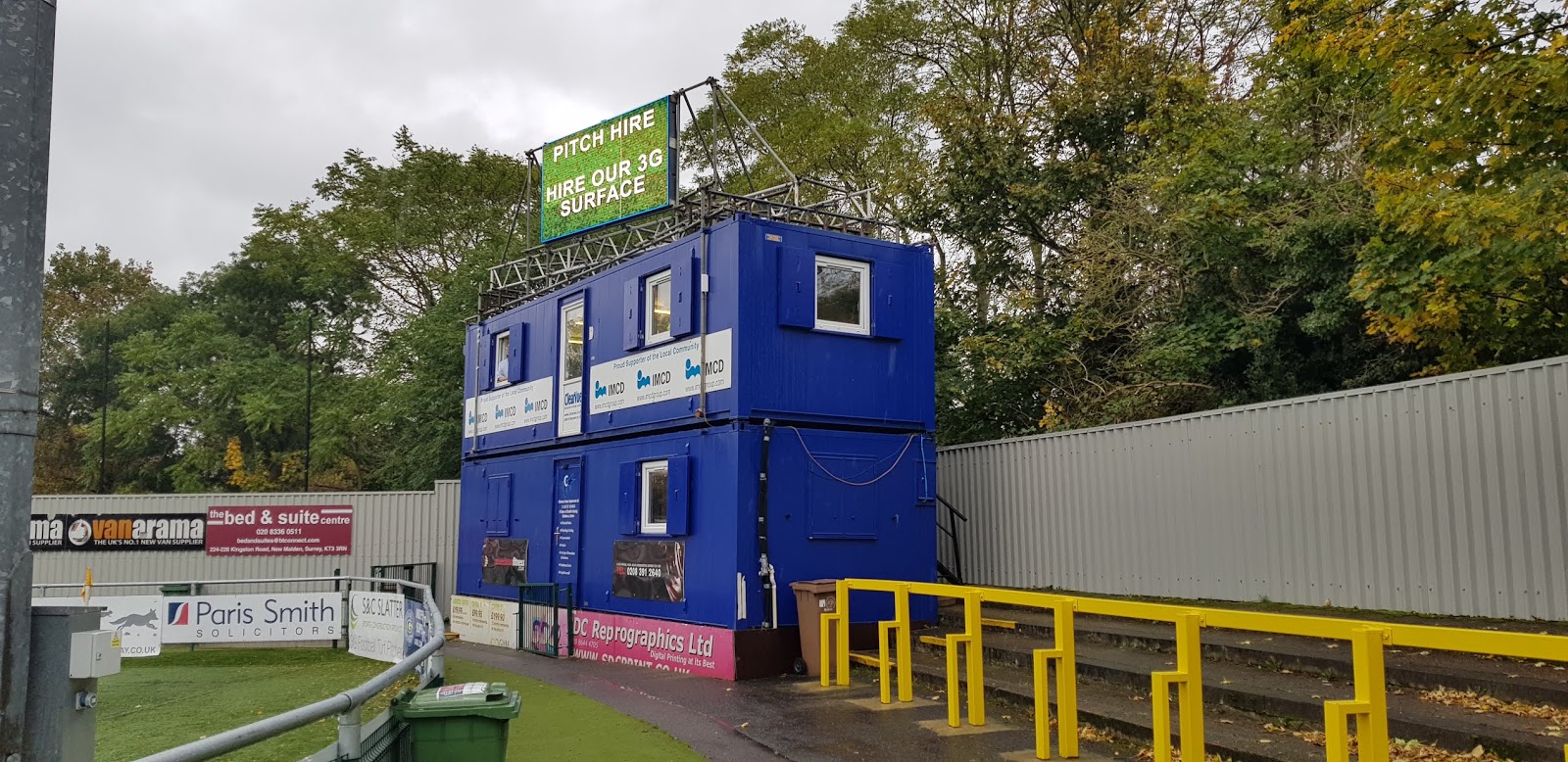 Filler shot
Still, as we had it pointed out to us on twatter last night in the aftermath of Southampton getting not only their arses, but their genitals and probably most of the internal organs handed to them by Leicester. Just when you think you're heading for rock bottom, someone steps forward and says "Hold my beer". And imagine being a Sutton and a Southampton fan? Good job none of those actually exist eh? Oh…
The usual Saturday morning home game slumber is interrupted today by the fact that it's bloody freezing in here. Ah yes, the main storage heater at HQ has been refusing to work in the couple of days since I and the missus finally decided to chuck in the towel and admit that it was finally getting too chilly to do without. Suppose I'd better get my arse out of my pit, make myself useful and take a look into that. So having showered, I've got the front off the heater and am looking for the problem. After some checking for broken wires with the old multi-meter and having given all the dust and shit that seems to collect in these things a proper hoover out, I finally locate the cause of the issue, a large fluff ball in the switch mechanism which is preventing a contact from closing. Bastard. Imagine that, almost freezing to death thanks to something even a fucking cat can cough up.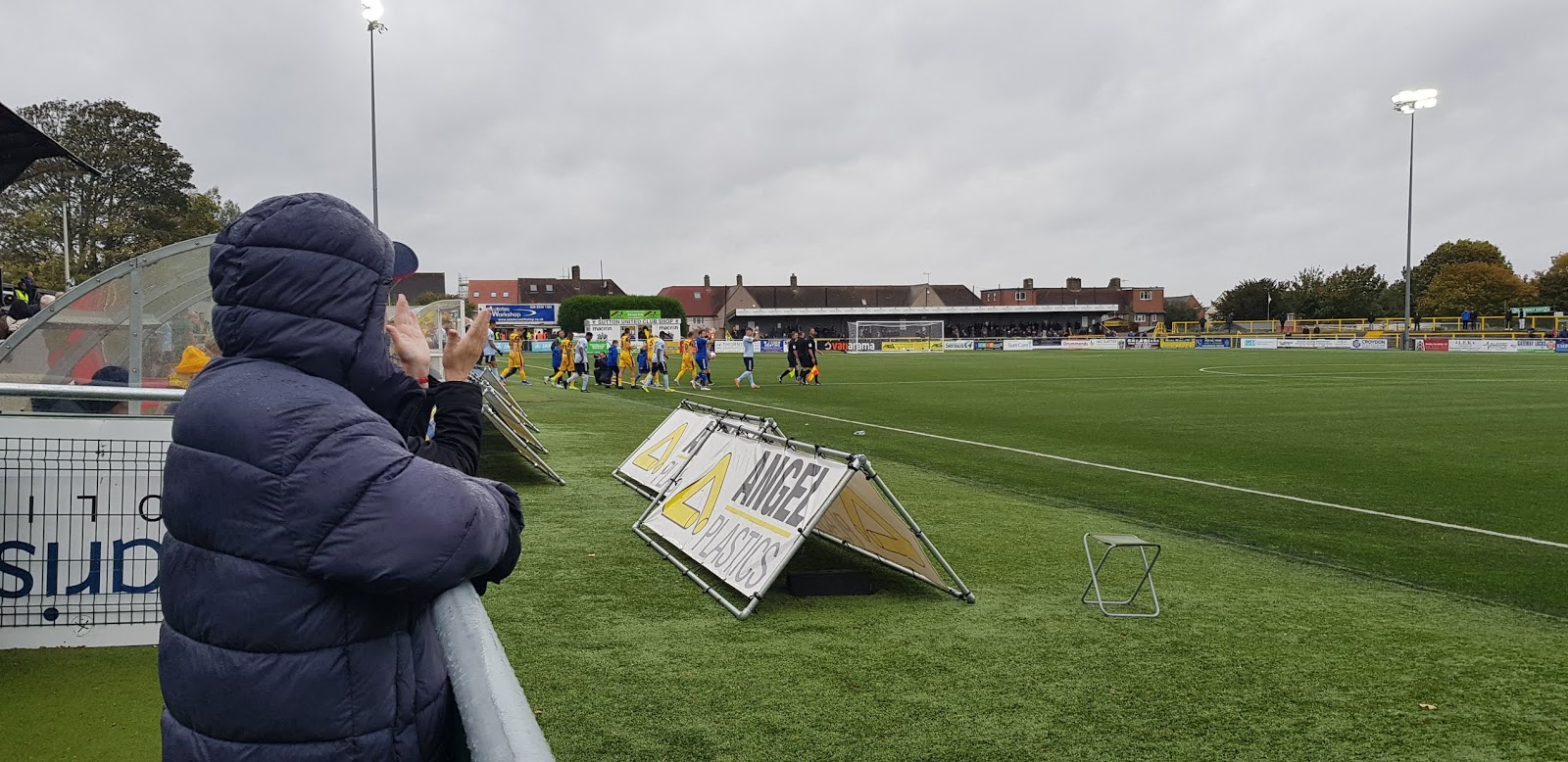 Emerging
Playing heating engineer has taken longer than I'd have liked though and I'm now burning VDT. And give we're playing bottom of the league Ebbsfleet today and you-know-what still fresh in the memory, being sober is not advisable for this one. Not at all. So it's out into the rain for a bus and the usual pre-GGL bollocks. Cash, Greggs, walk. Lovely day for it though. Pissing it down, should be a right laugh up on the Shoebox later. With the usual greetings to Johnnie and Ryan, our guardians of the car park, on the way in, the bar has some life, but it's not really as busy as I'd have expected. Already propping up the bar are Mr X and Greek. It's around this point that I'm reminded that I'm on duty for today, ooops. On the telly is Man City v Villa and City's 2nd goal once again displays what a load of old shit VAR is. Although it's not as bad as the intervention I spot on twitter the following morning from 2. Bundesliga. Fuck me!
Our first team news is garnered from JC ambling through the bar around 2, so that means he's not playing. Again though, the big question is who'll play right back given we broke our right back, then broke the stand in right back and subsequently broke the stand in, stand in right back. Our educated guess is that John Barden will get the nod as stand in, stand in, stand in right back. No, we've no idea what we're on about half the time either.
Butler, Barden, Milsom, Davis, Goodliffe, Matsuzaka, Ajiboye, Wright, Bugiel, Beautyman, Randall. SUBS: Dundas, Wyatt, Jarvis, Reid Dudzinski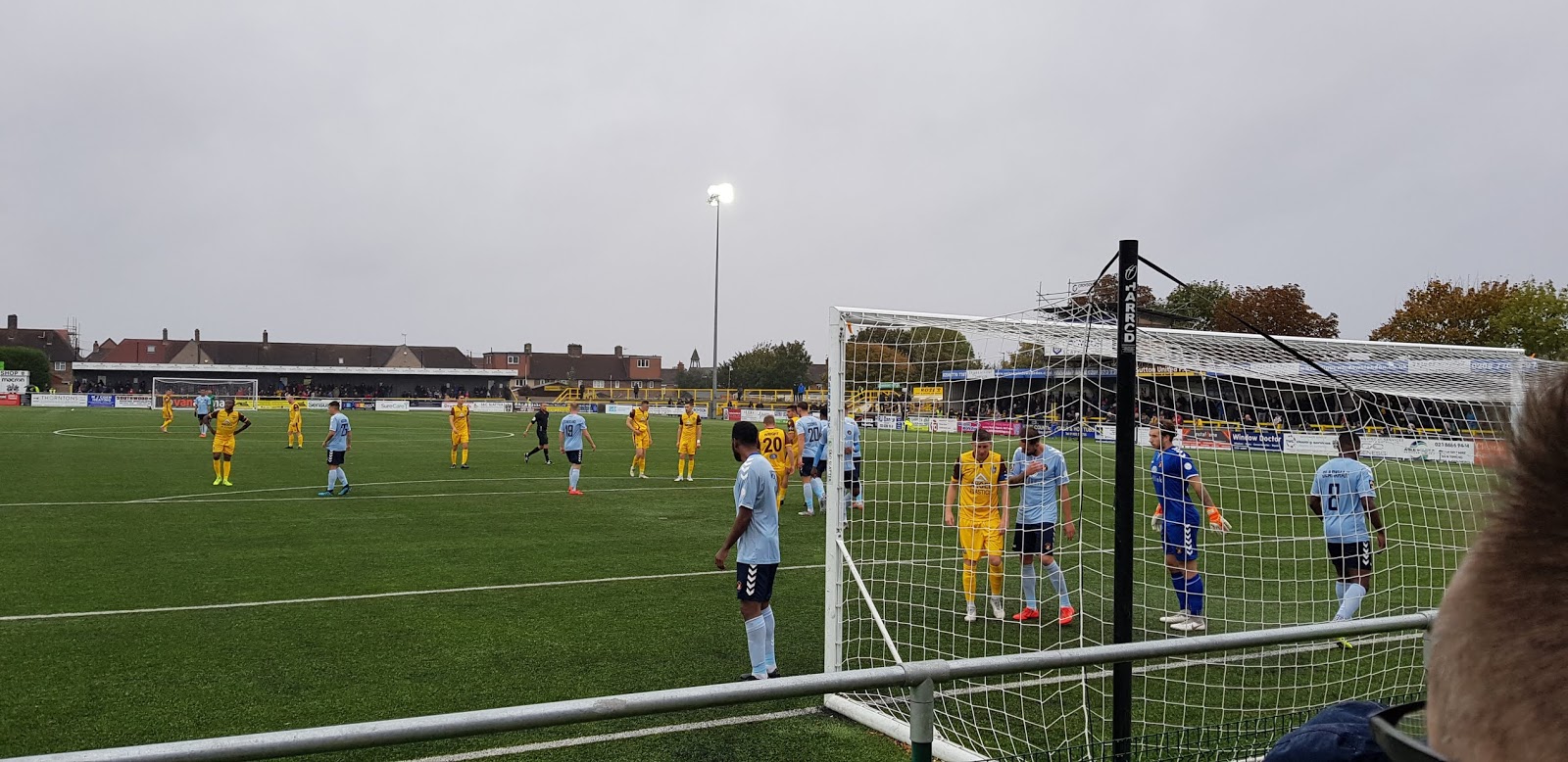 Us. Attacking.
Outside, the rain continues to fall and is aided by a stiff swirling wind. What is it with this country? It can't just rain, it's got to have some wind to drive the moisture into your face. Like it's punishing you for something, such as being obsessed with a crap 5th tier football club. Which if you think about it is probably a fair point actually. Carry on rain, we probably deserve it for wasting our lives in this manner. Out on the park, the contest between the two sides at the foot of the 10 game form table doesn't really get going until about 10 mins in, although a stumbling prod from Tommy has already had their keeper scrambling and seeing said effort kiss the outside of the post when we give away one of those pointless free-kicks around our final third. Personally, I think their bloke lining it up for a dig from 30 or so yards is a bit ambitions. But then again I'd not counted on our keeper waving it wide, arms outstretched like keepers do, only to see it loudly clattering the inside of the post before hitting him and going in. This is, it must be said, a disappointing one. So disappointing in fact to one pained home fan near us, that he looks to the heavens and proclaims "What a twat!". I'm not sure if he's referring to Mr Butler, his own decision to come and watch today or any deity to which he owes his allegiance and feels may have deserted him at this point, but given our record of winning games having gone behind this season, it's not a statement we feel can take great argument with at this stage of the contest.
Right, now we'll see what we've got in the tank I suppose. And yes, that was sort of a rhetorical question. I'm fully aware of the actual answer, so I'd appreciate you keeping your opinions to yourself as this point in proceedings. Thanking you kindly.
The goal gives the visitors a lift and they're knocking it about fairly well, but just lacking that final ball. Although one bloke does get clean through on our right and just as we start to tense up in a manner that would indicate we're about to go 2 down at home to the side at the bottom of the league, matey misses his touch, the one after that AND the one after that, helpfully shepherding the ball out for a goal kick. Cheers mate. Midway through the half and with shoulders starting to slump on a wet and windy Shoebox, we're level! Ajiboye runs from deep, no one comes to meet him and with Tommy trying desperately to stay onside for any little ball in behind, the little winger puts his toe through the ball and the effort dips into the top corner with the keeper stranded. Fuck a duck!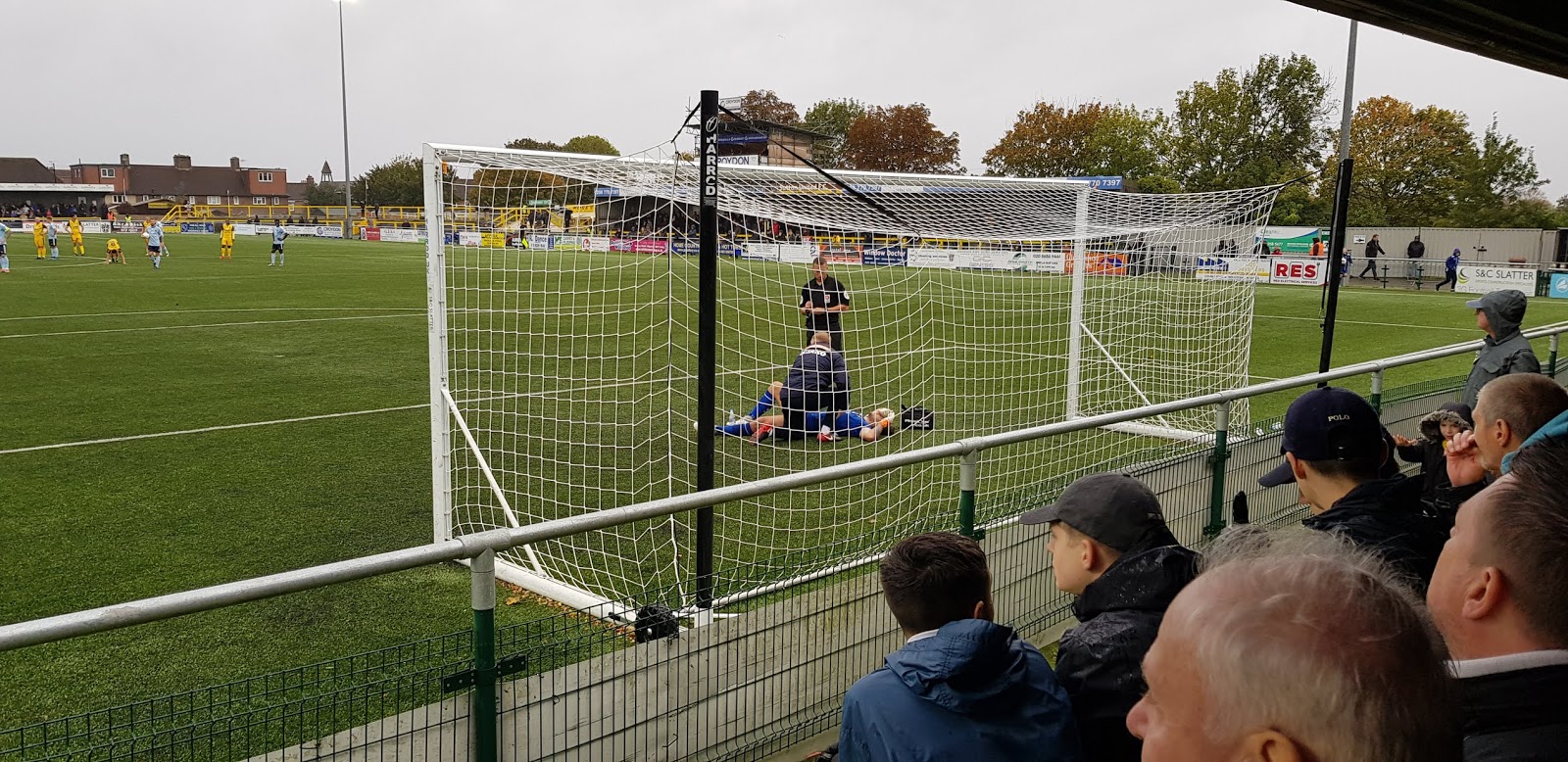 "What's the worst that could happen?"
After this the half is nowt to write home about, but the visitors still look the more fluent and we really do struggle to get any sustained possession or pressure on their goal. Elsewhere, Mr Butler isn't exactly winning back our confidence with a couple of properly ropey attempts to punch away balls into his box. Still, we keep it level and I wander around to the Rec End as the rain continues to fall, looking forward to at least being under a roof for the following three quarters of an hour. Seriously, the football's been that good this year that getting out of the rain is seen as a highlight worth mentioning. At the break, we're treated to a wonderful comedy skit out on the pitch as members of Sutton Council appear with Tim Vine to try and drum up support for the LBS' bid to be the 'London Borough of Culture' in 2023. Now, I never knew this was actually a thing, but I'm well informed now as Mr Vine proceeds to, well, take the piss out of it a bit over the PA. He even comments "Can we have a theatre?", no doubt a tiny little dig about both the borough's current places of entertainment being mothballed and seeing as much action as a hog roast in a mosque. Still, it cheers us all up immensely.
For the second 45, we start bright. Ajiboye hits an angled effort that the keeps has to beat away at his near post and we stay on the front foot trying to force the issue a bit. Up the other end, we're trying our best to fuck things up with Milsom done hands down on the flank, the oppo player rifling a ball across that somehow his mate in the middle doesn't convert. Was that Daniel San saving our arses on the line? Tommy has probably our best oppo of the half when he skips onto a ball in behind not long after, the defender does well to just nudge him wide to prevent the shot, but the ball is fizzed across the 6 yard box with neither Bugiel or Randall within 5 yards of it. It's fucking infuriating how many times we've done that this season, where the fuck are we in the box? We should be busting our bollocks to get on the end of chances like that. It's no wonder we're not fucking scoring many.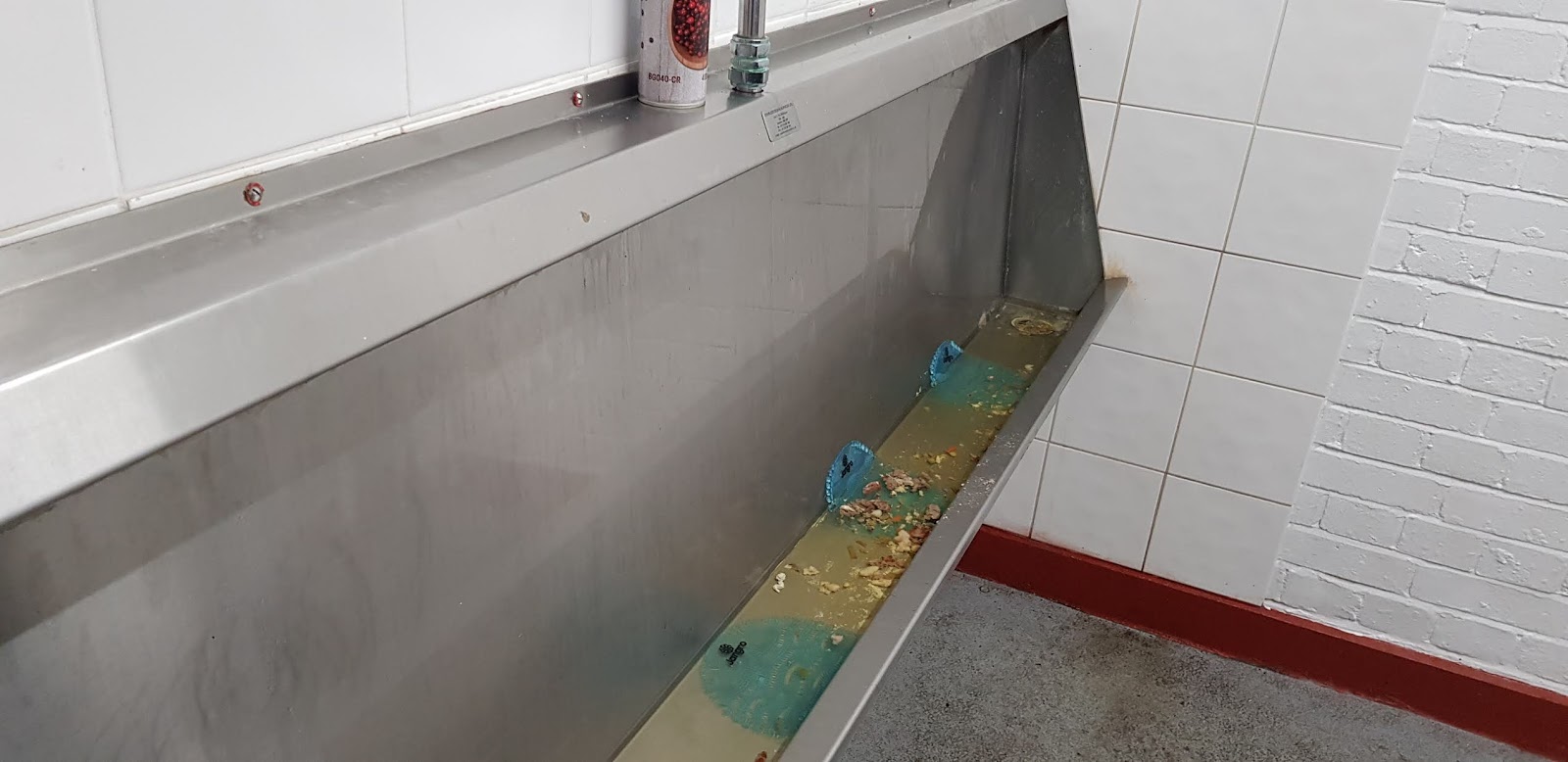 Satire
Of course, having had the better of things, we fuck up. Again. A corner is conceded that is 100% of our own making as we piss about with the ball at the back rather than clear our lines. The flag kick in is nodded away to the corner of the box where their geezer larraps it straight back over Butler on the half volley. It's a cracking hit and no mistake, but we'd really rather people didn't keep busting them out against us, it's quite upsetting. So, behind again to a side that's managed 7 goals away from home all season, we're back looking for an equaliser in a game we'd really quite like to win. We stick at it however and with 15 left, the tireless battling of Bugiel is rewarded when moments after us moaning about us doing the same floaty corners all the time and questioning why we don't mix it up, we actually mix it up from a corner. It's whipped to the near post where Omar meets it on the volley and the keeper can only push the shot onto the underside of the bar and in. FUCKING GET IN THERE!
A few mins later, their keeper goes down following another ball in. What initially looks like cheap time wasting soon turns into a lengthy stoppage as he's clearly not in a good way. Although none of us can remember him getting a bang to the head at any point, so god knows how it occurred. In the end, he's helped off by their staff and with no sub keeper on the bench, he's replaced by their 6ft 4 centre back between the sticks. "Come on lads, this is our chance!" thinks everyone as they also get that odd sense of foreboding deep down in the recesses of their stomach. In the 5 minutes remaining of normal time and the 9 added, we force Mr Not-A-keeper into on tip over, a punch that would make Jamie at the other end green with envy and one fuck up where he almost spills it into his own net. The problem is, we just can't exert enough pressure, mainly because we're so fucking slow to build up. There's still far too many sideways and backward passes and we're just not stretching them enough. Then with time almost done, it happens again. We go and royally fuck up.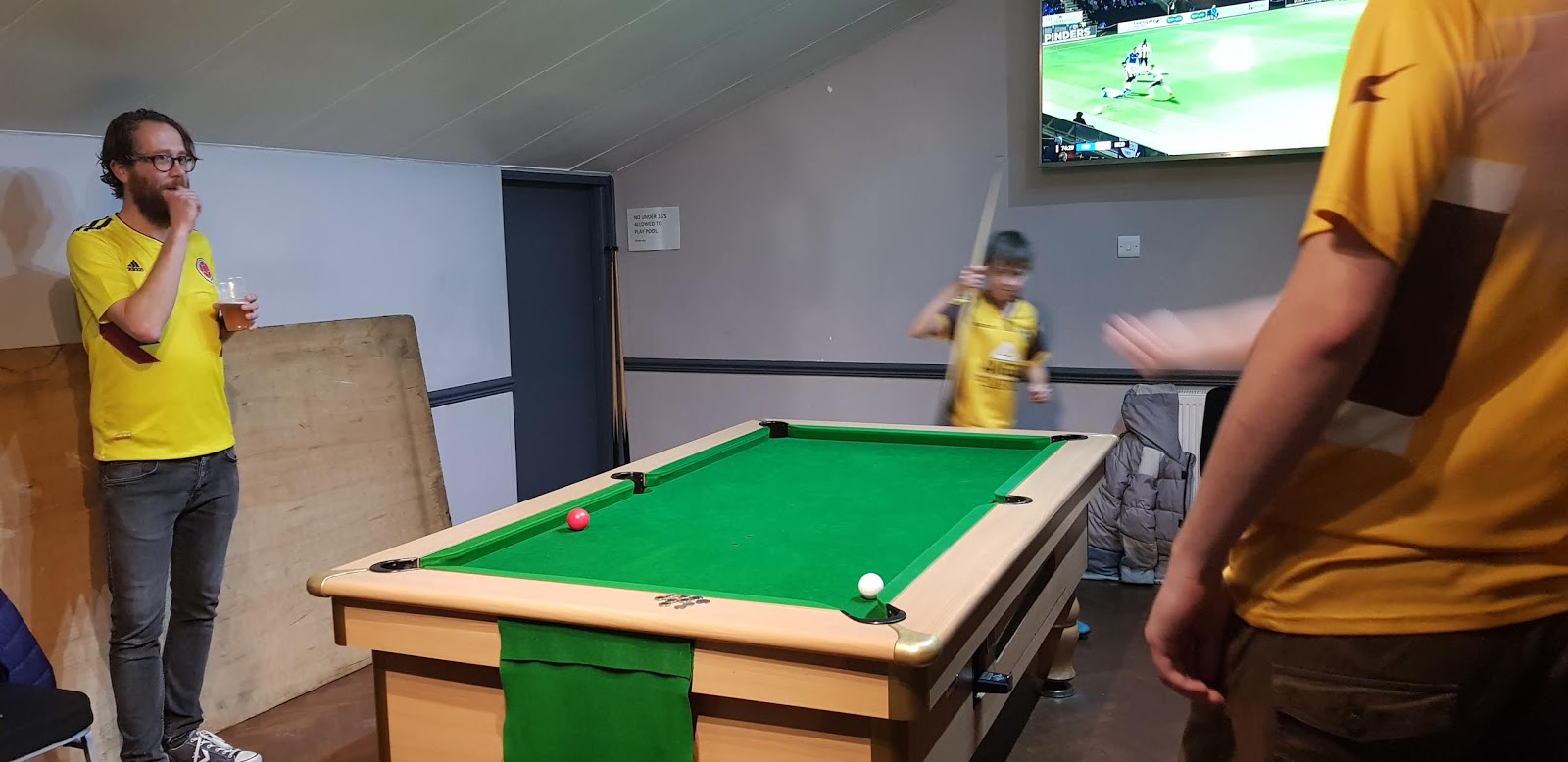 Get drunk + killer pool = forget football
Another attack breaks down, they clear and Matsuzaka delays an attacker illegally just inside our half. Free kick. Jokingly, we ask Mr Not-A-Keeper if he doesn't fancy heading up for it, but he stays put. The free kick is launched into the box and looks ot be sailing over everyone and out of play way beyond the far post when Omar has a 'moment' and brainlessly hauls his man to the ground. Yes folks, it's the long awaited return of the fucking idiotic last minute penalty show! I decide I've seen enough and head for the exit, pausing only long enough to see the bloke send Butler the wrong way and win the game. Now, don't get me wrong, we've had the sign over this lot down here for quite a while now and they really should have broken that run last year when we mugged them in the 94th minute, but even I think this is a bit much.
I hit the bar super quick before the final whistle and am basically first in to get served. It's not my round, but to be honest, everyone's going to need a pint after what we've just witnessed so I get stuck in ordering up. Lots of depressed faces amble in over the next few minutes and I hand out their beverages, so depressed are they that this timely presentation of alcohol raises not one single smile. Yep, things are really that bad. To help take my mind off the crap football, I take the chance to chat to Totts about his latest episode of 'Turnstile Rescue' this week where he's saved an old Ellison from the scrap heap up at Mildenhall Dog Track, which apparently turned out to be an interesting place as it's in the middle of absolutely nowhere "down the end of this fucking farm track". Still, he's got his hands on some new turnstile porn and is so enamoured with his new member of the family that he's got it cleaned up and repainted before I've managed to knock out this load of old shit!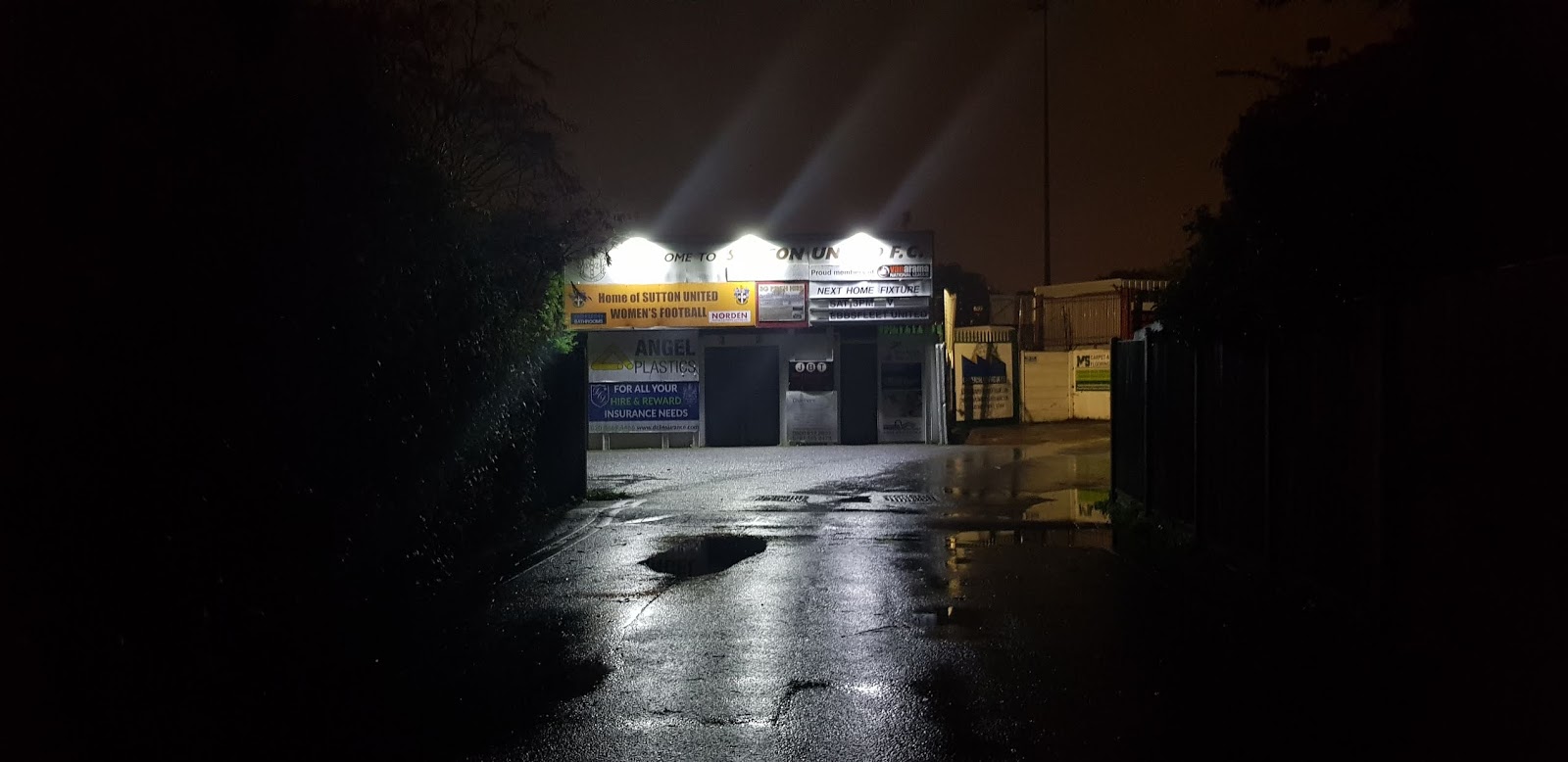 Doom & gloom shot
Post SAK draw, the general feeling amongst those still present is that booze is indeed the answer and people are setting out to kill a fair few braincells tonight, hopefully in the short term memory area of the old grey matter. The COCs also try and raise the mood with some uplifting tunes on the jukebox, although once again Robbo ruins this by putting on you know who. This causes the bairmaids to remark to Dukey "We used to like this song before we started working here….". Quite ladies, quite. There's a further chat with management as Mickey Stephens comes over for a natter, but the most concise comment on the days proceedings is provided by whoever has honked up in the trough in the gents. Proper satire that is and no mistake. A few people in our press could take note quite frankly.
As I and Steve head for the 19:40 train round the loop, the bar is now full of nicely pissed individuals and a game of killer pool is on the go. We leave them to it and a quick stroll through the still falling rain to West Sutton International later, we're trundling back towards the cold hard reality of the outside world. I bid him farewell at Carshalton and with the missus having popped out to see friends today, I've no need to cook dinner. Right, fish and chips it is. As I order my large haddock, the cheery lass behind the jump asks if I've "had a good day". "Er, not really love!" is my honest reply, to which she takes sympathy and adds an extra hearty scoop of chips to my order to help cheer me up. You my dear are a true humanitarian.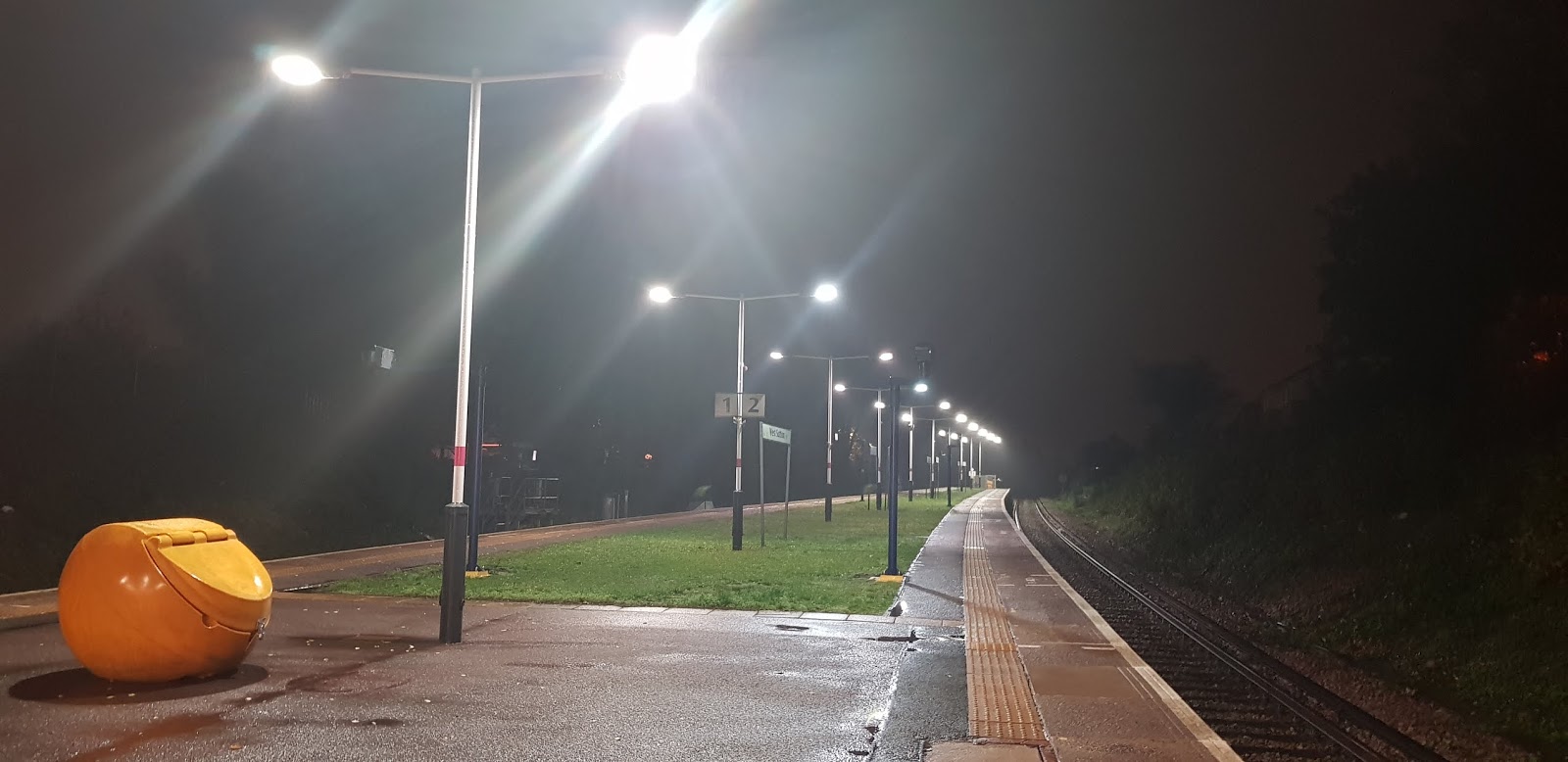 Another glorious day in the Republic….
At least the rain largely eases off as I make the final stroll back to HQ. Still, it's hard not to think things are looking pretty sombre for the U's. I mean, only we could lose a six pointer in October and not only that, but chuck in a metaphorical three points of confidence to the oppo into the bargain.
I have a horrible feeling that this is going to get worse before it gets any better…
Taz