Bloody Football Association Challenge Cup shit. It can be a right curse as well as a saviour to many a teams fortunes. For Sutton on Saturday, it was a performance that never quite matched the result and will no doubt forever be remembered as the match that "had that keeper score in injury-time". Yeah, you fuck right off! At least they didn't mention that it was by an ex-player who doesn't have the best relationship with his former club.
Before the night of the replay and it's the old ball in the bag time and I ain't talking AB in his gold sequins in the bar at GGL, as the first round draw is done on the telly. And who's boats I see as soon as I tune in? Only Alan "I closed my eyes" Julian and Dippy the right Dipshit. I quickly turned it off, fuck it, I'll find out later. The days of heading out to find somewhere to watch the draw have long gone. I find it's not the same these days, especially considering we're only one round away from the proper stuff now. And who did the footballing gods decide on as the carrot to dangle above us? Only Forest fuckin' vegan Green. Not even at home either. Might have to smuggle in some Pepperami & cow's milk to the ground for that one. If we actually perform a fuckin' miracle and win for a change tonight that is.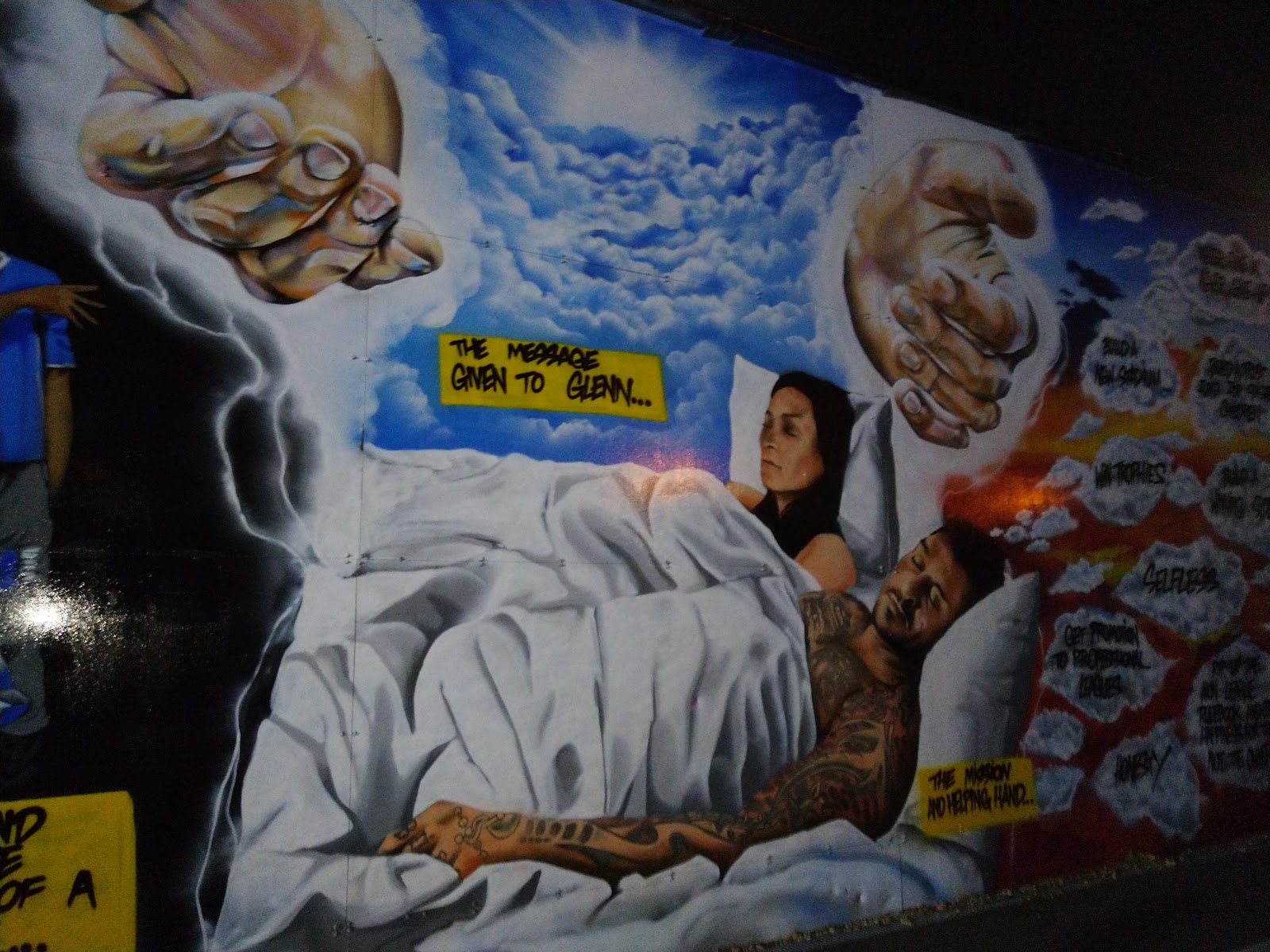 Nice to see you muriel!
As is always the case with these midweek affairs, I'm offered a lift to Essex which I graciously accept. The only caveat is to get to Morden for quarter past five for a pickup. And with Dr Bell off today as well, we hatch a fiendish plan to meet up in a pub near the pick up spot. What? It's a fuckin' landmark! Ganley's Irish Bar, home of a lovely Sunday roast, is chosen and is surprisingly busy for a Tuesday afternoon. £4.50 for a pint and it would've been two had we known that Mr X was running a little late. We shouldn't have stood outside the Turkish cafe/kebab shop as we waited either, as that just made me crave a kebab. Mmmm, Chicken Doner…
A ninety minute journey follows as it seems that it takes longer to get onto the bloody M25 than it does to traverse around and into the Dartford tunnel. By the time we re-emerge on the other side of the river and the sun has set and we're soon in darkness as we arrive at a desolate place in Essex. And not one TOWIE twat to shout at either. Even Tamplin has apparently left the building, leaving the club to 'A local consortium of business owners'. Wink! Wink! See you in a month as usual then Glen? £5 to park in the match day executive car park which is no more than a muddy dirt track. At least we charge our own fiver for a bit tarmac.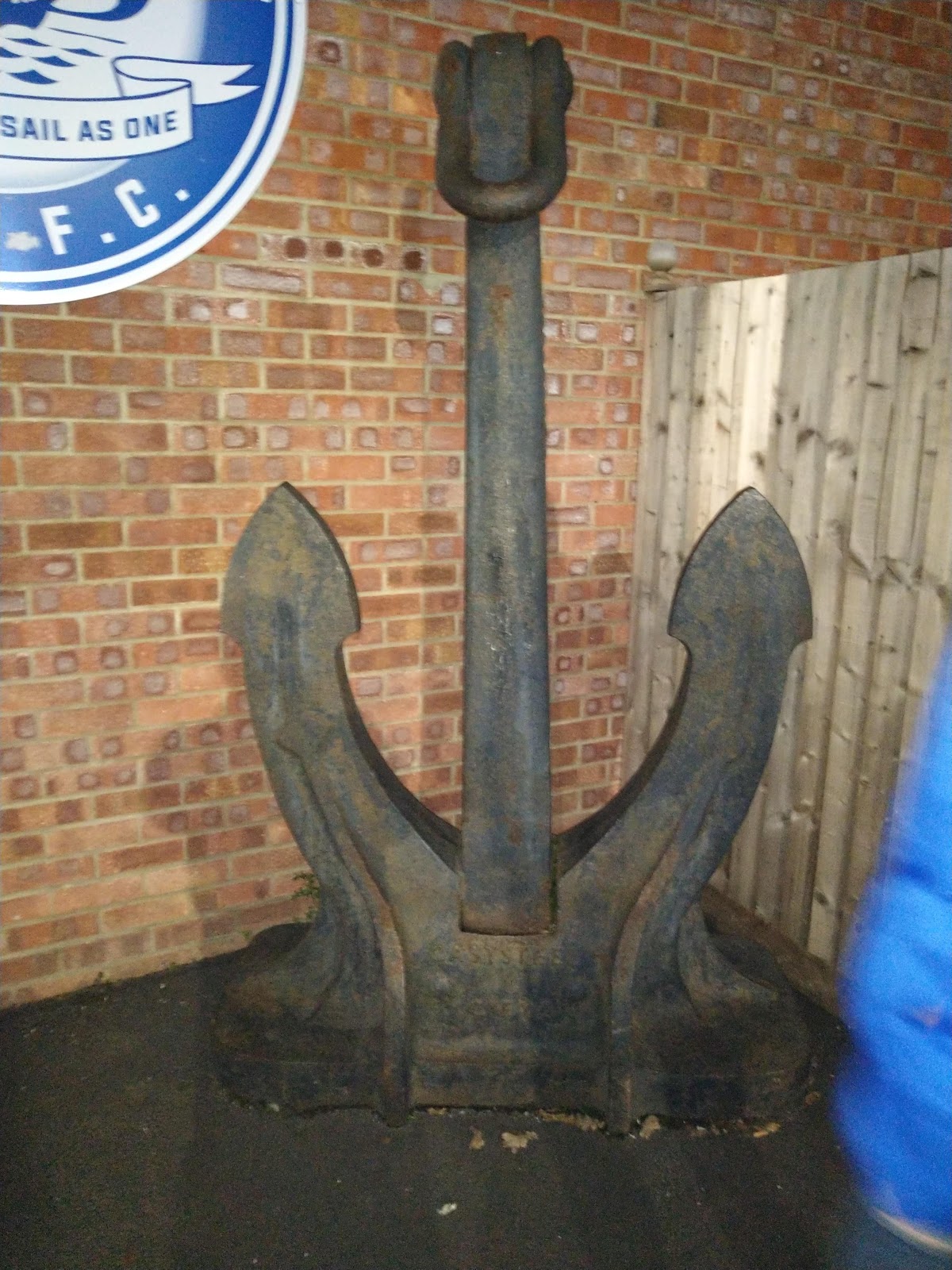 Because Billericay is near the sea apparently…
It's been a while since we've been round these parts. The last time we were here was a 4-2 win in front of a sub 300 crowd back in our Blue Square Bet days. I hear that there may have been one or two changes to New Lodge since then. And blimey has it changed somewhat. Except for the slope that is. There's now covering all around the ground and the toilets have now been made 'coke friendly' according to Mr X. Dunno how he knows, but there you are. There also seemed to be a lack of stewards of the type we've not seen for while. Guess the rules are different now down here in the lower leagues.
That doesn't stop them from opening only one snack wagon, the £6 for a one-slice-of-bacon cheeseburger though is a bit strong and the flimsy plastic cups that the beer is served in needs sorting as they need to be doubled up so they could be held properly. And 'that' Muriel Mural. Well, fuck a duck, it's unique at least. Speaking of alcohol, I didn't know that you were allowed to drink beer on the terraces at an FA Cup match. But no one mentioned it and there were plenty of locals doing it.
For once we've guessed right what end we'll be shooting at and are first to park ourselves behind the goal at the far end. Looking at the team and we see that Davis must've picked up a knock and I actually saw Bolarinwa pull up in the warm down on Saturday, so thought he might be a doubt for tonight. One surprise name on the list is Brown who had fucked his Achilles, or something important, a long long time ago and we'd been told he wouldn't feature until after Christmas. Guess we're a little short on the bench then?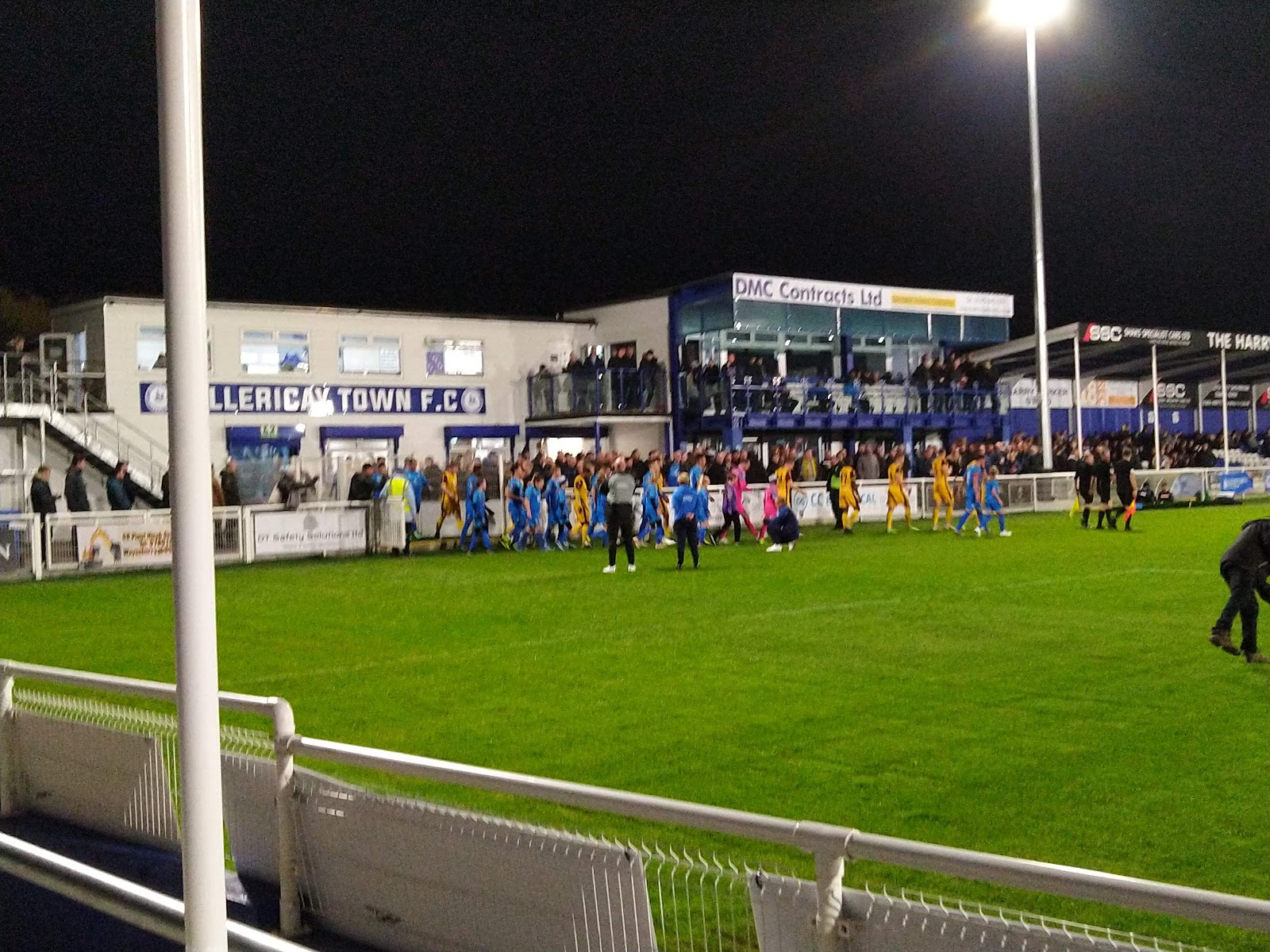 New Lodge has changed…


Butler, Milsom, Collins, Goodliffe, Eastmond, Reid, Beautyman, Barden, Ajiboye, Bugiel, Wright. Bench Warmers: Dudzinksi, Dundas, Randall, Matsuzaka, Brown, Jarvis, Wyatt.
Like on Saturday, Sutton start strongly. And with two up top, we apply some early pressure. By the ten minute-mark and Sutton take the lead. It's a Milsom free-kick that is whipped into the box and is met by a Beautyman head at the near post and past 'Crazy' Julian. 1-0! Wow, we're winning! Again! Our lead would only last ten minutes though. A simple free-kick, was Dave at fault for the lead up?, is flung into our box only to be met by Robinson who heads it towards goal. Butler would get a hand to it, but it seems to loop up into the air and drop in at the far post.
By this point the 'bantz' between plenty of the travelling support and 'I wanna be the Monk' Julian reaches a crescendo that never abates. Doesn't do himself any favours that lad. Rolling around like a child, feigning injury & just plain old stupidity. Wright would have a long range effort tipped over before Sutton imploded like Sutton like to do. Once again we're split apart way too easily and all Billericay have to do is aim a shot at goal for it to matter. 2-1.
By now the first murmurs are head around me from supporters who have already given up on the contest. Can't blame them either. We've been dog shit recently. Stats or no stats. Our misery is compounded further when Billericay get their third. This time it's Collins at fault as he misreads the ball and it bounces over him to Robinson who simply lobs a stranded Butler. Three goals conceded in the first half? Slightly worrying that is.

Half time…
An anonymous Dave is replaced with Randall at the break and the second half starts just like the first half ended. Now that we're not man marking, we give Billericay way too much space for my liking and it shows as one of their players keeps the ball for so long that he manages to create enough space to eventually get of a shot that takes a slight defection but ends up once again in the back of the net regardless. Oh fucksticks! Surprisingly, at just the 4-1 down, Sutton start to get into the game a bit as Bugiel & Wright show why we need two up top instead of one. First Wright would hit the post with a scuffed effort and then minutes later there is a scramble as Sutton fail to get the ball over the line. But Wright would have the luck as he reacts quickest to a Bugiel shot that came off the post. 4-2! Spot of false hope anyone?
After the hour mark an injured Eastmond take a lifetime to be subbed for Top Knot with the curse of the right back rearing it's ugly head once again. Billericay would also hit the woodwork and the game starts to descend into the usual Shit-housery you'd expect with the score 4-2 and fuck knows what going on. 'I won a league title' (yes, the Ryman you div) Julian would eventually get a yellow, as well as a couple of others, for time wasting. Sutton would achieve yellows for frustrations as Carl Brook, the wanker in black who hates us, fails to get a full grip on the match. But that's standard for him, so we expect little better. Sutton's final roll of the dice is to bring on Jarvis for Bugiel. I'd rather Dundo as the pitch is too heavy for Jarvis and he fails to make an impact.
In the dying moments of seven added on minutes and Billericay get their deserved fifth as Robinson completes his hat-trick as a Sutton attack breaks down, Barden loses the ball and three defenders try to shepherd a player away from goal only to see it passed across for an easy clip over Butler. Our defence has some issues with it this year, but then again not as many as the forwards. Brook finally calls time on our cup run this year and Julian takes the opportunity to once again rile up the away support with some dopey bollocks. Lucky for everyone there is an invisible barrier that prevents anyone from jumping over. Even Collins doesn't appreciate his reaction and has a few words with him before directing him towards the other end.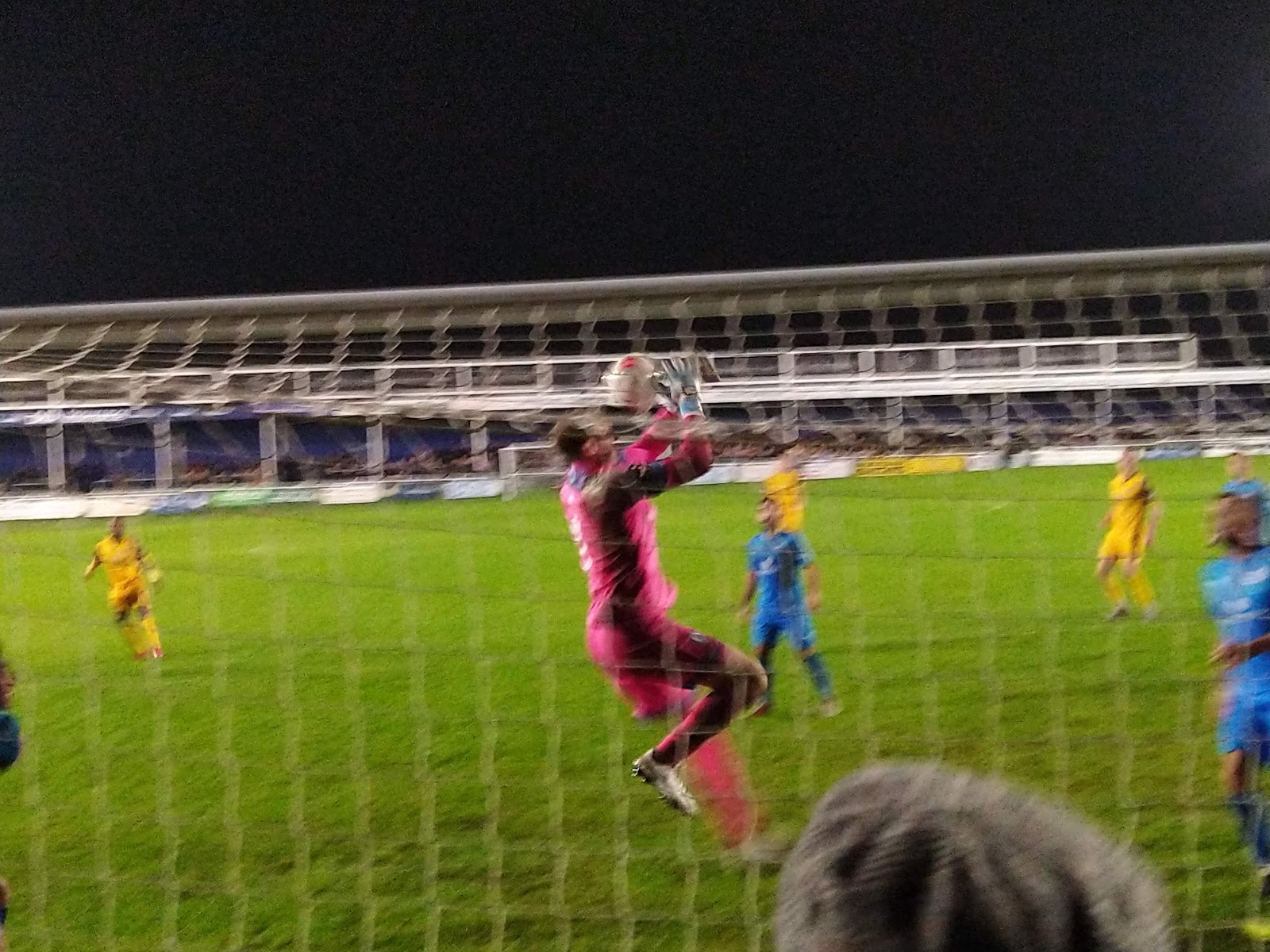 Fumble fuck…
After the match and I for one cannot bring myself to applaud the team. I'm a bit old fashioned I know, but shipping in five goals against a team in a lower division is not really acceptable to me. Beautyman is one of the first to come over. At least his reaction is different from Saturday. I imagine that the statistics will say that we had plenty of chances but that doesn't hide the fact that we couldn't put the ball into the back of the net, or keep it out at the other end.
Back in the jam jar sharpish and we're soon speeding our way over the Queen Elisabeth Bridge and back South of the river. We try to lighten the mood but it's to no avail. Mr X would even try a bit of the old pragmatism and state "It could be worse", but no one could think of anything that really could be at this point. Says it all. Before I know it, the clock is striking eleven as I'm walking through the door at the old manor house. Maximum effort Mr X.
So where does that leave us? Well, Saturday sees us play Gravesend & Northfleet Ebbsfleet in an important six pointer already and there is no doubt that we're in a rut. And not just any old rut. This one's more like the chasm in between Demis Roussos' arse cheeks. Meet the Manager could certainly be interesting on Thursday night. Enjoy.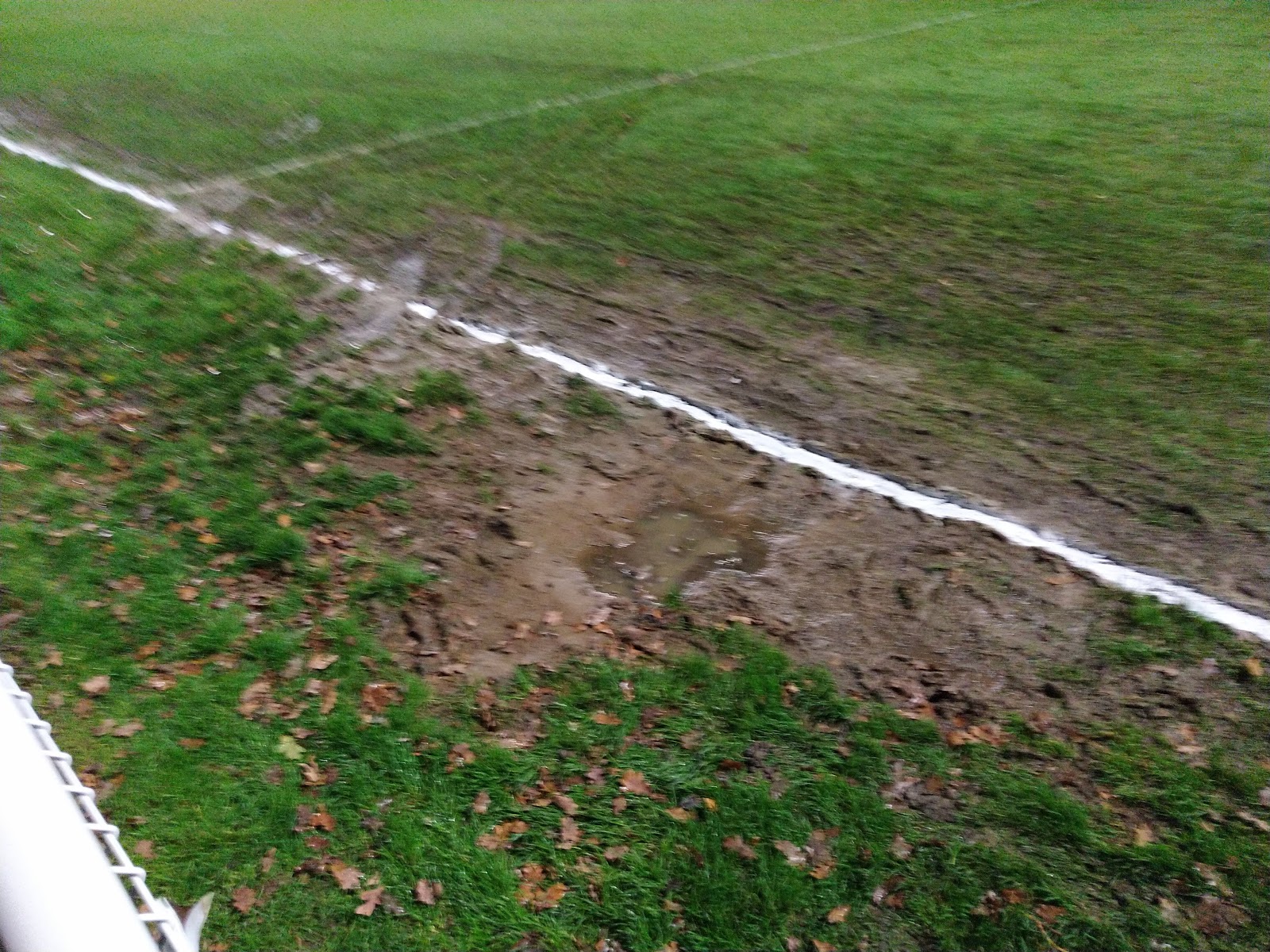 Shit, like Sutton at the moment…
Duke
Att. 1113