When things aren't going quite the way you'd hope on the pitch, it seems to serve as a magnet for all sorts of other misfortune and daft incidents to rear their ugly heads and plague you, the poor unsuspecting punter's already fragile mental state. And we at Gander Green Lane are no different. Take last week's train debacle for example, which essentially meant we went on holiday by mistake. Still, surely that's enough ridiculousness for one season? Right? RIGHT? Oh who am I kidding…
As Dukey touched on in his little missive from last weekend's fruitless jaunt north, Blackpool was certainly an experience. I don't think I've ever seen so many pissed Northern people in one place at one time and so relatively early in the day. And I've been to Benidorm for crying out loud. I mean, whilst I have no desire to blow our own trumpets here, we aren't exactly what you'd call medicinal drinkers when it comes to awaydays, but sweet Nelly Furtardo this was another level entirely. We almost felt like amateurs in comparison. Scary stuff.
This is West Sutton.
With the season so far being a bit of a slog, we've kind of let our admin slip a little and we approached this weekend's barely anticipated Cup tie with Billy Smarts Circus Billericay with the blog rota undecided. With Totts away this weekend on diplomatic business on the South Coast and Dukey having had to knock up some stuff on last weeks farce, that left me or Robbo. And having procrastinated even further and awoken Saturday morning with no decision made, that sort of made this key editorial decision for me. Oh well.
So, having had my customary "Hurrah! I don't have to be at Euston for 4:37am!" Saturday home game lie in and done the usual personal hygiene stuff, I headed out of HQ for transport into sunny Sutton. However, I'd cocked up my timings and been looking at Croydon bound buses instead, which was about as much use to me as Mr X's promises that he's booked us table seats on a train north. The result being there's nothing due for a good 15 mins, so with the weather still fairly mild for mid-October and the sun out, I decide to take a stroll down through the occupied territories and pick up a train from Carshalton for a change. And having dodged the agents of the dark oppressive forces that control those parts who frown upon us PROWS freedom fighters mounting incursions across their borders, I walk onto the platform just as the train trundles in. As I board, disembarking here are a couple of Daggers fans, clearly heading for the local pubs before their cup tie at the Bobbins this afternoon. Here's hoping they dish out a slapping.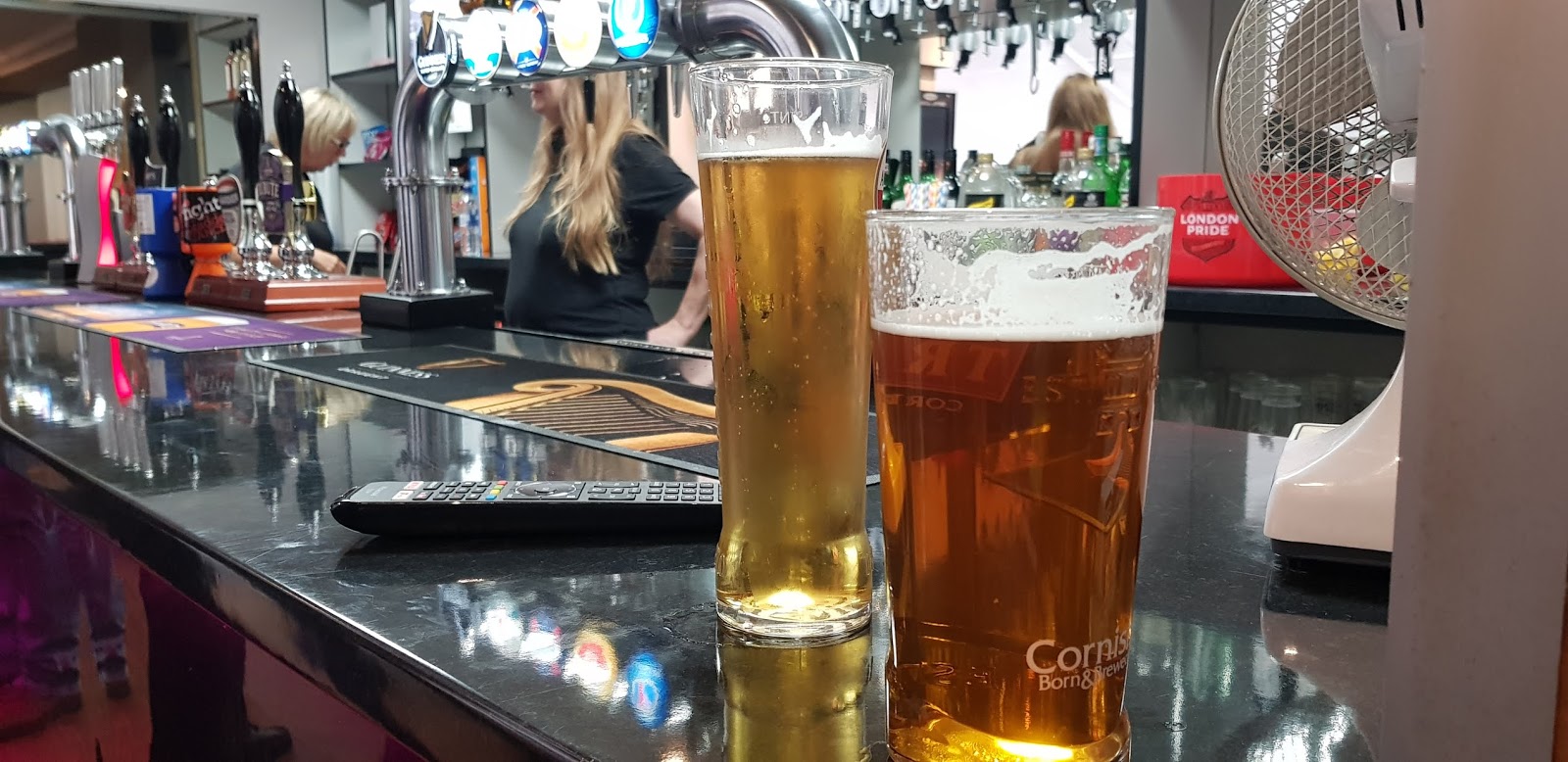 Refreshments
Following my slightly changed travel routine, the rest of the trip to GGL is as usual. Stop for cash, bit of Greggs and a Ribena and a walk down into the Republic. At GGL, I find Johnnie in his usual spot guarding the car park from non-permit holders. Here he fills me in on his little jaunt to Sofia for the England game during the week and let's just say the Bulgarian tourist board won't be coming to him for a reference any time soon. I bet he doesn't have a Trip Advisor account either. In the club, it's pretty quiet. There's only 2 tables for the pre-match knife and forker and the players bar out back is no busier. Luckily though, Mr X and Pete are at the bar, so a beer is soon forthcoming and not from my own pocket money, which is nice. Well, I say forthcoming, it is once the man with no name has stopped fiddling with the fucking telly's to try and sort out Everton v West Ham for the sparse audience currently in situ.
Any worries that the crowd might be a complete bomb today due to everyone having to weigh up 17 sovs to get in are dispelled slightly as more and more people filter in. The COCs slowly appear, with our old mucker Spennymoor Pete wandering in with Keepo. "You must be fucking desperate for a game mate!" is the only greeting suitable. Still, he seems to like the magic of the cup so fair play to him. Although no one takes the time to explain the general lack of magic around here for a while now! Pre-match refreshments are fairly quiet by our standards, with the only moment of note being provided by Chancellor Oakes who brings us news of some awful warm up shooting from Kyel Reid and our problem neighbour's new greenhouse. We're guessing that we're not getting that ball back then?
Butler, Eastmond, Milsom, Matsuzaka, Goodliffe, Reid, Ajiboye, Davis, Bugiel, Beautyman, Wright SUBS: Dudsinzki, Barden, Bolawinra, Wyatt, Randall, Dundas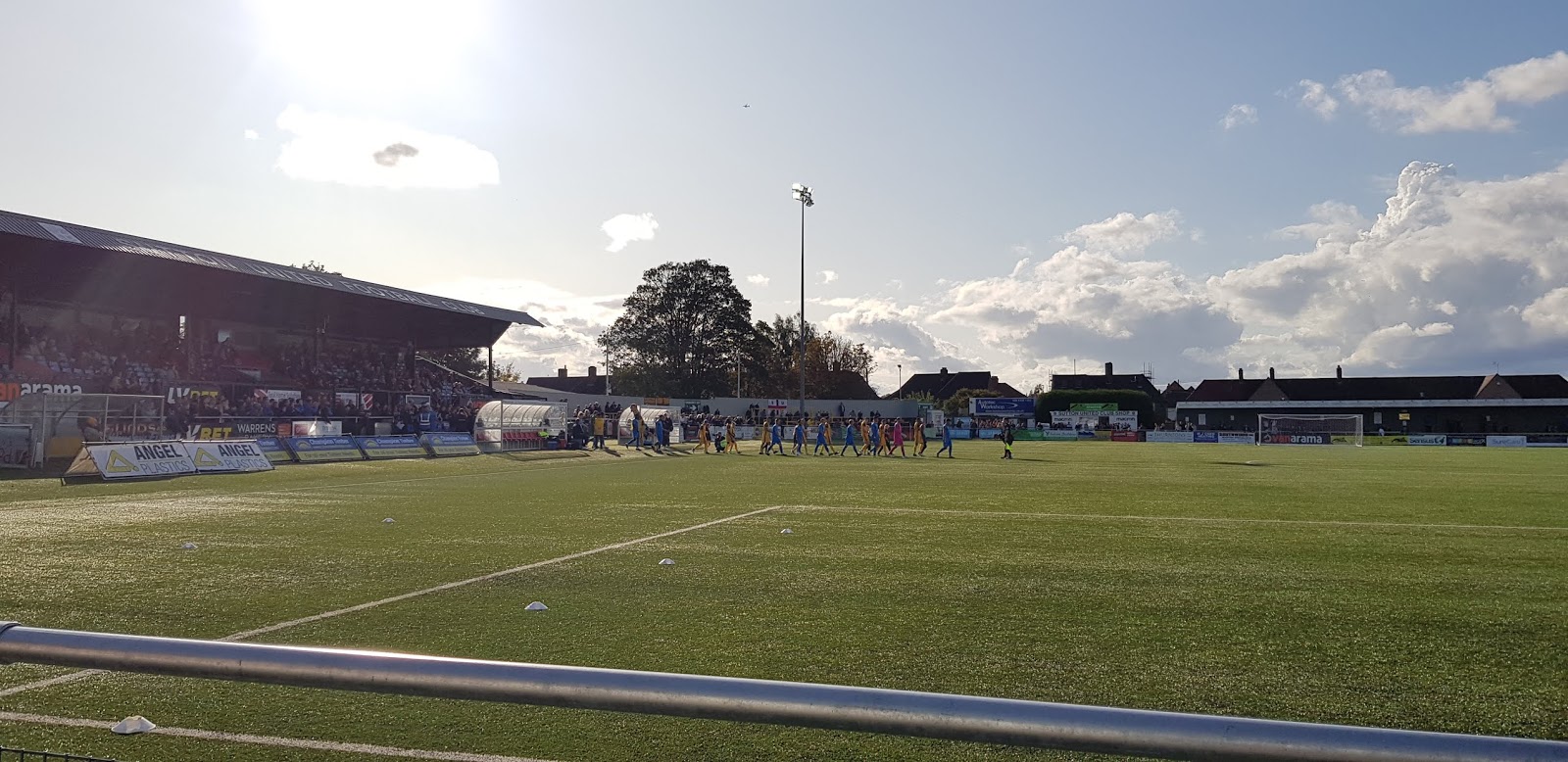 Here they come…
The big question today, other than "D'you reckon we'll actually score this week?" of course, was who would be replacing the sadly departed Dale Bennett who announced his retirement during the week, on the right side of defence. This is a big blow for an already creaking team and no mistake, as not only was Dale our PotY last season, he was a properly solid and reliable defender and it's a shame to lose him. Good luck fella and thanks for your efforts.
With a home tie against lower ranked oppo in everyone's favourite Non-League soap opera, PT Barnum's Travelling Extravaganza Billericay, who themselves haven't been in great form even prior to their notorious ringmaster's latest flounce, we're hoping that we can get a half decent display in and get a much needed and morale boosting win today. And to be fair, with two up top, the lads do take the game to the oppo early doors. However, with nearly 10 minutes gone, I realise my decision to not have a pre-match piss after 4 pints was probably the wrong one and I take myself off to the khazi's behind the Shoebox to take care of business. As the door closes behind me, I remark aloud to myself "One missed goal coming up!". And as I point at the porcelain, I can hear from outside the raised voices of excitement as a promising attack builds, soon followed by the "YEAAAAAAAHHHHH!" sort of cheering noise you get when a goal is indeed scored. Fucking typical. All I can do is laugh really, mainly as if I didn't I'd probably cry and that's not a good look when stood in a piss smelling portakabin at a Non-League football ground whilst you have your hand on your genitals. So I return to the Shoebox to find out what the fuck just happened and to take my deserved plaudits for the piss assist.
Last Sutton United goal I saw by the way? Wrexham on 14th September. Fucks sake.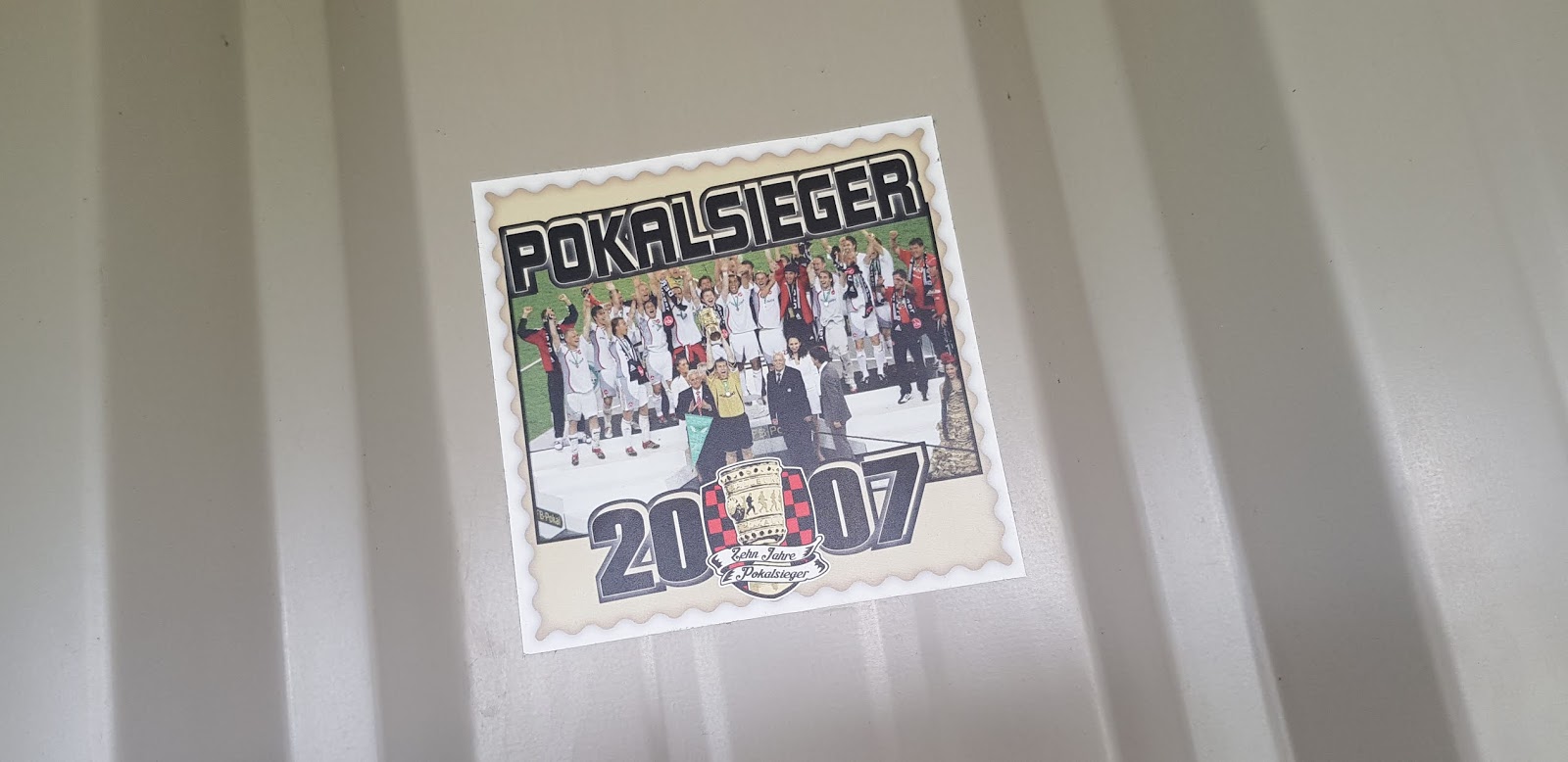 Stickers are getting more interesting around here at least!
Having taken an early lead, you'd hope we'd press home the advantage. Whilst the visitors aren't terrible, they're not really that good either with our midfield cutting out numerous passes and regularly winning possession. Sadly though, we don't really make the most of this and Julian in the Moscow State Circus 'Ricay goal deals with the better efforts from Reid and Beautyman. Before the break and the other lot remind us of the dangers of a single goal lead when Bulter fingertips a shot headed for the top corner and it grazes the woodwork. Other than that, the first half is mostly me repeatedly being called 'Dave' by all present, mainly due to a recently bizarre outbreak of people thinking this is my name, even when my actual name is clearly presented to them. It's quite strange given that I managed to go 44 years on this planet without this happening before and then after the Wealdstone programme bloke got it wrong at this point last season, it's suddenly become a 'thing'. Still, one nice bonus from it is that Mr X suddenly starts getting DanDave mixed up with regards to players names out on the pitch because of it.
At the break, we decamp to the Rec End to await the restart of festivities and are kept entertained by some retro sounds over the PA, the most noticeable being a particularly trippy effort from Phil Lynott that we can't recall the name of and takes some research via the Googles to identify. "You had to look that up?" crows an incredulous Magnum. To which being told "Fuck off, you're just old" is his reward.
When underway, the second 45 is again mostly bossed by us. Two or three decent chances are carved out, but all are either too close to the keeper or off target. The best of the bunch comes from a quick break stand side by Easty who switches it central and finds Reid in space, but his shot is well turned round the post by Julian between the sticks. Again Carson & Barnes 'Ricay remind us of that one goal margin with a free-kick from former tormentor Jordan Parkes pinging back off the angle of post and bar. We replace Bugiel after an hour with Jarvis and he himself has a couple of great chances, one off target and one an absolute fucking sitter from several yards out that he hits straight at the 'keeper after Tommy's got away down the right. After this though, with the little bloke tiring, we make another change. But sadly it's not the one people expect but rather the one we predicted a few minutes before as Barden comes on in place of the forward. Harry pushes up a bit more to support Jarvis, but we've effectively gone 1 up top with 10 to go at home and 1-0 up. And if you've been reading this shit for any length of time, you can probably could skip the next couple of paragraphs and still know how this pans out.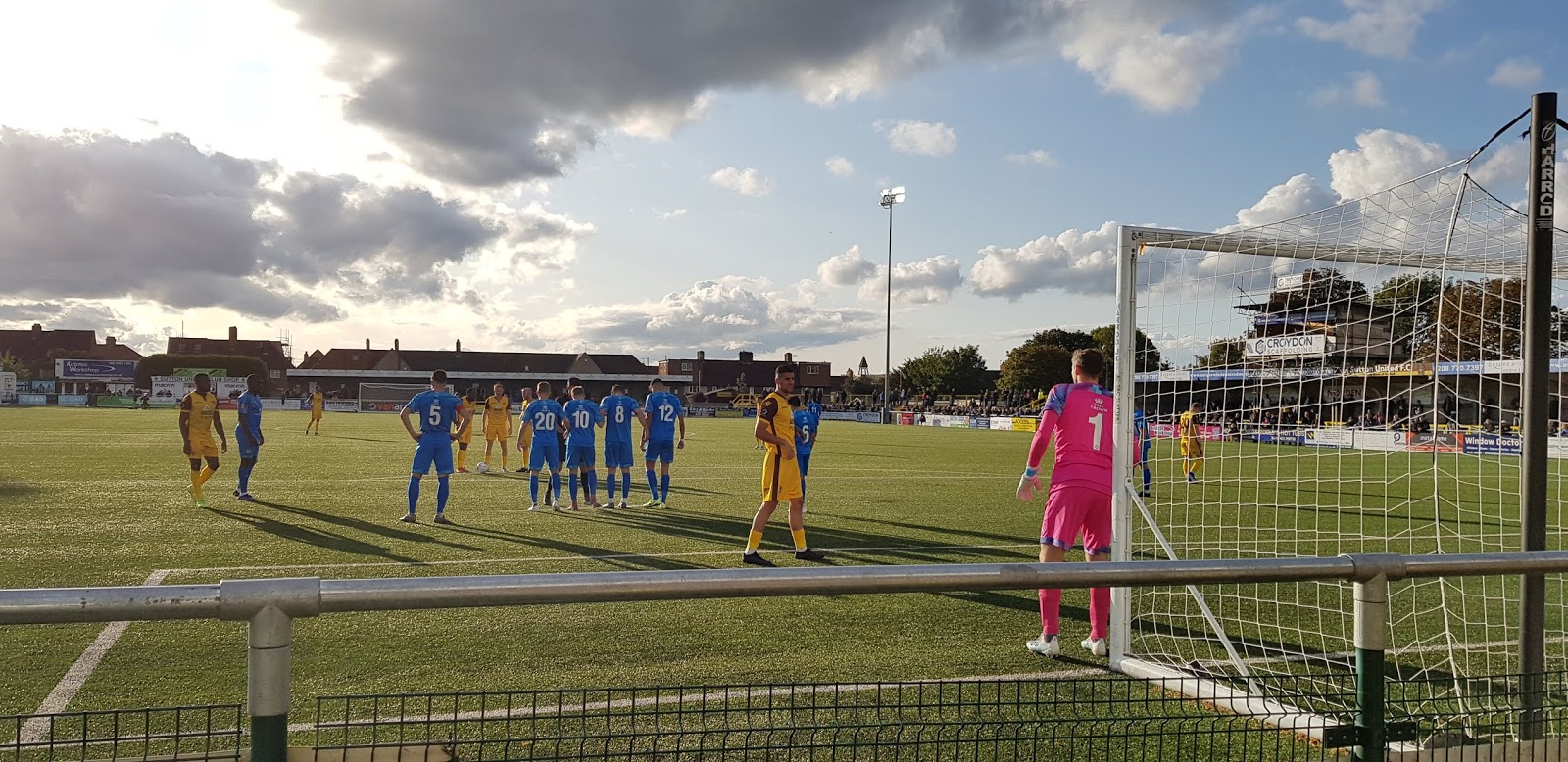 Into the wall it goes!
The change seems to spur on the visitors and they carve out a couple of decent chances as the last few mins ticks down. The best of them being a free header from a cross that their bloke plants well wide when hitting the target would surely have levelled things up. Our own efforts in an attacking sense largely dry up and we only create one more opportunity, with Harry skipping in behind but delaying his shot and allowing a defender to get back and toe it to the keeper. There's shouts for a back pass, but the so far lenient ref isn't interested and the visitors throw it forward one more time as Tombo stands stripped ready to come on with just injury time to go. A change you have to wonder what the point of is at this late stage.
Up field, another clumsy and customary Sutton United free-kick is given away to present the oppo one last chance to stick the ball into our fucking box. Of course, with it last gasp territory, their 'keeper lopes forward to join the bodies in the box and…oh for fucks sake, do I really have to spell this shit out for you? Seriously? Oh if you insist.
The free kick is swung in and said keeper outjumps both our centre backs to glance a header beyond Butler and into the far corner of the net. His own celebration sums up the goal as he frankly can't believe what he's just done and barely gets 5 yards before disappearing under a pile of his team mates. Well, we're sure the world will thoroughly enjoy it's latest fucking viral footballing LOLZ! comedy clip courtesy of Sutton United FC. Jesus wept. At this point, I feel that fucking off to the bar is the best course of action and I don't even wait for the final whistle of the latest footballing kick in the bollocks from the wonderful calendar year that has been 2019. To make matters worse, we hear the Bobbins have knocked out Daggers down the road. What absolute joy.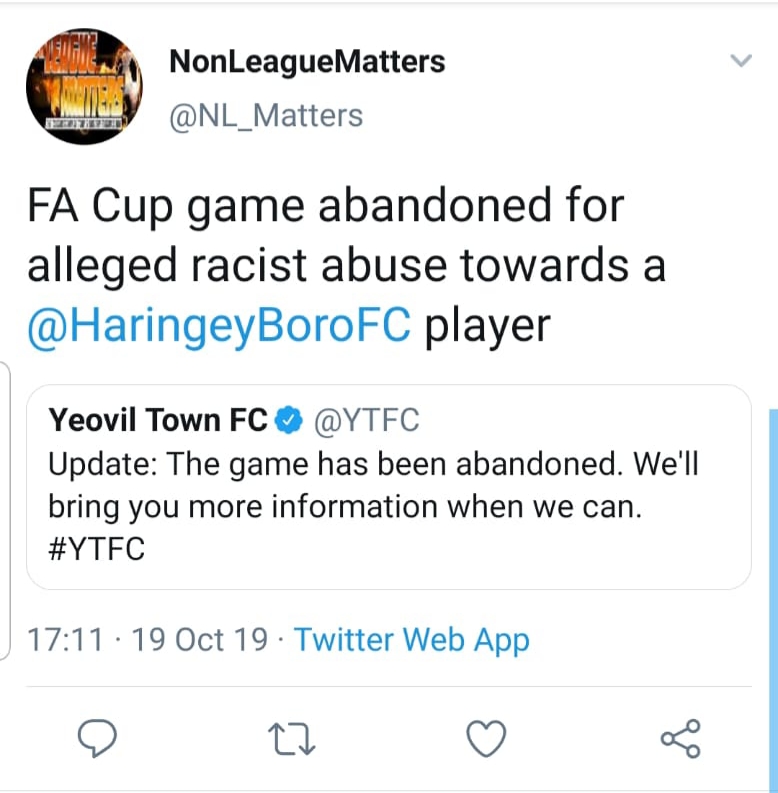 Lost for words.
Naturally, the bar is awash with miserable boats afterwards, but as Burgers points out at least after a shit result like that it's at least easier to get to the bar post-match. We take in a couple of beers to try & blot out the latest episode of nonsense we've just witnessed and in the mix are a few away fans. One of which tries to be funny by taking the piss out of one of those paper clapper things that are still doing the rounds at our gaff, naturally a couple of ours aren't in the mood for funny cunts and matey ends up taking all of the offence when he's told he's a plastic. He seems to think that having been to ours once in the Trophy makes him some sort of dyed in the wool hero whilst talking to people who've been to New Lodge probably 20+ times each. Hey, you started it sunshine. What is it with people these days that simply can't contain themselves in oppo bars anyways? How hard is it to stand there, have a pint, enjoy the result and not upset the locals? I mean, we've never done it. Ever. And we're fucking idiots. So….?
He annoys me so much that having considered giving it bollocks for the replay, I'll instead be making the effort to be stood in his bar smiling with a pint that evening. You're welcome pal. Although having said that, it might not be his bar we're in as there's rumours that due to a burst pipe at New Lodge, the pitch is a bit banjaxed and we might have to switch to Aveley instead. Which is great for those of the mob who've not crossed that one off their lists, unlike myself and Dr Bell who did it on the CONIFA World Cup last summer. There's also disheartening news of the abandonment of the Haringey v Yeovil tie, where it seems the hosts have walked off after a couple of their players were racially abused by person or persons in the away end. Fucking disgraceful if so and I hope said parties are identified, rather than there being the usual mass 'I heard nuffink!" from those present who'd rather harbour pricks like this in case they're labelled a grass or some load of bollocks. Point 'em out, fuck 'em off please. No fucking place for that at any level of the game quite frankly.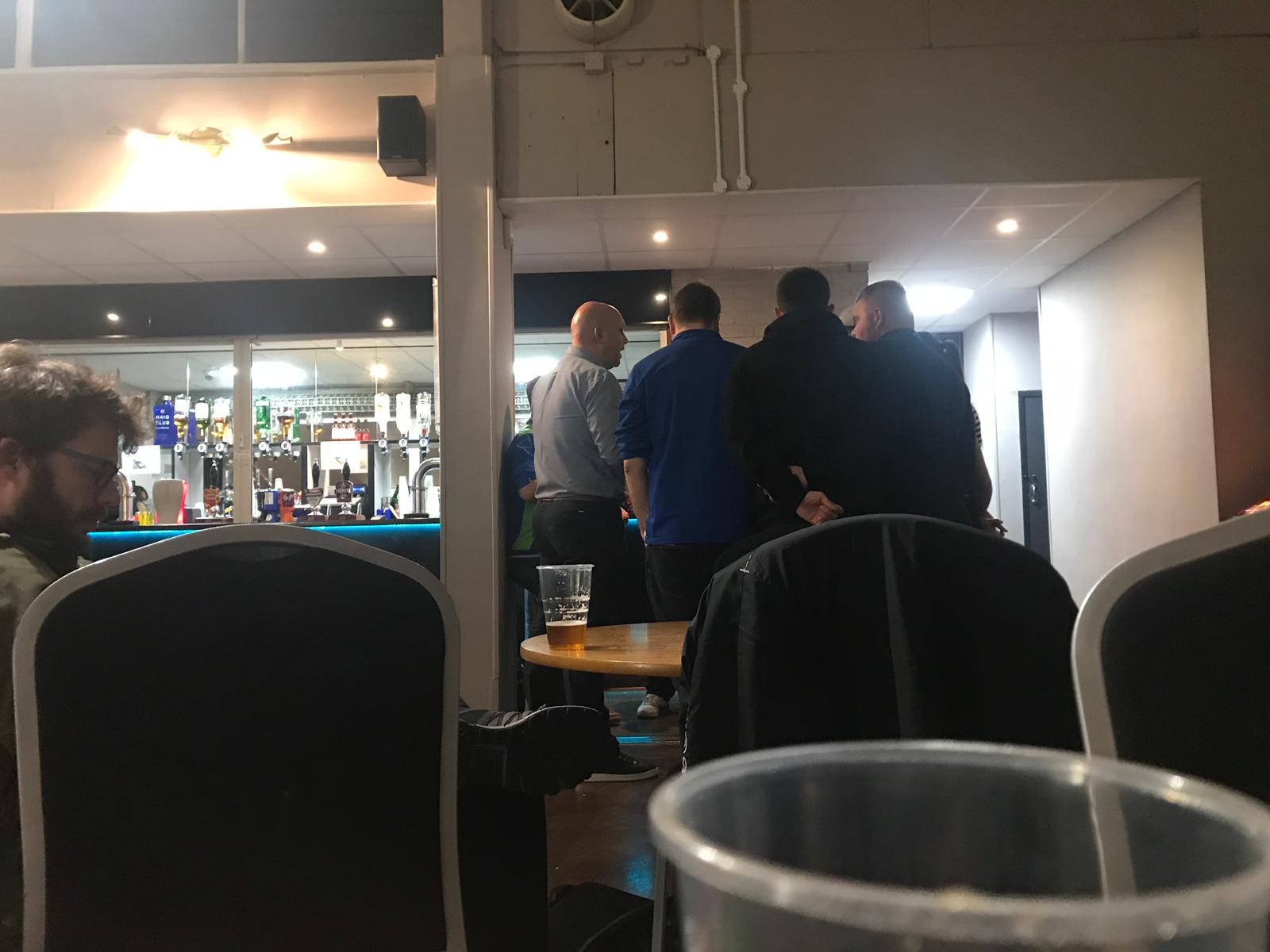 Conflab…
The bar empties out, we carry on drinking and just as I'm contemplating heading for my usual 19.10 train home, I see it's been canned and instead decide to get another pint in. The hopes of enjoying this bonus beverage however are slightly undermined by the efforts of Dr Bell, who whilst taking a piss, has engaged with our manager and having informed him of the post match grumbles he's seemingly keen to discuss today and our issues in general.
To be fair, Matt puts his points across and listens to what some of the gathered persons have to say. And he's right that he can't put the ball in the net for the forwards, they're largely the forwards he signed. And I'm not sure him expecting us to remember forensic details of games after the sort of pre-match intake we indulge in helps. Still, at least the bloke fronted up and you can't say fairer than that. Just gotta keep plugging away I guess.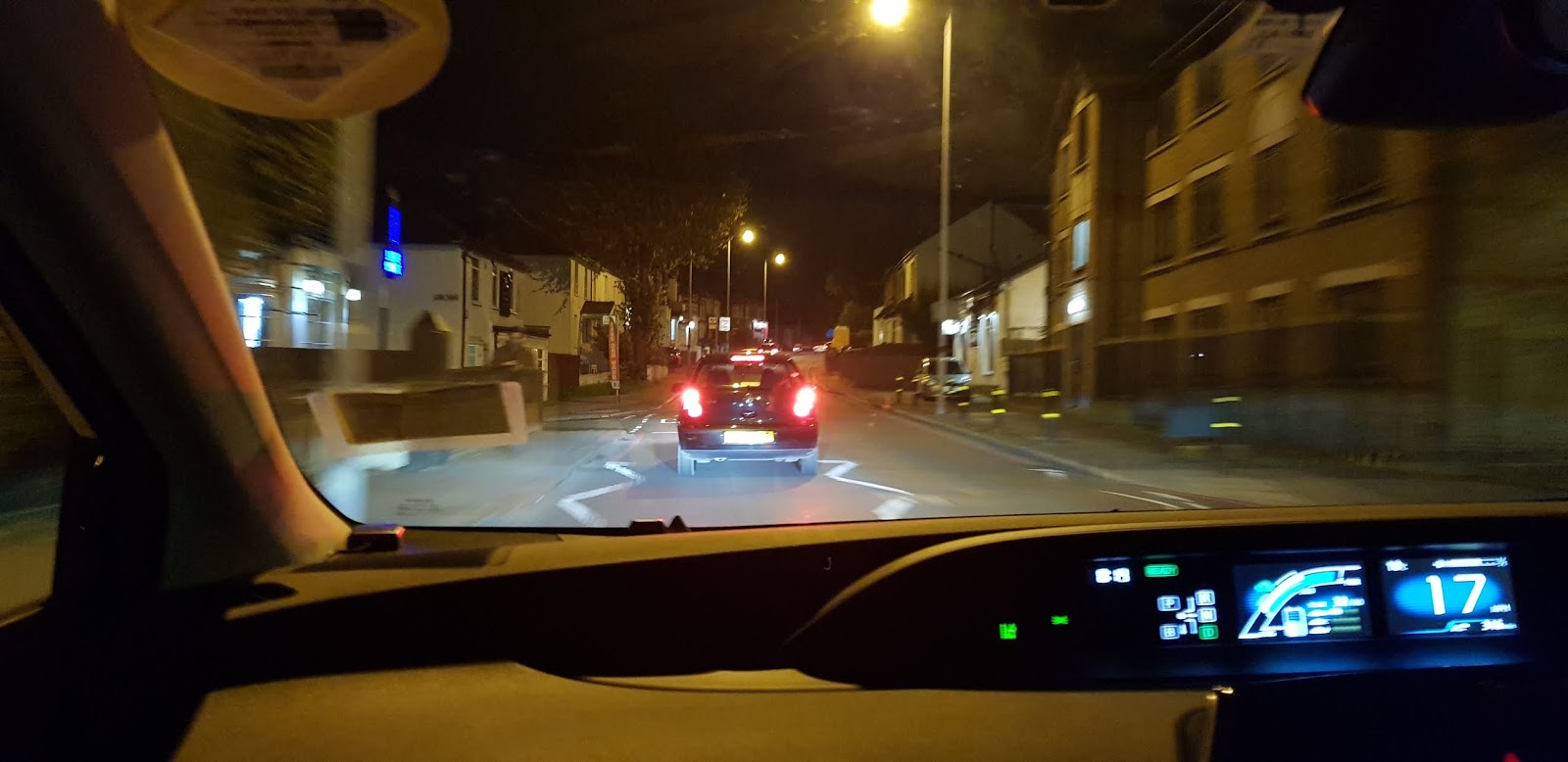 Going shopping!
With this impromptu post mortem done, I decide to head for home via Uber with the trains still screwy. I quickly assist Keepo in selecting some tunes for the jukebox and having said my goodbyes, head out to get my cab home via Carshalton High Street as the missus has requested that I obtain some supplies along the way. As I trundle east, I'm quizzed on the super top secret, VIP, members only Whatsapp jobby by the Popworld crew of Ossie and Nat about the musical contribution I've left behind and that is currently playing in the bar. I mean, who doesn't like a bit of ZZ Top for fucks sake! Gimme all your lovin'? That's practically a bloody love song innit! I blame Robbo personally, his shit music taste has emboldened others with similar rubbish influences and now those of us with some taste are having to put up with this two bob pop backlash.
Right, now where's that shopping list again? Ah yes, two loaves, veg, bananas, some almond milk and not replacing a forward with a midfielder with 10 to go at home. Hmmm, bet they're bang out of the fucking almond milk, be just my luck.
Taz