So, Euston train station, we did have a problem didn't we. A rather big problem when you think about it. As blog titles go, it's a bit obvious, but otherwise it might have been something random like "It's a Skip!". But more on that one later. It was Sod's Law that it was another North West trip that was cut short early. And like the previous episode, we instead ended right up on the piss and watching another two teams battle it out in a division we care little for and know even less about. But, as the Gandermonium rules state: "No match, no blog", so shall we kick this one off then?
It's five o'clock on a crisp Saturday morning and like a few other Sutton fans, I'm already up and ready for another long trip 'Oop North'. But possibly unlike most Amber & Chocolate fans, I'm currently helping my Old Man unload a sofa out of the back of his Tranny. Why you ask? Well, I offered to help him with this task the previous night but in his own words: "Fuck that, I'm going down the pub. We'll do it before you leave for Blackpool". Yeah, kinda forgot to tell him that I was leaving before quarter to six. Sorry Old Man. Sorry.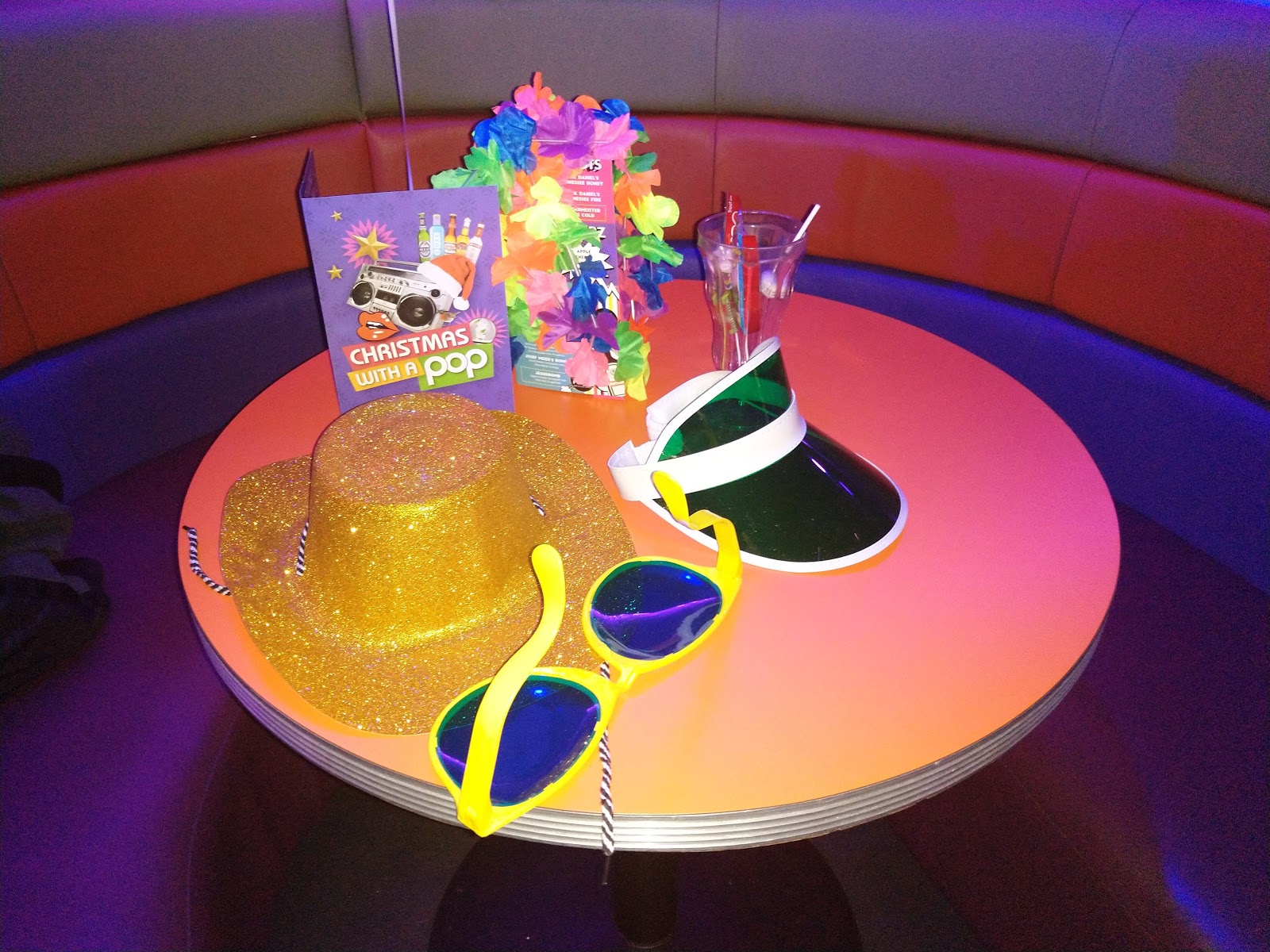 It's a Skip, or not…
The first mode of transport needed for this journey is a red London bus and as luck would have it, there's a bus stop right at the end of my road. Happy days. With a sort military precision not seen since the Falklands, I leave my house a full minute before the 80 bus is spotted in the distance. At the very next stop is the venerable Firm Leader who has a spring in his step not seen since he arrived late & hungover at Mr Denton's Business Studies class. Obviously like the cool kids we're situated at the back of the empty bus. Being dumped at Morden station, it's onto the Underground up into town. A very quick change at Stockwell as you literally cross the platform and then it's up to our departure point of Euston. The time at this point was twenty-five to seven. A mere fifty one minutes from leaving my door in the Badlands of Carshalton to where I needed to be. Not bad at all that.
With it being so fuckin' early, this meant that hardly anywhere was open for a quick spot of early morning grub. Even the cafe near the strip club wasn't even open. The Firm Leader had headed to Sainsbury's for bacon, and yes of course there was no bacon to be had. He'd have to make do with a sausage bap instead. Mr X soon arrives and begins to regale us with a tale of his visit to the nearby toilet. "There was a man dressed as a Ninja in there fighting himself". Now either that's a strange euphemism, even for us and I at least hope at least the man wasn't in the cubicle with him. Taz would soon appear around a corner after a quick stop off at The Golden Arches, and judging by the smell emanating from his arse, it was a poor decision on our behalf. Magnum P.I. is next, and this is soon followed with a story about his overnight stay in Kings Cross and his encounter with a possible prostitute. Apparently they're a lot more prettier than he remembers from back in the day, which I guess is another aspect of gentrification no one ever considers. The quality of the brasses. Pete the Perv is located on the way to the platform and that's the party completed that are taking the choo-choo. On to Blackpool lads!
For those of you playing "book a table bingo" this week, we didn't have a table once again. But by the time the 07:07 train departs, there are plenty of spaces to spread out and even a free table is grabbed. But by this point, I was comfortable enough in my own little corner to face plant on the window and let the dribble trickle down my chin. Next thing I know it's daylight and the green fields of England are flashing past. Hello to Weedon Bec, wherever the fuck that may be. Due to the early start, it's been a very quiet trip for us as we roll into Liverpool Lime Street. A quick tobacco break is just what no doctor has ordered for many a year and we're soon on the platform for the next leg of our journey. There was some flooding in local area the previous night that at one point was a cause for concern. But in fact, the weather was better up here than back home.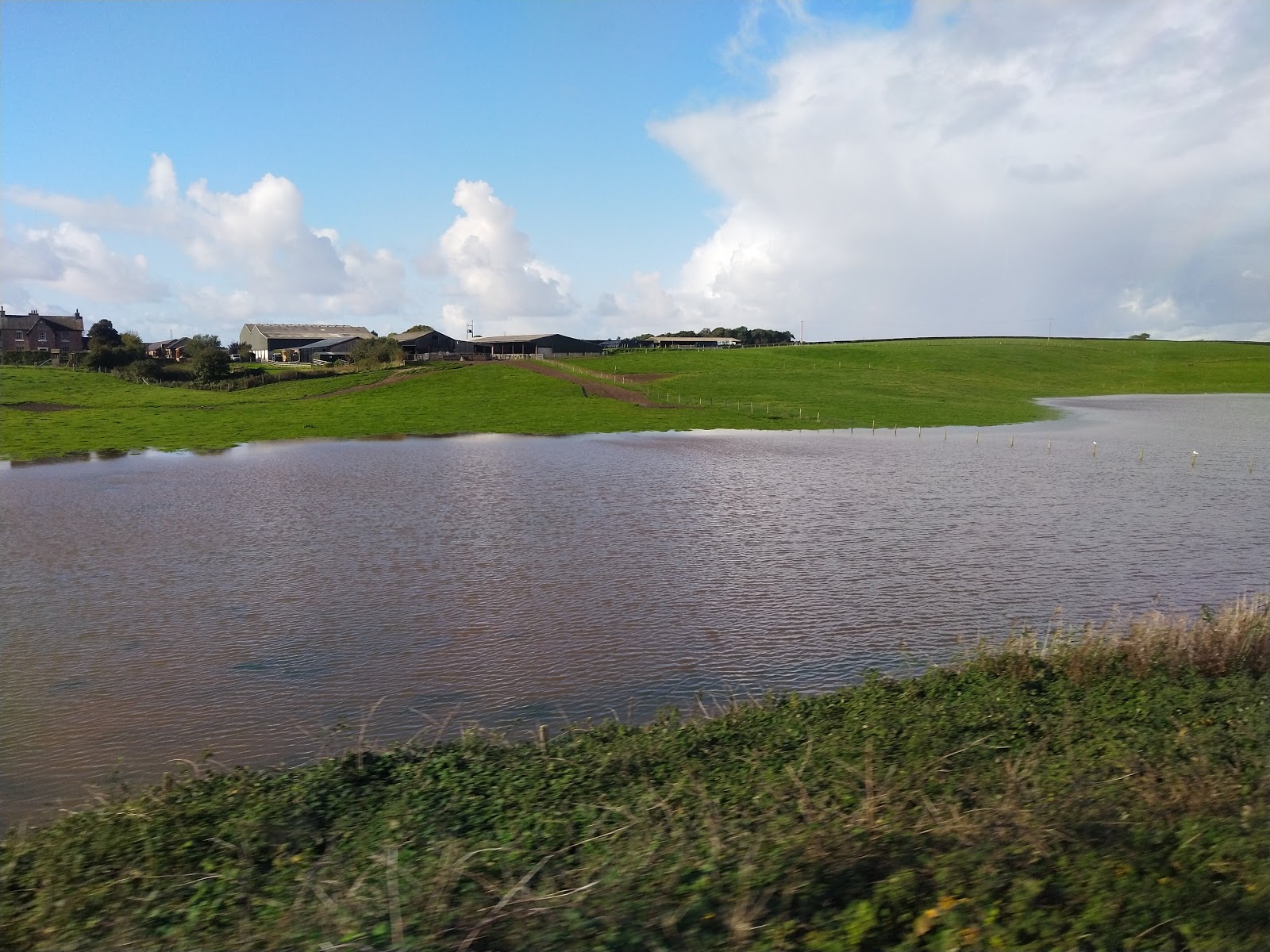 A bit wet around these parts…
The problem was that we were on the wrong platform as some young lad on the YTS decides to change the platform number as our train was running late. So much so that they decide to cancel the first two stops to make up the time. So no delay repay for us then. Our rattler finally arrives, albeit later than expected, and we join the masses on the three carriages. Pete takes charge of finding seats for us weary travellers and in true Gandermonium fashion, elects to sit by the toilet. Except there is only four seats for the six of us. Cheers fella. Being next to the toilet meant that we also got to see all manner of people coming and going. And I wonder if Magnum P.I. was caught staring too long at one young lady as she tried to work the door controls inside. Hmmm…
Whilst on this train, news begins to filter through to us that the trains are now in a spot of bother back at Euston. Apparently a jumper near Milton Keynes has caused the line to shut completely and nothing is leaving the big smoke at the moment. Oh great ball of bollocks. It also soon dawns on us that our own team are still there! A few phone calls later and we're made aware that now our game is very much in doubt as it's looking like nothing will be moving for a while. And it's not only us in schtuck as Bromley (away at Solihull) and whatever the Daggers are called these days (at Stockport) are keeping our lads company. And also Dover (at Barrow) who got out a bit earlier are stuck somewhere on the line.
For the early risers, we pull into Blackpool North station a couple of minutes later than planned. Right Mr X, lead us to the hotel! Wait, don't go that way. And that's not the way either fella. For fucks sake! Eventually we give up on Mr X's very suspect orienteering skills and use our knowledge of previous visits to these parts to point us in the general direction. Soon enough we spot The Dukeries nestled next to the Winter Gardens, the scene of our first visit up here. Not too far away from that great sounding hotel is last year's digs, the Beechfield Hotel is in all its bright green splendour. A few doors down from that is our base of operations on this occasion, The Lynton.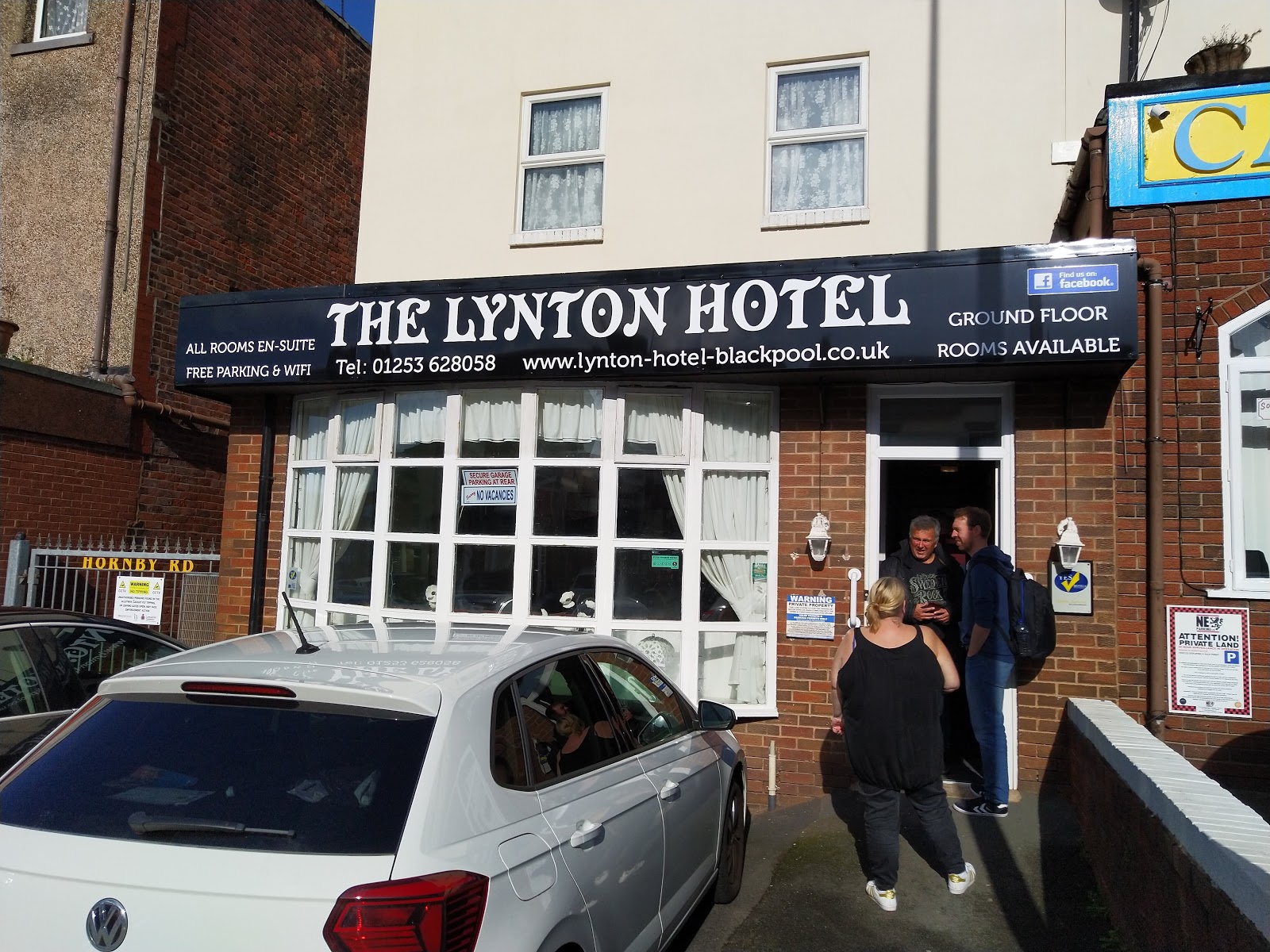 Gandermonium HQ (Blackpool Branch).
Outside already is the dangerous duo of Ozzie & Snowey who had travelled up here by car. A bit of a wait followed as we tried to gain entry before the landlady eventually lets us in. Everyone except Snowey who stayed in the car, don't worry though a window was left cracked open for her, whilst the landlady started the laborious checking in procedure. It's wasn't the old girl's fault but she was clearly struggling with modern technology, even at one point she asked for Mr X to put his credit card into the top of her phone instead of the card reader. Once everything had been finally sorted and we've given our breakfast order for tomorrow (what do you mean you don't do Black Pudding?) she then shows us to our rooms. A bit basic, but that's all we'll need when we stumble in at crack of house sparra fart. Bags are dropped and we're ready to head off for a few pints. Finally! Just before we leave, I make the rather sensible suggestion to Taz that as the Dangerous Duo will be driving later on to Flid, it might be easier for us if they take the Gandermonium flag with them to save him lugging it about all day. Once he'd got over the shock of me being helpful, he warmed to the suggestion. "Great idea Dukey, I might just do that!". You're welcome son, you're welcome.
Right. Let's have a fuckin' pint! The first pub of the day is "The Brew Room", which is all decked out in the upcoming Halloween garb. First to the bar and I manage to order up myself a Date Rape Daybreak cider that went down a treat. Taking up some seats in a bay we settle down to try and work how the team could possibly make it to Flid and how long they could feasibly delay the kick off for should they manage it. Memories are cast back to one particular match a few years back with a midweek match at Kettering that didn't kick off until half nine after the team got stuck in traffic. Another school of thought was that if the match were to fall foul of train bollocks, then there were other options that did exist. Well two actually. Either it was going to be Squires Gate Vs Northwich or Blackpool Vs Rotherham. But as it's Non-League day and we watch that stuff all the time, the feeling is we should probably see what that League One is all about.
Our worst fears are met a little while alter when it's announced that the match has indeed been called off. Moments later and the Stockport vs Daggers game is also unsurprisingly given the elbow. Bromley would mange to make it to Birmingham on the first train out of Euston and get their game on with only a quarter of an hour delay in the proceedings. Dover fans would need to wait until two o'clock until they were given the bad news. And apparently some Barrow officials were not too pleased with that decision if various accusations on the inter-web thingy is to be believed. Sutton were also not to escape the bollocks that floats around on that front with various idiots spouting more pie in the sky, made up, wishy-washy, poorly thought out, idiotic, retarded shit than a Liberal Democratic Conference. Even the Flid PA bloke got in on the action and then later deleted the offensive tweet, but we'll save that for another day.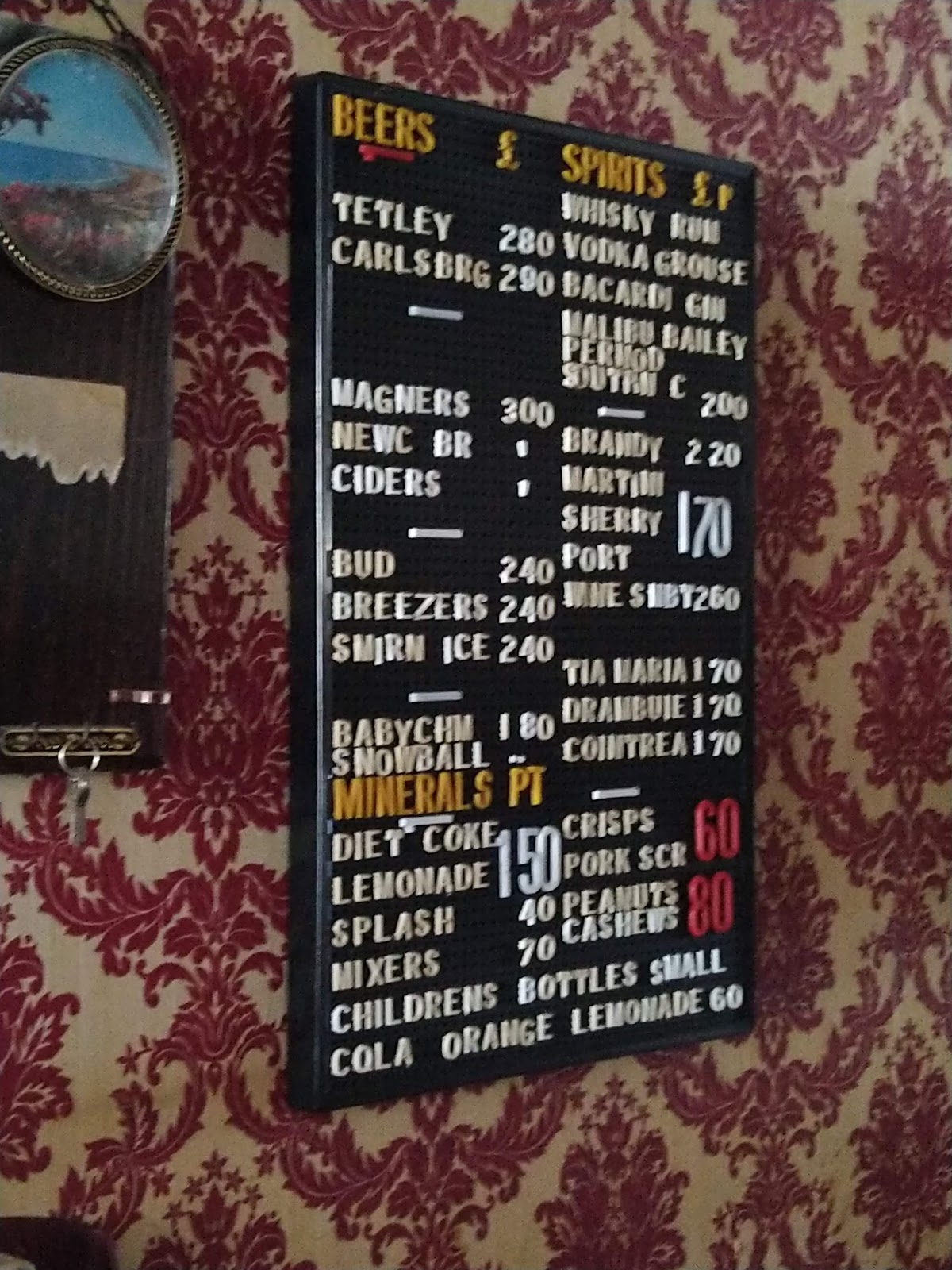 Old Skool…
We eventually decide that the Blackpool game would definitely do a few of us and elect to stay in this pub and sink a few beers while ordering up a spot of lunch. A quick butchers of the menu highlighted that they were doing whole foot long hot dogs for less than fiver. Bit of that then for us. Except it wasn't going to be our day as after sending Magnum P.I. up to order the food, he comes back dejected as they appear to have only one hot dog left! The Firm Leader was given the last remaining dog mainly as he'd ordered first and it meant we could make loads of jokes regarding 'pork smokers' and getting 12 inches in him. Our predicament is made even worse when instead we ordered some sandwiches, and were told that there isn't any bread left either! It seems the usual Saturday morning delivery of grub hadn't been made.
The only other options left for us is pizza and nachos. Magnum would plump for the nachos, and by judging by the state of his face & hands when the bowl was empty, he enjoyed them very much. The other four of us went for the pizzas. This gave another problem as apparently they could only cook two pizzas at one time and there was already a queue. They did eventually arrive intermittently and were very filing. So much so that I was still tasting the fucker after the match had finished. By now the time was fast approaching two o'clock, and we'd only just finished when it was time to leave for some local football. Walking back past the hotel we picked up Snowey and dropped off The Firm Leader for his afternoon nap and headed in the direction of Bloomfield Road. Joining the ranks of people wearing Tangerine, we hunt out the ticket office and some tickets. £20 for a Division Three League One match? A quid cheaper than going to Boring Wood! And two cheaper than fuckin' Barnet!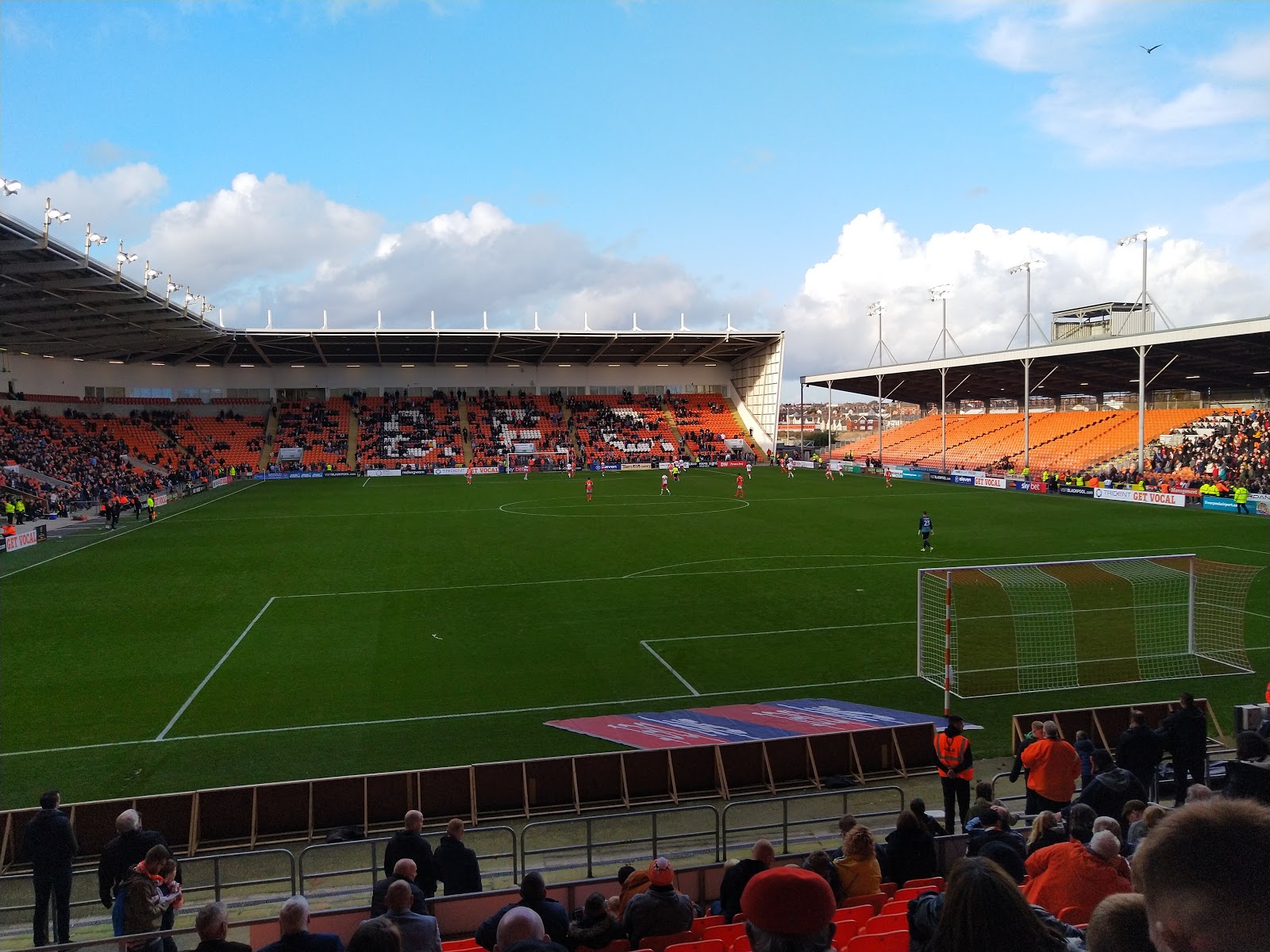 Bloomfield Road…
To gain access to the ground, we show our tickets to a steward before using those modern electronic turnstiles that our Chairman Totts would despise. Surprisingly for us we're not thoroughly frisked like we were only last Tuesday against Solihull. Our seats, and I hate sitting down, are located behind one of the goals and the stadium appears to be about half full. The away fans are to our right as they occupy half of the East Stand. There must've been nearly two thousand of them that have made the trip. Yeah, I was jealous of that sort of away support.
Not having a clue how both teams play and with no interest in either fortunes, I can settle back and take it all in. For me, it was Blackpool that were making all the running. After settling down into a rhythm, there were to force three consecutive corners and yet fail to trouble the visiting keeper. Shockingly, Blackpool and Rotherham like to leave a man up the field when defending a corner. Bloody don't get that at Sutton! One Blackpool chance had the ball cross low into the box that seemed to ricochet off several Rotherham players before falling to the feet of a Blackpool man who only had the keeper to beat from inside the six yard box. Except he aimed high and it came off the bar to plenty of moaning from the home fans around us.
The far end of the ground is were the more vocal of the home support is situated. There is the standard group of youngsters with a drum singing the usual youngster songs. A bit strange to have most of the ground including away support singing "Everywhere we go..". I really can't stand the song myself and it sounds shit when you're at home. Another strange song was the constant use of "Sea-side, sea-side, sea-side". That must be a coastal club thing. The first half would end goalless. Something we're used to with Sutton these days.

Lancaster Panorama…
For the second half, Blackpool continued to apply the pressure. But it was Rotherham who nicked the lead in true smash & grab fashion. It was an in swinging free kick that fell at the far post. It's knocked across the box and sent flying into the back of the net. The away support goes wild and there is a deathly silence from the rest of the ground. If that was Sutton conceding, it would've been game over for the team. Most of the second half had Blackpool try to grab the equaliser and they weren't short of chances as there was not only some last ditch blocking, hitting the woodwork & cynical yellow cards but they even had the ball in the back of the net only for it to be disallowed for a foul on the keeper.
The final minutes of the match would descend into frustrations, elation & total shit-housery. Not only did we have two goals and eight minutes of injury time (A Rotherham player had gone down midway through the half and need treatment after landing heavily), but we also had six yellow cards and some crazy away support antics. One we liked in particularl was one middle age away traveller who did his best to not give the ball back to the Blackpool player trying to take a throw in.
Even their second goal with a few to go would create, what the kids like to say, 'scenes' as several fans entered the pitch. And there is always one fella that slips over as he does it ending with him getting nicked. In the final moments Blackpool would get the goal they wanted with a penalty shout that was so blatant, there was no complaints. The ball is sent into the back of the net and then the Rotherham keeper smashes the ball so hard, it nearly cleared the stand. Obviously another yellow there. but it was not to be for Blackpool and the ref soon after blows the final whistle and Rotherham have their three points.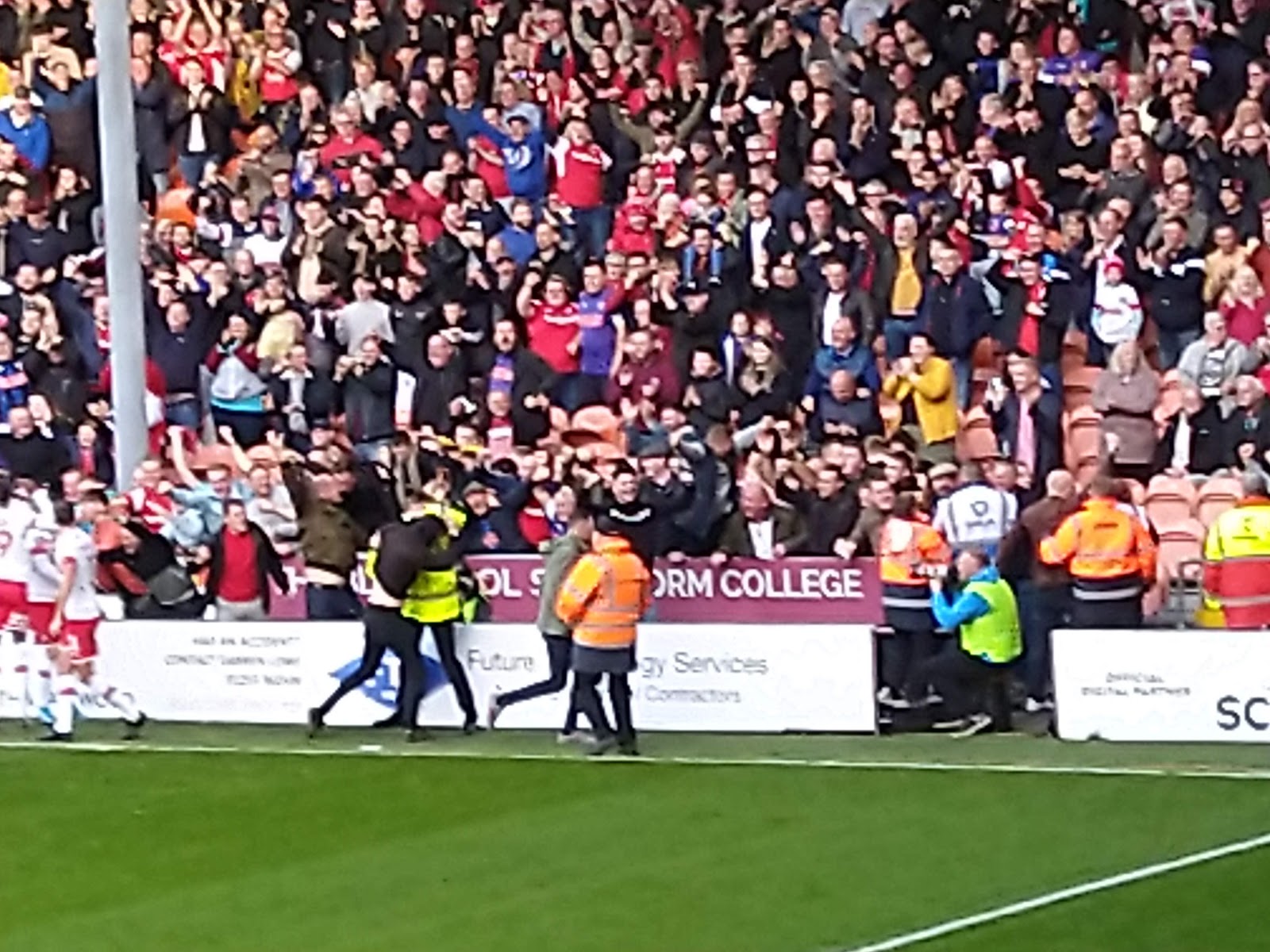 Excited away support…
After the match, we head back into town for a pint. We catch up with those that didn't go to the football as they are having a drink in the local Yates. In what seemed like a lifetime to get served, we end up outside at the back, but on the front. Next to us is "Shenanigan's", the scene of some scandalous bopping from Totts and Dirty Barry a couple of years back and plenty of pretty drunk people. Including one piece of Mutton who was trying to climb the scaffolding outside to leave a venue, only to nearly fall over the railing and show half of us what she had for breakfast. Blackpool is definitely a unique place and especially on the front as it's yet six o'clock and there's loads of fucked people about. Several Hen & Stag's walk past us in all manner of states. One hen party of a more 'mature' nature walks past with various nicknames on the back of their matching t-shirts. 'Saucy Sue' and 'Karma Sutra Kelly' are a couple. But the award for the best one must fall on 'Emma-Royds'. That made us laugh. Bet she had her pick of Blackpool's eligible geezers later that night.
Wanting to find somewhere a little quieter and nearer the hotel so we could change, we decide to head back toward "The Brew Room". Except we end up in a place opposite called the "Frenchman's Cove". Another bar that was doing karaoke (which Taz hates) and a version of play your cards right where you could win a gallon of beer. There was also a portable gas heater near the bar. Shame there were only a handful of people in, none really interested. We sink a few pints before its back to the hotel to change. A splash of God's Own Juice aka Brut later, and we're off again. Our plan for tonight is to head to Popworld, but as it didn't open until ten o'clock, some of us head out to find a pub before. "The Edward VI" is found not too far away and we have a few jars in here. Mr X would order up a couple of bags of Pork Scratchings that got the undivided attention of the pub dog and there was a geezer in here who was the drunkest we'd yet seen today, which was fuckin' going some. By the time it reaches ten, were already being asked where we are and why we weren't in Popworld yet. So it's time to head there.
Inside Popworld there is plenty of drinks consumed from Jägerbombs and Skittlebombs to Woo-Woo cocktails and to something disgusting called 'The Godfather' that contained Coke Zero. Fuckin' awful stuff. We also bump into members of the B-Team that had also made the wasted journey and were out for one or two drinks. Their journey is stressful enough considering that they'd had a blow out on the way up and had to detour to Manchester to find a Kwik-Fit to get it sorted. As we've nagged a VIP booth we also get access to a selection of random sweets, Hawaiian-style flower beads and some hats. And I mean hats as we had cowboy versions and croupier ones as well. Except that Mr X is convinced that they have their own name. "It's called a Skip!" he reckons, but I couldn't see nothing on the internet. But he was pretty pissed convinced.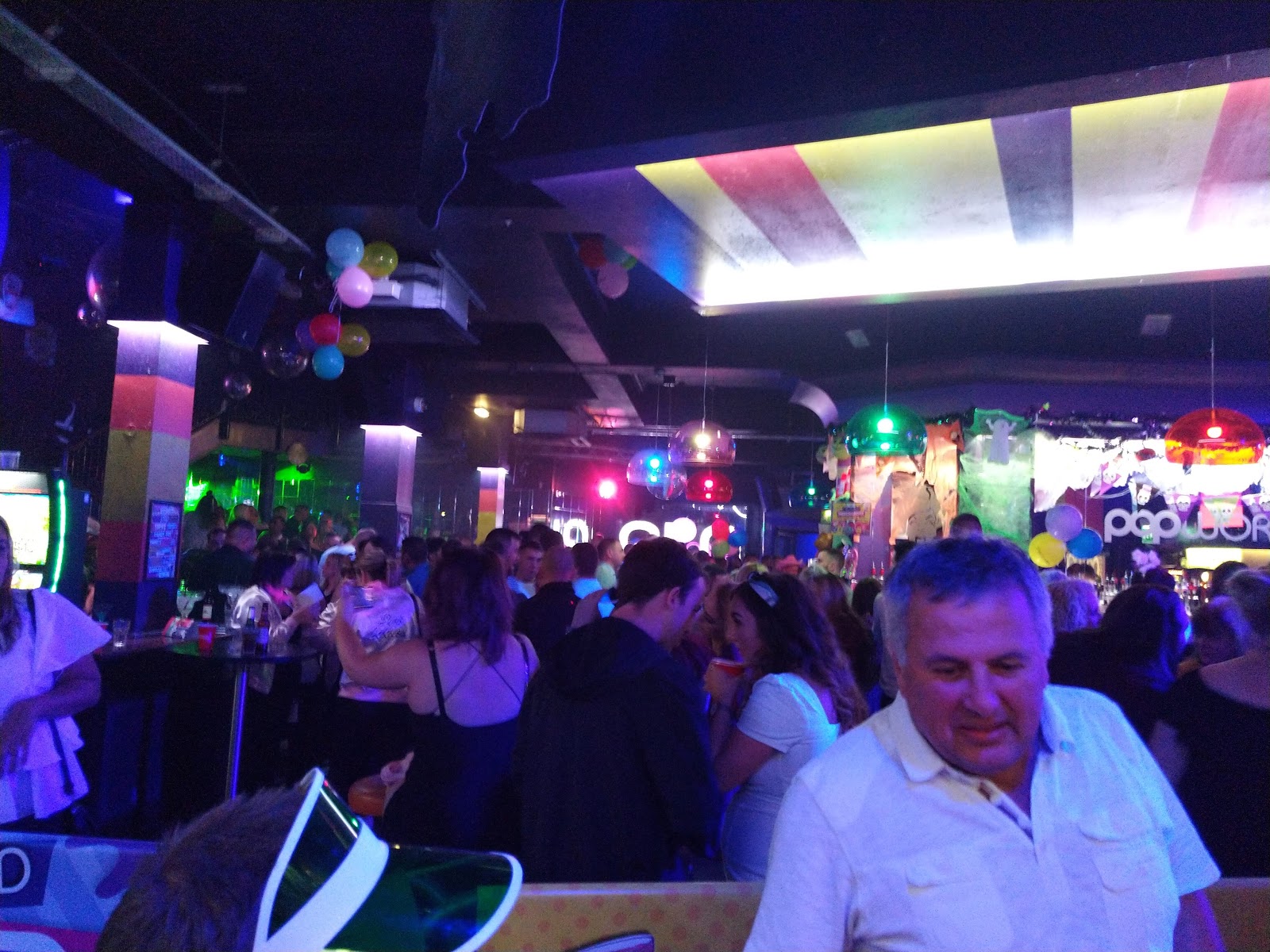 Living it up large…
Plenty of drink is consumed as the night becomes a bit of a blur and eventually a couple of us decide to call it a night around two in the morning. Outside opposite Popworld is The Godfather kebab shop that done a portion of doner meat for £2.60. Average at best but it did the job. Once again the chilli sauce that came with it was a joke. What has happened to Chilli sauce these days? They seem to have become some sort of bottled acidic shit that's lost all its taste. By the time we get back to the hotel, it's gone past two o'clock. Talk about a fuckin' long day. I manage to find my room and am on the phone before crashing when I hear the last lot of us make it back in.
Morning arrives far too quickly for my fuckin' liking, but we need to have breakfast sharply at nine o'clock before getting the 1020hrs train to Preston. Heading into the can, I use the fine porcelain for what nature intended. Whilst there doing what Taz would call "playing Angry Birds" I'm convinced that I can hear the faint sounds of some woman being sick. Blimey, these walls are a bit thin. Following this it also takes me a few minutes to work out how the shower works. And I wasn't the only one as in Pete's & Taz's room, you needed to run the hot tap on the sink for the shower to work as well. But at least we had a door on our khazis, unlike others. There were a few who had as a replacement some of them beads straight out of a 1970s Ford Cortina.
At the back of the hotel is the breakfast area where Mr X & Magnum P.I are already seated. Here Magnum would replay his story from the night before. Shortly after I'd left, he got chatting to a fella who wanted to know where his accent is from. Turns out that this fella was from Rotherham and was one Mr Slip Over who invaded the pitch earlier. After he was bundled out of the ground, he was chucked into a cell for five hours. Obviously not wanting to miss out on the night's action, he headed straight to Popworld once he's regained his freedom. His pain is not yet over as he has to return to Blackpool by the end of the month for an early appointment in court. Three year banning order coming up. And he only done it because his mates did it first apparently.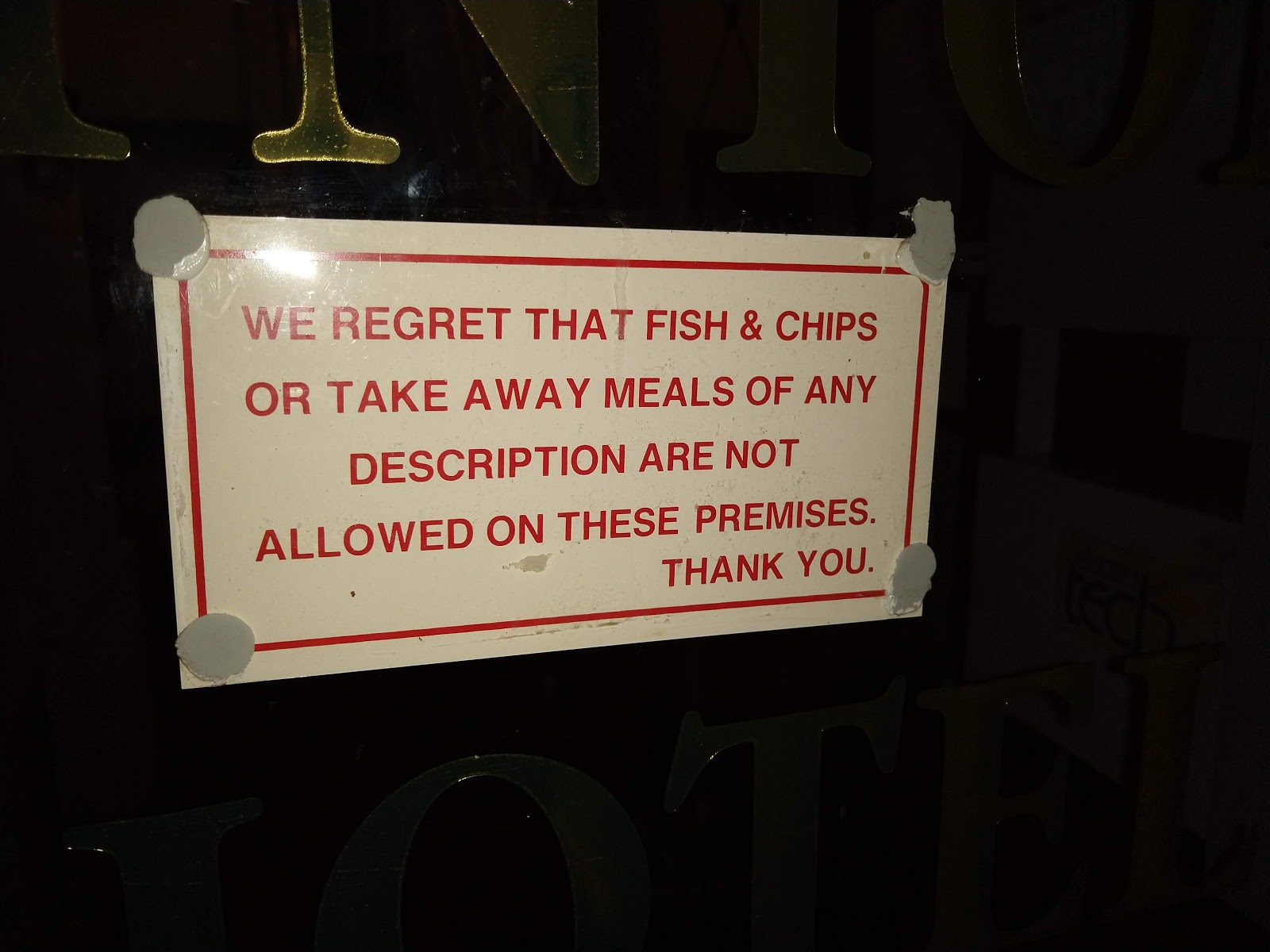 Gotta taste better than Chilli Sauce…
Due to giving our breakfast orders when we arrived yesterday, there is a glass of apple juice and a pot of tea already situated next to my room number on the table. The plate of food is very standard but it fills the hole I guess as the rest of the Firm start to trickle in. Back to the room to collect my bag before heading to the bar to leave my room key. Here we say goodbye to the Dangerous Duo who are driving back and head off towards the station. This time not following any directions from Mr X.
Situated next to the station is a large Sainsbury's and a couple of us head inside to grab a few bits to liven us up on the train. Except that after collecting a paper and a drink, we find that none of the tills are open and even the self-service areas is closed off. Asking someone that worked there why this was the case, he simply replied that the store didn't actually open until half ten and that this was currently something called 'browsing time'. Jesus man. Really? What do people do round here with hangovers??
With the stuff dumped straight back on the shelves, we head over to the station to find a massive queue inside as no one is allowed onto the platform for some strange reason. The train does finally pull in and the doors are opened. With it only being a three carriage affair, we think that it's going to be a bit of a squeeze to Preston. Except everyone piles into the first carriage and by the time you get to the end there's hardly anyone about and we all secure enough seats that everyone can settle down to a cheeky snooze. At Preston we locate the Virgin train that's taking us back to London. Once again, it's not that busy. We obviously don't have a table (again) but there is plenty of room as a few take the opportunity to grab spare seats and forty winks or to watch the egg chasing as Scotland fall to a defeat against Japan. They're terrible at all sports it seems.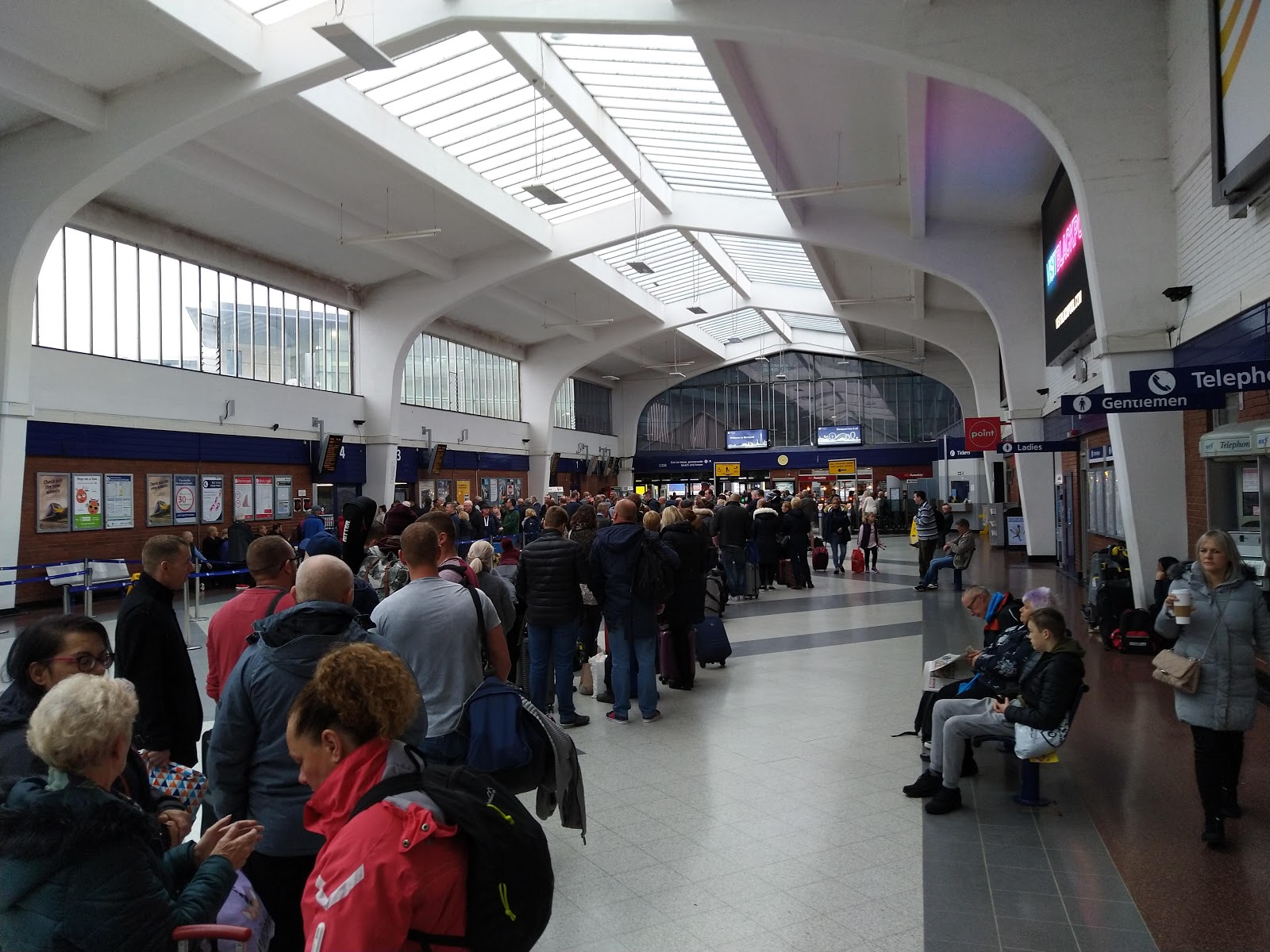 Sunday morning queues…
We arrive back at Euston in a good time and say goodbye to Mr X as he's heading to St Pancras for the Thameslink back round the loop to the Republic. This was an option for me, but The Firm Leader thinks it'll be quicker to get the Underground to Victoria and grab a train from there. Pete is heading in another direction so it's adios to him in the Underground. The tube is too hot for me and I'm glad that we get to Victoria in quick time. Heading into the station we come across the news that all trains our way are cancelled due to engineering works. Bollocks! So with the District and Circle up the spout as well, it's back onto the tube to take the Northern line back to Morden from Stockwell. Here, and it's time to say goodbye to Magnum P.I. & Taz as they are getting a sherbet to drop them off as me & The Firm Leader do the same. The time is not yet three o'clock as I'm finally through my door at home from a match that didn't even happen! And even better, I've got to do it all again on a Tuesday night now.
Our next match is back down Gander Green Lane is a distraction of sorts from the league as we take on Billericay in the FA Cup. No one can deny that it's an important match that we need to win. Even if you just consider the financial implications. As our luck would have it, we reckon that if we win this Saturday that we'll get Blackpool away in the first round.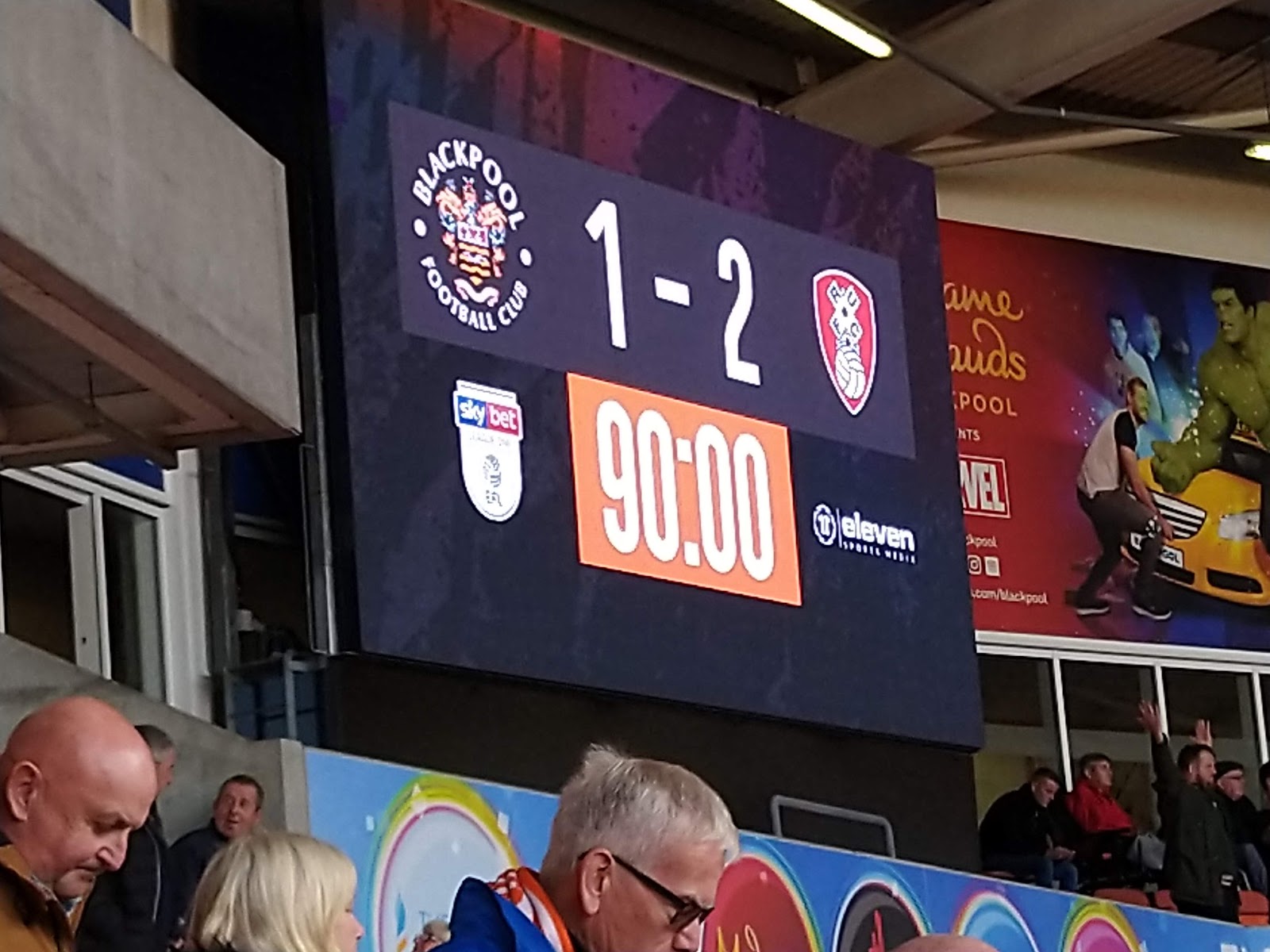 It's all over…
Enjoy.
Duke
Att. 9,932