Back once again, it's the Pizza Cup Master! If that means absolutely nothing to you, then this may help. Boy are you are in for a treat!* Now, I am obviously well aware of many people's reluctance to embrace this competition, and I do fully understand them; personally, I am not a fan of the u21's being involved, but it is a competition that Sutton United have entered, and therefore I will always want them to do well. That's my excuse anyway and I'm sticking to it!
Also, I can not deny the old Papa J has been brilliant for me & the podcast (You do a podcast? Really? – Taz). The week leading up to the final last season, I was given time by both Matt & Bruce for interviews – the same respect they gave to the BBC etc was also given to my little hobby. Silly sods.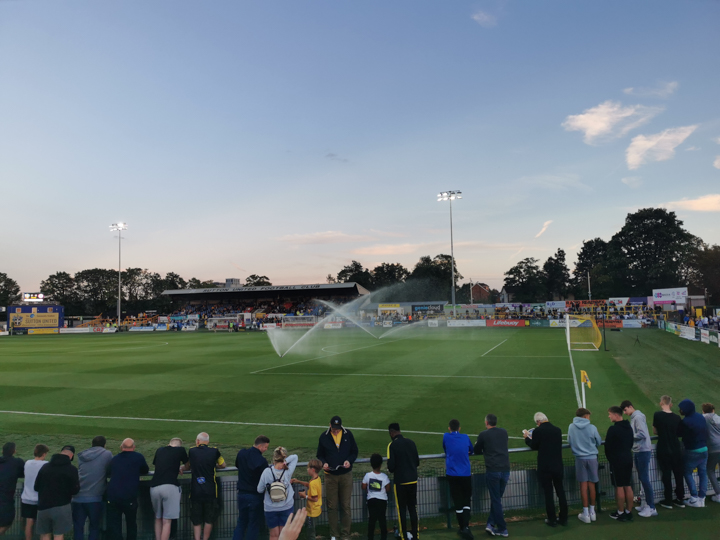 Watching "little old Sutton" at Wembley that day with 15,000 other fans was a fantastic experience. At times overwhelming in fact, and had that final whistle been blown 90 seconds earlier, I would have been very emotional. Apart from that, paying so much for a seat that my backside didn't touch the whole 120 minutes was a mild inconvenience (although the fee to print my ticket at home even though there were no other options still stings!), but being back at the club when the players arrived was special – obvious highlight was legendary Dundo greeting me with "Heeey, It's the podcast guy!", closely followed by Andy K's face dropping when he realised how often I would be bringing this up from that point forward!
But enough of the preamble. You are here to read about tales of travel chaos and drunken debauchery……….boy are you in for a treat*. Yes, another one.
Thanks to the lanky nanny's boy Tory Rees-Mogg & the property mogul Lord Sugar and their ilk, pointless days in the office are mandatory once again now. I only work 20 mins up the road, but finishing late and then dog walking duties meant I had to choose between cooking a proper meal tonight and getting to the ground for some munch. A knock on the door from the really tall nephew made my mind up on that front – off to the fan zone we go!
Ticket and pint of Signal beer in hand, I chat BS with Chalmers; what may surprise regular readers of these pages is that he was mostly the one listening to it! There was a strange buzz around the fan zone as people realised former England Captain John Terry was in attendance as photos of him started to appear on social media. Dear reader, you will be pleased to know there are no such photos in my collection. I utterly condemn this modern trend of 'dick pics' and refuse to participate.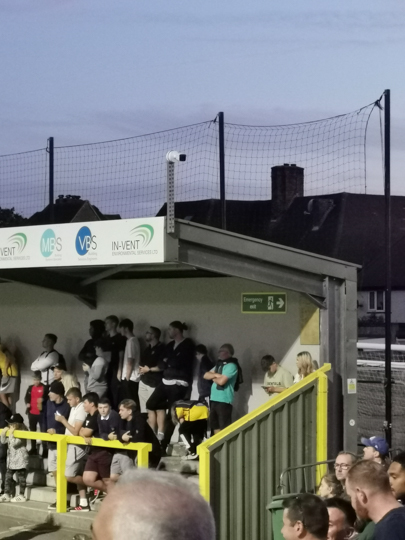 House, Hart, John, Kizzi, Barden, Boldewijn, Beautyman, Smith, Gambin, Kouassi, Fadahunsi. SUBS: Rose, Rowe, Eastmond, Neufville, Kendall, Milsom, Thomas
Making my way into the ground, I still queued for gate 1 even though others were completely free, so that's another thing that seems to have joined my matchday "quirks". Once in, there appeared to be a few more in tonight than were expected, including a reasonably healthy away following at the Rec end.
The lineup had a few changes, with Brad in Goal, Sam & Jon at Fullbacks, Louis & Joe at centre back. Luke & Enzio on the wings, Harry & Ali in the middle and up front was Killian & Tope. It was a slight surprise not to see Omar on the bench, but new loanee Charley was there along with Jack, Eastie, Coby, Josh Kwarme & Rob.
Early on, the Chelsea keeper utterly flaps at a cross which cheered us all up and not long after, Tope broke through, shrugging off a challenge and notched his 3rd of the season – what a player he has turned out to be so far. Shortly after, Sam Hart went down and had to be taken off to be replaced by Rob, worrying as he had only just been cleared to play aster missing pre-season, but after the match, Jason confirmed it was not related and didn't look too bad. Both sides had chances in a game that went back and forth from here; they forced a few saves from Brad, and just before halftime, we had a great chance with Ali fizzing one low across the front of the goal; it just needed a touch, but everyone missed it.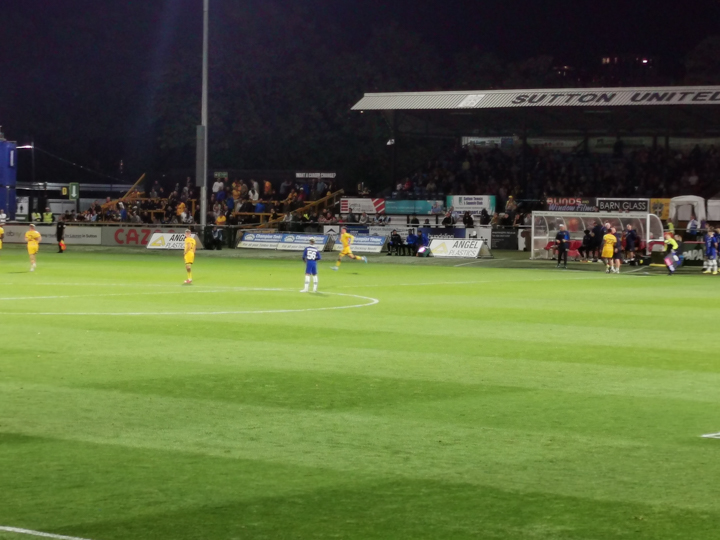 The halftime chat revolved around the sighting of a potential new keeper signing somewhere round the ground, his current (former?) club also having to deal with the news that their superstar striker is also likely to be upping sticks and leaving them in the lurch. Obviously, we all wish the prick well and are delighted that this means he won't be facing us shortly when his suspension ends.
Also, we spotted a camera on a stand, and no one seemed to know how long it had been there – so all you sneaky smokers and vapers you have been warned, don't hang about behind the Curva getting your fix as that is where it is pointing! Also, overhearing the question "Who is the number 52?" made me chuckle, and I offer it as a submission for the "list of things you never thought you would hear at a Sutton United match". Have we got one of those? Maybe I should suggest it to Taz?
Early in the second half, on 53 mins to be exact, as I checked, the ref suddenly got overly fussy and insisted Brad hurry up to fetch the ball that he was walking towards anyway. The fact he had to stop and listen to the ref fussing made the entire process a lot longer than it would have been having he just been left to get on with it – strange bunch, these refs.
On about an hour, the ref had a shocker; a defensive mix-up almost had a player free before Louis dealt with the situation – we feared a red, was sure it was at least a yellow, but the brilliant official didn't even wave play on, just ignored it completely! Definitely got away with one there. Shortly after, both Joe & Louis were replaced by Eastie & Coby.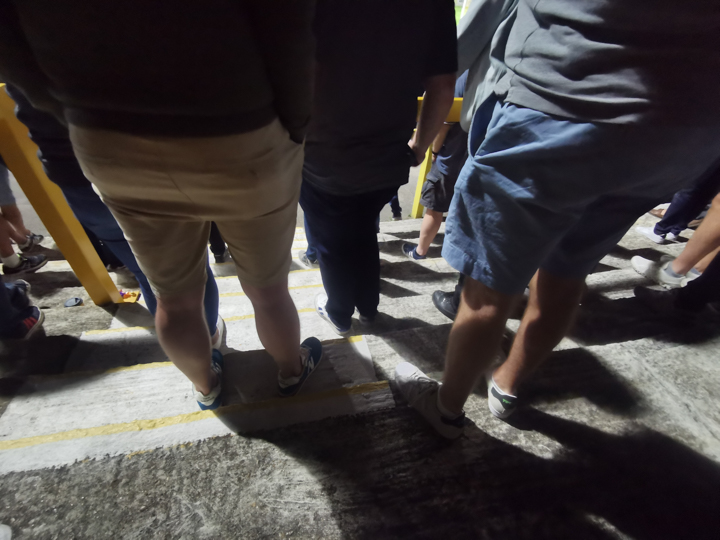 Enzio created a great chance to wrap up the game, but, unfortunately, it rattled the bar. This strangely seemed to settle Chelsea a bit, and for the next 10 mins or so, they played some lovely football, and we chased shadows a bit, with Brad having to make another great save. By now, Josh & Charley had replaced Luke & Killian.
My ears pricked up as a group a little way from me started talking about how much they enjoyed reading the Gandermonium Blog as it was so funny. Southampton Steve caught my eye and smirked as I wondered aloud if I should go and point out they should probably give it a miss this week.
With about 5 to go, a Chelsea player went down under a challenge, and he felt the ref should be awarding a freekick, so he picked up the ball……..it was a freekick, but for his handball and a yellow card was immediately followed by a red! I was reliably informed that the player had only just been bought by Chelsea for somewhere between £12 & 17 Million Pounds (depending on which source you choose to believe). What a way to make an impression on your debut.
As the game got to the ninety, that magical 6 mins went up and oh how we laughed at this fully expected treat* but just as was the case last Saturday, we managed the game brilliantly and kept control of the ball to get ourselves off the mark and on the way back to Wembley in the Papa J.
Marching home, I realised that the much-needed munch had not been procured, so taking the adult & health conscious decision, I decided I would just have a light snack at home when I got in. Then I walked past the chicken shop with no queue and taking this as a sign from the universe, I stuffed my face!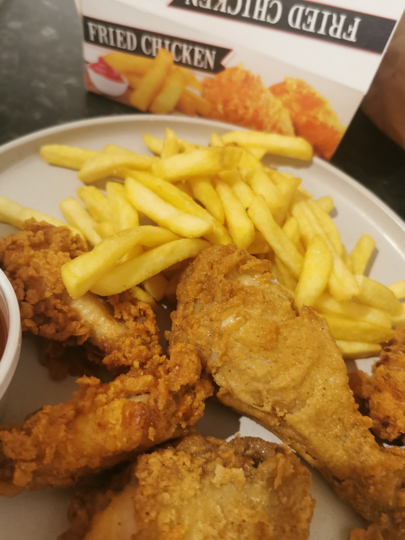 I'm looking forward to another home game on Saturday against Harrogate. It should be a good crowd as it is our designated Her Game Too match. Sarah will be happy to answer any questions you have about it. In short, just carry on not being a dickhead and let everyone enjoy this miserable passion to which we have chosen to sacrifice large portions of our lives. Simple right?
The last word is for Tope's three goals so far this season; each of them has been the winner! Awesome.
Mike
*Obvious disclaimer: You should not believe everything you read on the internet; consider this a free life coach lesson
Our thanks to Mike for covering this for us, mainly as we couldn't be arsed! Why not give him a follow on the socials here and check out his marvellous Sutton podcast here!