With a first away point finally acquired up in Grimsby last weekend, we revert back to a little run in the Republic of three matches this week. First up we welcome Nigel Clough's mob to GGL in the league today before taking on a who's who of lads that'll be on loan to Vitesse Arnhem sooner rather than later in midweek and then rounding it off with Harrogate in the league. And if that wasn't enough to keep us all occupied, there's the transfer window thingy closing as well this week to consider. Here's hoping it's a bit more exciting than the last one in January where we signed a 41 year old keeper from a Conference South side. Still, at least this sort of activity in the market tends to keep Sky reporters off our doorstep and also in turn prevents them getting ambushed with dildos in the ear or something from the Yoof. So swings and roundabouts really.
With the window approaching, Matt's shuffled a couple out on loan himself to get games. Tobi Ogudenga, the poor bastard, has gone to K's, where his efforts will no doubt be greatly appreciated by that bunch of bitter arseholes. Ridley's out to Chesham where Kylian made his splash last season and finally having binned pretty much all pre-season due to injury, Adam Lovatt is shuffled off to Dartford to get some minutes in the legs. It's a shame for the lad really, as he didn't let us down when he got a go last season and we were looking forward to seeing a bit more of him this year. Maybe after Xmas eh?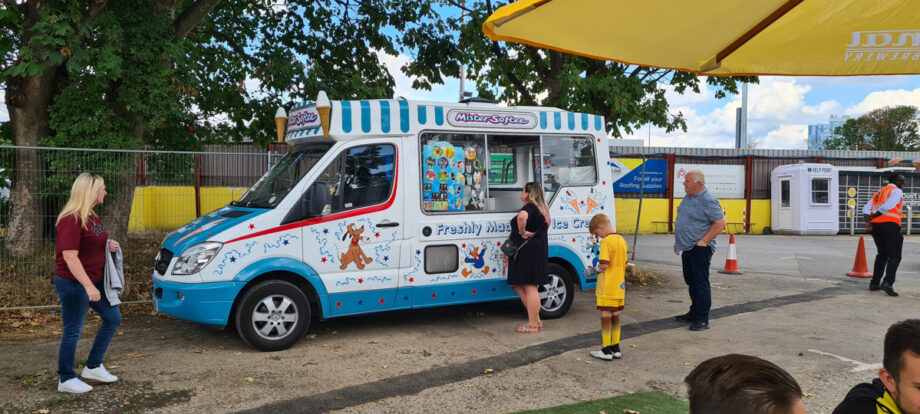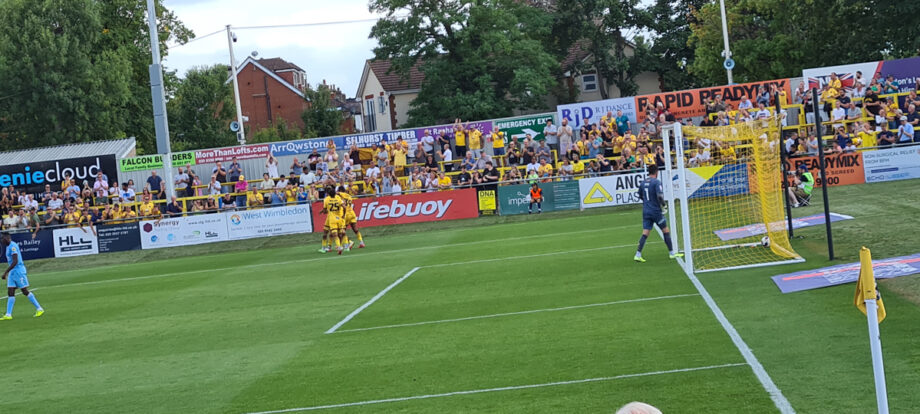 Despite all this activity though, the biggest news out of GGL this week, so big that well, we can't even quantify it in words here, was that the new entrance door to the bar from inside the ground is in place, meaning half time pints and missing goals (if you're Robbo) are back on the menu. A momentous day and one that under the rule of Chairman Totts would almost certainly have seen a public holiday declared here in the PROWS. Elsewhere on the Gandermonium Whatsapp wotsit, this development is greeted Friday afternoon with it a unanimous declaration that it was to be Dukey's Half time round the following day. Unlucky mate. Just back from a five star all inclusive honeymoon in the Maldives and now he has to get the beers in for the likes of us, poor sod. His wallet won't have seen this much daylight in years!
Making the most of a home game, my fat lazy arse remains in pit until as late as possible before HQ gets too warm thanks to the sunshine outside and Mrs Taz's disgusted tutting gets too loud to ignore. Then it's cup of splosh, some breakfast, knock out the usual three S's and I'm skipping out into the warm afternoon weather with a bus imminent over the road. Result! Thankfully the bus app isn't bullshitting and I board to find Magnum in my seat (front row, top deck) and in the process of admiring the pic he'd taken of me prior to boarding. Oi, this ain't a stakeout sunshine! It seems he's binned off his car park duties for Saturday games and is back into regular old drinking with dickheads again. So, for a change, I actually have company for my normal Greggs and walk to the ground.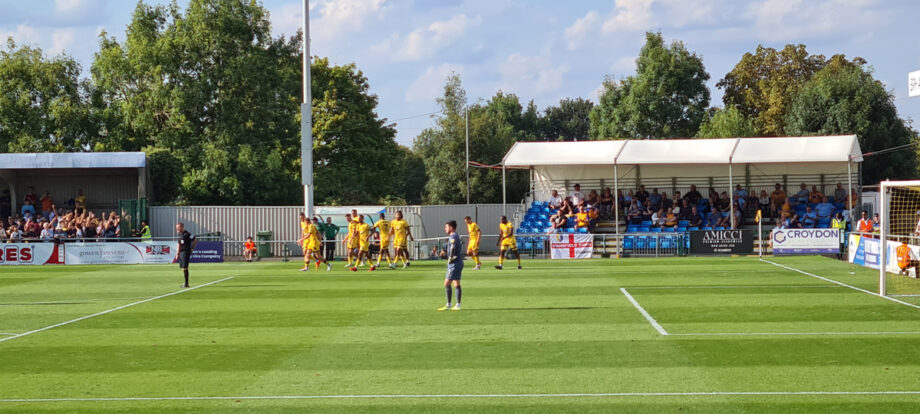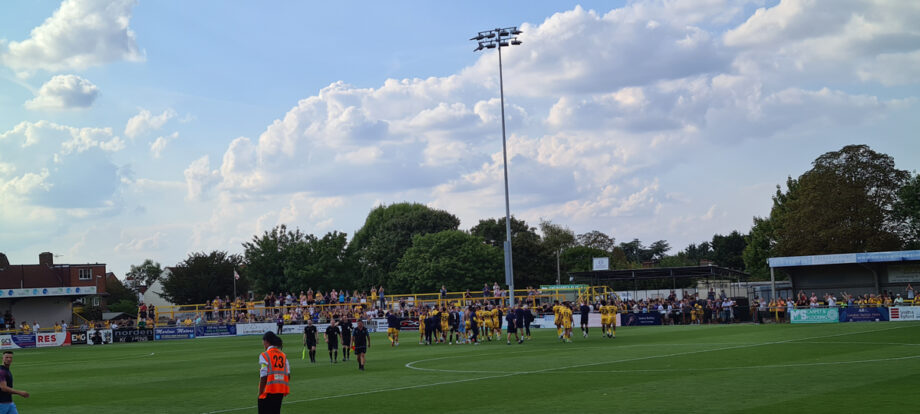 On arrival Frakey is again delivering sartorial and fashion related commentary as we pass, which I'm guessing is an effort to diversify from the matchday programme and snag a new column in Cosmo or something. Still, being retired and with energy bills heading the way they are, a nice little side gig will come in handy so can't blame him really. A bit further on is SLO Loffers who is proudly flashing off her new 'Access All Areas' pass she's picked up today. Naturally this draws absolutely no cheap sexist innuendo at all, we're modern 21st century blokes after all. Well, except for Dukey that is. We hit up the Fanzone, get some beers in and sup in the sunshine, chatting to Podcast Mike and others whilst we do. Loffers meanwhile is still complaining she didn't get her ice cream from the Cleethorpes weekender so we pack her off to the van for a whippy to shut her up. I also lodge a complaint on her return about the wasps buzzing about my pint, although I'm not sure this was taken entirely seriously despite my getting stung a couple of weeks back. Most disappointing. Indy's soon in and when his late arrival is questioned, he admits to having walked down with an empty wheelchair to donate to the club after a midweek appeal online. "They're a bastard to steer when there's no one in 'em!" is his excuse and he's sticking to it. With kick off approaching, I interrupt my final pint with a trip to the ticket desk for away briefs for Stevenage and Swindon. The latter being 25 sovs, which is a bit of a pisstake really.
Rose, Milsom, Kizzi, Rowe, John, Beautyman, Eastmond, Randall, Neufville, Wilson, Thomas. SUBS: House, Kouassi, Fadahunsi, Smith, Boldewijn, Gambin, Barden
From the off, we look bright and nicely at it, whilst the visitors don't exactly look like world beaters. Their kick off ending up being immediately mis controlled by their skipper on the touchline to get the throw ins market underway. Wilson has an early sight of goal, popped in behind by a nice pass from Beautyman, but he probably takes a touch too many and the keeper is able to set himself better and saves with his legs. Easty then has a great run from deep that takes him to the heart of the box, but the ball just won't settle enough for him to get his shot off and a defender eventually gets a toe in to avert the danger. In response, all Mansfield can manage in response amongst a lot of misplaced passes is a free-kick on the 18 yard line that sails a good couple of feet over Rose's bar. It's not a dull half by any means, but for some, well, just Greek actually, they're just counting down the minutes to 3.30 when the bar entrance opens. Dukey meanwhile is largely ignoring the big fella's prompts to get on his bike to get a round in, purely as he knows it'll annoy his inquisitor the longer he strings it out. Still it's a dangerous game, as he well knows that delaying too long will mean taking ages to get served and then having to chuck his dark fruits down his neck faster than he'd like to.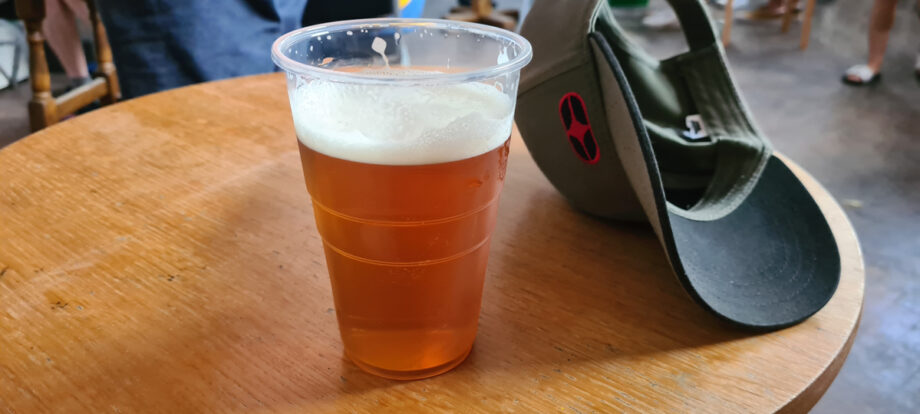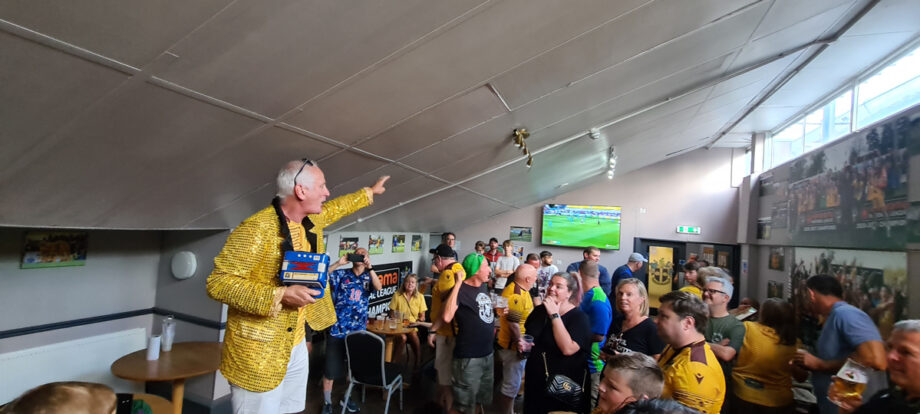 Then just as we're starting to think that we'll end the half goalless and with the half time bar crew already well on their way, new man Neufville breaks the deadlock. A poor cross field ball is picked off by Kizzi and he works it to Eastmond who in turn finds Josh just inside their half. He turns and with a quick squirt of pace, he flies past no less than 4 blue shirts before hitting a nice low and early shot from 18 yards into the bottom far corner. Lovely stuff, just what we needed! Did Robbo miss it? Of course he did. There's no better way to celebrate the new bar access than that I can tell you. A goal up at the break, we head round to the Tardis to get a close up look of the end we're shooting towards and just generally chill out in the sunshine awaiting the restart. Here B Team Beckett reveals he's not had a pint at all today yet. "Heavy night last night mate?" I enquire, but he doesn't need to reply as his piss hole in the snow eyes tell me all I need to know. "Definitely having one after though!" he claims. Good lad.
The second half is more competitive with Mansfield living up to the old adage of "They can't be that bad again" and come out with a bit more purpose and intent attacking wise. Still though, most of the pressure from them is from set pieces and mostly corners, which we largely see off without too much problem. Their one moment being a corner we let bounce and that whacks their big lad in the face and loops over. Meanwhile, Josh is providing most of our livelier moments and having skipped in behind again, he elects to pull back to Thomas in a shooting position rather than have a go himself and the striker rewards him by horribly shanking his effort as he falls over. Then with 15 to go, we're level. The ref gives a soppy free kick against Harry for what looks like a decent tackle and of course, we don't track the tallest lad on the pitch allowing him to get up and steer a header in back stick. Fucks sake. This wakes up the visitors and the travelling support and for several minutes, they press on looking for a winner. And if I'm honest, I wouldn't have been overly surprised to see them nick it. But then with 10 to go, Matt brings on Kylian and Tope up top as well as Enzio wide and the fresh legs give us a lift.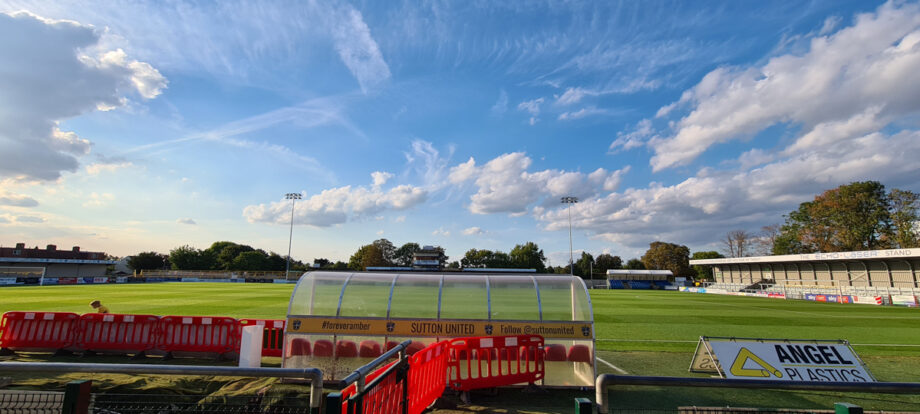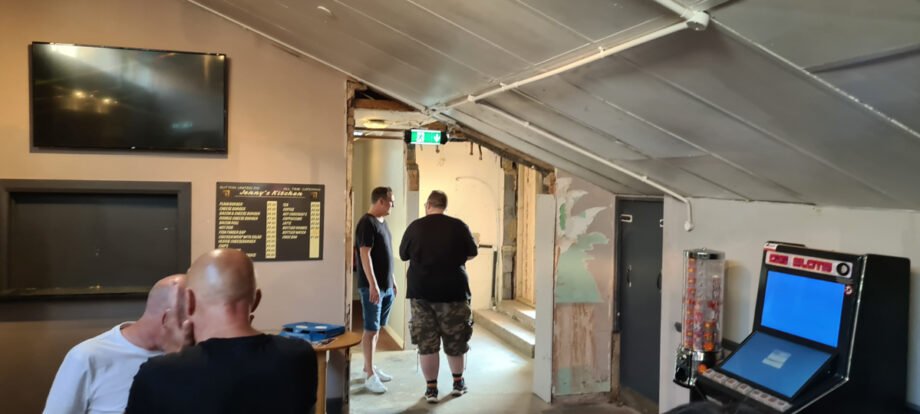 Tope wins us a freekick almost immediately forcing a defender into an error where he handballs. And Randall swings in the free kick for Kouassi to win the first header and Tope's there to nod in from close range past a stranded keeper. First touch Tope strikes again! What makes regaining the lead all the sweeter is that just moments before some fat lad in the away terrace had been giving it large in our direction with the usual Nescafe shake and so forth. Mr X takes great delight in pointing out his fucking shit timing in response. Right lads, can we not fuck this up now please? Within a minute, we really should be out of sight. A cracking ball from Enzio picks out Randall in acres and he sprints clear, but with just the keeper to beat, he fires inches wide of the near post. Sakes! This effort sees him immediately subbed and soon the board goes up to indicate our favourite amount of added time. Six minutes. Thankfully though, they're all but done and with some old school keep it in the corner shithousing, we see the added out without too much fuss and get to add another 3 points to the tally. Job done lads!
We're soon on the move and via the wonder of the new magic door, we're at the bar and pinted up in no time. The celebratory beers flow and the usual chatter ensues. Then AB appears bellowing in accompaniment with his accordion and Strikers Are Key is underway. Annoyingly, the lad chosen for the task only goes and pulls out 44 again this week, which is not only one less than mine and Dr Bell's syndicate, but is also bloody Kiddo's number again. FIX! This time, under a barrage of abuse, Kiddo fails to open the safe much to everyone's delight. One day we'll get a go at it again, one day! As the beers go down I' circulate and catch up with various faces scattered about the gaff. Sleepy Joe refers to the new door and exclaims the current temporary setup looks like "the entrance to an Austrian's cellar" and "should be renamed the Fritzl Lounge". Yes, I am stealing that by the way. He also introduces me to mate of his who RAN to Stevenage away last season. A distance of 42 miles apparently! Needless to say, fuck that. Fuck that right in the earhole. "I like running!" is all he can offer in defence of me basically calling him a fucking lunatic. Well, obviously!!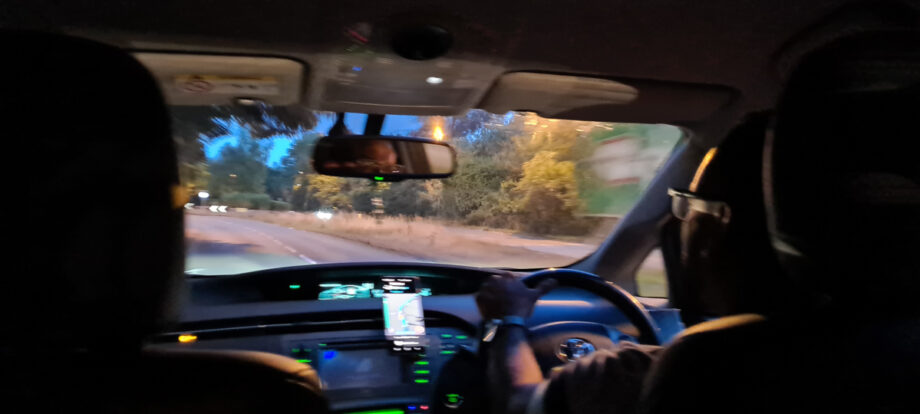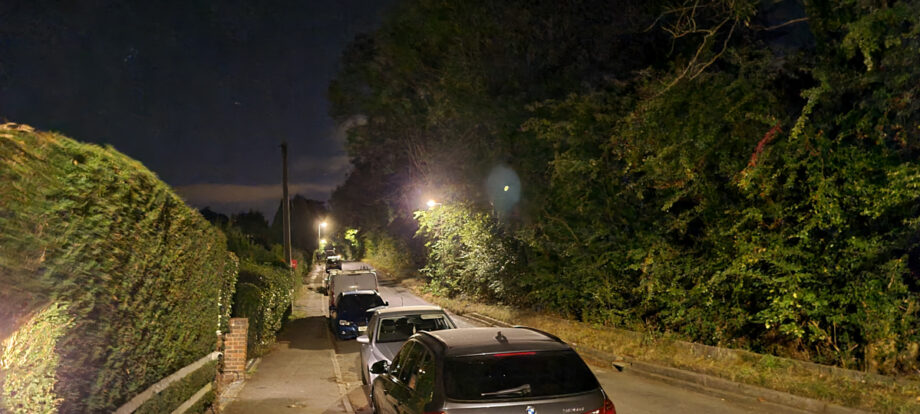 Elsewhere, the old Bastard League is doing Bastard League things as old Non-League muckers Wealdstone sit atop La Bastarda, much to ours and of course their amusement. Keep boiling that BELT piss lads! On the telly, Woking take on FC Hollywood and eventually succumb to a 3-1 defeat. The Welsh mob look well short of being the dominant side you'd expect with their payroll. Still, early doors innit. A while after, Tatey wanders in for a pint and before even being greeted is informed "Mr X is at the bar" by Dr Bell and he immediately diverts to place his arm round the shoulder of the drink buying Scotsman. It's all in the timing boys and girls. We tuck in for a couple more but as the place empties out I need to make tracks as my Brother is having a birthday party at his place out in the sticks by the M25 and one's attendance is required apparently. So I bag up a farewell round for all the pisscans still present and then rustle up an Uber to go get fed for free and drink my Brother's beer.
After a dash down the 217, I'm soon in the swim, completely and utterly underdressed in my shorts and '89 retro Reed shirt as everyone else swans about in the going out gear. Hello! Now, where's the fucking buffet then? I tuck into the grub, catch up with the 'rents and generally just bum around taking it easy and enjoying the party. Come about half ten though, I'm pretty cream crackered and set about trying to get myself some transport home. Sadly, being this far out in the middle of fucking nowhere, no one will take the gig until almost 90 minutes later when some lad from Reigate the other side of the 25 finally responds. Christ, it's easier to get a sherbet in Chester after the game than out here! Still, it gets me home before I turn into a pumpkin and I'm soon tucked up in my pit snoozing the snooze of a man with 3 points in the bag and belly full of beer.
Musn't grumble.
Taz