Well hello again dear reader. Welcome back to this stupid little corner of the internet, where we oddballs spend too much time, effort and money obsessing about a 4th Division football club! Usually whilst somewhat intoxicated. Still, could be worse, we could still be Non-League. At least people kind of know we exist now. It has been another busy old week here in the Republic with 3 home games to get through as well as the closing of the transfer window and there's a lot to discuss, make fun of and generally talk nonsense about. So, are you sitting comfortably? Then we'll begin.
First up, we got our latest Pizza Cup campaign on the go with a first group game against a Chelsea day care XI that included some kid they'd lobbed up 12 million for who promptly got sent off for two yellows against a 4th Division team's second string. Top bit of business that lads. definitely one for the future. Once again, it was that man Fadahunsi doing the damage on his full debut with an early bit of onion bagging, his prolific early form surely only being kept off the back pages of the nationals thanks to some Norwegian lad in the PL hitting a bit of a run of form at the same time. Typical billy big bollocks bias as per. Naturally, we fucked this reserve cobblers right off and fobbed blog duties onto to some other poor unsuspecting mug. And our heartfelt thanks to Podcast Mike for stepping into the breach and providing you lot with the goods on this occasion. The Thursday then saw the 'slamming shut' of the transfer window, a term we've always found a little odd, mainly as no one in their right mind ever really slams shut a window. I mean, there's glass involved and surely closing one with great force is a bit of a risk and just asking for trouble? When I close my windows here at HQ I certainly don't slam them, curse and swear a bit because I've got the net curtains caught in them whilst doing so, yes, but not slam. All a fit up by some shadowy double glazing mob to get themselves some extra sales I reckon, but I digress.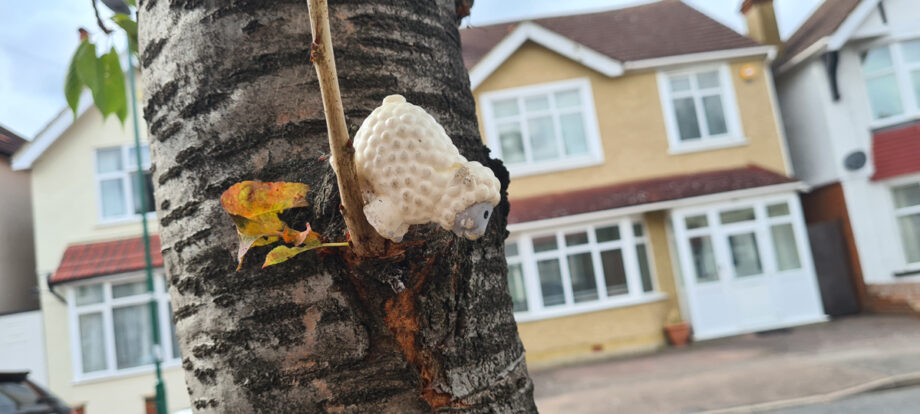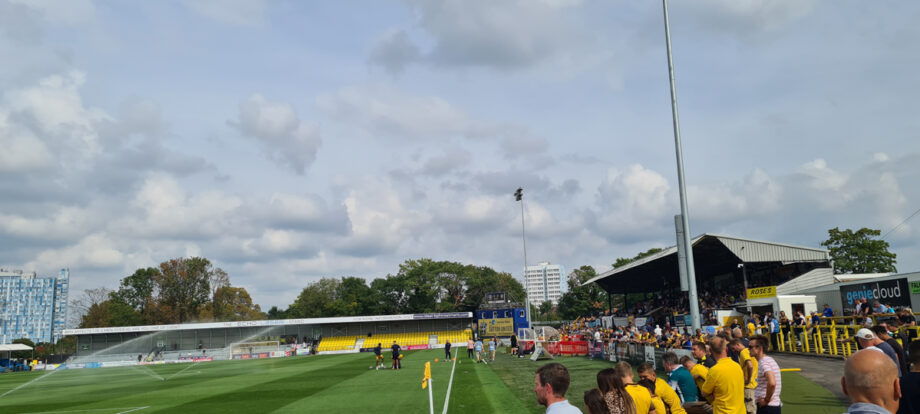 Having now had a year in the Great 92 72, we're feeling more at home with all this fake drama and got more involved than last time out in January and this time made some actual signings. First up was Aaron Pierre, an experienced Centre Back with bags of games in L2 and L1 in his career and who should give us plenty of depth defensively. We also bagged Charley Kendall on loan from Lincoln, a lad who'd banged in loads for Eastbourne in the Connie South last season and looks a decent prospect, then finally we bought into the full on Sky Sports DRAMATIC LATE SIGNING vibe of the day with keeper Lewis Ward coming in from Swindon. Well, I say dramatic late signing, the deal was all but done by the Wednesday apparently, but just needed the scribble of someone on the Swindon side to complete. As such, the announcement was actually made a good half hour or so after the window closed. Still, it meant we could fart about on Twitter making fax machine related jokes, much to our own amusement and the mild disgust of Chancellor Oakes. Of course, we extend a warm welcome to all the new faces and look forward to them firing us to an unstoppable league title by Xmas. No pressure lads, no pressure.
After another hard week at the grindstone, I'm in no mood to shift my fat arse early doors on the Saturday and as such, end up faffing about too much and I'm not out of the door at HQ until almost 1pm. That's 'Hoppy Hour' fucked then! With no bus due for a while, I stroll to Wallington Green in the sunshine with the tunes on and wait there for my transport to Sutton. On arrival, I'm disappointed to find that some lass and her kids are occupying the whole front row top deck. Fucking outrageous. So giving the kids the evils for nicking my spot, I park myself a few rows back and flick to some Swedish Death Metal to match my mood. Hopping off in Sutton, my usual routine is further thrown into turmoil when I find that Greggs doesn't have any Ribena to go with my sarnie. The fuck? Talk about Broken Britain. First the NHS is boned, then they're about to take every penny we earn for leccy and now I can't even get a fucking Ribena in Greggs? 3rd world country mate, fucking shambles. I instead choose some orange juice and then have salt applied to the open Ribena wound when the lad behind the jump tells me I can get a 'bigger drink' for the same money. Of course, I take this added insult like every true British citizen would and smile sweetly, say 'Nah I'm good' and tap my card to pay before leaving, all whilst quietly seething.
As I wander to the Republic munching and hoping that I've not offended the footballing gods by breaking my routine and having a fair trade OJ instead of Ribena, something catches my eye in one of the trees as I walk past. At first I think it's a weird little fungus or something, but on closer inspection I see actually it's a small plastic sheep. Taking this as a good omen for the U's (ewes) today, I carry on my journey as I'm wasting already valuable VDT looking at a plastic toy in a tree. Up the driveway, I'm further delayed by a technical support enquiry from Frakey and having resolved that can finally hit the fan zone for a pint. None of the mob are about it seems and having walked up I feel that I must have at least one here so I don't look like a sad fucker who walks away from a perfectly functional bar facility. A pint of Pale on the go, I find some of the B Team tucking in as well as Johnnie the leader of the Notorious Yoof firm. Here such things as flag fire certificates, accommodation costs in Qatar and a 125th anniversary book are discussed over a couple before we move indoors for a change of scenery.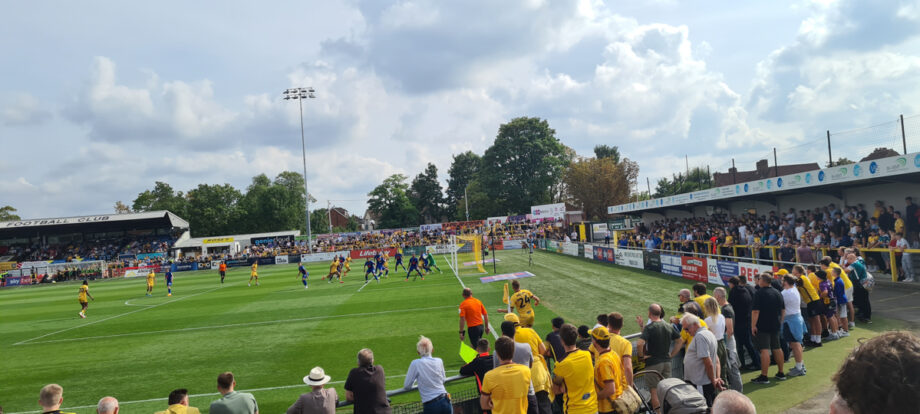 Inside, I find the usual mob in the MBA and best of all, Indy's getting a round in! Pint please mate. As I sup my pre-kick off beverage, we catch up with Wellie who's been off fishing for a couple of weeks and this is his first game of the season so far. We also get a rather amusing and somewhat accurate impression of Tatey from Greek that impresses everyone except the person being mimicked. Can't think why. But before we know it, kick off is upon us and we sup up and amble out to the turnstiles for some more read hot, unmissable League 2 action.
Rose, Milsom, John, Rowe, Kizzi, Neufville, Randall, Beautyman, Eastmond, Thomas, Wilson. SUBS: House, Barden, Boldewijn, Kendall, Kouassi, Fadahunsi, Smith
The visitors haven't have the best of starts this season and with us not playing badly but not quite getting the results we want, we're hoping that this one can yield another 3 points to the tally and get us moving along nicely to 50 and safety. Sutton start well and actually play some nice stuff in the early stages, switching it from flank to flank and looking to get the two wingers away in behind. Wilson has the first sniff, sent away by Randall, but he's well tracked by the defender and he's forced wide where the keeper comes to make a save at his feet. Randall then has a good run into the box after a poor goal kick is picked up in midfield but he drags his effort across goal. We keep pressing though and eventually the pressure tells with about 20 gone. A long throw is half cleared, it's popped back out to Kizzi on the near touchline and he pings a lovely cross into the box that Harry just gets to ahead of the keeper and nods past him to give us the lead.
From here, we really should put the game to bed, but Neufville has a run and shot well saved and Kizzi has a downward header flicked over the bar by the keeper. And as the half winds down, the visitors start to show a bit more life. One lad in behind on the overlap rattles the outside of the near post with his shot and their 10 does some FIFA Playstation stuff on the edge of the box with a couple of flicks and clips the top of the bar with the resulting shot. Phew! We think we've got the lead at the break, but just as the board goes up for added time, Louis makes a rash challenge in the box and Harrogate have a penalty. Their lad steps up and despite Rose going the right way, it's tucked into the bottom corner. Fucksticks. Always got to make it harder for ourselves eh?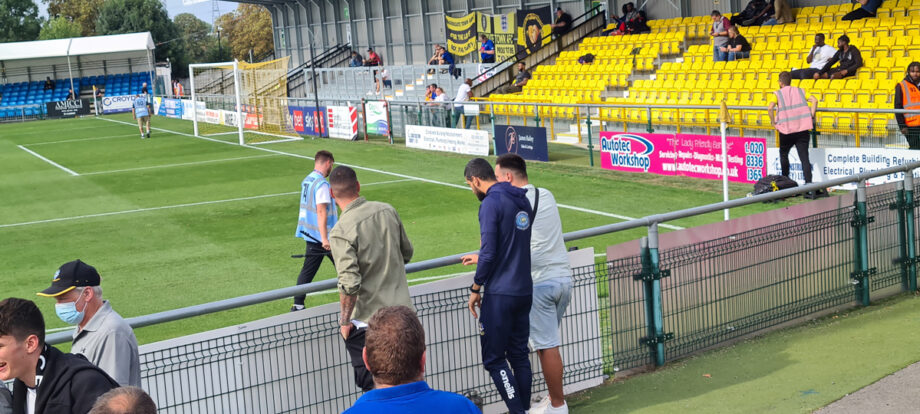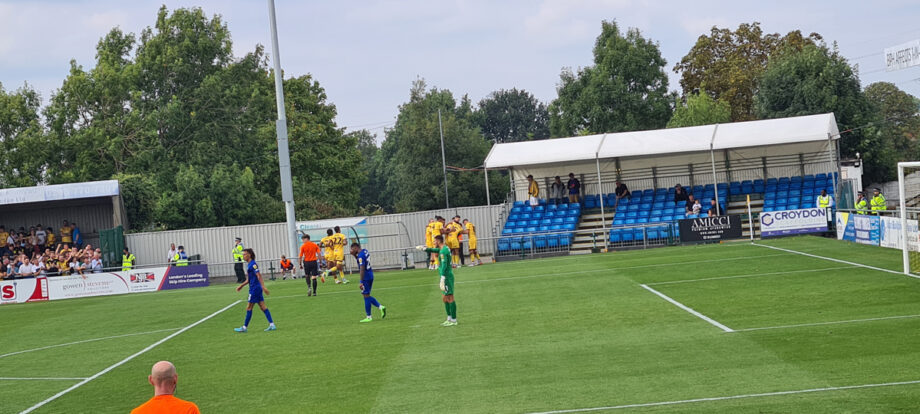 Frustratingly level at the break, we head for the Tardis for the second half as the lads are shooting at the Rec end and settle in for the restart. Elsewhere, Wrexham's Hollywood underdog story fairytale continues as they're dry humping Dorking down the A24. Down the front, Omar is hanging about and with him is some geezer who looks vaguely familiar. Didn't he play in goal for us once? Hello Deano, good to see you again mate. From the restart, the game's nowhere near as lively as the first 45 and not much happens early doors. Their 10 again shines with a nice little cut in from wide and sending two yellow shirts for the morning paper, again it's the finish that's lacking and he flashes his shot over the bar. All that comes in response are long range efforts from Josh and Easty that the keeper takes no trouble at all and we're starting to wonder where our spark will come from. Matt shakes things up, brings on Kouassi and straight away he 's involved winning us a corner and generally making a nuisance of himself. Then with 20 to go, we're back in front. Joh has a dart, feeds Easty who tries his luck from range. The shot's blocked in the box, but for the first time this season it drops for us and Kylian laps it up, lashing into top corner.
Any hope Harrogate have of getting back into this is dented even further a couple of minutes later when their 25 dives in for the ball and clatters Harry on halfway and cops himself a straight red barely 10 mins after having come on as a sub. Unlucky sunshine. From here, we largely keep a lid on things and look to see the game out with no fuss. As the 90 ticks up on the scoreboard, I make a move from my spot to ensure I'm the other side of the tunnel when the whistle goes, hey VDT and all that! As I depart, I comment to 4Days that if the 4th sticks up the board for 6 added minutes again, I'll be twatting him on the way past. Of course, when it does appear, 6 added minutes. Fuck off mate! With time running out, the visitors get one last corner with the keeper up and everything. Of course we defend it poorly and their bloke can only put his chance well into the side netting. Phew! That's all she wrote however and we're soon hitting the bar with another fine 3 points in the bag and edging a bit further up the table.
Post match is the usual nonsense. Supping and AB shouting over his accordion to do Strikers Are Key. He gets Gabby our women's captain up to pull the ball out as a nod to the 'Her Game Too' event running at todays game. When the winning syndicate aren't around to pull their key, Tatey and I helpfully advise via heckling from a safe distance that the Mayoress, chain and all, should be up on the chair to pull the key on their behalf. Naturally, AB buys into this ridiculous notion and before you know it, the Mayoress of Sutton is on a chair in a bar with a blue sequin jacket on pulling a key from a bag to try and open a safe. No, we know we're not a normal club. Even better is the fact that after a run of winners, her Ladyship fails to open up and the cash rolls over. Sweet! We settle in as the bar empties out with the Milan derby on the box, where I notice pitch side ads for 'Skrill'. Fuck a duck, remember them? Seems they've come a long way from the days of sponsoring shit English 5th & 6th tier leagues! Serie A eh lads? Aren't we all growed up!!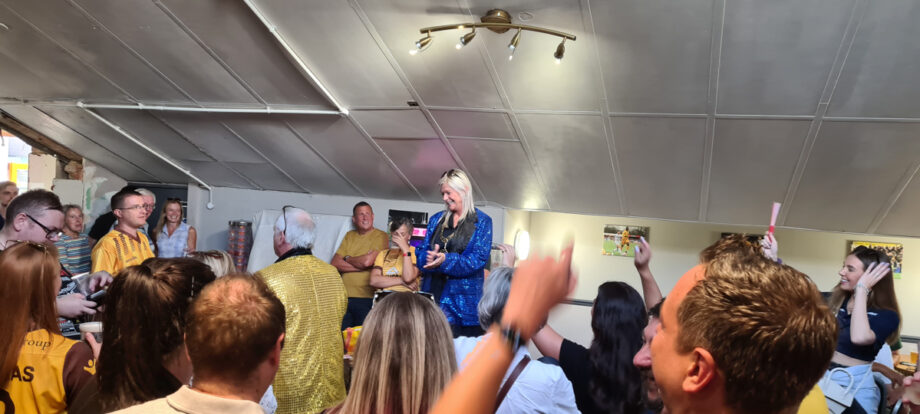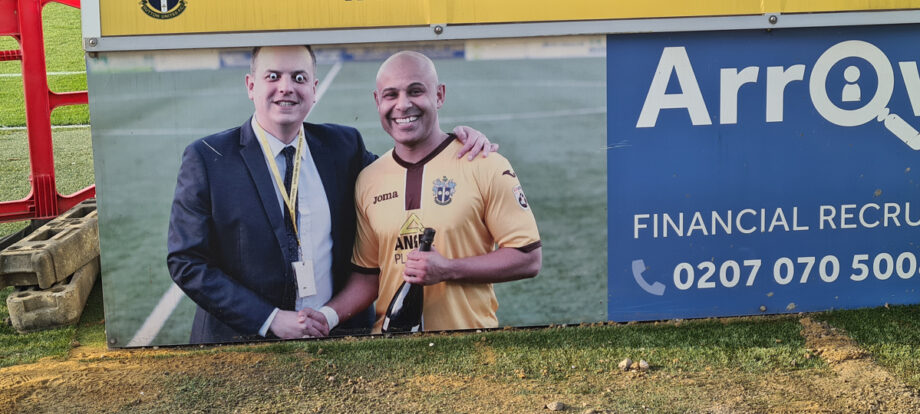 We also take advantage of the new magic door into the ground to now make the area around it outside our new unofficial 'beer garden', just as summer ends, hanging about in the early evening sun with a pint and taking in the majestic splendour that is Gander Green Lane. Greek also finally realises a long held ambition to put googly eyes on Tatey's ad board on the back of the dugouts. Sadly for him, it's a pyrrhic victory as these will gone inside a week as the new actual proper dugouts will be in operation before the next home game. Still, he's happy and that's the main thing. As if this insult wasn't enough, Greek badgers Tatey into buying a round and he disappears inside with a "I'll never remember it all, Whatsapp me!". So the big fella does, along with adding a load of comedy nonsense to it as well. He'll never fall for that!
Back inside a short while later and pinted up, Nic appears with 2 shots of tequila Rose for myself and Indy. What's all this?? It seems that Tatey went full on lazy and simply handed his phone with Greek's ridiculous drinks order to the ladies behind the bar and they've pulled all of it for him, coming in around sixty quid's worth. "This is why I don't buy rounds!" he whimpers as he taps his card and we neck the bonus shots. The moral of the story here kids? Don't let your guard down when Greek's involved with a round. You'll get stung big time. More and more people drift off and eventually I'm left with Indy having a couple of nightcaps and chatting with Neil from the Cocktail Crew (who reveals his lad has taken to stickering his own toilet cistern at home with our stickers!), Dirty Barry and Keepo. Once the latter get on the jukebox however and the dancing starts, I take this as my signal that it's time for me to do the offski, so with a quick farewell round sorted, I head outside and rustle up a sherbert for home.
It's late and by now, I'm completely starving and in desperate need of some stodge, so I pull an old move from the past and get the cab to drop me in Carshalton High Street where Pizza Go Go resides and I grab a deep pan for the walk home. Here to my initial horror I find the card machine is busted, but I'm rescued when my beer addled brain remembers I've got a tenner in my wallet and this happily covers the cost of the scoff. Wow, cash. Remember those days? So, loaded up with greasy grub, I head off up the road towards home stuffing my face and my belly revels in the appearance within it for the first time in many hours of something that's not been brewed or distilled as well as containing something of vaguely nutritional value. My body? A temple. Mostly of the sort you'll find Indiana Jones fucking about in getting chased by boulders and snakes and stuff.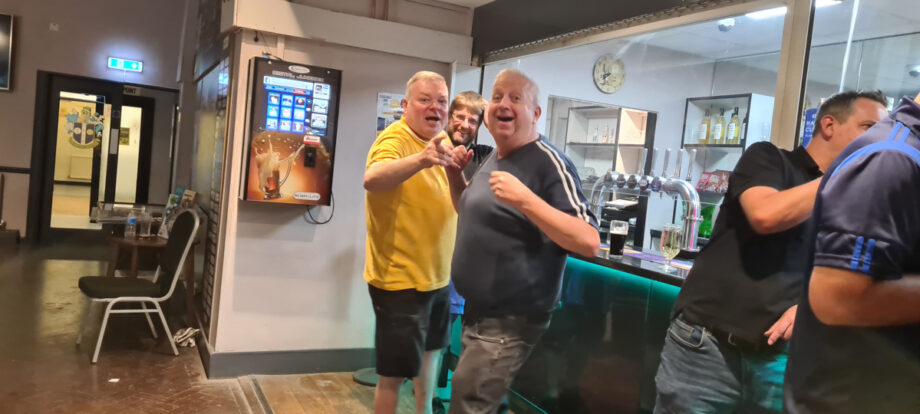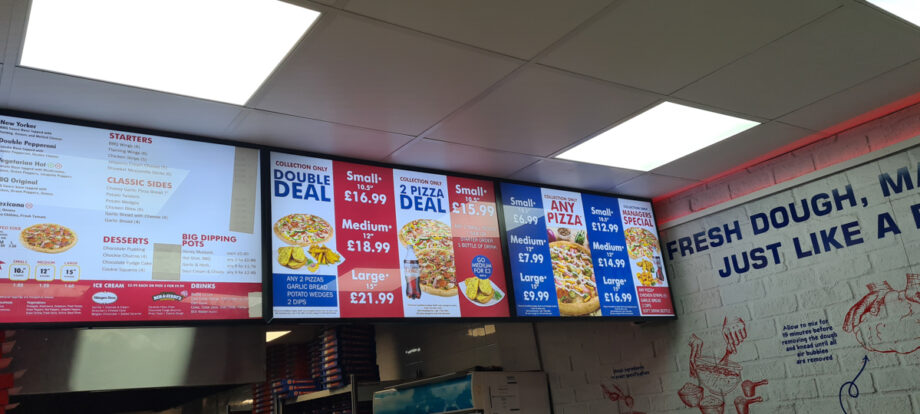 Pizza's good my friends. But drunk pizza? Better.
Taz