So here is my first attempt at covering a Sutton game for the famous Gandermonium blog, the pre-season friendly against Woking. Of course, I have studied with a lot of attention the style of the original writings from this place and discovered that they would most necessarily involve a detailed description of the travel needed to reach the stadium, finding or not a parking spot in the area, drinking a pre-game pint (or more) in the club bar, and so on.
But what can I do if I only live a seven-minute walk away from the main entrance of GGL? I do have to cross just one street, Oldfield Road, which generally does not prove to be much of an adventure. I'll try another approach. I should start by saying that for me this was one of the most anxiously expected games of Sutton – close to the level of the Wembley final, but not for reasons related to football. The hard to endure record-breaking heat wave was set to last exactly two days and the start of the Woking game would have meant that we finally put it behind. It's hard to believe, but we did have way too much of this otherwise so desired sun lately.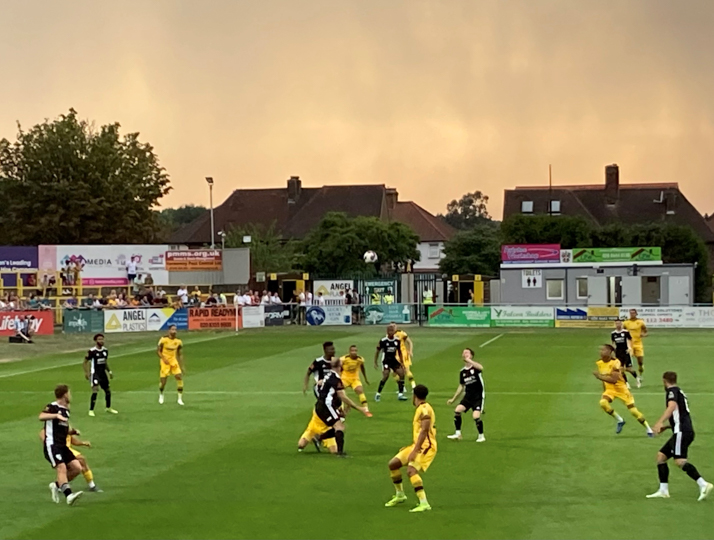 It was also my first presence back at GGL after the Crawley match of about three months ago, though I have seen our first PSF of the season at Dorking. I unwillingly chose to skip the Charlton game on Saturday, but it was for a good cause – I qualified for the Plate final (i.e. consolation tournament) of the Sutton Churches Tennis Club men's singles draw. I actually ended up winning it, which is quite a performance given that I haven't played much tennis in the last 3 years and my last amateur tournament evolution was dated about 7 years ago – before my second knee surgery. But passing on my way to the tennis courts by the main gate of the GGL exactly at 3 pm and having to wait – almost across the street from the stadium – for two full hours for my final to start after the two other games before it, while Sutton was playing their most important pre-season game of the summer was soooo frustrating. At least I think I put all the frustration to good use on court and won my final fast and neat, 6-3 6-1!
But enough of me bragging about my tennis victories and let's return to our Woking game. Here I am at the stadium one hour and a half before the game, as I will be on turnstiles duty tonight, a task I am always happy to volunteer. This gives me a chance to know and have a chat with some of the most hardcore Sutton fans which are doing the same activity week in week out. Of course, nobody showed up at the gates up until 15 minutes before the game, but in the end, there is a pretty decent turnout of a few hundred fans, given that it is a Tuesday game played on the hottest afternoon of the year, against a lower league opponent. Being in England since only two years, I never cease to be amazed by the local love for football and especially at the attachment to the local community team, no matter what level they play at. That is hard to find anywhere else and especially in my home country, where football is basically dead (first league there having a lower average attendance than the NL here), and most people would declare themselves fans of Barcelona or Real though they have never set foot – and never will – inside those stadiums.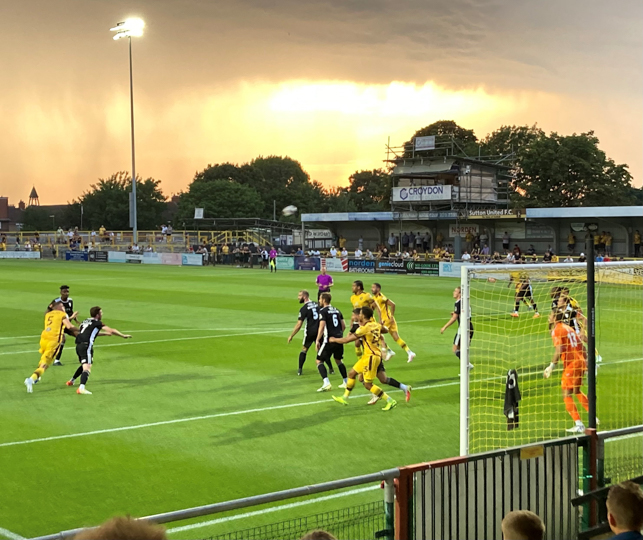 We kept saying, at the turnstiles, to the fans that there is no segregation tonight and the away standings can be used freely. That gave me the idea to watch the game from that end too, as the U's were also attacking towards that end in the first half and I was hoping that my "at least four pictures" for the blog might come out better from that angle. Sutton seems to be starting mostly with the players that were not used against Charlton.
Rose, Kizzi, Rowe, Goodlife, Hart, Gambin, Eastmond, Smith, Neufville, Wilson, Bugiel. SUBS: House, Barden, John, Boldewijn, Beautyman, Randall, Ogudenga, Dundas, Ridley, Milsom, Thomas, Charles-Cook
Actually, Woking is no longer the team at the bottom league of the National League that we were used to, boosting after this summer names like our own ex Ricky Korboa and a regular top scorer in League Two, Padraig Amond. And exactly those two have good shots narrowly wide in the start of the game. At the other side of the pitch, Josh Neufville proves that he came – literally – from another league, but the chemistry with his other teammates is still to be created.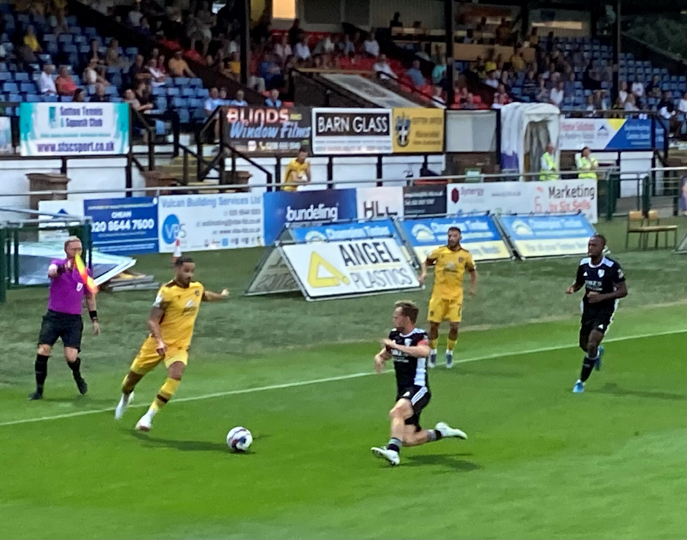 At the end of the half a bit of rain starts and – being missed for so long – is a welcomed change, even though it becomes an actual downpour for a couple of minutes at the start of the second part. A part that Sutton, with Barden and Ridley in, starts on the offense, and Smith, Neufville and Rowe miss good chances. But soon after Barden gets a knock to the head being replaced by Beautyman and the attacking flow seems to slow down. Two good runs from the players in black should avert us to the Woking's intentions, yet a random ball finds Amond with acres of spaces (not sure about the offside though…) and such an experienced goalscorer like him cannot miss: 0-1. Sutton pushes, all the other subs are in (John, Milsom, Boldewijn, Randall, Thomas, Roman – Cook, trialist), and Beautyman sails over the bar from a great opportunity inside the area. And so it ends up with the first defeat of the season. Funnily enough, one of our substitutes wears a shirt with Korboa's name on it while the real Korboa is still on the pitch but in the other team!
One other thing that strongly impresses me from the Sutton fans is their positivity and this is not so typical even for English supporters. Of course, the club is having their best seasons in their 124 years of history, however dealing so graciously with two so frustrating, painful, and undeserved near misses like a Wembley final and a playoff presence is beyond me. So, I'm sure that the Woking defeat will be easily dismissed as a game played mostly with the reserves or as due to the fatigue after a good game against Charlton, and that is mostly correct. However, I do want to point out one thing after yesterday, while deeply apologizing for my negativity: the 10+ goals per season striker is still to be found. But this does not even mean that, with Matt Gray and his hard-working boys, we cannot have another great season ahead of us!
Gabriel