So it's all come to this. The final preparations for our second season in the football league wouldn't have been complete without a good ol' barmy with Bromley. As per every season, there have been changes. Old friends have left, new lads have arrived. What's most important though, particularly during these fitness-testing warm ups, is that there's still that sense of togetherness. By the end of pre-season, we expect the cogs to be oiled and engines to be warm, ready to let rip for another 46 games of what we can only hope is a successful season. After today, we head into the first game of the season against Newport hopeful, but with an undeniable touch of nerves.
I wish I could say we started match-day as I like to believe we always do – full English and a cuppa down the cafe. But, life has other ideas. I'd love to say the lads all getting in shape post-holiday has had enough of an influence on me to get rid of the rig, but I would be lying to you. The missus has just got a PT and we're on a 28-day detox diet. Egg whites and protein shakes are the order of the day, and it's safe to say I haven't had a proper shit since.
With breakfast polished off in all of 2 minutes, we set off. Again, we'd usually whip down Sound Lounge for a couple swift ones before wandering in 15 minutes before kick off, bemoaning for the 24th time this season that we can't get back in the club bar at half-time. But no, after picking up a couple of tins of vodka soda lime for the journ (once again, thank you diet), we set off.
Our trip down to Sutton from London Bridge tends to include the routine pleasure of passing The Den. If it wasn't troublesome enough that most of our neighbours on the estate proudly sport Huski Chocolate while walking their pitbulls and shouting at their five kids, we get to spend some quality time with them on the train before they descend upon South Bermondsey, bag of dark fruit in hand.
Today though, National Rail offers a different breed; the Bromley Yoots. Are Bromley Football Club's members all kids? There's bloody hundreds of them. They're already moaning about the lack of segregation, just in case they have to solemnly shuffle off if we smash them. No older than 15, one asks the other "where we going?", he politely replies "where you think, you fucking idiot?"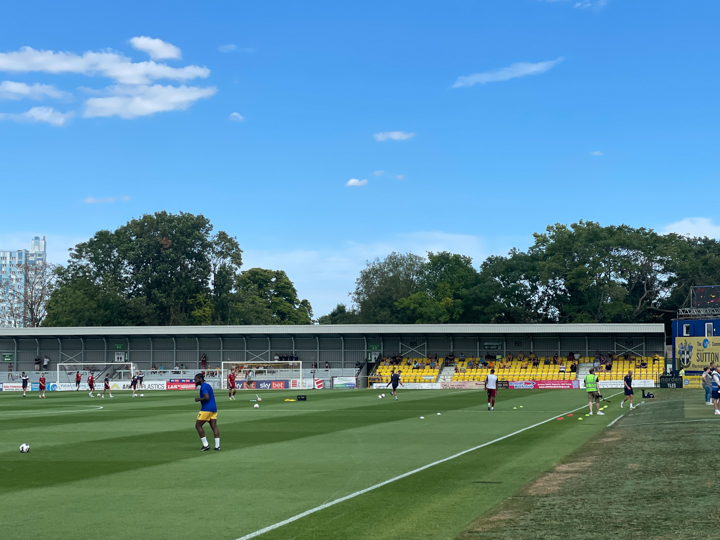 I can tell even before we've left, it's these lads that are going to provide the real entertainment this afternoon. They've had their happy meals and fantasies of a 3-0 win, 'Chelsea Dagger' and questions of where the fuck Danny Ings plays these days fill the carriage. We set off, the tykes cheer. Doesn't take much with this lot, does it. At least they boo as we pass The Den.
The Stone Roses and 'Naïve', the biggest single by seminal Brighton private schoolers The Kooks, are next to be blared from their Dads' terrace anthem playlist. I'm suddenly dragged into an existential crisis; were these kids even alive in 2006? Do they even know what banging tunes and DJ sets are? The fear doesn't last long – the choir suddenly roars into "Mike Cheek's on fire, you're defence is terrified" and I'm dragged back into reality, with the sincere hope that he completely blanks this season.
When we finally arrive in Sutton, the ticket conductor quickly nominates me – the mug in the Sutton scarf – to be the official babysitter who gets all the yoots to the ground. For a generation born with an iPhone, their inability to use Google Maps is borderline offensive. It's worth noting here that the main question asked on Google about Bromley FC is if they are a professional club. After this train ride, I wonder if all they have is a bloody academy. God how I've missed Sutton town centre. It's rammed, Maccies has a queue going out the door and I can pick up a pair of sunnies for £2 from Poundland. Oh, and the bin outside KFC is on fire. It's like I never left – just as it should be.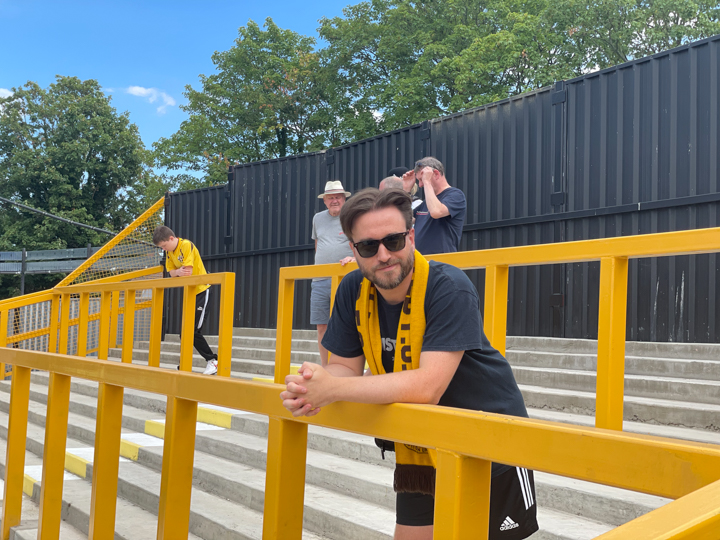 At the VBS, the pitch still looks like felt; it's gorgeous. The seats in the main stand and the (not so) temporary away stand still need painting yellow, but we'll let them off, they've done some grand work in the time off. I will admit though, standing in the Tardis Terrace feels odd; if only because of the big fuck off grey pillar that blocks off a good quarter of the view.
Our inside source is taking every opportunity to miss pre-season for what he's calling "holiday", like that's a justified option. But, given any opportunity to put the Tesla into sport mode and nip down some A roads, Westy's come down from East Finchley. As per, he arrives exactly 2 minutes before kick off. Right then, the line-up:
Rose, Milsom, John, Goodliffe, Kizzi, Boldewijn, Smith, Eastmond, Randall, Wilson, Bugiel SUBS:
It's near enough the first team we'd expect the gaffer to field, with Joshy Neufville offering some regular competition on the wing and up top. Being we've had two of arguably our most important players taken away from us, we can feel confident in this team – it feels strong. From this first-half performance though, you'd be let off for thinking otherwise.
An early chance for the away side ensures that The Yoots make themselves heard, to the joy of the home end. It confirms that the kids are the only ones who've turned up for them. Nevertheless, it's a chance that should've been blocked out earlier, and sends a message of what's to come. With a quickly taken corner, Bromley nip the ball back in the box for Callum Reynolds to tuck away in the scramble.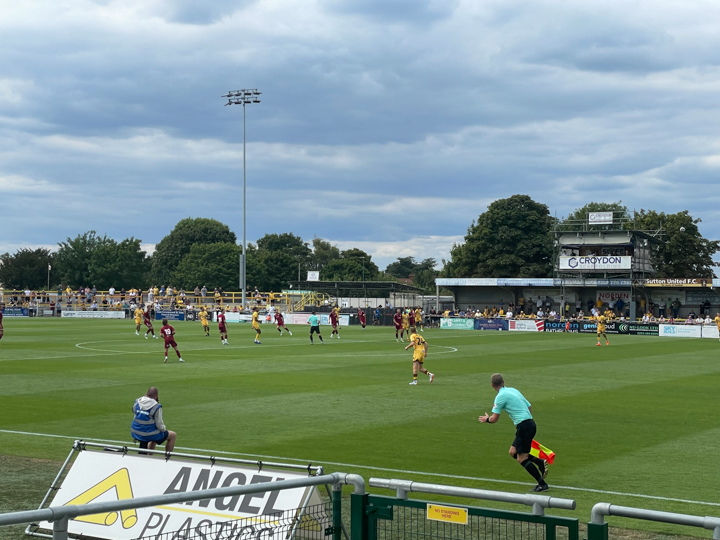 The goal sets the tone for the rest of the half – Bromley calm and confident, chipping away at a sleepy Sutton backline. Michael Cheek turns Goody with ease, getting through on goal but thankfully making a meal of the finish, turning it wide from a close angle. Ten minutes later, a whipping Bromley free-kick forces a good save out of Rose.
Early chances from Sutton to force percentage balls up the wings amount to nothing – rather than play simple passes from the full-backs, each loft of the ball from Goody and Louis head straight out, our old game of sacrificing possession for the rare possibility of creating something that way in the final third proving once again stagnant.
Towards the end of first half, Sutton begin to offer a flicker of enthusiasm – Enzio chests a lovely ball across to Ali, who pops a shot just wide of the near post. It doesn't last long; Louis is too slow to react to a clearance, again allowing the Cheek to try and pounce. Half-time finishes 1-0, could easily be two. If that first-half showed anything, it's the lack of creativity we have if Kizzi and Milsom can't push forward and overlap. With Ali and Easty alone in the centre, we're too narrow and stretched across the middle, leaving us unable to put a pass together, let alone build.
Thankfully, the gaffer immediately rectifies this in the second half. Sutton start bright; some nice movement from Will leaves Bromley parrying the ball away, before some much needed pressure from Kizzi nearly earns a chance in the box. That pressure quickly pays off. Milsom floats a corner in for Ali, who kisses it beautifully over the keeper into the far corner. 1-1.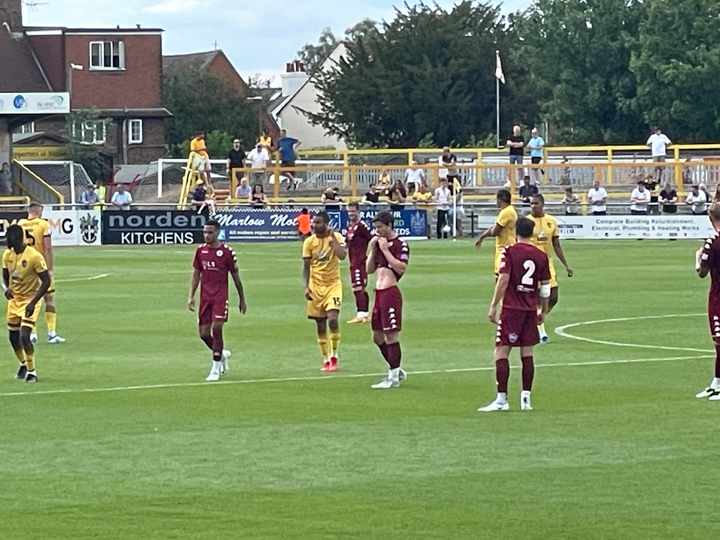 He has another chance minutes after – Kizzi sends another lovely forward ball down the line to Donny, who enthusiastically battles his way into the box before laying it off for Ali, who releases a shot into the far corner, only slightly placing it over the bar. Louis takes a knock and has to come off for Coby. Omar and Donny come off for Kwame and Josh, who moves up front rather than out on the wing.
With the fresh legs, Sutton pounce. Enzio, who has one of his better games in the shirt, makes a fantastic run down the lines and plays an inch perfect pass into the box for Will to latch onto and put away in off the bar. There's another chance quickly after; Bobby Milsom plays Neufville in from the corner, who floats in a beauty of a ball that the trial keeper has to punch away.
The pressure becomes too much for Bromley. Will gets surrounded in the box, the defender can only push him over to award Sutton a pen. Bobby does his trademark sprint on the spot before rifling the ball centre on top bins, 3-1 Sutton. Bromley aren't quite done yet though. They push forward, Ali can't retrieve it off them in the final 3rd and, even though he gets a punch on it, Rose can't stop Krauhaus from putting it away for a final score of 3-2. Sill, an entertaining friendly and a good fitness test for most of the lads ahead of the first game of the season.
In the last 15, Neufville really caused Bromley some issues, he's an exciting prospect who's certainly set to cause teams some headaches in the final minutes of games. It's Enzio though who earns our Man of the Match; he contributed key passes throughout the game and was a constant threat every time he went forward.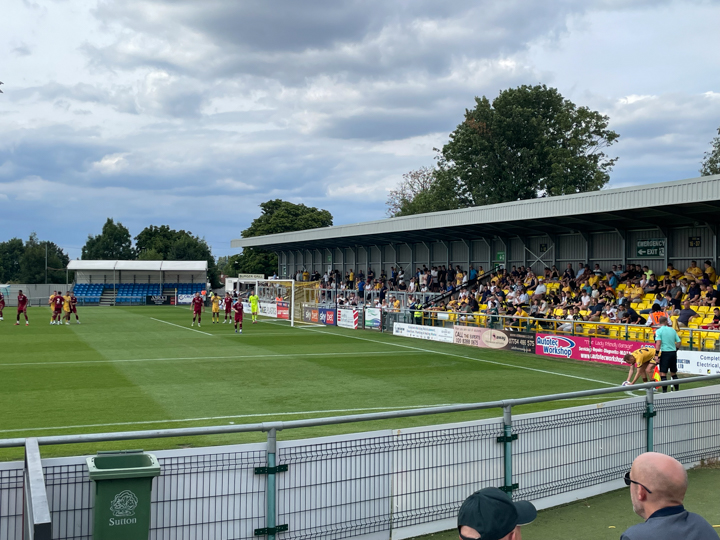 So, it's crunch time now. Despite the loss in key players, I feel the gaffer has done well to recoup the way he has, particularly in the attacking force we now possess. Newport is a really difficult first test – most of the tippers and bookies have them in or around the play-off spots come next May. We'll have to start stronger than we did at the beginning of last season, and I have every faith we'll do just that.
See you on Saturday.
Ross