So here we are again ladies & gents. Another season is upon us and my god it doesn't half swing round at a rate of knots eh? Only seems like last week we were on the beer in Harrogate wrapping up our maiden Football League season and feeling a bit sorry for ourselves at missing out on the play offs by a single measly point. Still, most of us are officially old now, so I guess the feeling of time passing by is because we're all now hurtling towards the grave at increased velocity. Anyhow, that's enough existential dread for now, how's your summer been? And what about this weather eh?
After last summer's mad rush to get ready for League 2, this summer's been equally as manic for the U's as the start is moved up a couple of weeks because some dickhead awarded a summer football tournament to a country that couldn't host it in summer as it's hotter than the fucking sun. Weirdly, we're unlikely to be stopping for the bullshit in Qatar just before Xmas, so not quite sure why we had to boot off at the same time as League 1 and the Champ. Ho hum. There's been changes on the field as we finally waved goodbye to David Ajiboye who toddled off up to Peterborough. Good luck to the lad, hope he does well. Less expected was the departure of Deano from between the sticks, however it seems the lure of 2nd choice in the Championship at probably 3 times the money was probably too good to turn down. Shame, but that's football I suppose.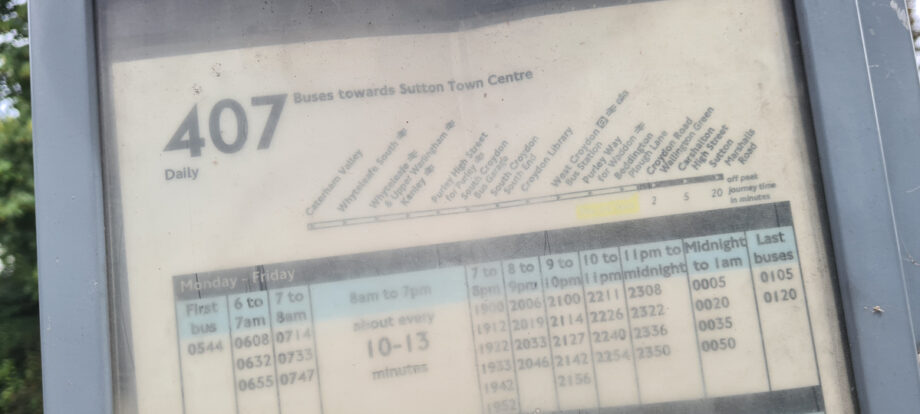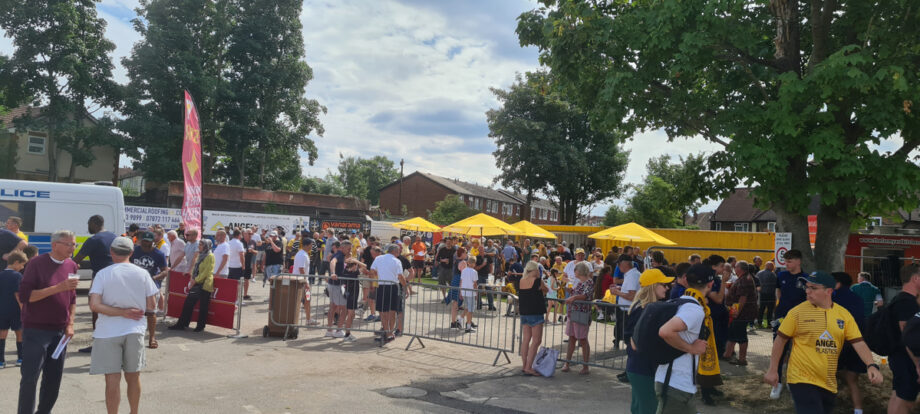 These departures seem to have registered with the wider world and as such we've spent the last week with our socials timeline being filled with league predictions, the vast majority of which have us firmly in the bottom four. Again. Now don't get us wrong, we're not expecting to be challenging for the title, but losing 2 players and retaining the vast majority of the lads that got us here and to 8th next season surely means more? Still, it's all material for Matt to get the lads going, if they even take notice of all that bollocks that is. Off the pitch, the away end's finally been finished and it even has new khazis and a fucking bar! Jesus, we really do spoil our visitors. Sadly I guess this means we'll no longer be seeing comments on the socials about the 1800's style piss trough and how disgusting it is. Shame, as 'worst pissers in League 2' is the sort of title that's right up our street. Still, it's not all away fan luxuries as we too get some new bar facilities with the inception of a 'fan zone' in the car park. I know, sounds glamourous as fuck eh? Still, at least we can get some amusement from taunting Mr X in the Megastore opposite with our pints. It's the small things.
I awake after a short lie in and get my arse into gear with some breakfast and the usual nonsense we're expected to partake in to fit into modern society, like showering and getting dressed. Still, at least conforming has it's upsides today as I get to rock my newly acquired Coventry '89 style 'Reed' home shirt that Mr X has added to the Megastore's inventory recently. This is most appreciated as it's a shirt I've wanted a re-do on for ages and is probably our most iconic old kit and of course I thanked him profusely for his efforts here. Well, when I say 'thanked', I actually told him "Now do the away shirt you twat!", but I think he understood the warm & grateful underlying meaning to the message. A fond farewell bidden to Mrs Taz and I'm hopping the fence onto the main road to catch the usual 407 into sunny Sutton. The wait ain't long and I'm soon aboard a deserted bus and on my way. Sat up top front row? You fuckin' knows it.
My journey however almost ends as soon as it's begun as barely a minute down the road, a brand new Audi dives out in front of the bus and then immediately indicates and stops to turn right, forcing the driver to slam on his brakes and coming to a stop barely inches off the rear bumper of the Audi. Ooops! Hopping off at the usual spot, it's into Greggs for the munch and drink for my walk down and I exchange nods with the lad sat outside in a U's home shirt. As I walk across the High Street I can clearly see 2 more people out and about in our colours. It'll never get old that. Right, tunes on and sandwich entering my face, I get my stroll on for GGL.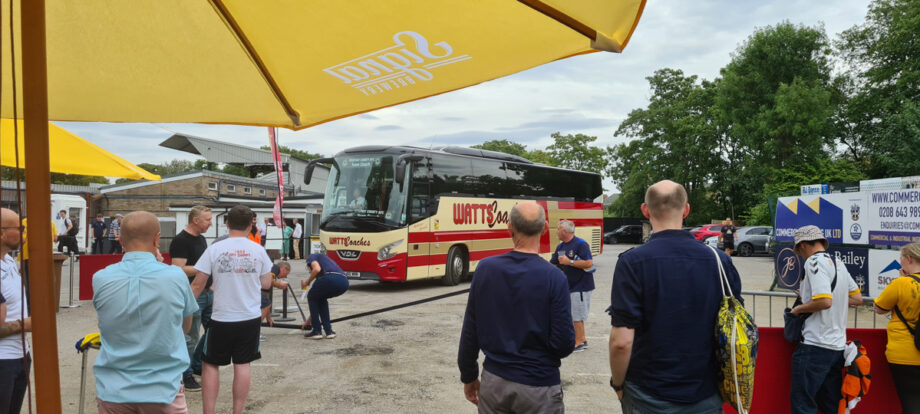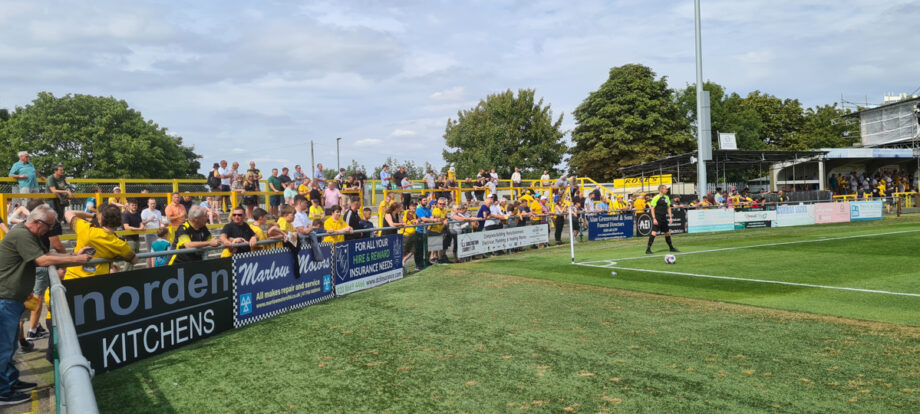 As per, Frakey is on duty by the turnstiles, marshalling what's left of the car park. The usual cheery greetings are exchanged and I head for the ticket booths to brief up for the Doncaster and McDons games in the next couple of weeks, both of which will be new ticks for me. My inner 'Futbology' is delighted as this of course. Tickets sorted, it's time for a pint and so I head to the bright yellow cabins of the newly minted home fanzone. It's fairly quiet, but Johnnie from the Yoof is in as are Beckett and some of the B Team. So we catch up on summer goings on and sup in the sunshine. Soon Indy is in the house, Burgers wanders over and also Steve and Nic join us. Here the first Mr X pint taunt of the season is undertaken, just as Greek wanders in, much to his delight. The Fanzone set up's not bad, service is pretty quick and the beer from Signal is ok. Although not quite up to the exacting standards of resident beer snob 4Days, but you can't please everyone. A little while later, Totts wanders in on another trip up from his South Coast exile along with Dirty Barry, Fish and Keepo. The latter revealing Fish was thoroughly confused by his addition to the blog glossary. We're also treated to the sight of the Newport team coach being unable to turn into the car park and back down into the red zone without a re-arrangement of the barriers to where we're drinking.
After a couple here, we decide to make a bit of a crawl out of it and head into the players bar where Dr Bell, 4 Days and Lil' Chris are in. Kev's also about so I catch up with him on his brother's progress from his stroke earlier in the year. Seems he's on the mend, but not as quickly as they'd have hoped. We agree that getting some of us up there to visit him and gee him up with some abuse is required. That's definitely one thing you won't get on the NHS folks, motivational wankers. Before long though, it's time to sup up and head for the turnstiles, although thankfully some earlier issues with season cards scanning seem to have been resolved and getting in is a breeze. After a brief moment's consideration I decide not to hang around and see which way we shoot so I can possibly try out the new Tardis Terrace, but instead just head for the Curva and take up station.
Rose, Milsom, Kizzi, Goodliffe, John, Eastmond, Smith, Randall, Boldewijn, Wilson, Bugiel SUBS: House, Barden, Rowe, Beautyman, Neufville, Kouassi, Thomas
We start bright and early on Randall wins a free-kick on the D that Milsom fires in but it's well saved by the keeps, then from here it gets a little bitty with several stoppages for various reasons. Louis and Ben are both down for a while with knocks, their 2 gets a yellow for clattering Rose and then Ben gets one in return for his reaction to the challenge. It's all a bit stop start really. Then with about 25 gone, we're in front. Randall nuts his man out wide and scampers into space. He squares it along 18 for Wilson who gets a shot away on the turn but it clatters back off the bar. Fortunately Omar's on hand to hook it back on target and into the net to notch his third 'first goal of the season for the club' in a row. After this, we show a bit more life with Enzio getting a couple of sniffs cutting in from wide, but then Ben goes down again and has to be subbed off for Coby. This upsets the marking at the long throw in that follows and their big 9 gets up unmarked to steer a header in off the post to level things up.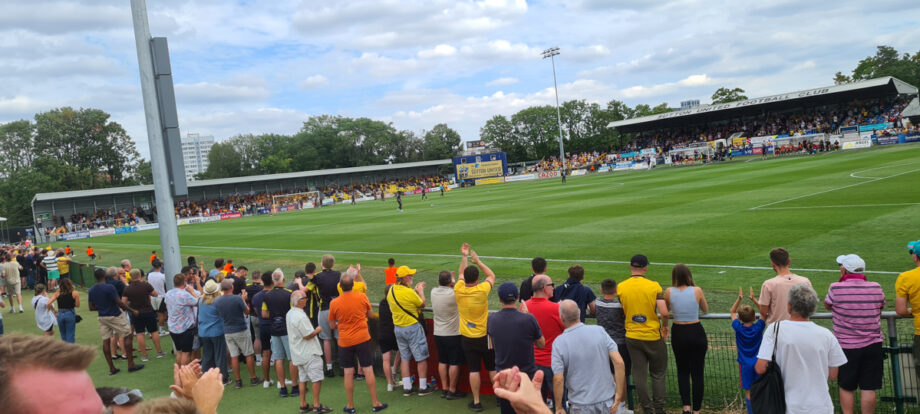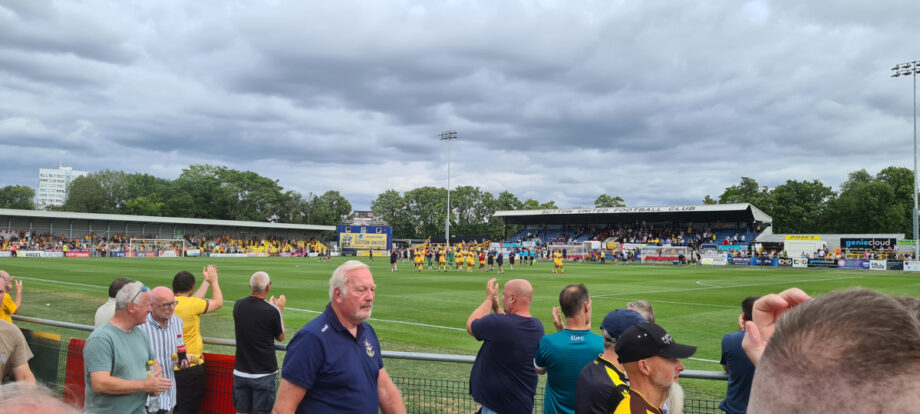 From here, it's very stop start still and whilst we probably shade the half, the game never quite catches light with both sides putting passes astray and not quite getting the ball under easily. The only other interest is provided by Chalmers new smartwatch which is advising him to 'take a break' due to his elevated pulse levels. Amusingly, this is at a point where there's almost bugger all happening on the pitch! Our rhythm is upset again just as the board goes up for added time as Randall takes a whack and has to come off. Josh Neufville replacing for his full debut. Not great that, 2 lads out so early on as injuries is probably the main reason we missed out last season. Here's hoping we don't get shafted again.
At the break, some amusing scores come in, with Stockport 3 down at home to Barrow (another bottom 4 favourite with the pundits) and Harrogate in charge against Swindon. Interesting! We also get to meet Ragnar, a Sutton fan from Norway who's over for his first game at GGL. He was due to be over last year for the Bradford game but illness forced him to duck it and he's instead here today. He's a nice chap and seems to be enjoying himself, although he'd been described as being Finnish on an earlier tweet (swiftly deleted and corrected!) from the Club socials. Hope he doesn't hold it against us!
The second half isn't much to shout about. Newport are a bit more open and press us harder than they did first 45, forcing us to largely live off attacks on the break. Rose has to make a couple stops this half, one from a shot on the break and another from a free-kick. At the other end, Donovan forces a decent stop from their keeps with a shot on the turn from 18 and Neaufville nods a header off the top of the crossbar, however neither side can really force that one good chance to nick the points and in the end we're both settling for one. Still, as someone says on the way out "That's one more than we had at this stage last season!". Very true. On the board, that's something.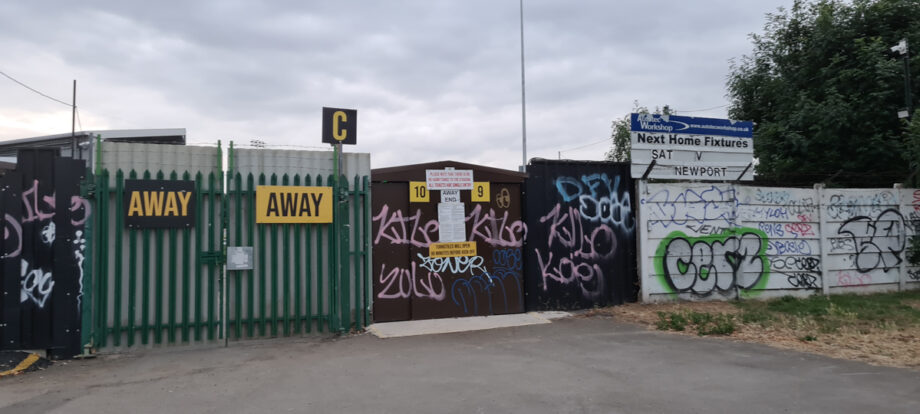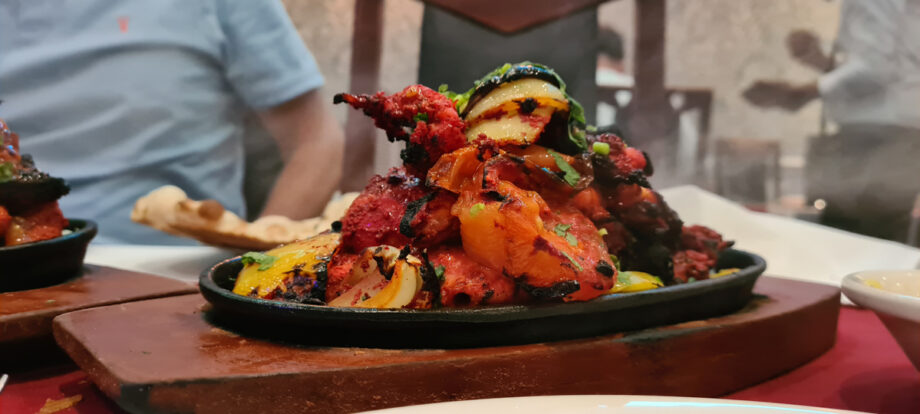 We dart into the fanzone as it's nearer and get a couple beers on the go, but before long we've drifted over to the wall outside the MBA and park up with Totts and the gang to enjoy some beers and no little abuse. Mr X joins us post megastore shift and is pleased with his days takings, although he does end up having to reopen twice to make sales to THS and also a couple of tea towels to Smarty and Dancing Marcus's significant other. "Not interested in the dog collars?" someone asks Dirty Barry. "Nah, would prefer the vicars type myself" comments the PROWS king of grot. Er, anyway! Ragnar departs and we say goodbye, finding out that he's back for a double header in December. "Coming back to enjoy some daylight?" jokes Dr Bell. Tatey also wanders in late and is instantly abused rotten by all present. Lovely stuff. A few beers later though and the old stomach is starting to rumble, so as Totts mob trundle off for more beers in Cheam and possibly a curry, Tatey suggests the same to a starving Steve. That sounds a bit of me, mind if I tag?
We walk through the Rec and down past the bus garage, a stroll I've not done in absolutely ages and head for Tatey's local Indian at the bottom of the High street. We feed on Poppadoms and Cobra before we eat. I and Tatey go for a tandoori mixed, although he refrains from adding rice. I soon find out why as when it comes out, it's possibly the biggest Tandoori mixed I've ever seen. Get in my face! We're also joined by Tatey's eldest Ben and his young lady Elba who's from Valencia, a city I particularly like. Before long we're stuffed to the gills with Indian and Steve rustles up an Uber for home whilst we leave Tatey to sit and sup his Cobra. Home James.
Stumbling out at HQ, I notice it still early and not even quite 11pm yet. My, what a good boy I'm being. We might not have got the win, but still, not a bad opening day's nonsense if I say so myself. Doncaster next!
See you on the train kids.
Taz