After last week's opening day stalemate with Newport, attention this week turned to our first awayday of the new season with a tramp up North, a new ground tick and to face one of last season's L1 trapdoor outfits in Doncaster Rovers. Tickets were booked for this one as soon as the fixtures were out and we were rewarded with a sub-40 quid fare and an unusually late start of 9am off Kings Cross. Lovely stuff. This kicks off what is going to be a busy week for us West Sutton lot as there's this to do, a trip to MK in the energy drink no one's heard of cup on Tuesday and then Dukey's keenly awaited nuptials on the Thursday. It's all go!
The main concern from that little lot is provided by the latter event, with most of us suspecting our Covid conditioned physiques might have strayed beyond what our unused whistles in the wardrobe could sustain in the waistline department. Of course, being blokes, most of us have put off confirming this key bit of info until this very week, just to add some 'might need to buy a new suit' stress into the mix. Which is us all over that to be honest, always living life on the ragged edge and laughing in the face of danger. Yeah, we know. You wish you were more like us. But hey, this is why we do what we do and chuck it up on here, so that you mere mortals may live vicariously through us. And you're very welcome.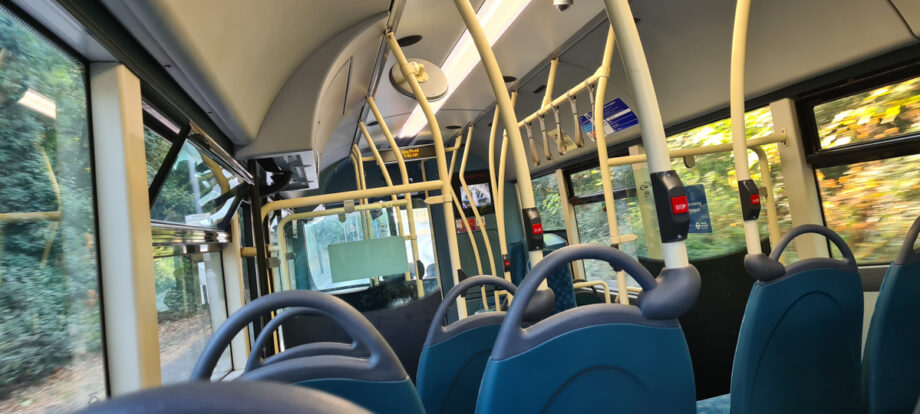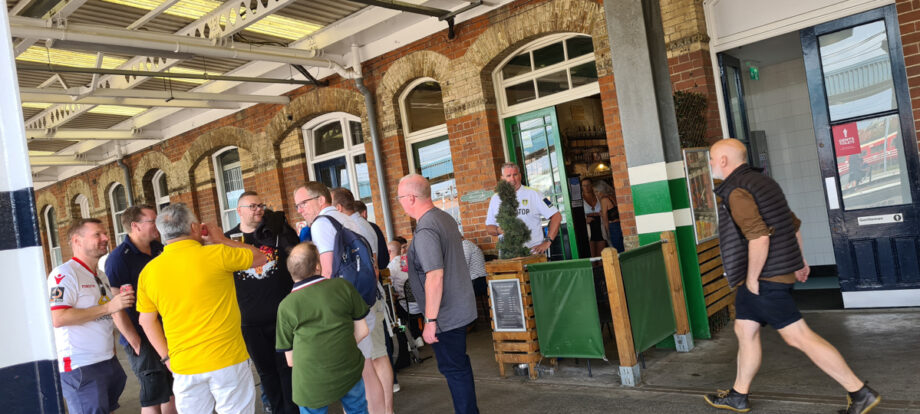 Despite a 9am leave off the Cross, this still means I'm up and at 'em at 7 and straight into the shower for the morning admin. Fortunately, Mrs Taz remains undisturbed during this process and this is a definite bonus, as it means I won't get a ticking off later when I fall throught he door after 12hours on the gas. That's right folks, coming in pissed is not the issue at all, disturbing her slumber though and boy am I in trouble. Shit sorted, I bid by beloved farewell with a peck on the cheek and wander down to the bus stop in lovely sunshine. What a nice day it's going to be! Which of course makes my choice of jeans as my lower half attire a bit more risky. Still, I reason that heading up north bare legged even with the weather we've been having is a bit of a risjk, but only time will tell.
There's a wait for the bus which is annoying as due to some train fuckery, I've basically got two options for getting to town in time to safely make the Donny train. And Mr Bus is all but ruling out one of those options with his tardiness. Still, like I said before kids. Living dangerously is practically our middle names. Further concern surfaces later in Croydon when the bus I've got pauses for a change of drivers. At 10 to 8 in the morning. Fucking hell lads, put in a shift! Some of us have trains to catch! This delay means that when finally tipping off at East Croydon, a light jog is required to make sure I'm on Platform 2 for the 8.01. Here I'm joined suddenly by Chlamers, slightly out of breath as he's had to leg it over the bridge from his train in from the sticks to make his connection within the 60 or so seconds that were allowed to do so. A fine effort. Finally on our way to the smoke, we chatter away catching up on the usual bullshit of work and life in general. As we're pulling in to London Bridge, I'm amused to spot a bit of graffiti line side. "Doncaster Rovers FC". "Maybe it's a sign?" I muse. "And probably not a good one!" mutters Chalmers.
Off at St Pancs we head over the road to Kings Cross and find Alan outside having a smoke. "Can't talk bruv, need my coffee!" declares PC as we march past. Families eh? Finding the rest of the crew on the concourse, noting that pretty much all of them are wearing shorts, I dump the flag bag on them and head off for a grotty McDonalds breakfast. As I stroll out, I note the presence of Liverpool, Newcastle, Leeds and even some Woking fans about, it's always fun spotting the different colours around on days like today. My next issue is that when I approach the usual branch of fast foot place we use here, it no longer seems to be there. Er? A quick check of messages confirms my fears as Steve's found the same and advised it's properly shut. As in major demolition taking place inside shut. Gah! Still, in the other branch nearby, I at least get the satisfaction of nipping in front of a dithering Woking fan to use the screens to order. Step aside you Non-League trash, a Football League lad needs to eat!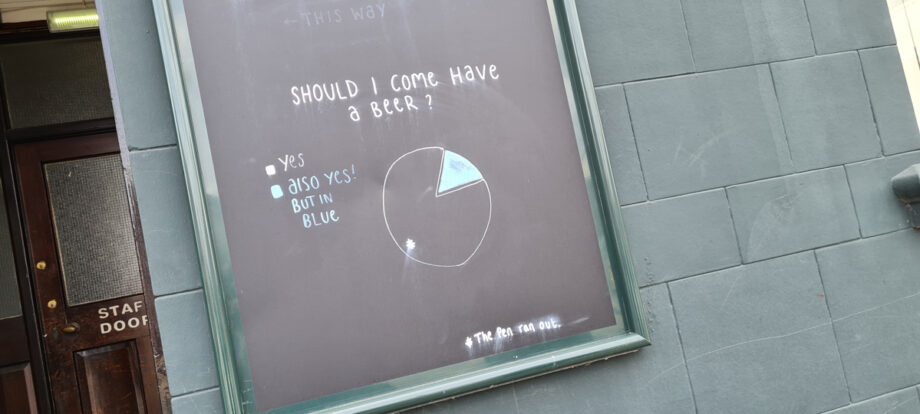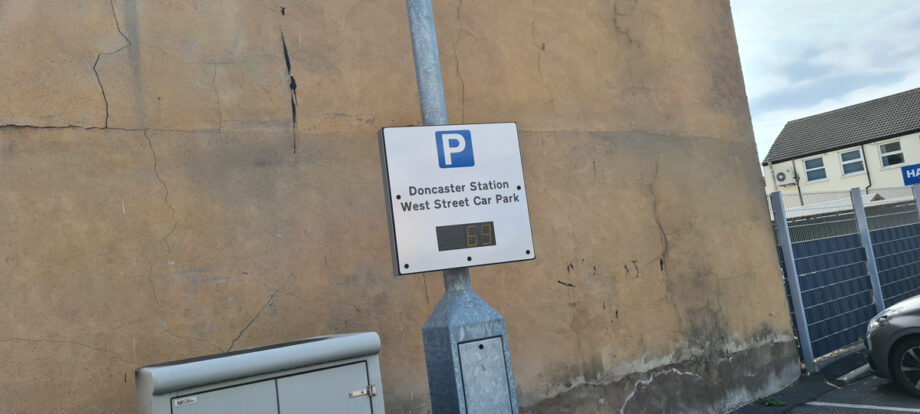 Breakfast up, I return to the concourse to find they've all fucked off to the train already. Cheers lads. So I grab a cuppa from the rudest man in the world at Delice de France and make my way on board. I spot a couple more Woking about heading the same way and deduce that they're probably away at York today if they're using our service. On the train, we get settled and are soon on the move. It's a reasonable turn out today, with 4Days, Magnum PI, Greek, Ipswich Lee, Mr X, Indiana Jones, Dr Bell, Southampton Steve and Robbo making up the party with PC and myself. You can tell it's early season, all the enthusiasm! As per usual, the journey passes with supping cuppas, talking shit and generally catching up as this is the first time most of the mob has assembled since Harrogate last day last season. Most of the concerns are as mentioned earlier that we're all now (even) fat(ter) wankers and won't fit into our whistles for the wedding this week. "I might have a shit before I try that!" states one member of the party. "Actually, you're better off doing that AFTER trying it on mate!" suggests Greek, showing some exemplary use of logic. Fuck knows where that came from. The MK trip on Tuesday is also sorted, with some of us planning on heading up to check out the museum at Bletchley Park beforehand, being the culture vultures we are. The rest of the time is then passed with trying to prise the details of the David Ajiboye fee out of Mr X.
Of course the man of mystery denies any knowledge of this fact, but he can be as all innocent as he likes, we know he's pulling our chains. "Well, if you don't know, do some investigating and find out!" demands Magnum. Before a minute later we all twig what he's said and start piling in with "Isn't that YOUR fucking job?" type replies. Still, it keeps the party amused as we trundle north and before long, we're arriving at Doncaster with Mr X being out of his seat a good 5 minutes before we pull in to avoid any further Ajiboye grilling. Our first stop on arrival is Platform 3B on Donny station as there's a little boozer there we've not tried before and it seems a perfect opportunity to wet one's whistle. In here the whip is collected and beers ordered, although this is easier for some than others with Dr Bell struggling to choose between apple or raspberry flavoured ciders. For someone with such a lengthy history of being a complete pisscan, he's really quite hesitant in his decision making at the bar sometimes. I'd usually put it down to age and his advancing years, but he's been like this the whole 30 years or so I've known him. A quick pint here on the platform with a couple of coppers across the way watching on, no doubt utterly delighted to have a bunch of football fans boozing on the station and we're on the move, this time heading for the Leopard round the corner.
However, along the way, we find the Railway is open which earlier research had shown was a 12 noon type establishment. Still, beggars can't be choosers and we head in to make the most of the opportunity. It's a pretty run of the mill back street pub and nothing special, however it does a decent selection with an ale, some lagers and ciders that meet all the mob's requirements. Here Greek hits the fruity and with the assistance of Mr X randomly jabbing buttons is soon going full Rishi Sunak and pulling 84 quid out the local economy. Still, unlike the aforementioned Tory wanker, our man will no doubt have ploughed all that coin back into that local economy by the time of our departure this evening! Pints downed, we hit the Leopard, a big old fashioned place with 2 huge bars. Outside, a lad is up on a ladder putting up flags for todays Doncaster Pride event. All of us swerve it apart from Greek who happily walks underneath. Twat! Call yourself a football fan? Where's your superstitions man?? Another pint here and we're on the move once more, darting across a main A road to reach the Corporation Brewery Taps, a very 70's style boozer with decor to match. It's the sort of gaff that would have Totts growling softly whilst rubbing his knees and no mistake. Being a Sam Smiths pub the prices are decent by our standards but the selection has a few moaning. Can't please some people. Stop your whinging and get it down you!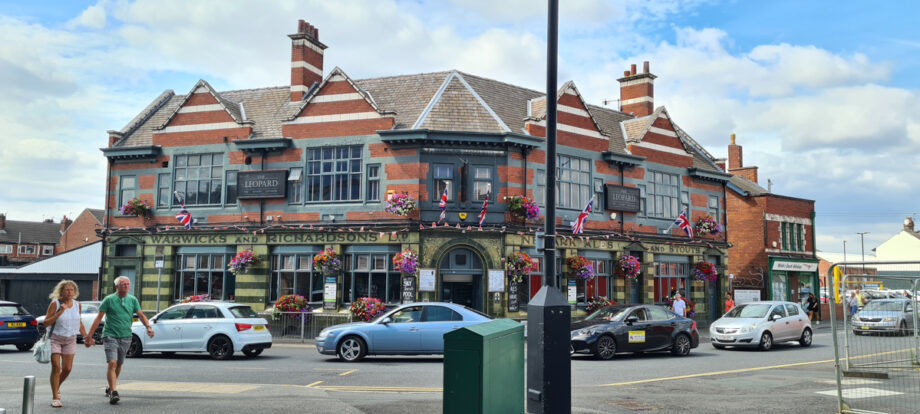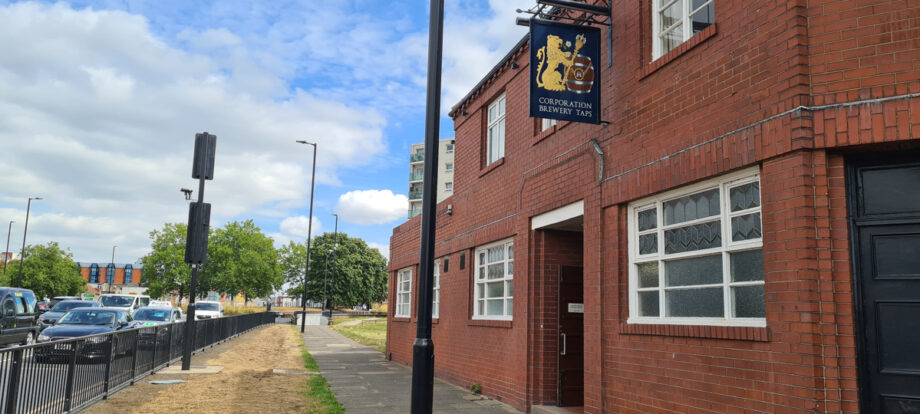 Here we have a good natter with the locals before settling in for some more beer and continuing with Mr X's interrogation about just how much Peterborough paid for Ajiboye. "Lovely weather today eh?" he responds, trying once more to lamely deflect the questioning. You'll crack sunshine, you'll crack! By this point it's still only just hit 12 and we're already 4 pubs deep. NEXT! We head back more into town and arrive at the Old Bulls Head. Why not? We hit up the bar and watch some of the unfolding Fulham v Liverpool game on the telly box. Here we also find a local lad who it seems had a Sutton connection. It seems that back when we played Donny in the old Conference 22years ago (1-0 win, Mark Watson!), this chap and his mates came south and were basically given a tour of the town by a lad named Wurzel, who was a big Chelsea fan and familiar to PC and myself from our days on the old Roundshaw estate.
Small world. On the telly, my earlier prediction about Klopp leaving Nunez his big summer signing on the bench is proven true. 1 down with an hour gone, he uses one of his begged for endless subs and throws the geezer into the action. 10 mins later, they're level. Needless to say, the five subs rule is bollocks. Suits big clubs with big squads and means they can rest top lads by leaving them on the bench against sides they should really beat. We decide to hang around here for the remainder, mostly as there football on telly, we can get a pint and there's a seemingly endless supply of cabs on the rank outside across the road. Sorted! And as Mickey's hand tips past 2pm, we pile out, lump into cabs and head to the ground for some more League 2 excitement and wonder.
Rose, Milsom, John, Rowe, Kizzi, Eastmond, Smith, Neufville, Boldewijn, Wilson, Bugiel. SUBS: House, Beautyman, Thomas, Barden, Lovatt, Gambin, Kouassi, Thomas
At the ground, the stewards are bang on and with minimal fuss, the flag is up and I have enough time to tuck into a pre-kick off pie to start soaking up the ale. Lovely stuff! On the pitch, things start quietly with both sides settling in, but we look the brighter of the two sides, although you can tell from their lads on the ball that a good few have experience of the higher level from last season. Then after about a quarter of an hour, we find ourselves in front. A deep free kick from Milson isn't cleared, it's popped wide to Neufville who scampers to the line, pulls it back and Louis at the near post prods it across goal and off the far post. Wilson reacts quickest and despite his first shot being blocked, the follow up is clattered high into the net despite the keeper's efforts to keep it out. From here, we really grow in confidence and take charge of affairs, but not before the hosts sting Roses's gloves with a low effort from the edge of the box. We're almost 2 up when a defender nods a long Rose kick back to his keeper, but finds that he's not where he thought he was and the ball trundles just wide of the post with the stopper nowhere.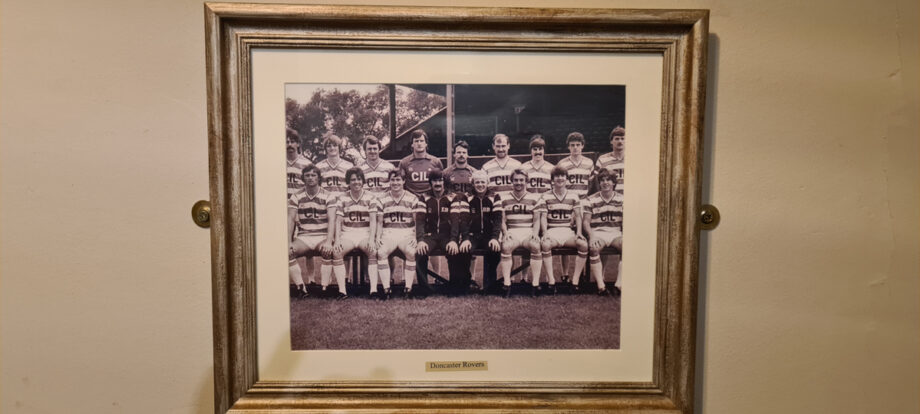 The resulting corner really should see us 2 to the good however, with first Eastmond peeling away back post and having his volley blocked and then having worked the ball back in, Kizzi nods back across and Omar has a close range header blocked and Easty blasts the rebound well over. Chances lads, chances!! Wilson is the next to be denied, this time by a decent save. Neufville again makes progress wide and his shot is blocked falling to Wilson who immediately pings a hit on target. But the keeps has stood up well and makes a very good one handed reaction save. The ball is then recycled and again played in, but this time Wilson's shot low across the box really should be turned home by Smith back stick but he gets his feet all mixed up and can't apply the touch it needs. No flag from the lino either. And with half time approaching, another good stop denies Omar, turning away the big geezer's close range lash with a good strong hand. So at the break, we're just the one up which for the more glass half empty in our end is a little concerning. Still, time for another pie. Meat and potato this time. Not bad, but needed some tom sauce I think.
Second half is much much quieter in terms of action. Donny keep playing their tidy stuff looking for a gap, but we stay tight and compact and largely frustrate barring an early chance after the restart that Rose stands up to well. Omar departs for Kwame after getting a knock and a yellow card and Neufville is switched out for Beautyman. Apart from that though, chances are at a premium and as the board goes up for added time, we've got 4 minutes to see out and claim our first well deserved win of the season. Oh, wait, this is Sutton United. And we're only 1 up. Ah bollocks. With half the time gone, Rose punches clear one ball into the box and we don't close out the seconds nearly quick enough and the cross straight back in is nodded into the near corner by their big lumbering number 9 who we'd spent 92 minutes wondering how he was a professional footballer. Fucksticks. That's 2 points dropped lads. Right, let's not fuck this up now and make sure we keep the poi…….oh shit a windmill.
94 minutes on the clock, one last big lump forward and Coby's a little behind his man, ball goes over his shoulder, hits the oppo lad and rebounds in field and into space to their 22 who's completely unmarked. And because Mr Rose has decided to come way out to, I dunno, maybe deal with the ball over Coby is miles out of position for, their lad just has to roll the ball into a practically unguarded net. It's an absolute mugging and no mistake, but a mugging where we've deliberately walked down dark back streets using a megaphone shouting about how much cash we have in our wallet as well as providing our assailant with a weapon of his choice and giving them bus far home as well. It's the sort of kick up the bollocks result that makes us glad we don't have a cat at home, hence we go full Kurt Zouma when staggering in later tonight. Still, it just goes to prove that no one beats us quite as well and as hard as ourselves. Two visits to Doncaster, 22 years apart, 2 crap defeats. Can I go home now?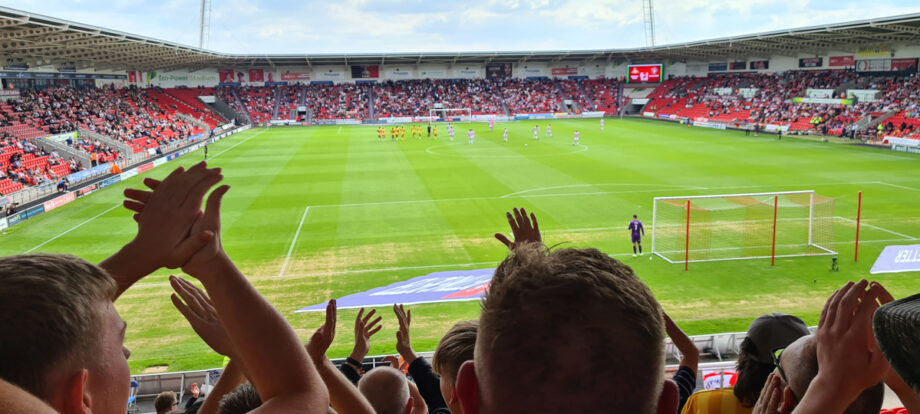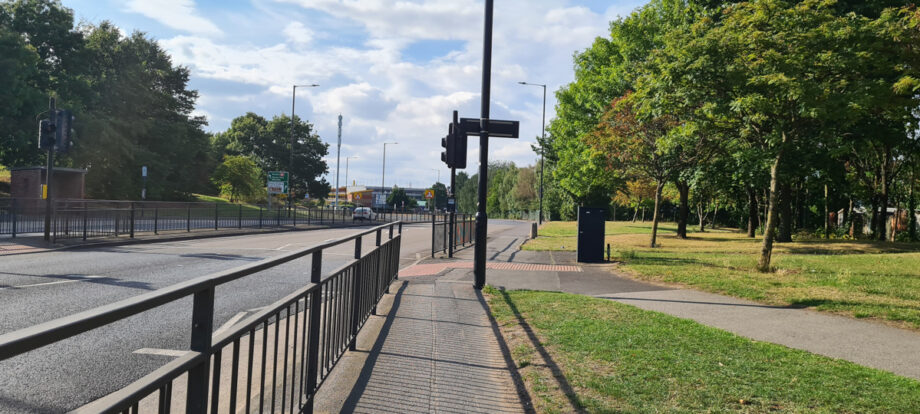 Dejected, we head out of the ground and with transport unlikely, some start the 20 or so minute walk back to town. Not fancying it as I've got a large bag to lump around, I hang back with Greek, Robbo and Magnum to see if we can squeeze on the bus waiting outside the ground to get back into town. But despite there being seats both downstairs and up, the driver refuses to let anyone else on at our stop and fucks off. You'd last about 5 seconds back home on TFL mate. JR heads off to walk it and I and Greek try for a cab for a few minutes, but nothing doing and so I too admit defeat and start the trudge to town leaving them to wait it out for the next bus. It's at this point I am of course regretting my lower half wardrobe choice, sweating like a good 'un as I follow the Googles on the quickest route back, still as I walk, I reflect on the fact that despite the outcome, no one was a cock outside the ground at all which makes a nice change in today's climate where being a prick to travelling fans seems to be almost a badge of honour for some.
On Whatsapp, the lead party have declared they're going to the Coach and Horses, which is apparently famous due to it's appearance in an internet meme\online video recently. You can see this HERE if you're interested. And yes, we've been there now, so we're famous too. That's how it works, we don't make the rules! So I head in that direction and just as I get into the more built up backstreets of town, I see a familiar couple of dickheads stood on the corner looking lost. It seems Greek & Robbo's bus showed up and they're now trying to get their bearings again. after it's dumped them off. I get them rolling again and we're soon joining the rest of the gang in the bar and getting a beer on. Just through the door into the main bar, someone's currently conked out on the floor properly pissed and being attended to by staff. Classy joint.
Here we tuck into a couple of "Fucks sake!!" pints and top up on fluids after the walk back from the ground. Meanwhile, the casualty from before is helped up to go outside for some air and promptly stops to yack up whatever put them in that postion in the first place right by the door as an Ambulance pulls up outside. "Is it always this entertaining in here?" we enquire of a local at the bar. "Pretty much, yeah!". We can't really be arsed to move on from here and tuck into a few rounds and plan for train cans and food. 4Days darts off to a micropub round the corner for a nice bevvy and his take out whilst some of us scatter for our different duties, this is well timed as Karaoke has just started in the bar next door and someone's already butchered Sweet Caroline, which given the amount of sheep we've all heard belt that out in the last year or two is quite some going.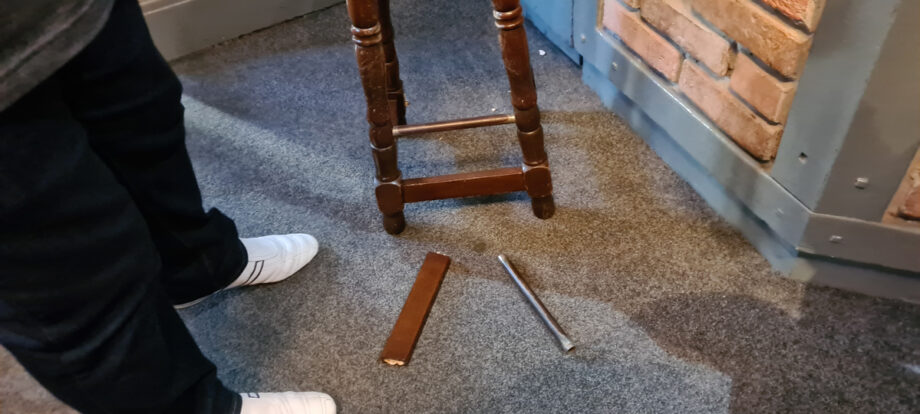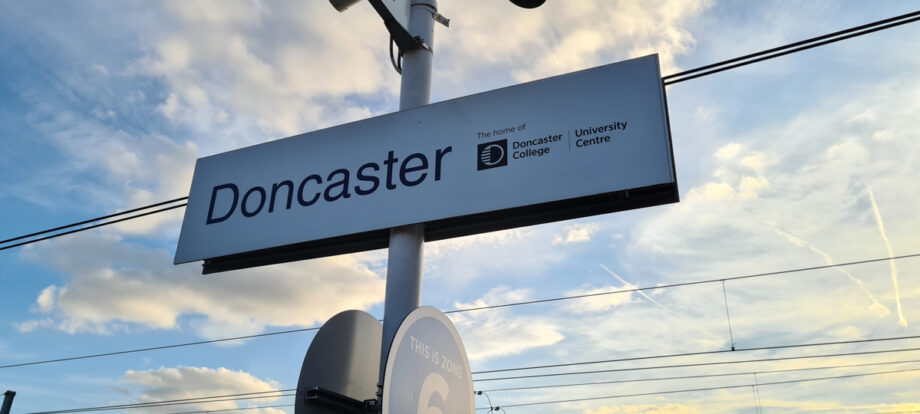 Chalmers and I go for cans. Magnum and Steve go for chicken, only for us to then run into them minutes later. "Too bloody expensive!" is Steve's only reasoning for their culinary supplies failure and I take a minute to direct him and Magnum back to KFC. Soakage is required lads! We hit Sainos and hoover up a variety of cans for the trip back, fortunately half the group deciding to neck G&T's helps keep this simple and eschewing a carrier bag for a proper bag for life, we lob up and head for the station with still plenty of time before departure. Anyone would think we do this regularly! Back at the station, Steve appears laden with 2 bargain buckets. Good lad! "Where's Magnum?" we enquire "Went to McDonalds instead!". It seems he's not the only one as the rest of the mob had seen them wander back past the pub distinctly chicken-less earlier on and decided to make an emergency stop at McD's "Just in case".
Shortly after, Mr X and the rest appear with a bag of 13 double cheeseburgers. "Nice work mate" compliments Greek before adding "I wonder how many double cheeseburgers you can get for a David Ajiboye?". "Fuck off" is all Mr X can muster at this point after a full day of such interrogation. The train is on time and we pile aboard, with some young Luton following lads in the carriage also partaking in cans on the way back from Burnley. They're a nice bunch and it turns out almost as geeky as we are, playing a game where they have to name someone who's played for both Luton and a random other FL outfit. They even try it on with us. First hitting us with "Name someone who's played for Luton and Doncaster". Dr Bell impressing with his instant response of "Mike Newell", undeterred they follow up with "Name someone who's played for Luton and Sutton. And you can't have Luke Gambin or Joe Morrell either!". "John Faulkner" comes back Magnum in a flash. "Fucks sake" mutter the dejected Hatters as 4Days piddles out another pint from his takeout colostomy bag of ale into his plastic pint glass.
Full of cans and KFC we still can't shake the disappointment of earlier, but all must admit that this is just the latest entry in the weighty and ever growing tome of 'Fucking good days out ruined by the football'. We wave goodbye to the Luton lads at Stevenage and are soon pulling into Kings Cross back in the smoke. Here the group splits, with the had enough homeward bound mob heading straight down to the underground. The rest of us still want a pint and after a few minutes discussion decide to hit Victoria and the spoons there for a nightcap. A very sweaty horrible tube journey follows which only further highlights my fucking dreadful wardrobe choices this morning. On the concourse we see we have 25 minutes until a Sutton train, so we pile into Spoons and order up a round to see us off on the road home. Then it's a train and a trundle back as I, Lee, 4Days, Indy and Mr X open fresh wounds pulling apart just what the fuck went wrong today. Ah let it go lads, fuck all we can do now.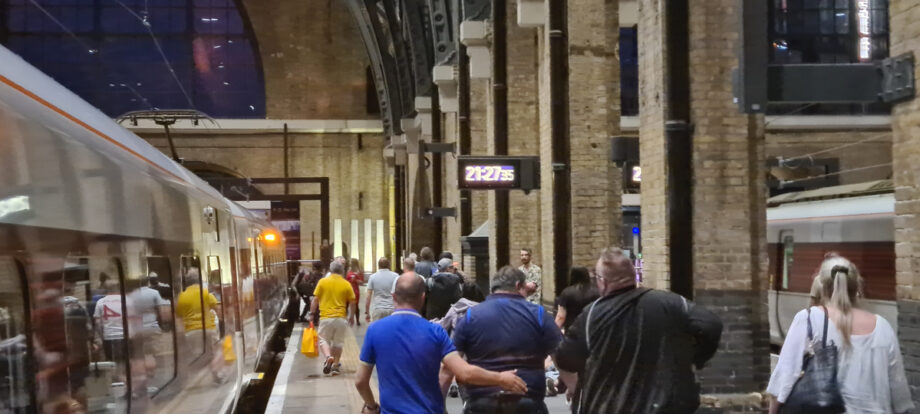 I bid farewell to the remaining pisscans at the Badlands and hop off to start what will no doubt be yet another sweaty trudge home to HQ with the flag bag slung over my back. Once more on the march, I'm again left with my thoughts, this time mostly related to "I really should try on my suits tomorrow you know".
See you at MK I s'pose.
Taz