"No blog?? On top of no season review? Sacrilege! I'll rectify that", I say to myself as I scroll through Twitter, slouched into the sofa, beer in hand heart just about recovering from the night's events. "Another thriller at Meadowbank?" I hear you cry.
Alas, no. Sleepy Jr. has simply just given me a mild heart attack, having raced ahead while I grabbed said beer, donning a Pennywise mask & wig to jump out right in my face as I return to the flat while Mrs. Sleepy films the whole episode for him to apparently send viral on Tik Tok tomorrow. We'll see.
And so the story begins… Sutton dweller, sleepy old fella, thought to himself "Well, I'm good at chatting bollocks"
Returning to the pages that christened me – Sleepy Joe at your service.
It'd be fair to say that Dorking away on a pre-season Tuesday night didn't initially set the heart on fire, so much so that when Crooked Ces signed off from Saturday's football training (Sleepy Jr. is a recent summer signing for Ces' team – in spite of reputations, no brown envelopes changed hands sadly) with a casual "See you Tuesday?" to be greeted with my perplexed look, he had to remind me. And lo, the fire was lit. FOOTBALL!!! It's been 58 days after all.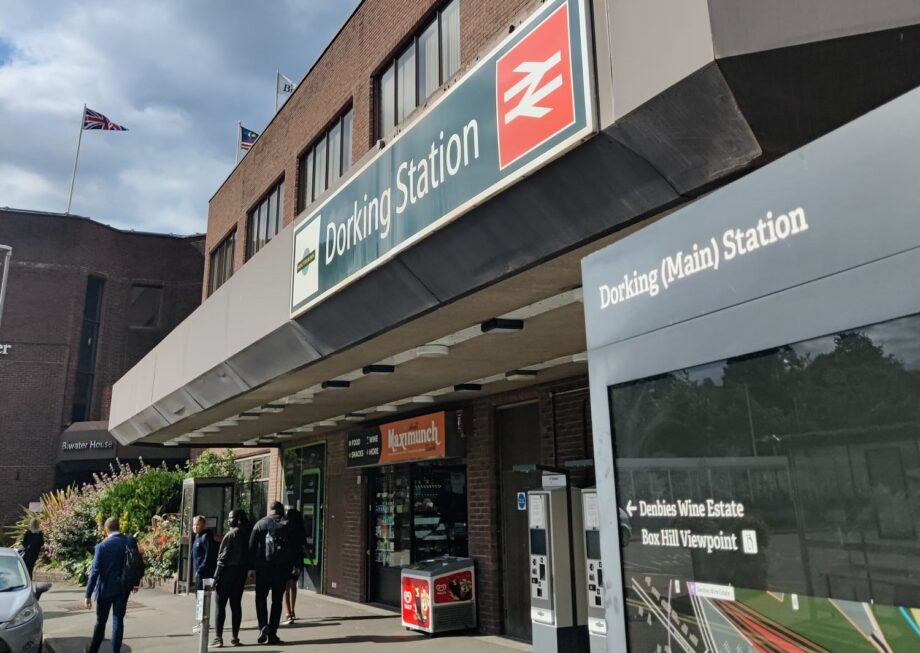 So, signing out of work at a spritely-by-recent-standards time of 5.31pm, I head swiftly home to find the aforementioned Sleepy Jr. (Dylan) kitted up and ready to go. Seems he's missed it too – there's a limit to how much F2 videos and FIFA22 can fill such a void it seems. A quick splash under the arms & a spray of Lynx Africa later and I'm ready too, so off to Sutton Station we dash.
As we depart the train at Dorking and head towards Meadowbank, Dylan reminisces of how we found a souvenir football in the pond / lake behind the stadium on our way back from our last visit, as surroundings become familiar. We enter the ground just in time for kick off, grabbing him a cheese-laden hot dog en route to our spot behind the goal where we spot Crooked Ces and a selection of DILFs already stood. "So that's your pre-season diet" comments Ces upon sight of Dylan's dinner and I quickly explain the indulgence, proudly excusing it as reward for winning the 1500m at school sports day in a time of 5:55. "I did 1500m in 5:55 too" comments Scotty Coaches… "5 hours, 55 minutes!".
We're joined by Keepo, Fish the Cabbie and Vegan Bev as the match gets underway, and Southampton Steve stops by for a quick catch up in time for Keepo to wonderfully regale us of his last visit here – witnessing Ebbsfleet, well, Ebbsfleet it in last season's playoffs. Chef's kiss. Big Phil (of Wigan blog fame) also stops by for a chat and there's plenty more familiar faces about as a decent number turnout for their football fix – the Yoof having also appeared to have undertaken some summer recruitment, with the stand to our right looking more like a Stone Island exhibition. Talking of familiar faces, Josh Taylor & Jack Jebb line up against us tonight as we start with a team of regulars fleshed out with recent signings Jack Rose and Sam Hart, and a couple of trialists whose identities remain unknown despite intense interrogation (read: "any ideas on these mate?") of Mr X who usually has the inside info in these cases.
Eight minutes in and Dorking are 1 up after Barden turns a cross from their lively right winger into his own net under no real pressure. Three minutes later we're level though as Dorking's keeper mis-controls a back pass to leave Donovan with a tap in. Sadly any hope this may initially offer that we were in for a comedic exhibition of rusty pre-season clangers proves unfounded as the half peters out with a few half chances and little else to write home about – Donovan cracking the crossbar the main highlight while he also has a lobbed effort clawed away by the Dorking keeper who stands up well. Rose is also worth a mention however, directing operations nicely at the back and communication with Louis in particular appearing strong and reassuring already.
Half time saw excited chat in the beer queue amongst Dorking fans of trips north of Birmingham now on the agenda, citing Wrexham of course as a 'big club' amongst others. Remember those days fellow U's? And here are we now lining up our own ventures to the likes of long-established league clubs such as Crewe Alexandra… Who'da thunk it?! Still doesn't get old. Although I'm sure it will eventually!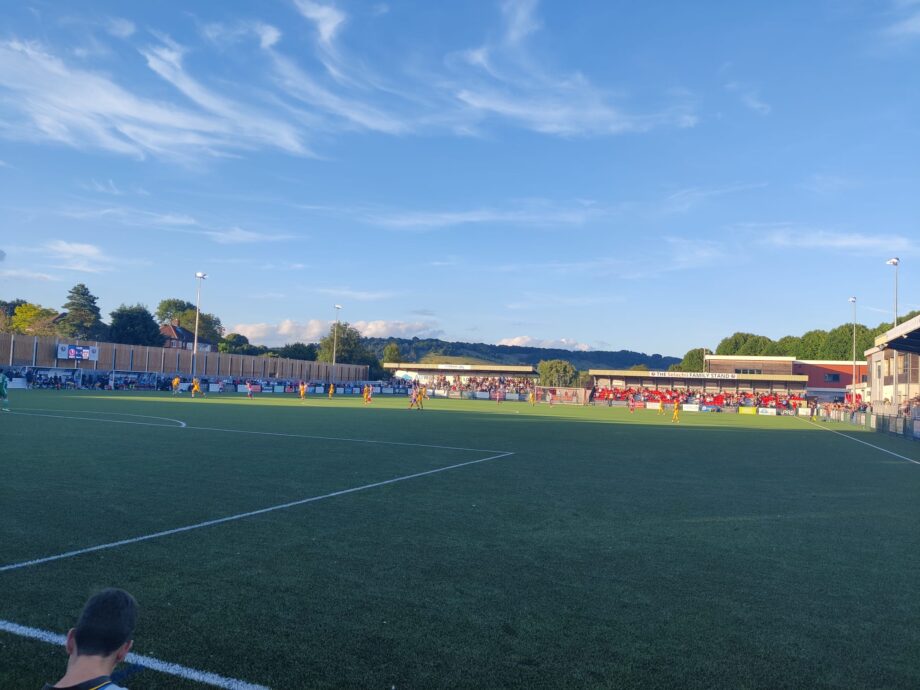 The second half gets underway with another XI on the pitch comprised of regulars complemented by new signing Kwame Thomas and more trialists – most notable to us at least being the diminutive right winger wearing Joe Kizzi's number – christened "Hot-wash Kizzi" by yours truly to Dylan's raised eyebrows. He impresses, to these eyes at least – lively and hard-working and nearly reaps fair reward as he hits the post and fires another opening over the bar. Another of our trialists up front looks a handful while Milsom and Randall look our best option for success causing trouble down the left and, after Randall narrowly skews wide, he finally gets the breakthrough a few minutes later playing a one-two with Ali Smith who's lovely cushioned touch allows Will to take the ball in his path across the box before switching his shot low across the keeper for a well deserved goal. Dundo gets 5 minutes at the end which is always a welcome sight and Brad House, having had nothing to do all half, makes a good close range save to deny what would have been an undeserved late equaliser.
Leaving for home I check the trains and realise I've planned this badly, unless the Lincoln Arms will let a 12-year old in at this hour – which they don't. So without wishing to bear a 40 minute wait for the train home I bite a bullet and cab it home, not without letting it be known to Sleepy Jr. that I could have spent the money better in the pub and still been in pocket! Still, the little shit can pay me back when the ads start paying out on his viral Tik Tok video.
Yeah, likely story.
Sleepy Joe
Thanks go to Steve for the photos used!