Well, we can gladly say that the title race is finally over. For the rest of season we'll be looking over our shoulders now at the chasing pack instead of seeing what Macclesfield are doing. Shame really, as it was only a few weeks back where we were right on their tails and dreaming of the most unlikeliest of stories since Buster Douglas knocked out that Tyson fella.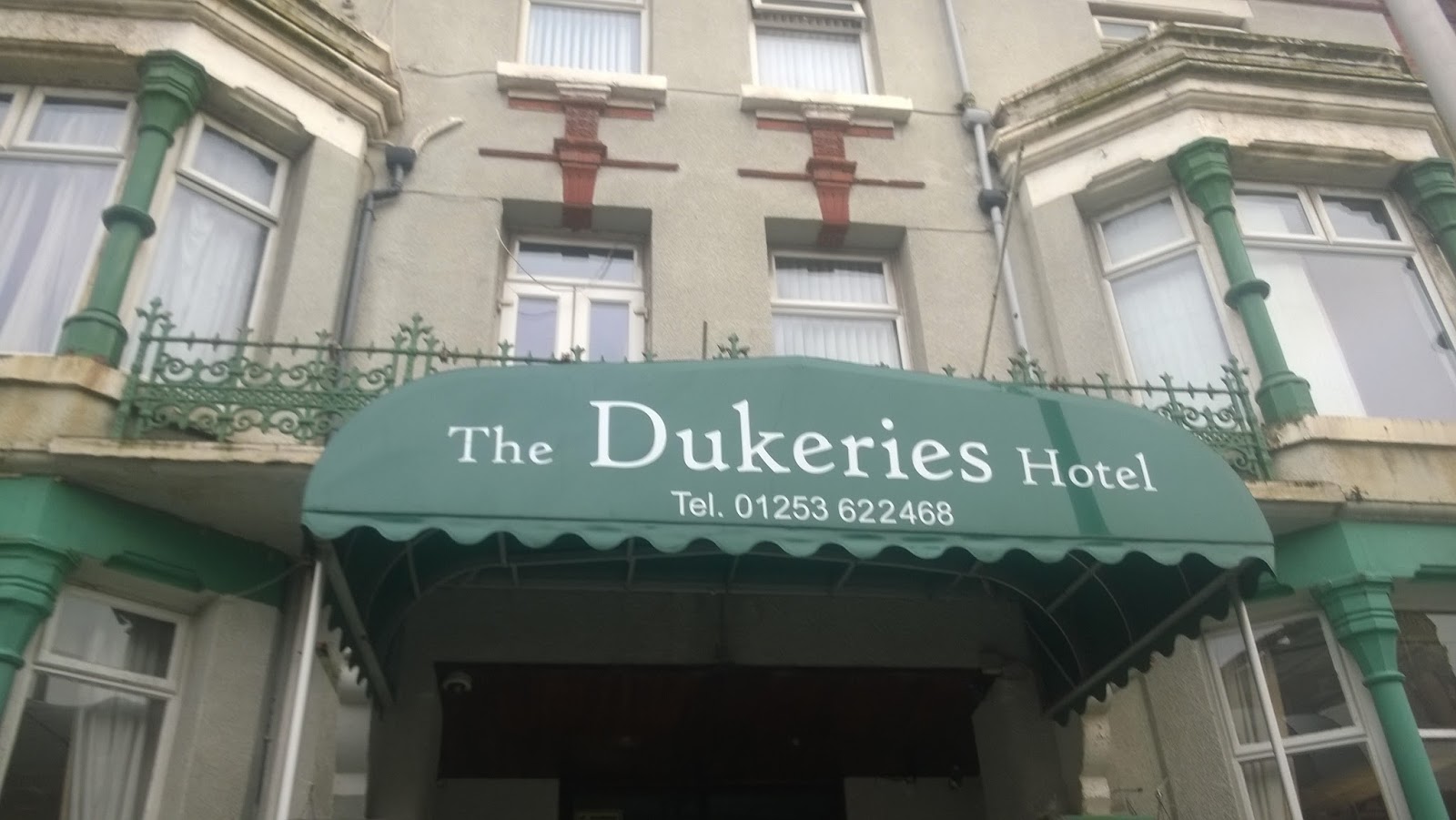 Punched right in The Dukeries!
Looking way back to when a ball hadn't even been kicked, and the fella on the YTS first produced the fixtures, no one could deny that a trip up to Blackpool at the start of April was going to be pencilled in for a mighty piss up type grand day out. I mean, no one would plan anything else that conflicted with it. Would they? I mean even if you were going to get married, you wouldn't organise your honeymoon for THAT date? Surely not…
For the Gandermonium rabble this adventure was planned months and months ago with the sort of military precision that would the make the Wehrmacht weep in admiration. Or at least look with astonishment as in fact, only the week before we were still fuckin' around with exactly who was going and what we were doing. One person definitely not available was Chalmers as he was on his brothers stag do to Nottingham Bristol. We also won't mention what the likes of Rax & Crockett got up to because that would be boring.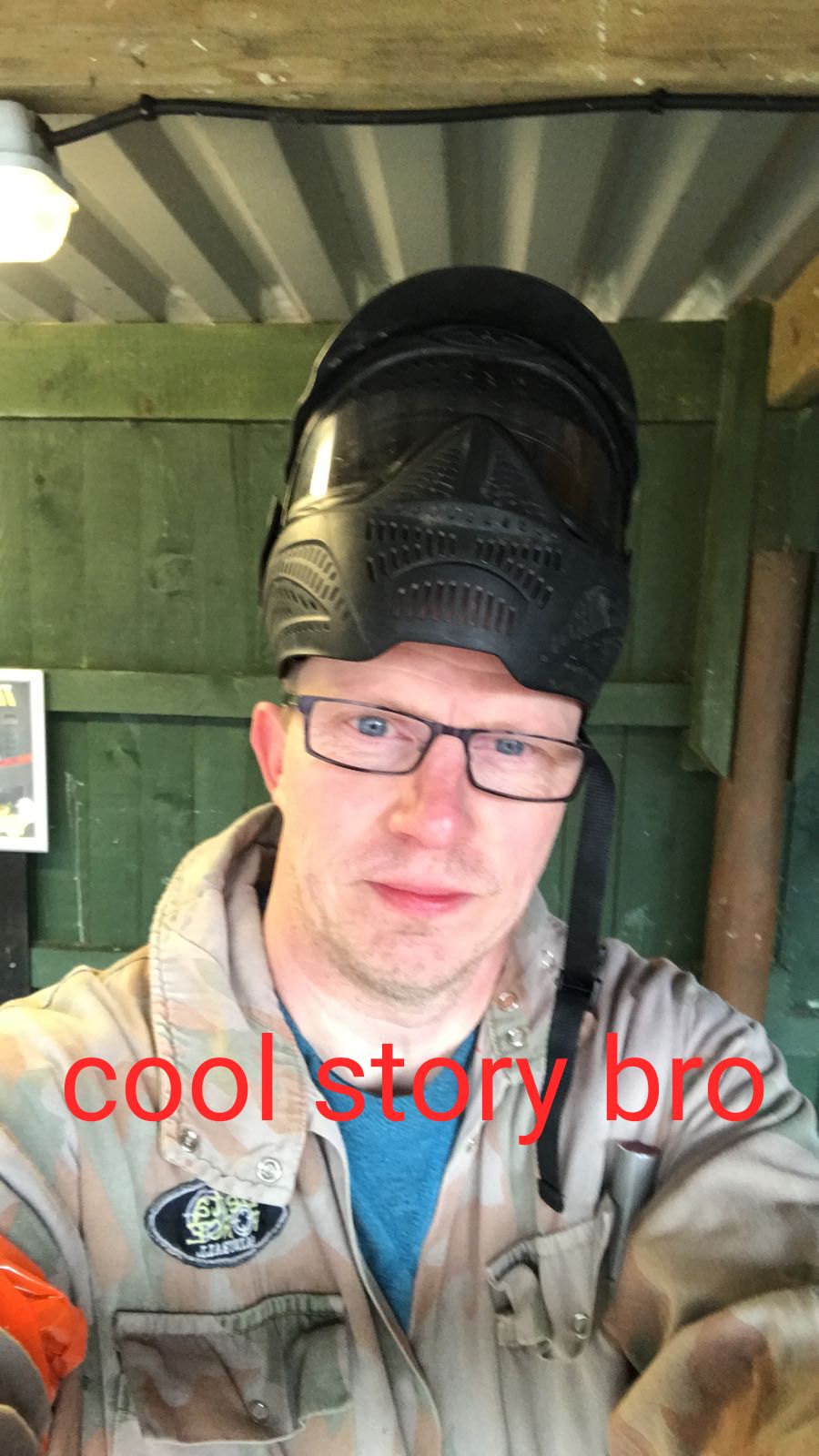 Should've come to Blackpool..
With another bloody rail replacement service out of Manchester and train tickets via Preston a little on the steep side, the plan was to head up on the Friday. So we decided that taking several cars up would be the best option. In the mean time, Indy & Sean Connery's Stuntman had already decided to head up by train. A couple of the cars were to leave early doors (they wanted to see some form of aquatic sex show at the Sea Life centre apparently), but mine was to be at around ten o'clock. Having been delegated a seat within the confines of the Croydon Boyz motor, there was nothing else to do but head down the cafe for some breakfast. Magnum P.I. was going to be our driver and after picking up Southampton Steve and then Taz, I was last on the list carrying various rolls and hot drinks for the journey.
Taking a route that encompassed those bloody shit temporary traffic lights round the back of Merton Council, we eventually hit the A3 and M25 without much delay. The plan appeared to be to hit the M40, M42, M6 Toll, M6 & M55 all the way to Blackpool. If it was that simple, I could've charged £100 + VAT for the privilege and dealt with a bloke called Headley!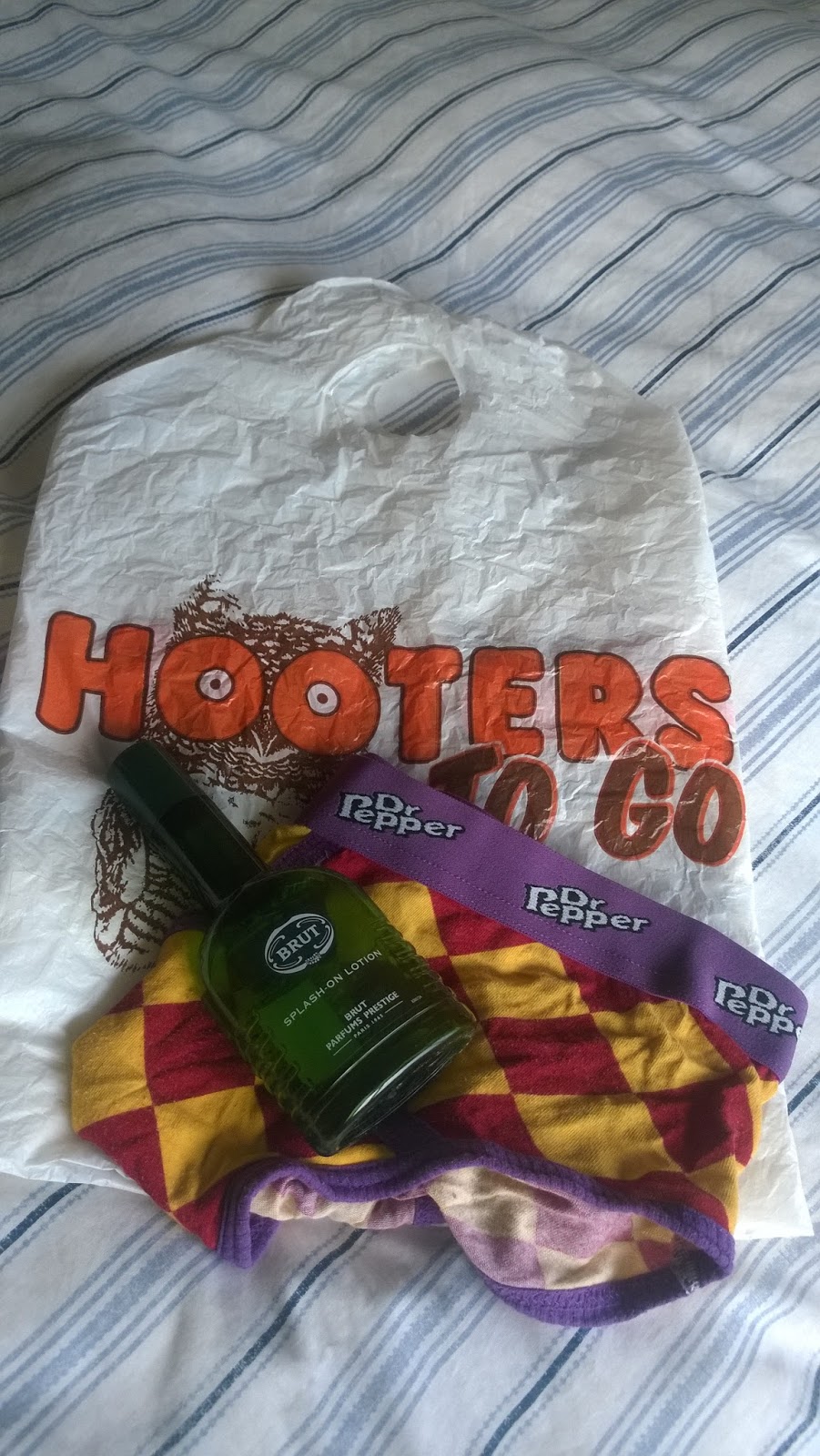 Dukey over packs once again…
Standard affair with the usual bollocks that comes out of mouths. At one point after discussing our shit showing against Bromley, Magnum P.I. would claim that that was the first time we've ever lost on the box, he was quickly reminded of the Notts County FA Cup match. He quickly tried to save face with "We've never lost in the league on the TV" only to then be reminded of a certain Kettering match shown on some form of BaE Systems satellite service back in the early 90s. "Well, we've never lost at home, in the league, on a Bank holiday Monday, on BT Sport then!". Which we couldn't argue with sadly. Stats these days eh?
A quick piss stop at Charnock Richard Services and we continue to make good time on the M6. Suddenly, we hit traffic that comes to a grinding halt in between Junction 15 & 16. This in turn becomes an eventual two hour wait as an accident up ahead has spread all over the northbound motorway. The "Unity" of Mr X had only been around twenty minutes in front of us and had just missed it. The lucky buggers!
Still we got to see the sight of not only people milling around on the M6 but a couple of idiots deciding to steam down the hard shoulder, trying to get off the motorway. A coach several cars in front became a communal pisser for the female of the species. All we needed was motor-home where we could've grabbed a nice cuppa while we waited the 2 hours for everything to clear. While we wait, Taz puts out the word on the delays, with the first carload through maybe it can save the DILF Megabus crew from some wasted VDT?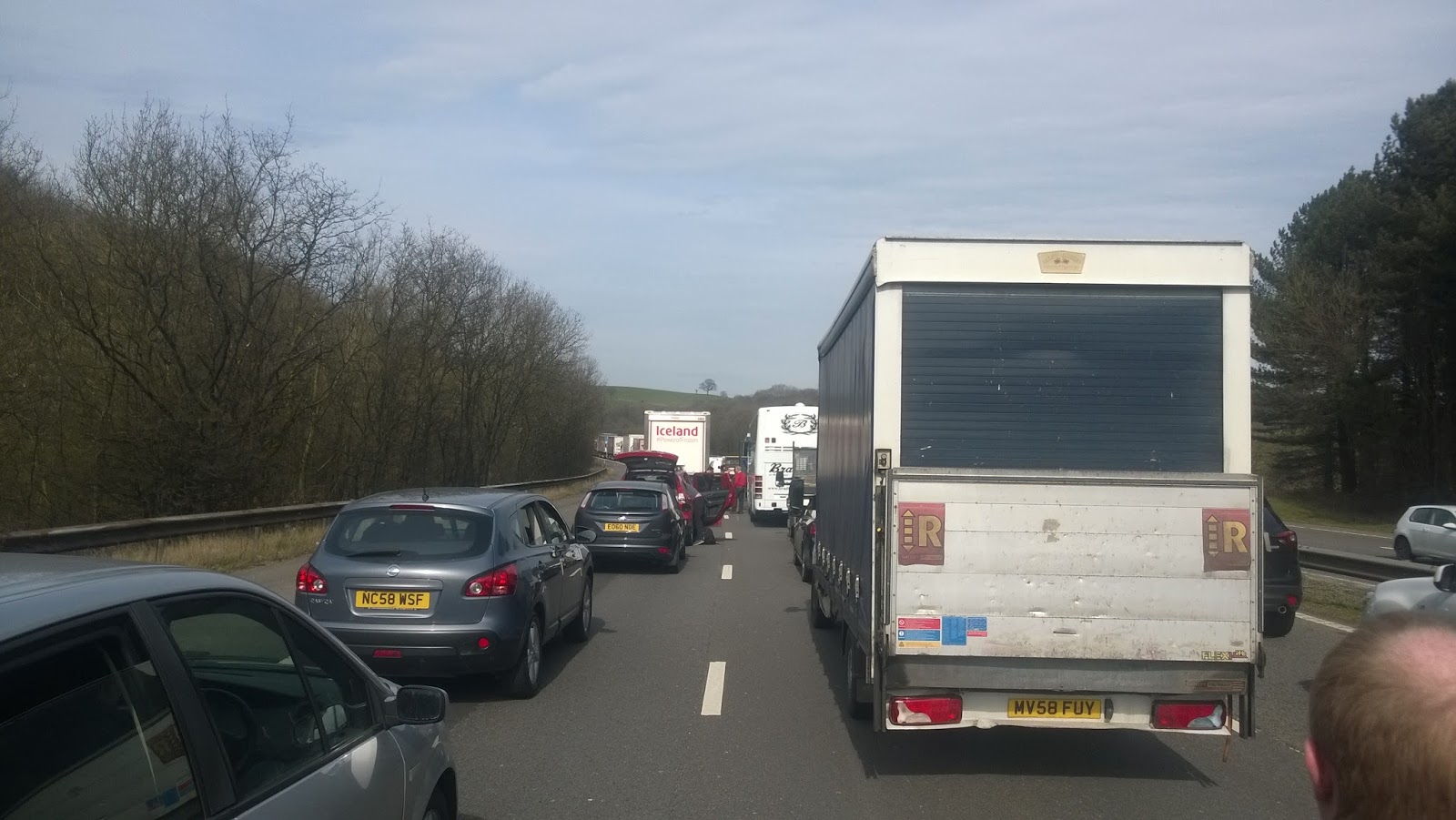 Literally on the road, going nowhere…
Eventually the traffic was filtered through (one of the lorries we passed looked an absolute wreck) and we were back on the move again trying make up valuable drinking time. But not before long we hit unattended roadworks and the usual average speed camera bollocks that goes with it. By the time we arrived in a overcast Blackpool it was pushing after six o'clock. So just the eight hours to get here then. Using the Tom-Tom we finally found out digs via the back ally.
Ah yes, The Dukeries Hotel. A wonderfully named place if I may say so myself. Even better when they ask you at check-in, "So who is The Duke?". The hotel rooms are small and sparse, but a lot better than anything the B-Team were to have in their £8 a night digs up by the Pleasure Beach, it sounded like they'd have been better off staying in the Haunted House itself. Paying up the £65, we find out that there were still two more to arrive in Indy & Sean Connery's Stuntman.
The room is that small that the toilet is wedged between the shower and the widow. A tight enough squeeze that you seriously can't do a bit of man-spreading. At one point I think I had to cup myself just so I could sit down on the bloody thing! The shower is also that small that the head is below your own and every time you open the door, it smashes into the sink. Thank God that the panel was plastic otherwise we probably would've cracked it between us. And the water out of the cold tap, cloudy at best. Sorry Firm Leader, I filled up the kettle with that as well.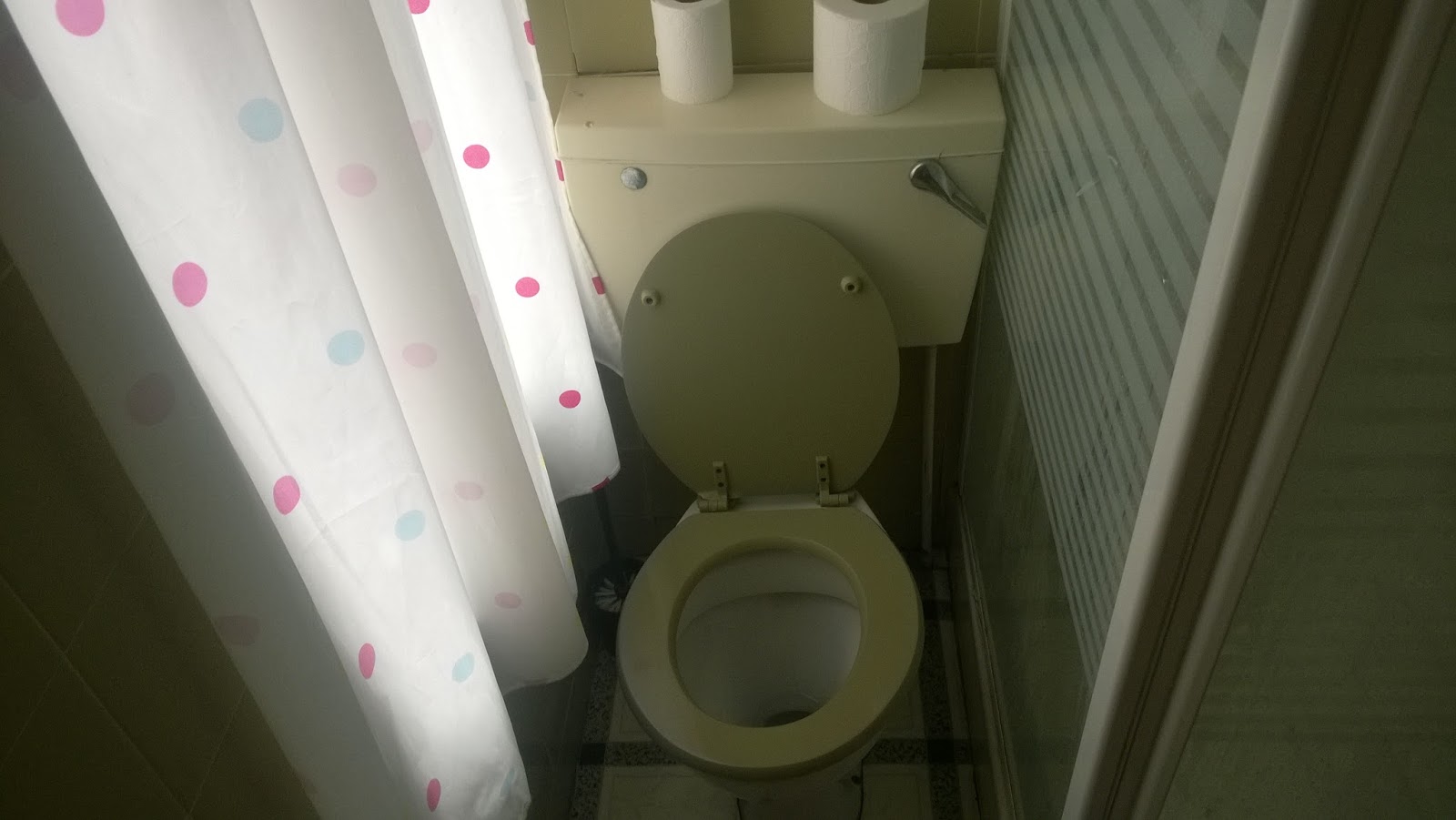 Cupping may be required.
Heading out into Blackpool we find the Firm in the "Brew Room" that was covered in the colour of Blue & White in honour of the original founding colours of Blackpool FC. In attendance were Indy & Sean Connery's Stuntman who had decided from the station to have a few beers to break up the walk before finally checking in,. One member of the Firm was eagle-eyed enough at this point to realise that I'd been 'flying low', thanks for that, but why were you looking there in the first place? Pervert!
A few pints down and word reach us that Totts and the rest of the Dirty Barry Dogging CircleDILF crew are across town in "The Counting House" so we finish up and head off for the grand meeting. Eventually finding the place we get down to finding out about the whole Sutton quiz that Totts had managed to pull out of the bag and win despite getting about 3 questions right.
A few of the Firm decided to go for a curry (first I heard of it) and with this place quiet as anything, we decide it's time to move on. Next on the list is "Bar 19", a really fuckin' random place that had electronica pumping out of it, but it was also CAMRA pub of the year in the local area and a wet dream for several of the boys. Mmmm, MPA…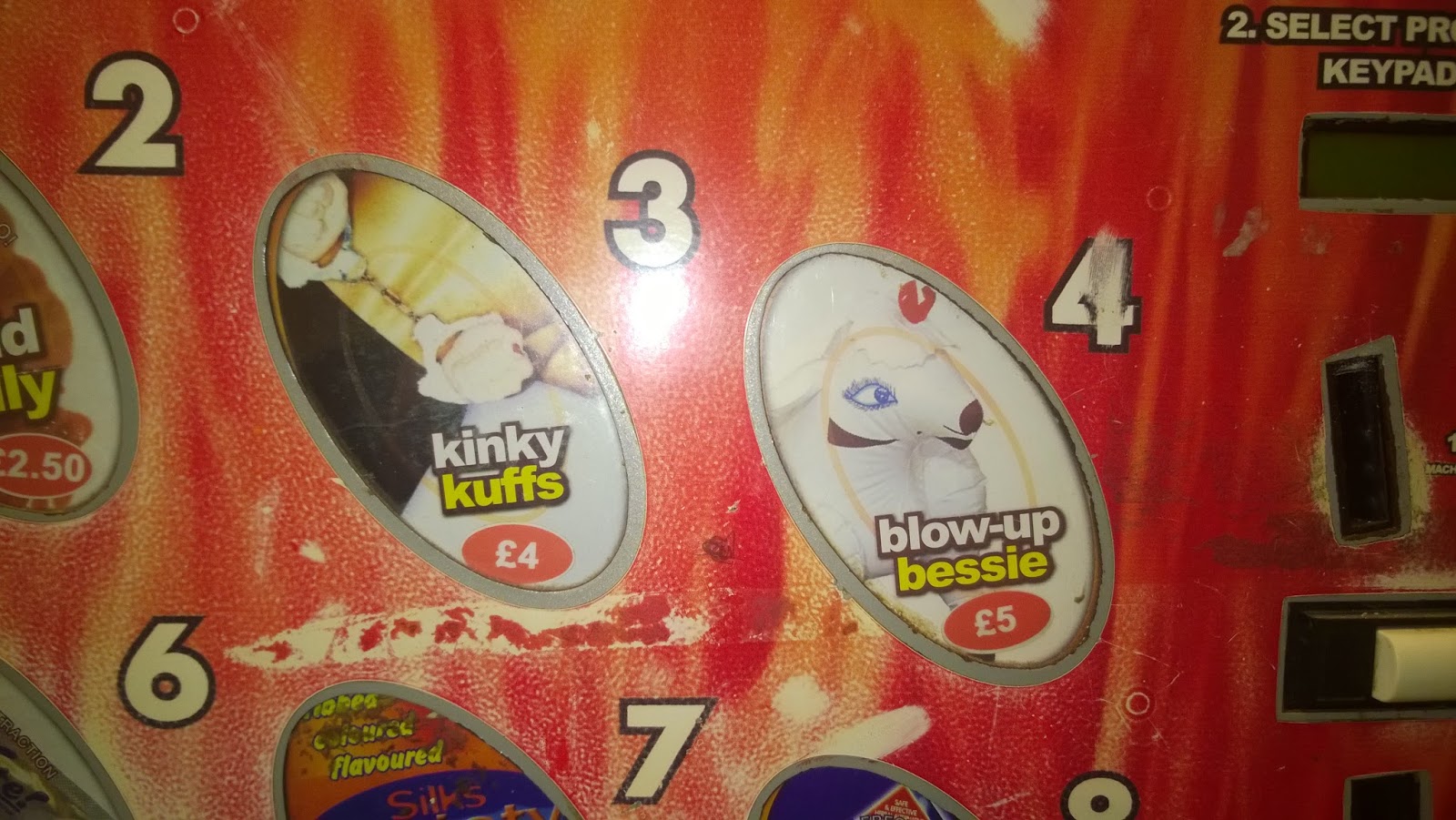 Standard vending machines…
One thing we were beginning to find was that everywhere seemed to be a bit on the quiet side. Even this place had all of us and a couple of locals in it. And by the time we left there was no one bloody there! Across the road from "Bar 19" was "The Litten Tree" and a teary-eyed Mr X was soon dragging us towards it in an attempt to re-live some moment from his past. All I hoped was that it wasn't a stabbin'. And not Captain Stabbin' either, ya perverts!
After a couple of pints in there, the DBDC decide to move onto pastures new and we agree to follow forthwith. Just as we are about to leave we find we are a man down. Unfortunately, we don't reinforce the Gandermonium number one rule because the MIA is new bloke Joe who is making his virgin away day appearance. So where the fuck is he? A quick no answer on the blower and several attempts on the top secret special edition Gandemonium Blackpool WhatsApp group thingy fails to provide the answer.
As we are about to give up on him, Mr X returns from the toilets to say that he's found him. Turns out he was bloody asleep on the bogs! Not only that, we also learn that apparently he has a bit of form for falling asleep in places. Lucky he wasn't at Chalmers' Stag Do then. In fact he also confesses that the last time he fell asleep in a pub, was "The Litten Tree" in Sutton! Quickly after this, a Gandermonium EGM concluded that this was mutually inconvenient and the next time this happened, we were going to leave him behind.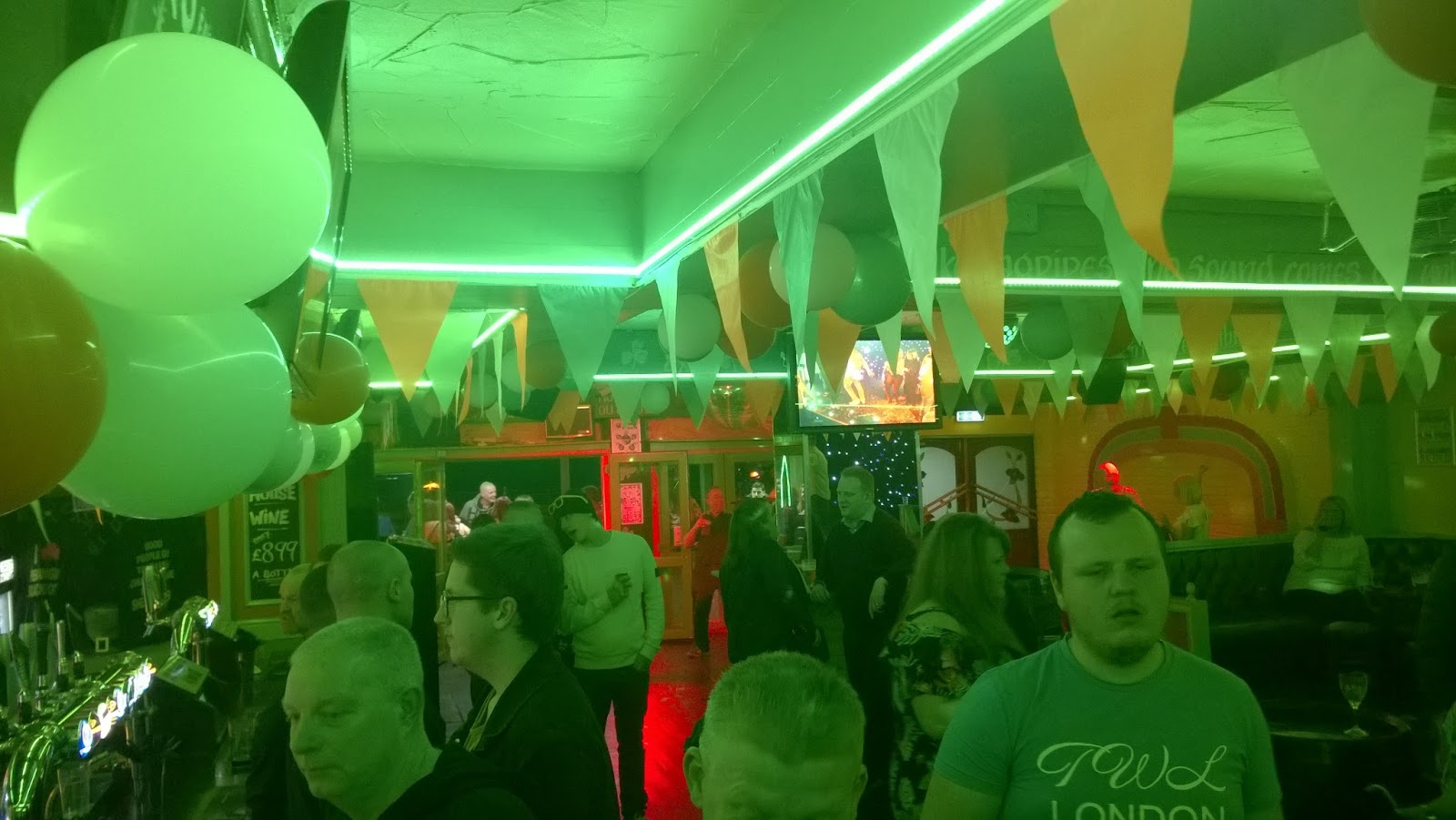 Fuckin' green…
With several of The Firm having slipped away for that curry we're soon all reunited in the greenest pub in Blackpool. Good old "Shenanigans", about as Irish as they come, with plenty of sawdust on the floor. Everyone starts to neck down the drinks and get in mood despite someone requesting Spice Girls be played. Some of the boys then left after Robbo put on THAT fuckin' song and headed to a heavy rock club round the corner to cleanse their souls. The rest of us lasted a few more before it was time to wind down. Here Mr X managed to lose his coat, not knowing that it had been taken behind the DJ booth for safe keeping and left without it.
Still fancying another drink, I head off towards "The Tache" and the very heavy rock music where only 4 Days, Taz & Magnum P.I. remain, here we have a few more as they regale me with the story of why the fella was kicked out just as I arrived and how "Sleepy" Joe once again fell asleep and had to be taken home. And trust me, there was quite a few long-hair thrashing it about on the dance floor. Although I was told by Taz, that when the boys first arrived there were only two blokes playing pool at the back, two behind the bar and the DJ. Jesus, Blackpool is quiet on a Friday night!
For those of us not invited for the curry earlier, well, just me and Taz really, hunger kicked in and it was KEBAB TIME! And with a choice of several establishments, you would think that it would be easy. It usually is except when one of you want a Chicken Shish & Kofte mix. Turns out that they have a different name for in these parts so after visiting five different kebab places we return to the first one to find that they do actually do it! My Chicken Doner on the other hand…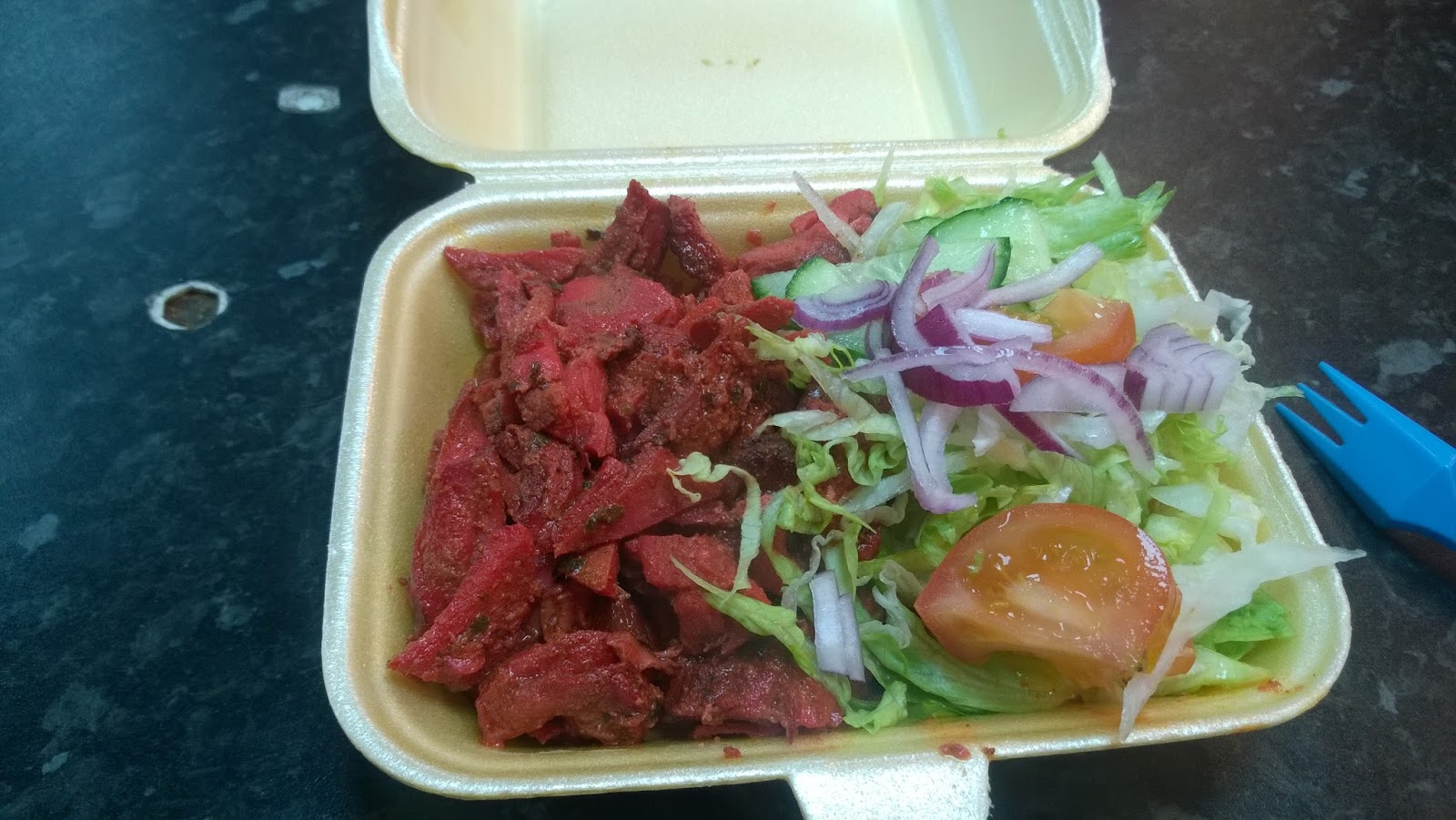 Healthy, nutritious living
I wake up in the morning to find some awful Brain Dennehy TV movie on some channel called "That's Lancashire!", a strange enough film that at one point had this fella answer the landline phone with: "Yeah it's me, yeah I'm here down the club". Well of course you are fella, they rang the fuckin' number! Heading to breakfast we find that only Robbo & Ozzie are already there. Soon to be joined by a shoe-less Dr Bell and most of the others in spits and spurts. After ordering a full English ("Got any Black Pudding John?") we discuss the events of the previous night. Ozzie was clearly more interested in other topics like: Sausages, Spitting during Sex & a story that involved someone being slapped in the face with a mackerel. We also got The Firm Leader's attempt to create a new game he dubbed "Food or Winky". Yeah, don't ask. We'll leave it there.
With an hour or so to kill before the meet at 'Spoons some returned to their rooms. Mr X decided to hunt out his coat back at "Shenanigans", which he fortunately got back. Apparently at ten o'clock in the morning there were people already drinking in there. A few others toddled off to the pier to try their luck at the local amusements. And despite what one person insinuated, I didn't go back to my room for a tug either! With the weather outside turning nasty and pissing it down it was soon time to make the dash towards 'Spoons for the pre-match meet.
cIn the 'Spoons we find Totts and the DILF gang and witness the unveiling of the limited edition of the 'Dirty Barrys Dogging Circle' club badges. Except everyone seemed to read it as 'Barry's Dogging Circle, Dirty!' I blame the designer myself (Get fucked – Ed). We were soon joined by the CoC's who were mostly doing just the day trip. Except for big Mal, who'd came up the night before but like most people round here, he decided to stay in! Maybe that's what people in Blackpool do on a Friday?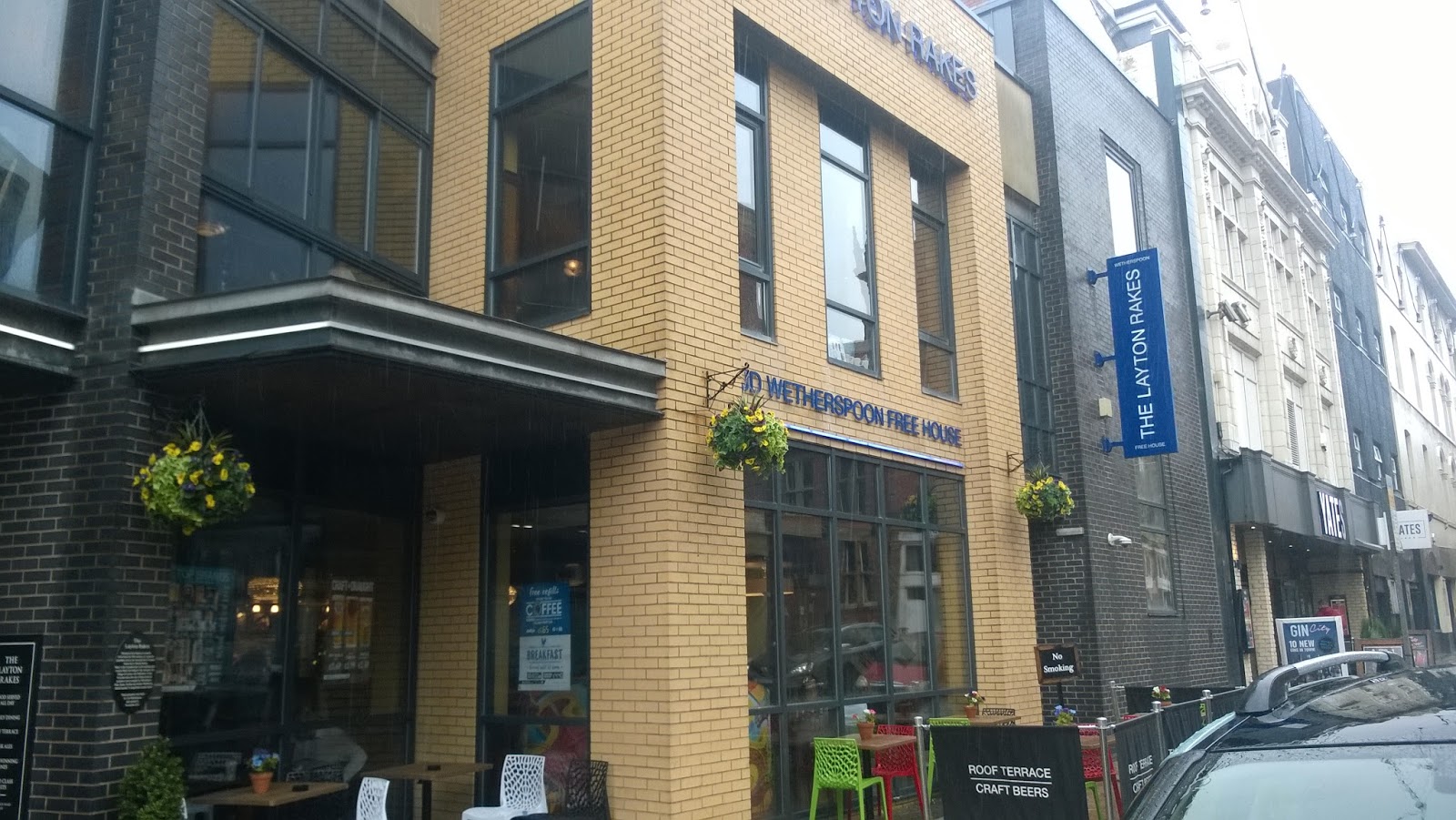 The only 'Spoons we went in…
The B-Team were also soon to arrive and begun to regale us of their very special sleeping conditions. When the highlight of the night is that some one has a Toy Story bedspread you know you got what you paid for. Every time we spoke to them there was something else that needed mentioning. A shower with no hot water, a toilet that need you need to remove the cistern to flush it, everyone sleeping in the same room, a couple of transvestite owners. The list went on.
Sherbets are ordered straight to the ground as the drinking option out in the sticks are very limited. At the club bar, and the busiest place of the trip so far, we find 21 TV screens and a large TV wall showing the Liverpool vs Everton match. Luckily for us, one screen stuck round the corner was also showing the Gravesend & Northfleet Ebbsfleet vs Macclesfield match that saw Gravesend & Northfleet Ebbsfleet equalise late on to give us an outside chance to make up some ground on Macc and Gravesend & Northfleet Ebbsfleet a late play-off charge.
Time to enter the ground and after purchasing a ticket from the club shop, I'm about to scan my ticket at the turnstile before remembering to ask about smoking in the ground. Obviously its a no-no but at least they have the common decency to open the gates at half time to allow some of us outside to feed our habits. A cheeky Chips & Gravy for myself is the order of the day for some soakage as Ozzie once again carries on her sausage obsession by buying what must be the biggest sausage roll in town.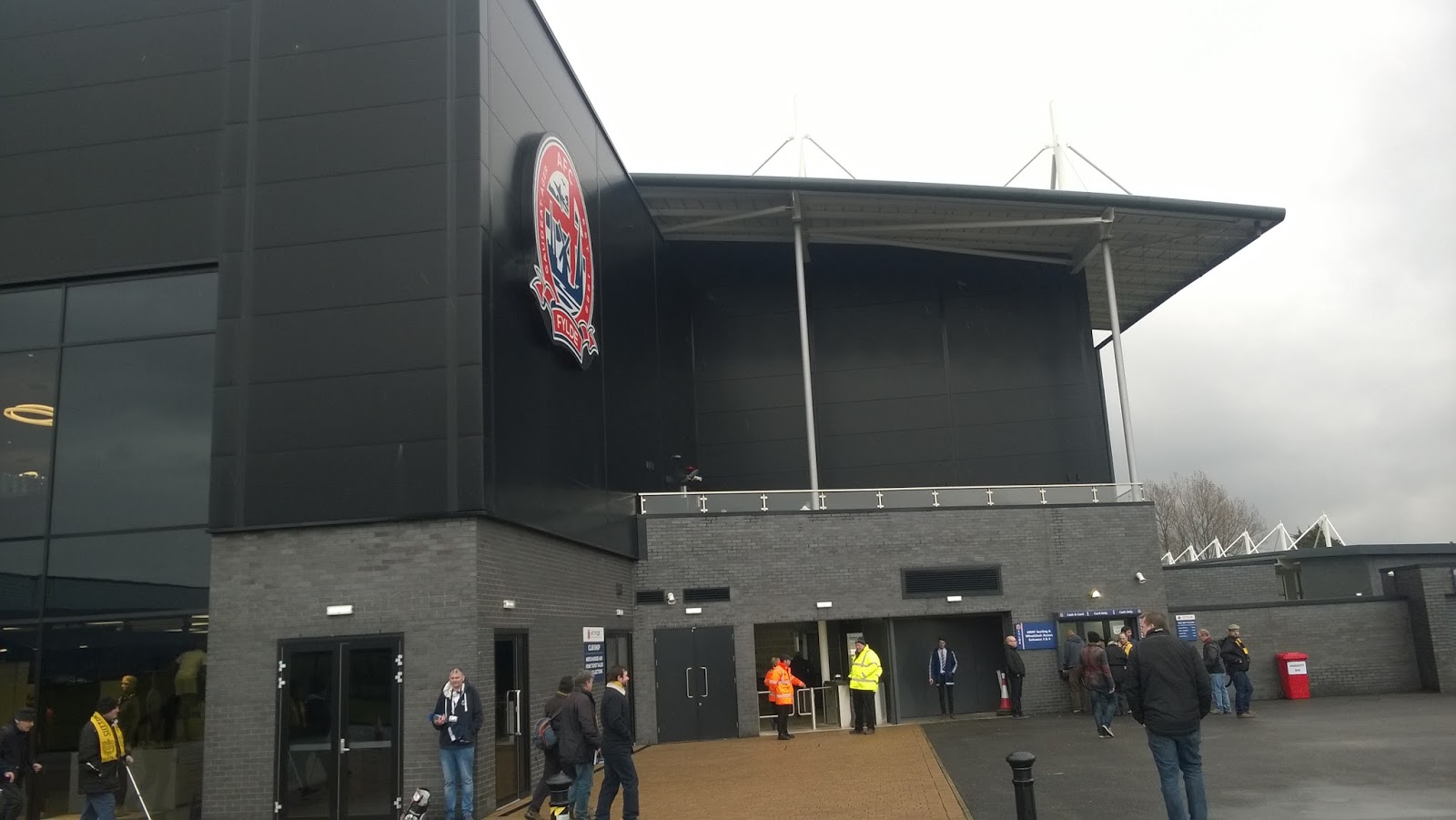 Non-league grounds…they're all dumps eh?
Butler, John, A Thomas, T Thomas, Walton, Downer, Bolarinwa, Davis, Wright, Eastmond, Cadogan. Bench Warmers: Beckwith, Dundas, Beautyman, Stearn, Harrison.


With Sutton attacking toward the large support from South London, any issues with the start from last week were forgotten as the boy set up with much more shape and a better work rate. Playing with two wingers this week meant that Fylde couldn't double up like Bromley were previously able to do. Although we did manage to employ the now trademark kick-the-ball-out-from-the-kick-off to great effect. Wright had the best of the opening stages when his shot from on the edge of the box was tipped wide by the home keeper. Minutes later and Walton was seen inside his own box lay up the ball and attempt to clear it. His effort found the half way line when Fylde tried to knock it back. Eastmond intercepted the ball and nodded it into the path of Wright. He collected the ball inside his own half and started to maraud a'la Dundas. Taking it round a defender like he wasn't even there, he travelled into the box and got a shot off. Thinking that the keeper had it covered, Taz shouted in frustration, only to then realise that the ball had travelled into the back of the net thanks to some limp wrist action. 1-0!
The rest of the half saw Sutton try to grab a second but could only see several balls into the box be dealt with by the home team. At the other end it was as quiet as a Friday night in Blackpool as I don't think that Butler had to make a save. Eastmond's balls took some punishment as a free kick was blocked by them. Apparently the big highlights from the match commentary was when someone decided to use the little boys room at half time and forgot to turning off their mic!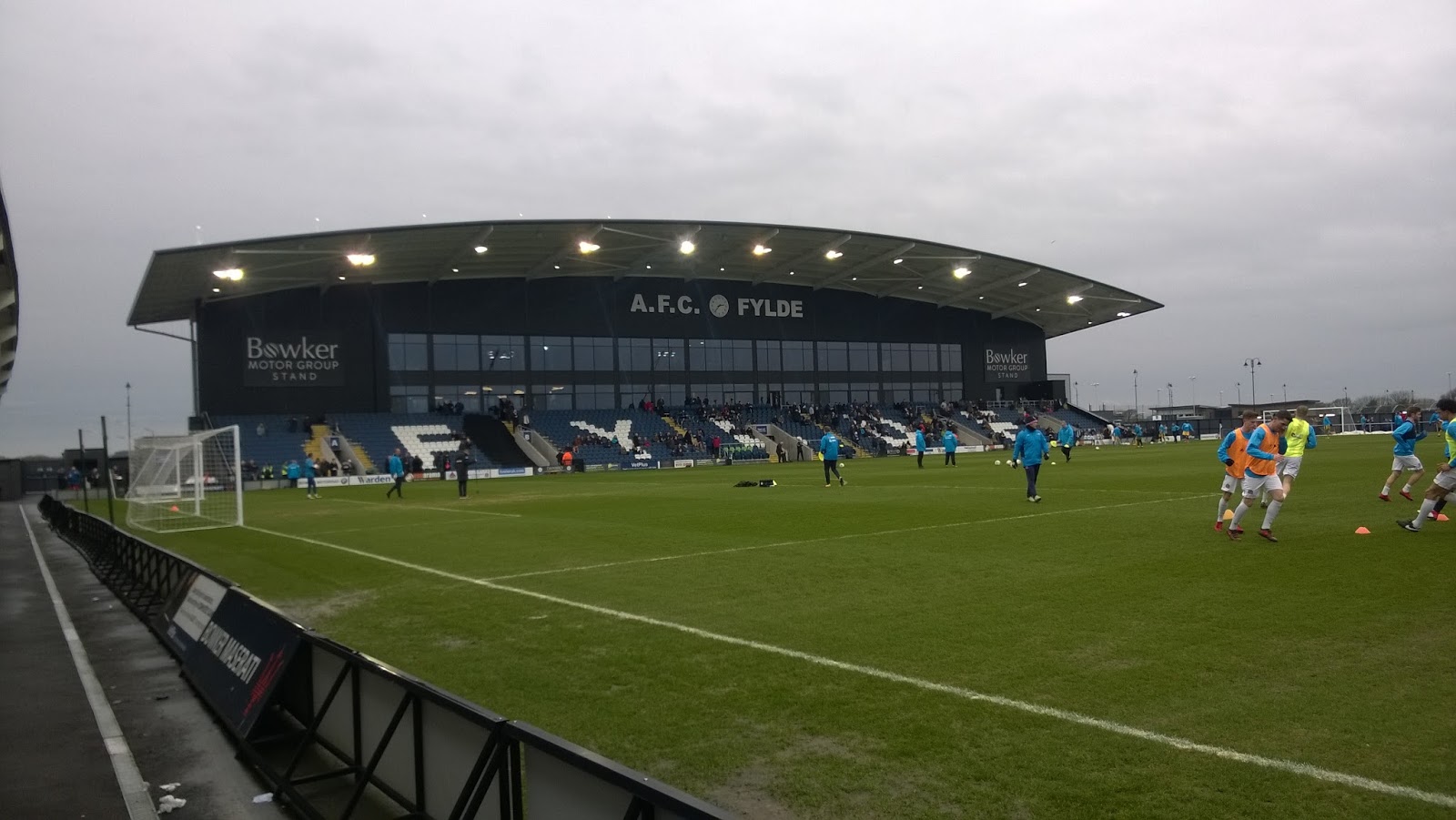 Modern…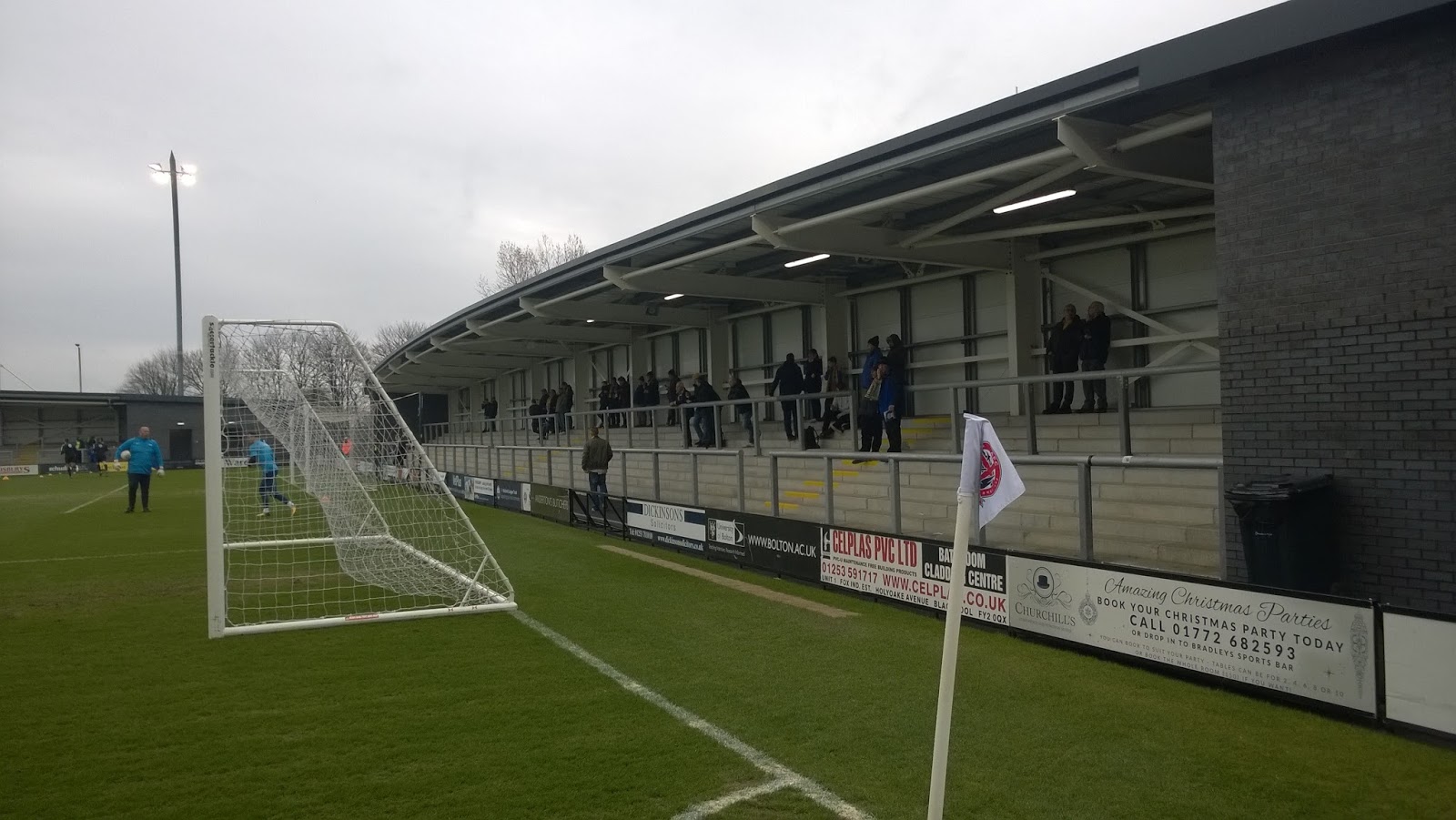 Away end…
Having been designated to take care of the half time round, I trundle off to join the queue for beer. A wide selection of Fosters, Fosters or Fosters (Bob was convinced that Spitfire was on offer, till he realised that it was actually spelt 'Sprite'). Having it served in a take away tea cup including lid was rather strange but as it was only a small can size, it didn't last long at all.
The second half and Fylde came out of the tunnel a whole new team. Their first chance was a crackin' little effort from outside the box that curved like a bad mother and had Butler pull off a super one handed push wide. Sutton's best chance fell to Cadogan who's shot was weak enough to be easily saved though. At one point, Eastmond had his shirt nearly pulled right off him in a tussle for a lofted ball. Obviously the ref failed to once again intervene in any way. A shout from the crowd "Dukey got arrested for that last night" got a giggle from the away end. With twenty to go, The Legend that is Dundo (496th match?) was brought on for an anonymous Wright. Then out of nowhere, things went to pot. John should've closed down a ball in the middle of the half that caught him in two minds. It then ends up just in the box to the side of the goal and the resulting shot took a nasty deflection off Downer that gave it enough lift over the outstretched Butler at his near post. And carrying on the Sutton tradition of wobbling after a conceding it then went from bad to worse.
Downer tried to cut out the ball from the left with his right foot and only managed to fall over it, laying it up for the league's top goalscorer Rowe. He doesn't miss those and slots the ball under Butler and into the back of the net. Oh shit! Stearn & Harrison are brought on to try and grab a pointy and Walton would have the last chance but he manages to steer his header just wide of the goal. Bolarinwa, who was at the end of some stern words from several players during the half, tried his best in the closing stages to find a gap and force a late leveller, but sadly failed.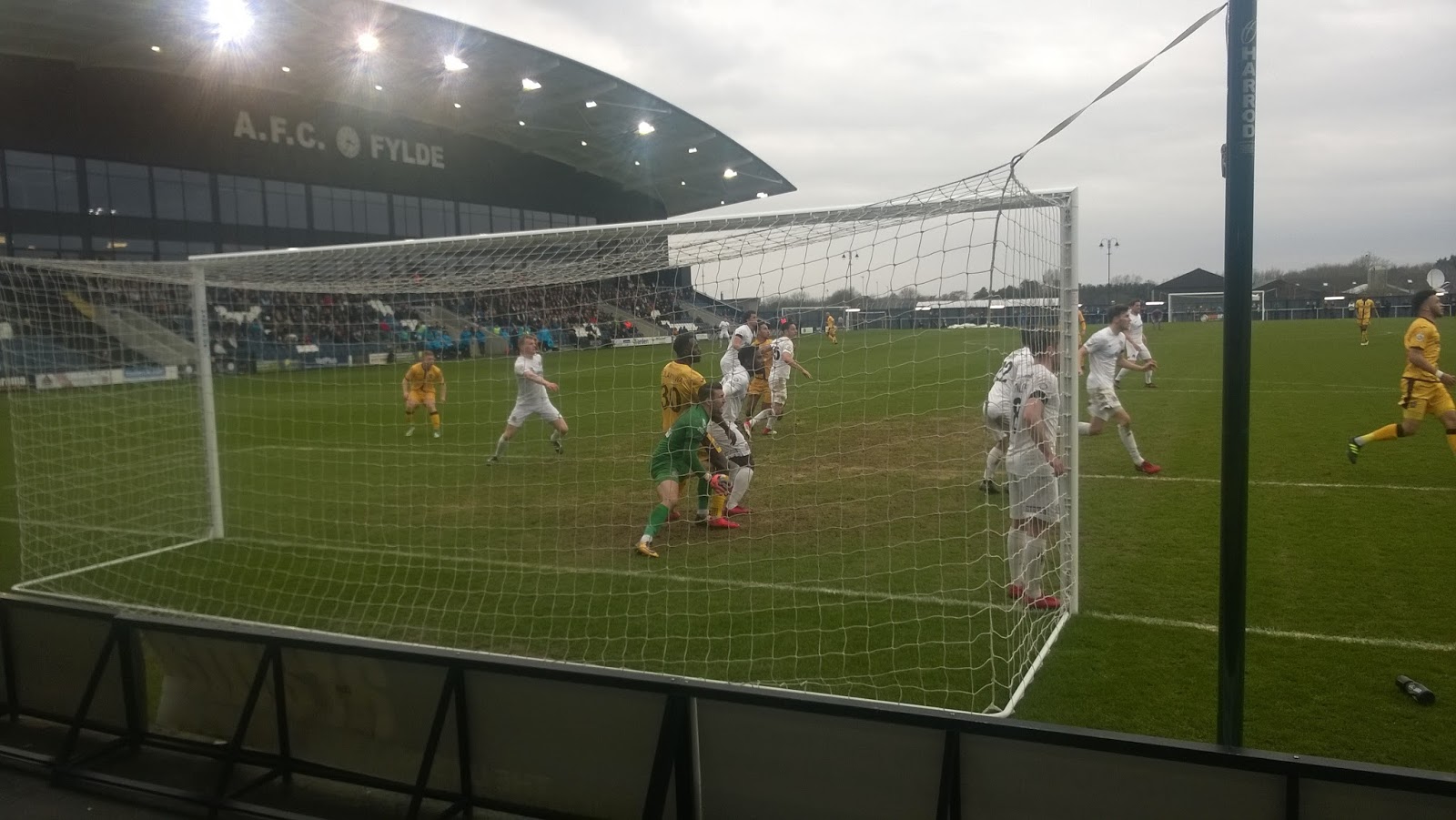 Action!!!
After the match and we head into the bar for a pint to let the defeat sink in and see the other results come in. Our first attempt at ordering sherbets is a fail as apparently Blackpool cabs won't come all the way to Kirkham and Kirkham cabs refused to go as far as Blackpool. So by this point we we're left considering jumping on the rail replacement bus! Eventually we managed to find a firm that would take us. Using our help, the B-Team were also going to jump in. So after a quick count, Mr X worked out that we needed two eight-seaters to cover all of us. The first arrived and he B-team headed off. To be fair, we were still trying to work out some sort of kids game that the Youth of today play called "Gay Chicken", but Taz can explain that one for you (if he needs some filler for his Halifax entry)! And what the hell is 'active' by the way? Another pointless youthful expression I can't work out. Also, at one point Taz & 'Sleepy' Joe caught sight of me standing near the telly with a huge picture of Sean Dyche on the screen in the background. And thought we looked alike. Talk about taking the piss, I'm not fuckin' ginger for starters!
Our cab was soon here and we all started to wander out. As people soon started to jump in, a quick head count revealed that we'd under-counted by one. The Gandermonium cab curse strikes again! So me & Mr X stay behind and have another beer while we wait for another sherbert as the rest head off. Catching a spot of the Manchester derby in the bar, I think the biggest cheer of the day in the ground came when City nicked one. Our sherbet finally arrives though and we're off back to Blackpool. Everyone is still milling around at the hotel as they decide to grab a spot of food. Robbo, Nat, Ozzie & The Firm Leader head off towards an unknown local place serving the traditional local cuisine called 'Bella Italia'. Can't say that I've ever heard of it. The rest try a spot of the local produce with some fish & chips. After asking at check-in for the best fish restaurant we are told that its just round the corner at a place called "The Sea". And yes, we then took a wrong turn and ended up closer to the actual Sea than the gaff we were going to eat at.
The dream, like Tooting's…
Can't go wrong with a spot of Fish & Chips though and the speed of service was so fast that I ordered at the till and by the time I had grabbed my cutlery, the bird had my Large Cod & Chips w/ Gravy ready at the table. Large enough portion size as well. With the food finished it was time to get ready for another night on the town. Except Southampton Steve that is, as he went for a nap to catch up on his sleep following his Kiwi trip and subsequently never re-emerged. Lightweight! Running back to get changed, and splash on a bit of God's Own Brut, I soon catch up with everyone in a pub called "The Mitre" that appears to be the smallest pub in Blackpool. Nowhere near "The Nutshell" size but small enough. Especially considering that everyone from the karaoke bar across the street comes into this place to buy their drinks! Here the crew are rocking it hard, watching Casualty and then a spot of golf on the telly over beers.
With more and more Sutton supporters turning up, including Alfie looking the spitting image of Sean Connery's Stuntman in a fetching maroon sweater, we eventually have to make some plans to move on. Well no plans, as we wander around looking for somewhere, but with no idea what. First is the "Soul Suite", £2 entrance and a free view of two birds fighting each other outside as we arrive. Magnum P.I. & Dr Bell call it a night here and to be fair those two are the elder statesman of the Firm so it was understandable. The place is packed to the rafters that after one drink and being pushed about loads we decided to get out of there. By this point it's midnight and Taz & Robbo decide enough is enough too and head back to the hotel.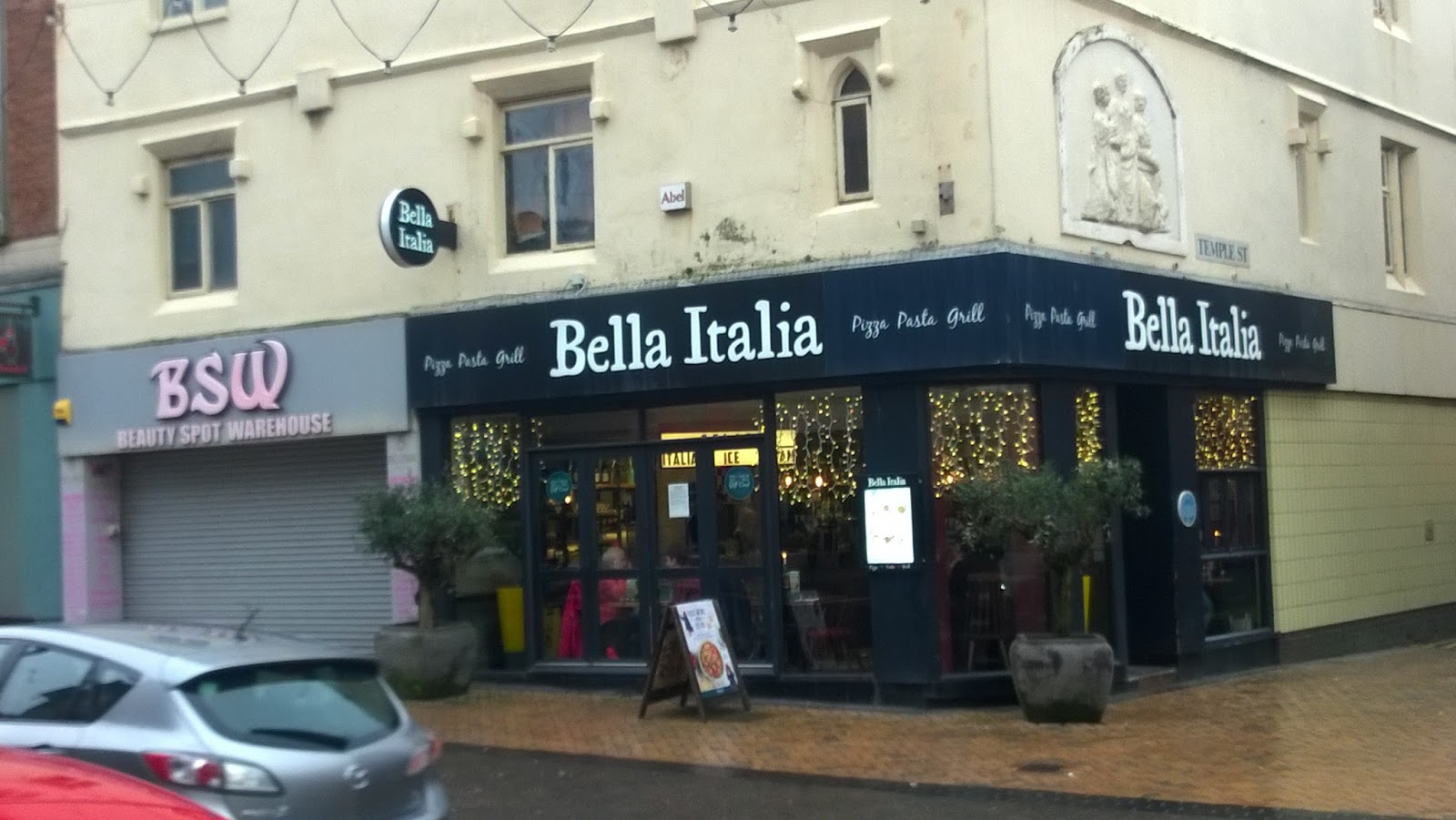 Local cuisine…
With more beer still to be had though, we're soon in the queue for Popworld. Yeah rockin' it like the Yoot! £4 entry and we're soon waiting ages to be served, so long in fact that we end up doubling up on everything ("I'll have six pints and two Archer's & Lemonade please John!"). Round the corner is the B-Team and we soon join forces and spend several hours dancing the night away. Except when Wreck-It Beckett & Nat try to serenade me with a Justin Beiber song. That was awful, well, Beckett was at least…
At one point Gala's Free from Desiree comes over the speakers and everyone joins in on a Sutton classic. I think there may be a poor quality video somewhere of it flying about on the internet. Three more pints later and after Mr X has tried to start a limbo dance competition with some girls next to him, it's time to call it a night as the clocks fast approached two o'clock. Waking up in the morning, I'm surprised that my guts, for once, aren't playing me up and I head down for another full English breakfast ("Got any Black Pudding today John?"). Then it's back to the room to get ready to leave, but not before long I'm forced to hurry up as the Croydon Boyz are already to jump ship pronto. Saying goodbye to any one that was about and we're off on the long road back to civilisation.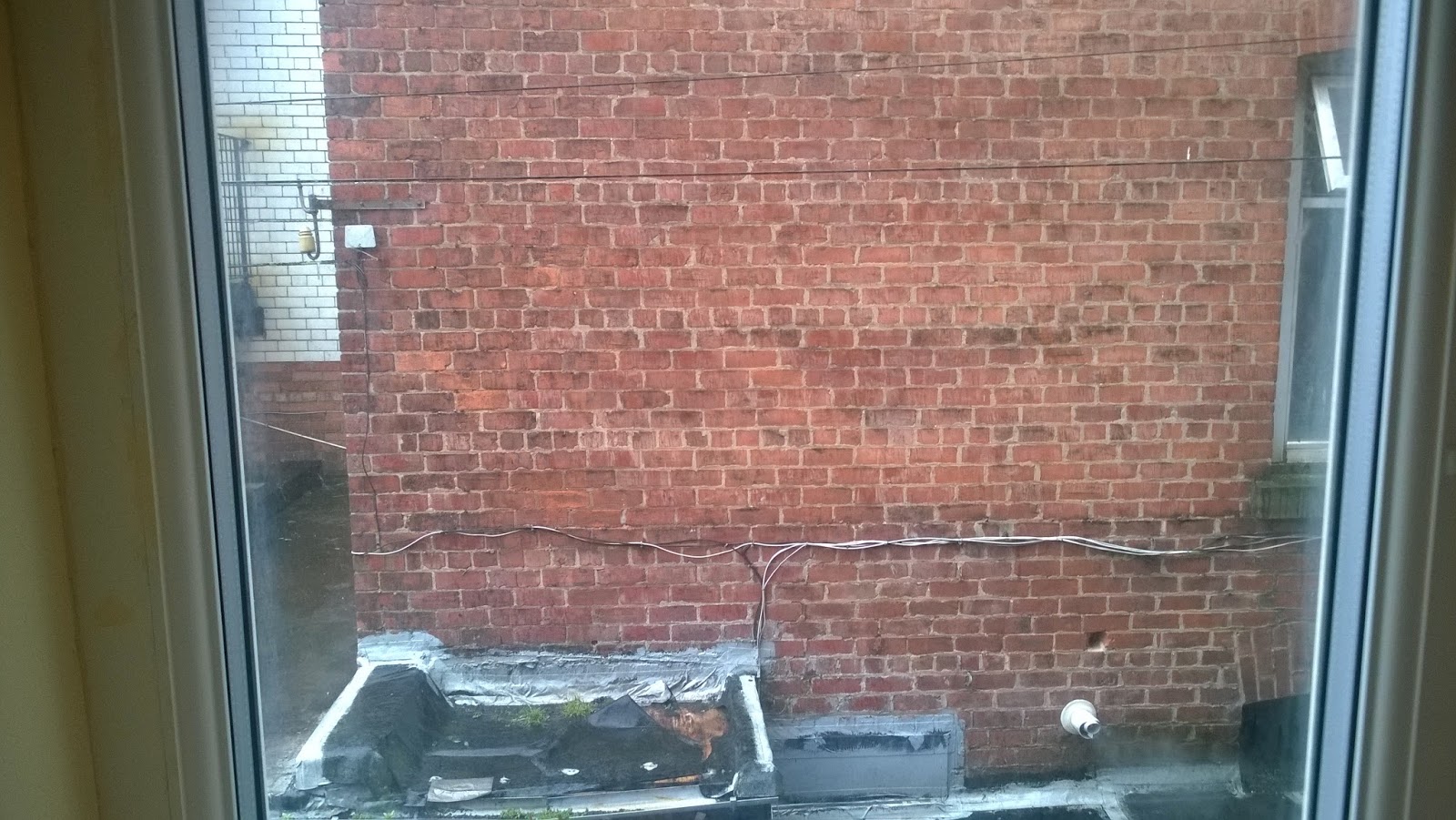 "But I asked for a sea view…."
Of course this wasn't the story for everyone. One such example would be "Sleepy" Joe who had given it the full Gandermonium treatment by passing out fully clothed in his hotel room last night. We're still waiting to hear if he'd actually made it to his bed. He of course was so late in regaining consciousness that Mr X & Dr Bell even had time to head down to the Pier and potter around stocking up on rock and 'Kiss Me Quick' hats.
Another was 4 Days. His plan was to get a train home first thing as he was supposed to be playing in the loosely-termed sport of 'Korfball'. All he had to do was get onto the rail-replacement bus before then getting the fast train home from Preston. Leaving around eight he made the bus and was on his way home. So far so good. But this is where his plan unfolded as he fell asleep on the bus, which the driver then locked him on board(!) and missed his train home. Luckily for him, he managed to wing his way onto another train without forking out for a new ticket and even made his bloody loose-termed sport of 'Korfball'. Still, gave us a good old laugh for a while.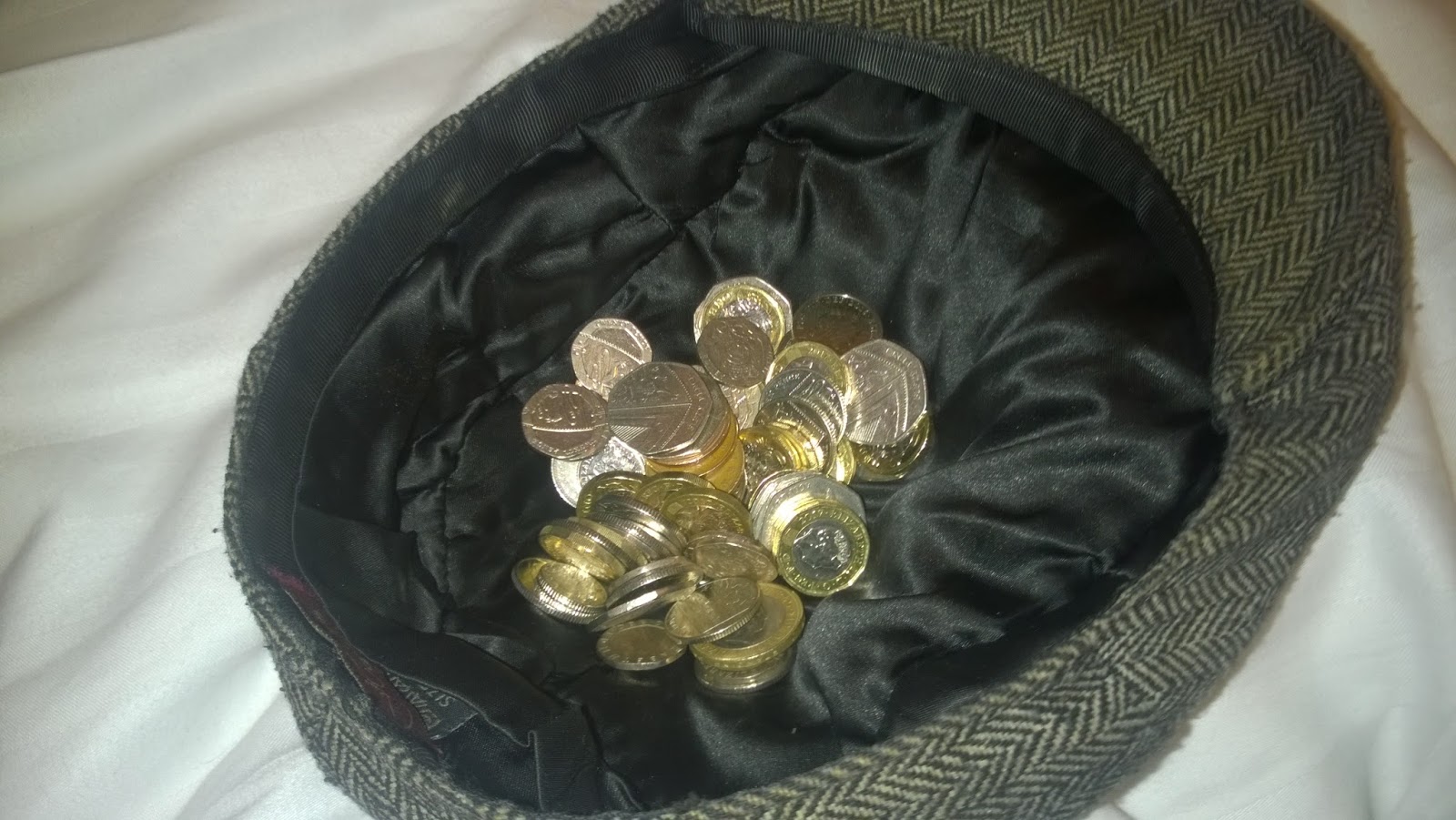 Whip. In a hat.
We now move onto another long midweek trip to Halifax. Second time I'll have been there as some of us idiots still went up after the postponement because of Dr Bell's ex-fiance "The Beat from the East" at the start of March. Hopefully it'll be nothing like the last time we went up there to Guiseley and the shit that brought. Still, Enjoy!
Duke
Att. 1789