When the call came in from the gaffer "Do you fancy doing a two hander with Duke in Blackpool?" – stop sniggering at the back – it wasn't really a question as such, more an editorial instruction that no level of good or half arsed excuses could simply palm away.
And so it was, on a remarkably sunny Friday morning in West Sutton, that I found myself with my little brown bag strolling alone to the club car park like the fat one out of Bronski Beat, taking the first steps on what would prove to be a long and eventful trip to the brightest of bright lights of the north.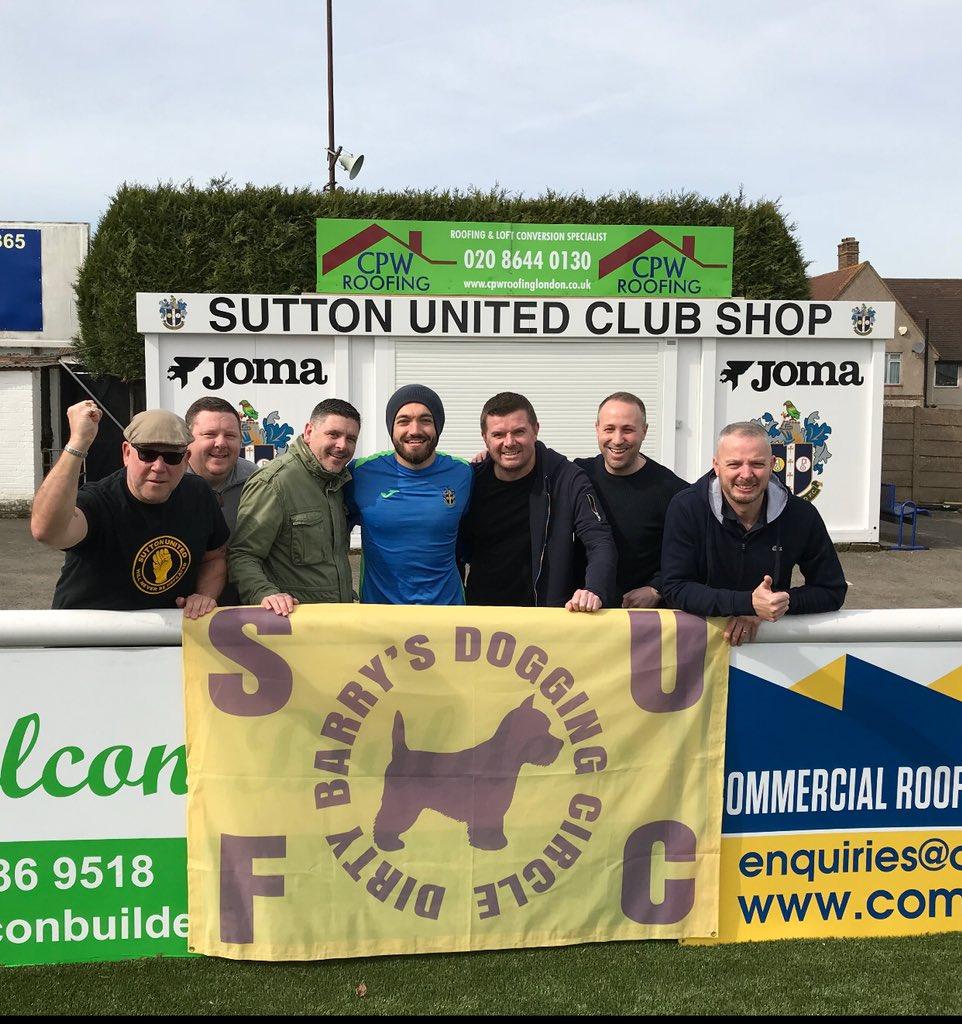 DBDC plus 1
The Boy Ces had offered me a lift with his crew and honorary Cheam Park DILFism for the duration of the long weekend and as I rocked up at the home of football I found Scotty already waiting with the luxury DILF MEGABUS and a bit of Radio Two emanating from the Hi Fi. Lloydy, Tom The Beard, Andy and Ces soon joined us and we were ready to rumble, but I had a little bit of a surprise for the fellas secreted in my sack – the brand new "Dirty Barry's Dogging Circle" banner.
We had clocked that Jamie Butler was already out on the GGL pitch busting some moves with Seb so we roped him in for a picture with the DBDC banner which sent us all on our way to Britain's fabulous motorway network with smiles on our boats. Sadly, Big Bad Bazzer himself was missing in action for reasons unknown but wildly speculated about in the most puerile fashion just as you would expect. Scotty stuck his foot to the metal and before long we were crawling round the M25, past Heathrow and on to the M40 and the North.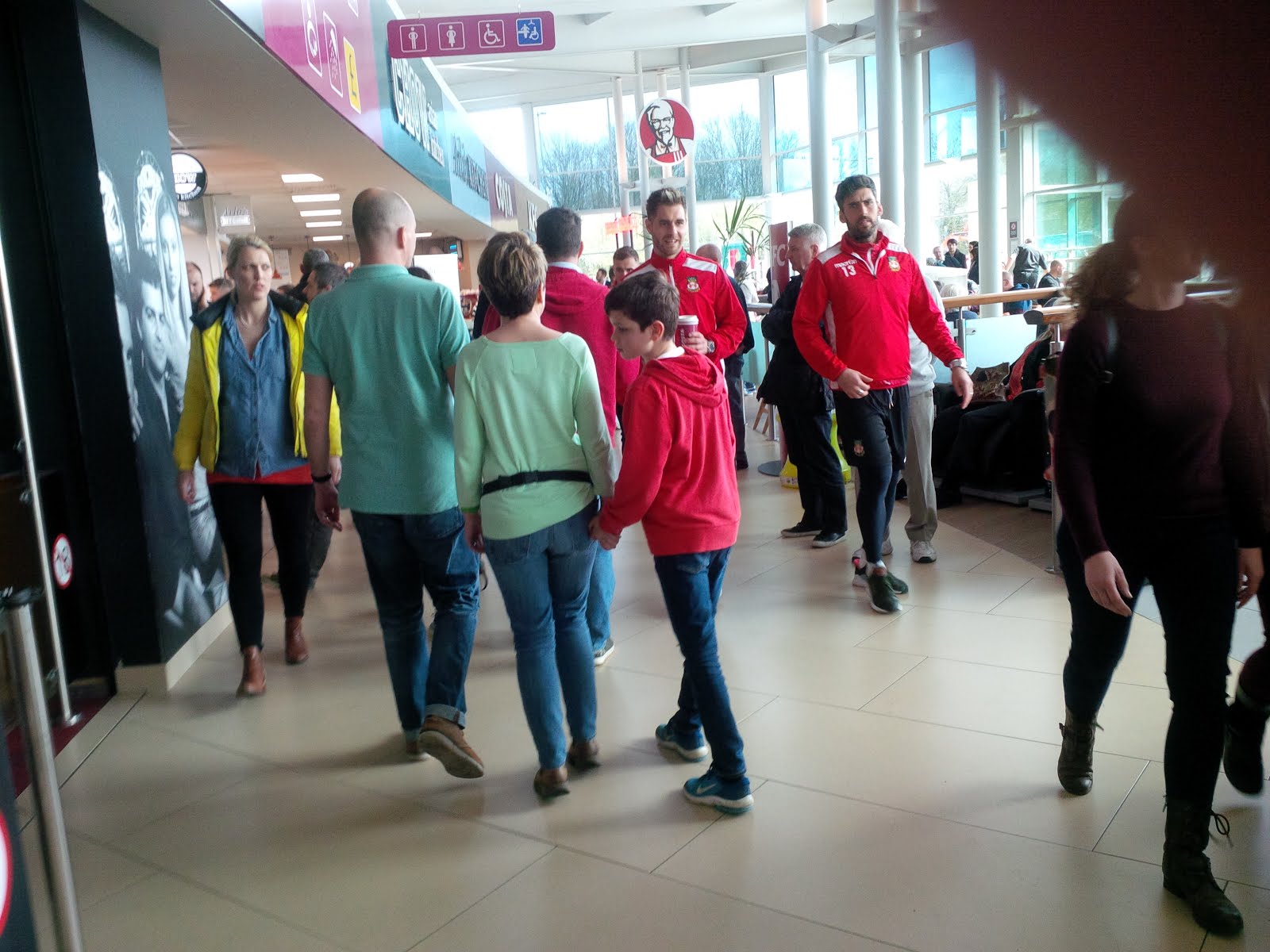 Stalking Wrexham
First piss and slipper break, Cherwell Services. What's this we see before us? Blimey, it's only the Wrexham Squad who have decided in all their full time, laah dee fucking daa, professional ponciness that a trip to Eastleigh requires the best part of a week away from North Wales – AND THEY STILL MANAGED TO FUCK IT UP! I grab a cheeky fly past surveillance picture for our friends at Fearless In Devotion, gobble down a Whopper and we are back on the tarmac and sailing along quite merrily on our way.
Ces has been busy doing his homework and drags us all into the most ludicrously difficult "Sutton United Big Quiz" which I somehow manage to shithouse my way to victory in despite getting zero in the first round of eleven questions and a stunning eight correct out of the full total of 33! Mad, but it helps pass the time and kicks off a few early bust ups with the losers facing the prospect of having to down the most disgusting shots we can locate in The Pool when we eventually land on its Golden Mile. Disgusting shots? Blackpool? Whatever next?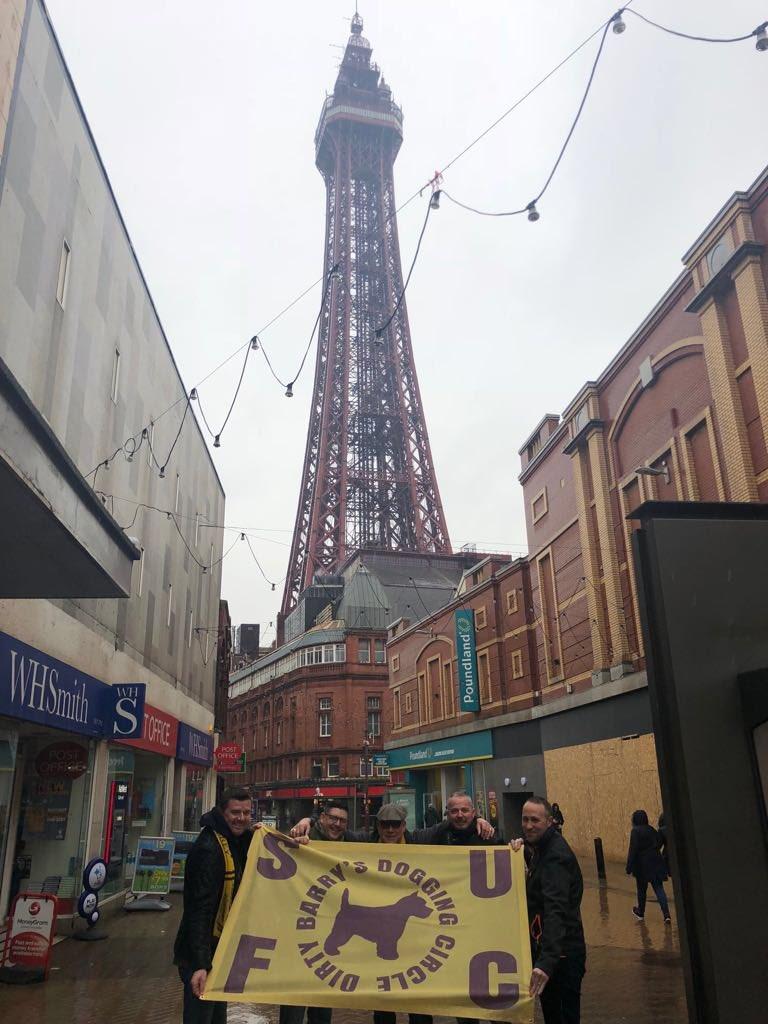 Gay Paree! Oh….
Up ahead of us, as we glide along the M6, there are two other carloads of Shoebox firmsters and word starts filtering back of a major incident involving a couple of lorries just before Junction 16 – it's backed up by intel on the old trade Tom Tom and Scotty swings the wheel, slides down the ramp and decides that for the duration we are going full on commando. This doesn't involve anyone whipping their Y Fronts off but it does involve a series of farm lanes, fording our way through a flood, a stand-off with a tractor, admiring a field of Staines Llammas, scaring a cock and generally heading right up the old dirt track of the Potteries until we eventually rejoin the highway to hell. Others weren't so lucky and endured a couple of hours stationery admiring the tarmac.
We are now heads down and chewing up the miles before the tip of the tower looms onto the horizon and before we know it we are cruising along the Prom towards the digs. I haven't been to Blackpool for a few years and the old girl hasn't improved much, if at all, and I can only smile at the reaction from some of Cheam Park's finest as they clock the general ambience. Anyway, the old DILF's are flush and have booked into the Imperial, possibly the best hotel in town, while I'm in perfectly serviceable digs next door. Change of pants, splash of Old Spice, swig of Listerine and we are ready for Friday night in the original Sin City.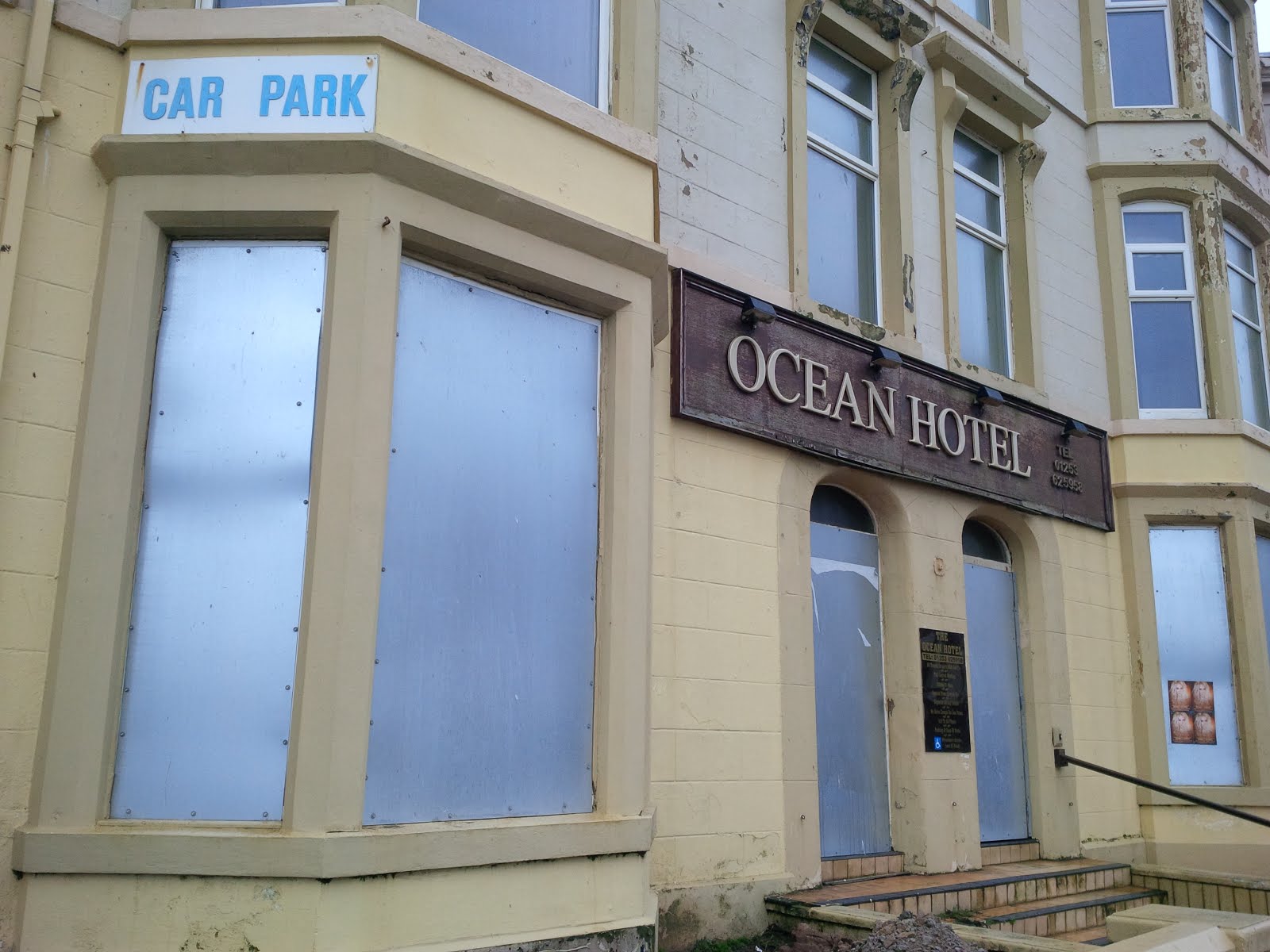 Eight quid a night you say?
We kick off in the Counting House – Christ only knows what they are counting in here as it's certainly not punters as the gaff is dead as a fucking doornail – but we hook up with the others and before long we are moving off with a good couple of dozen in tow. It's not that early but there is little sign of life and in one bar we are literally the only living customers in there and when we leave after one pint the owner nearly has a nervous breakdown as he watches his one chance of paying the leccy bill disappearing out the door.
After a bit of arsing around we get a tip off – Shenanigans on the seafront. Let's be honest, it's not great but at least there are some people in here and as the booze kicks in we are soon larding it about on the stage to the tune of "Hi Ho Sutton United" and generally letting our hair down and having a bit of a laugh. Eventually Beckett and his "Eight Pound A Night B&Bers" show up after what sounds like a nightmare journey and the gaff is pretty well full of Sutton and, well, I've had worse nights that's for sure despite the Welsh Wizard 4 Days moaning in my ear hole about Guinness at four quid a pint and what have you.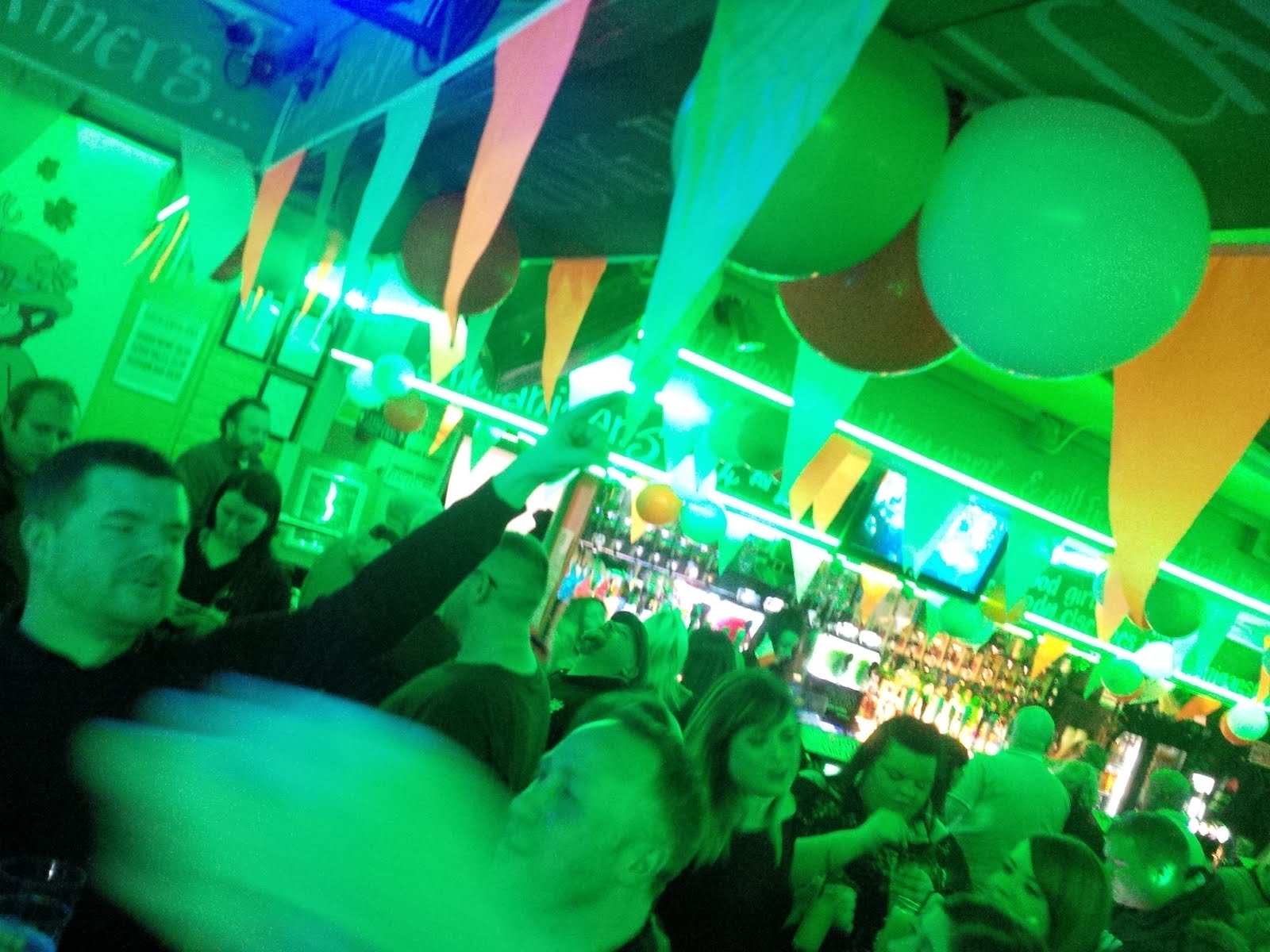 Green
The night is wrapped up with a kebab and then it's heads down for matchday and guess what, as we emerge from our pits it is fucking pissing down. Only one thing for it, Spoons at eleven am and a couple of liveners as we await the arrival of Cheezee Ultra, Mark H, Paul and the rest of the COC's who are training it in and out in a day. Anyway, they are delayed and as they arrive, alongside the police spotters, we are already loading up the Mega Bus over the road for the short hop down to Mill Farm with the addition of Joe K who seems to be enjoying himself.
None of us have been to AFC Fylde before and it's a seriously impressive gaff. There's a VIP car park and Scotty decides to give it a go. The woman on the gate has her clipboard at the ready. "Where are you from? Sutton United. What's yer names love? Dirty Barry's Dogging Circle. Open the door then, I'm getting in!" I kid you not, game for a laugh and funny as fuck and a measure of the hospitality at the club. We check into the vast Sports Bar for a few scoops, a natter with Dos and to clock the Macc game which turns out to be a belter although one Fatty Kedwell toe poke short of perfect.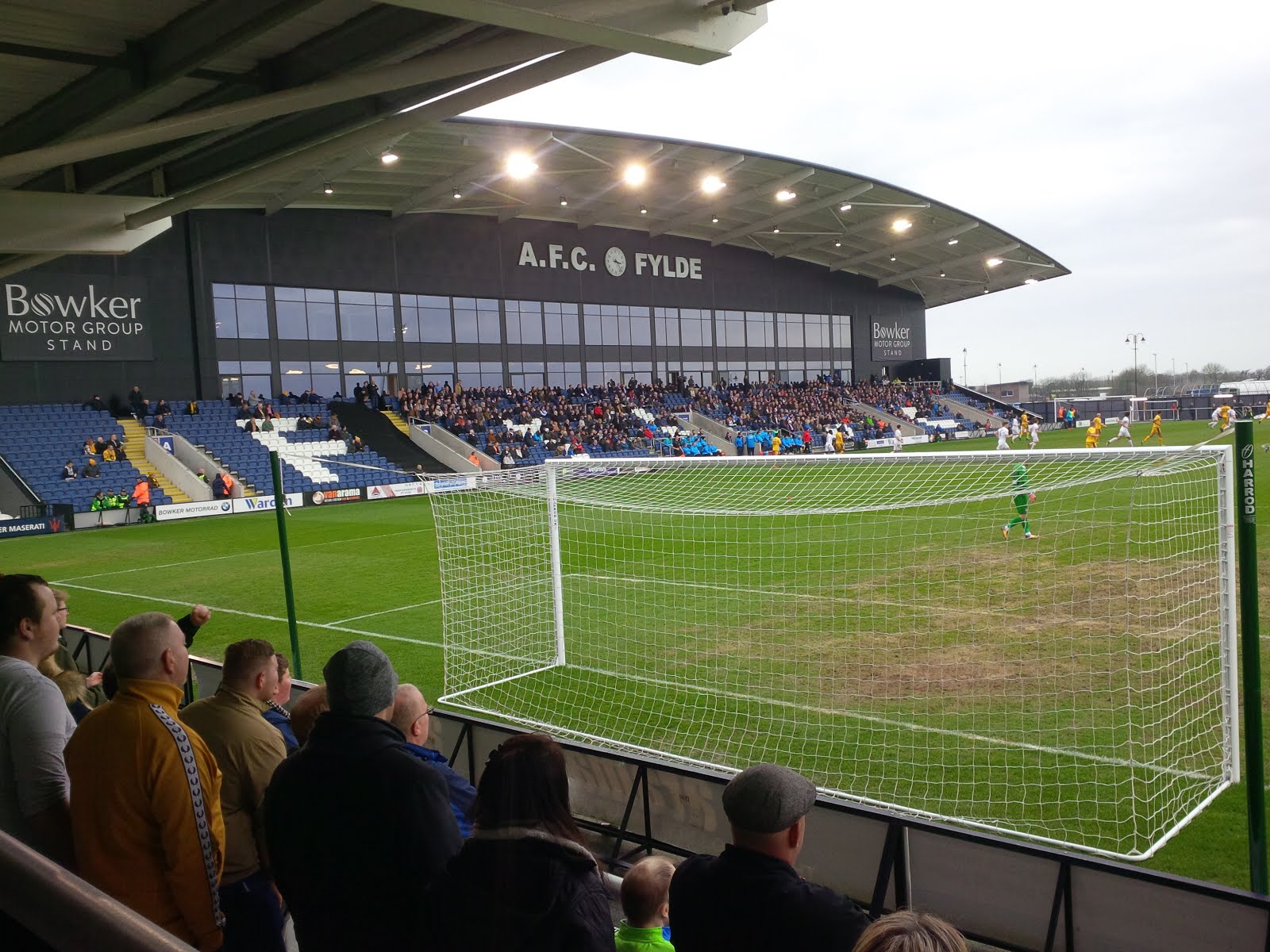 Plush
Pre match I order a slipper and before the fella serves it up he sticks a thermometer in it! Bloody hell, that is some standards right there and I tell the chap I'm used to Roses where they only thing they jam in your grub these days is a fat, greasy thumb. Then it's up to the terrace to erect (stop it!) the DB banner and await the game. I won't bother you with the details, I've left that to Dukey to take care of that but suffice to say we don't get the rewards our efforts deserve.
Post match we head straight back into town. We are subdued and not a little deflated and after we take in the septic tanks game on the box, it's a few scoops and fish and chips and back to the kip at a very reasonable and mainly pensionable time before a pretty faultless trip in the Mega Bus back to the People's Republic the following morning.
Good luck to all the PRoWS reps up in the 'Fax on Tuesday. See you on the Shoebox for the visit of Hartlepool Saturday.
Totts