A couple of weeks back, one of the Gandermonium crew found himself the proud owner of a new DVD he'd successfully bid on and won from a popular online auction webbsite. Fifteen quid he'd paid for this piece of physical media, which contained the whole 90 minutes of a Sutton United versus Dover game, one he didn't already possess in his ever expanding collection. So you can imagine his disappointment when he received it to find it was for the game at Crabble in Dos' first season, when we got bummed in the gob 6-0 on the day they won the Ryman League title.
Well, a similar feeling was had by all following our midweek schlep up to Halifax to play the Shaymen on Tuesday night. Ok, so we didn't lose 6-0, but it certainly cost a lot more than fifteen fucking quid and we were left with much that same feeling of disappointment and self loathing. Still, my day started reasonably well enough, up at 7am I was all sorted and out the door by 8 to get my car in for it's long overdue MOT in South Croydon. With the motor dropped off and the lads promising to get it in ASAP, I take the time to stroll down the ever changing 'Restaurant Quarter' of the town and into the main drag itself for a cuppa and a bacon roll.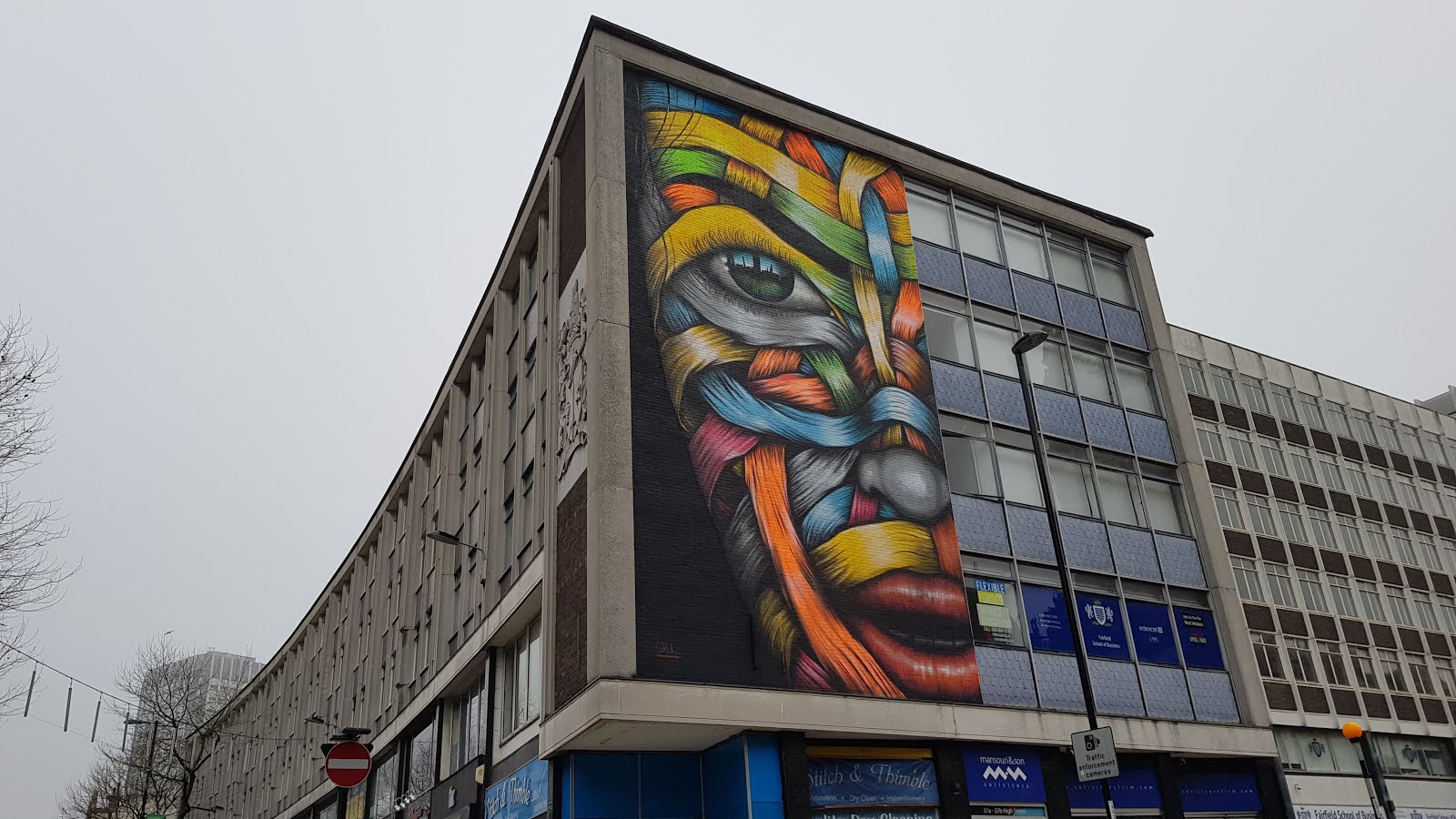 Trying to brighten up Croydon…
Along the way, I stop to admire the large street art collection that is springing up about the place. Whilst the pieces themselves are admittedly impressive in quality and size, it doesn't detract from the fact that they're essentially trying the age old trick of applying cosmetics to swine and just tarting up what is a rather grotty bit of South London suburbia full of mainly ugly and tired 50's & 60's architecture. Melbourne it ain't, as a wander down the old St George's walk arcade attests, despite the various efforts of the artists.
Having done the rounds and killed time as much as I can, I can't wait any longer for my car and start to head back. If it's not done, I'll just book it in for Saturday and swallow another early morning start. On the way back I note a few football stickers I've not seen before and grab some pics for the collection. At one lampost I find myself caught in the act by a gentleman whose face is familiar too me. It seems he also 'knows' me. "Ah, Mr Gandermonium at work!". Luckily it's not the law, but one of our regular loyal tat customers, so we discuss recent results and general chit chat for a few minutes before I'm back on track to get the jam jar.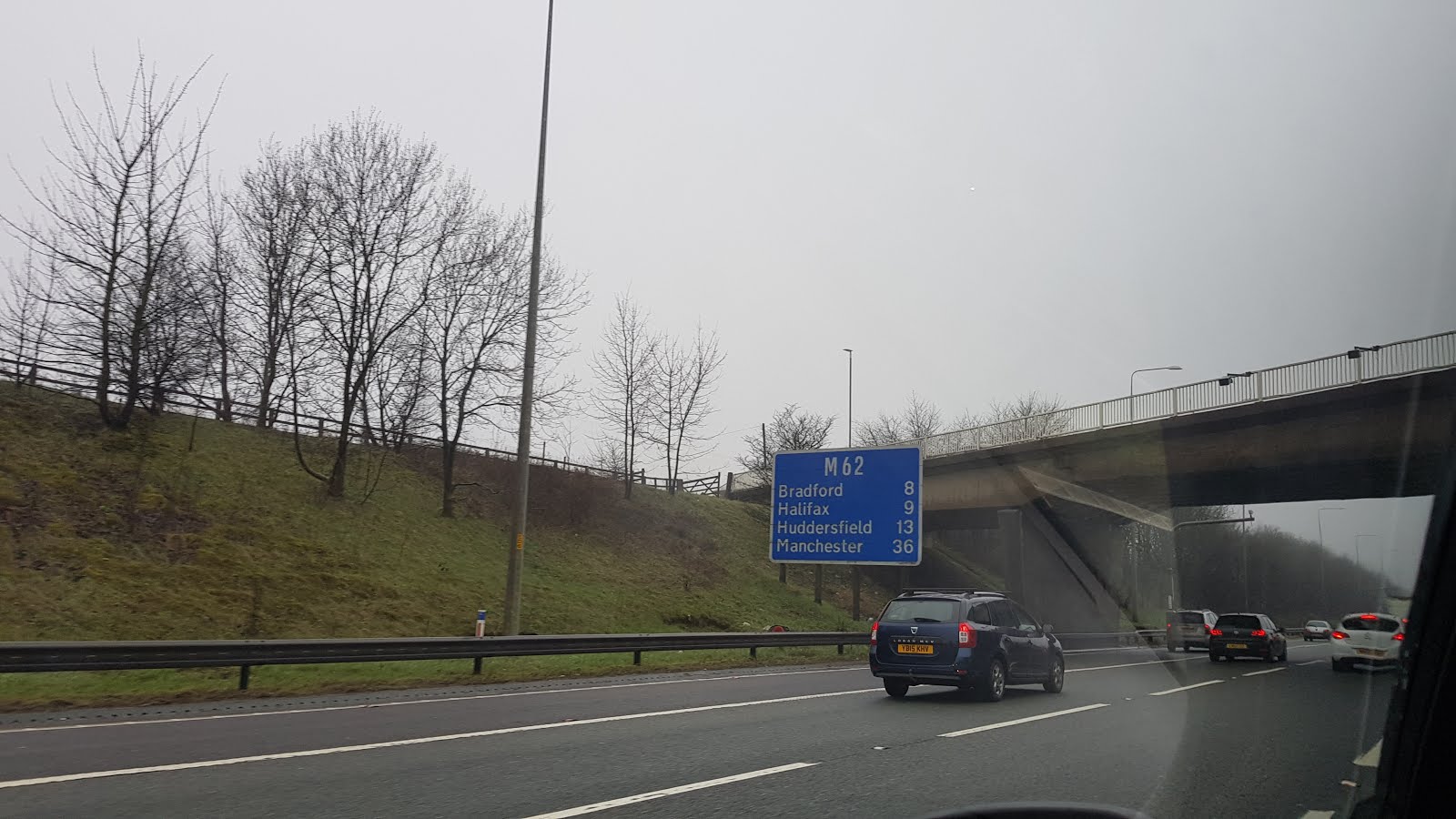 Not too far now…
Fortunately the lads have just finished and I'm back at HQ before you know it to await pickup from Magnum PI for the other main order of business today, Halifax away. Annoyingly, this one was thoroughly dry humped by the infamous 'Beast from the East' a few weeks back meaning train tickets went unused as the game was off. Not that stopped 3 of our number travelling to spend a day on the lash regardless. Idiots. Naturally that meant it was moved to a Tuesday and with the games coming thick and fast at the end of what is starting to look like a long season, a second 500 mile round trip in 4 days is not exactly what the doctor ordered. Still, a visit to the Shay is important, as it's the last ground I've yet to visit in the division. Yes, this will indeed complete the National League 'set', otherwise known as 'The 24' to certain people and 'a serious mental illness' to pretty much everyone else. sadly though, by the time I'm back home, there's just enough time to ready myself for the off and none to get Saturday's Blackpool blogaganza online. Still, I'm sure our adoring public won't mind waiting a little while longer for the top quality output we provide.
Oh shut your face.
Magnum is bang on time for his 1pm pickup, but sadly I wish I could say the same. My phone is sitting in the living room and I'm in the kitchen with the missus when he messages to say he's downstairs. Oooops! Still, I'm sure he's used to sitting around in his motor doing fuck all on the moody stake outs he no doubt regularly engages in. Eventually though, I realise the time and join him aboard his Ford Focus and we point it motorwaywards. Halifax here we come.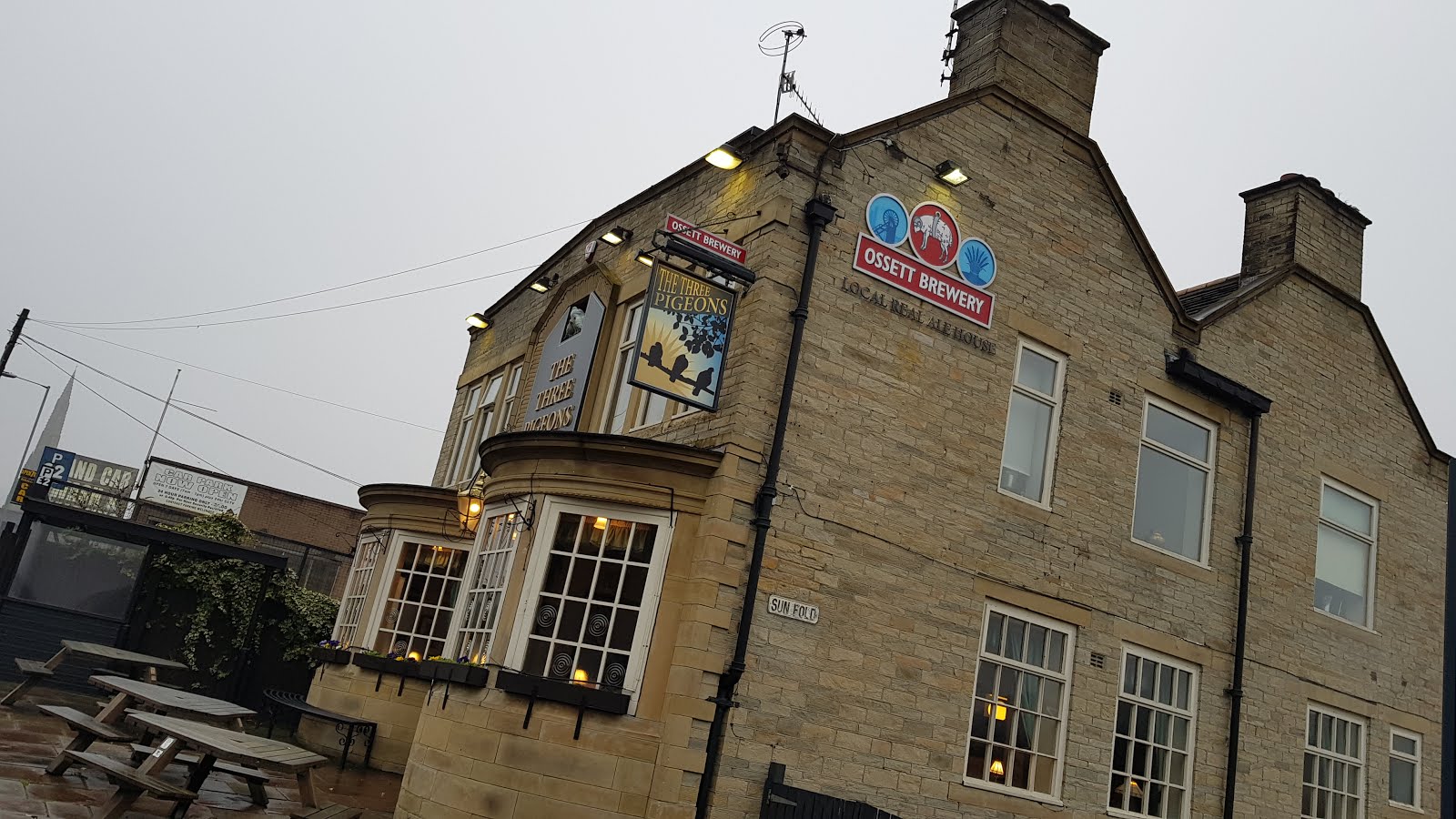 Top pub this!
With a quick piss and fodder stop in Northampton, along with fending off a chugger for a cancer charity I already donate to, we make pretty good time up the dark and spitty M1 with only a small delay outside Leeds causing us any issues. Along the way, I'm reminded of last seasons slog up to Guiseley the week before the Arsenal game. Mostly the delays on the way home due to diversions on the same bit of road. I check the Google via my fondleslab and am happy to find that the inevitable southbound closures only affect one junction and don't start for a couple of days yet. Touch! We eventually hit Halifax and are soon passing the Shay on the way to our rendezvous with Car X, that has shipped Mr X, Dukey and 4 Days to the North. Here we're treated to a cracking old art deco type place with a good selection of beers and at very agreeable prices. Less than 3 quid a pint no less! So, we settle back into the noughties and enjoy our cheap beverages. Well, all but Mr X and Magnum that is, as they're on the Orange Juice and Lemonade. And to make matters worse, as this is the North, there's no such thing as Orange Juice and Vitamin C up here so they're instead forced to drink a very overly sweet orange cordial and lemonade concoction.
Butler, Thomas A, John, Davis, Cadogan, Dundas, Eastmond, Thomas T, Wright, Walton, Downer SUBS: Beckwith, Lafayette, Beautyman, Stearn, Harrison
Feeling peckish, we head to the ground a touch earlier than we normally would so we can beat the 'rush' and get some grub before the start. Naturally, Mr X and I are the only two queueing once inside. He goes for the more Southern shandy drinking burger option, I instead take advantage of being in the North and have a pie with gravy. And boy am I glad for the latter, as the pie itself is very dry and disappointing. Even more so given the 4 quid it cost me. Whilst scoffing, I approach a steward about getting the flag up and where am I allowed to do so. His response "Where do you want to put a flag?" Erm, that's what I was asking you mate! Eventually he admits he doesn't know and says he'll radio and ask, before adding "What stand is this?" Fucks sake fella, I dunno do I? The 'Big one' perhaps? Having radioed in his somewhat vague request, he then follows up with "So where do you normally put them here then?" while we await our reply. Seriously?? In the end we establish, sort of, that I can put the flag over the seats and with this fucking massive effort finally concluded, I head back to advise anyone I see to make sure they're well aware of the exits in case of an emergency as this geezer is going to be as much use as a chocolate teapot.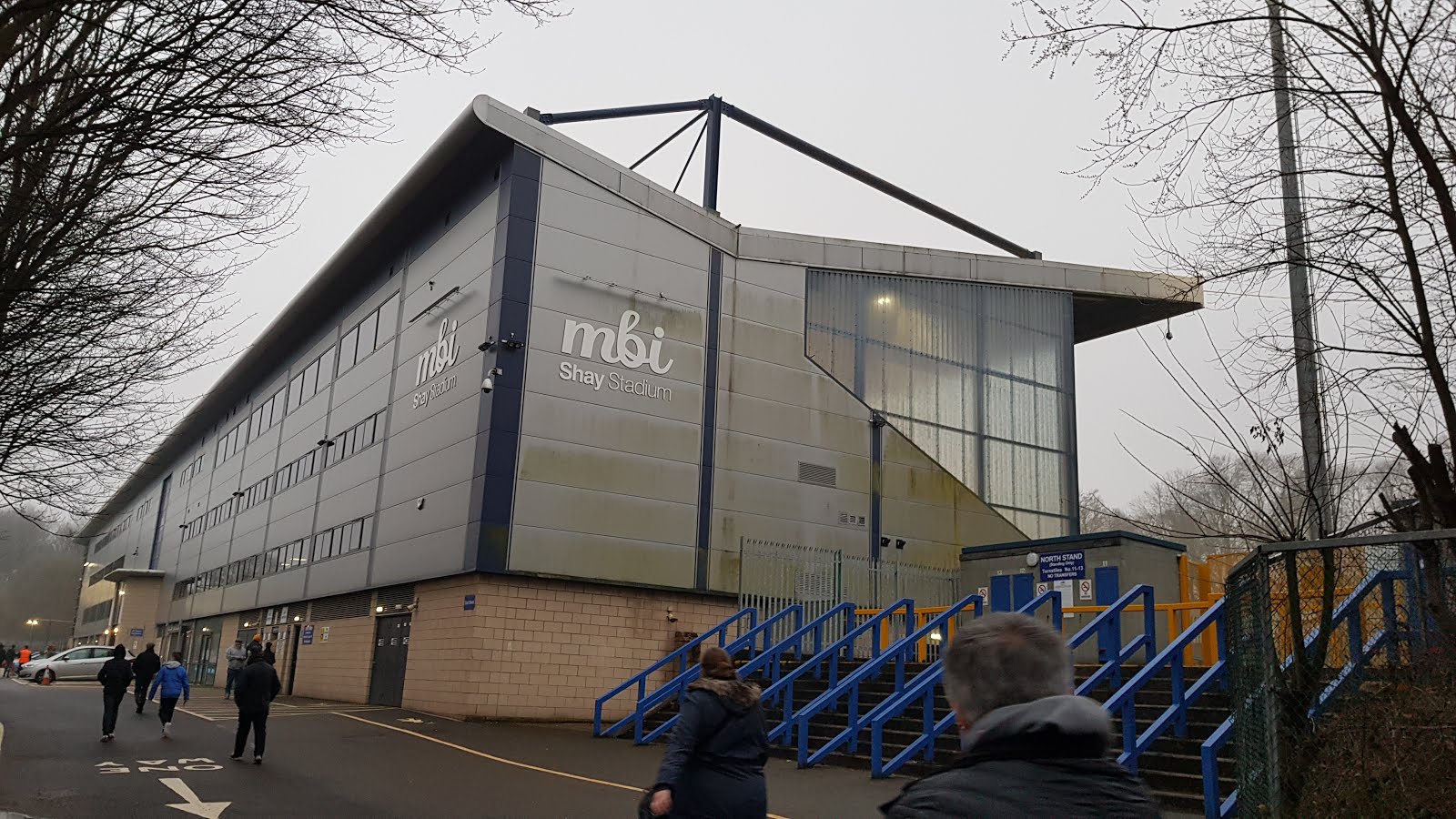 "What stand is this?"
The concerns from the pub about our starting line up being a bit too footbally to face a side that kicked seven shades of shite out of us at GGL back in November are dispelled in the first 2 minutes when first Tommy has a close range shot somehow pushed up onto the bar and over by the keeper when it seems easier to score and then the resulting corner is also just tipped over after a fierce header. After this, our earlier concerns are completely justified as we suffer a rather poor remaining 42 minutes where we can't hold the ball at all and are mostly just blindly punting it away. The fact that Halifax only take advantage the once after about 20 minutes is more down to them being bang average than us digging in really. A ball over the top, Terrell has a slash at it and simply succeeds in sending their big lad away and clear to round Butler and roll it in. Walton then limps off to be replaced with Beautyman and they really should go two up when a ball in from a cross causes chaos. It drops to Downer and instead of lumping it miles, he weakly prods it a couple of yards to an unmarked blue shirt. Fortunately we manage to get a block in to prevent further damage. Elsewhere we pick up 3 yellows for daft fouls and the oppo just the one, well deserved for the geezer piling in on Cadogan. Our man's somewhat theatrical response of rolling over about 8 times afterwards to end up a good 5 yards away from the point of contact attracting the ire of the locals who clearly think this is prime evidence of woolly Southern softness. Yeah it's shit, but hey given the pannelling their fucking lumps gave our lads earlier in the season, they're really not what we'd call poster boys for fair play themselves, so fuck 'em. Fuck 'em right in the ear.
At the break, we're left to discuss which 7 players we'd replace with our two remaining subs and the fact that were we playing anyone decent, we'd be dead and buried already. Bairdy clearly isn't happy either as for the restart, he throws on both Harrison and the returning Lafayette for Wright and Cadogan, finally giving us the front line we really should have started with. And from the off, it pays immediate dividends. Suddenly, we're able to hit the front two and with them not being 5ft 5 nippy little blokes. they can give as good as they get from the lumps in blue. Lafayette in particular is getting stuck in, clearly trying to set a world record for being the most fouled player over one season of football in the history of the sport. He nods a near post header just wide to start giving us some belief. Byron also gets in on goal to clip one over the diving keeper, but the usual weak National League ref has blown for a rather soft foul in the build up to rule it out. We're definitely in the game though, but from their one real foray of the half, we give the 8 too much time after half clearing a ball in and he pummels a shot against JB's far post. Fortunately, the bloke following up shanks it well wide.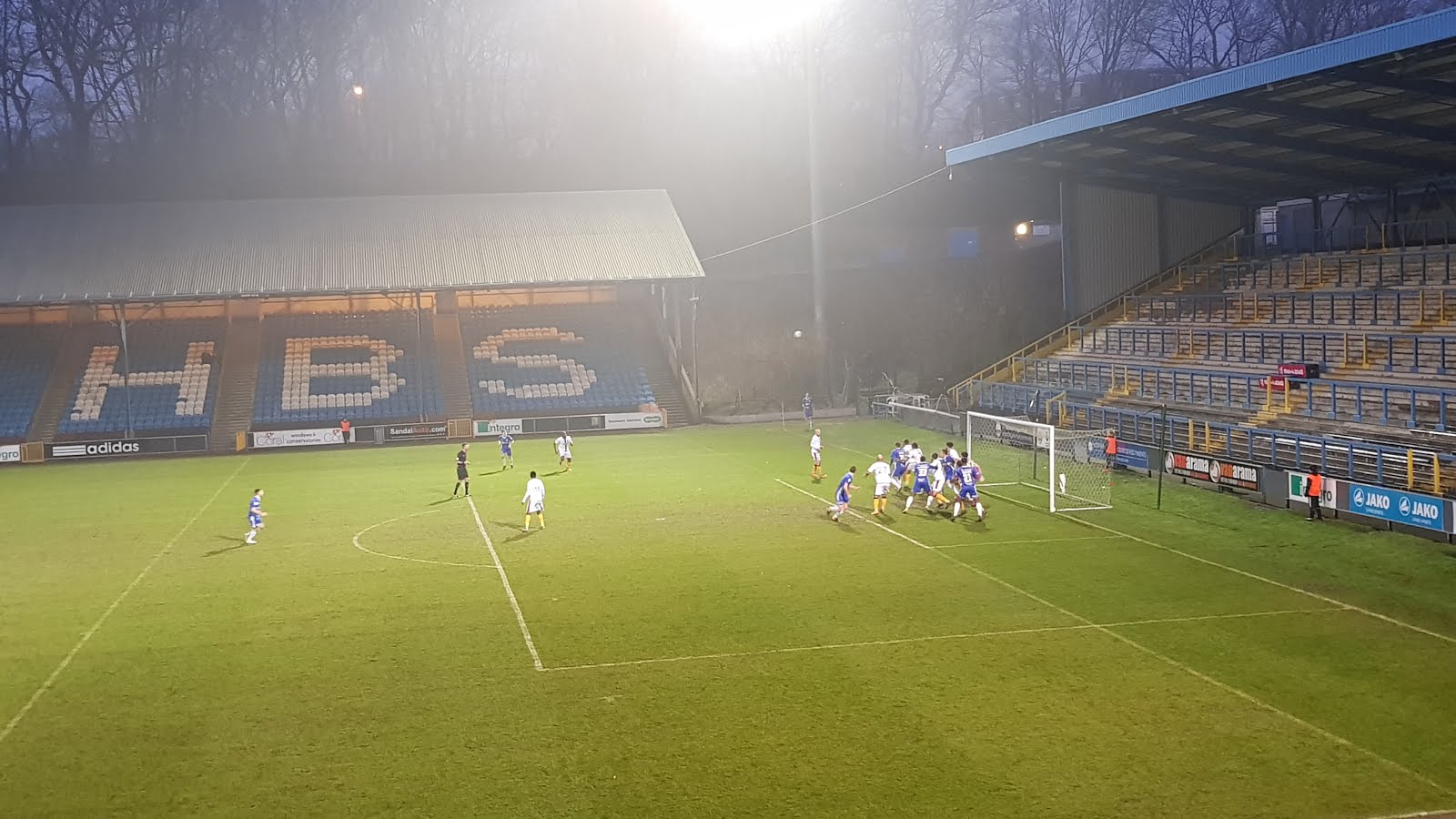 On the attack
Our far more direct style eventually brings rewards with about 10 to go however when Harry whips one of a string of corners towards the near post and Laffs gets up highest to power a header into the far corner. Have it! This looks to be a turning point as the hosts look a bit crestfallen and it seems that if anyone's going to win this now, it'll be us. We keep going and Aswad slides in out wide on one ball into the box, but his effort trickles agonisingly across the face of goal and just past the far post with the keeper scrambling. Still, with a point seemingly in the bag, it's not all bad news. We'll take that given our recent results.
Yeah, about that point.
The hosts manage a second foray of the half and win a corner. It's swung in and a loopy header goes in on goal. Butler seems to get caught under it a bit and can only get up to just tip it onto the bar and naturally, there's a big cunt in blue there to bounce it back off his bonce and into the roof of the net. It's a bit of a sickener to be fair. Still, with a minute of normal to go and no doubt at least 5 or 6 mins of added to play, maybe we can have one more punt at it?
Yeah, about that 5 or 6 minutes of added time.
Absurdly, the ref decides that THREE minutes is adequate added time for a half where there's been 2 goals, 3 subs, a couple of interventions from the physios and a good 90 second break in play for a Halifax player to do his fucking bootlaces up along with all the usual other common garden shithousing you get in an average game. Clearly this prick has booked his Uber back to Leeds (or wherever in the immediate vacinity the National League have pulled him in from this evening) already and doesn't want to risk getting done for the fiver cancellation fee if he misses it. Of course, with the late goal taking the jam out of our doughnut, we fail to muster much in response and the final whistle goes to signal another long, wasted fucking day.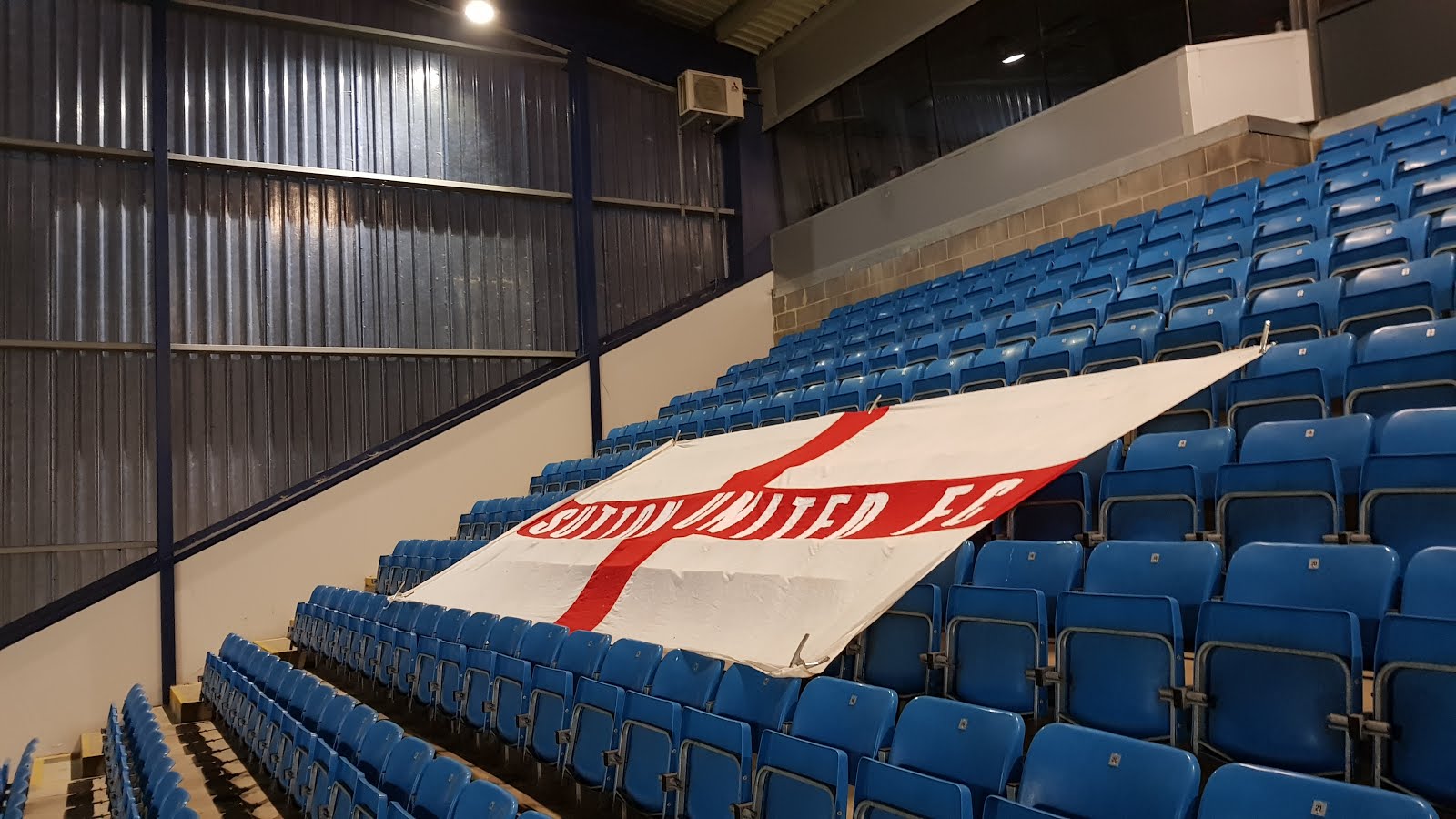 Colours
A quick piss and we're off, walking out alongside a lot of locals giving it the big'un. Yes lads, we really might be staying down. Oh the horror. Still, a good few are also more than friendly and wish us well for the play-offs. Back in the motor, there's a short spell of profanity uttered and we're back on the road for the long drive home. Fortunately, the road is clear and we make good time towards Nottingham when we start seeing signs for closures. Closures that according to the research earlier shouldn't be happening tonight. And it's worse than we thought too. Eventually, we come to a halt somewhere before Junction 24a and spend 25 minutes filtering off the carriageway thanks to a set of lights on the slip road having the shortest cycle it's probably possible to set. Eventually we're free again and heading off into the sticks somewhere. This is a fucking nightmare and no mistake, it's like Guiseley all over again! A quick check of the map seems to show that we're going to do a huge great loop and reappear on the M1 at J23. Some more googling then reveals that there's seemingly at least one other diversion to negotiate, maybe two and Magnum and I decide that following our present course to cut down to the M42M40 is probably safer, mainly as that route into London is actually fucking open!
Mr X and his merry crew are not so lucky. They're a bit behind us and instead follow the diversion back to the M1. Dukey declares a race and then un-declares it again when we tell them Junctions 18 & 19 are banjaxed too. Happily though, our choice is clear and we zoom along at a decent pace, even managing to make back a fair chunk of the hour we'd lost pissing about earlier and I mostly pass the time catching up on twitter and baiting knobheads whose 'mental accas' we've frustrated by daring to lose to a side below us in the league. Approaching Leatherhead, we check in with the others and find they're only at St Albans still on the M1 whilst we're just diving off the 25. Oh dear. They'll be home at least an hour after us at that rate.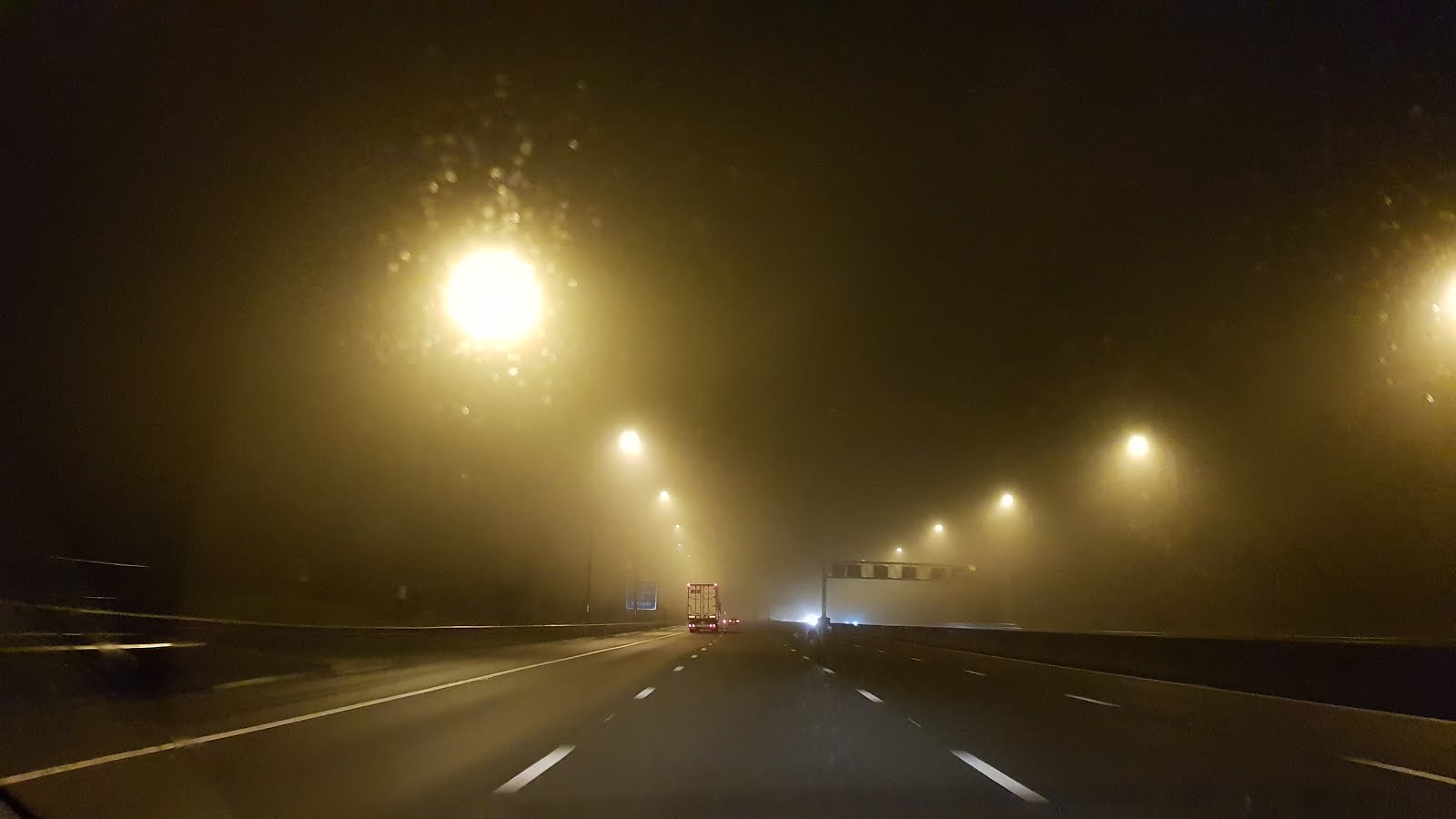 The M1 in a rare usable state…
So eventually just after 2am, Magnum PI pulls up outside Gandermonium's top secret HQ and having said my goodbyes, I simply head indoors and take only enough time to get my gear off before collapsing into my pit to try and make the most of the 5 hours before I have to get up again for work. And who knows, maybe also to dream of a time when I don't end up going to fucking Yorkshire midweek to get mugged off in the last minute. Actually, scratch that. Just not going to Yorkshire midweek will do.
Night night.
Taz