Sutton United versus Hartlepool United, down Gander Green Lane, in a league match. Na, doesn't sound right that. But then again, in a few months time, we could be in a real surreal place, if things go down a particular path. But let's not get too carried away with ourselves here, It's not the Surrey Senior Cup after all.
Another shit week of life goes by, including a god-awful trip to Yorkshire on Tuesday night, and the league season hangs in the balance as Sutton continue to do their best impression of trying 'to do an Ebbsfleet'. Talk about building a head of steam up before the play-offs lads! Still, what do they always say? If you offered me a play-off place before the season started….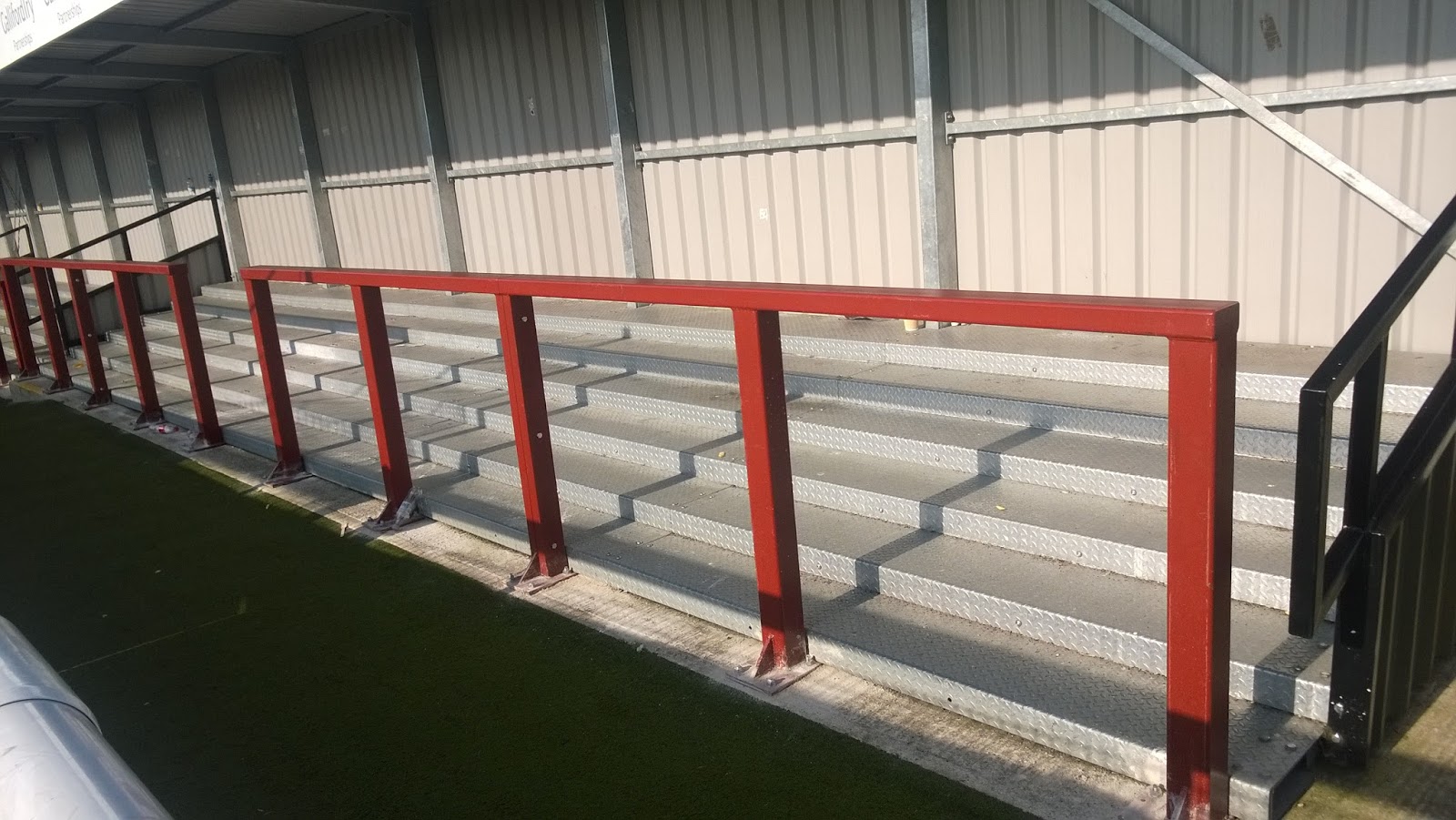 Safety first…
…I'd have fuckin' laughed my head off, yeah right John! With our play-off record? Anyway, where was I? Oh yeah, some filler for the blog. Saturday morning had me heading to The Treasury Ebb & Flow of all places for my Skin & Blisters birthday brunch. On the train (and yes the trains were actually fuckin' running through Sutton for once), I bump into several Hartlepool fans with Strongbow cans in their hands. Seems they were in a buoyant mood ever since their boy 'Howling' Jeff had made sure that their club stays around for a bit longer. Still, wait until you see the price of beer around here chaps. That'll have wiped the smiles off their cheerful northern boats.
After 'brunch' and I'm straight in the 'Spoons to catch up with Dr Bell and a once despondent BT Pete who was going through a varied set of emotions as he is informed of the Southampton vs Chelsea score by several people. Guiding some other Hartlepool fans towards the ground, they fuck off to the Robin Hood instead and we begin the usual walk through the grave yard.
Down Norman Road and we hit the queue into the ground. luckily we're well known around these parts (and have a season ticket) and head in via the side entrance. I also manage to pick up my season ticket for next year. It was meant to say "Duke has a Big Cock" not "Duke is a Big Cock". Jesus! Can't get the staff these days. And speaking of cocks, a quick shufty at who the ref was going to be today and we have none other than David bleedin' Rock in the middel. I still don't think we've ever had a match where he's been in charge when you could turn round to the fella standing next to you and say: "Wow, the ref's had a bloody good game. Not one poor decision against us today". So would today be any different? Doubt it…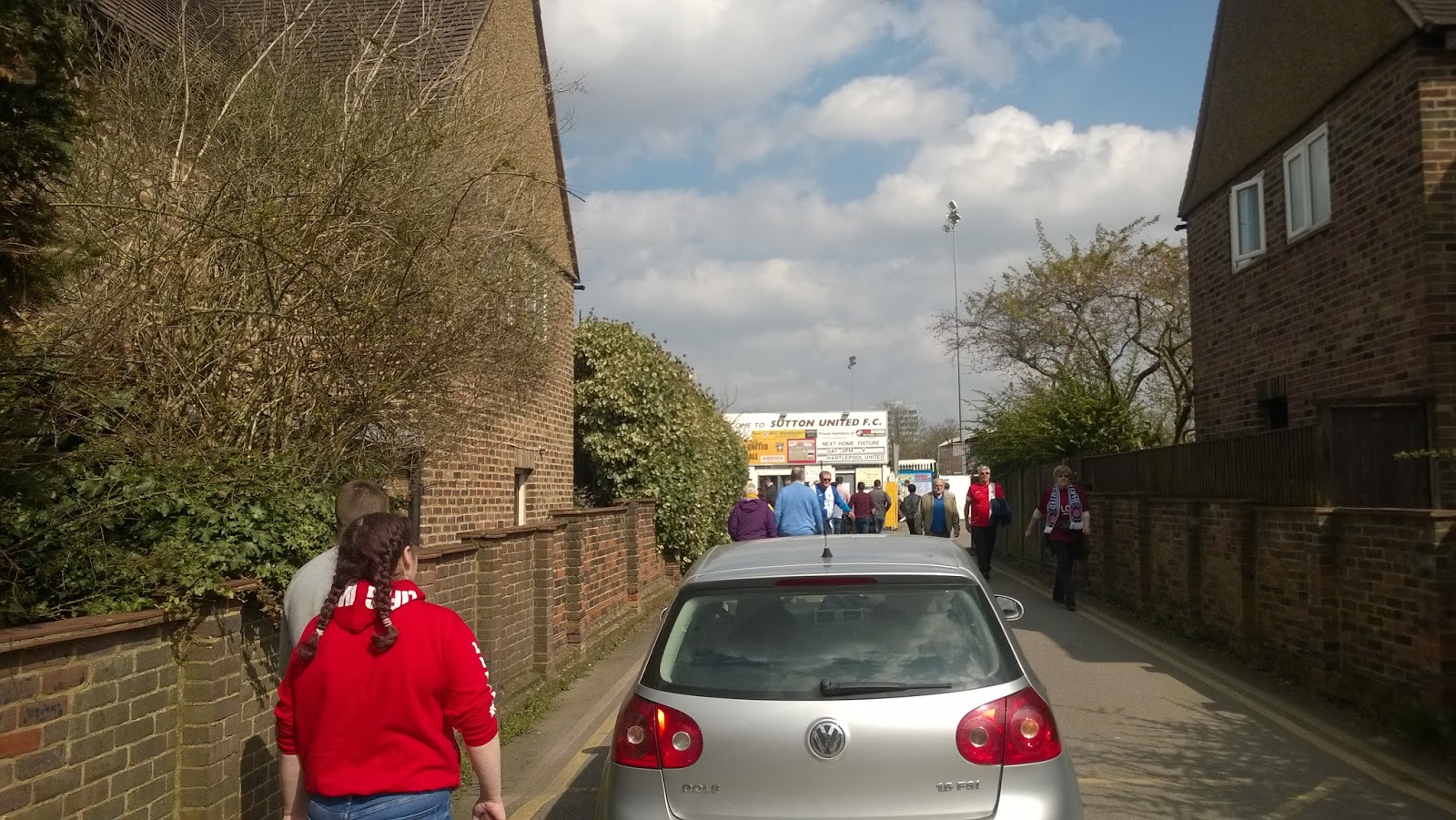 Queues…
Butler, Bailey, A Thomas, Beckwith, T Thomas, Eastmond, Beautyman, Davis, Lafayette, Harrison, Wright. Bench Warmers: John, Cadogan, Dundas, Taylor, Stearn.


With a surprise start for Bailey, the 'league's best midfielder' slotting in at right-back, Sutton got off to a great start inside the first ten minutes. A free kick over on the right is swung in by Aswad. At the right height and right speed it's helped on it way by Lafayette as he heads the ball into the goal. 1-0! Well that's a lot better than Tuesday.
For much of the half it was all Sutton. I lost count of the amount of shots we had, the best had Wright managing to hit his free header, from inside the six yard box, over the back of the bleedin' stand. But I'm struggling to remember if their keeper had to make any saves that he wasn't expected to make. Most seemed to be right at him.
Near the half-way mark of the half and Hartlepool got their equaliser. A cross into the box isn't dealt with and it falls to an unmarked player (shock!). He hits it first time and it sails past Butler. Bollocks! For the rest of the half and Sutton try to find a goal. Lafayette saw his shot palmed by the keeper and Butler could've got a nice tan with the amount of work he needed to do.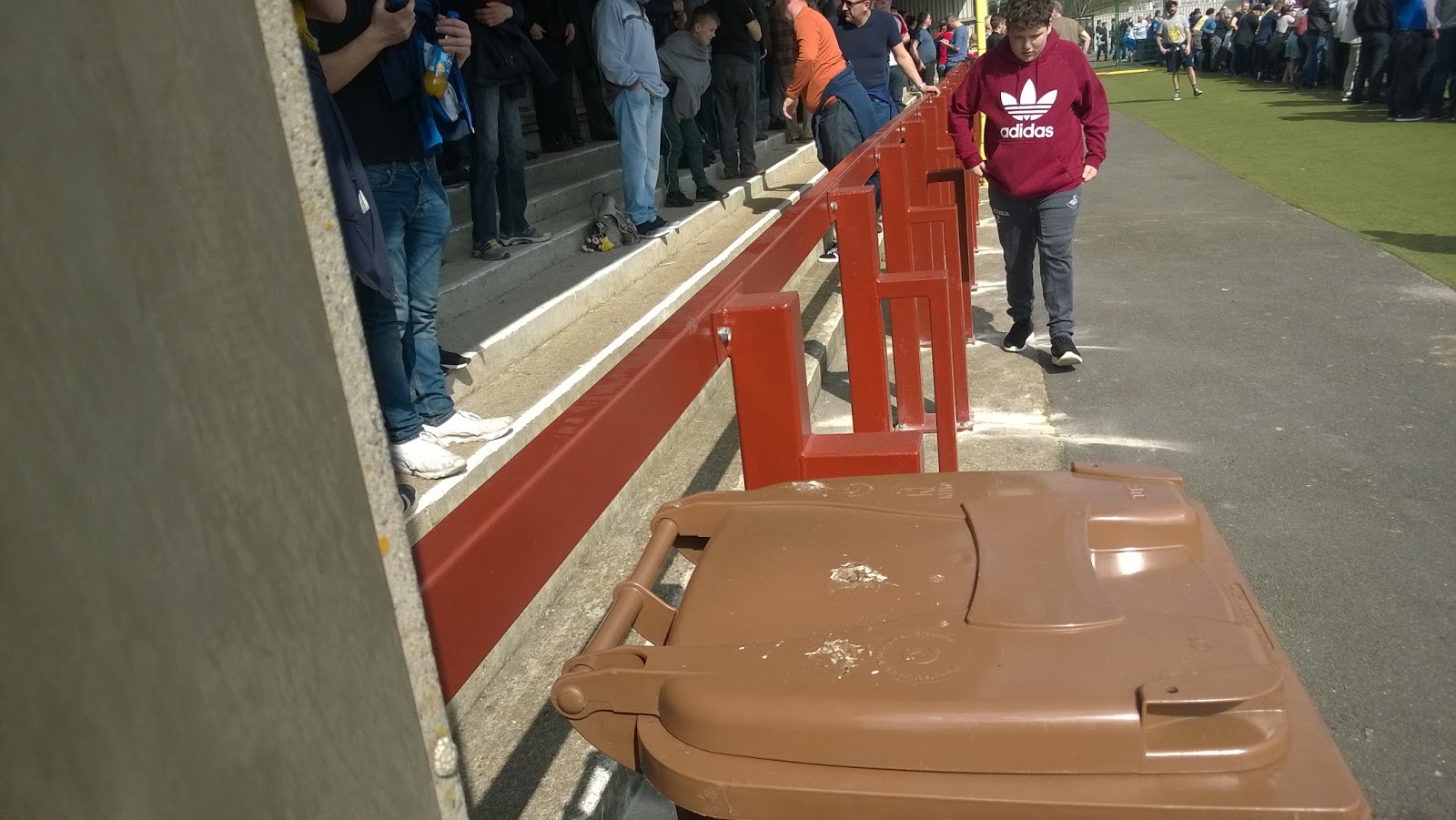 Not enough photo's Dukey?
Not for the first time this season, the second half was a different kettle of fish. Plenty of energy in the first half, but got flatter as the game crawled along. Apparently, I've been told, this is called "tiredness", before anyone says anything else. Rock continued to endear himself to the Shoebox with some strange refereeing calls but at least he done nothing controversial this time round. But he's still a cock, according to Robbo.
Twenty minutes to go and we see some changes. Cadogan & Stearn are brought on for Davis & Wright. Then with ten to go Taylor comes on for Harrison (leaving Dundo still three games away from a epic 500th appearance). You'd think with that sub and only having one up top we would sit back but to be fair, Hartlepool seemed content with the point so we kept plugging away.
With what turned out to be the final kick of the game, Lafayette had a golden opportunity to grab the deserved three points. Terrell cleared the ball from his own box up the field. A Hartlepool defender makes a right meal of it and ends up knocking it into the path of Ross. The slight delay in trying to get it under control meant that he had two defenders around him as he snatched at it and knocked it high and wide of the mark.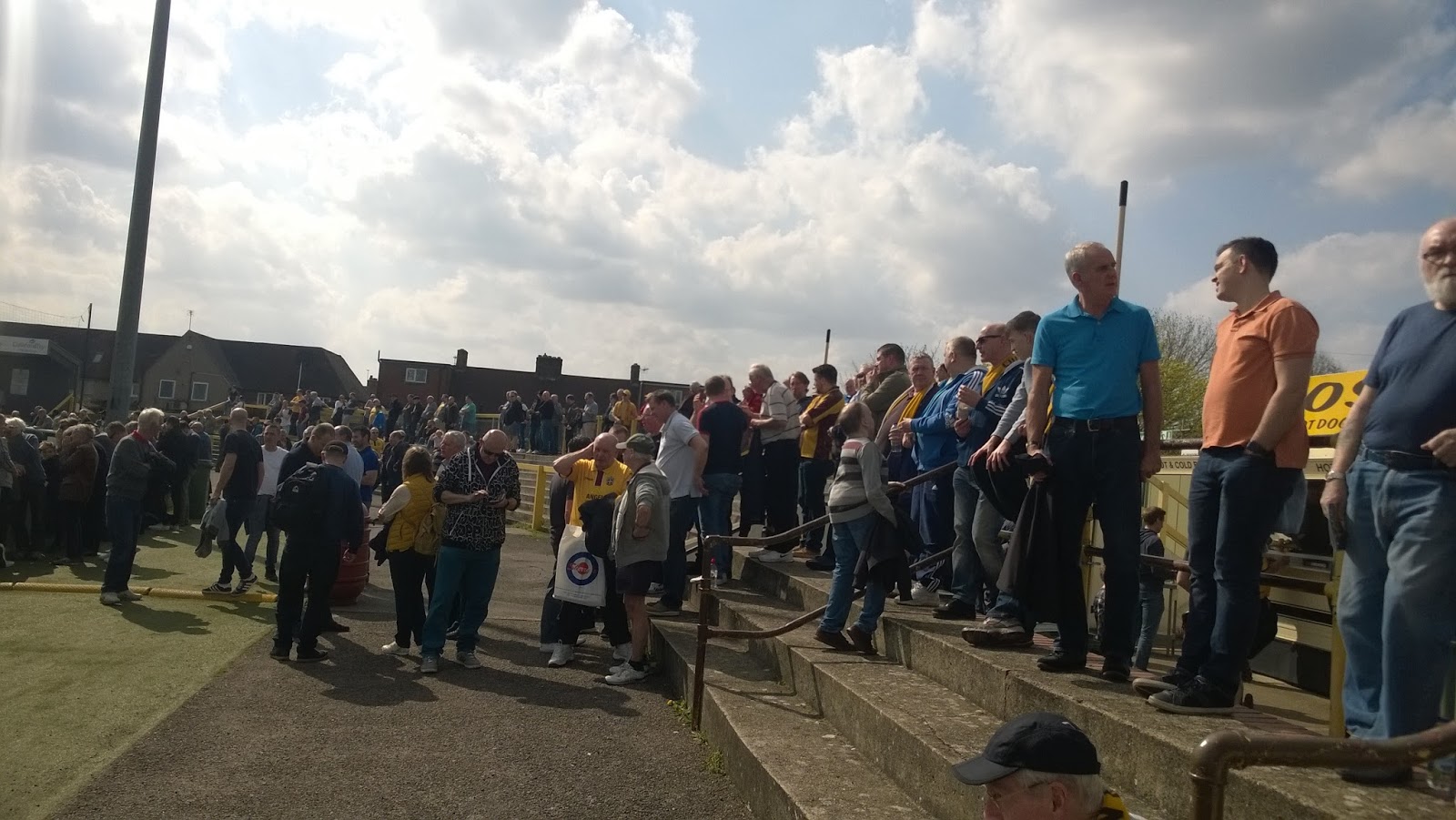 A busy Shoebox
After the match and the usual club duties sorted, everyone heads into the bar. My first job is to secure some match tickets for the end of the season bust-up against Aldershot. We must be fuckin' big time charlies now if we're buying league tickets before the day of the game. Next up and the assembled crowd watch the Grand National on the box. Still feels strange to watch it after a match, I remember Chalmer's having to miss some of the football as it used to be during the game around half time. Didn't even realise that ITV show it these days neither, thought it was still the BBC. Then again, the last time I watched it, it was at school on a Monday afternoon.
The Strikers are Key draw is up next and we have the better half of The CoCs/Alberta Ultras very own Mr Franceschin-waggy-waggy-sson only go and pull out bloody ball number 8. Who else but Nat & Robbo's number! I gathered that given the scream of joy from the big man himself. He pulls out a key and then tries his luck on the safe. It seemed like a little tease, then another little tease and just when you think you've hit jackpot and the door is open, boom! No joy! Legs door shut. Still, a bullseye is a bullseye and at least he didn't do a Martin Ling.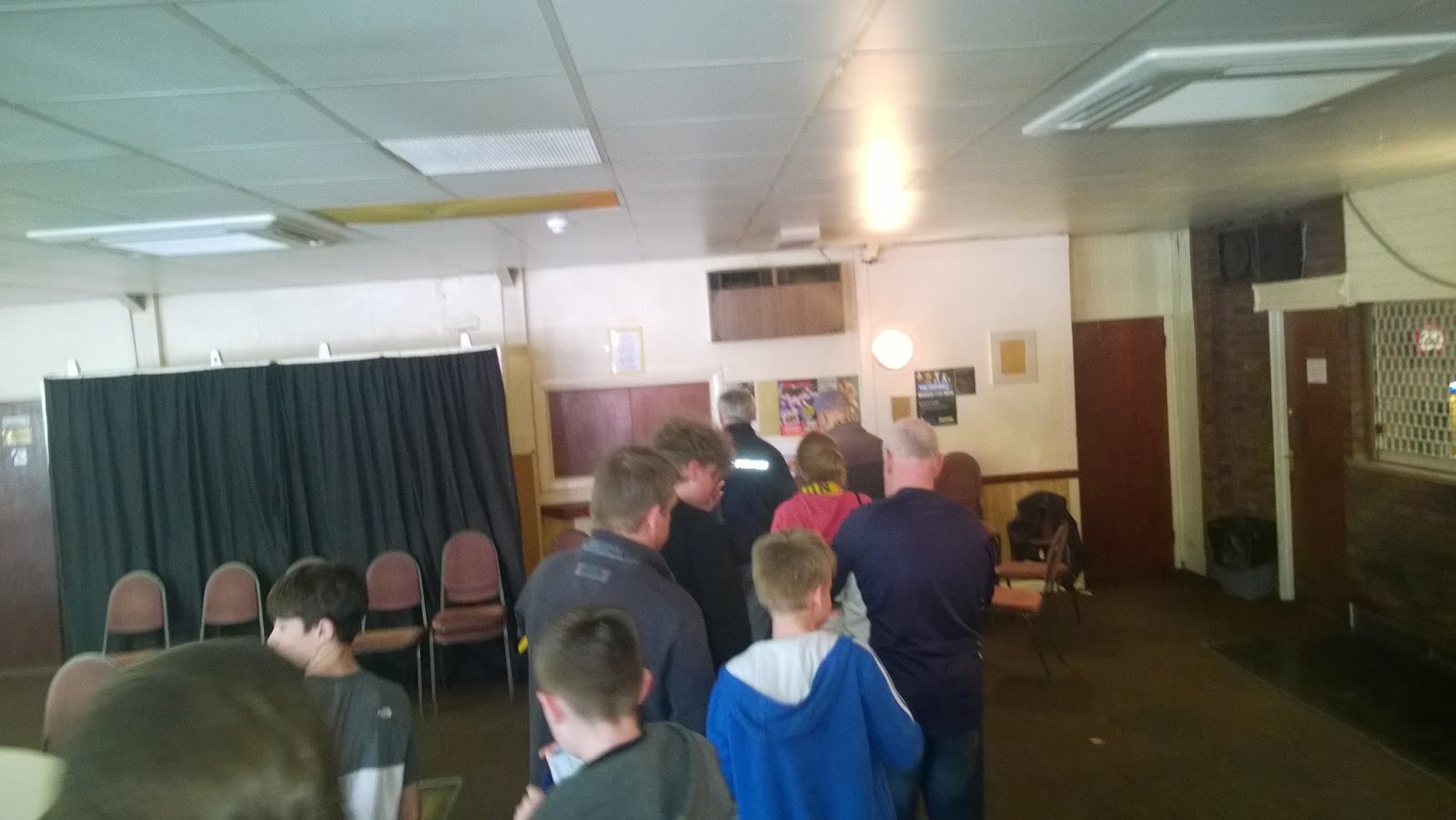 The British love a queue…
With various people starting to drift off (some of them even said goodbye), the night started to go off on a tangent. First we had some fella come up to Mr X and ask for his signature. Apparently this geezer reckons he's a dead ringer for Seb Brown! And with even less people in the bar, we also had the moment of the night when Tyson Tizer managed to knock a full pint of Mr X's lager over the floor by jumping up on him. Accusations that he's been trained for just that very incident have not been proven yet, but we'll keep investigating.
We also had in our presence, Ipswich Lee who was hanging around for a 'quick' pint after the match that seemed to last quite a while. How he managed to only have ten one beer all night is beyond me. And you don't know you've been out until you've drunk with a Ipswich fan! I mean, discussing the difference between the Suffolk Premier Cup and the Suffolk Senior Cup, history of Ipswich Town managers since the invention of football in 1992 & 'Five years in the Premier League'. Invigorating! To be fair, I think he was just pleased to be able to celebrate the departure of Mick McCarthy.
"The Crown" seems to be our pub of month recently and as we walked through 'Dog Shit Alley', we begun to discuss 'getting arrested' for some random reason, can't imagine why. But it turns out that everyone thinks that I'll be using my one phone call to just ring up Babestation. Fair point, make the Police Force Service pay for it…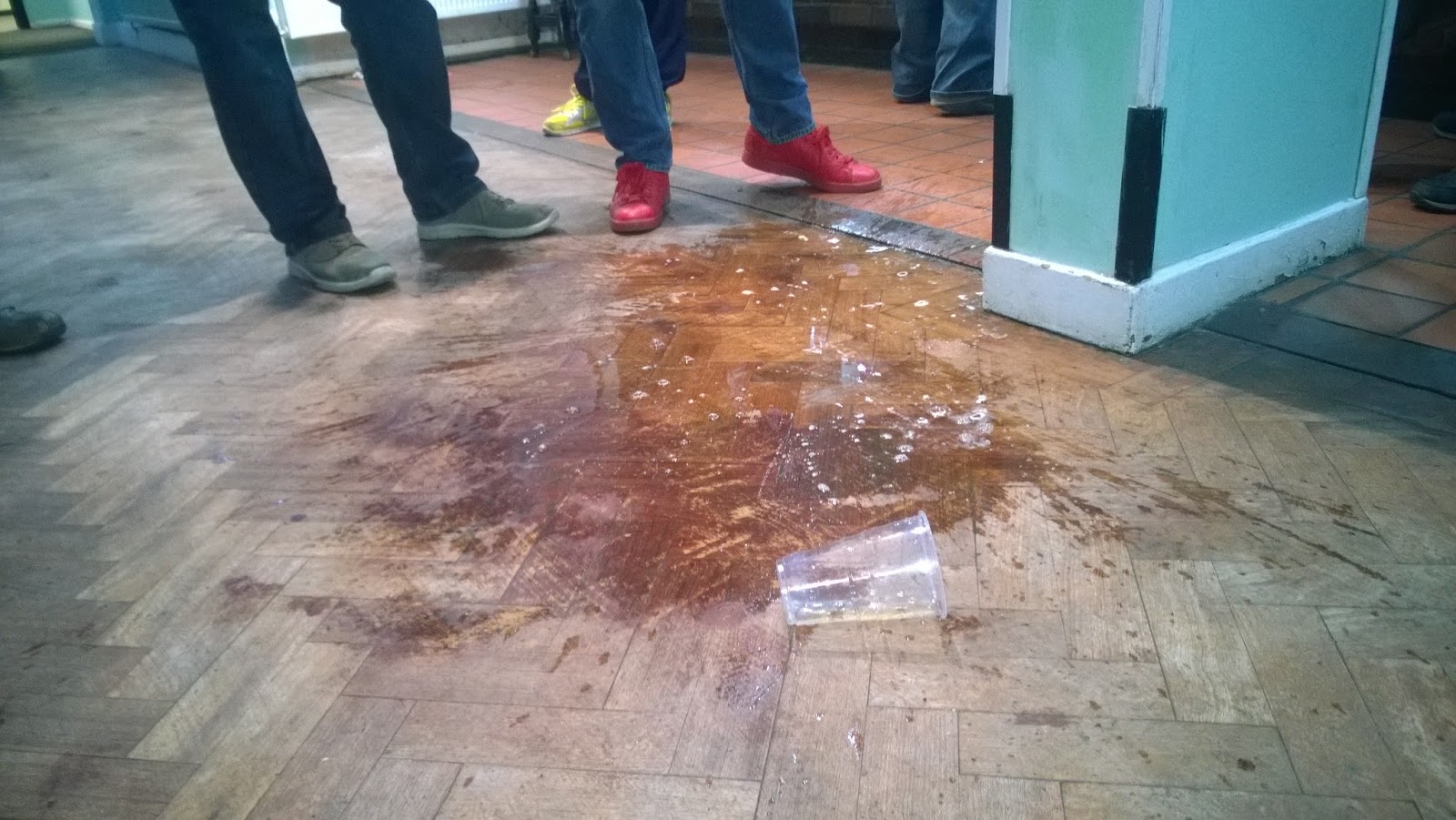 Good boy Tizer…
In "The Crown" and we come across one Sir Phil of Dunne, our former Youth team manager. what a legend that fella is to some of us of a certain generation. I swear, back in his day the only match his boys would lose in a season was an FA Youth Cup tie. Then again, I'm probably fuckin' wrong! Rose-tinted glasses and all that…
After a few more beers and it's time to call it a night. Me & 4 Days decide that as Dr Bell & Ipswich Lee (who's idea it was to go for a few, honest!) sample the delights of Kebab Planet, we'd go across and try Chickenland. I'll have to give it another go sometime as for some reason I think that it was edible by having chicken, chips & gravy. So that'll need further inspection. And where Ipswich Lee got a Yorkie bar from is a whole different story. Well, if he remembers that is…
We now move onto the re-arranged abandoned match against Maidenhead. It's quite simple really, we need to pick up some points if we want to hang onto the top three spot and give the first round of play off games a swerve. Then again, the Sutton way would be to lose to Maidenhead and beat Gravesend & Northfleet Ebbsfleet & Aldershot. Bloody Mick McCarthy out…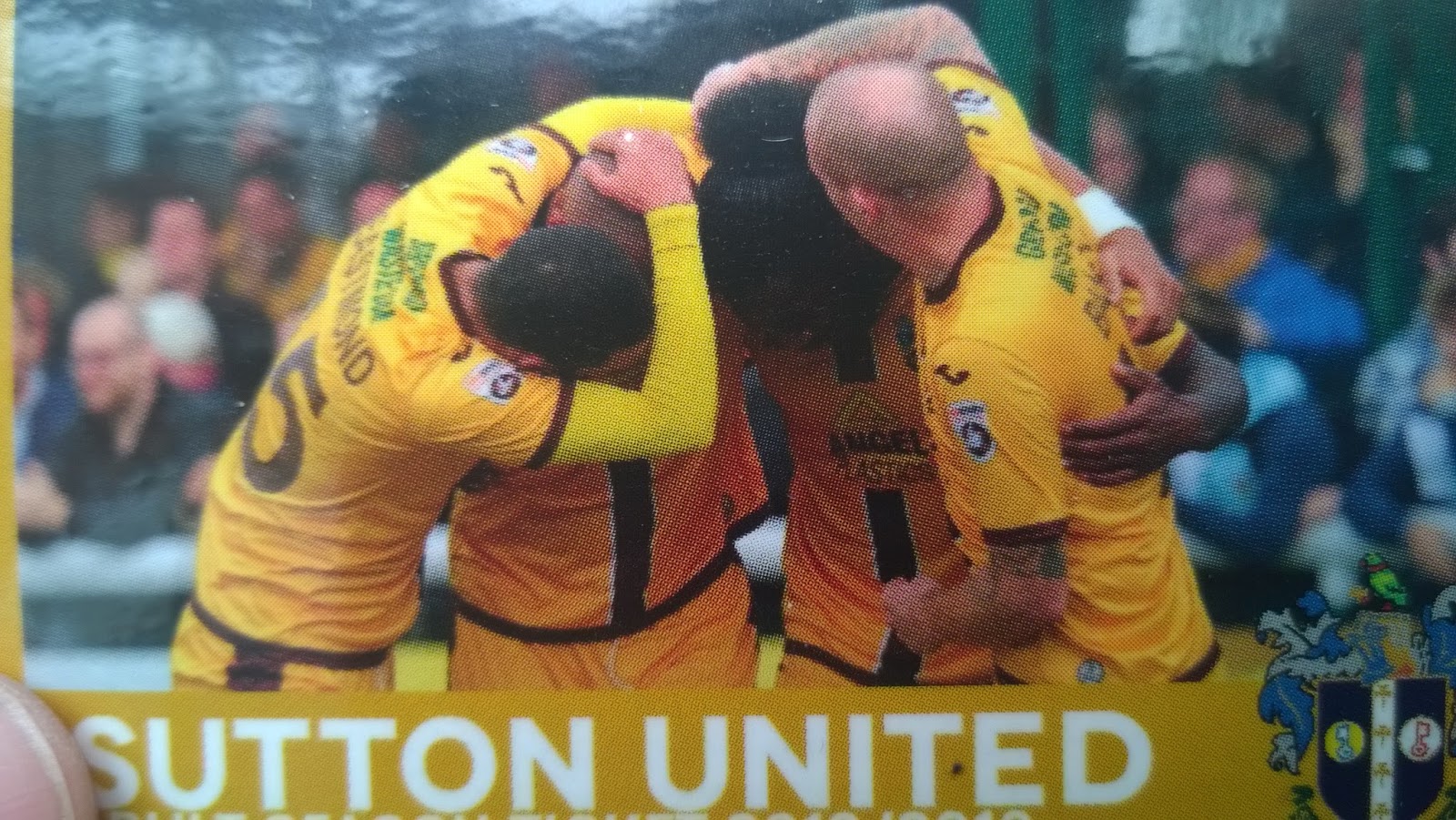 Can you spot anyone we know in the background?
Duke
Att. 2272