It is fair to say that our season is rapidly unravelling. Unravelling in fact at a speed not seen since Sir Edmund Hilary dropped his lucky ball of string when stood just shy of the summit of Everest. Since we briefly returned to the top of the table after narrowly beating Chester back on the 24th of March, we've managed to collect a grand total of 1 point from the 15 available. And even in a silly old season like this one where no one seems to really want to go up, that's proving to be pretty damaging to what looked like a nailed on play off spot 3 weeks ago.
Don't misunderstand me. This season has been far beyond what any of us could have hoped. The side have been superb for the vast majority and to hang on in there at the top end for so so long is a brilliant achievement. But I'm now of an age where most of all that youthful optimism has been beaten out of me, so I'm prepared for failure, especially when it comes to football. So if we don't make the play offs, we don't make the play offs, but to stumble so badly when we're so close is both heartbreaking and frustrating in equal measure. To have proven so many people wrong who expected us to falter every single week over the last 8 months, only to fart our way out of contention for the post-season party will be the main disappointment and like a certain pastry based incident around a year ago, is probably all the campaign will be remembered for if we can't get it sorted sharpish.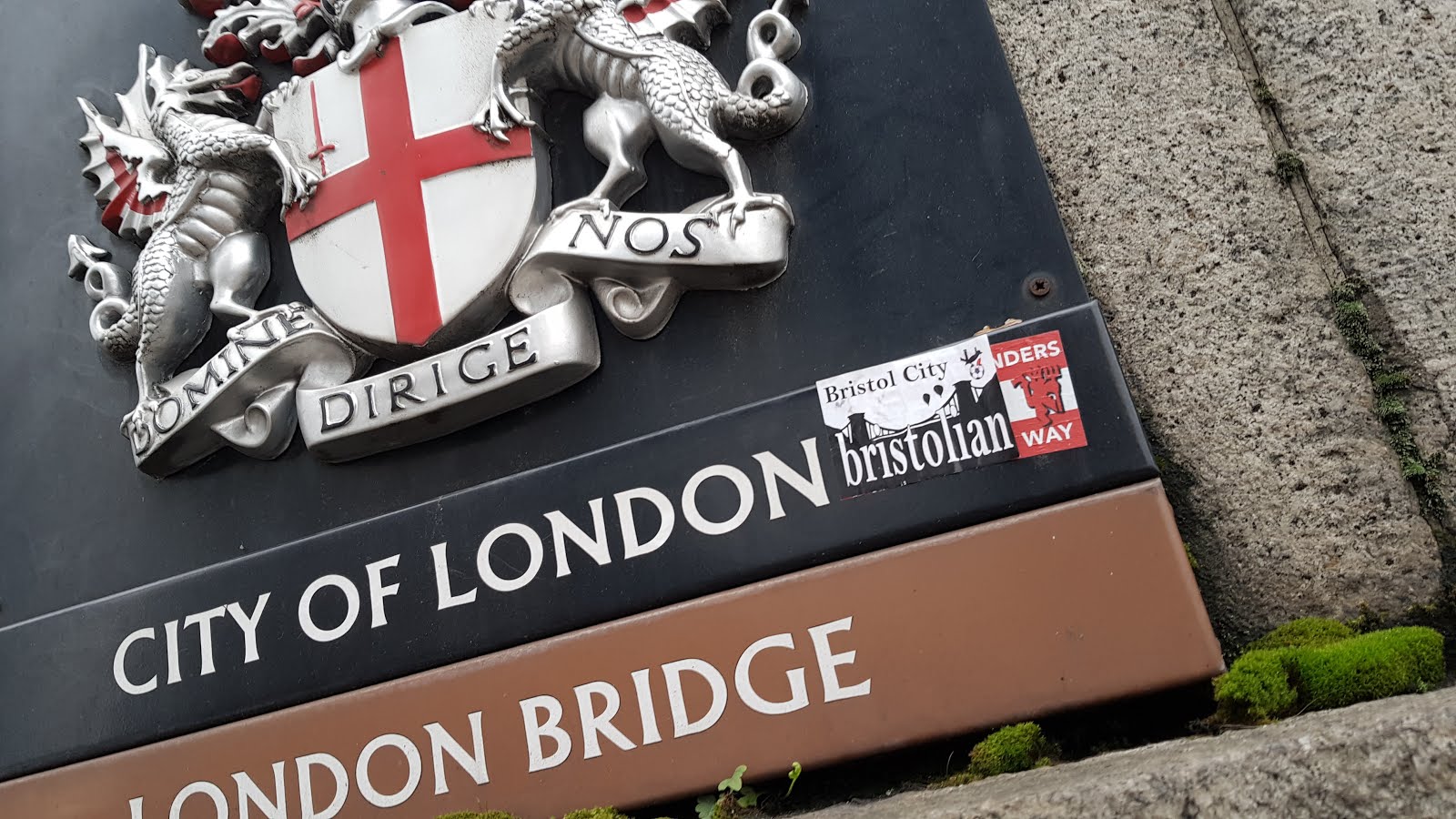 Tourism
Still, in typical Sutton fashion, we've got 2 games to put it all right. Naturally, they're against sides immediately around us that are annoyingly enjoying some semblance of form, whereas if we even tried to go out and actually buy a win right now, we'd end up with some book tokens and a Chinese made hammer drill from 'tat alley' in the local Lidl's rather than 3 points. But before we get to that old bollocks, there's the matter of the rearranged visit to Maidenhead. Courtesy of some shit weather and a fussy fucker of a referee, the 45 minutes we managed to get played in the original tie were amongst the most entertaining of the season to date. Sadly, the re-run as it turned out would be less so. But even before that old bollocks, here's some blatant filler about me having a shit day. You're welcome.
This was to be a busy Tuesday for yours truly. First I had to go and get my eyes tested, which given recent events I did wonder if this were a sensible idea as it would mean being able to witness events in far sharper clarity. There was also another consideration in the cost of replacing my one remaining pair of specs (ones that somewhow remain serviceable despite Kenny Davis' best attempts at fucking them up during the warm up at Hartlepool back in October!). Still, I had a handy voucher from work that entitled me to a massive £50 off. So I was sure everything would be fine.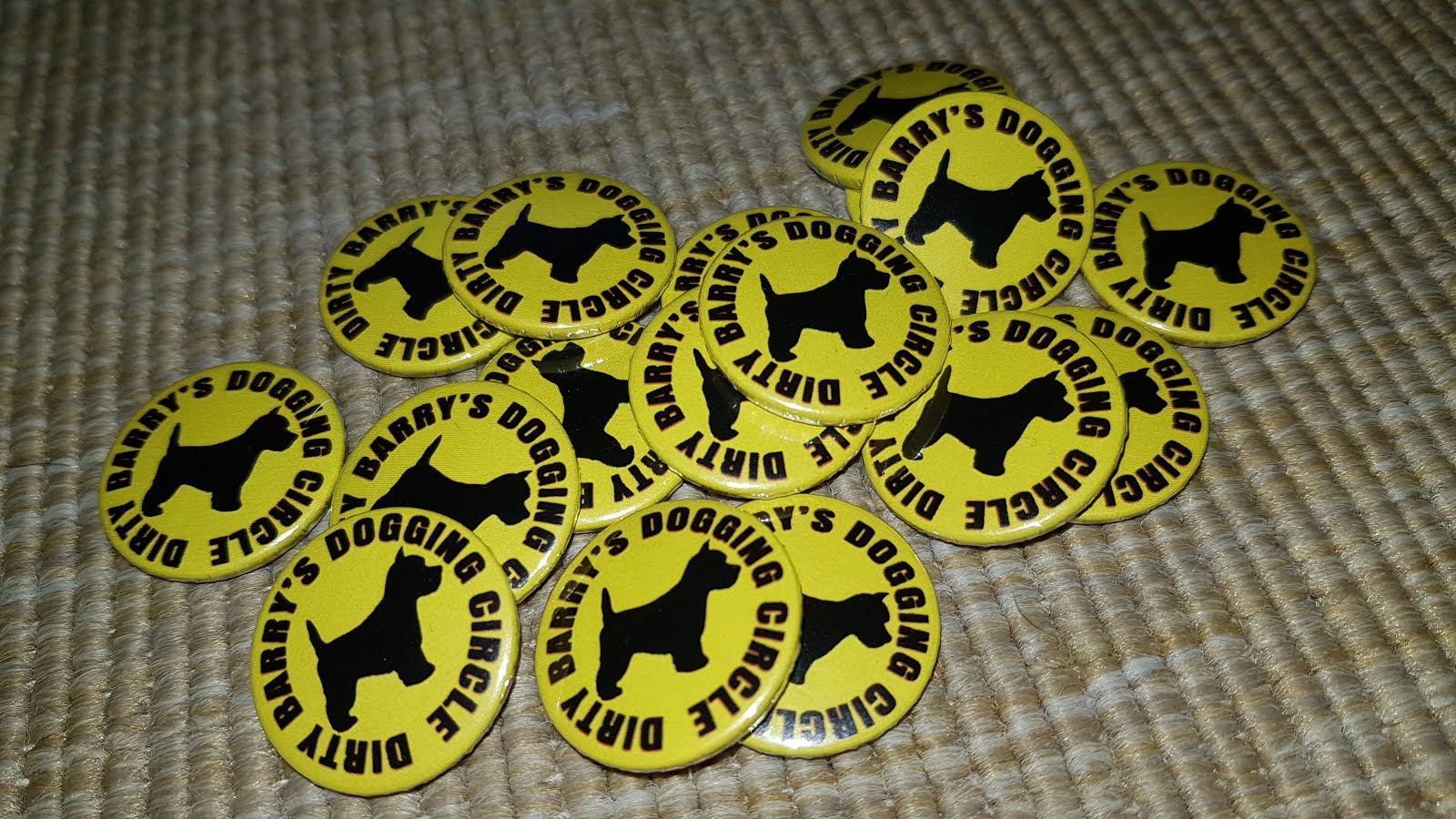 Fashion accessories
Sadly, this optimism was misplaced. Having had said mincers examined, it is revealed that I'm definitely in the "Oh fuck I'm old" club as I need varifocals. Either that or I can carry around about 30 pairs of glasses like my parents do to deal with the varying levels of 'not working' that my eyes currently meet. Of course, I choose the simplest option and lump for the varifocals. However, where eyewear is concerned, simplest does not mean 'cheapest'. They're expensive. And if you'll pardon the pun, eye wateringly so. I won't reveal the exact cost, but suffice to say the lenses on the Hubble cunting Space Telescope probably didn't put as big a dent in NASA's wallet when fitted as these did in mine. I've also owned 2 motor vehicles that both cost less to purchase. So yeah, let's just say they were a bit pricey and leave it at that eh?
Having been discharged from Specsavers ('savers' my fucking arse) following this rather brutal open wallet surgery, it's back to work for my now slightly less well off self. Here my ambitious plan to depart for Maidenhead at 5pm rapidly starts to collapse as early as half 11, when a call with a particularly fuckwitted bunch of clients lasts a painful and yet completely fruitless several hours which means I don't get to depart until shortly after 6pm once everything is all wrapped up. All while having had just one solitary piss break and not so much sniffed lunch, let alone stuck a £3 Tesco's value meal down my neck. Still, a quick shufty down the tube later and I'm dashing towards platfor 8 at Paddington and then Berkshire. Fortunately, I just make the 6.42 fast train which cuts down on travel time, but sadly means an urgently required food intake is further delayed and when I step off in Maidenhead, I'm now so hungry I could chew the arse off a nun throught the bars of a Convent gate. The mob have assembled in the Bell, where we'd watched Woking's Joey Jones turn his back on Macclesfield's winner (and hopefully his fucking career as a footballer) on BT Sport on Easter Friday. This is an acceptable choice, as they do food! Yay!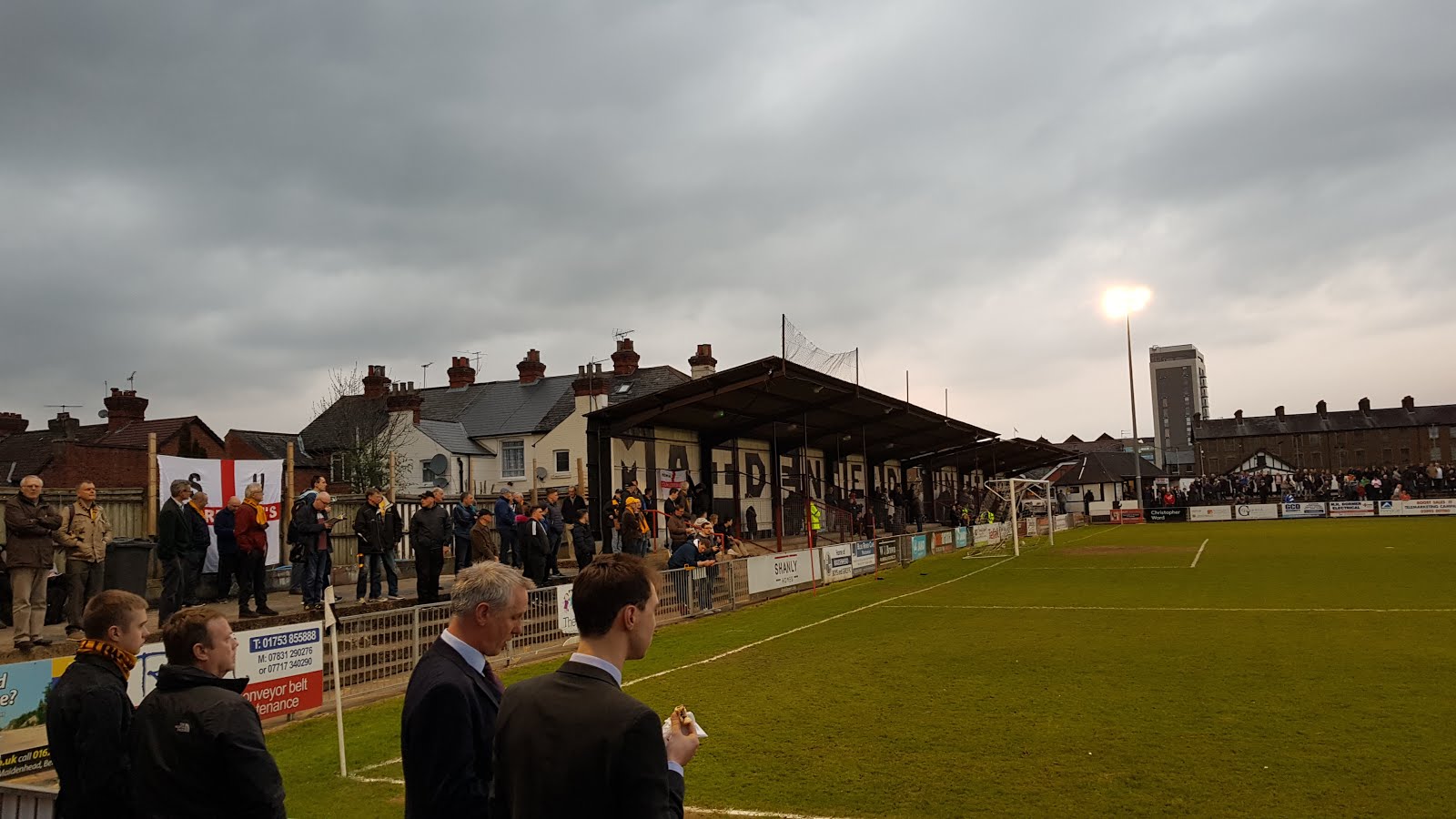 Turned out nice again.
My hopes of dining here are dashed when the I find the bar packed, with disgraceful levels of Tonbridge 'Spoons type queueing going on for both food and beers. To make matters worse, at a table opposite where the idiots are sat, there are two completely untouched and totally abandoned pizzas, sat going cold and taunting me. It seems a couple came in on what appeared to be a date night, ordered up and then suddenly fucked off without so much as touching them. So I'm guessing that liasion either went really really well, or really really badly. With no prospect of dinner or even a pint here, I dish out the free tickets I'd sorted for tonights game to the relevant parties and head straight into the ground in search of sustenance, swearing that if these bastards can't supply a vaguely edible pie (Hi Halifax!), that I'll be fucking the game off completely and looking up the nearest Convent on the Google. Happily for me and my emtpy tummy, there is reasonable food to be had and with a pie and chips finally in my possession I'm the happiest little Taz in Maidenhead. I scarf down my grub, all whilst Dukey rips the piss out of Ipswich Lee for his "I was only going to have one!" protests regarding Saturday night. That'll be 'One' that swiftly turned into 'ten' and stumbling out of the Crown in search of a kebab near closing time. Us? Bad influences? Never!? Well, alright, maybe a bit….
Butler, Thomas A, Collins, Davis, Lafayette, Dundas, Eastmond, Bailey, Thomas T, Beautyman, Harrison SUBS: Beckwith, John, Wright, Taylor, Stearn
The first few minutes of the game are fairly even as both sides look to get their eye in on a dry looking and bobbly surface. The U's elected to shoot up the slope from the off this time and to be honest, apart from a reasonable opening few minutes, it may as well have been the north face of the fucking Eiger for all the impact we made on the hosts goal. Most of our play is just aimless hooking and punting of the ball, with Kenny in the middle particularly guilty of just 'getting rid' every time the ball comes to him. That's not to say he should be singled out, we're pretty much pony all over the park. With no natural width, we're relying on the fullbacks to push up, but this mostly falls to Aswad. He gets into a few decent positions, but seems to be playing "See how many times I can punt the ball into the oppo full back". So much so, that by the end of the 90 mins, I'm slightly shocked not to see him led away in cuffs charged with ABH and their number 3 carted off to hospital with various ruptured internal organs.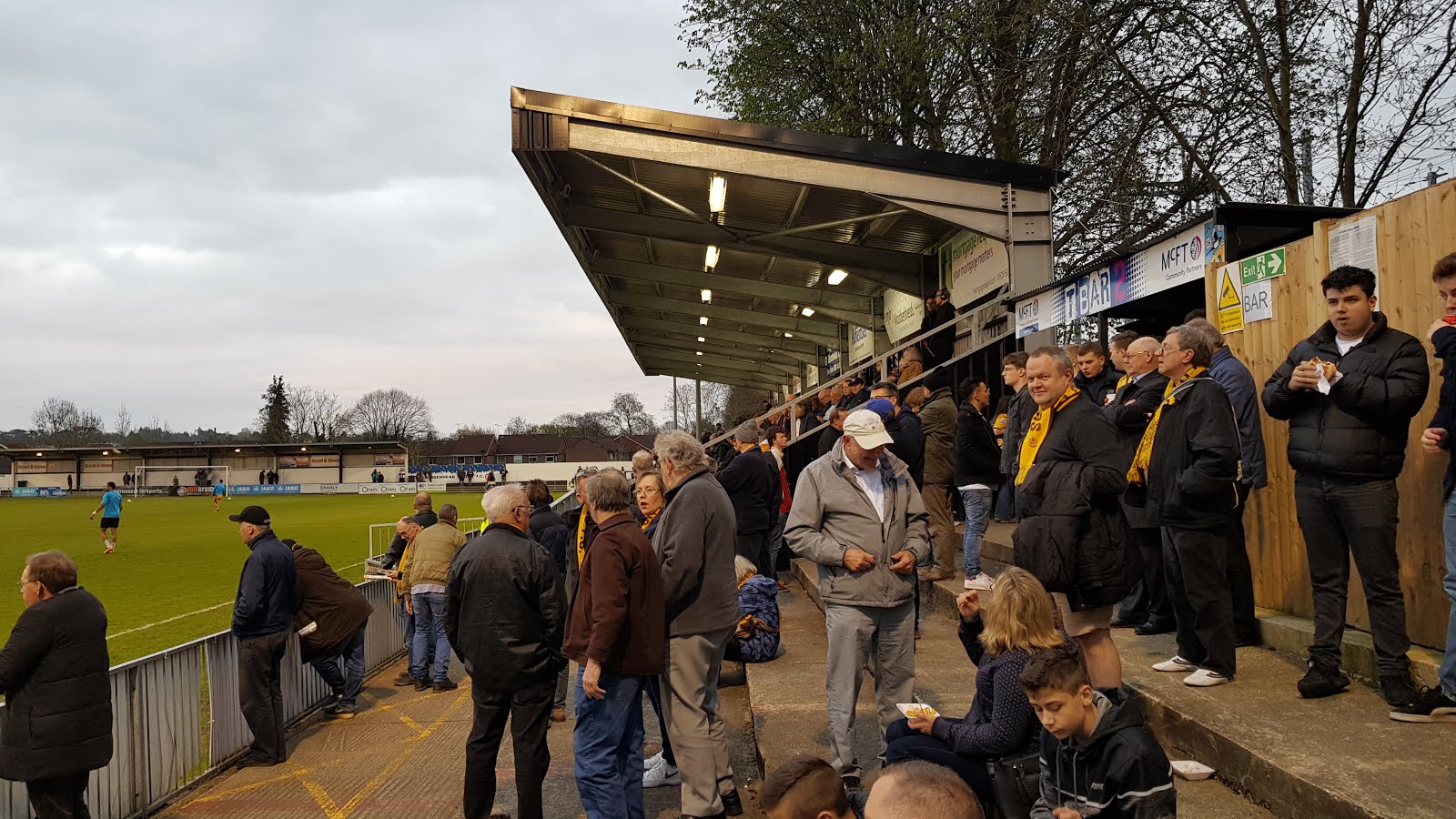 Free = Good turnout
Despite not being great, they're not earth shattering either. However they're more threatening and from a number of first half corners, they're always looking dangerous. Davis nods one flicked header off the line at the far post on one occasion. One of theirs is booked by the ref for a rather shit looking dive, before not long after Harry loses the ball weakly in midfield, the ball is worked to the right and being given all the time he wants, Pritchard guides a curler over Butler to give them the lead with a carbon copy of their opener from Good Friday. The goal sparks them and doesn little for us at all. In fact it's no surprise when they go 2-0 up several minutes later from another corner. It's dropped in high to the back post and we stand and watch as some lanky prick nods it down and in. It's all too easy and at this point, I let Lenny from our friends at GMOSC know by text that they'll probably get 4 or 5.
Fortunately we see out the half without any more damage, but without showing that we're likely to change the scoreline other than by conceding again. Still, at least I'm given a laugh at the break by a clever response to one of our in game tweets. And in case you're wondering, the answer was 'bollocks'. For the restart, we unsurprisingly make 2 changes with Stearn and Wright on for Harry and Byron, I guess to try and give us a bit more mobility as the more blunt approach has failed.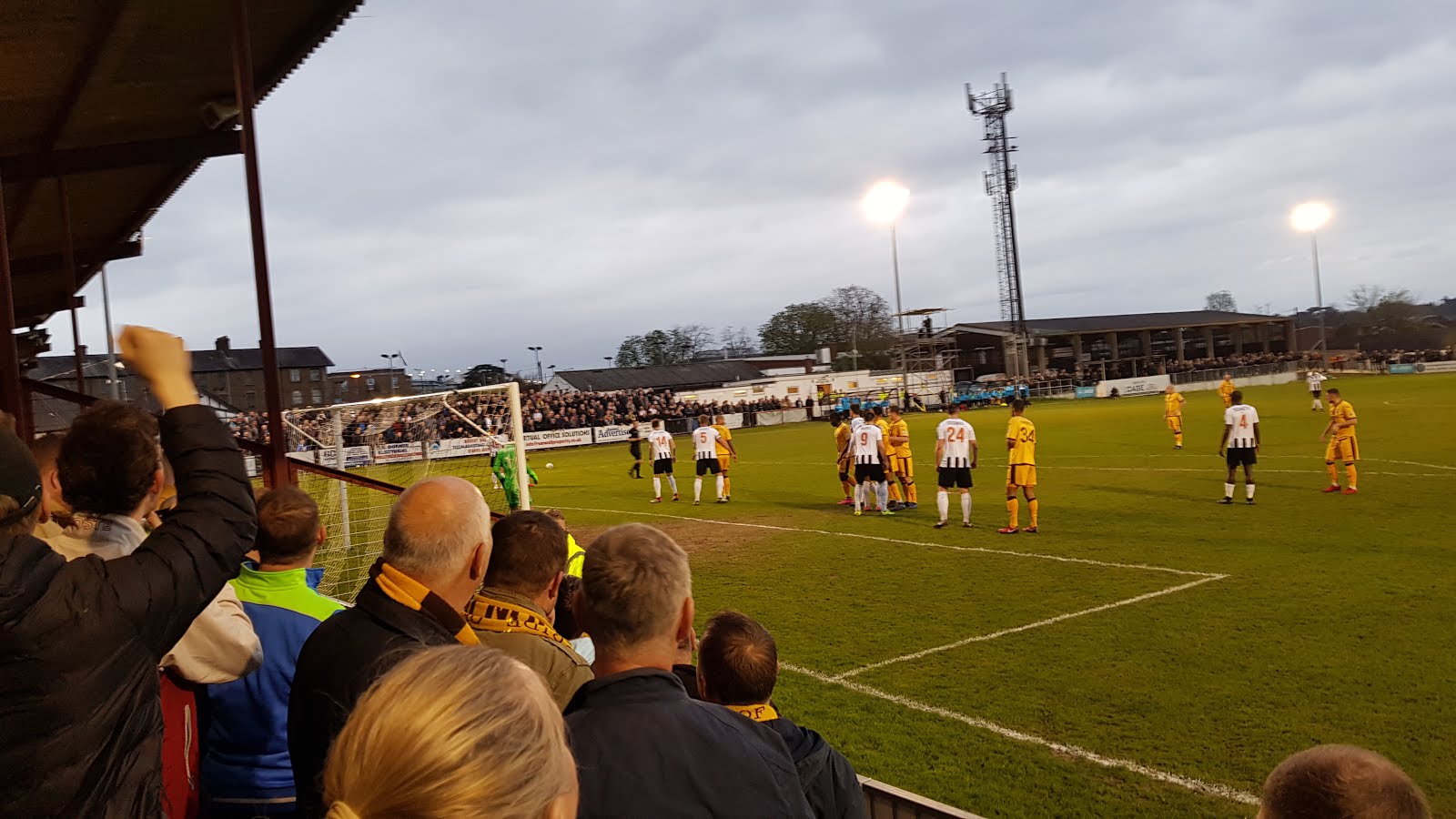 A rare threat from us
This definitely helps our play and we do keep and move the ball a touch better, but the defence still looks ropey as and likely to concede. Butler makes one good save from a forward in behind the centre backs and the Maidenhead no 7 bins a couple of presentable chances and they have one ruled out for offside before our mate in the middle awards a penalty against JC. He challenges the forward from behind and wins the ball, but his foot is too high and catches his man ducking in. Thankfully, in what is our best moment of the night so far, JB guesses correctly and dives to his left to beat away the spot kick and does enough to force the follow up to be lifted over the bar. Then the ref books one of their blokes and awards us a free kick on the 18 yard line. No, us neither. Answers on a postcard to: Swap Shop, BBC TV, Wood Lane, London, W12 8QT. Cheers.
The save doesn't really lift us either though. They should score when again an attacker gets clear down the middle. But having lifted the ball over a stranded Butler, it comes back off the face of the bar and into the keepers arms. With time running out and us looking about as likely to spark into life as a wet swan vesta, we lob JC up top. Suddenly, we look a bit more coherent and finally Wright gets in behind to force a top stop from their keeper with a low angled shot. Then with 2 mins left and us having all but given up hope or the will to live thanks to the razor sharp bantz from the home support to our left (I mean, really. The 'pineapple on his head' chant at Aswad? You can tell it's fucking Theresa May's constituency lads), we suddenly do something. And by something I mean score. The ball drops out of the night sky and almost in petulance, Easty lashes it on the volley. Only it flies past the keeper, pings off the inside of the post and in. Fuck me, where did that come from? Suddenly, instead of being 4 or 5 down as I'd predicted at the break, we're in a game! And how close we come to stealing a point. Tommy rifles low and just wide and Stearny forces two frantic close range blocks from the keeper, but we just can't quite snatch what we don't deserve and the final whistle goes to give the hosts the points.
We clap the lads off regardless of the state of the performance. The last 5 minutes or so at least deserved some sort of recognition even if the previous 85 didn't, then it's back out into Bell Street to jump into Magnum PI's handily parked Ferrari 308 GTB Ford Focus diesel with Steve and Robbo for the trip back to civilisation. Fortunately, after a couple of long schleps home from games in the last couple of weeks (Hi again Halifax!), the run is perfectly clear and we're back local in no time at all, heading along Magnum's preferred little cut through from Leatherhead that I've become extremely familiar with over the last couple of away games. As we head over the Downs, there's a big crowd in for tonight's dogging activities in the small car park by the racecourse, although there's no sign of DB's passion wagon. Maybe he's having a night off?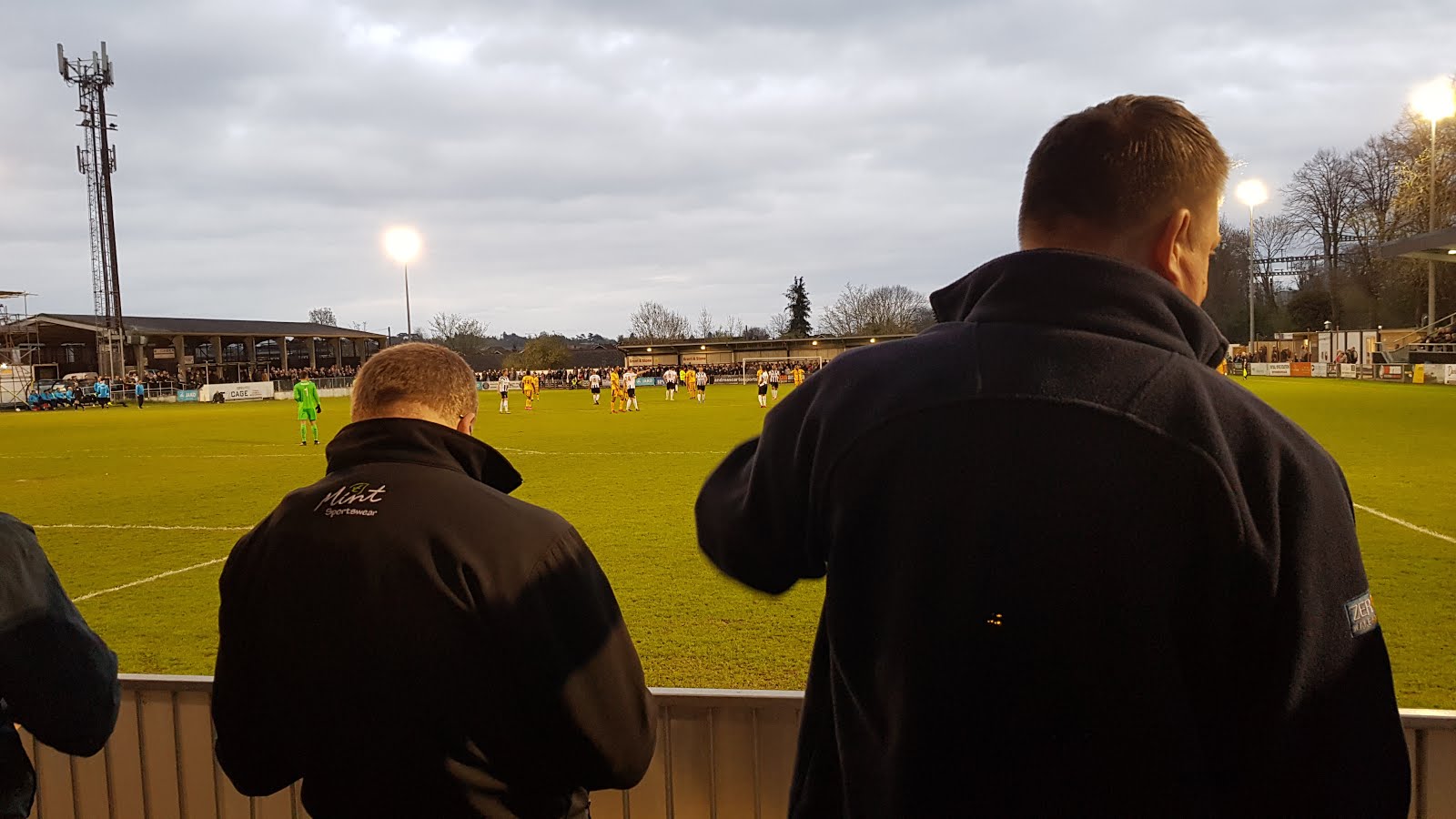 Can we go home yet?
Closer to home, Magnum is once more asking the question he's asked the last 3 times I've travelled with him, that being "Is Beddington Lane open again yet?". And as on each occasion previously, I shrug my shoulders and reply "Fuck knows". Sadly for him, neither Robbo nor Steve are able to shed any further light on his road based enquiry, much to his disappointment.
So, about an hour after the final whistle my key is going in the lock back at HQ, which is about the best thing to have happened so far since I tucked into my pie earlier. Two games to go and we really need something special from the lads to pull this one out of the fire. Two defeats and if results don't go our way we could wind up in 8th, out of the play offs and also having ballsed up our best ever finish at this level.
Over to you lads. No pressure.
Taz.