Did anyone see that coming? Well, I did say last time round that knowing the way that Sutton perform, it would be just our way that we'd lose against Maidenhead and then pull it out of the onion bag against Gravesend & Northfleet Ebbsfleet. But then again, I didn't actually believe what I said and like most, thought we were on course for a spanking.
Good old statistics. I'm sure Stalin said something about them once. Their implementation can always be used for whatever end you need them for. For example, If you were to look at the form guide for Sutton over the last five games, then we are bottom on the pile with a solitary point. But if you were to look at it over four games, then we're actually 20th in the ranking. Further back down the line at six and eight games and then you'll see the 21st spot occupied by us. Either way it's shite! And as you know us non-league aficionados love stats as much as Germans like invading small neutral neighbours.
So where's Gravesend?
I was asked during the week to find out if this fine vein of form was unprecedented in the Our Lord Dos era. Well, I wasn't actually, but following watching 70s French 'arthouse' videos an exhaustive search, I can conclude that somehow it's actually not the case. Oh no people, turns out that we have to cast our minds back to 12/13 for a poorer run of form. You remember 12/13? That's the year Godalming done us 1-0 in the last minute of the SSC final down GGL. No? What about the 5-0 drubbing from Wrexham in the Amateur Cup FA Trophy? Or maybe the fact that we didn't actually win a match until the start of October.
Anyway that season saw us win 1 in 12 at one point. So our current form of 1 in 7 doesn't look anywhere near as bad. Looking further back and I even found a couple of even more piss poor runs. Of course 07/08, dubbed 'the shit season' by those that bore witness to it, features with a great run of 1 in 15. But shockingly enough there was actually an even shitter season than that in the 21st Century. Oh yes, I shit you not. Take a bow 05/06. a comfortable mid-table finish in the Conference South that saw a whopping 1 win in 19. Bet I saw every single fuckin' one of those 19 as well….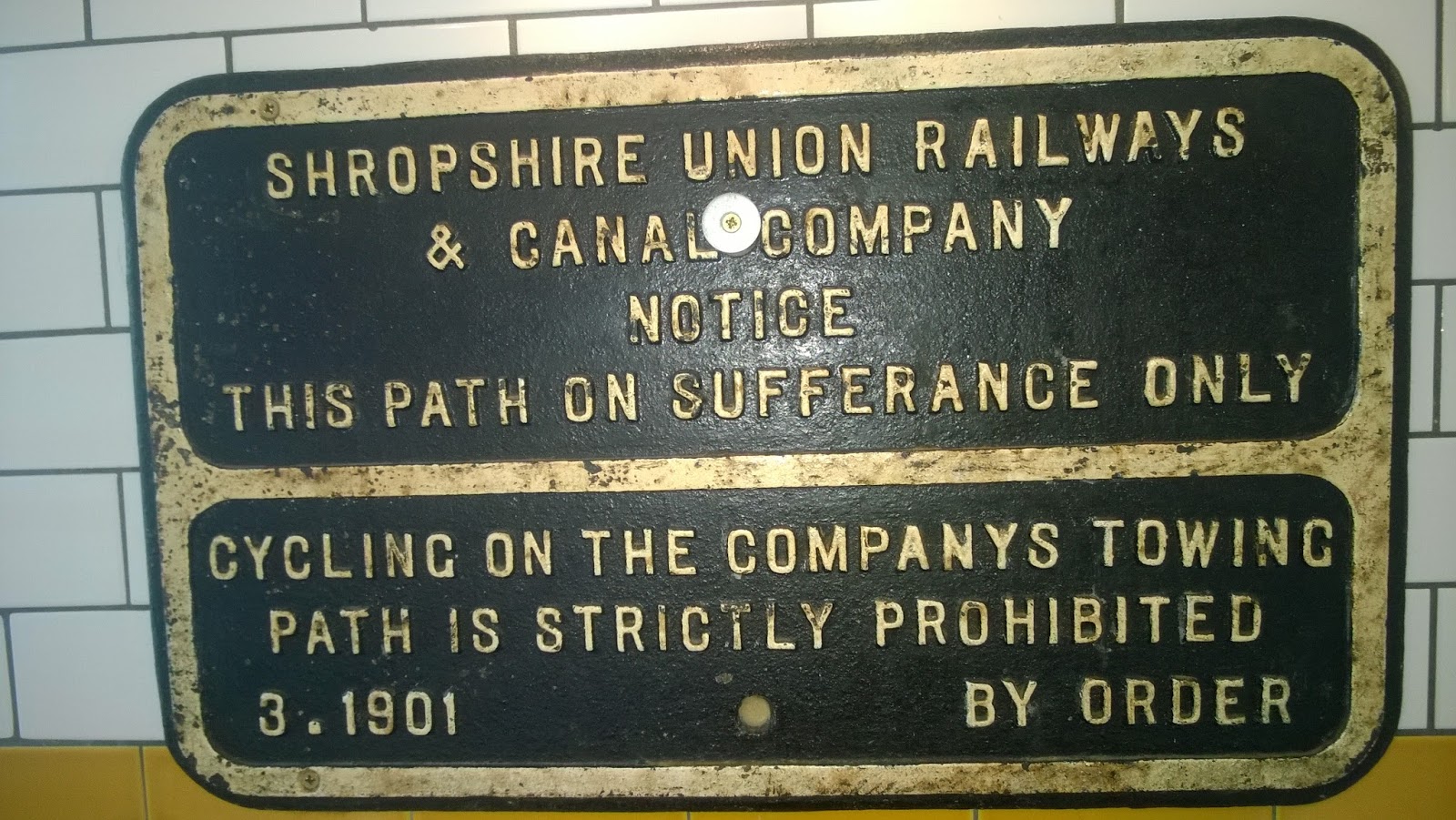 No where near Shropshire…
But enough statistics and onto another week of excitement in the world of The Duke. After the debacle that was Maidenhead away on Tuesday, I found myself on Thursday in the meat section of Tesco's down on the by-pass. And who did I spot? None other than the hero of the 2003 Surrey Senior Cup Final, Mark Watson. Well at least I think it was him, but judging by the looks he give me as I stared at him, it might not of been! That and one in three of the things he tried to put into his trolley missed. Only joking fella. Or am I?
If that wasn't weird enough, the very next day I was in Asda at Stonecot Hill. Grabbing a few bits, I waited behind a fella messing about with whether he could get all his shopping (two bottles of Estrella, a create of Kopperberg and several bags of popcorn) in one bag without lashing out 5p on another. But the point of this story? Well this fella was none other than Jimmy Dack! Seemingly gone are the days when I hunt out single mothers in the aisles of supermarkets, but now ex-Sutton players. How times have changed!
With a vague plan of meeting up at Euston for eleven, our luck would be in as the trains were actually bloody running! Taking out the obligatory ton for the trip, I head to the station and meet up with 4 Days & Lil' Chris. On the train is a rather hungover Dr Bell who apparently crawled home from his usual darts escapade past the two o'clock mark this morning, only to hear an alarm at quarter to seven set in revenge by his far from happy better half. Always liked her!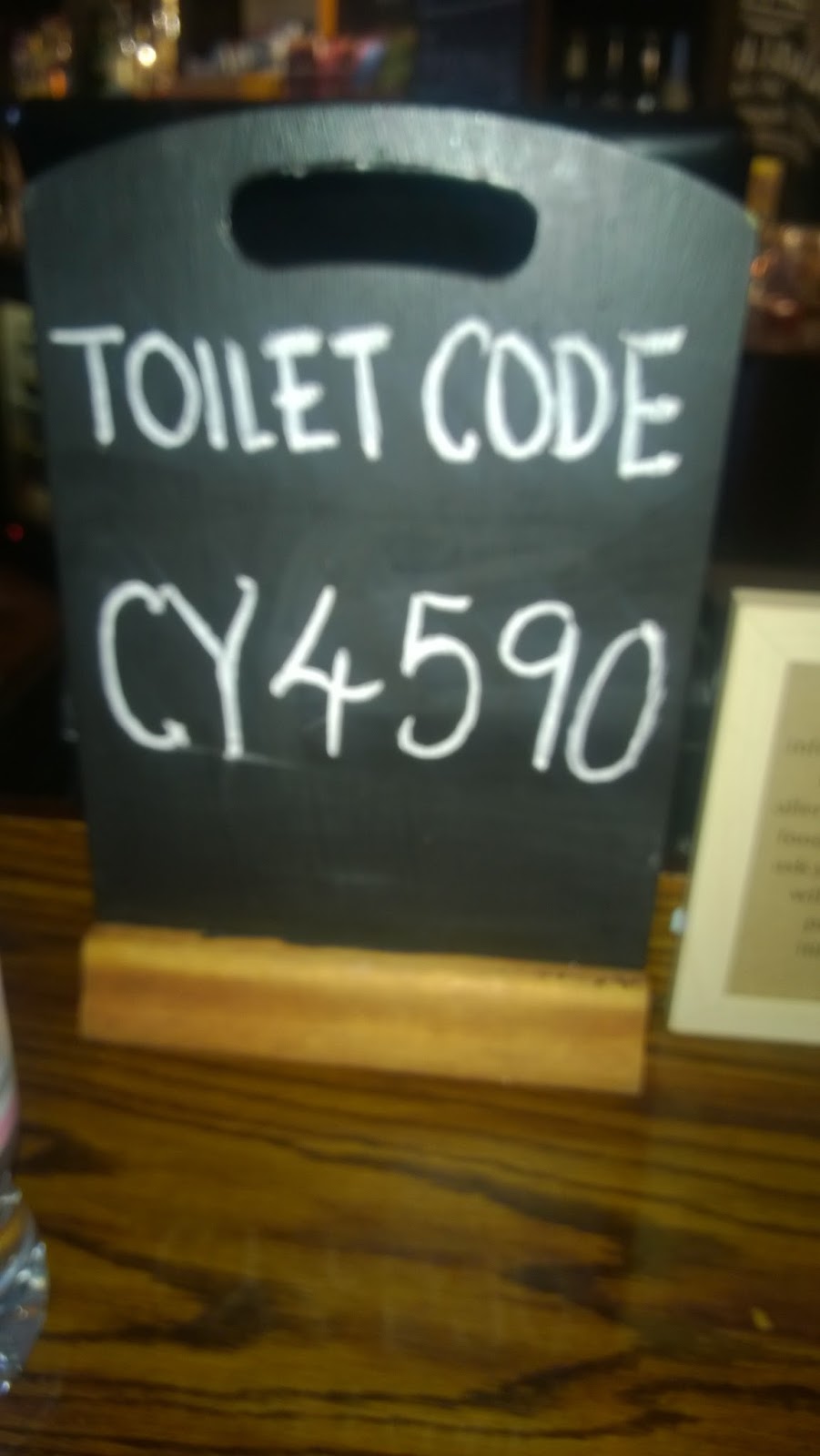 Don't forget it!
A simple trip took us to Victoria, before jumping on the blue Vic line all the way to Euston. One amazing sight we did manage to witness was the very rare natural phenomenon of some Scummer supporters on their way to Sittingbourne. Yep, as in more that one! Says it all really, a whiff at winning the title and they finally emerge from wherever they've been (probably hiding from Dippy) these past few years.
Arriving at Euston and the place is already busy. With Man Utd at Wembley for the FA Cup semi later this afternoon, you know that all the pubs in the vicinity are going to be filled with lots of geezers in bucket hats going "Ah kid" a lot. The first pub of the day is the "Royal George" and an eye-watering £5.45 a pint! Already supping their own pints of arm and a fuckin' leg is Indy, Sean Connery's Stuntman and Taz. Mr X wasn't too far behind and then it was Southampton Steve's turn to make up the final member of the Firm to be making the trip.
With the price of pint at that sort of level, we're soon across the road to "The Doric Arch". Here were more Man Utd fans and the unique idea of trying to remember a code for the lock on the toilets that are down a few flights of stairs. Which of course I managed to get right first time, but turned the bloody handle the wrong bloody way!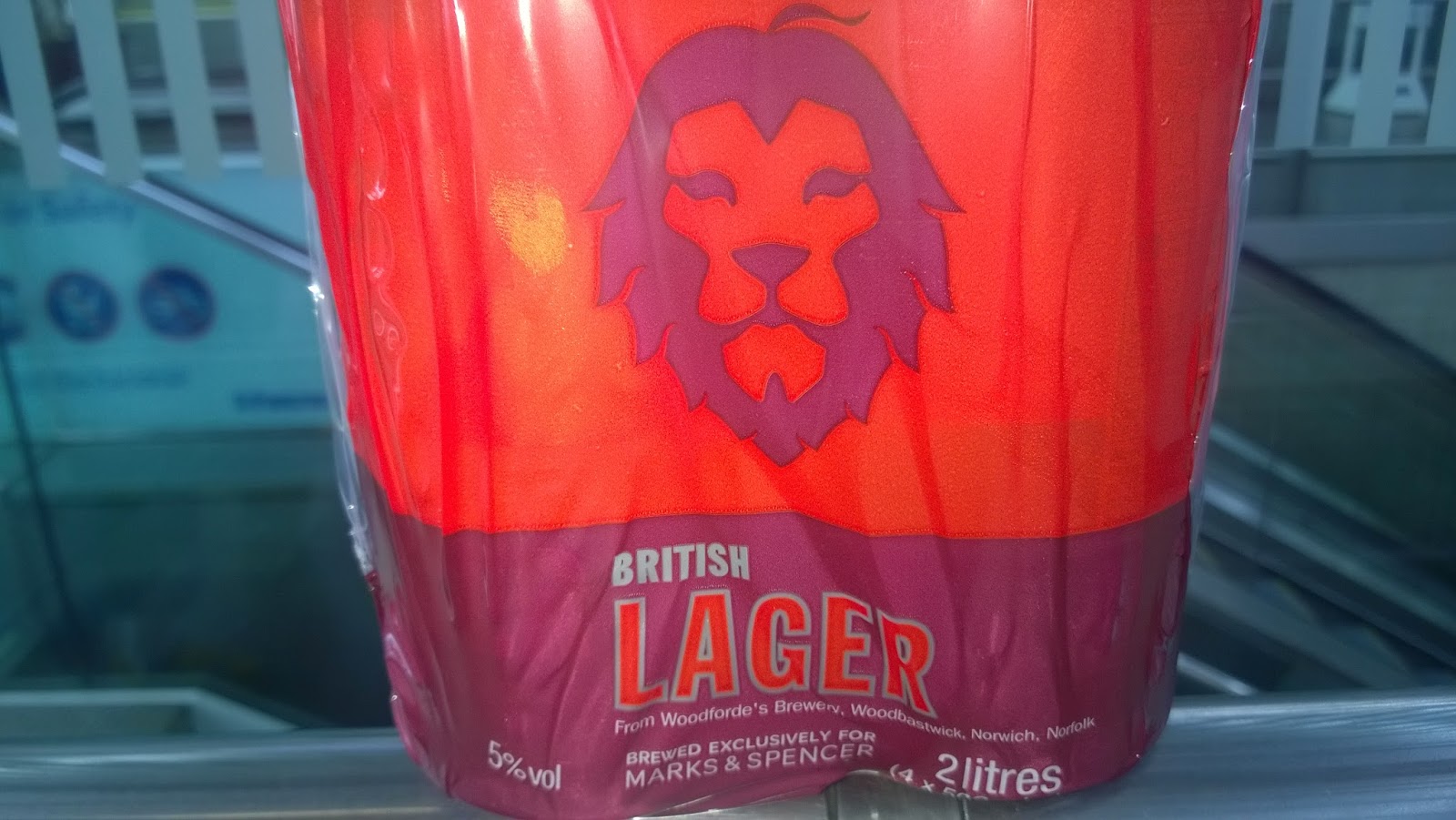 Awful lager….price of Brexit I suppose.
Deciding to head further away from Euston Square and it's new Mancunian population, "The Rocket" is up next. Obviously it's also full of Utd fans, some watching West Brom vs Liverpool on the box. There are enough people inside that we hang outside and talk to a few of the travelling faithful. The usual non-league vs Premier league conversations follow, but at one point we all seem to agree that in today's modern environment even some one like Ferguson probably would've been given the tic-tac these days long before he would've won anything thanks to Mark Robins at United.
With just enough time for another quick drink before heading into Kent, we head to "The Euston Flyer". Where we actually spotted our first Spud of the day! Here we make the train plains. We have two options, the train just after two of the one near half past. Well, knowing our luck, we decide on the one just after two to be on the safe side and head off to St Pancras to sort out tickets.
Some of us are on the booze run so a quick stop at M&S is in order. Sorting out the lager drinks I've got but one choice: BELGIAN lager or BRITISH lager. Brexit it is and yes, the British lager was bloody awful! Taz was responsible for picking up a can for Southampton Steve and his regular drink of choice is Vodka & Coke, but M&S didn't have that. Instead it was either Vodka & Tonic or Rum & Coke, needless to say that Taz brought the wrong one and Steve was unimpressed with his Rum.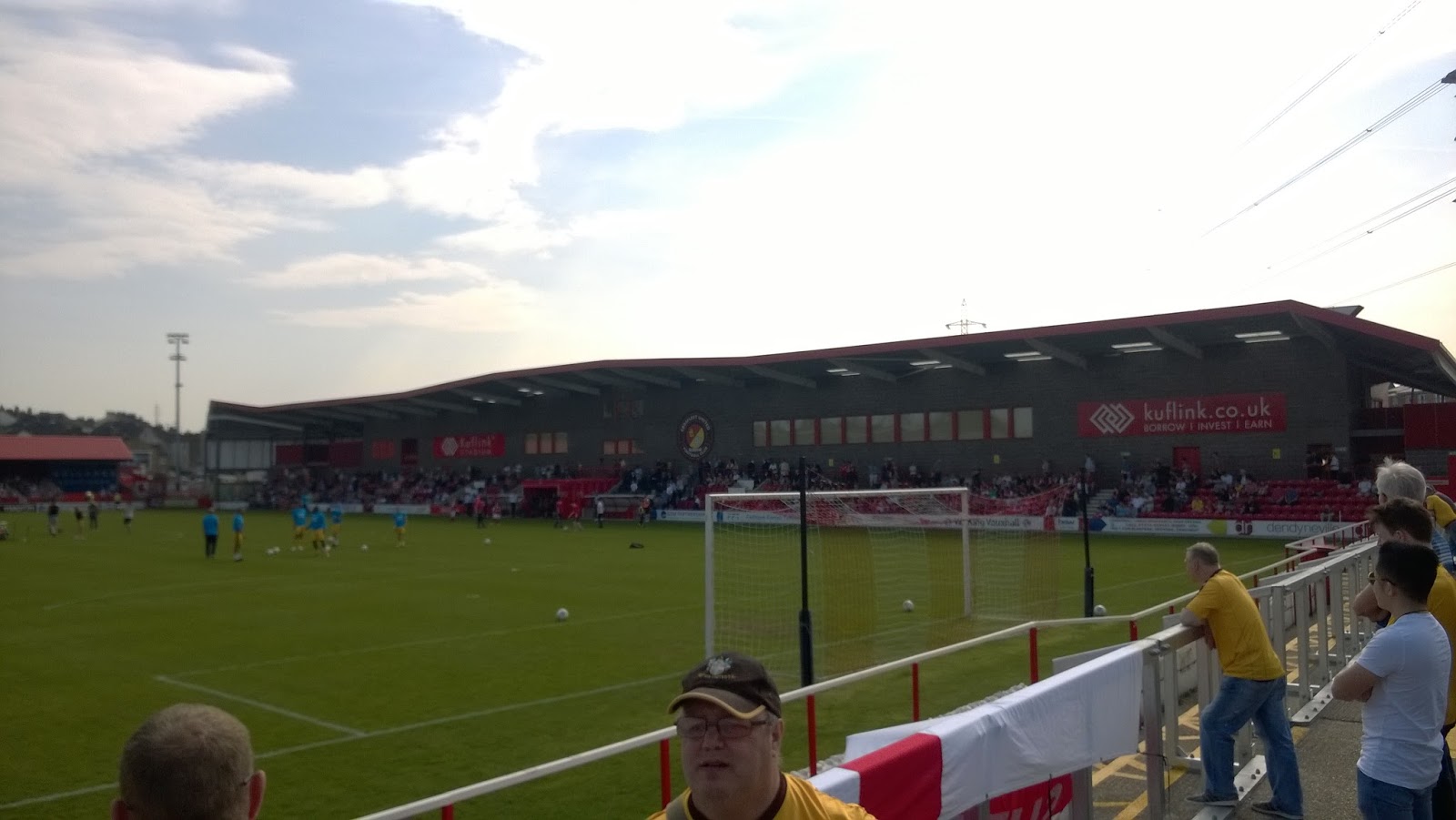 Breeze-block anyone?
Gotta say that he journey is pretty quick to be honest, less that twenty minutes I think. The price isn't cheap (nearly £12), but high speed gets you there. And with no 'issues' from the British Transport Police unlike on past occasions, we're clean through and walking through the large car park towards the ground. Here Mr X makes a beeline for another beer from an offy opposite to drink like a tramp at the roadside with Chalmers.
As yes, Stonebridge Road. It appears to have changed a bit from our last visit. One major difference is that the Liam Daish stand & terrace has gone. Now replaced with one of those ugly looking breeze block monstrosity type stands that only seems to have about 5 rows of seats in it. With segregation in effect we have to use the far end and like us they've installed some new crash/crush barriers on the terrace.
Team news was filtered through as as you can see from below that there was one major omission for me. Where the hell was the legend that is Dundas? No chance of him now making the magical 500 club appearances during the regular season, Davis missing however, was understandable as he was well below his usual performance levels on Tuesday (turns out he was spewing his guts up overnight as it happens) and Bolarinwa was back in the team for the first time since Flid away.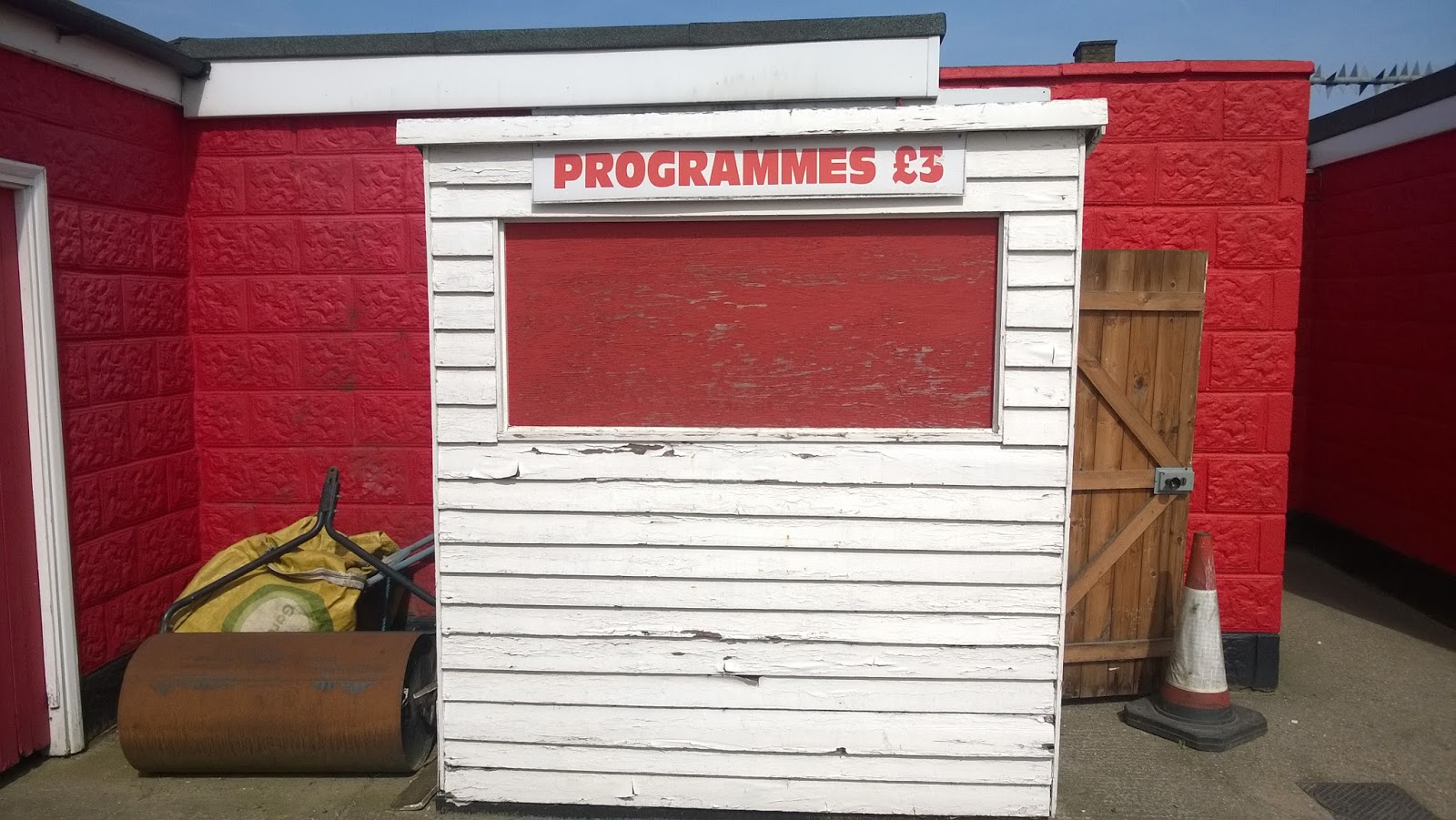 No programmes then?
Butler, John, A Thomas, T Thomas, Eastmond, Collins, Bolarinwa, Bailey, Wright, Taylor, Cadogan. Bench Warmers: Beckwith, Laffayette, Beautyman, Stearn, Harrison.

With the sun beating down on the ground, both teams appeared to largely cancel each other out like in the first fixture. Although we had our moments. Wright saw his first attempt at goal come off the near post after it beat Asmore in goal. Taylor had to watch as a simple shot at Ashmore somehow had him loop the ball into the air and nearly into the open goal if it wasn't for some quick reactions as he scooped the ball out at the second attempt.
At he other end, Butler had it a lot easier as the couple of shots Gravesend Ebbsfleet had were straight at him. Butler's main contribution to the half was to set-up Bolarinwa with a long clearance that had Tom one on one with Ashmore. But waiting for it to fall under control gave the keeper the time to spread him self enough that he smothered the ball.
Sutton picked their first yellow of the day when Eastmond rightfully went into the book for an untidy challenge. That did raise one question. As some thought that's his 14th of the season. So if he gets one more on Saturday does he get a ban? Might be an issue that. Bailey is not far behind him when he also goes into the book for something that might not have been quite as cast iron a yellow. The rest of the half peters out and the teams go in all square.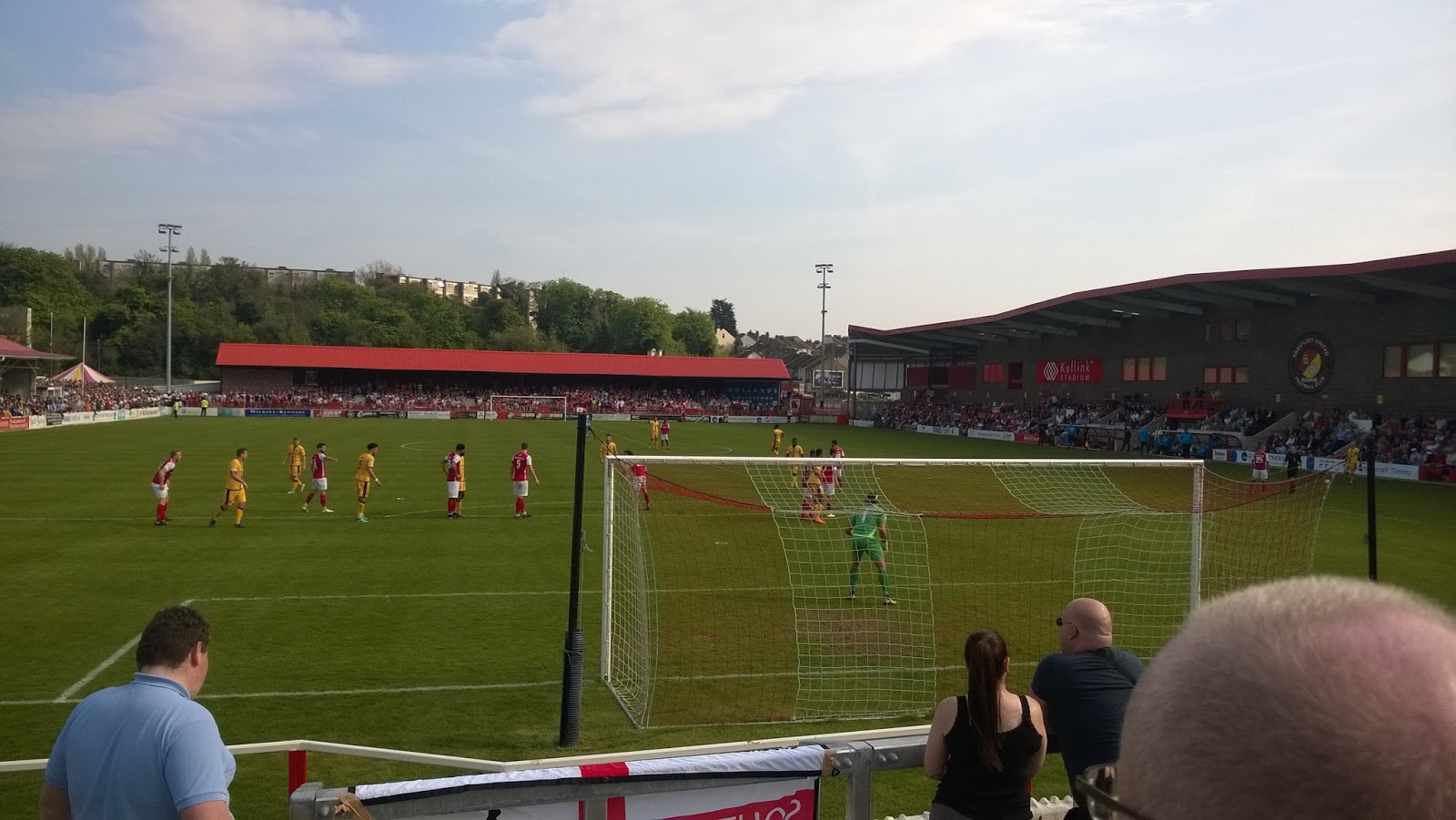 Action!
Second half, and with Sutton attacking the away end, it's still hard to determine what way this encounter will go. Butler had it largely easy again and even Ashmore was hardly called into action. To try and change it up a bit Lafayette came onto the pitch for Cadogan, which gave us some height upfront. Then with time ticking away, the break finally came.
Eastmond heads the ball on to Bolarinwa. He beats his man to the ball and takes it down. Every time it looked like he was going to lose it, somehow it stays with him. First man done, he beat the second in front of him. Taking it once again away from the first, he beats a third man as he travels into the box. Not the cleanest of shots, he hits it to Asmore's right but it's travelling away from him and he can only get a hand to it as it hits the back of the net. 1-0! Needless to say the away end erupts and bodies are everywhere as we party like we've secured a spot in the play-offs. Oh wait…
Bolarinwa picked up a booking (that puts us on 96 yellows for the season now) for his celebration and minutes later Sutton make their second change with Beautyman coming on for Wright. The home side try to find an opening but for once the Sutton defence can protect Butler from anything they produce and Sutton hang on for a triumphant first ever win at Stonebridge Road. Cue 'scenes' at the away end as the fans celebrate with relief.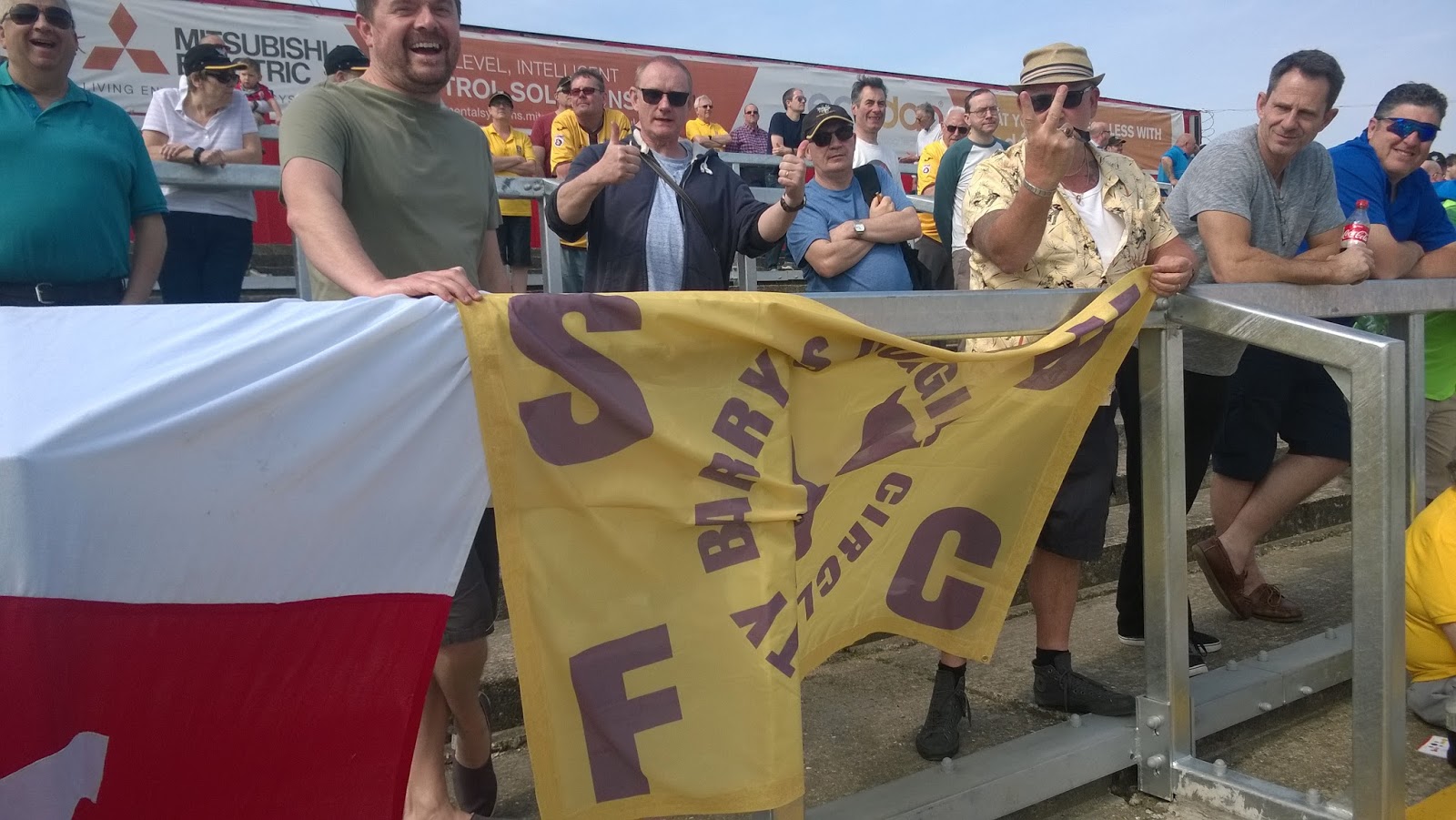 Spot the doggers…
After the match and it's a quick stop at the offy over the road to grab some fresh beers for the train. In true Kent fashion, for me it was a choice between knock off Coruna or Desperado. Some of the Firm were then sent the wrong way to the station by the local Police (cheers lads!) and we had a little wait before our train arrived and we head back into town. We also get to have a laugh at the Scum who've lost at Sittingbourne and failed win the title. One match left to go for them yet though.
On the way back to "The Flyer" we laugh again at Mr X who seems to have lost his cigarettes, well he did lose his shit during the goal. This didn't last long though because five minutes later I also realise that I've mislaid mine as well! What a fuckin' plonker! So I cry off to find somewhere to buy some more. When I return I'm informed by Taz that he'd seen me drop 'em and picked them up. Of course he didn't tell me this before I'd fucked off to lay out an ayrton on a new pack!
Having several more beers, which turned out to do three rounds of £20 for the whip, we watched the Cup Semi while we awaited the arrival of the Maidenhead supporters that were making the trip to Dagenham today. For them it was 'Dresselmania XVIII' or something. When they did arrive we not only had Ali G, A Cobra from Karate Kid & Alan Devonshire from 1986. But where was Murdo? Was his cossie that embarrassing?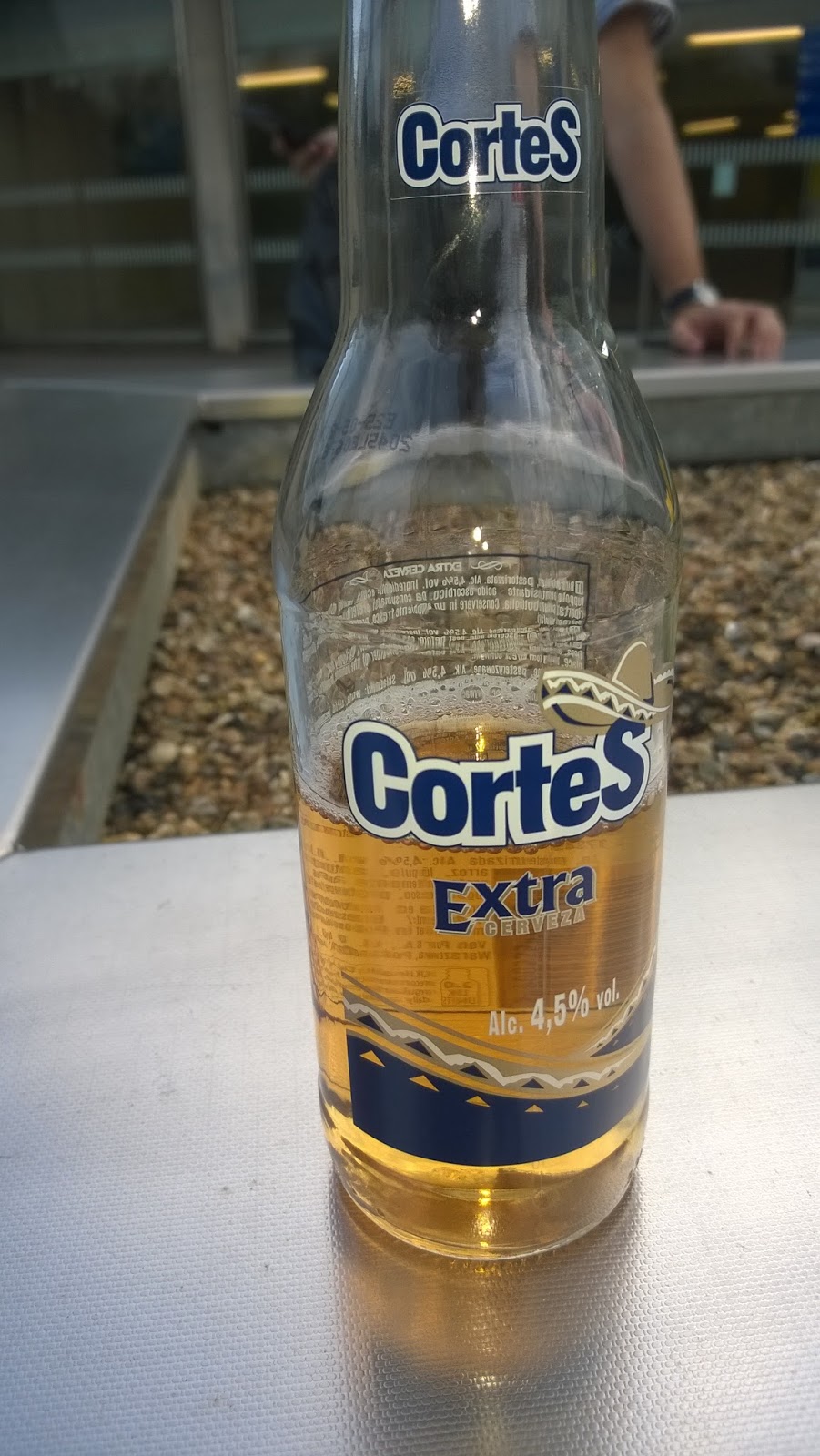 Moody Corona…
Several more beers later and watching some substandard football from across the pond (Montreal Impact vs LAFC if you're that interested, ended 5-3 to LA with some shocking goalkeeping) it was soon time to say goodbye to the duo of Maidenhead supporters left. A quick jump onto the Tube and we are soon arriving back at Victoria. Mr X disappears as he tries to seek out some food and we see that there is a train ready to depart.
The train home would've been quiet if it wasn't for Dr Bell knowing a couple of Yids I think. One remarks, "The only other Sutton fan I know is Mr X" who then promptly stumbles onto the train. Turns out he knows them from his Sutton Manor days. Doesn't he always? Eventually we arrive back in the Badlands and it's time for me & Taz to alight. Saying goodbye to everyone, I end up in the kebab shop trying to pretend that I'm South African, but I fail, as the kebab owner knows who I am and knows full well I'm from Culvers Avenue and not Bloemfontein.
So we now roll onto the last match of the league season. Obviously we're now going to be involved in at least one play-off match so you might get another week of bollocks out of us if you're unlucky. All eyes are now on Aldershot and to where exactly we're going to finish in play-off places. We might be up for 3rd but with our recent record, you want to be as close to Wembley as you can. Mmmm…Wembley…We're so close now.
Fuckin' magical…
Duke
Att. 2,852