Aah Aldershot! Come on then, who thought when the fixture list came out last summer that it would all come crashing in like a whirlwind down Gander Green Lane for this final regulation game of yet another epic season for this football club of ours? Fuck off you did.
Was always going to be a great finale mind. A Surrey/Hampshire face off, yes BBC Surrey, Aldershot is in Hampshire, against a club evocative of another era, an era soaked in the smoke of a thousand Castellas, of pub carpets thick and sticky from spilt Double Diamond, of On The Buses, strikes, hot pants, Slade and when social media was cramming into the photo booth in Woolworths with your bird or your mates. And sometimes both.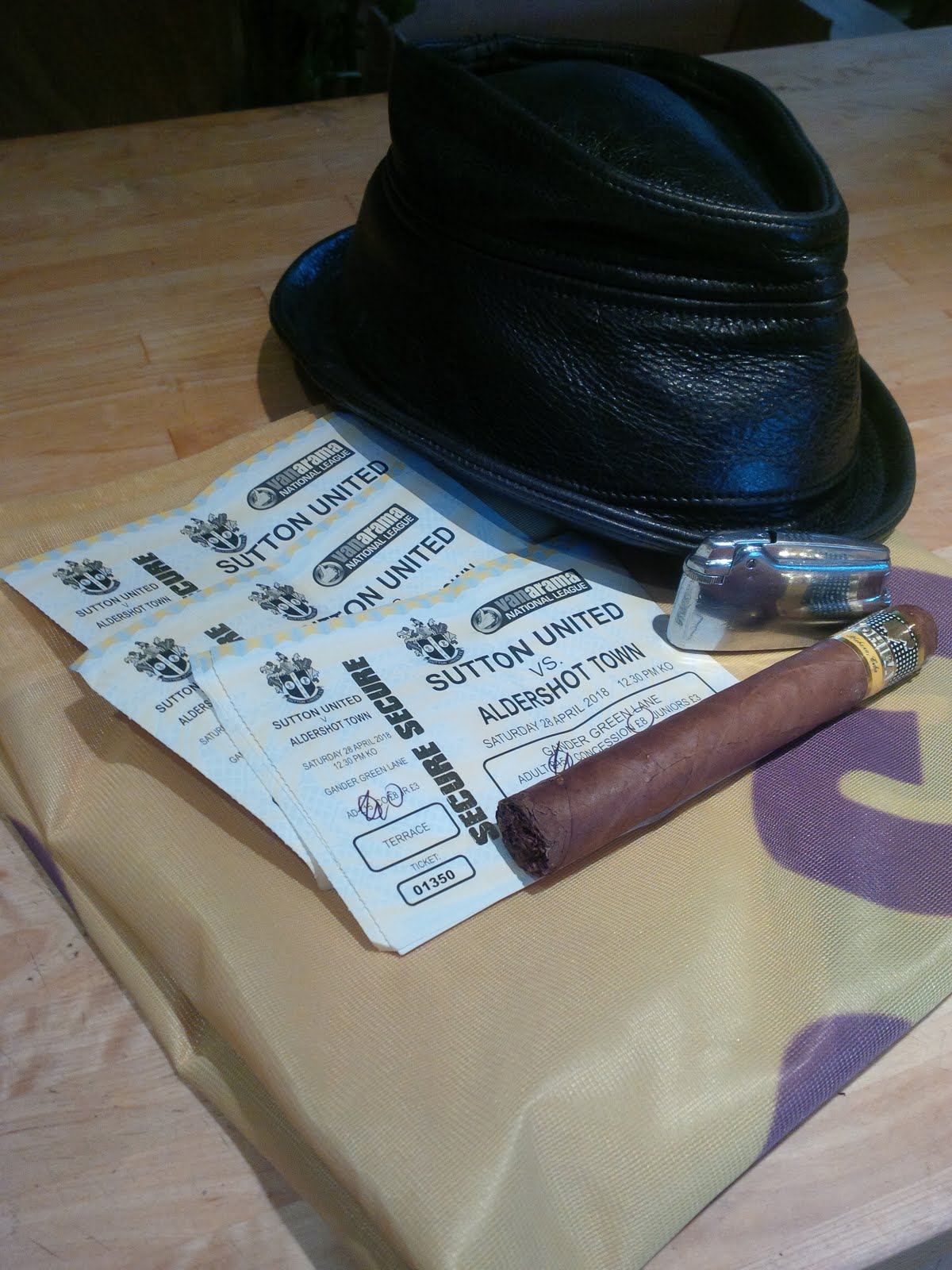 All the essentials.
Do I need to trowel it on any thicker? I know I've pumped this riff before but there's something gloriously old school about Aldershot and to be playing them in the final game of the season at GGL is just fucking brilliant regardless of the circumstances. And what circumstances they were as the season unwound and pitched what was already a tasty enough fixture into the stratosphere as a belting result over in Gravesend meant that this would become the biggest and most important league fixture in Sutton United's 120 year history.
One side note on the old trip to Ebbsfleet International. The awayday out there gets some grief and for good reasons but I've gotta say the hospitality we received in the George and Dragon up the Swanscombe Road was top drawer. We must have had a good combined thirty or more of us made up of COC's, DILF's, the DBDC and Becketts Barmy Ginger Army and we were well looked after by the guv'nor. Credit where it's due mate and he was even keen to fly the DBDC banner loud and proud. It was like the Dogging Pride march all over again and fair bought a tear to old Barry's eye.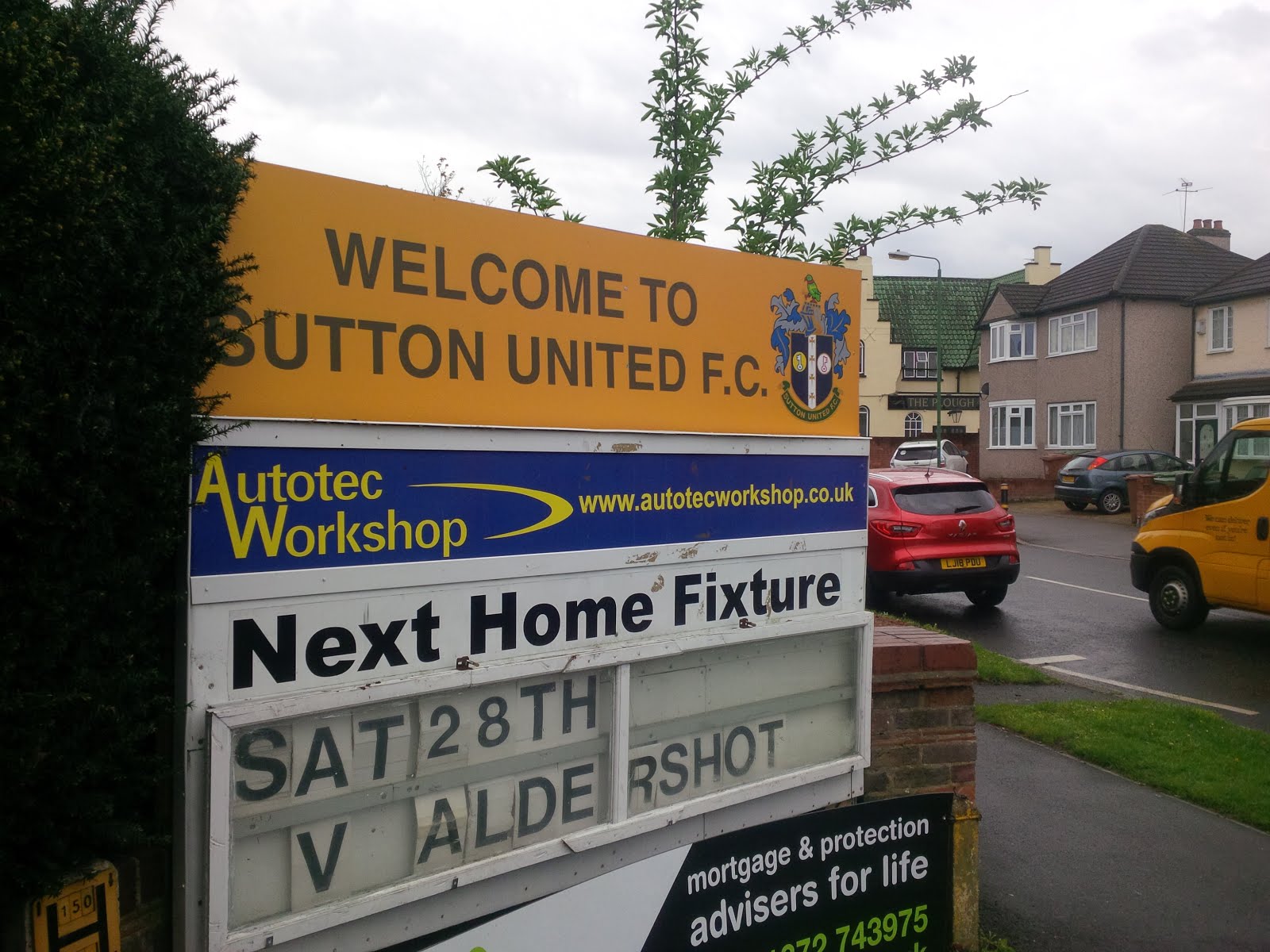 Welcome!
Anyway, back to business. The Polegate U's had heard the call from the PRoWS and asked me to acquire a couple of briefs on their behalf. Couldn't see a problem even though the last time they came up this way, for the Small Fakers at the Boom Boom, they got so rat arsed we were refused an after-show pint in The Gander. Imagine that kids. Even Father Jack Hackett could get served in the fucking Gander after an afternoon on the old Toilet Duck but not some of my mates who are just a few years shy of the free bus pass. Heroic effort all round.
Lord Woody of Horley, another old Sutton lad whom the modern world has clearly passed by, sent me a telegram on Friday afternoon asking if I could possibly facilitate him with a means of entry as apparently the well-publicised news that this one was all ticket hadn't actually reached his locale presumably due to insurgents jamming the broadcast signals of the PRoWS World Service somewhere around Gatwick. So I had to disrupt Sid The Cat's traditional night in with the lads and trudge up the Lane to acquire another bunch of billets or risk the wrath of the UK's finest washboard scraper.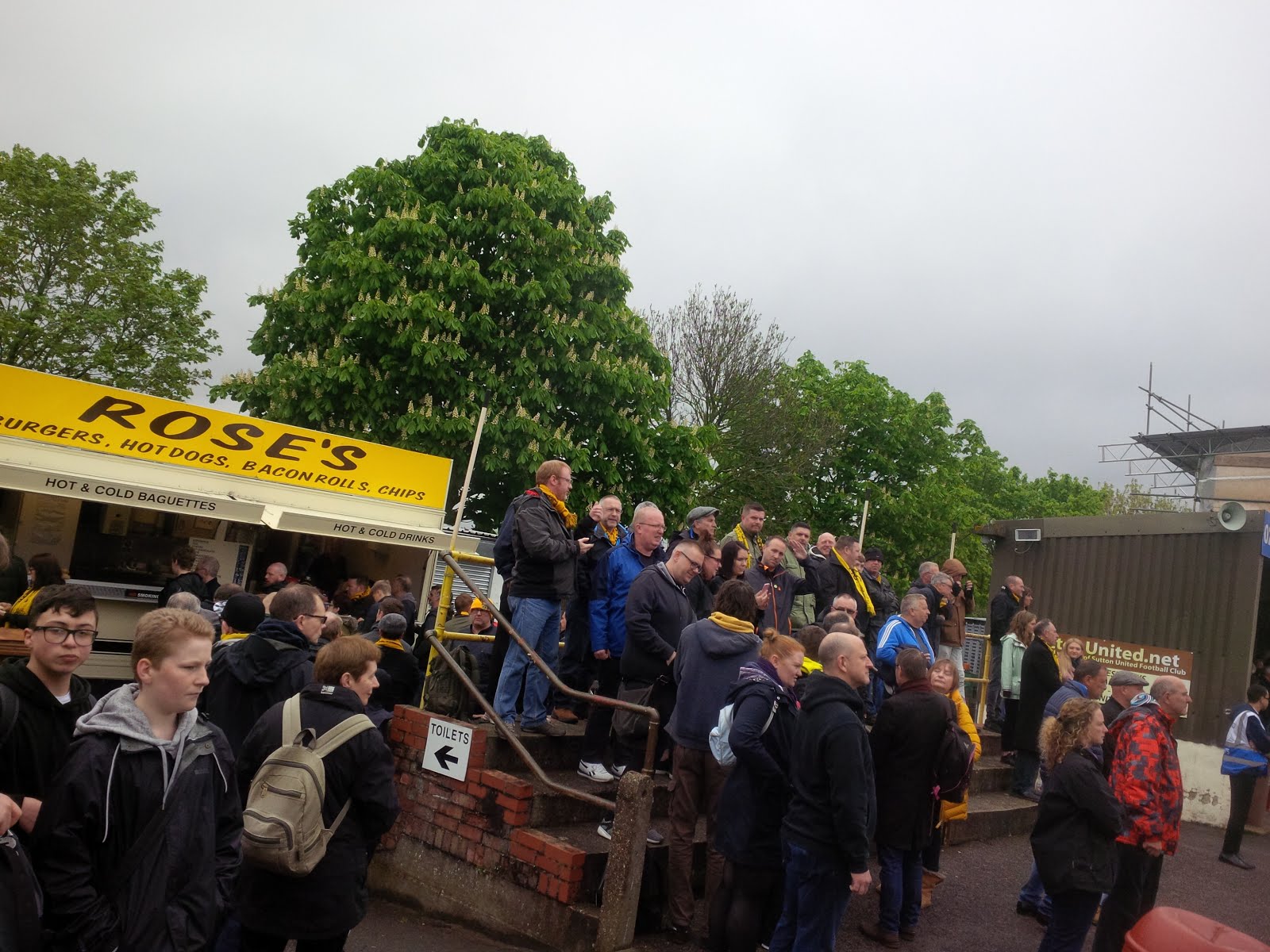 Rammed to the gills
This of course also meant popping into the Plough for some match-eve conviviality with my people and a couple of scoops of stout which is now readily available off the actual pump and not poured out of a cheeky can into a pint glass under the counter. It's progress and we shouldn't try to hold it back. I was asked by one citizen if the thawing of relations on the Korean Peninsular might be matched between the PRoWS and the Occupied Territories the other side of Rose Hill. Fuck off mate. This is no time for lightweights.
So we awoke on game day beneath moody skies in the very beating heart of the People's Republic of West Sutton. Ominous? Maybe. But for who? Well, let's not get ahead of ourselves. Cheezy Ultra and the COC'S had invited me for A "Brunch" up the club. I have no fucking idea what a brunch is. For all I know it could be some really high risk caper and I'm just naturally adverse to poking bits of meat around in the Vice Presidents Lounge this close to an early kick off. Anyway, the idea of brunch stinks of poncification of the People's Republic and once I've polished off this bowl of marinated olives, a glass of Chablis and a cheeky Cohiba I will get right out there and put a stop to it.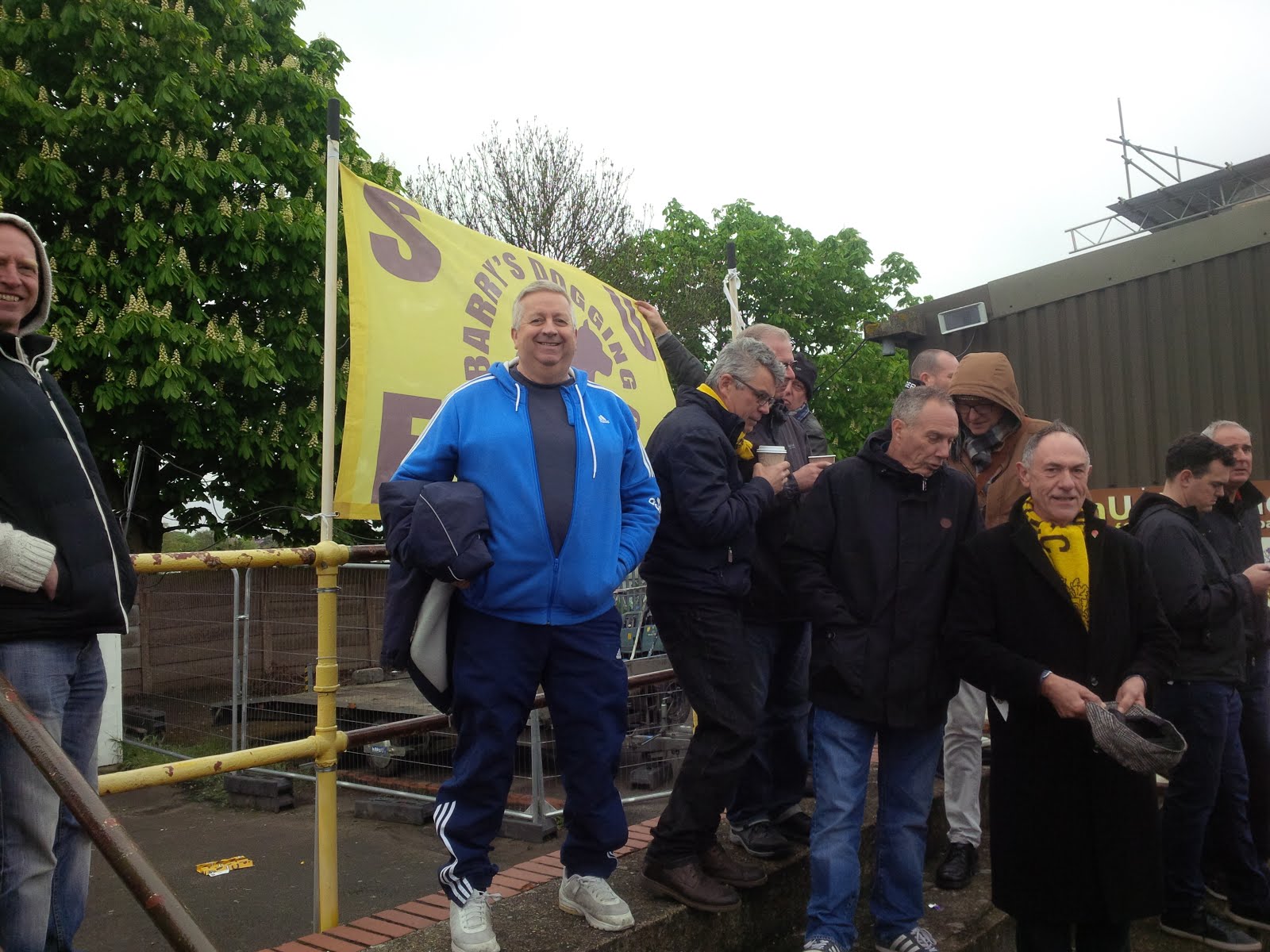 DBDC in full effect.
As I was just sorting me and Sid a healthy breakfast I heard a car come screeching to a halt on the drive. Mrs Totts had been working a long night shift saving lives in intensive care. I like to think that, on a slightly higher moral and emotional plane, my writings for Gandermonium this season have played a very similar role at the heart of our community. It's extraordinary symmetry in terms of our mutual contributions to the well-being of our society.
The early kick off is a bit of a bugger and throws the natural order of a Saturday morning into all kinds of abstract shapes. No prospect of much of a mooch around and a run up to this one and once I clock on Twitter that the Polegaters are on their way and on the cans it's time to rinse the old orchestra stalls in the sink, splash a bit of Old Spice about, assemble the ceremonial regalia and head up the Lane to the home of football. I'm in a surprisingly chipper mood despite the unseemly hour with the confidence and batteries all well charged up after the usual frank and confidential exchange of thoughts and views with Dos and Chairman Bruce at Mondays meet the manager session.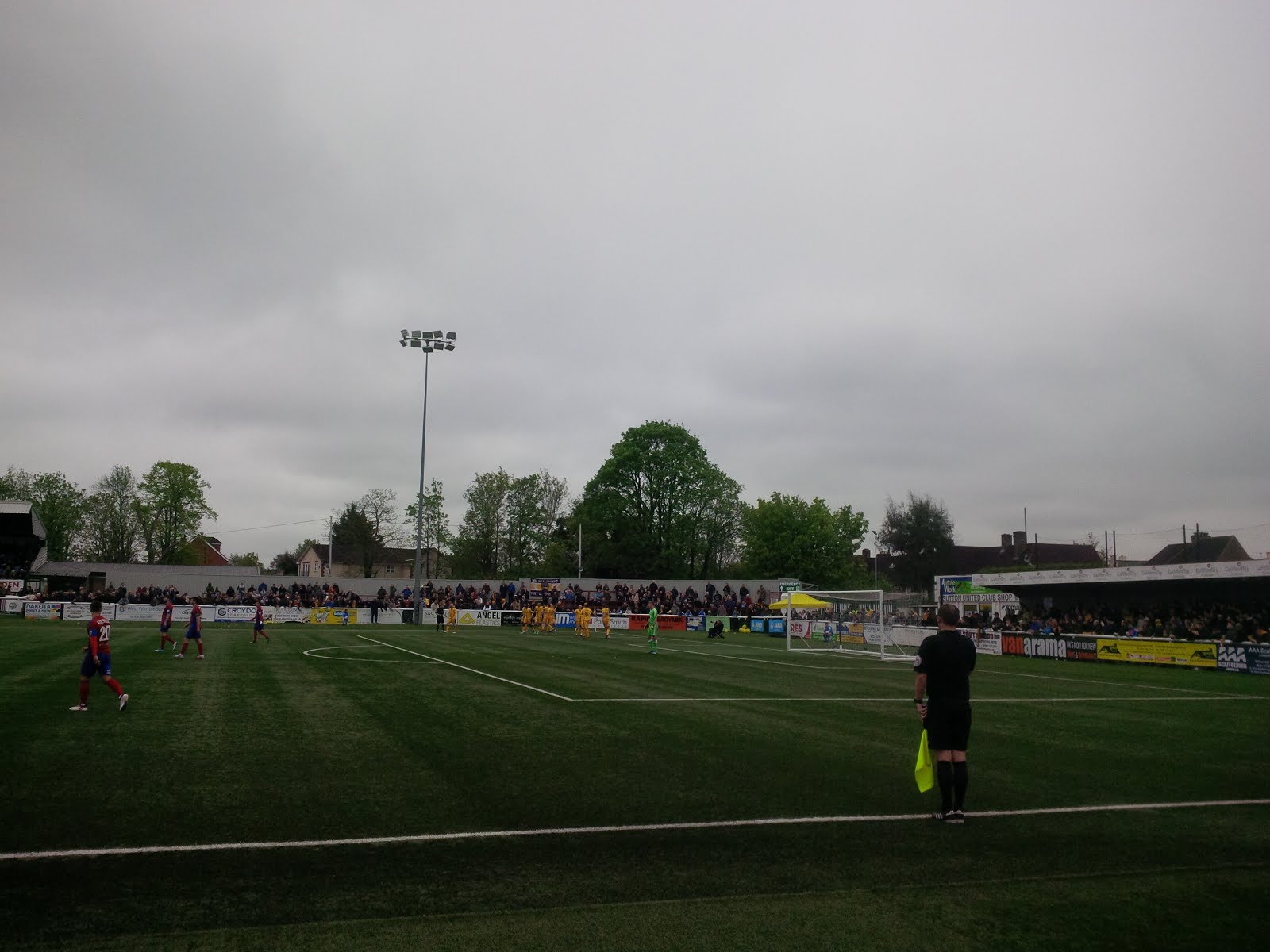 Action packed
As I head towards the entrance the Lane is bubbling with Plod and the Aldershot are banging out the Plough as the segregation extends to the club bar and the beer terrace/car park environment. Something about the proliferation of Old Bill is also a measure of how far we've come as a club. I remember when we used to have one special constable on duty and the fella would hole up on a bar stool pre match and get on the old gold watch. One memorable afternoon many moons ago Shauny Boy from the Plough "borrowed" the coppers hat and spent much of the first half parading around threatening to nick people if they didn't behave themselves. Those days are long gone my mates.
I grab a scoop of stout from Ali behind the jump and check in with some of the faces. The Fear Family are all present and ready for action with young Gary looking particularly resplendent with his new hair do and some pretty tasty new clobber. His brother Peter on the other hand looks like he's come straight from a nightclub but I leave that alone and we have a drink and a bit of a catch up. A couple of the COC's have clearly enjoyed their brunch from the look of the bean juice dribbling down their chins and jumpers. I'm almost regretting not joining them.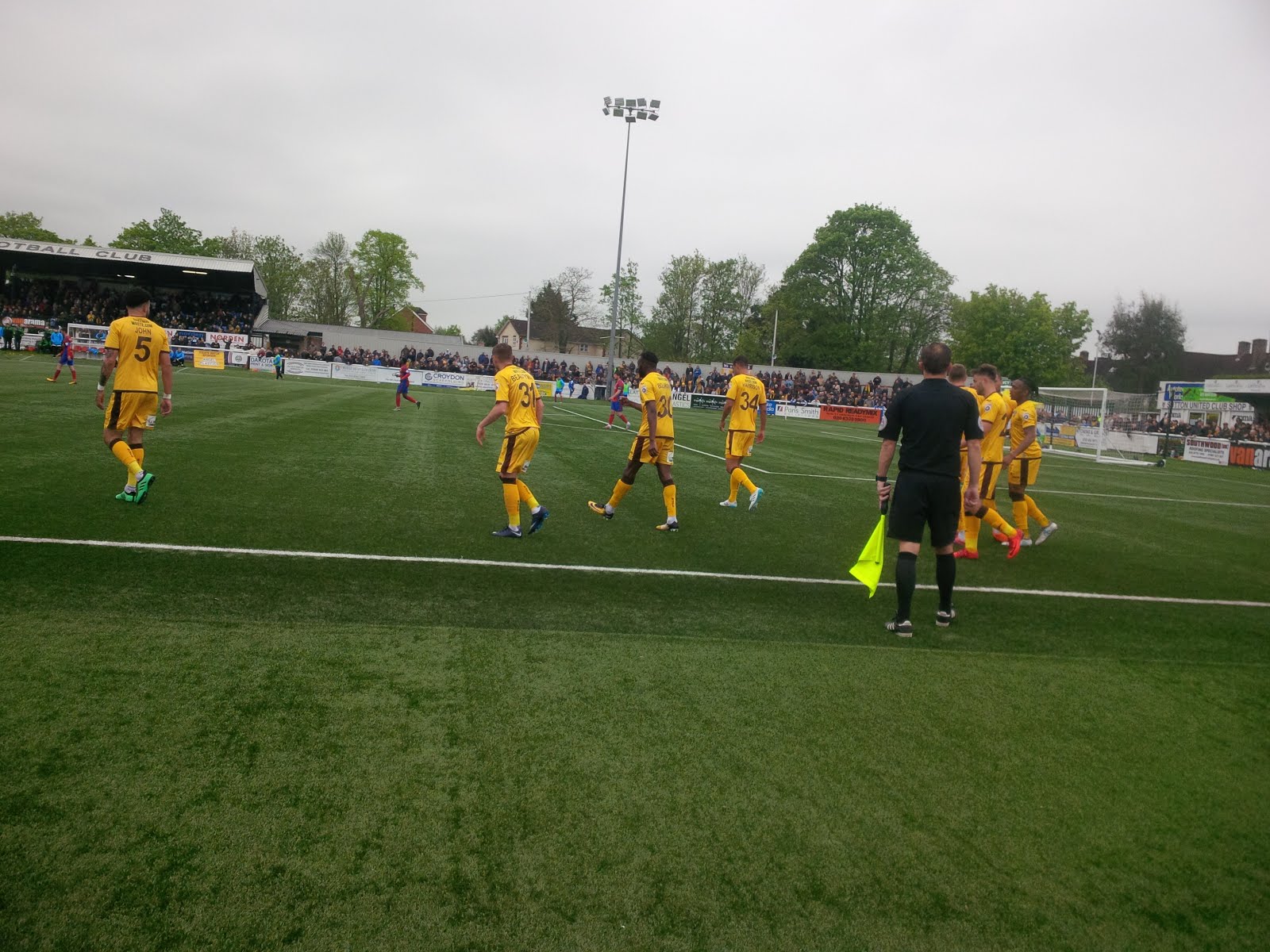 Back in front!
Heading deeper into the inner sanctum of the Players Lounge I get into a conversation with Duke and Four Days which includes me breaking the earth shattering news to them that the long-lamented Watneys Party Seven DID NOT CONTAIN SEVEN PINTS! It's jaw dropping stuff for the younger fellas and me and Belly take a further wander down memory lane and the shit beer available in the mid seventies when we first started drinking under age – ignoring the barbed jibe that "this place is turning into a fucking care home."
Butler, A. Thomas, Beckwith, John, Collins, Davis, Cadogan, Bailey, Wright, Taylor, Bolarinwa SUBS: Lafayette, Downer, Beautyman, Stearn, Harrison
Woody and the Polegate U's arrive and we sling down a couple more pints before piling through the turnstiles and immersing ourselves in the bubbling atmosphere of a bumper crowd with the Aldershot playing their part in bringing the noise. The Shoebox is heavily laden with the DILF's, the Bacons, Lee and The Outlaw and a few tourists who have clearly been seduced by the media hype and mystique that surrounds this oldest corner of the Borough Sports Ground. We are rapidly becoming victims of our own PR machine. The Dirty Barry's Dogging Circle banner is erected for its home debut although it becomes surprisingly flaccid and droopy as the afternoon moves along. And that is a metaphor for absolutely nothing before you start.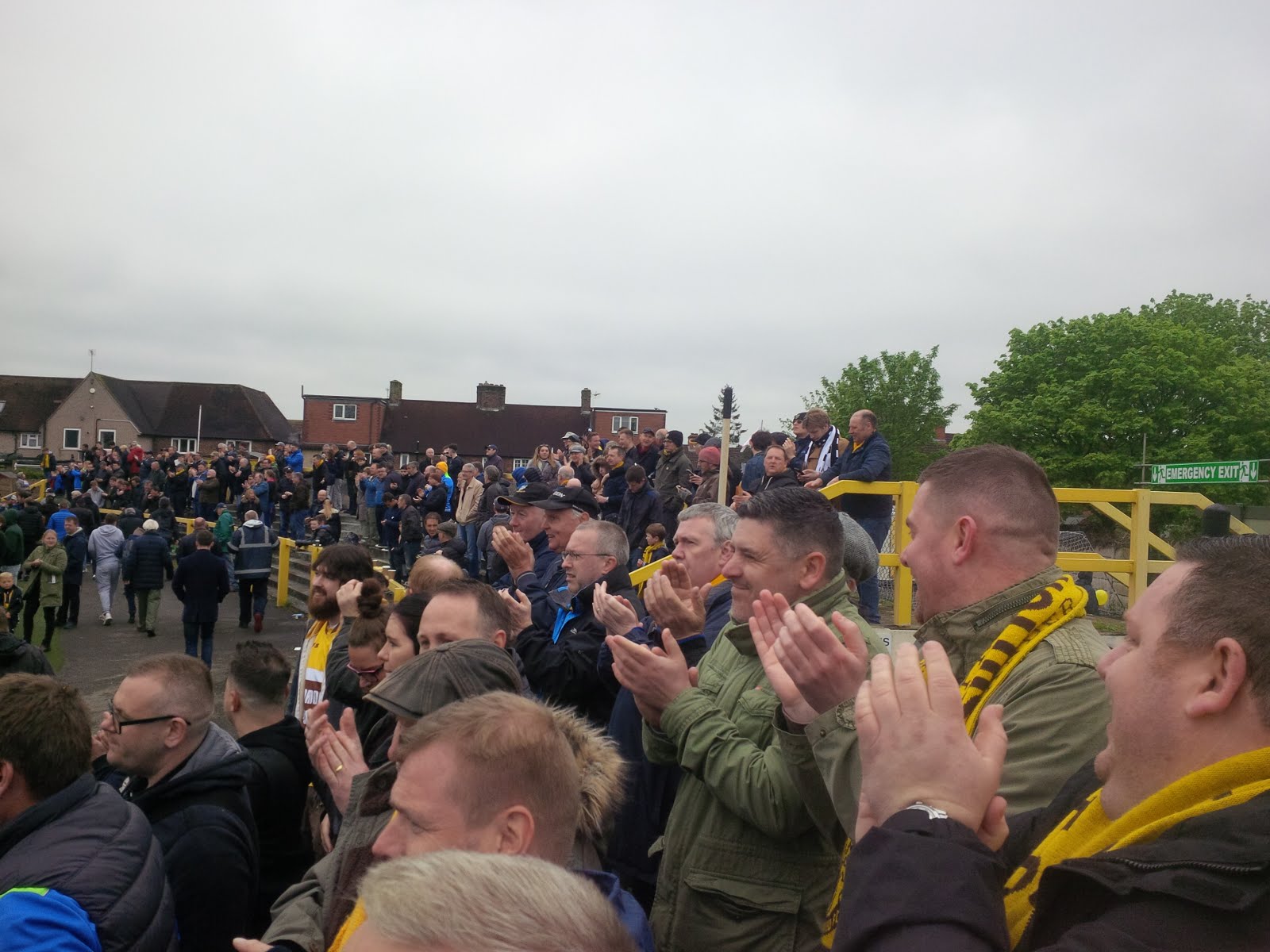 We've got a semi on!
And, guess what? The PA Speaker that broadcasts the propaganda to our part of the ground has now been fixed and we can hear the team news and the national anthem as the players take to the pitch. Tyrel and Easty are both out due to injuries with Becks and Kenny D stepping up to the plate. The games tight first half but it was bound to be as there's bundles at stake for both sides but we look sharp all across the Park and everyone is working their nuts off.
I've got a giant Cohiba on the go courtesy of Bobby C and the massive queue at Roses knocks out the possibility of a half time cup of splosh let alone a slipper and as we check scores from around the league the second 45 is soon under way, ushered in by a blast of Wig Wam Bam which has DB bopping around like a good un. We ain't got long to wait before some fine work by Tombo opens up a clear chance for Tommy Wright which he finishes with aplomb and the place goes nuts. It eases the tension but not for that long as it fires up Aldershot and they up their tempo a few notches.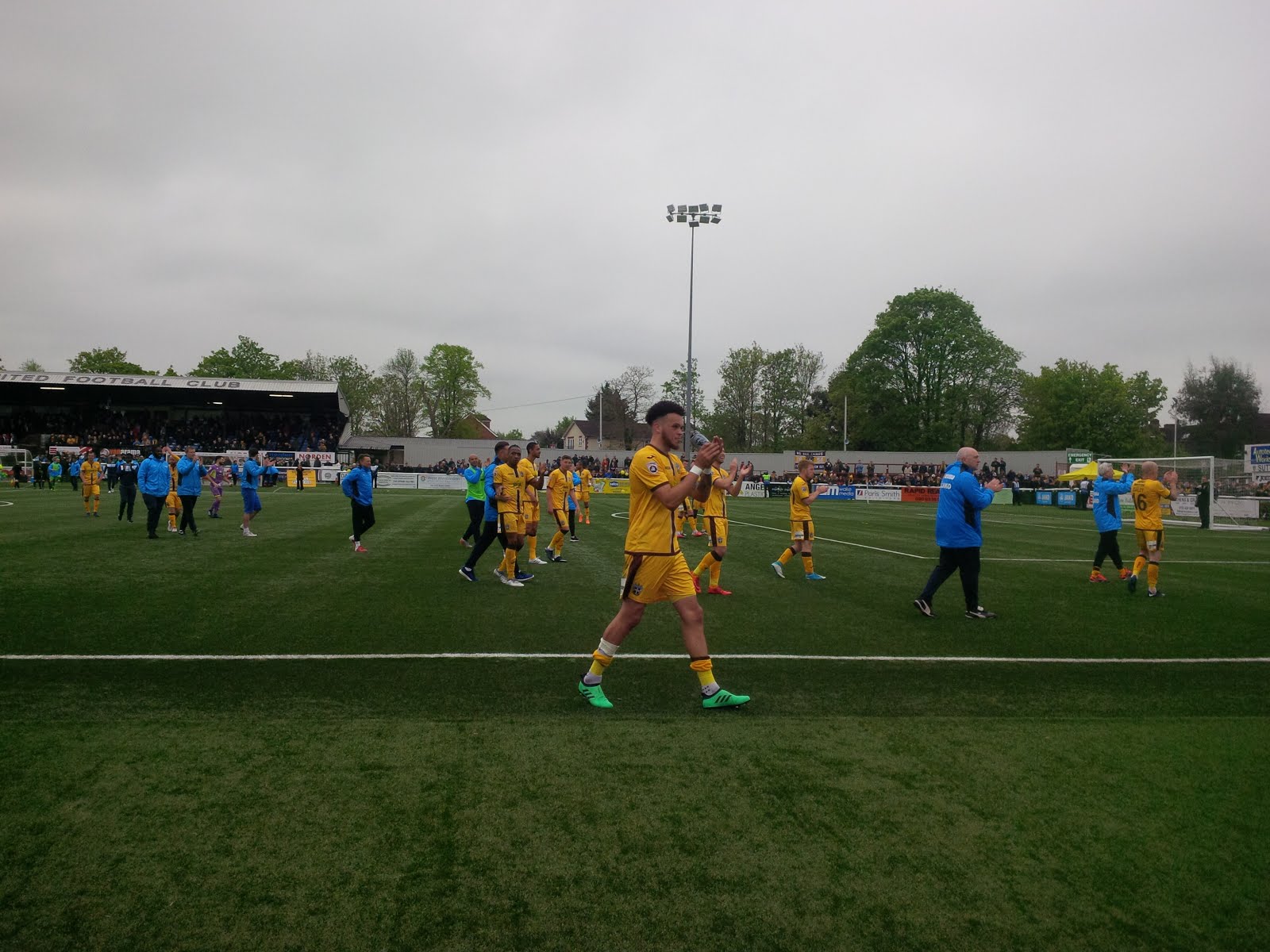 Lap of honour…
Last thing we need now is a highly dubious penalty awarded by a regulation clown-car national league official………and, there it is. Bailey clearly nowhere near their fella as he goes down like he's been fucking tasered. Cue crowd pressure from their fans and a total capitulation by the officials and Jamie can't work his magic this time as the spot kick is rammed home. All back to level pegging, it's a setback but we dust ourselves down and go again. We are forced to make some changes as Doug takes a knock and we bring on big Ross and Byron as Tommy has run himself into the ground with another superb display.
The clock is winding down. We know that we only need a point but we don't want to be clinging on here at the death. What we need is another goal now kids and some superb work by Josh Taylor and a bit of a fumble by their keeper leave Ross as the right man in the right place at the right time and he doesn't fuck about and we've got the lead back just at the right time. Could have had more. A fine run and shot by Tombo forces a great save from the Shots keeper and at the other end JC has his troops well marshalled and we see out injury time without any real drama and clinch that third place and a semi on Sunday against either Wood or Fylde. Ninety minutes from Wembley me old chinchillas and the crowd goes mad saluting the heroes who've delivered the three finest years we could have dreamed of.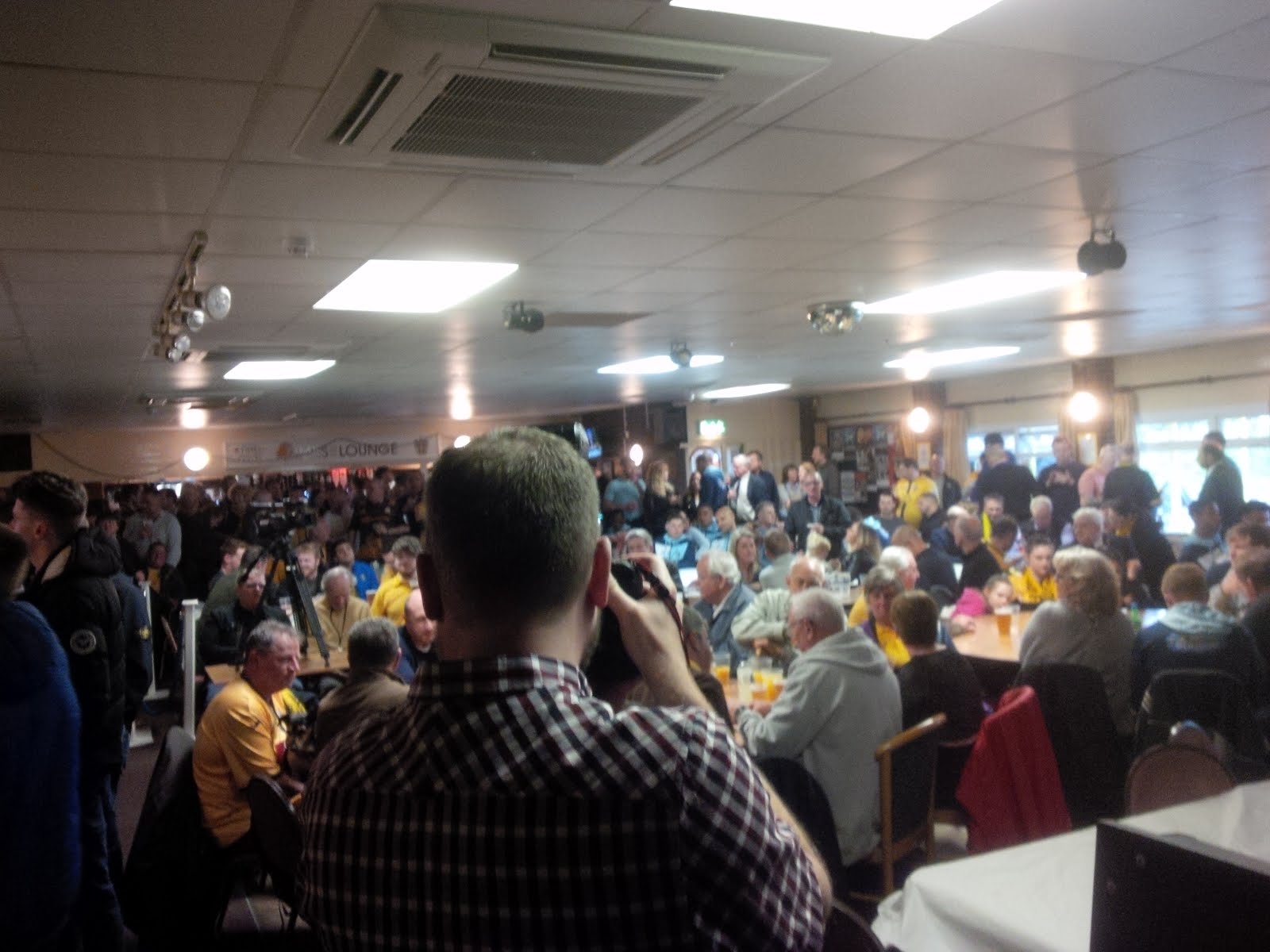 Papping the Pap….
The bar is buzzing and we share a few words with Kiddo, AB and Dos himself awaiting the end of season presentations. Me and Taz also knock off an entirely unusable end of season interview for SUFCTV drenched in the kind of expletive-laden, drunken old bollocks you have come to know and love. We will see if we can liberate a bootleg, uncut copy for the under-the-counter merchants. I thought Bruce nailed it in his speech when he talked about Sutton being a genuinely fan owned and fan run club. Bang on mate. Me, DB and TTB decide to slide away before the climax of the evening as the Polegate lads need to get a train and want to pay their respects to the Plough before heading to East Croydon.
The early kick off has thrown me and I think it's much later than it is and leave the Plough after the end of the Chelsea game, pick up a bottle of plonk from Days and stroll off home, a bit wobbly but happy and proud as punch. What a season this has been, full of highlights but as I tried to explain to SUFCTV the top day for me, so far, was that brilliant away day to Tranmere and hooking up with that Birkenhead mob. Who knows? Our paths might yet cross again but we've gotta deliver on Sunday first. Be there, be loud and proud and bring all your family and friends with you. This is no time for lightweights.
See you on the Shoebox.
TOTTS.