Since our magical and widely celebrated entrance into the great 92 72, I've been fortunate enough that I've swerved nearly every single game played in the Papa Johns thingy (I did do Pompey away, but that was more as an excuse for a random midweek day out on the lash than anything else), henceforth known as 'Pizza Cup' in these circles, as I've never particularly agreed with the presence of the Premier League's player farms being in the comp. In a footballing world where pretty much everything is already being seemingly geared towards their benefit, it just seemed a bit much to me that they were sticking their oar in this far down as well and it appeared little more than a thinly disguised back door attempt to satisfy the likes of tedious professional baldy moaner Pep Guardiola and his bullshit B-Team ambitions. So I've largely been swerving it like Boris Johnson faced with a comb since we were promoted.
As with most things involving the Prem, this unrequired intrusion into resolute lower end FL territory and their own little possible gateway to a big day out a Wembley was smoothed over in the only way they know how. With cash. Lots of cash. With everyone getting 20 bags simply for entering. Winning a group game nets you 10k and that goes up steadily once into the knock outs. It's a little distasteful to think that L1 & L2 clubs can be bought off with as little as 50-60 grand, but then again, due to the economics of the game thanks in part to the greedy fuckers at the top to begin with, not all that surprising either.
Still, money talks and a win tonight for us could top our own earnings up to 100 grand. An amount not to be sniffed at for a club who were in the Isthmian League a decade ago. Despite this however, my principled stand had drawn the ire of the likes of Magnum PI, who'd berated my lack of loyalty and declared "Well, you can't go to Wembley if we get there then!". He's talking bollocks of course, I definitely could and 100% would. I've never said I'm not a fucking hypocrite and what's good for tens of thousands of the likes of Pompey and Sunderland fans come the big day is fine by me too sunshine.
However, I digress. My run of swerving Pizza Cup home ties would sadly to come to an end tonight. Having arranged another guest blogger for this episode, they unfortunately has to pull out a couple of hours before kick off due to family reasons (It happens. We always say family comes first and it is only a game of football after all) leaving me with no other choice if I wanted to keep our unbroken competitive game run back to December 2012 going. I'd have to do it myself. Mainly as there's no way Dukey will be able to pitch in as he's back at work today and either won't be there himself or simply won't have time, plus with Totts now residing on the South Coast and no doubt mourning the loss of his Blackberry this week, he's also a non-starter. Plus both would probably tell me to go fuck myself anyway at such short notice even if they were available. And I can't say I'd blame 'em. Nope, there's nothing for it but to put on my Editor in Chief trousers on, visit the U's website and purloin me a brief for tonight's shindig. Of course, the fact it's due to be the coldest night we've had recently after a properly balmy Xmas provides a nice 'fuck you' as well.
So, QR code thingy saved to my phone and the supportive words of my beloved ringing in my ears ("You're bloody mental, it's freezing out!"), I head out the door into the darkness, fire up the motor and point it towards West Sutton with 30 minutes to kick off. Now, normally, I would leave about half that for the trip in such circumstances as I can simply nab the VIP members only parking spot (otherwise known as 'across Mr X's driveway') over the road from the ground and still jib in with plenty to spare. But sadly, that is not an option this evening as he reports there are roadworks underway down his street and they start pretty much outside the aforementioned driveway. Typical. It's ok though, I have a plan B in mind.
Having negotiated the trundle down to the Republic from HQ, I dart down a back street and aim for a little spot I know on Norman Road, just off GGL itself. Normally, people don't realise this is there as it's usually very dark on winter evenings and they assume that the yellow lines around the area rule it out. But they'd be wrong! Of course, as I get just moments away from my intended place, I see a Vauxhall pull in from the opposite direction, nabbing my planned spot right in front of my very eyes. Naturally, I congratulate my parking nemesis on his success under my breath in finest Anglo Saxon and put plan C into action. Or at least I will when I've thought of a plan C. Trying a couple of side roads the other side of GGL, I confirm that Mr X's is off limits thanks to the temporary traffic lights practically outside his sitting room window and instead back track up to Western Road where there's finally a spot waiting for me. Annoyingly, this is practically a quarter of the way back to mine. Great.
Bouzanis, Wyatt, Goodliffe, John, Kizzi, Smith, Barden, Olaofe, Boldewijn, Bennett, Wilson SUBS: House, Davis, Dundas, Milsom, Bugiel, Sho-Silva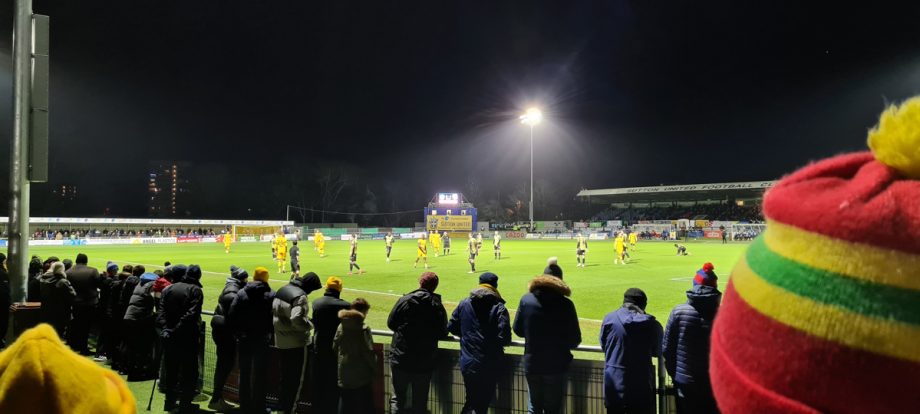 With parking finally sorted, I get my march on back to GGL and get through the turnstiles a minute or so after kick off with the U's (the Sutton variety) shooting towards the Rec end. Having made my way to the Curva, I locate the usual assortment of idiots and find a spot. "What are you doing here?" enquires Magnum. "Putting you and your 'not allowed to go to Wembley' bollocks to rest!" I reply, before also admitting there was no one else to do the blog. Sorry mate! On the pitch, a slightly reshuffled Sutton side starts ok and several minutes in, Ali does a little 1-2 with Wilson outside the box and with a bit of room sends in a low skidder that beats the keeper, pings back off the base of the post and ricochets into the net off his back to give us an early lead. You can take the boys out of Non-League…
After this, the visitors, backed by WAY more than I'd have imagined would bother for this nonsense, largely have the ball but like a lot of sides we've seen this season, lack absolutely any sort of final ball. Bouzanis has to make a couple routine stops and we have a little defending to do, but nothing heart stopping. Meanwhile, we largely play like a side with a few changes after a month of inactivity with the final ball lacking and the front four not really making a lot of impact. As per with these 2 bob contests, most of the entertainment is to be found amongst ourselves.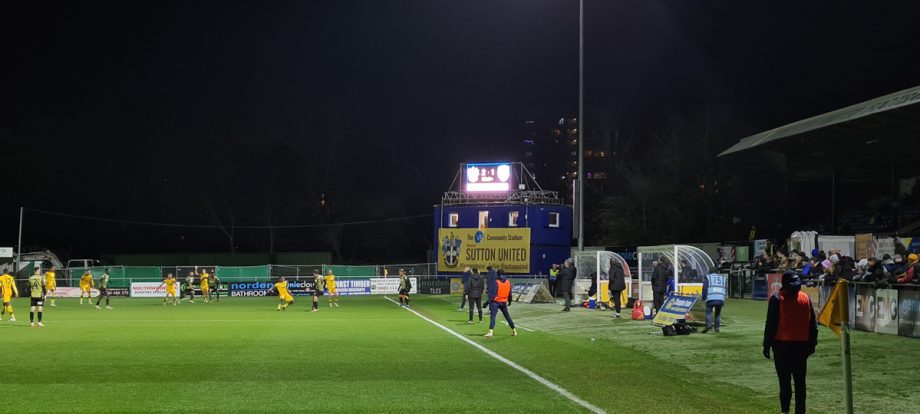 Magnum reveals he's had Dr Bell as his apprentice on car park duty tonight "He did very well!" says the boss, with the YTS boy adding that he'd "Knocked three out all on my own!". Bit cold for that sort of thing isn't it? Clearly someone's been spending too much time with Dirty Barry. Dukey finally arrives after 15 minutes, having rushed over after work. Justifying my not asking him to cover tonight. "Where's your shorts?" enquires Magnum. Then Tatey decides that he no longer wants\needs the Sutton beanie hat he's been 'robbed' of 9 quid for in the club megastore by Mr X before kick off and is now trying to get a refund from the man of mystery. "You've pulled the tag off, no can do mate" he advises in the sort of tone that would definitely have you asking to speak to his manager.
Then just as the board goes up on the touchline and we're all starting to dream of the good old days where we could scarper to the bar on nights like this to grab a cheeky short whilst warming up over half time, we concede a softy from a set piece. A corner from the far side is nutted back towards goal by their big lad at the back post, it's glanced on by the head of someone else in the middle of the crowded box and this is enough to carry it over our man on the line, the ball plopping softly into the back of the net to level things up. One feels the gaffer will not be happy with that one at the break!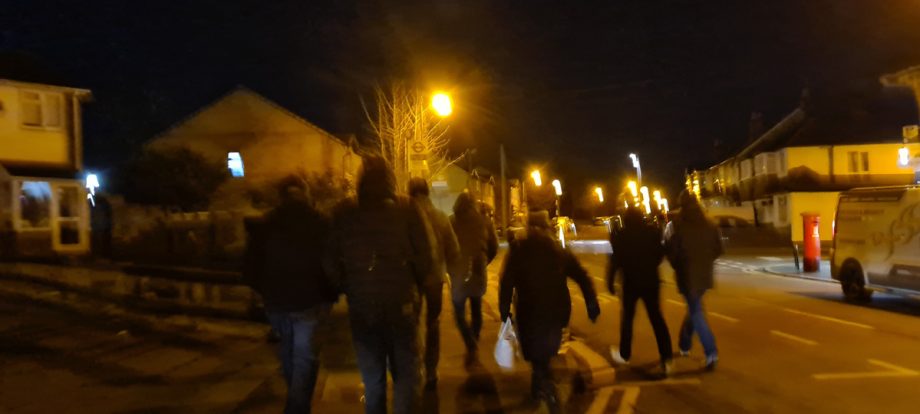 With a huge queue for cuppas at half time, we sack it off and mill around checking out the scores in the early starters. It seems one team we or Colchester definitely won't be facing in the quarters is Oldham, who are already 4-0 down to Wigan. In League 2, Exeter are holding league leaders FGR goalless, which is a nice little boost for our own rep given we netted twice against 'em just this weekend. Rax is also disappointed with the current scoreline as he'd predicted a 0-1 home defeat to keep the pattern of scores in our Pizza games so far (3-0, 2-0, 1-0 & 0-0). Hope he didn't have any money on that! The game restarts with a little more life from us, we're not flying out the blocks exactly, but we just seem a touch more on our toes and it pays dividends several minutes in. A blocked shot is recycled, the ball played wide to Enzio in front of us, he steps inside, slides it along the 18 yard line and Ali steps over to let it run to Wilson behind him and the striker makes no mistake, sweeping the ball into the far corner. That'll do for starters lads! Right, can we finish 'em off please?
With Bennett off for Tobi, Tanto really should see the tie off when Sho-Silva robs back a short kick out and pops the ball forward to Enzio who immediately rolls it square to the unmarked Issac. But with the whole target to hit, he rushes his shot and scoops it over the bar from about 10 yards. Sakes. As the half wears on, we get a little sloppy and our game management slips. Tanto gives away a free kick on the edge, which former Premier League lad Freddie Sears whips over the wall bringing a super save out of Bouzanis. It's top corner all the way but the Aussie gets a strong hand on it and pushes the ball onto the inside of the post where it rebouced back out and is cleared by a defender. We get a little deep after this and they have a lot more of the ball, but their finishing is abysmal and they waste a couple of half decent sighters in the last 5 or so. As the board goes up, I bid my farewells and head for the GGL gates to make a quick exit on the final whistle. Of course, we try our best to give everyone the penalty shootout we definitely don't want with another late free kick on the edge of the box that Deano makes another decent save from and a last ditch corner with the keeper up and everything that's blocked in the box. Moments later, the ref blows up to put us into the quarters and another forty large into the club bank account.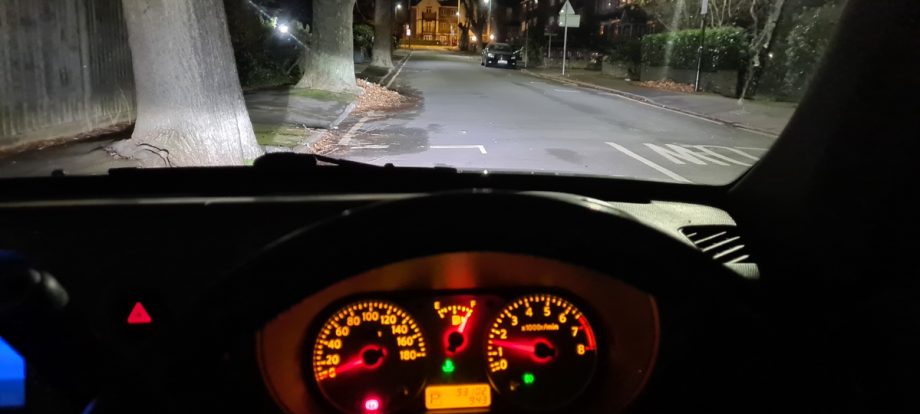 A quick victorious punch of the air to celebrate and I'm on my toes out the gate, down the driveway and onto GGL heading back to the jam jar quicker than you can say "Pizza GoGo is miles better". Fortunately, the windows aren't all fogged up so I don't have to hang around waiting for them to demist before departing and in less than 10 minutes, I'm back in the front door at HQ, coat off and sticking the kettle on for a much needed bone warmer that I definitely won't have to queue 20 minutes for.
So, er, what's the date of this Wembley final again then?
Taz