Greetings dear reader! Welcome back once more to your favourite slice of what was once Non-League but is now somehow Football League cobblers. Have you missed us? What do you mean no? Sheesh. Talk about hurt our feelings. Anyhoo, we have returned, mainly thanks to the fact that Stevenage Borough can get a game on unlike some other outfits a bit further north.
Yep, as you may have read on the socials, we were firmly bunkered down in the pubbage of nearby Rochdale when the Oldham pitch inspection removed our usual welcome 90 minute break from a day on the piss. Most inconvenient. Still, we're big boys now and all growed up, so we scarfed down a quick spot of lunch and went back to the pints. The fact that we already knew our planned train home at almost half 7 was already cancelled too meant things could have got VERY messy, however, some bright spark realised we could get the one before it as well as the half 8, so before speech and basic manners failed us, we headed back to Manc, where we stocked up on the munchies and cans of G&T and headed homewards.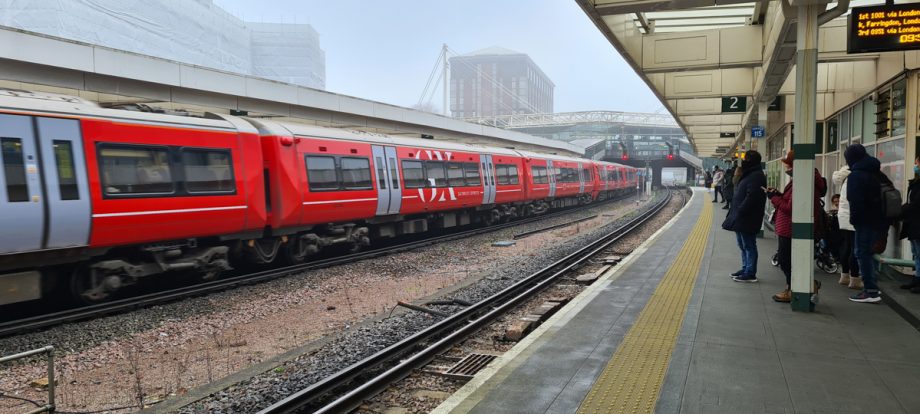 From online monitoring and also intel received from on the ground, it seems the locals weren't to impressed by the late call off either. But then again, they're really not getting on well with the bloke in charge down there for a while now, so we guess another stick to beat him with was probably secretly welcomed. Still, it appears that this was the final straw for Mr Lemsgasem as he announced this week he's looking to sell up as so demanded by those in the Boundary Park parish. And not before time too. He also claimed this was because he and his brother had received death threats accompanied by bullets in the post. But we all know it was really the embarrassment resulting from not managing to host a tinpot load of shite like us.
This latest revelation however brought to mind a thought I often have when these sort of things come to light. I mean, we live in the United Kingdom, a nation where firearms are strictly regulated. So where the fuck do all these bullets come from when people start getting death threats?? I mean, it's not like this is backwater bumfuck America where any Billy Jim-Joe Bob can pick up a box of 9mm with their groceries at Walmart. So where do they come from? Is there a secret psycho section on Moonpig.com where you can get customisable anonymous death threats sent out from? "Special offer! Buy a premium cut out newspaper lettering death threat and get a bullet included absolutely free!". Now don't get me wrong, I'm not stating the current owner of Latics is a fibber, but it always puzzles me where all this ammunition is coming from when such things happen on these shores. Answers on a postcard the usual address folks: Jim'll Fix It, BBC TV, Wood Lane, London, W12 8QT.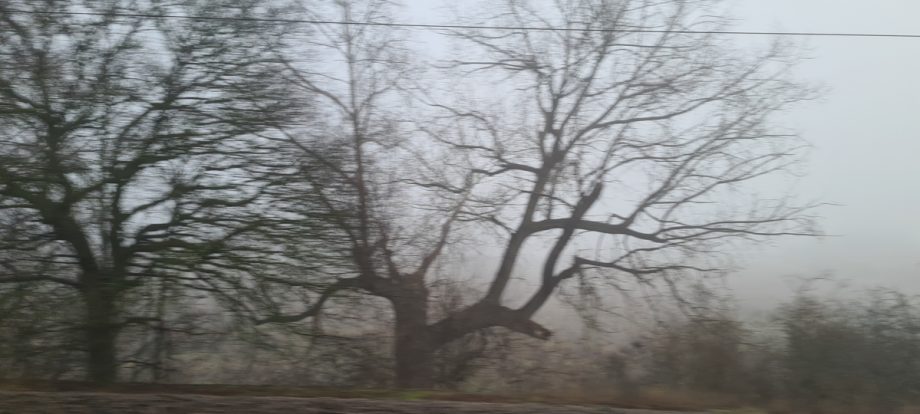 And moving swiftly on we come to this weekend's enthralling League 2 contest and a first visit to Stevenage since back in the hopeless 2000 Conference season where we managed to lose 1-0 to 10 men and all but confirm our swift return to the Isthmian. Aaah, what memories of simpler times! Today's hosts were of course afforded the honour of being our historic first Football League scalp as an actual Football League side back in September when a Ritchie Bennett brace saw them off. Since then, we've largely gone in opposite directions with the U's spending a ridiculous amount of time parked in the top 6 or so and Stevenage down near the arse end of the league, with only Oldham and Scunny being so terrible as to keep them out of the trapdoor spots. Still, the football fan's period of miracles, the January transfer window, is now upon us and will no doubt save them and rocket them up the table. Or maybe not. Fuck knows.
We'd long since noticed that unlike that trip 20-odd years ago, there was now no need to go hiking throught town to get to our destination as Thameslink now ran a service out there and even better it could be bagged from East Croydon! Lovely stuff. Train at 10am, about an hours trundle and no fucking about. Now THIS is more like it League 2! The Sutton based posse amongst the firm were less enthused by this as Croydon's a pain in the arse for them, still they decided to head into town on TL too and hop off at Blackfriars to intercept. And so our plan was set.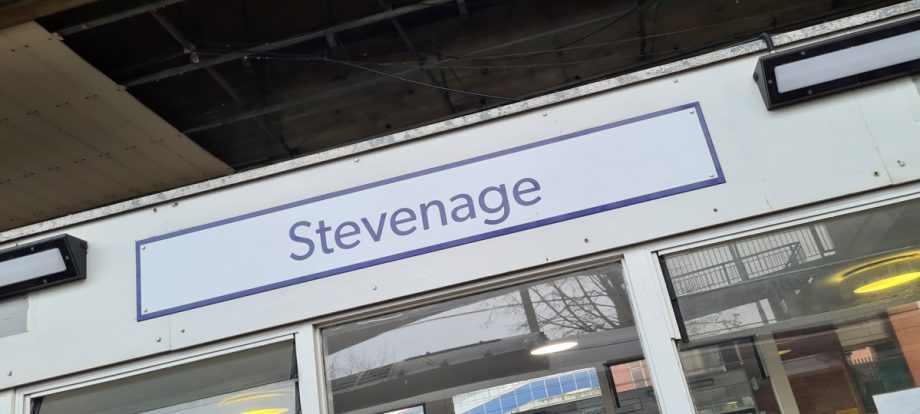 With a 10am rattler, it meant I could remain in pit until the marvellously late for an awayday time of half 8. This still doesn't stop my beloved from complaining about my alarm going off of course, but we must make small sacrifices for the things we love. Oh wait. Usual morning type admin sorted, I'm out the door into a rather cold and rather foggy morning and on a 407 sharpish. Delighted with my spot at the front of the top deck, I trundle in the direction of Croydon, stopping at the Plough Pub up the hill. Stood at the stop I see Magnum PI, so I send him a little message to indicate I'm sat upstairs. Unfortunately this message is sent assuming he's getting this bus. He's not. Still, he hops on as of course our bus changes drivers. "I was gonna get the 410, it's not far behind!" he reveals as he plonks his arse on the top deck behind me. As we wait, the aforementioned service sails past us. Fucking typical.
Still, we've plenty of time and arrive at the station with a good 20 to spare. Tickets sorted, we hit the platform and locate Robbo who's also lurking. Big cuppas are bought as well as a bacon roll and await our rail based chariot to whisk us North. The journey is pretty smooth and we locate the Sutton based crew as expected at Blackfriars. Loffers, Mr X, Ipswich Lee, Greek and Belly flesh out the size of the group and with this increase in idiots, the level of stupidity in the chat goes up by a factor as well. Loffers is complaining that she's had to get all the others tea & coffee at Sutton adding she'd need a broom up her arse too at this rate. No one cares and simply asks if she has a maids outfit to go with this. Us? sexist? Only when it's friends and funny. Dukey joins the party a couple stops later at St Pancs, having once more tunnelled out of Stalag Luft Parenthood for the day. Here he reveals his little 'un had him up at half 2 this morning, a fact confirmed to all present by the piss holes in the snow visible above his face mask. As the train heads further north and the fog thickens again outside the window. All sit mumbling and hope that's not a factor later on!!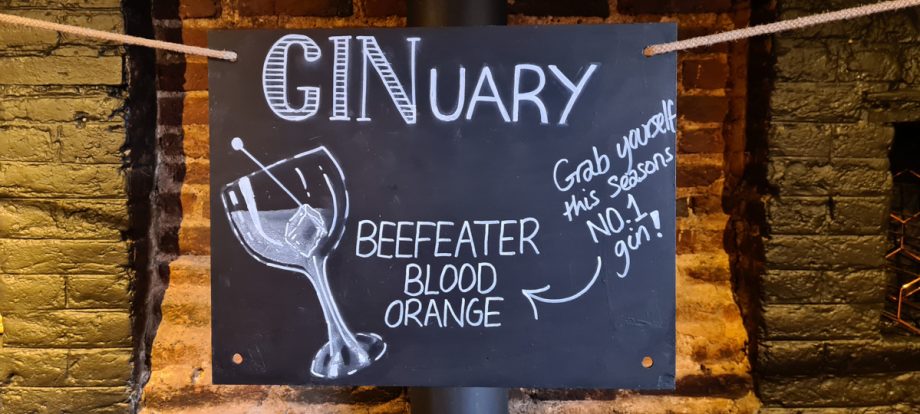 We arrive in Stevenage bang on 11 to find 4Days waiting for us and with the VDT clock now running, we head to the cab rank and rustle up some sherberts for the hop to the far end of the old town, which unlike the area around the ground has more than a Toby Carvery or a Harvester to offer pub wise. Our first stop is the Spoons, both to keep Dukey happy and also to ensure there's no wasted time finding boozers that only open at midday. This also has the bonus of there then being no fucking moaning from the likes of Greek when this happens. So everyone's happy! Beers sorted, we settle in and Dukey goes round getting everyone's email addresses so that he and his beloved can send out their wedding invitations. "Is that because you're environmentally friendly and don't want to waste paper or because you're a tight arse mate?" I enquire.
The former recycling technicians look tells me all I need to know. He fucking loves this planet that boy! This process also reminds us all that Belly's email address is 'putitinwater', as set up by my good self on an long train away day a couple of seasons back. There's also a worrying moment for Mr X when a bloke who'd been sat in the corner of the boozer goes to leave and starts loudly calling his real name out. Fortunately for him, his identity remains top secret as the geezer was only yelling to a mate behind us. While we natter, Greek proceeds to rinse the nearby fruity of it's 150 quid jackpot, a win that soon has the customary Gandermonium windfall tax applied and forty nicker is added to the whip. Free beer, lovely.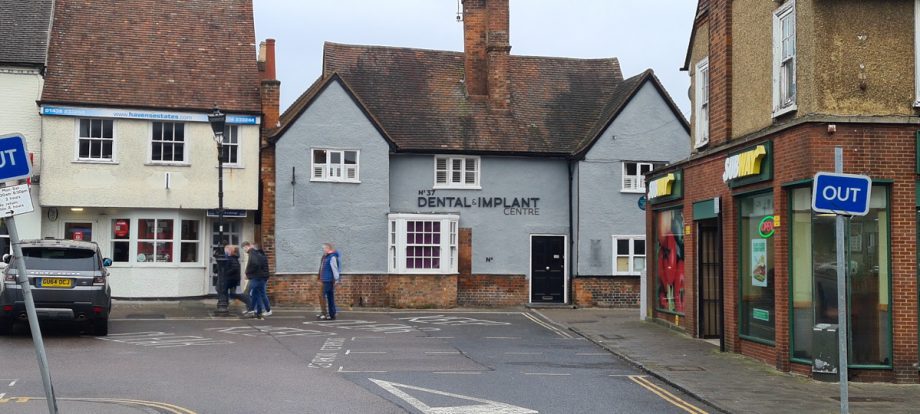 After two here, we head almost next door, NOT to the CIU affiliated club that Belly has been endlessly going on about since we arrived, but to 'Rump & Wade'. It looked a bit posh online when we looked it up, but the beer's meant to be good and it's an opportunity for us to hear Mr X declare it as "Not really us" about 30 seconds after getting a round in so we head inside. It is indeed a bit too posh for us, but hey ho. It's largely empty, so we're not upsetting anyone and the bogs have interesting ads up for the entertainment at the adjoining hotel. One being a lass who does an act as both Cher AND Amy Winehouse. Quite the mix that. There's also an Only Fools and Horses themed cabaret act. £40 quid with dinner included apparently. Here we discuss modern childrens TV programming, most of which Dukey is becoming well acquainted with and are also reminded by Robbo's disturbingly in depth knowledge of the subject.
We only do the one here and then head over the road to the Mulberry, which proves to be even more expensive than the posh brasserie type place we've just left! Still, it's a nice old oak beamed place ("I like a good old beam!" states Loffers) and everyone seems very much in love with my beer glass. Our next stop is the Drapers, with Mr X and others confused along the way by the Dental Implants place over the road. "Thought it was a pub" states the man of mystery, which triggers the obvious piss taking. "Going down the Dental for one later mate?". The Drapers is a big sports bar place and the City v Chelsea game is on the box. Here we grab a couple and Greek & Lee take advantage of the on tap Espresso Martini, although Lee is less enthused when he find out it's 2 for 1 and we double up on him. On the box, Chelsea all but surrender the title to City and drinking up, we move next door to the quieter confines of the Red Lion for a couple more before cabs to the ground. Here in general conversation, my middle name comes up. It's nothing special, but I mention that it was after my grandfather. "Why not your nan?" Dukey thinks aloud. Of course, we've soon all found out what our nan's names were and what our middle names would be if we followed the flat capped idiot's line of thought. And Doris Anne in case you were wondering.
Bouzanis, Barden, Milsom, John, Goodliffe, Eastmond, Smith, Olaofe, Ajiboye, Sho-Silva, Wilson SUBS: Nelson, Wyatt, Boldewijn, Kizzi, Bennett, Davis, Randall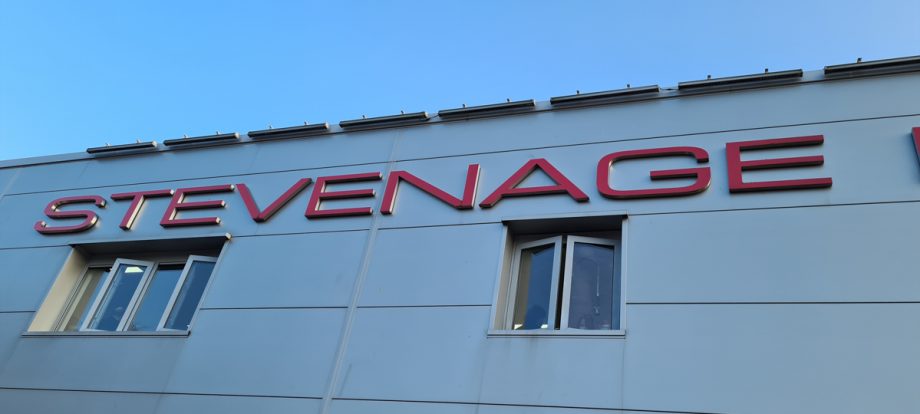 Time's getting on though and through the modern miracle of the Ubers, we hit the road and are soon getting tipped out at Broadhall Way. Or the 'Lamex Stadium' as it's now known. Yeah, whatever lads. In through the turnstiles, flag up and a chicken pie sorted for my good self and we're ready for the off in today's no doubt high quality 4th tier association football contest. Oh wait. Sadly from the off, we just seem a touch off the pace and look like a side that's played twice since early December. Midfield is struggling to get hold and the attacking 4 fail to make any real impression at all despite grafting away gamely. The hosts have a lot of ball, but barring a Goodliffe slip giving a bloke a sighter that Deano saves, they don't really make the most of it. However, after a quiet half hour, the ref seems to lose his way a bit and starts giving some properly odd shit. Including one advantage to us where there literally couldn't less of the case if you tried. There's also a lengthy stoppage when the floodies at our end to our right pack up leaving a dark area down in that corner, but despite this the game continues. Another iffy shout comes about 5 later when Ben out works their 9 and turns out with the ball only to be dragged down from behind. The obvious foul is ignored and whilst we criminally stop to moan like fuck about it a couple of quick passes later and the 9's curnling it past Bouzanis. Fucks sake. Worse follows 5 later when Issac gives away a silly fould 25 out. The ball eventually comes in from wide and a glancing header ends up in the far corner. 2-0 down and we might be in a spot of bother here.
The best we can manage in response is Goodliffe lifting the ball over the bar when a little poker would probably have halved the arrears. So, half time and a bit for Matt to get sorted at the break. From the restart, we at least look a bit more at it, although whether that's in part to us upping it or them sitting off a little more with the 2 goal leg up, I'm not sure. However, it's a tight contest nonetheless and we have to really wait until abou the hour mark for some incident, with Ali Smith lamping one through a crowded box into the far corner to get us on our feet and the boys back into the game!! Come on lads, let's go nothing stupid now!! Ah bollocks, I had to go say it didn't I?? For a couple after the goal, we look like that's the boost we needed and our tails are up, but then for some reason Rob Milsom ignores Deano coming out to take a free-kick deep in our own half and tries to play it quick. Unfortunately, one of theirs cuts it out and has a completely open net to roll it into from about 30 yards out. Ah yes, it's been a while since we had a viral youtube\social media calamity hit. Back to square one then!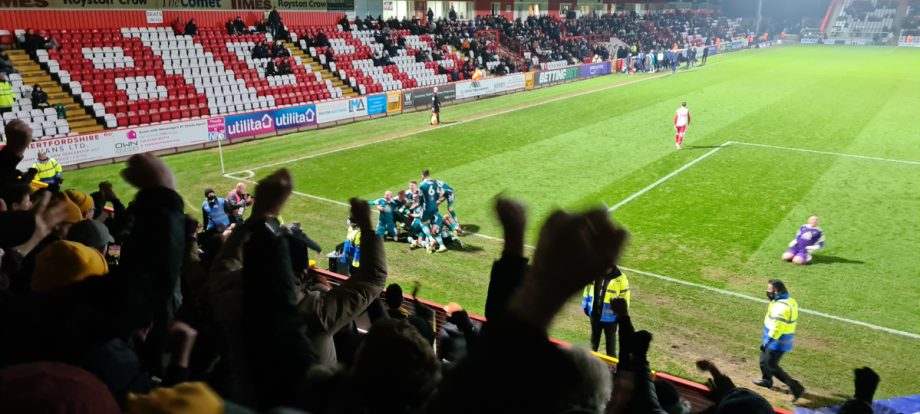 Our response is swift and thanks to the ref, Issac's little dart onto a bouncing ball brings a challenge in the box that he reckons is a penalty. Now we're not ones to complain at free stuff, but even the most biased one eyed bastards in our party are sucking thier teeth at that one. Regardless, Robbie rams in the spot kick to make it 3-2 and we're game on. With Issac and Bennett now up top we're at least making them work a little harder now, but with us committing men forward, there's always gaps back there and Deano has to earn his corn with 3-4 solid body behind the ball saves. He also finds himself very briefly impersonating David Ajiboye, coming out to beat a lad to a ball over the top, his touch means he then had to do it again as a second guy arrives. This next touch takes him over the halfway line and then deep into the oppo half before he swings a cross of sorts into the box and high tails it back whence he came. We keep working and probably should have another pen near the death when a bloke nearly takes Ritchie's head off in the box, but having had a bit of a Jekyll earlier, the ref's having none of it. Meanwhile at the far end, every time the ball goes into the crowd, it returns to the playing surface by being lobbed way out to the far touchline. Subtle lads, real subtle.
But it's probably because of this and the long stoppage earlier for the lights that when the board goes up, there's 8 minutes added. Come on chaps, one last push! We keep at it and immediately after, Ritchie half scuffs one in the box towards the far corner, but the keeper does well to scramble back and make the save at the expense of a corner. But with time running out and the eight minutes pretty much all but done, up pops one of those moments you live for at the football. A ball in is cleared as far as Barden and he immediately pops it wide to Ajiboye, finding some space for probably the first time today and he stands up a perfect little cross into the box. Perfect for say, oooh, I dunno, a big fucking northerner to get his big fucking head on? Oh hello Ritchie, we were just talking about you!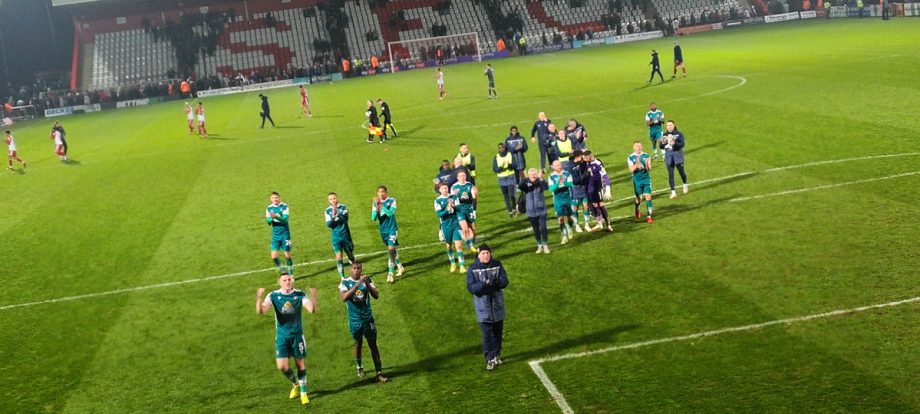 The big lad out jumps his man and nods past the stranded keeper into the corner and the away end goes Radio Rentals. Fucking have some of that! Of course there's a mass knee slide down in the corner, including length of the pitch celebration specialist Dean Bouzanis naturally and lots of jumping around. There's also a weird solo pitch invasion by one lad who seems to have come from down the far end! At first we think he's a disgruntled local, but as he gets closer it's clear that he's happy rather than fighty and sadly for him he gets hauled off by stewards before he can pile in with the players! Anyone know the story to this? Let us know, we've love to hear it!
Delirious, we laud the lads spirit at the final whistle and stumble out into the night looking for a safe haven to help return our heart rates to something that wouldn't cause a medical professional some serious concern. Mr X decides the local Harvester will do for a pint and calling cabs, so we set off. Sadly though we had forgotten that despite his geography degree, he's about as good at reading a map as Prince Andrew is at alibis and we end up going the long way round, much to Robbo's displeasure. Still, we make it and tuck into a couple of medicinal pints while we regroup. Here I advise Dukey on some parenting skills, mainly in using some of our terrace songs to soothe his daughter back to sleep to give him a break from the usual repetitive stuff people use these days. I mean, what kid less than 1 year old could fail to be rocked to slumber by a big bald headed buffoon growling out "Big fucking Northerner, we've got a big fucking Northerner!" as softly as he can at 3am? Actually, don't answer that.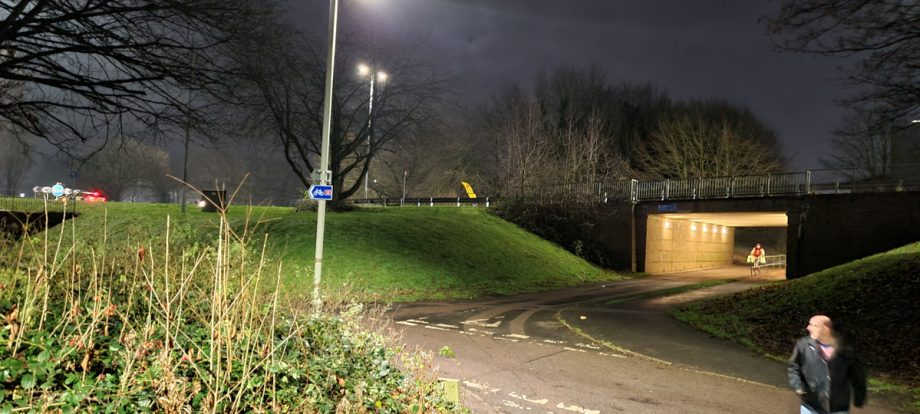 Here some want to go back to the old town, but then singularly fail to rustle up any transport to do so and the plan then changes to going for the 10 past 7 train to town and beers in the Black Friar. Here I, Magnum, Belly and Paul head for the station on foot whilst 4Days lazily rustles up a sherbert that Mr X, Dukey and Robbo are only too keen to ponce in on. Meanwhile the others don't fancy rushing and say they'll get the next one and see us there. Despite having a couple of OAPs in the walking group, we just make the train, which is fairly well populated with beery and happy Sutton followers. This includes Porn Star and Nutsack, with the latter coming our way to go to the khazi but then getting gazumped no less than 3 times by others as some wankers keep him talking to distract him from the needs of his bladder. Those wankers being us of course.
A tired Dukey hops off at St Pancs to return to his world of Elmo and Hey Duggee repeats in the early hours of the morning and we alight next at Blackfriars, waving goodbye to Robbo who heads home. Here we realise that we've got off the train at the Southern end of the station and are closer to the Saaaaahfbank than we are the North end where the Friar sits. "Fuck it, Founders?" offers up Magnum and no one needs asking twice as we can't be arsed with the walk! Here we tuck into a couple of pints and some rather expensive but rather agreeable nosebag and ramble on about all sorts of shit. Meanwhile the stragglers forgoes the stop and stay on the rattler back to Sutton where they join Tatey in cocktail paradise down at All Bar One. The rest of us then go our separate ways homewards. For myself and Magnum, this means a run to East Croydon where we fabulously just miss 2 buses. Still, there's not long to wait and we're back on track for home pleasantly boozed and with another League 2 point tucked in our sock.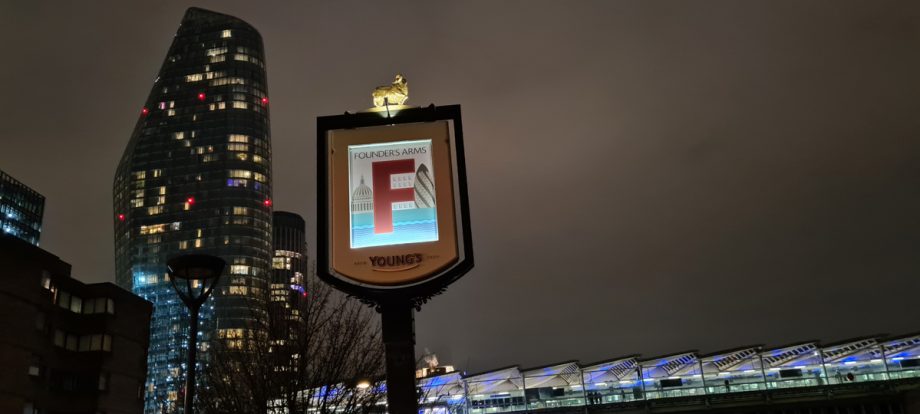 See you Tuesday folks!
Taz